Worked hard all week, planned millions of things to do over the weekend, and yet ended up surfing the net with usual pizza and movie plans? That, we guess, isn't just your story! Most of us are so badly caught up in the urban chaos that we feel like just letting loose on the weekend getaways around Bangalore.
But what if there's a real change in plans? Here's something you might definitely like! We have an array of exciting places to visit around Bangalore on weekends, and you can blindly choose to visit any of these places and the next thing you will be doing is appreciating yourself for reading this article till the end.
Let's check out where all you can go & plan your next trip!
1. Ettina Bhuja
A peak in Mudigere, naturally shaped like an ox's shoulder, also what the name literally translates to. A mild trek to this peak comes with winsome views of valleys and hilltops surrounding it. The flora of the place is worth observing, and you may even spot students of College Of Horticulture-Mudigere involved in conducting research and extension activities in the Hill zone.
Distance from Bangalore: 262 km
Trek Distance: 8 km (approx)
2. Kurinjal Peak, Chikmagalur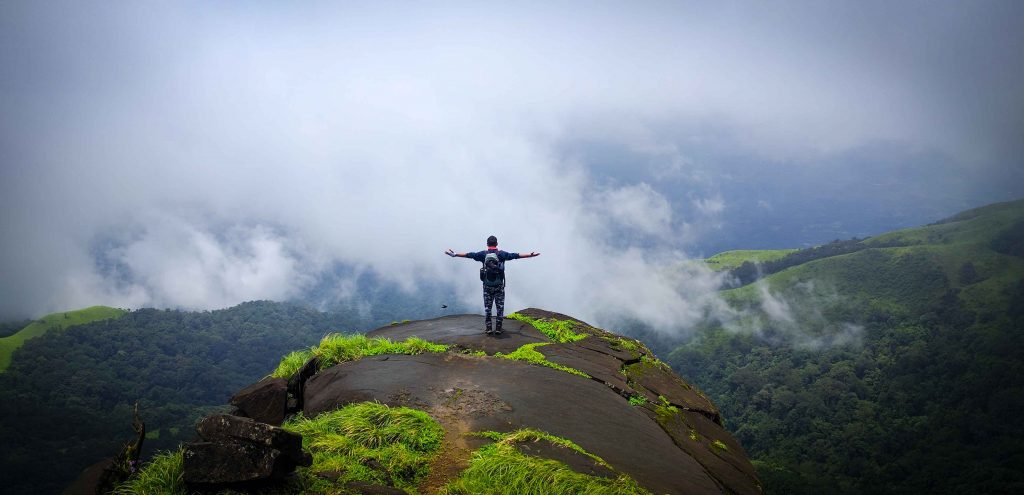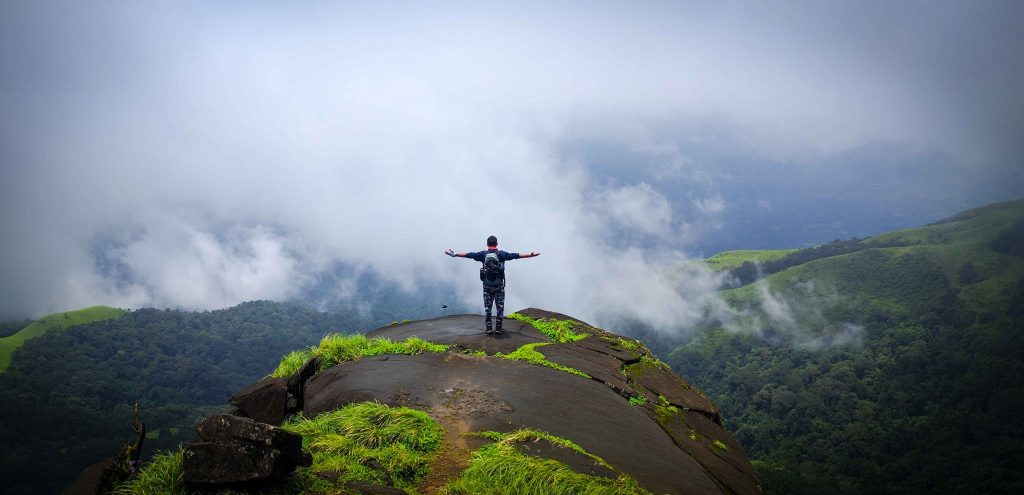 Ever heard of this? That's the first reason you gotta see the place soon and be the discoverer in your group, Kurinjal is an obscure peak in the Kudremukh National Park that acts as the perfect destination for people seeking a respite from the fast-paced and stressful city life. The picturesque region has several wild animals, tall trees, and varied landscapes. The whole scenery of grassland interspersed with narrow strips of forests provide a fantastic vista for a trekker. Its distance from Bangalore makes it the best weekend spot for adventures seeking some adrenaline rush.
Distance from Bangalore: 332 km
Trek Distance: 14 km (approx)
3. Nishani Motte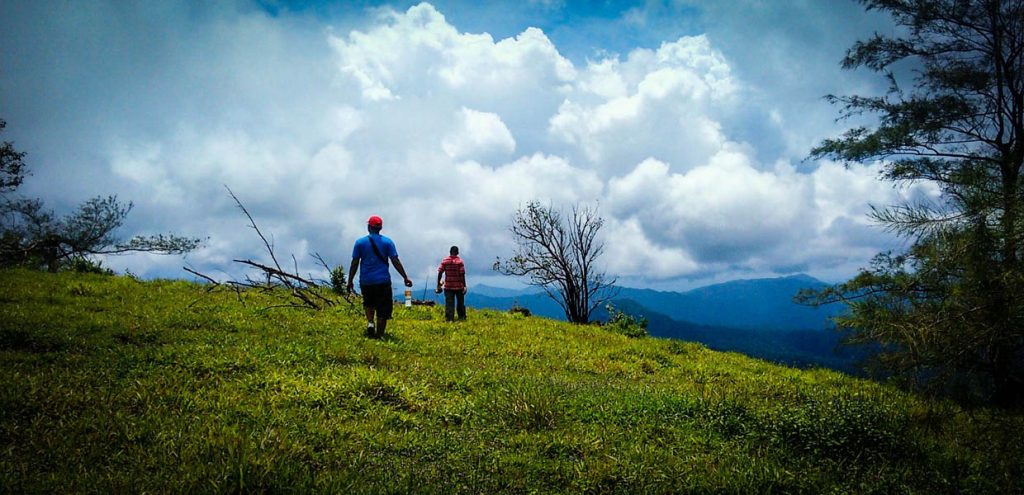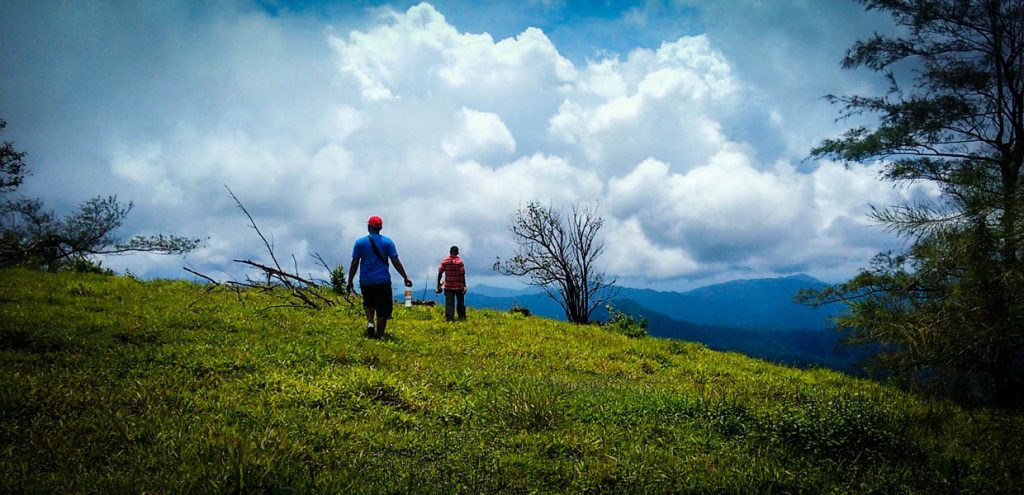 Coorg! If you really want to feel the awesomeness of this place, then this should be your next destination. It's an irresistible combination of adventure and fun, then that's what will be the promise from Nishani Motte Peak, which is a trekking and photography enthusiasts' delight! The Nishani Motte peak lies amidst the dense forest area of Brahmagiri and Bhagamandala and offers extremely scenic trails on the fascinating trek to the hilltop.
Distance from Bangalore: 300 Km
Trek Distance: 16 km
4. Kemmangundi Trek
Well, it's marked as the summer abode of Krishna Raja Wodeyar and that explains a lot. A king's choice never fails to please us, ringed by the Baba Budan Giri Range and enveloped by true Chikmagalur-style Western Ghat's beauty. This will take you through a landscape stroked with lofty hills, innumerable streams and brooks, extensive coffee estates, waterfalls, and ornamental gardens tucked amidst lush green forests. Time to go out there and treat yourself with a view!
Distance from Bangalore: 292 Km
Trek distance: 20 Km
5. Kavaledurga
It's a fort and yes it's not simply a walk up to the fort, but a pretty long hike! Think that's enough to understand how steep the route's gonna be. Kavaledurga Fort of King Shivappa Nayaka is one of the most enchanting locales in Karnataka, which is popular not only for its scenic surroundings and remarkable architecture but also for being an ideal trekking spot for avid trekkers. It will be a wise move on your part to explore the fort along with a knowledgeable guide and some history hunger.
Distance from Bangalore: 365 Km
Trek Distance: 2.5-3 Kms and pretty steep
6. Kodachadri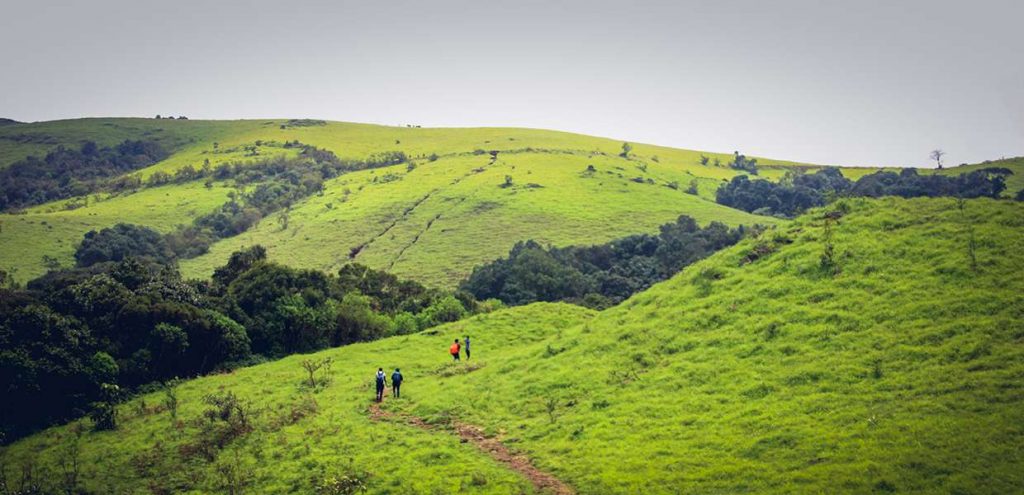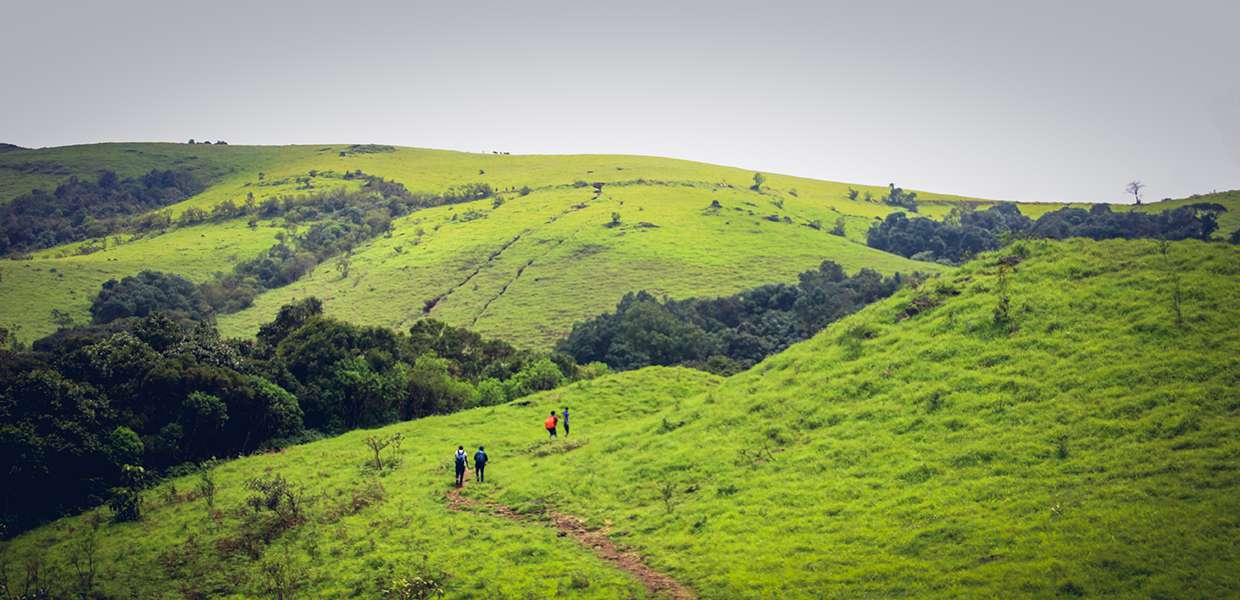 Living in the clouds might sound poetic, but that's exactly what this trek is all about! Located in the Mookambika National Park, this trek has everything from dense forests to high waterfalls, lush green stretches, and the perfect views from the sunset point. Basically, you can think of it as a location that you see in the romantic Bollywood songs. Are you ready to witness the beauty of this place?
Distance from Bangalore: 400 km
Trek Distance: 20 – 22 km
7. Kotebetta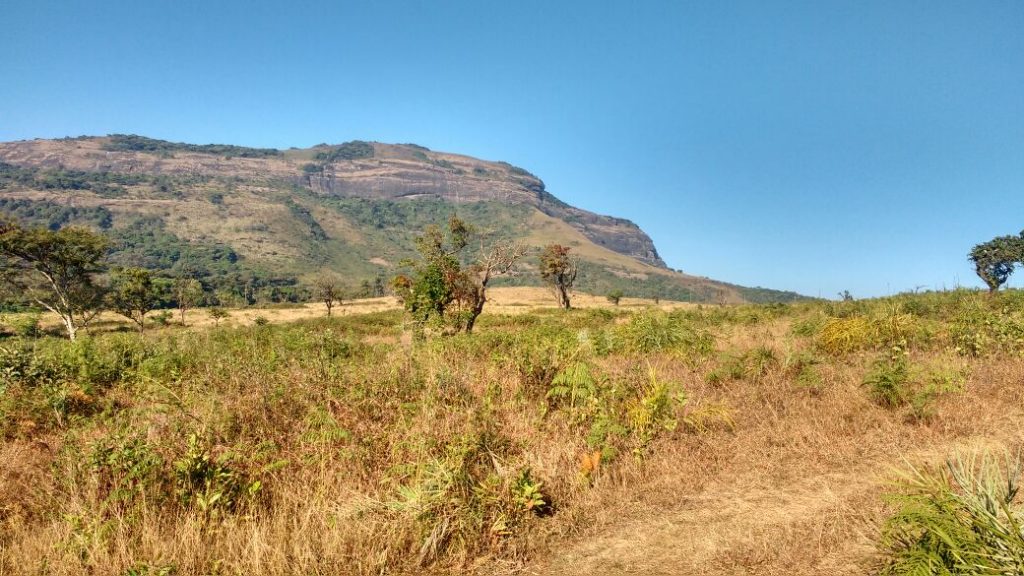 Kotebetta is the third highest peak in Coorg and the trek passes through villages, coffee, and spice plantations initially. Later in the route, comes thicker forests and some rocky surface. Reach the peak to enjoy the amazing views of the shola forests and the Western Ghats. And don't be surprised if Elephants give a passing shot, just keep your camera ready!
Distance from Bangalore: 266 km
Trek Distance: 20 km
8. Yedakumeri Railway trek
Yedakumeri is a beautiful place in the western ghats just like its neighbors, located at a distance of 30 km drive from Kukke Subramanya. It's a unique trek where you have to pass along the abandoned railway line and is popularly referred to as "green route trek" and that explains a lot about the weather and scenery you'll get to witness there.
While traveling on the train and passing through the tunnels or a beautiful scenic view, have you ever wondered if you could just stop there for a while? This trek has everything you wished for then and one can call this a photographer's paradise.
Distance from Bangalore: 232 km
Trek Distance: 17 km
9. Gokarna Beach Trek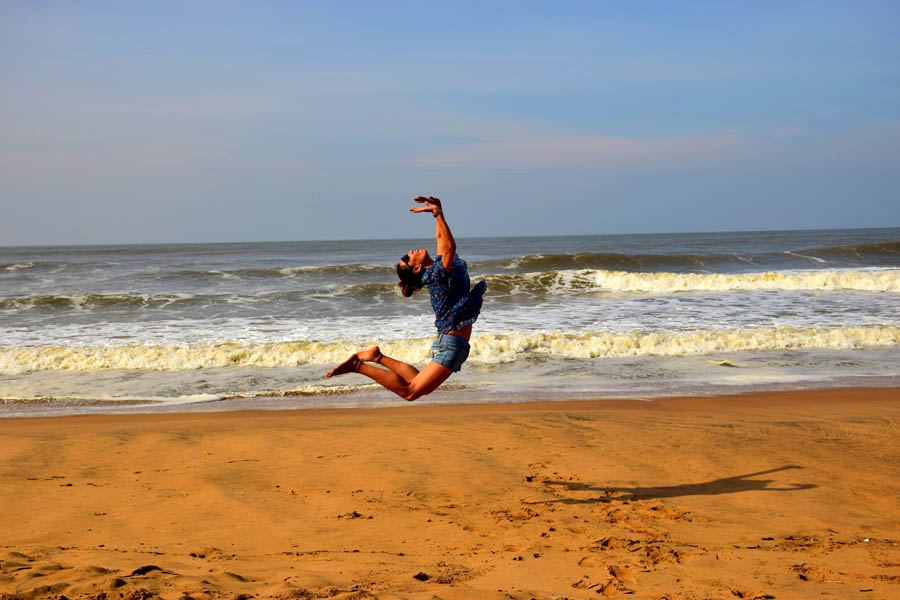 Gokarna has several beaches and the trek route is popularly known as the "Golden Route". The trail will entail walking on the beach sands by the side of the rocky hills on one side and far stretches of the Arabian Sea on the other side and we are quite sure that it's gonna turn out to be something that you are imagining!
It's always a good time to relax and chill at the beaches and trekking along the beachside is not a fantasy anymore. You always wanted to do something unique right? Here's the perfect chance and you'll just fall in love with this place!
Distance from Bangalore: 499 km
Trek distance: 10 – 12 km
10. Kumara Parvatha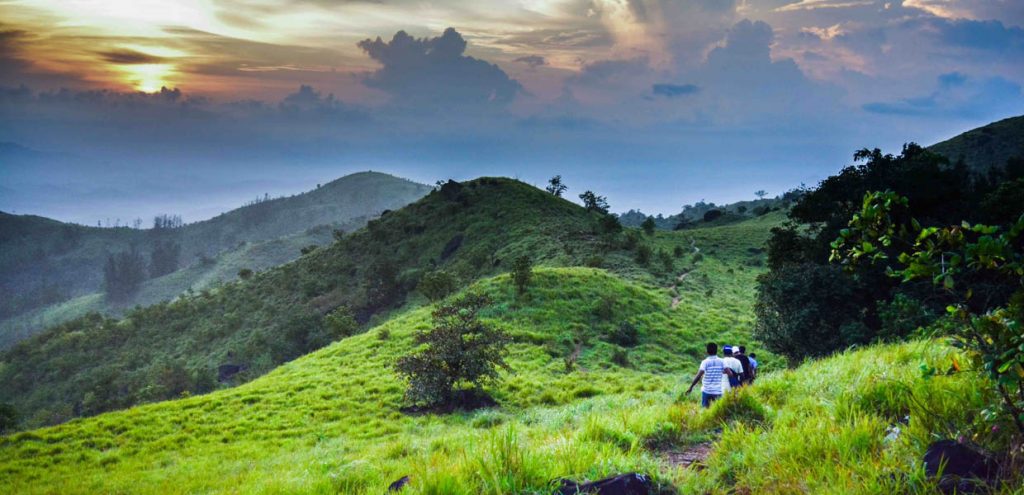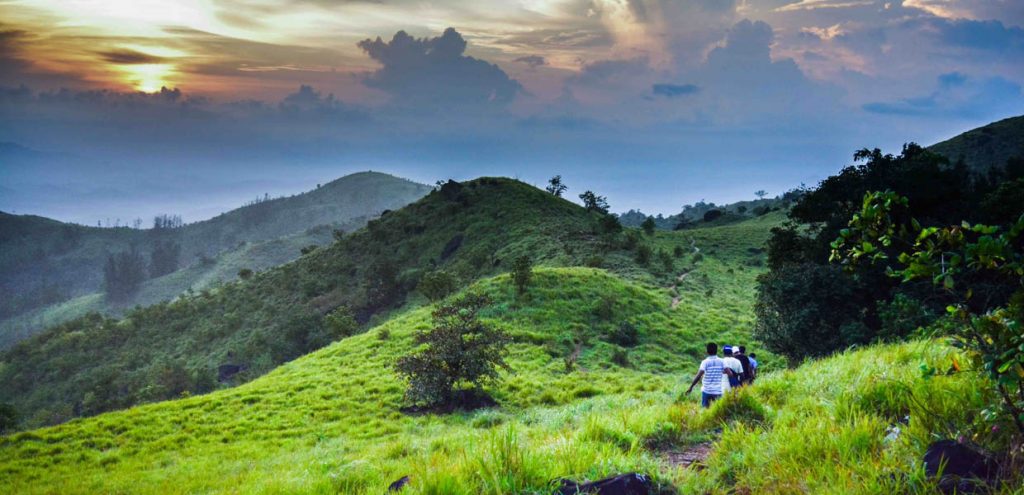 Termed as one of the most difficult treks of the region, climbing up to Kumara Parvatha will definitely make you sweat but nonetheless, you'll drool over the beauty of the Western Ghats! Cliffs, woods and a prepossessing horizon welcomes adventure seekers here. A hundred shades of nature await you to explore at Pushpagiri, also the second-highest peak of Western Ghats. A proposed World Heritage Site, the trail through Kadamakal Forest is worth exploring for once in life. Picturesque valleys of the reserve will give you ample opportunities to click those postcard-perfect shots and show them off on your social media.
Distance from Bangalore: 400 km
Trek Distance: 28 km
11. Tavoor Hills
It's a place that's lesser-known among travelers and probably it's one of the best features of the place – it's never too crowded, but we don't know about the future! Maybe after reading this, people start planning a trip to Tavor!
Also known as Dumchi Gudde by locals, this trek has everything you ask for as a trekking enthusiast. Dense forests and streams and the ridge walk along the trail would make you wish if you could stay there forever. The beautiful view of Kopatty Hill range from here is definitely the reward of the trek.
Distance from Bangalore: 294 km
Trek Distance: 12-14 km
12. Kundadri Hills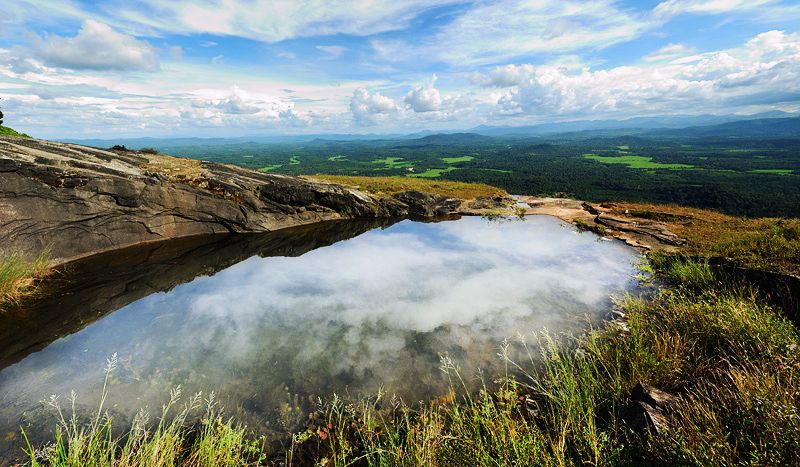 The Kundadri Peak, named after a Jain priest, is known for its pristine beauty. Well known for its architecture and monolithic rock at the peak, this place shares its border with Agumbe, so the weather and mist can be imagined I guess. Comprising of easy terrains, the main highlight of this trek is a 17th century Jain Temple located at the Kundadri hilltop with two ponds located at the distance, which you can see from the top. A perfect destination to take out your jacket and shoes, and chill with your travel mates.
Distance from Bangalore: 358 km
Trek Distance: 14-16 km
Image Source: http://www.holidayiq.com/
13. Glen Morgan Trek
Glenmorgan Trek, 25 km from Ooty, takes you through luxurious thickets of Eucalyptus and other hill beauties to enjoy the magnificent views of the Nilgiris from the top. The smell of eucalyptus is always tempting, right? Imagine how fresh you might feel walking through the forests and tea estates. Ooty is more than just a romantic destination known for its chocolates, and this place totally proves it. Go, give it a try.
Distance from Bangalore: 400 km
Trek Distance: 16 km
14. Kanoor Fort Trek
Located in the Sharavathy Reserved Forest in Shimoga, Kanoor Kote is a treasure trove for trekkers. Rediscover history and enjoy the natural beauty of this trek. This area was ruled by the Keladi dynasty, hence the name. The fort area is now full of age-old trees and creepers to the extent that anyone venturing into it without a good sense of direction is sure to get lost in the wilderness.
Distance from Bangalore: 237 km
Trek Distance: 16 km
15. Perumal Peak
A part of the majestic Western Ghats, it is a place worth visiting. Bestowed with best of nature, the peak is visited by both nature lovers and adventure seekers. And we are sure you will fall in love with the place.
At a distance of around 18 km from Kodaikanal, this peak is every trekker's dream destination. Along with this, the Perumal peak also offers a captivating view of the surrounding Western Ghats and the Nilgiri Hills.
Distance from Bangalore: 443 km
Trek Distance: 14 km
16. Gandikota
Kickstart an exemplary trip to Gandikota a.k.a 'Grand Canyon of India' located in the Kadapa district of Andhra Pradesh. One can spot gigantic boulders everywhere around the fort. During this 2-day trek, get ready to embrace the unbelievable beauty of the fort with a camping experience as an add-on. Another attraction near the fort is the two old temples and a masjid which represent themselves through the valuable remnants.
Distance from Bangalore: 282 km
Trek Distance: About 8-10 km
17. Narasimha Parvatha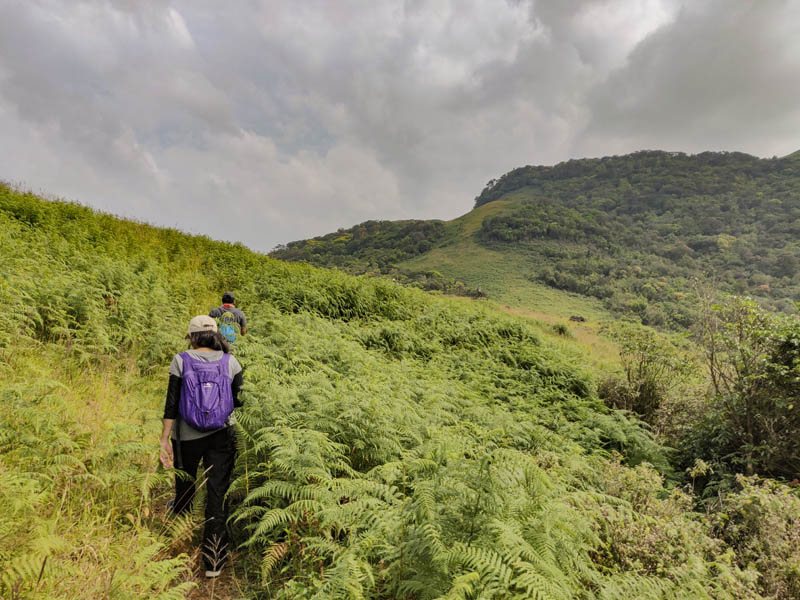 Narasimha Parvatha, the tallest peak in Agumbe Ghats having an altitude of 3772 feet, is an apt trek for those who are craving solitude. There are two ways to ascend and it's your turn to make a choice. A mixture of dense forests, high grasslands, colorful birds makes it a trek through wonderland. The trek trails deep inside the forest highlight the beauty of Western Ghats at every step. Its ideal distance from Bangalore makes it a perfect weekend trek from Silicon city.
Distance from Bangalore: 362 km
Trek Distance: 13 Kms from Malandur (Agumbe side) to peak. 6 km from Kinga (Sringeri side) to peak
18. Yercaud Trek
Yercaud is a hill station town in the south Indian state of Tamil Nadu. It lies in the Shevaroy Hills, known for their orange groves, and coffee, fruit, and spice plantations. On your way to the trekker's paradise of Yercaud, snake your way through a Ghat road that has a series of 20 hairpin bends. The trail passes through a couple of viewpoints and many villages that are in and around the Yercaud hill range, so get ready to be seen as an alien! The natural beauty and abundance of flora and fauna make this sleepy hill station a mesmerizing and enthralling holiday destination for all.
Distance from Bangalore: 215 km
Trek Distance: 18 km approx
19. Wayanad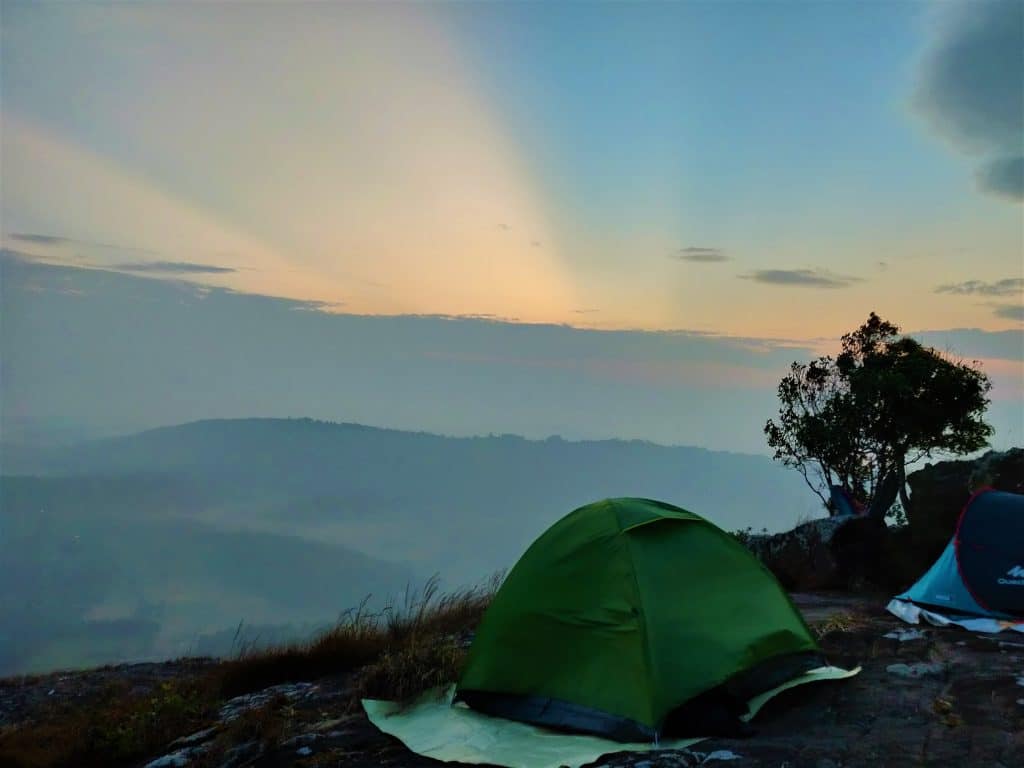 Absolute heaven for avid bird watchers, you might also spot other animals including sambar deer, Malabar squirrel, Asian palm civet, porcupine, and over 250 bird species while enjoying the eerie silence of the forest. You can engage yourself in archery, fishing, or ball games at the Wayanad PTU Campsite and in terms of adventure you could unwind at the nearby stream, trek to see Cave house, and explore the adjacent forests. There are attractive spots nearby which you can check out while staying at the campsite – including Edakkal caves / Soochipara waterfalls / Chembra peak, etc.
Distance from Bangalore: 288 km
Trek Distance: 6 – 8 km
20. Kumta Beach Trek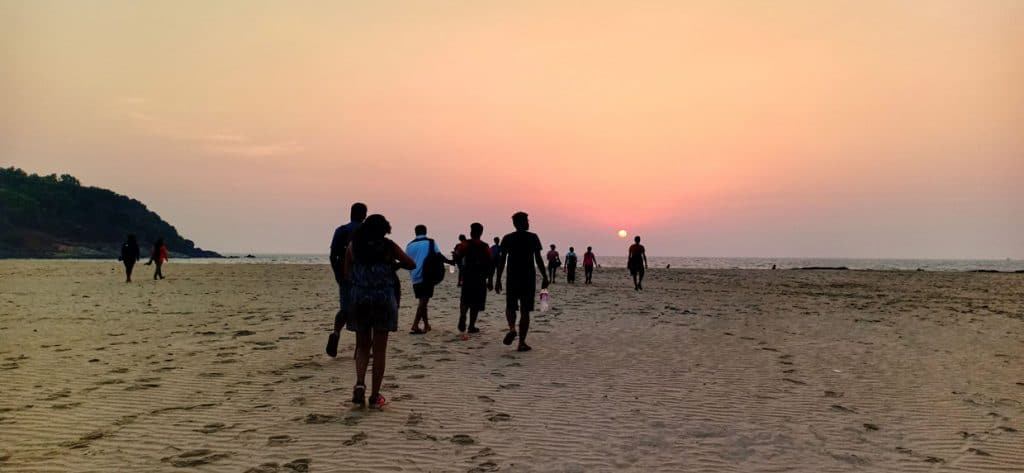 Lazing around secluded beaches, getting high on life playing beach-volleyball, and experiencing mesmerizing sunsets – what was your mind screening? Nope, we are not talking about Goa or Gokarna here. Beaches at Kumta are among the pristine, less frequented destinations in Karnataka.
Apart from beach-hopping, you can also club your Kumta trip with a visit to the Kagal fort. You may even explore the unexplored waterfalls that surround the area. 
Level of Difficulty: Moderate
21. Karwar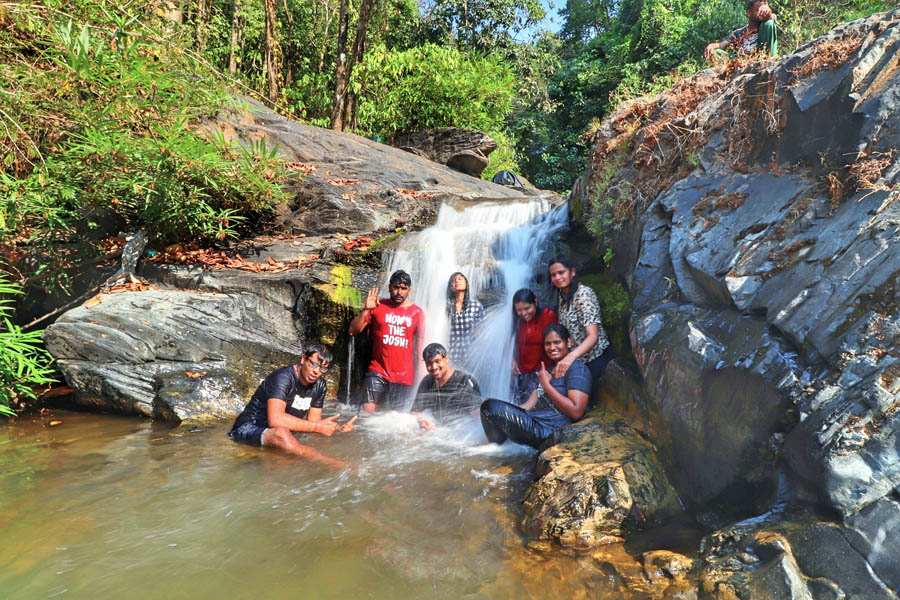 Start off on a wonderful journey to the "Kashmir of Karnataka", Karwar. Situated between Sahayadris' evergreen locks, the majestic Kali River, and the Arabian Sea, Karwar is the perfect holiday destination. Along with enjoying the crystal blue waters, one can also indulge in water sports like kayaking. If you are a trekker and need some adventure, you can join us on an offbeat trek to the Mangrove forests.
Level of Difficulty: Easy
Forest trek distance: 6 Kms, to and fro
22. Kotagiri
Reconcile with nature on a trip to Kotagiri. If camping under a starlit sky and waking up to a beautiful sunrise is on top of your bucket list, then pack your rucksacks and join us on our trek to Kotagiri. Enjoy the adventurous trek trail by making pit stops at the crystal clear lakes and various waterfalls. You can also head over to the tea factories and get an insight into the culture of tea cultivation around the majestic Nilgiris.
Day two of your Kotagiri venture would set sail with a ride to the Catherine falls. You can also opt to visit the Ooty tea factory as well as the serene and green Bandipur National Park.
Level of Difficulty: Easy to Moderate
Trek Distance: 10 Kms to 12 Kms (both ways)
 23. Tadiandamol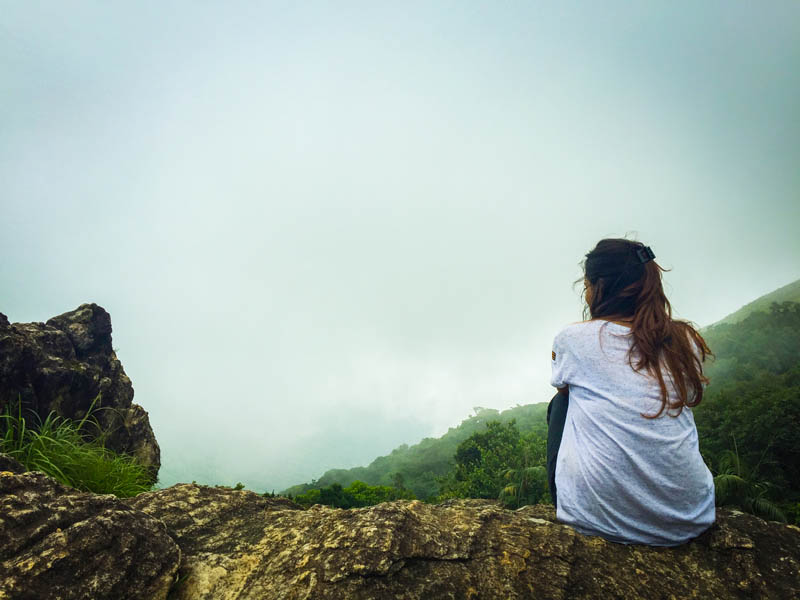 Ever wondered how it'd be like to stand on top of the world? Located about 5735 feet, Tadiandamol literally translates to 'big mountain' and the trek offers one a unique experience of traversing among whooping heights. Being Coorg's highest point, Tadiandamol is quite famous among all kinds of trekkers. The hillock is walled by endless foliage; not to forget the crystal clear water that meanders its way through. You can start your trek at the Nalakanad Palace and enjoy nature's company all the way up.
Distance from Bangalore: 270 Kms
Trek distance: Approximately 7 km (one-way)
24. Kopatty trek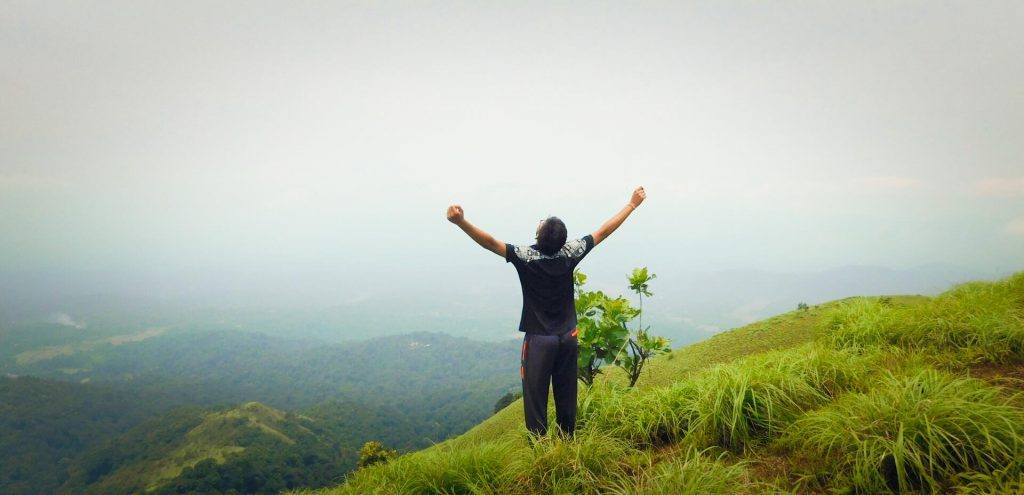 Does village life, dense jungles, streams, tropical trails, and jeep rides entice you? If yes, then this trek is for you. It's a tailored trek for the adventurer and explorer in you and trekking enthusiasts, would definitely choose Kopatty to be their first choice. The hills are tucked amidst an unbeatable serenity of the Talakaveri range, about 3 km away from Cherambane. The beginning of the trail relishes the beauty of a tarred road flanked by paddy fields on either side. This trekking experience is known for quenching the thirst for adventure.
Distance from Bangalore: 296 Kms
Trek distance: 12 Kms to 14 Kms to and fro
25. Nishani Motte and Talacauvery
Planned a trip to Scotland that never happened? Well then, don't just sit there whining. Plan your trip to India's very own Scotland – Nishani Motte. Nishani Motte is among the lesser-known peaks of the Talacauvery range. The trail is quite moderate and starts from the Bhagamandala forest. You'd find yourself meandering through paddy fields, coffee estates, and wildlife reserves. Surrounded by nature's beauty, a trek to Nishani Motte definitely owns a spot on the list of top places to trek around Bangalore.
Level of difficulty: Moderate
Trek Distance: 17 Kms to 19 Kms (to and fro)
26. Hampi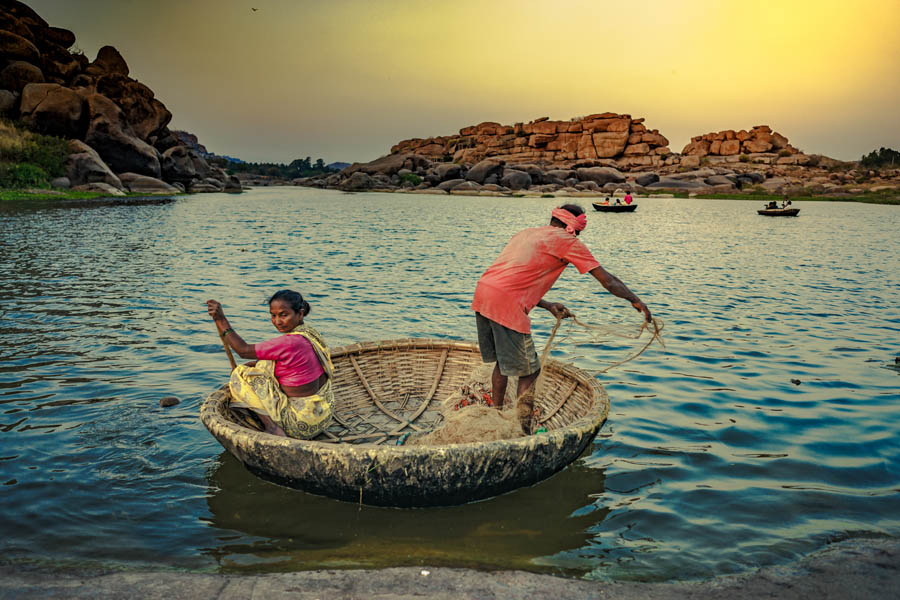 Heritage scouting along with a unique nightlife, how does that sound? Add a pinch of bouldering and camping to it and there you have it, a perfect trip to cherish. Yes, we are discussing Hampi here!
Hampi, the erstwhile capital of the Vijayanagara empire, is one of the major tourist attractions in Karnataka. Located on the banks of river Tungabhadra, Hampi is a must-visit for not just history and architecture buffs, but also for those who'd love to venture into bouldering. 
PS: Make a note to coracle your way across to the Hippie island for the "fun" part.
Level of Difficulty: Easy
27. Sharavathi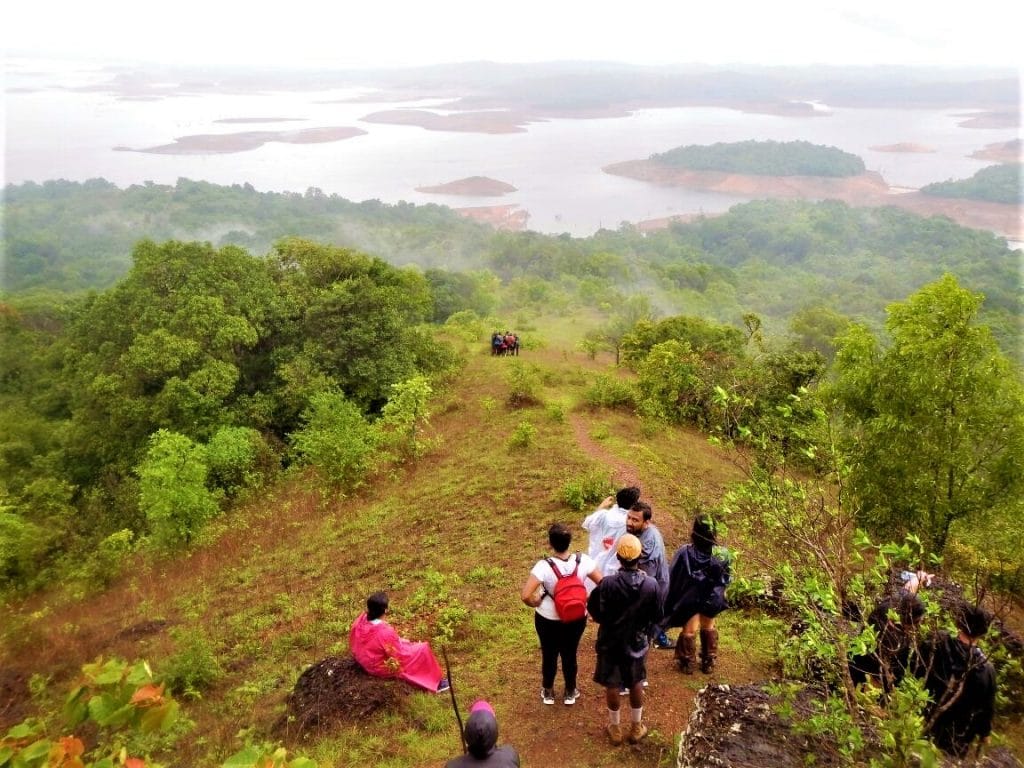 Located about 415 km from Bangalore, the Sharavathi valley wildlife sanctuary is among the must-visit places in Karnataka. 
As per the legend, the Sharavathi river originated when Lord Rama shot an arrow at the ground to quench his wife Sita's thirst. The valley is blessed with an abundance of flora and fauna and is bound to give one a once-in-a-lifetime experience. During the trip, one can also trek to see Jog Falls as well as explore the Sharavathi backwaters.
Level of Difficulty: Moderate
Trek Distance: 12 Kms to and fro
28. Sakleshpur
Sakleshpur is yet another destination for trekking amidst coffee plantations and spice gardens. Filled with scenic views, a trek around the valleys of Sakleshpur can be tagged as 'short and sweet'. This trek is considered complete only after one explores Tipu Sultan's Manjarabad Fort, popularly known as the star fort, and finishes trekking over to Mookanamane Abbi falls.
Level of Difficulty: Moderate to easy
Trek distance: 9 Kms (both ways)
29. Kodaikanal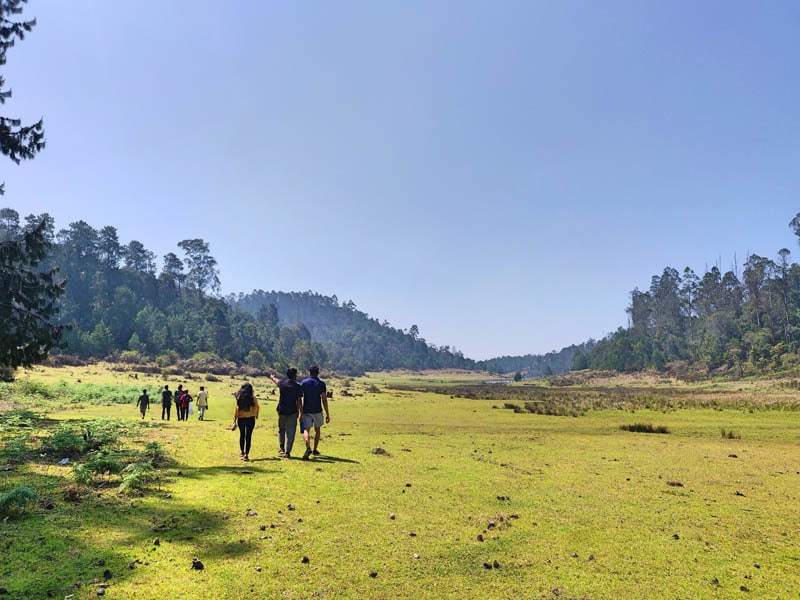 Why go all the way to Shimla when you have the 'Princess of hills' right next door? Yes, we are talking about a trip to Kodaikanal. Apart from the normal list of things to do in Kodaikanal, including a visit to the man-made Kodai lake, one can always trek to elephant valley falls and also cherish the abundance of nature on a hiking trip up the Bear Shola waterfalls. 
PS: If you're in search of more relaxed vacation, you might want to check out PTU's hand-crafted trek to Kodaikanal.
Level of Difficulty: Moderate
Trek Difficulty: 14 Kms to and fro
30. Trek to Pyramid hill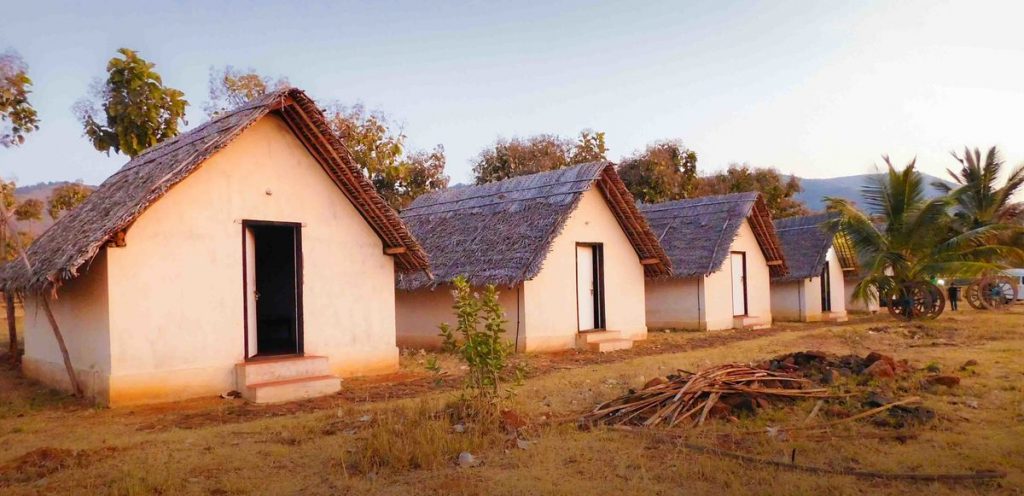 From Sunsets, stargazing, coracle ride, camping, to even becoming 'Dora the Explorer' to explore a cave, a trek to Pyramid Hill has it all. 
Pyramid hill is located near Kolegal village, Shivanasamudra. Being quite untouched, this is definitely the destination that you should pick for a weekend getaway. It is bound to leave you mesmerized with an offbeat and exciting experience.
Level of Difficulty: Easy
31. Banavasi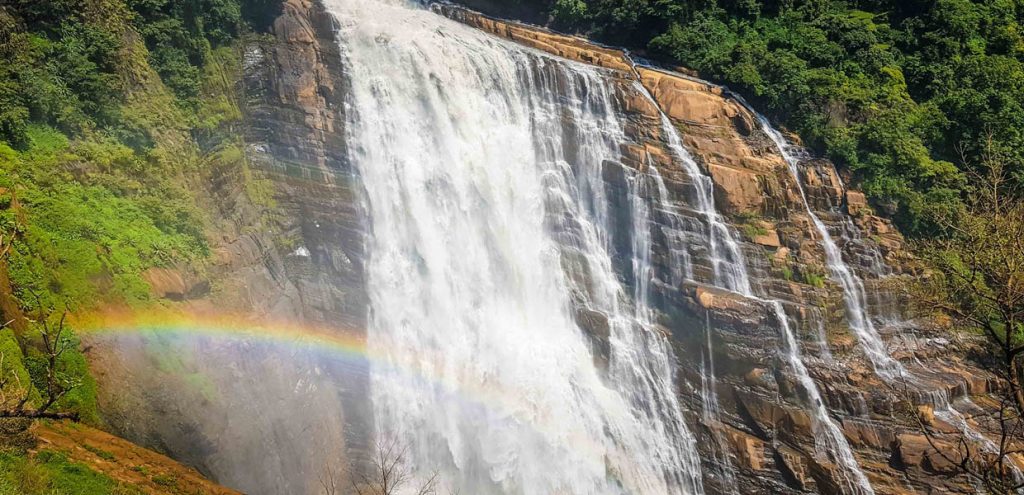 Travel back in time at Uttar Karnataka's ancient temple-town, Banavasi. One must visit this place to experience the authentic local life, food, and most importantly to have a laid-back get away from your city life. There are plenty of things to do in Banavasi but a must-visit spot is the Madhukeshwara temple, an architectural masterpiece. 
PS: Do not forget to try a few fresh pineapples on your way there.
32. Brahmagiri trek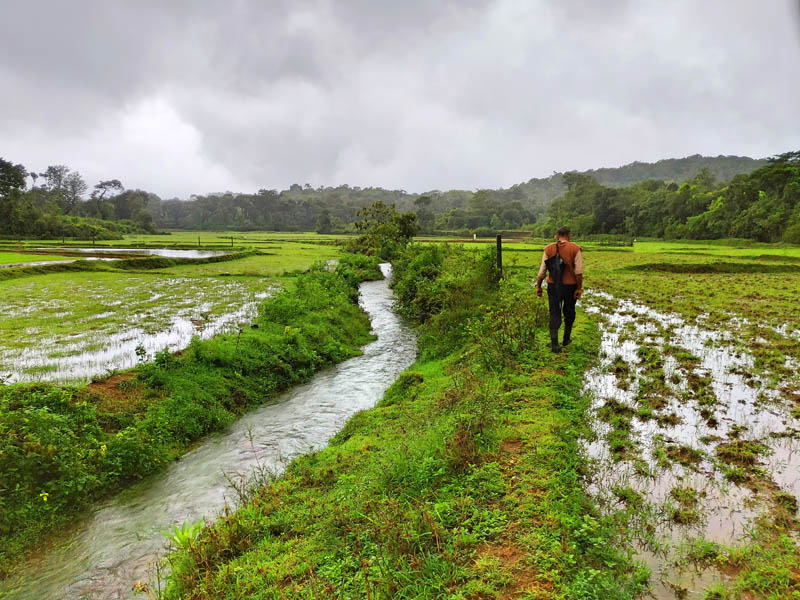 Would you like to picture yourself in a place off the radar? Then treat yourself with a trek to  Dakshina Kasi aka Kasi of the South, Brahmagiri. Brahmagiri brims not just with nature's beauty, but also with culture and folklore. Legend has it that Lord Brahma constructed the Thirunelli temple located nearby, himself. You can either head for a DIY trek or join the troopers at PTU on a trek and camping at Brahmagiri from Bangalore. Also, hike up to the Iruppu falls on your way back to Bangalore.
 Distance from Bangalore: 404 Kms
Trek distance: Approximately 7 Kms to 11 Kms
33. Dandeli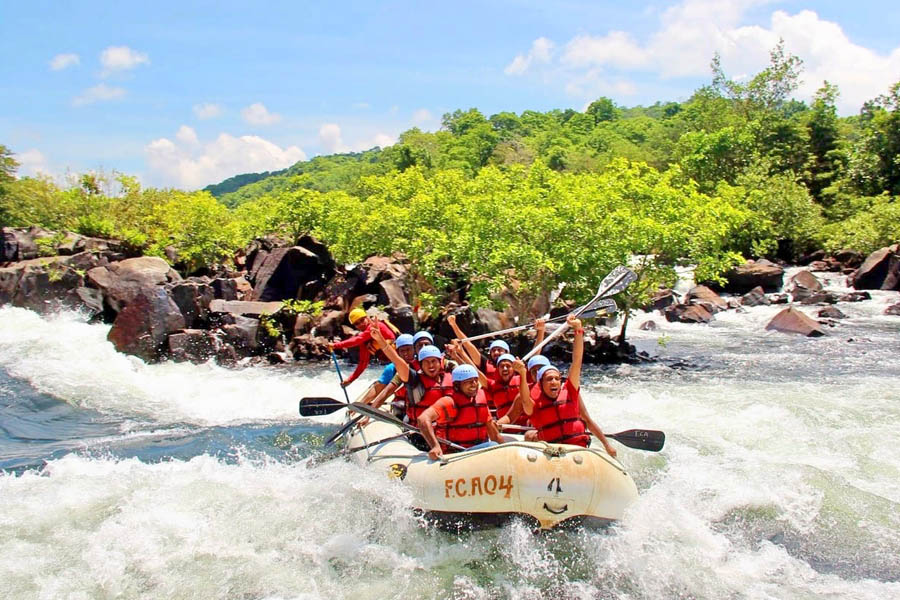 Head over heels for water sports? Then Dandeli it is! From river rafting and canoeing to rappelling, camping, and adventure trekking, this Uttar Karnataka destination has it all. While camping, don't forget to breathe in the charm offered by the wilderness along the banks of river Kali. Apart from water sports, you can also visit the age-old Kaval Caves and the Dandelappa temples.
Distance from Bangalore: 460 km
 Trek Distance: Approximately 10kms
34. Kolukumalai
Located in the Theni district of Tamil Nadu, around 500Kms from Bangalore, Kolukumali hosts the highest tea plantations in the world. Wake up to a mind-boggling sunrise, walk around tea estates, or even go on bumpy jeep rides; every hour is worth your penny. If you're into trekking do not forget to hike over to Meeshapulimala too.
35. Kumbakarai to Vattakanal – Kodaikanal
Been to Kodaikanal before? Planning to go a second time? Well here's a trek you need to add to your checklist for your trip to Kodaikanal – Kumbakarai to Vattakanal. What's there to see here? Waterfalls, of course! 
Located in Dindigul district, Kumbakarai waterfalls are rather untouched thereby making it must (and first) to stop on your trek. We suggest one to stop at Vellagavi village for the night and resume the trek to Vattakanal the next day. Also, make sure to stop at Echo Point and Dolphin Nose as well.
Trek Distance: 12Kms
Level of Difficulty: Moderate
36. Paithalmala trek
Looking for quaint places to go trekking during weekends? Come join us on our trek to Paithamala. Paithamala, also known as Vaithamala, is situated in the Kannur district of Kerala. Being a lesser-known destination, a trip to Paithamala is exactly the pill you need to relax your choked-up senses. During the trek, you can also visit the observatory tower which is about 45 minutes walk from Paithal Valley. Combine this trip with a scenic jeep ride to Pallakayam Thattu, yet another gem of Kannur.
Distance from Bangalore: Around 300 Kms
 Trek distance: Approximately 10 Kms
37. Agumbe
Does monsoon season have an enticing grip on you? Then head straight over to "The Chirapunji of South," Agumbe. Agumbe, Shimoga's very own UNESCO heritage site, is an ideal destination for both trekkings as well as leisure getaways. Experience the milky falls of Onake Abbi or Barkana or trek over to the Kudlu Teertha falls and Nishani Gudda. You can also re-live the very famous 'Malgudi days' here. The best time to visit Agumbe would be between November and January.
Be careful not to miss out on anything while preparing your monsoon packing checklist 😊
Distance from Bangalore: 350kms
Trek distance: 5kms to 12 km
38. Mullayanagari
Standing tall and mighty is Karnataka's highest peak – Mullayanagiri, a popular trekking destination in Karnataka. And why not? Mullayanagiri hill is a part of the Baba Budangiri hills in Chikmagalur. It received its name from the temple located at the summit dedicated to Mulappa Swami. The peak has its own charisma that lures trekkers from far and wide to conquer it. If you're lucky you might even end up watching the peak draping itself with a heavenly blanket of mist. 
Distance from Bangalore:  240 Kms
Trek distance: Approximately 6 Kms to 9 Kms
39. Makalidurga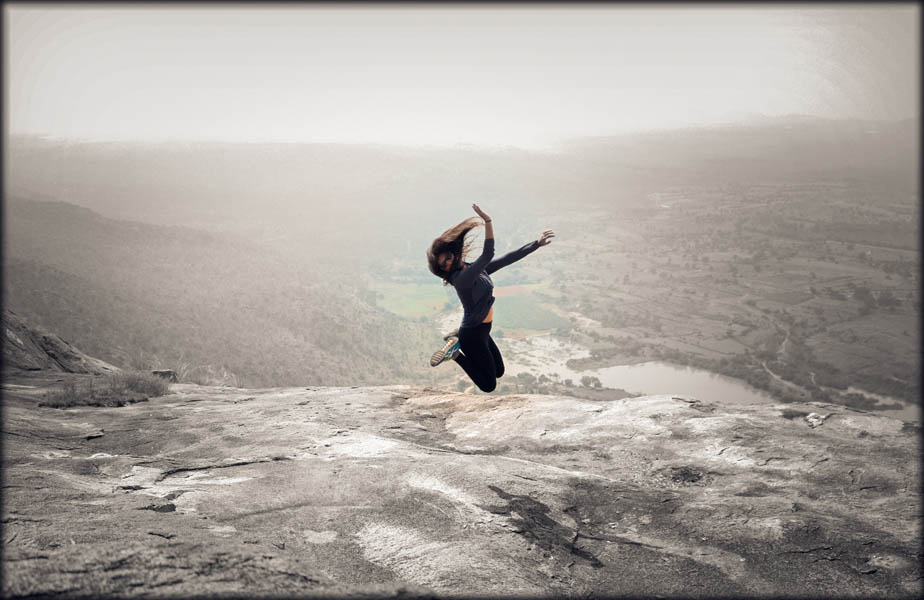 Makalidurga hill is the perfect destination for a day trek from Bangalore. Surrounded by blocks of field, the view from the hill is mesmerizing. Makalidurga trek offers not just the thrill of hiking but also gives an insight into local lives and history. You can combine this trip to Makali with a short trek down to the South American Continent lake. 
Level of difficulty: Easy
Trek distance: 5 Kms to and fro
40. Baamikonda and Kilchika Peaks
The less traversed trails of Baamikonda-Kilchika trek along with a thrilling ridge walk make it a must-do for those seeking adventure. The trek starts from the Mullodi village. Combine your trek with a visit to the Namdroling monastery as well as the Dubare elephant reserve. Dubare hosts one of Karnataka's prominent Elephant camps. Situated by the Cauvery river basin, a few hour's drive from Coorg, Dubare elephant camp is a must-visit for all those elephant fanatics. You can camp and roam around the site or even go on to explore the river trek trail at your own pace. 
Trek distance: Approximately 14 Kms to 16 Kms both ways
41. Kumaraparvatha
Yet another gem of Karnataka is Kumara Parvatha, a famous trekking spot for all nature lovers. Kumara Parvatha, aka Pushpagiri, is the second-highest mountain among the Western Ghats. Blessed in abundance with flora and fauna, it is situated in the Kodagu district of Karnataka. The Kumara Parvatha trek route is considered to be comparatively hard, but definitely worth the effort. If you're into trekking then add this to your must-do trail checklist. 
Distance from Bangalore: 256 Kms
Trek distance: Approximately 28 km to and fro
42. Vagamon Waterfall Trek
How does a 'river-side lunch' sound? Do you have what it takes to hunt down hidden waterfalls? Sandwiched between the Idukki and Kottayam districts of Kerala is Vagamon, the pristine hill station. Vagamon is an ideal weekend getaway for all those wanting to walk away from the city hustle.
Have an adventure, trekking amidst the lush greens, and experience an off-road jeep ride through the Western Ghats.
Distance from Bangalore: 552 Kms 
43. Munnar Trekking
Camping under the starlit sky and hiking up those trails with endless tea estates – take a sneak peek into the land of three rivers, Munnar. Situated among the hills of Western Ghats is the town of Munnar, popularly known as the 'Kashmir of South-India'. Trekking in Munnar is bound to have you rejuvenated from the city humdrum. Some of the major tourist spots and places to visit include Top Station, Echo Point, Anamudi, Eravikulam National Park etc. You can also plan an off-road, lesser-known experience at Munnar with Plan the Unplanned.
Distance from Bangalore: 480 Kms
Trek distance: Approximately 8Kms to 10 Kms
44. Thattekad
Yet another trek in the lap of nature is the one that Thattekad offers. Thattekad wildlife sanctuary is a must-visit for all nature lovers. It is crowned as the "richest bird habitat in peninsular India". Apart from being just a paradise for all bird watchers, it also has some amazing trek trails. Hiking up the river Periyar, or walking amongst the dense canopy is nothing less than complete bliss. One can also pitch your camps near the Edamalayar trail.
Distance from Bangalore: 557 Kms
Trek distance: Approximately 8 Kms to 12 Kms
45. Dudhsagar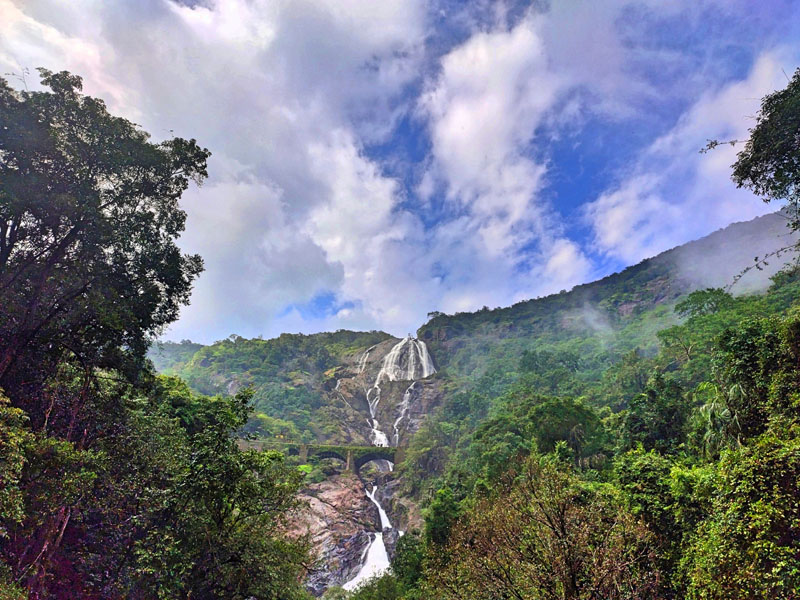 Are you an adventure buff planning a trip to Goa from Bangalore? Then you should definitely club the trip with a trek to Dudhsagar.
Dudhsagar, the sea of milk, is one of the tallest waterfalls of India. Located on the Mandovi river in Goa, Dudhsagar trek is a four-tiered one; four different views at the four levels you stop. Immerse yourself within the lush greens and the milky whites during your trek. You can also stop at the quaint village of Castle rock during your trip.
Distance from Bangalore: 555 Kms
 Trek distance: Approximately 10 Kms
46. Chembra peak
Hike amidst tea plantations and refresh your soul with a bit of mountain air. Chembra peak stands at an elevation of 2100 meters and hosts one of the beautiful trek trails in Wayanad. The three-hour trek is bound to make you spell-bound. Along with the panoramic view, there is also a heart-shaped pond, 'Hridayasarassu,' awaiting you at the peak.
Distance from Bangalore: 310kms
Terk distance: Approximately 7 km
47. Periyar National Park
Periyar national park is an amalgamation of nature, beauty, and adventure. Anyone who's looking for a peaceful getaway amidst rich flora and fauna should definitely consider a visit to Thekkady and its very famous Periyar National Park. Explore the land of cardamom and eucalyptus; get revitalized and fill your hearts with nature's fragrance. You can also try to spot some endemic species like Periyar barb and latia during your visit to the lake.
Distance from Bangalore: Approximately 500 Kms
Trek distance: Approximately 4 Kms to 15 Kms
48. Amedikallu Trek
Need an Instagram-worthy story? Revive the storyteller in you with a trek to Amedikallu, the tortoise-shaped hill in Dharmasthala. Sleeping in tents to aping-up those steep inclines with limited water, this trek is bound to test your will. Amedikallu trek is considered to be one of the toughest treks in Karnataka. Don't fret, the view from up there is definitely worth it all. It is time to get out of your comfort zones and push your limits.
Distance from Bangalore: Approximately 350 Kms
Trek distance: Approximately 20 Kms
49. Bandaje Arbi trek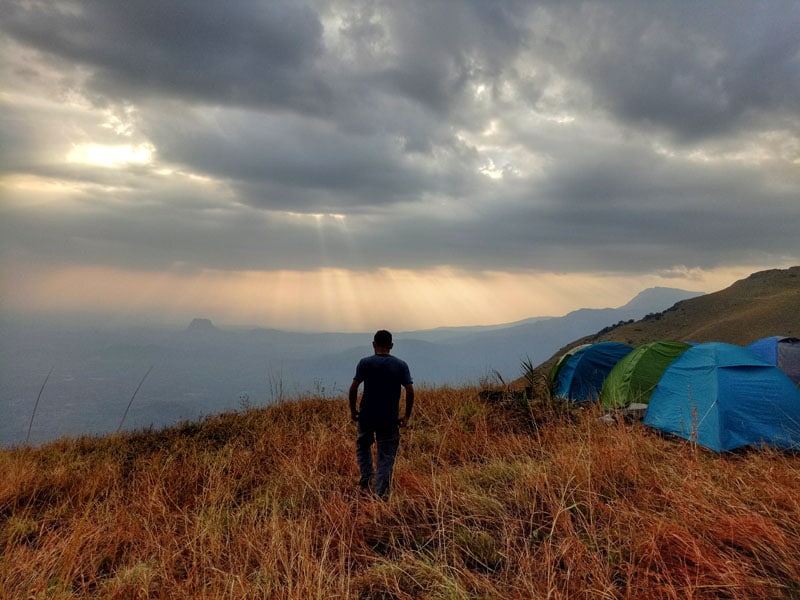 Have you heard of Charmadi Ghats before? Connecting Dakshina Kannada and Chikkamagaluru, Charmudi Ghats is a famous trekking destination. The major attraction for this trek is the Bandage Arbi waterfall. Falling gracefully from a height of about 200 feet, the falls stay hidden from the rest of the world making it a must-do trek in Karnataka. Couple this trek with a hike to Ballarayana Durga fort.
Trek Level: Moderate
50. Kode Kallu and Bale Kallu trek
Yet another adventure trail in the Charmadi ghats radar, is the Kode Kallu and Baale Kullu trek. Situated around 20 Kms from Charmadi Ghats this is supposed to be among the top trekking trails around Mangalore. Balekallu, having gotten its name from the forest banana that once grew here, is one of the highest peaks in Carmudi. Kodekallu, on the other hand, got its name as it resembles an umbrella.
Level of Difficulty: Moderate to high
Now that you know of the 50 best places to spend your weekend, why waste time sitting amidst the chaos of Bangalore! Make plans for the upcoming weekend and tag your friends along!
Blog Credits: Riyanka Roy, Abhilash, and Saloni.