Whether it is an intense long-distance trek that gives your team the thrill or a chilled-out experience, or maybe even something in the middle, we have events of all difficulty levels planned for you based on several criteria, including trek duration, distance, inclination and so on. 
However, personal fitness levels, past trekking experiences, group size and the average age of a group are factors that ultimately determine whether a particular trek would be suited for your team.
Here are some options we provide:
2 Nights and 2 Days Events: The most preferred choice for a majority of our corporate clients since this ensures maximum time spent together as a team while making the best use of weekends as well as having the option to choose from some of the best places for team outing around Bangalore.

Start Time: 9 pm on  Day 0
End Time: 10 pm on Day 2

Overnight Events: These are more suited for groups who wish to spend adequate time together and are looking for a more casual outing. 

Start Time: 2 pm on  Day 0
End Time: Noon on Day 1

One-Day Events: If your group wants to leave and return to Bangalore on the same day, look no further. Choose from some of the best one-day team outings places in Bangalore.

Start Time: 5 am
End Time: 3 pm
If you are looking for a more tailor-made itinerary for your team outing, get in touch with us, and we can provide customised plans per your requirements.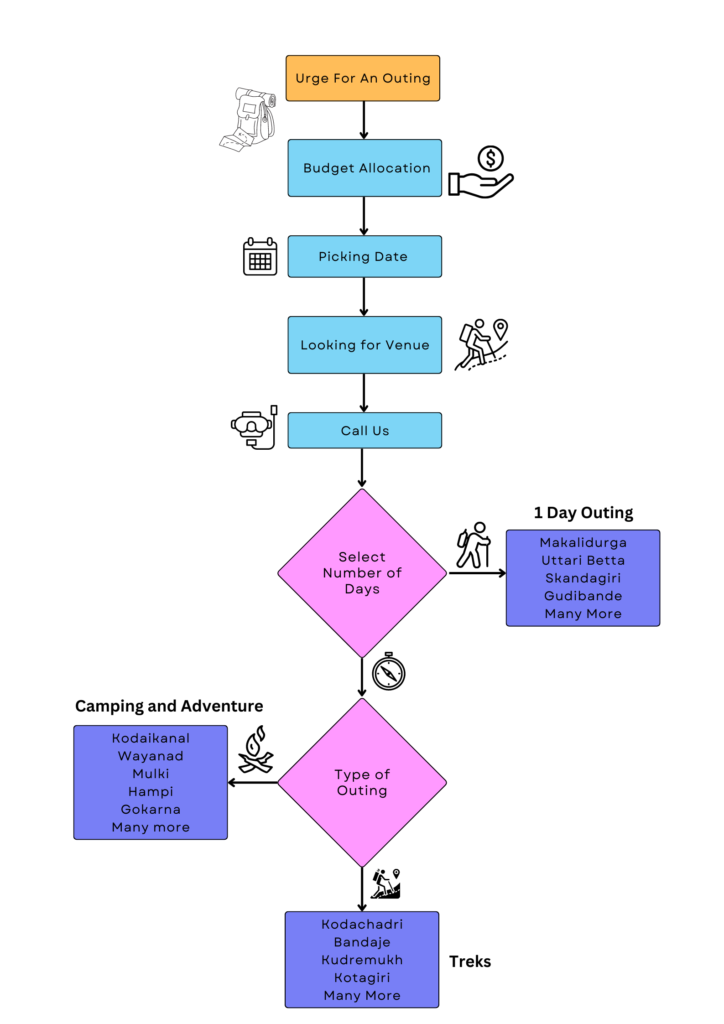 Submit your requirement, and we will reach you by email or phone as soon as possible. 
For Bangalore Outings, call us at 07760710005.
In all other scenarios, write to us in the following format: 
Subject: Corporate Team Outing – Company Name
Body: Tell us about the strength of your group. Let us know if you are interested in a specific event. If you want to enquire about different events, mention your interests, priorities, and age group. Don't forget to add your name and contact details.