From the fables to tales, religion to practices, superstitions to spirits, Thailand's social fabric encompasses all boundaries. Drape yourself with humbleness and carry gratitude; people will cover the extra mile to give you a warm Sanuk feeling, so much so that you would forever want to be coloured in the mystical sense of belonging.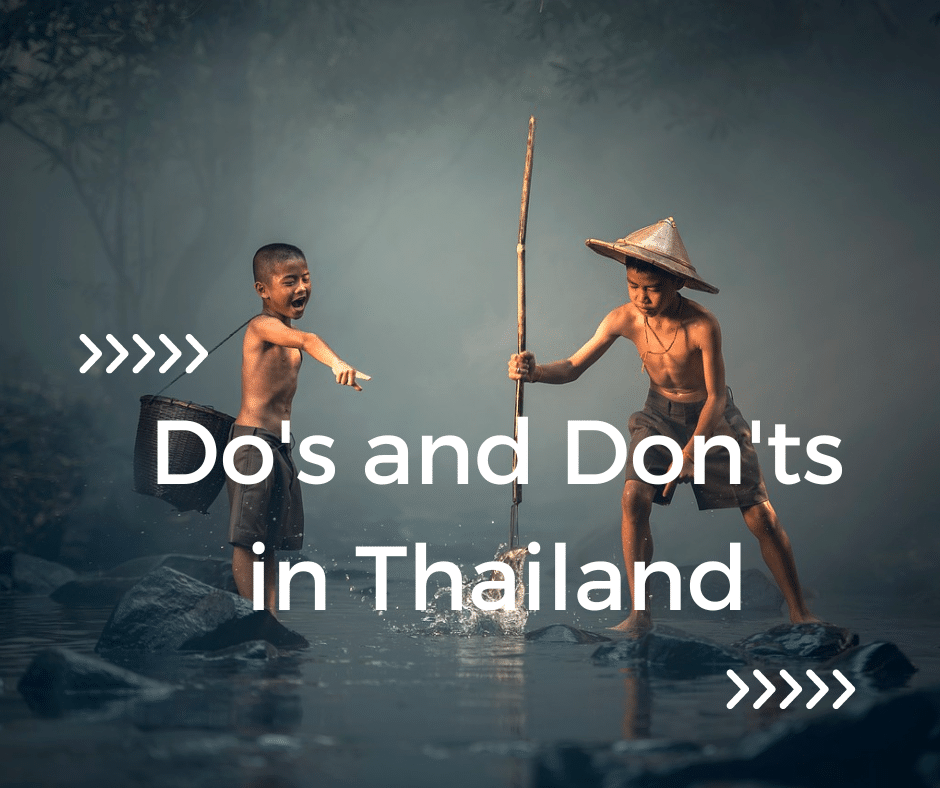 Do's and Don'ts in Thailand
Do's
Playfulness is central to life in Thailand. Whether in the office, field or bar, they follow Sanuk. For your spontaneously joyful personality, Thailand will open a red carpet with flowers floating on its aisle. If you are light-hearted, they will take you in.


Source: sasint/Pixabay

Family is the second thing that is central to a Thai's life.

You will find many extended families living under the same roof.

Losing their temper is a sign of shame for them.

Even if a person is sad, they will not confront or show anger toward a foreign being. They are known for self-control. Be mindful of what you speak while in Thailand. Speaking ill of the Thai royal family can lead to prison time, regardless of citizenship. In 2012 an American was released from Thai jail after receiving a pardon after he insulted the Thai king. In 2015 a Thai man was charged with making a "sarcastic" Internet post tied to the king's pet dog. Tourists are advised not to mention the king at all.

Thais are very proud of their land since they could never be colonised by a European power.

ource: sasint/Pixabay

Getting a Thai SIM card is easy.

You can conveniently get it at most international airports; rental mobile phones and SIM cards are readily available in destinations including Bangkok, Chiang Mai, and Phuket.  

Beware of pickpockets.
Carry light clothes and sunscreen.

Since Thailand is a Tropical country, the sun feels burning during summer. 

Respect for the hierarchy is a very important value for Thai people.

The custom of

bun khun

emphasises the indebtedness towards parents, as well as towards guardians, teachers, and caretakers.


Source: terimakasih0/Pixabay

It is also customary to remove one's footwear before entering a home or the sacred areas within a temple.

 
Don'ts
Do not touch someone's head

, as it is considered sacred.

Do not point your feet at people or objects

, as the feet are considered the lowest and dirtiest part of the body.

Do not touch or pass things over someone's head.
Do not disrespect the monarchy or Buddhism

; both are deeply revered in Thai culture.

All visitors should avoid touching objects in the temple, and women should never touch a monk.

A number of Thai customs relate to the special status of monks in Thai society. Thai monks are forbidden physical contact with women. Women are therefore expected to make way for passing monks to ensure that accidental contact does not occur. Women making offerings to monks place their donation at the feet of the monk, or on a cloth laid on the ground or a table. 

Laypersons are expected to sit or stand with their heads at a lower level than that of a monk.

Within a temple, monks sit on a raised platform during ceremonies to make this easier to achieve.

It is also considered rude to step on any type of Thai currency, as they include a likeness of the King of Thailand.
Just notice and practice a few do's and don'ts to have a pleasant time in Thailand. If you have any other doubts or have any information that can be useful to readers, write in the comments.
Here are some important links for your Trip to Thailand