When I got a call from Tarun from Plan the Unplanned, inviting me to be a part of their Kodachadri trek the following weekend, I never imagined it would turn out to be one of my most memorable weekend trips to date.
Nestled deep in the Western Ghats in the district of Shimoga and holding its place as the tenth highest peak in the State, Kodachadri is home to lush green jungle trails through dense tropical forests, picturesque waterfalls and mesmerizing landscapes. Located in the Mookambika Wildlife Sanctuary, it also forms the perfect backdrop to the Moola Mookambika Temple, believed to be the place of origin of Goddess Mookambika. Catching a glimpse of the evening sunset into the Arabian Sea from its peak offers an enchanting experience; a combination of mountain and ocean, that very few peaks in the country can boast of.
---
Kodachadri TREK AT A GLANCE
Location: Near Kollur, Shimoga District, Karnataka
Kodachadri Trek Distance: 14 km approx (via Hidlumane Falls)
Trail Type: Dense Tropical Rainforests, waterfalls, meadows, and cliffs
Trek Duration: 1 Day
Kodachadri Peak Altitude:  1,343 meters above sea level
Difficulty: Moderate (No prior experience required)
---
THE TRAIL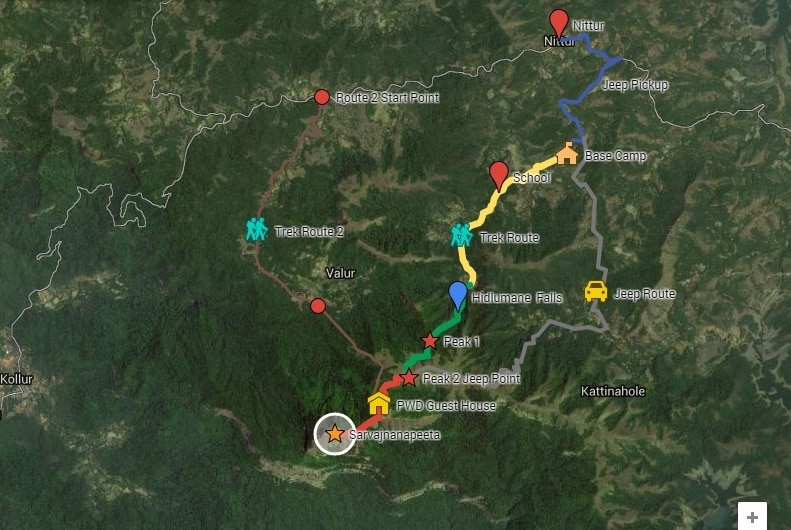 There are mainly three trails to the peak apart from several other less explored ones. The most popular, as well as the most challenging, is the one via Hidlumane Falls starting from either Sampekatte or Marakuttaka. This trail is relatively steep and rugged and requires you to make your way through thick forests, gentle streams and quite litreally climb a waterfall which becomes a whole another ballgame during peak monsoons. Despite the efforts, the journey to the top is one you'll remember and be proud of as you're transported to another world, with magical sights, untouched forests and challenging climbs at every corner.
The other relatively easier trail is the one from Karakatte via Santhosh Hotel, Valur (Trek Route 2 in the image above). Private vehicles can easily come up till the tiny settlement housing the hotel and one can begin their trek from here which takes around 4-5 hours to reach the peak.
The third trail is actually a jeep route and is the longest of the three and is one which you'll be taking on your descend from Kodachadri if you happen to opt for a jeep.
All three trails eventually culminate at the Moola Mukambika temple which also houses a PWD guest house and a couple of homestays that serve as an important landmark on your way to the peak. From here the peak is around 2 kms.
---
Kodachadri TREK (via HIDLUMANE FALLS)
The trail via Hidlumane falls is the one that the team from Plan the Unplanned including myself followed on our way to Kodachadri in May 2018 and as such I will be focusing on the same.
As aptly explained by our trek lead, Jatin who also happens to be one of the founders of PTU, there are mainly five milestones that one needs to look out for on this trail.
The first is an open field of meadow that pops up out of nowhere amidst thick forest trails. Numerous paddy fields later, the trail ultimately leads up to a house where a small surprise awaits for the tired trekkers. Spoiler alert, the challenging part of the trek actually starts from here.
The second is the much awaited Hidlumane Falls which is a combination of seven waterfalls and making your way up each of them is an adventure on its own. However, your efforts are duly rewarded for with spectacular views of the main waterfall cascading down on you from a height of around 60 feet. The feeling of pristine water gushing over your tired bodies was therapy, to say the least. Do refill your water bottles here as you're going to need it for the trek ahead.
An almost vertical climb on the front face of the trail over tree roots and slippery rocks from the Kodachadri Falls leads to steeper meadows that eventually end up on the top of the very first peak on this trail. This forms the third milestone and is a good place to rest and have some much-deserved lunch.
Further, the trail diverges only to merge again until it joins the jeep trail that leads up to the Kodachadri Temple. This is your fourth milestone and is also the point from where you'll be hiring a jeep on your way down.
From here, a rocky trail through a cliff's edge ultimately leads you to the fifth and final milestone of the trek which is the Kodachadri peak itself. Here you will find the Sarvajna Peetha, a small temple-like structure made of stone where Adi Sankaracharya, an 8th-century Indian philosopher and theologian is said to have mediated. Apart from this, grand vistas all around and the view of the sunset over the Arabian Sea scattering a myriad of hues all across the vast evening sky make all your efforts worthwhile and fill you with a sense of achievement that no corporate targets or performance bonuses can offer.
---
BEST SEASON TO VISIT
The Kodachadri trek can be done all year round and each season has its own charm. However, the monsoon or the post-monsoon season is more preferred as the landscapes here truly come alive with greenery. However heavy rains and the unpredictable Kodachadri weather can make crossing the waterfalls much more challenging and trekking here becomes relatively more difficult.
---
HOW TO REACH
Kodachadri is located on the Shimoga-Kollur highway with Kollur being the closest (20 kms) which is connected to major cities such as Bangalore, Chennai and Mumbai by bus. The distance to Kodachadri from Bangalore is around 400 kms via road and the ideal route would be Bangalore – Tumkur – Tiptur – Arsikere – Tarikere – Shimoga – Hosanagara – Nittur. And from Kerala; Mangalore – Udupi – Baindur – Kollur – Nittur.
The nearest railroad is at Kundapura located at around 50 kms from Kollur and the nearest airport at Mangalore which is around 150 kms from the same.
---
FOOD & ACCOMMODATION
The guys at PTU had arranged our stay at a homestay near Sampekatte which was a short drive away from the starting point of our trek. This was as close to home as a homestay could get and the strictly authentic local vegetarian cuisine they served here was a delight to the senses and an experience in itself. Add to that the extremely friendly old couple running the place, look after your every need.
A handful of other homestays are available around the region. However, prior booking is a must for all of them.
If you wish to stay closer to the Kodachadri peak the only option is to book a room in advance at the PWD guest house near the Moola Mookambika Temple. There are also a couple of homestays here that provide basic amenities. Camping at the Kodachadri peak, however, has been strictly prohibited by the Forest Department since January 2015.
---
PACKING LIST
One of the highlights of the trek to Kodachadri is that being a one day trek, you only need to carry the very essentials with you which is a blessing for the back and shoulders. A small and sturdy 20-litre backpack, a couple of 1-litre water bottles, a rain jacket owing to the unpredictable Kodachadri weather, a cap for sun protection, some energy-snacks, a packed lunch and a basic first aid kit will do just fine.
A comfortable pair of shoes having decent grip is an absolute must (Waterproofing though not compulsory will have added benefits while crossing waterfalls or streams). Trousers or track pants offer slightly better protection against those hungry leaches over shorts but those suckers will manage to find their way inside nevertheless.
---
CONCLUSION
Dr. Shivarama Karantha, a renowned Kannada writer and a Jnanpith Awardee (the highest litreary honour conferred in India) after his trek to Kodachadri in the 1940's considered it as the most beautiful of the three mountain peaks of coastal Karnataka, the other two being Kuduremukh and Kumara Parvata and rightly so. However, the situation today may or may not be the same depending on what you choose to perceive. Decades of mindless tourist flow and pilgrimage have definitely had their impact on this Natural Heritage Site.
But these gentle forests and mountains still take care of every soul who set foot within their bounds, offering them plentiful shade and a place to rest everytime it gets too hot or natural sources of water whenever it gets too tiring. If only we humans could be this thoughtful. I urge you to travel responsibly when visiting places like these. Take back memories of a lifetime and leave only footprints.
I would like to applaud team Plan The Unplanned in this regard for their own green trails initiative of collecting and disposing of trash around the Kodachadri trail and strictly implementing the 'Do Not Trash Your Travel' policy all throughout the trek. Small steps like these go a long way in ensuring these natural beauties stay around a lot longer. And before you go on to blame the government or the mindless tourists, remember, change always starts with you.
---
Kodachadri Travel FAQs
What is the best time to visit Kodachadri?
The best time to visit Kodachadri hills is from August to December. It's always best to trek during winters. Usually, the weather during winter and summer will be around 20 degrees and 34 degrees. 
What is the duration of the Kodachadri trek?
 The trek is a 12-km route from Nittur from Kodachadri gate. This trek can take 8-10 hours to complete for a person with average fitness.
How to reach Kodachadri from Bangalore?
Kodachadri to Bangalore is around 400 kilometers via NH 48, and you can reach it by various means of transport.
By train: The nearest railway station is the Kundapura Railway Station. It is connected to Mangalore, Bangalore, and major cities of the country. From there one can hire jeeps to reach Kodachadri.
By Road: One of the best ways to reach Kodachadri is by road. There are frequent buses from Bangalore and some other parts of the state to Kollur and Kodachadri. From these two places, there are bus services till Nittur village. From Nittur village visitors can hire private vehicles to reach Kodachadri. 
By Air: The nearest airport is located in Mangalore. There are buses and taxis available from Mangalore Airport to reach Kollur. From Kollur one can take a bus or hire private vehicles to reach Nittur village.
Will there be leeches in Kodachadri?
Leeches are commonly found in rain forests, occurring mostly in damp areas. So, in the case of Karnataka's rain forest trekking trail – Kodachadri, you can very well expect it.
Is camping/night stay allowed in Kodachadri hills?
You cannot camp or stay during the night at the peak of Kodachadri hills. You will have to stay at Kollur or Kundapura.
What are the main attractions of Kodachadri?
Kodachadri is famed for its mesmerizing sunset. Also, the main attraction of Kodachadri is "Sarvajna Peetha" which is on the hilltop and the Hidumulae falls.
What are the other places to visit near Kodachadri?
The other places to visit near Kodachadri are Kollur Mookambika temple, Nagara Fort, and Arasinagundi falls
What is the nearest town to Kodachadri?
Kollur is the nearest town located to Kodachadri, and it's an ideal spot from where you can reach the hill. An alternate route is to travel overnight to Nittur Village.
How to reach Kodachadri from Kollur?
Kollur, which is located near Kodachadri (9km) is an ideal spot from where you can reach the hill. You can reach Kollur from Bangalore or from Shimoga. Jeeps will be available from Kollur to Kodachadri.
Is it possible to trek and descend via jeeps?
Yes, you can trek to the peak of Kodachadri and descend to the base with a jeep ride. Sometimes people take jeep rides to Mookambika temple and trek to the peak from there. 
Which is the best time to trek through hidlumane falls?
The best time to trek through hidlumane falls is post-monsoon, i.e September to February.
What is ATM access like in Kodachadri?
There are no ATMs available close to Kodachadri. You must travel to Kollur from Kodachadri to find ATMs.
What are the places to visit at Kodachadri peak?
Sunset Point

Hidlumane Falls (can be seen if the trek is done from the base)

Shankara Peetham

Ganapati Cave

Chitramoola
What is the level of fitness expected from the trekkers?
You need to be in good physical condition before the start of the trek. You should be able to jog 4.5 km in 30 minutes.