The Lonely Planet describes Hampi as – "A fantasy world of rocks and ruins".
Well, it's more real than fantasy, a world that was once covered with richness and grandeur, now lies as a devastated beauty.
Hampi is one of the World Heritage Sites that has been declared by UNESCO and is located on the banks of the Tungabhadra River. This city has a very rich history as it was one of the largest cities back in its day. It was even the capital of the Vijayanagar Empire.

Currently, the city is divided into halves: the hippie island and the heritage sites.
So, if you are interested in ancient Indian history and knowing about how the old world worked, this is the place for you to explore.
With places such as Vittala Temple and the Virupaksha Temple, your entire curiosity will be well nurtured. You will be surrounded by beautiful structures of architecture that have so many stories hidden within their stone walls. These sites also prove to be great places for taking pictures – thanks to the sheer beauty of all the structures present there.
To cater the needs of your adventurous soul, we shall guide you to the hippie island that's on the other side of the river. Riding on your moped, you'll surely have a thrilling experience while exploring the painted walls and the fancy cafes that will completely blow your taste-buds!
So join us on a visit to this spectacular place that is going to be a blend of culture, history, panoramic views and a lot of fun!
Alert: Upcoming Events!!! (23rd – 25th Feb 2018)
Banavasi – Time Travel To Old Karnataka
Kopatty Coorg Trek (Women Only)
Baamikonda & Kilchika peaks Trek
The Backpacker's Escape to Bhutan (15th March – 24th March 2018)
TREK DATES
23rd – 25th Feb 2018, 9th – 11th Mar 2018
LOCATION
Bangalore
TREK LEVEL
Easy
DAY 0
Leave from Bangalore at 10:00 PM
 DAY 1 

Reach Hampi
Freshen up and have breakfast
Take your mopeds and go for bouldering
Explore hippie side of Hampi
Coracle Ride at Sanapur Reservoir
Head back to stay
Dinner
Campfire at the rocks
Camping

DAY 2

Explore Heritage Side of Hampi ( Virupaksha Temple, Lotus Mahal, Elephants Stable, Vittala Temple) via Auto
Lunch
Reach Bangalore by 11:00PM (approx)

INCLUDED

| | |
| --- | --- |
|  Sharing basis accommodation in Tents ( 2 Men/3 Men). |  Coracle ride |
| Mopeds rent with fuel (1.5 litre) | Bouldering under Professional Guidance and Use of Equipments |
|   2 Breakfast and 1 Dinner ( Veg Only ) |   Transportation ( To and Fro till Bangalore ) ( Non AC) |
| Experience that you gain | |

NOT INCLUDED

| | |
| --- | --- |
| Lunch ( Day 1 and Day 2) | Any kind of insurance |
| Exploring Hampi on Auto ( Min Rs 150 – Rs 200 Max) | Anything not included in the inclusions above |
Albums/videos: Facebook, Meetup, Youtube, Instagram
For detailed itinerary click on the itinerary tab.
Subscribe to Event Updates
For booking inquiry, you can call us at: 9035182699, 9428909952
Day 0: Depart for Hampi
We will be leaving from Bangalore by 10:00 PM and making the 364 kilometre ride all the way to Hampi.
Day 1: Explore Hippie side of Hampi
After everyone is sufficiently freshened up, we will be making our way to the boulders. One of the main things that Hampi is known for is bouldering. Bouldering is the process in which one uses their body weight to climb up a rock. If you are scared at the prospective of doing so, don't be. There are going to be plenty of professionals who will help you navigate the rocks with great ease. Sadly, all this fun can only last for two hours before we move on to something that will be even more fun!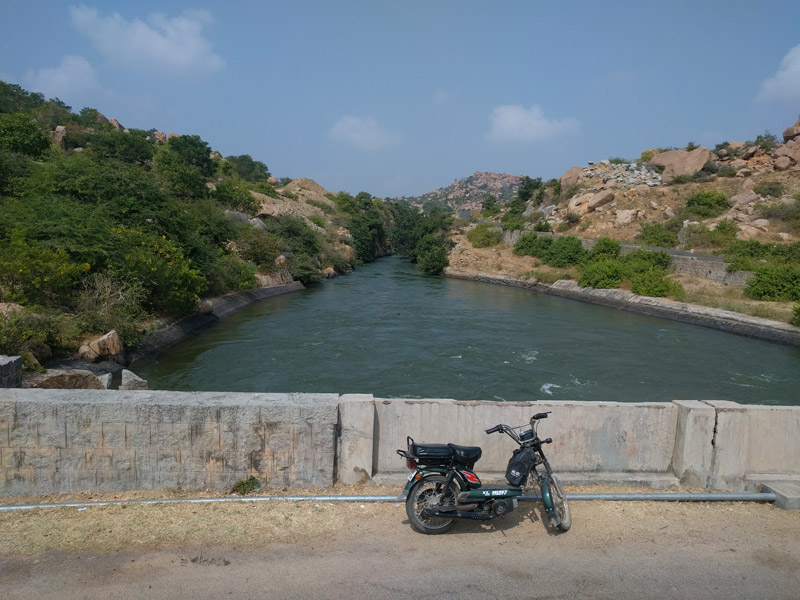 Mopeds will be available on the site and can be used as a mode of transportation for those who do not want to walk. We will replenish our energy by having lunch and then we will head off to Sanapur Lake. This gorgeous lake is in fact a reservoir of river Tungabadra and is very common for cliff jumping. You can rest your tired legs in the soothing water that the lake houses while enjoying the beautiful scenery all around you.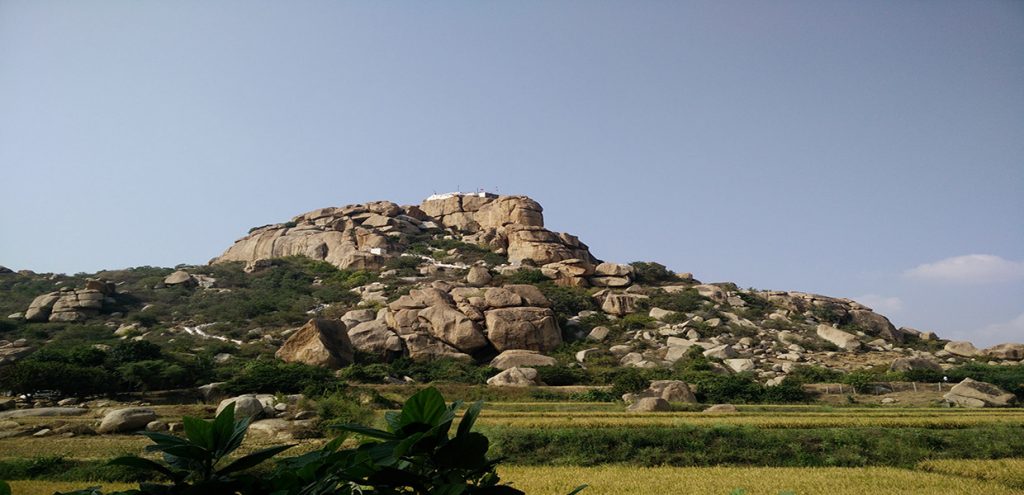 After this brief period of resting, we will be back on our feet and on the way to Anjaneya Hill. Legend has it that Lord Hanuman was born on top of this hill because of which it is also known as Hanuman hill. This hill has a wonderful view of the entire city as it shows both the heritage as well as the island side of the city. We will watch the sun go down from the top of this stunning hill and will then head back for dinner.
After everyone has once again replenished their energy, we will go for a late night walk to the rocks. Over here, you can sit down and enjoy the view that will be illuminated by the glowing flames of the campfire.
Day 2: Explore Heritage side of Hampi
We will rise and shine early in the morning to watch the spectacular sunrise that just cannot be missed. You will observe the gorgeous blend of yellow, orange and blue from the top of the Hemakunta hills. These hills are home to a number of temples dedicated to Lord Shiva.
All the history and culture buffs, get ready because your time is here. We will take an early morning ferry to the heritage side of Hampi, and you guys are in for a treat!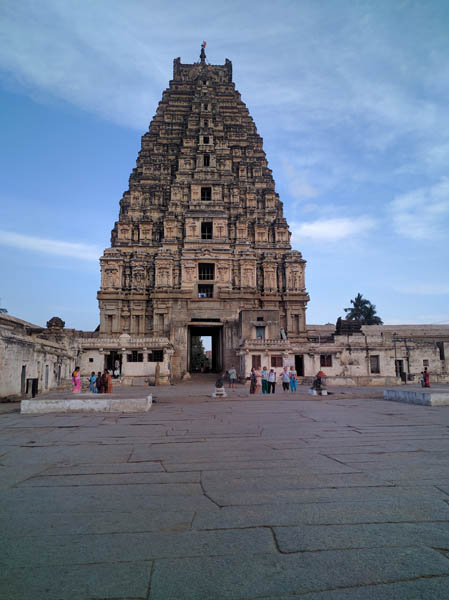 We will first head to the Virupaksha temple which has three stunning entrance towers to it. This temple is dedicated to Shiva, Pampa and Bhuvaneshwari and also has a very serene pavilion situated within the structure. We will then head to the Vitthala temple via Mathanga hills. This temple is house to the legendary Stone Chariot which is the symbol of Karnataka tourism.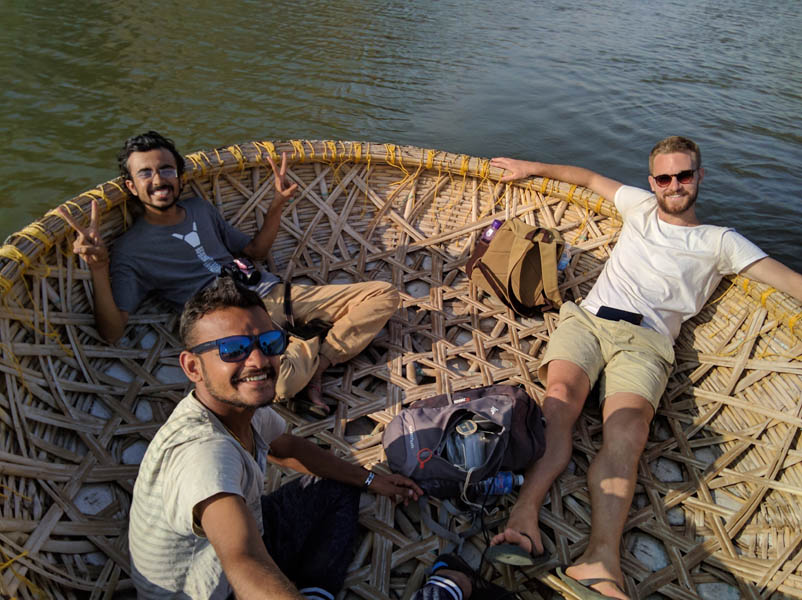 After a morning filled with absorbing information about the rich culture of this wonderful city, we will be enjoying a ride across the river in a coracle. A coracle is a floating basket or a boat that are made of leather, plastic and bitumen. You can enjoy swaying across the water in these adorable structures while observing the beautiful blue-ness all around you.
Sadly we will have to be back by afternoon and start making our way back to Bangalore. Our time with each other might end there, but the endless memories never will.

NOTE:
Consumption of alcohol, intoxicants and smoking would not be tolerated during the entire course of the journey. Kindly co-operate with us to make the experience more fun.
Put Litter in its place, do not trash the mother earth.
In the case of traffic delays or breakdowns, expect a few delay in reaching the destination.
Plan The Unplanned will not be responsible for any loss/ hamper of your possessions. We request you to be alert about whatever you carry.
All the meals will be Veg if included
Following are your pickup/drop locations. You could let us know which would be appropriate to you before the trek in advance. Also note, the drop points would be the same as pick up.
Fabindia – House No. 54, 17th Main Road, Opp. Madivala Masjid, Koramangala 2nd Block, Sidharata Colony, Santhosapuram, Koramangala 2nd Block, Koramangala, Bengaluru, Karnataka.
New Shanti Sagar Hotel – Old Airport Road, Domlur, Bengaluru, Karnataka.
KTM Mekhri Circle – Mekhri Circle Junction, Raj Mahal Vilas Extension, Armane Nagar, Bengaluru, Karnataka.
Kindly note the timings for the above pickups, would be updated to you a day before the trek.
We request you to kindly carry the following. It's better to be prepared rather than not prepared.
Yourself (That's most important – after all you paid us!)

Rucksack (Just stuff your things in!)

2 water bottle – 1 litre each (Dehydration is much needed.)

Torch/Headlamp (It'll be really dark at night.)
Portable charger (You might just want to keep your phone aside, but then, selfies toh banta hai!)
Deodorant (You shouldn't stink!)
Paytm balance (Thanks to Demonetization)
Money (You'll not need it, but do carry some!)
Energy Food ( Chocolate bars, Electrolyte drinks – Glucon-D, etc ) (You can carry some extra – we don't mind to share!)
Raincoat / Bag cover (Of course, you don't want your rucksack to get all wet!)
An extra pair of clothes, socks, undergarments, T-Shirt (And we don't want you to walk in drenched clothes!)
Flip-flops (Just to laze around the campsite.)
First Aid Kit (along with personal medicine as per your requirement)
Toilet kit (Not much would be required – just your toothbrush would do)
Towel (Oh! We believe in saving water. Let's ditch bathing for two days!)
OPTIONAL: AUX CABLE, UNO, BLUETOOTH SPEAKER,  GUITAR/ANY MUSIC INSTRUMENT, or any other games.