As much as physical training is necessary, mental preparation for a trek will make you wired to take in any challenge. Moreover, it will make you mentally adapt and tough. 
Mental toughness is the quality that allows people to persist in the face of difficulties. Adaptation is the brain's way of saying, "Hey, okay! I am ready. Bring it on." 
The more mentally strong you are, the more you can take in, and the more adaptation will result. Grit, resilience and willpower are all faces of the same coin. You see challenges as opportunities; your brain adapts to those. 
Now the obvious question is, "Can I improve my mental toughness?"
You must have practised for games. With time, you must have noticed an improvement curve. Our brains can grow and reorganise with practice. This is known as neuroplasticity. 
Neuroplasticity is a boon for mental preparation for a trek. You will be stepping into most of your treks for the first time. To improve your familiarity with the unknown, you can start by reading blogs, watching videos, and becoming aware of the weather conditions and types of trails.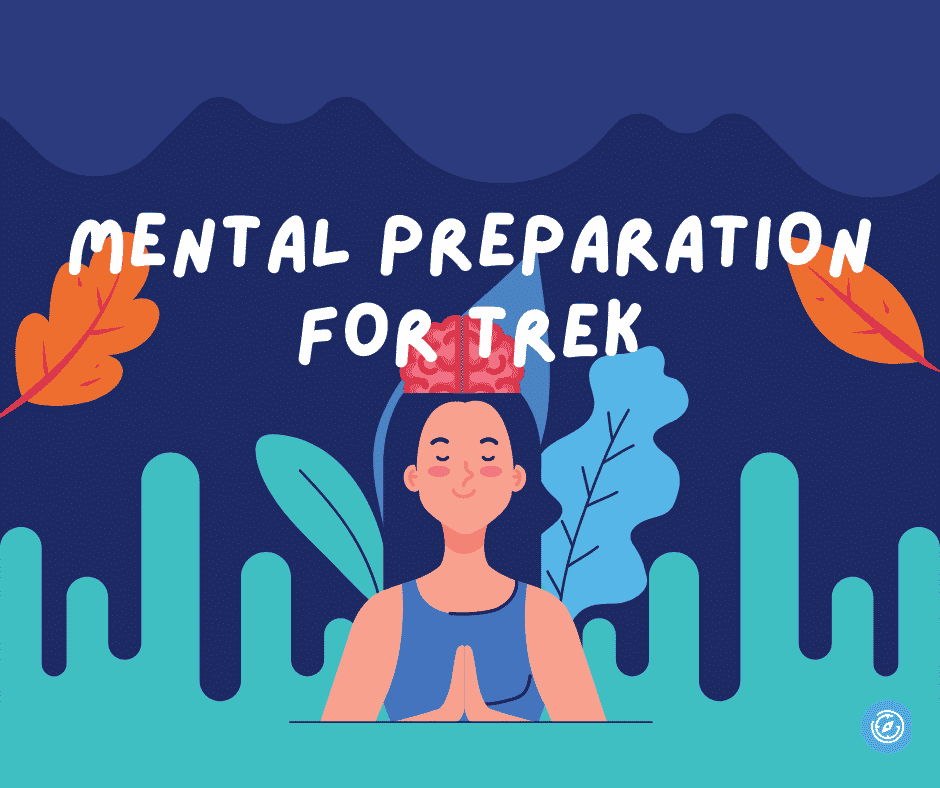 Here are some ways to prepare mentally for a trek:
1. Reason it out
Your reason for trekking is essential. You will spend a significant part of your savings and energy on this trek; roughly define a personal purpose for this trek. Consider these:
Am I doing it for fun?

Do I want to spend time with friends or myself?

Am I breaking any mental barriers?

Am I doing it to find any reason or settle wi

Am I trekking to heal from a loss?

Do I want to find a reason/purpose for something?

Do I want to test my strength?
2. Know the science behind everything related to trekking.

 
Read these blogs for reference:
3. Positive Self-Talk
Build a habit of positive self-talking. Appreciate your work, surround yourself with challenges and work upon them. You can start this by setting a routine for yourself. Abide by it, no matter what! Tell yourself often, "I can do this. I have done this before, and I will do it again."
The best way to prepare is to speak, "Whatever comes; I will handle it bravely and smartly. I am smart."
4. Adopt a growth mindset.
The growth mindset step is critical and helps you tap into your sense of endurance and stamina. Give yourself at least a month to prepare for a Himalayan trek. Incrementally, fit in different exercises, increase time limits, and push your boundaries. Test your perseverance, and know about your limitations. 
You can focus on these three aspects to adopt a growth mindset:
Focus on the basics

Seek constructive criticism

Be consistent and stop competing when you are still in the age of learning.
5. Winning the Mental Way
Psychologists say, "When you practice executing a skill in your head, it becomes a conditioned response. When a skill becomes a conditioned response, it comes to you instinctively when you are in the field."
6. Be informed. Prepare some worst-case exit options for yourself.
You are strong, but you are also a human. You might have been preparing for a trek for many months, but your body can fall sick; you might face an injury or develop symptoms of AMS. Having an exit strategy in place will ease your anxiety for sure. 
Assure yourself that you would take the help of a mule or return to the safest location in the worst cases. 
7. Assess your health from time to time

.
Be wise enough to stop when your body is giving you signals. This is the most challenging thing to do, but this can save you from unnecessary problems. 
8. Trust your leaders.
Tell yourself you are in good hands. Your leaders have successfully (and unsuccessfully) conducted treks in the past. You can depend on them for advice and orders.
9. List everything that you have done in the past.
For example, recall when you pulled yourself out of difficult circumstances or finished a task you considered difficult. Reassure yourself that you are a winner and your competition is only you. The only thing you have to do is walk slowly and steadily on the trail.
10. Stop Procrastinating. 
Win over your mental demons. Mental and physical preparation is interdependent. Go on that long walk you had planned. Or, hit the gym whenever you have time.
Apart from this, just stay healthy. Remember to not push excessively during the last week to avoid injuries; you can concentrate on stretching exercises, walks and diet. Also, don't make it hard on yourself. Make it fun. Play with your mind and routine; we are sure you will ace your trek. 
Everybody knows about this topic reasonably. Yet we decided to write it to guide you stepwise through your 'mental preparation for a trek' journey. If you are already doing this – fabulous! But if you are not, when are you starting? 
Write in the comments what you think about mental preparation.