The first time I planned for the Himalayan trek, I faced a lot of trouble figuring out the dressing material. I did not know the essential layers for a Himalayan trek. So I went to a nearby store and purchased some items to tread my foot openly in the Himalayas. The Himalayas were kind, and luckily, I was saved. 
Today, we have plenty of information on the Internet for clothing for Himalayan treks so that you can make informed decisions regarding the kind of layers you need for a Himalayan trek. Still, we see people coming to attempt the Himalayan trek without good layers to keep themselves warm. Some of them lose in the Himalayan Weather game. 
So, I thought of making a list of all essential layers to wear on a Himalayan trek to take maximum benefit of the Himalayas while keeping your body healthy. Note that apart from the type, quality and size of these layers matter. Keep your laziness aside, visit your nearest sports store and buy items only after trial.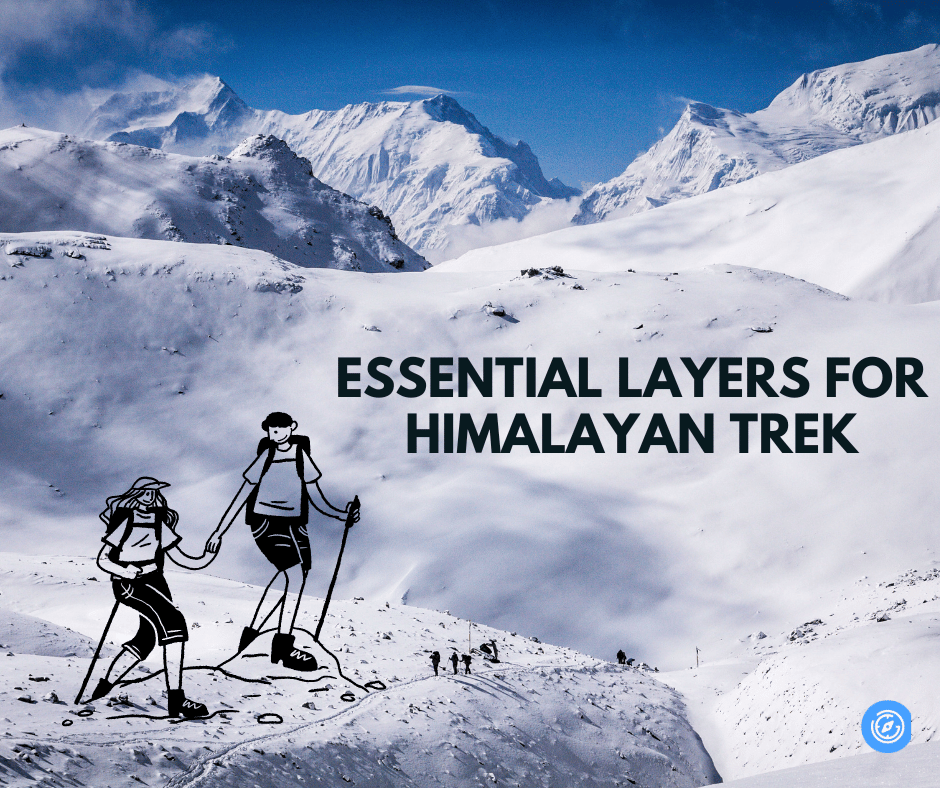 Some Treks based on difficulty
Easy-Moderate Himalayan Treks
Triund Trek | 1 Day
Kedarkantha Trek | 6 Days
Brahmatal Trek | 6 Days
Nag Tibba trek | 2 Days
Valley of Flowers Trek | 4 Days
Tarsar Marsar Trek | 6 Days
Hampta Pass Trek | 5 Days
Deoriatal-Chandrashila Trek | 3 Days
Dayara Bugyal Trek | 4 Days
Marchoi Trek | 4 days
Moderate-Difficult Himalayan Treks
Roopkund Trek | 9 Days
Annapurna Base Camp Trek | 11 Days
Kashmir Great Lakes Trek | 7 Days
Rupin Pass Trek | 5 Days
Buran Ghati Trek | 7 Days
Markha Valley Trek | 8 Days
Difficult Himalayan Treks
Chadar Trek | 9 Days
Pin Parvati Trek | 9 Days
Everest Base Camp Trek | 12 Days
Bali Pass Trek | 8 Days
Pangarchulla trek | 6 Days
---
How difficult is trekking in the Himalayas going to be? How cold can it get?

 
Trekking in the Himalayas is manageable, but you can expect moderate difficulty due to temperature variations. On average, the temperature will fluctuate between -10 °C to 15 °C. This means you will be wearing just two-three layers during the day. Protect yourself from the biting cold at night with some layers. Instead of one thick layer, opt for multiple layers to trap heat and keep yourself warm. 
You should keep at least five layers for any situation and exercise for a smooth trekking experience in the Himalayas.
---
Layers to Wear For A Himalayan Trek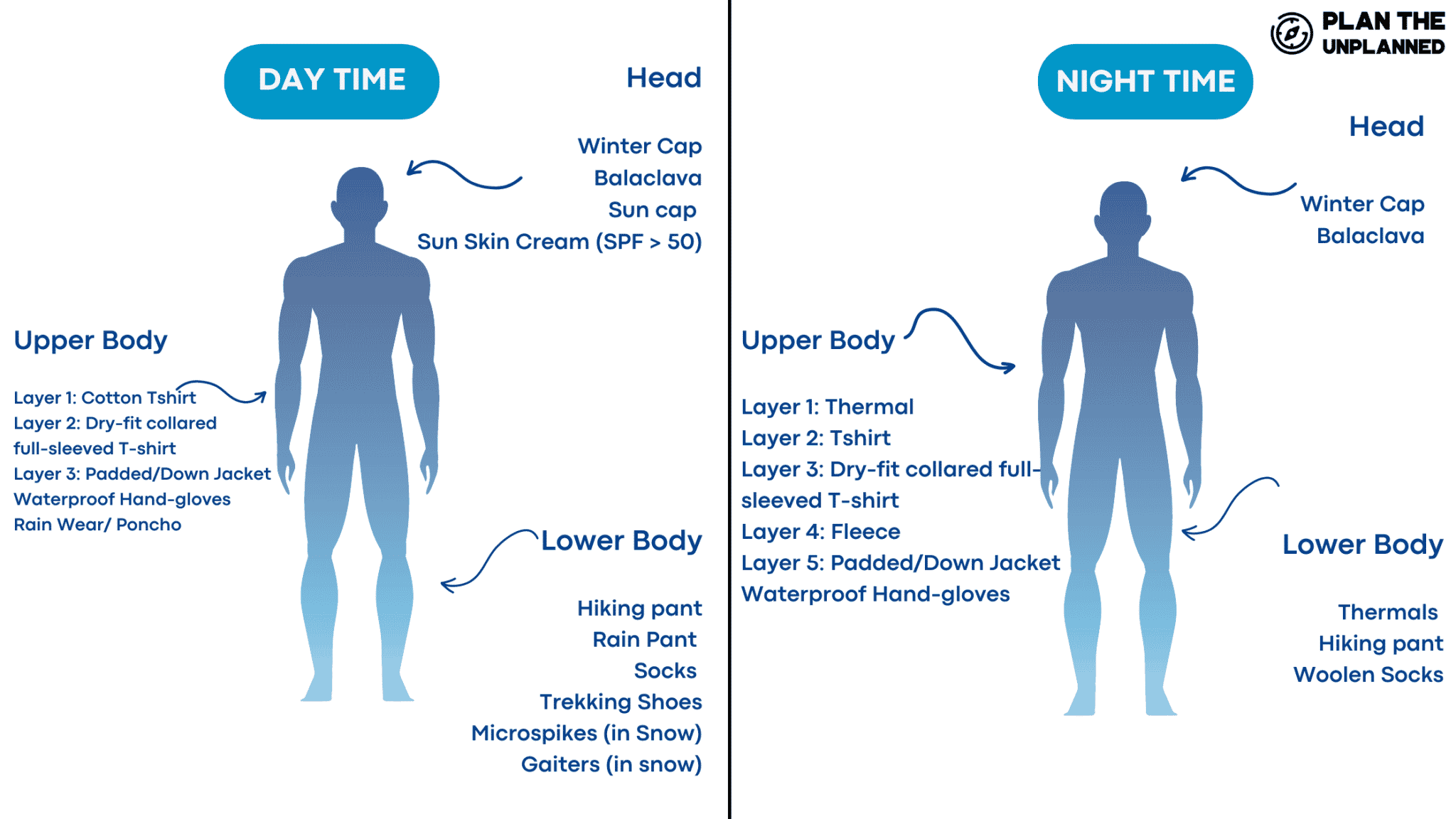 ---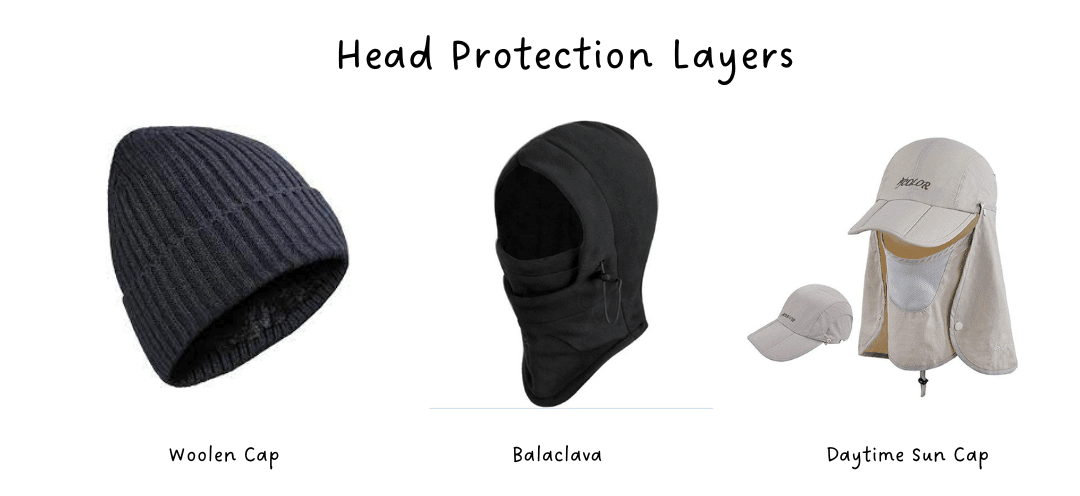 Winter Cap

: Made of wool to cover Head and Ear.

Balaclava

: Made of Fleece or wool for the neck, nose and mouth

Sun cap

: Don't be tied up with a myth that the sun will never show during a winter trek. If the weather is clear, you will be in contact with the sun most of the time. 

Sunskin Cream

: 50+ SPF

Sunglasses in snow

: High-altitude UV-protected sunglasses are compulsory to avoid snow blindness and other problems.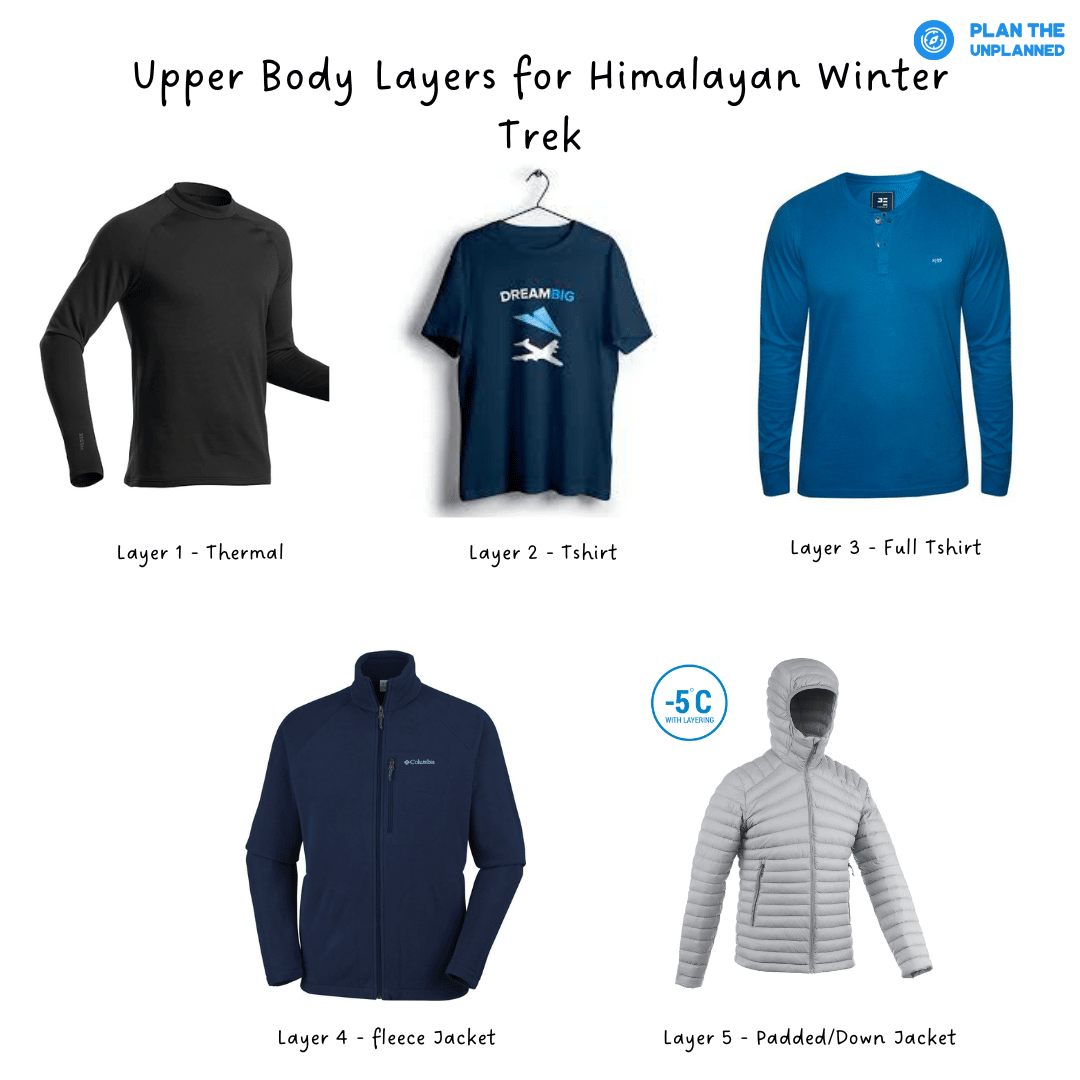 Thermal (Layer 1, at night)
Base Layer (Layer 2)

This layer is the thinnest and is preferably made of cotton to soak up your sweat.

Dri-fit collared full-sleeve T-shirt (Layer 3)
Fleece Jacket (Layer 4, at night)
Padded or Down Jacket (Layer 5)

to avoid wind and water. 

Waterproof Hand-gloves

: Preferably with a fleece liner.

Rain Wear/Poncho

for snowfall or rain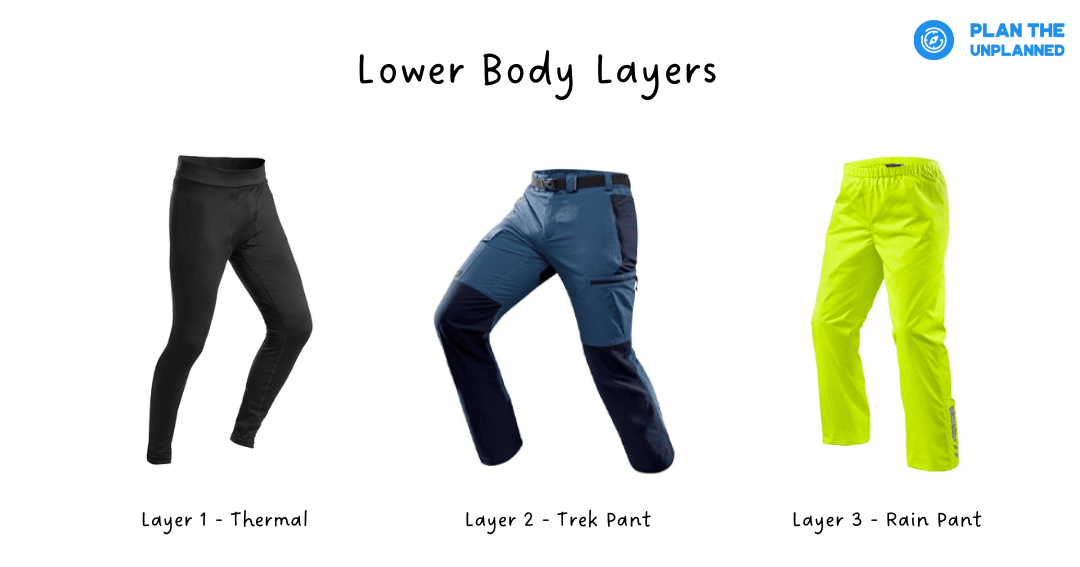 Thermals (Layer 1, at night)
Hiking pants:

Don't confuse these with Track Pants, which soak up extra water and tear up easily. Choose durable, reliable, and easy-to-dry trek pants. You can keep track pants for night or as a backup. 

Rain Pant (Optional)
Polyester Socks

 

Woollen Socks (at night)
Trekking Shoes
Microspikes and gaiters:

We will provide you with these to attach to your shoes. Gaiters cover up your shoe opening, giving you protection from snow and helping you keep dry. Microspikes are essential for grip in snow. 
---
6 Bonus tips about trekking gear in winter
Instead of just one thick layer, go for two layers.

At night, your feet are the last body part to get warm. There are several materials available in the market to warm up your feet. However, we have to tread as lightly as possible. You can wrap your feet with your padded/down jacket above socks and get comfortable in the sleeping bag. This will not let the heat escape while you sleep like a baby.

Go light since you will be carrying your weight throughout the trek. Say no to heavy items like woollen clothes.  

Buy clothes with zipped pockets. This way, you won't need extra pouches. You can carry your things and not keep hovering over the thought of losing some. 

Track pants are different from trek pants. You can use track pants as a backup or at night. 

For treks, choose synthetic over cotton or wool. Synthetic clothes have many benefits over natural fibre, like:

Natural clothes retain moisture. Synthetic dries up quickly if it rains or snows.

Stain resistant

Durable

Less expensive

Can handle the heavy load without breaking or tearing off.

Cover your head with a cap. When you start your trek, you will be jagged up with clothing. Some kilometres after, these layers will keep coming out due to intensive walking and heat. Don't do this. Try to maintain your body at a constant temperature. Instead, start from just two or three layers and keep at it.