Sun is harsh at high altitudes. And if exposure to the sun is combined with snow, glacier and ice, the recipe is a serious invitation for snow blindness. Snowblindness is medically known as photokeratitis—"photo" means "light", and "keratitis" is "inflammation of the cornea".

Need not worry; snow blindness is not permanent. The person generally recovers after 24 to 48 hours. But the effects and the damage that it can do during the trek should be taken into consideration.

Firstly, if you are attacked, your trek is almost ruined, for it will give you blurred vision, headache and pain. 

Secondly, the temporary loss of vision can turn out to be deadly in the wild

—both for yourself and your fellow trekkers. 

Thirdly, in rare scenarios, you might have permanent vision loss or suffer from photosensitivity for the rest of your life.

 
You might have heard about it – people emphasise wearing sunglasses a lot. On snow treks, it is mandatory to wear high altitude UV protected sunglasses. But why? Today, we will exactly delve into that subject and also understand the physics and chemistry that goes into making sunglasses. 
Two things happen when we go at high altitude, in snow:

The atmosphere becomes thin at high altitudes


As our altitude above sea level increases, the pressure goes down. And as the air pressure goes down, the destruction of UV radiation becomes less. As a result, we come at the receiving end of both UVA and UVB rays, which is only UVA at sea level.


Snow reflects light


Snow is the most reflective natural surface on earth. Almost 85% of the light is reflected from the snow's surface. This reflected light, when exposed directly to our eyes, can lead to snow blindness. 

The remedy is Sunglasses. 
Type of Sunglasses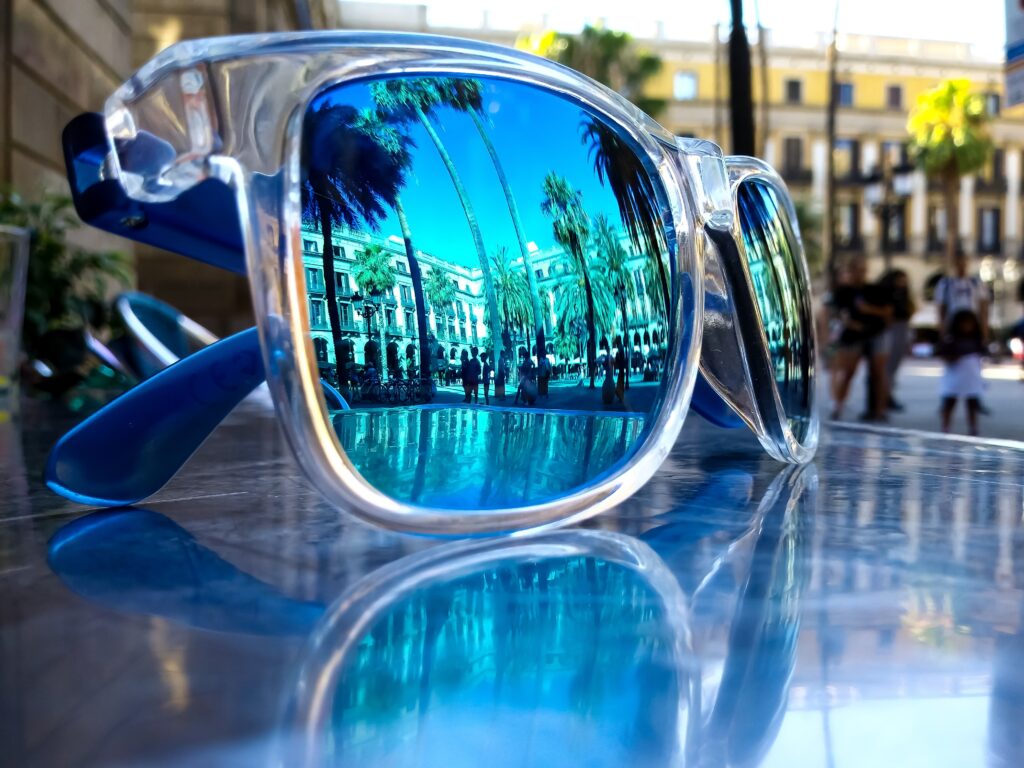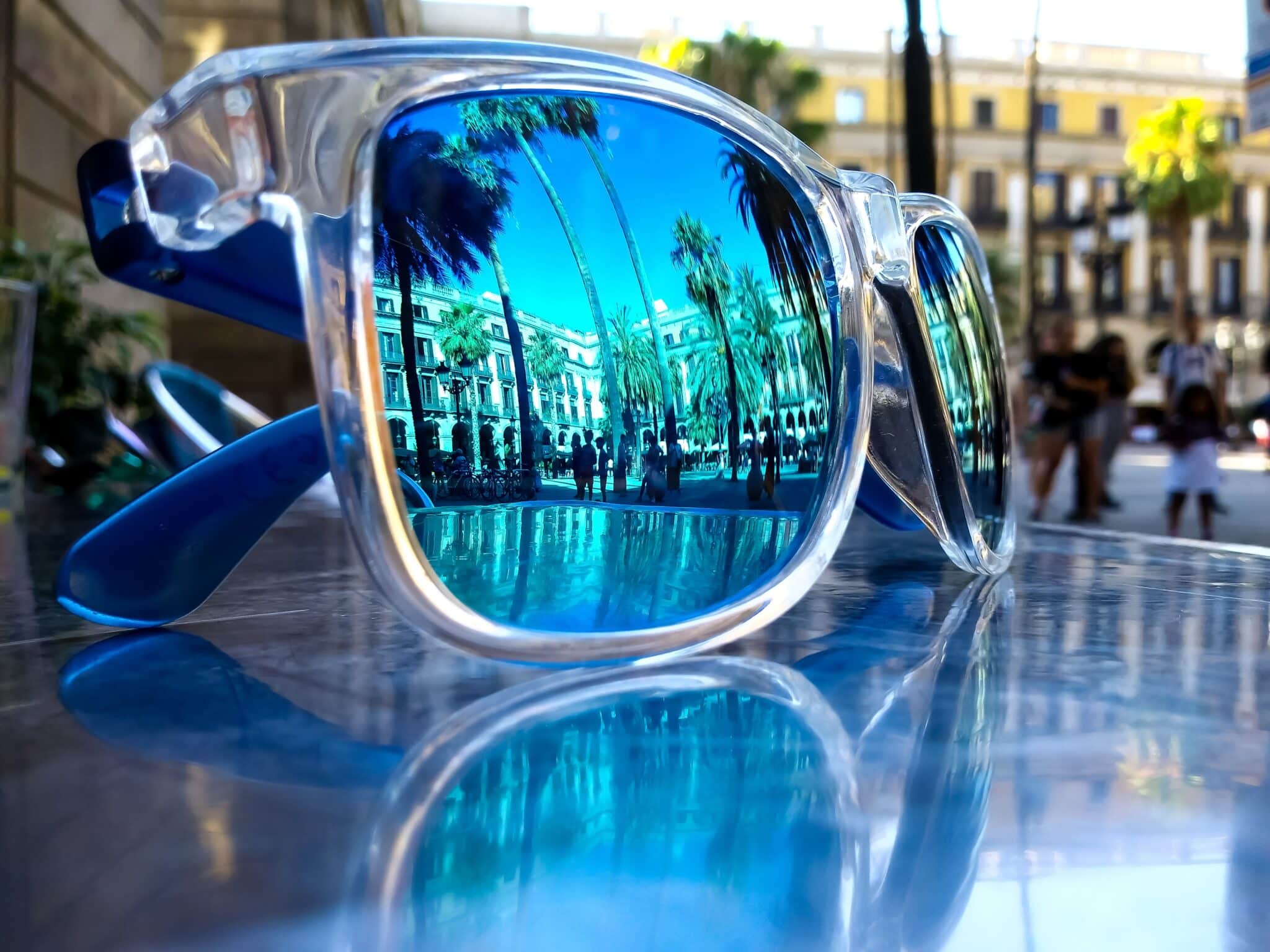 From time immemorial, our war heroes and trekkers have used different kinds of sunglasses to shield them from these waves. Today, after much technological advancement, we make sunglasses that are used for various purposes:

Flash UV Sunglasses

: These are coloured glasses whose colour is visible from a particular angle.

Mirrored UV Sunglasses:

These pairs of sunglasses have a reflective shield that reflects most of the sunlight and glare.

Tinted Sunglasses:

To make tinted glass, the lens is simply put in a dye that is absorbed by the lens. These come in two forms: solid and gradient. Solid means single colour, and gradient implies the transition of colour from darker to lighter.  

Polarised Sunglasses:

These are the best ones for high altitude treks because of the following reasons:
They reduce sun glare by filtering out reflected light. 

It only allows vertical light to pass through it because of which clarity of vision improves.
So, now you know that the first thing you have to look at while purchasing is observing the polarisation label on the tag. You also need to look at lens type, lens material, lens category, frame material and overall protection. Let's look more at that now. 
Lens Type
Visible Light Transmission:

Lenses with a lower VLT percentage will have a darker tint and block most of the light coming into the eyes.

For high altitudes, category 3 or 4 is suggested.


| | | |
| --- | --- | --- |
| VLT % | CATEGORY | SUITABLE FOR |
| 80-100% | 0 | Fashion and comfort and for night time |
| 43-80% | 1 | Weak Sunlight |
| 18-43% | 2 | Average to low sunlight |
| 08-18% | 3 | Strong Sunlight, for intensified light which is reflected off water |
| 03-18% | 4 | For use in exceptional level sunlight at high altitude (not suitable for drivers and road users) |

UV Protection: With every 1000 m gain in altitude, the UV radiation increases by 10%. As mentioned earlier, a pair of good sunglasses should block UVA and UVB rays harmful to the eyes. There is another radiation UVC, but that is filtered by the earth's atmosphere. 
Lens Material
The material used in sunglass lenses will affect their clarity, weight, durability and cost.

Glass

offers optical clarity and is scratch-resistant but is easy to break, heavier, and expensive.

Acrylic

is a form of plastic. It is an inexpensive replacement for polycarbonates.

It's rugged, flexible, lightweight, and even recyclable. Acrylic is easier to crack, which makes it less durable. 

Polycarbonate

is lightweight, affordable, durable and has excellent optical clarity. The only thing is they are not scratch resistant.




Note – Acrylic is upto 8% stronger than glass, whereas polycarbonate is 200%.

Polyurethane

is lightweight, durable and offers excellent optical clarity. It is flexible but expensive.

 
Trivex

is famous for three properties –

superior optics, ultra-lightweight, and extreme strength. It also provides shatter-resistance as compared to polycarbonates.
Materials such as Trivex and Polycarbonate naturally block most UV light. For others, UV coating is used.
Photochromic lenses: These lenses automatically adjust to changing light intensities and conditions. These lenses get darker on bright days and lighter when it's dim. But it is a standard caveat in Photochromic lenses that they take longer to work in cold conditions. 
Colour of the Lens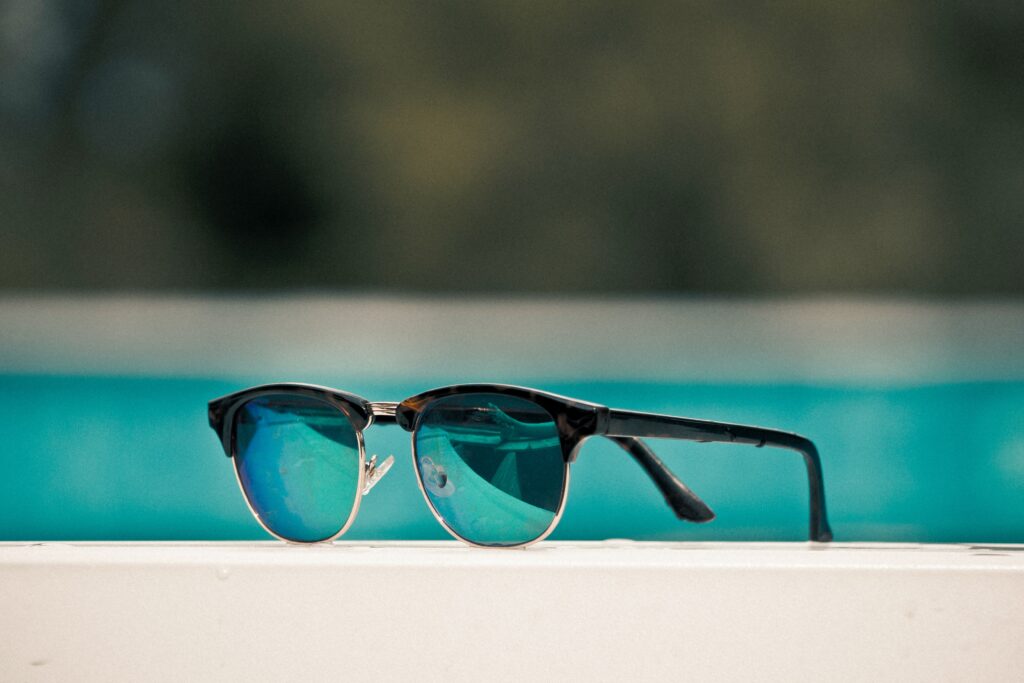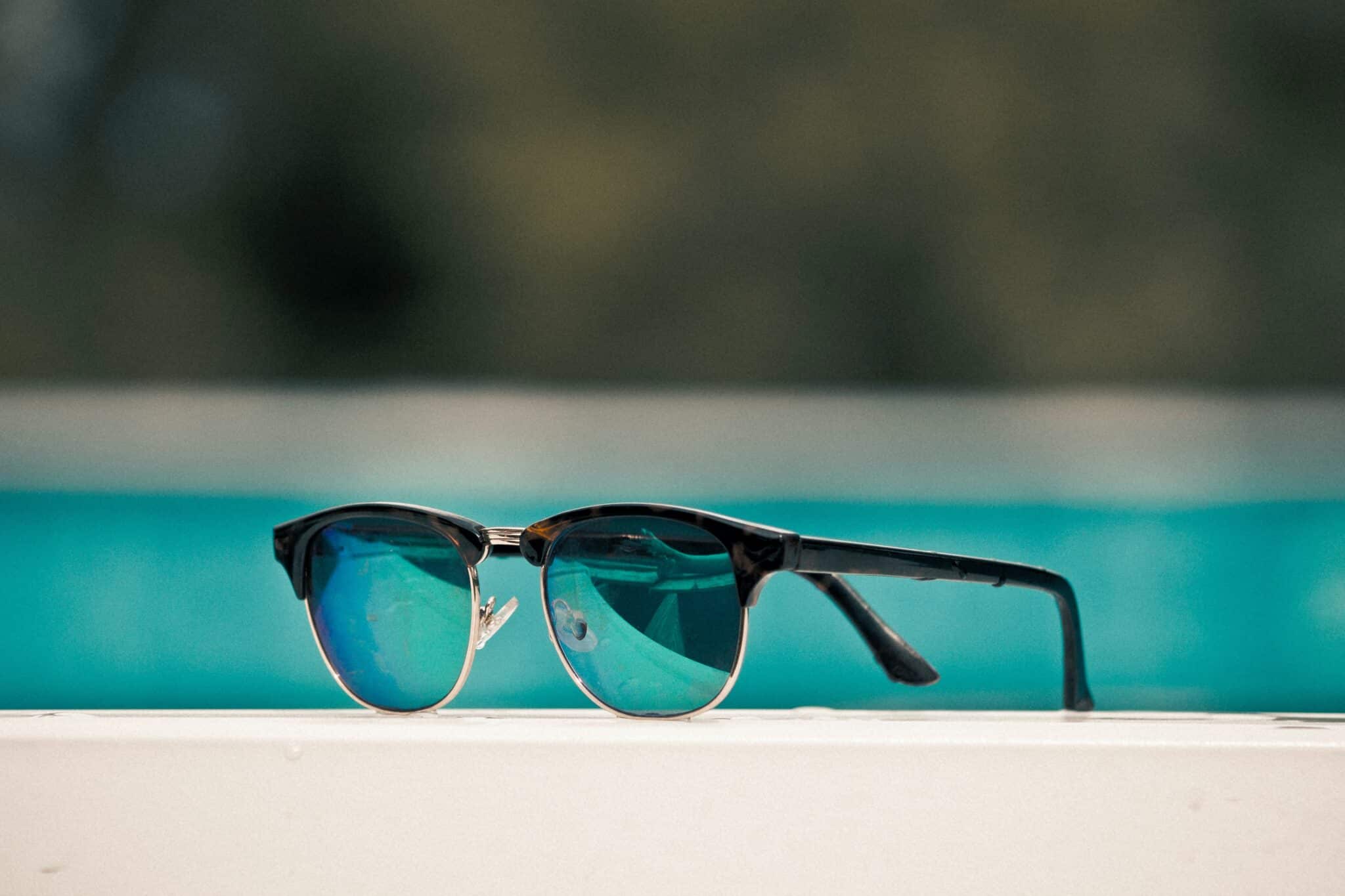 Many people are concerned about the colour of the lens, are worried that one colour would better protect their eyes than the other. All of that is a misconception. All the UV protected sunglasses are treated with colourless UV-absorbing coating, which gives the lens the needed protection.

Frames 
Choosing a frame is easy. You have to look for three factors in the structure: comfort, weight, and usage. These days frames come in different materials like Nylon, Nylon Plastic combination, aluminium, titanium. Plastic frames can break easily. Aluminium and Titanium can heat up in the sun. Hence, look for nylon frames or nylon-plastic frame combinations. 
Next, look for the wrap-around design that will cover your eyes from all directions. Other than that, anti-fog and water repellent coatings come in handy when wearing sunglasses in cold or rain. Other things to look at in the frame are:
Nose Grip

– The frame should rest effortlessly on your nose. It should not cut, tighten or stay loose.

Temple Pads

– The temple is the elongated part of the frame that rests on your ears. While doing strenuous activities, you do not want to keep adjusting them. Hence, when you buy, check for the grip.
Some great high altitude UV protected sunglasses that you can buy online: 
In market, a lot of combinations of high altitude UV protected sunglasses are available. I bet you must have never thought this much about the sunglasses. Now that you know, make an informed decision, buy one and thank us later!