List of Long Bike Trip Essentials
Road trips serve a good purpose when it comes to feeling the most. Do you know why? Because firstly, you feel free from the multiple things you cling to unnecessarily. And secondly, only during road trips do you think maximum & it is only when exposed to vulnerabilities and uncertainties. 
When you go on a road trip on a bike, the soothing urge to do the most spontaneous things will surround you. You can stop anywhere, hang onto the least resources, and become more of a problem solver and an explorer. The brush of air on your hair, the random smile of a stranger, language barriers, passerby's help, roadside sips of tea and Coconut water, and rewarding dusk and dawns always invite us to keep coming back despite difficulties. 
If you have never been on a road trip, I itch you to taste this adventure. The best time for a bike trip in India is March-June, then September-December. Here is a list of bike trip essentials.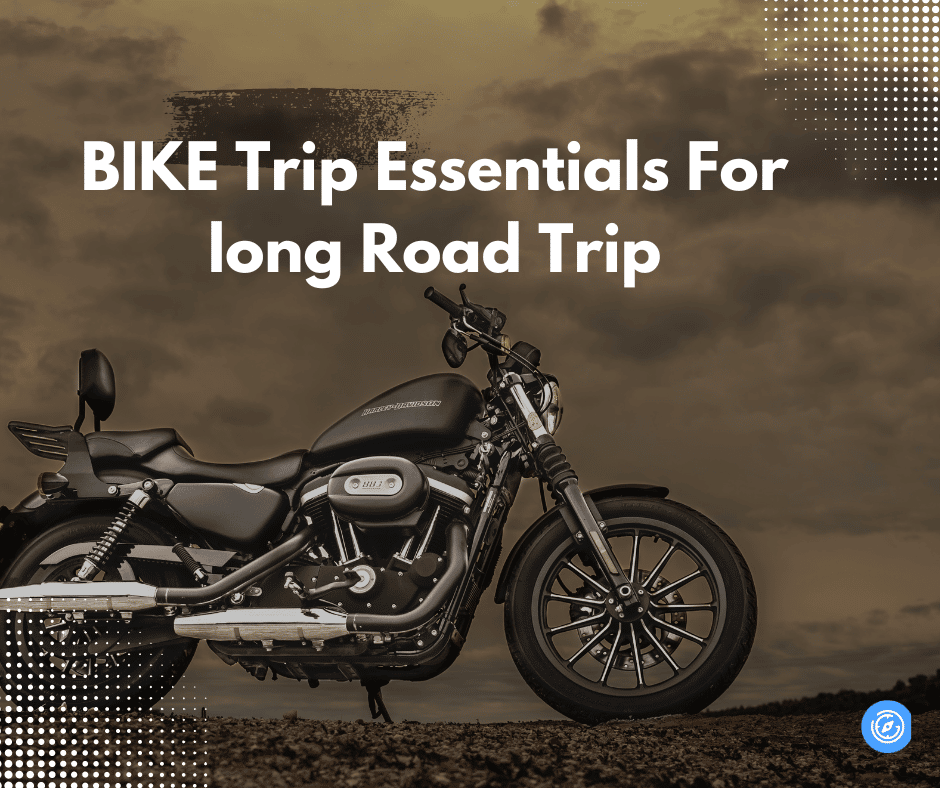 9 Important Documents and Cash
Driver's license
Vehicle RC and Insurance
Govt. Issued ID
PUC
Hard Copy of route map
Permits for special places
Debit Card/Credit Card
Cash
Passport Size Photographs
Bike Trip Essentials – Luggage 
Clothes

Balaclava to wear under the helmet

Light clothes, easy to wash and dry – Four t-shirts, three pairs of pants, and a pair of night clothes (for a 7-day trip). You can wash and reuse these.

Raincoat and Rain Cover


Electricals

Mobile phone

Camera

Chargers

Power bank


Toiletries

Face wash

Shampoo Pouches

Trimmer

Toothbrush and paste

Lotion

Sun Skin Cream – SPF 30+

Medical kit

ORS

Anti-Allergens

AMS Medications (if travelling at a high altitude)

Motion Sickness Tablets

Antacids

Band Aid

Crepe bandage


GPS System

Download the map on mobile

Hardcopy of map

Bike Essentials
Helmet

Riding Jacket

Windcheater

Gloves

Guards

Boots

Magnetic Tank bag

Waterproof biking suit with thermal layer

Parking lights at night

Foot pump

Extra Petrol

Spare key
Spares And Essential Tools if you are good with bikes (Optional)
For tube tyres bikes – one tube each for front and rear tyres. For tubeless tyres, a tyre repair kit.

Tyre rod – To separate tyre and rim

One accelerator cable

One piece of the clutch cable

Headlamp And rear brake lamp

Multipurpose tool kit

Spare cloth to clean the vehicle
10 Points to Remember for a Safe Bike Trip
Stay Hydrated

Carry Light

Don't get over-exhausted

Be GPS ready, keep your phone charged and carry sufficient cash

Take sufficient breaks

Start on a light stomach

Keep a bandana or balaclava to make peace with your hair. Otherwise, they generally come into riot.

Keep the weather forecast handy. Know about the next day's plan at least a day ahead. 

Avoid night rides.

Share your google location with someone you trust just in case of any mishap. 
Some Road Trips with Plan the Unplanned
Tawang Valley Road Trip
Leh Ladakh Bike Trip from Manali
Spiti Valley Road Trip – Shimla to Manali
Meghalaya Road Trip
Karnataka Road Trip
I hope this list of bike trip essentials will come in handy when planning your travel.