As much as people are enthusiastic to go on those much-awaited treks, we have often seen them struggling to pack up their bags as they plan their journeys. Just pack up and go sounds lovely and thrilling, but going on a Himalayan trek means that you are out of your home for approximately seven days. For these kind-of-a-big-deal treks like the Himalayas, packing can be an arduous task. First, you are excited about the trek, but then you are lying defeated on your bedroom floor with clothes, shoes, and earplugs scattered around. Trust us, we have all been there, and this expert guide will answer basic questions like how to pack for the Himalayan trek, the difference between different kinds of bags, what to carry, etc. 
What is the difference between a backpack, a rucksack, and a daypack?
These days many manufacturers use these terms interchangeably. But there is a clear-cut difference between all of these. You must know the difference to purchase the appropriate bag for yourself. 
Backpack – A backpack is a bag with shoulder straps that can be carried on the shoulders. A backpack typically contains various compartments and has wider straps.
Rucksack – It is a more rugged backpack that is mainly made of canvas and has one big compartment for all clothes, food, equipment, and some smaller pockets on the sides. It also has belts and loops for carrying a sleeping bag, tent, etc. A rucksack is generally used by military people or for outdoor recreation. 
Daypack – A daypack, on the other hand, is a smaller, lighter bag, not meant for night treks. It can carry lightweight material for day hikes.
For the Himalayan treks, the backpack is the most preferred. It is easier to carry it on shoulders for long distances. Plus, things are quickly available from different pockets. 
Why is it important to choose the right backpack?
Remember, the backpack is going to be your constant companion throughout the trek. Now, it is in your hands whether this companion of yours will be downright annoying or highly resourceful.
Plus, a good backpack will save a lot of your energy and will push you forward. 
How would I know which is the right backpack for me?
Choosing the right backpack depends on many factors such as the duration of the trek, the difficulty level, your height, etc. With the boom in travel, multiple local and online sellers provide options for trekkers based on backpack size, height, etc. A good backpack is a home in motion and is characterized by compartments for ease of accessibility. There are two things that you have to look at while choosing a backpack for yourself –
The quantity 
Treks of up to 2 weeks –

For medium to long-duration expeditions, which may vary from 4-12 days, it is sufficient to use a backpack of 40 to 60 litres. Typically, a 50 L backpack should have enough space inside to pack everything, including your sleeping bag.

Treks extending for more than two weeks – For treks longer than that, expedition backpacks (70, 80, 90 L) can carry loads from 15 to 30 kg.
Your torso size
Next, get your torso measured. Trekking backpacks these days are specially designed for various body sizes. So, talk to the shopkeeper or read the description online before buying the bag.
How much weight should I carry?
Rule of thumb: Pack light; Less is more. 
There are different sizes of bags. A mid to long-duration trekking backpack should weigh between 8 to 10 kg. This should have the following distribution-
Clothes

– Up to 2 kg;

Accessories and first aid

– Up to 1 kg;

Sleeping bag and the backpack

– Up to 3 kg;

Water, food

– Up to 2 kg;

Miscellaneous (Camera gears, laptop)

– Up to 2 kg.
How to pack for the Himalayan trek?
Organizing your stuff in the backpack is just as crucial. A well-packed bag would stand straight on the ground without support. Distribute the load evenly to make the weight bearable for long distances – 
Less used items go at the bottom
Sleeping Bag – The sleeping bag is only required at night. Keeping it at the bottom will ensure that it is easily accessible.
Tent – The tent is voluminous and lightweight, so this can go at the bottom.
Frequently used items go at the top
First-aid – In case of any mishap, this is the item that you would need quickly; so, keep it at the top.
Water and Fuel – Although these are a bit heavy, they are required frequently, and hence keeping them at the top will serve the purpose.
Cap, sunscreen, sunglasses, gloves – These two items are lightweight and will be readily used during the entire course of the trek. Especially during summer and winter treks, they will come in handy and save your skin from sunburn.
Poncho, backpack cover, windcheater – Although keeping an eye on the forecast is good, you cannot tell much about the weather at a higher altitude. So keep your rain gears on the top from where they can be easily accessible.  
Heavy items are kept near your back 
Laptop, camera gears – Keep these at the bottom longitudinally, closer to your back. The goal is to create a comfortable centre of gravity.

Light gear away from your back
Clothes – Put the clothes in plastics or zip locks to keep them dry. You could also colour code the plastic covers for different garments. And do follow the old rule of rolling your clothes to make space.
Food – Keep your food away from both electronic gears and liquid in a plastic bag. 
Lastly, keep the tent poles to the sides.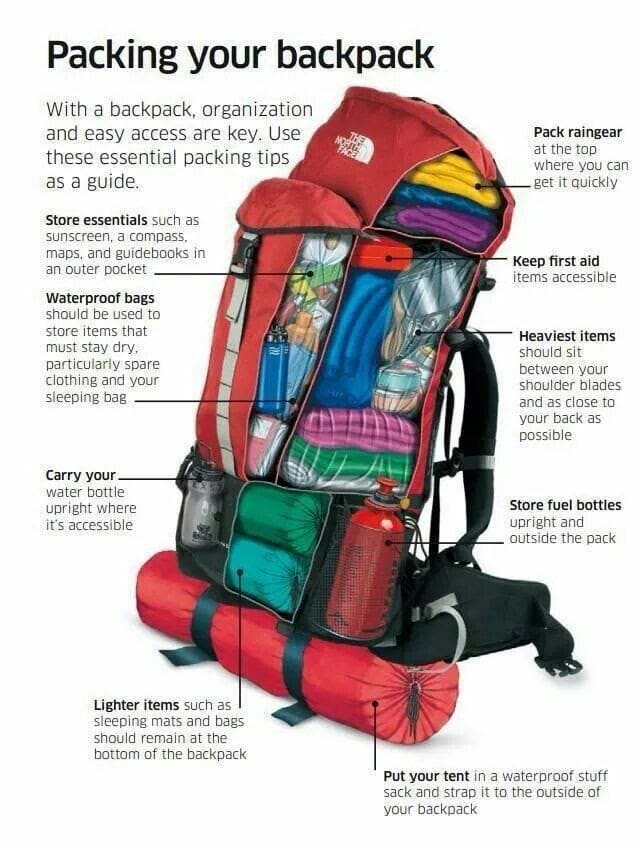 P.S. – Don't forget to make space to fit in all the memories. 
But I can randomly put all the items, is there science behind packing the right way?
Overloaded backpacks or not appropriately packed bags might cause you injury. Your spine is your body's support structure. The spinal cord connects several parts of your body by connecting multiple nerves spreading out like tree branches. The spine helps us to sit, walk, bend, stand. Our internal structure is a complex machine that can be disturbed by a sudden jerk or overtime pressure. 
A heavy backpack can cause Kyphosis or even disturb the natural shock absorbers and put pressure on a spine's nerves which may cause pain.  This pain may worsen and cause nausea, sleeplessness and can even interfere with daily activities.
People who carry heavy backpacks sometimes lean forward. Over time this can cause the shoulders to become rounded and the upper back to become curved. Because of the heavyweight or imbalance, there's a chance of developing shoulder, neck, and back pain.
That's all this time. We really hope that this how-to pack for the Himalayan trek guide will solve a lot of your queries. Do let us know about your experience while packing for Himalayan treks in the comments.
Got a Question?
Do not hesitate to give us a call. We are an expert team and we will be happy to talk to you.