ULTIMATE GUIDE TO CHIKMAGALUR FOR 1 NIGHT, 2 DAYS
Chikmagalur, a beautiful hill station located in Karnataka, is famous for its lush greenery, coffee, and serene environment. It was called Kadur till 1947. The word Chikmagalur means younger daughter's town. It was given as a dowry to the younger daughter of Rukmangada, the legendary chief of Sakrepatna. 
This beautiful hill station has some of the best sightseeing locations in the country:
To the north is Baba Budangiri, a mountain range in the Western Ghats, with three large caves said to be holy.

Trails through forests and grasslands lead up to Mullayanagiri Peak. 

The cascading Hebbe Falls lies in an area of coffee plantations. 

The forested Bhadra Wildlife Sanctuary, northwest of this town, is home to elephants, tigers, and leopards.
Make sure you visit this place at least once in your lifetime. It will make you feel closer to Mother Nature.  
BRIEF ITINERARY FOR 2 DAYS
DAY 0:
Bangalore to Chikmagalur.
DAY 1: 
Mullayanagiri Peak: With a height of 1,925 metres, Mullayanagiri is the highest peak in Karnataka and the highest in the Krishna River basin. Mullayanagiri gets its name from a small temple located atop, dedicated to Mullappa Swamy, a saint who meditated at the cave near the summit. It is one of the best treks in South India. The view from the top is breathtaking and you will be mesmerized by it!
Chikmagalur to Kemmangundi
Hebbe Falls: This fall is located inside a coffee estate in one of the most beautiful hill stations called Kemmangundi. One can take an 8 km trek or go in a four-wheeler to reach the Hebbe falls. The water from the mountains creates these falls. It plunges cascades down from 250 feet to Dodda Hebbe and Chikka Hebbe, in 2 stages.
-You can either stay back at Kemmangundi for the night or go back.
DAY 2: 
Baba Budangiri Trek:

Baba Bundangiri is a treat for both adventure seekers and Pilgrims. It is a sacred spot for the Hindu and the Muslim community. Hazrat Dada Hayath Mir Khalander was a 17th-century Sufi poet. His shrine is present on the hill in a cave. Sri Dattatreya Swamy, an incarnation of the Hindu God Shiva, has also resided here. This place is beautiful and a hit among trekkers and hikers!

Manikyadhara Falls: Manikya in Kannada means – Pearls. Manikyadhara translates to 'Stream of Pearls.' This waterfall is very popular and picturesque. When sunlight falls on them, the water droplets appear as if they're sparkling pearls. This waterfall in Baba Budangiri hills is also considered holy.
Jhari Falls: The Jhari Falls or the Buttermilk falls are natural falls surrounded by thick forests and coffee plantations. This waterfall is fed by several mountain springs and it looks amazing. It is located at a distance of 12 KM from Baba Bundagiri.
DAY 3:
BEST TIME TO VISIT CHIKMAGALUR
It has a pleasant climate throughout the year, but the best time to visit would be from September to May.
Average Temperature: March to June: 27-35°C, July to September: 18-26 °C, September to February: 14-32°C. 
PLACES TO VISIT IN CHIKMAGALUR
Mullayanagiri

Kudremukh National Park

Hebbe Falls

Baba Budangiri

Kallathigiri Falls

Bhadra Wildlife Sanctuary

Bhadra River

Kemmanagundi

Jhari Waterfalls

Sharadamba Temple

Coffee Museum

Yagachi Dam

Hirekolale Lake

Belavadi

Sringeri Mutt

Z Point.
TREKS TO DO IN CHIKMAGALUR
The Western Ghats is one of the most beautiful places ever. It is known for its trekking spots. The Western Ghats are a paradise for a trekker. There is so much to explore. Trekking places in Chikmagalur are very scenic and blissful. There is an exotic collection of flora and fauna and you will love trekking amongst them.  Some of the great treks are:
Mullayanagiri Trek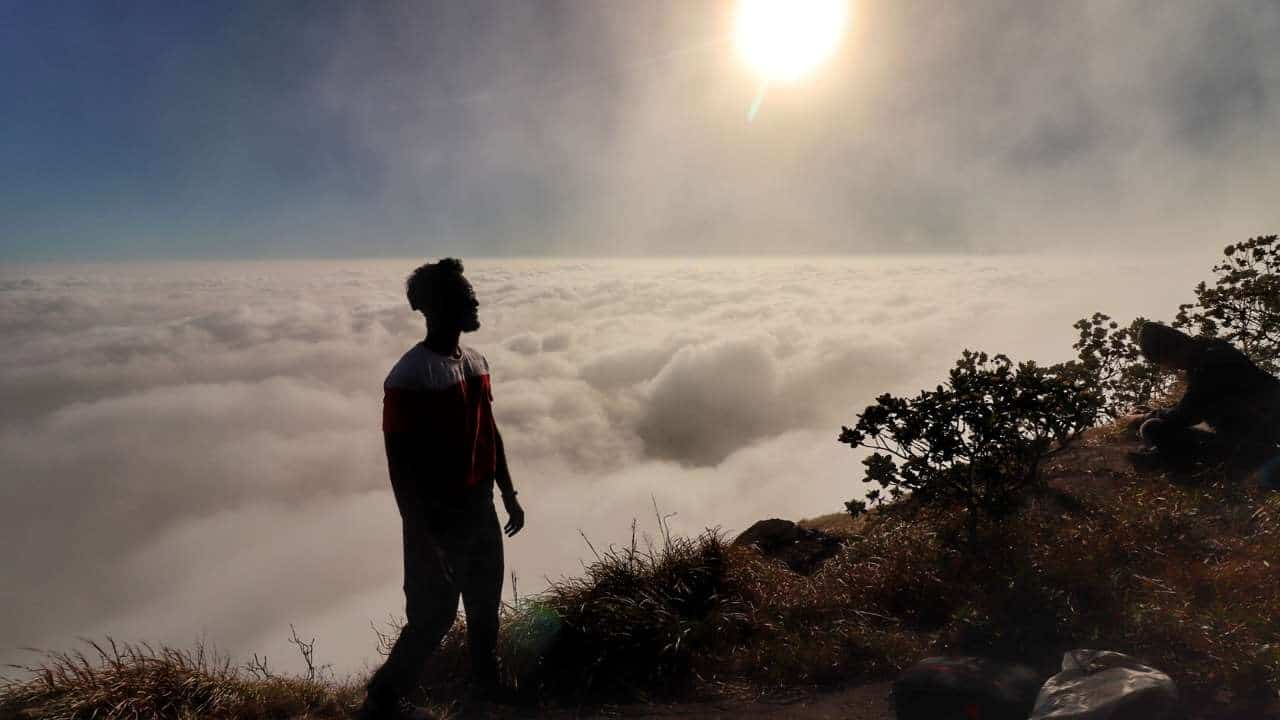 HOW TO REACH CHIKMAGALUR
Bangalore to Chikmagalur: Google Map.
BY RAIL:
From Bangalore to Chikmagalur:
Route : Bangalore- Tumkur – Arsikere – Kadur.

Kadur is the nearest railway station to Chikmagalur.

By Express Train 3 hours running time to Kadur.

From Kadur, a 45 minutes journey by bus/taxi to Chikmagalur.

If the train is off non-stop at Kadur, then Birur is the next nearest railway station.
BY ROAD:
Bangalore is connected with Chikmagalur via National Highway as well as State Highways. It takes 4 hr 27 min (243.2 km) via NH75, which is the best route to travel considering the time and traffic. 
BY AIR:
There is no direct flight connectivity from Bangalore. You have to take a flight to Mangalore (110 kilometres from Chikmagalur) and then the onward journey can be made via a prepaid taxi and will take about 3 hours to commute. 
WHAT TO EAT IN CHIKMAGALUR
The food here is yummy. Some of the most popular foods are, The Malnad version of the Akki roti, Kakadu, and other dishes prepared with coconut milk are the favourites among people. Some of the budget-friendly restaurants are Mysore Foodz, Mangala Family Restaurant and OneBite.

Plenty of luxury hotels are also available.
SHOPPING IN CHIKMAGALUR
The four best places for Shopping here are:
Nature Craft- You can find artefacts fashioned from Coffee wood here.

Panduranga Coffee 1938- You can buy the most authentic South Indian coffee powders here.  

Market Road 

The Spice Hub. 

Along with coffee, the hill station is also famous for its rich and fragrant sandalwood, so make sure you buy some sandalwood idols or perfumes packed in cute little wooden boxes.
PLACES TO STAY IN CHIKMAGALUR
Budget-friendly options: 
Homestays:

 
Foothills homestay
Affordable holiday rentals: 
TripThrill Kaveri Service Apartment.

Bluebell Homestay.

Holiday inn home
Luxury Hotels:
HOW LONG SHOULD A TRIP TO CHIKMAGALUR BE?
2 days is sufficient for sightseeing but if you want to visit more places mentioned above or go on treks, you can stay back for a day or two. 
ADDITIONAL INFORMATION:
MAPS FROM MAJOR CITIES TO CHIKMAGALUR 
CLIMATE IN CHIKMAGALUR
It generally has a moderate to cool climate. The temperature however varies from 11-20 °C during winter to 25-32 °C during summer.
SPECIFIC THING THAT HAPPENS HERE OCCASIONALLY
The Neelakurinji or Strobilanthes Kunthiana is a shrub that is found along the Western Ghats in the Shola forests of South India. It is special because this flower only blooms once in 12 years.  It is very phenomenal and a beautiful sight to behold. They bloom in 40 different varieties, and a majority of them are blue (Neel) in colour. 
READ MORE: