Here is the detailed Ballalarayana Durga Fort and Bandaje Falls trek guide, one of Karnataka's lesser-known secrets.
"A trek where you find a fort, chase falls and discover Karnataka."
Ballalarayana Durga Fort Trek and Bandaje Arbi Trek are two treks, covered in a single stretch. Studded in the Nilgiris in the western ghats of Karnataka, the trek leads you to a landscape of rolling hills, gushing waterfalls, a canopy of dense trees, boulder-filled paths, vast laid out grasslands and then finally, a dilapidated fort that in the past overlooked at everything to protect. Today, only the broken walls of the fort remain. 
The trek is one of the secret and lesser-known treks of Karnataka. Not a lot of people frequent here, but those who do, leave awed and surprised. 
The best part here is that the area is uncommercialised, and you get to witness here what you come for—Crowd-less trails, natural settings, and adventurous undertakings.  
In Ballarayanadurga Fort, you will not find any remains except some broken walls. Plus in the past, the entire fort converted to rubble and got submerged under mud and trees. Undoubtedly, the fort is destroyed by nature over the years, but the view from the highest point will blow your mind away.  
The Bandaje Falls or Bandaje Arbi falls from a height to a depth of 200 feet. If you have never experienced skipping a heartbeat, try looking from the chute of the waterfall. You will sit dumbstruck and wonder about the dwelling of these viewpoints in India. 
BASE CAMP/STAY
Located at a distance of 70 km from Chikmagalur, the trek starts from Ranijhari Viewpoint (more on this later). You can camp either in Kalabhairaveshwara Temple (base of the trek) or stay nearby at Sunkasale, Mudigere, Durgadahalli or Mundaje. You will find good homestays in these towns. 
Sunkasale –

The base of the Ballalarayana Durga trek and Bandaje Falls trek is 10 km from Sunkasale. There are no buses that run to the base; hence, hire a tempo, get a lift or arrange your vehicle to reach the base. 

Mudigere –

The base of the trek is at a distance of 40 km from Mudigere. It is a popular tourist destination. Hence, you will find many resorts and homestays here. You will also get ATMs, Petrol Pumps and hospitals here.

Durgadahalli –

Durgadahalli is another 3 km of the base, and Kalabhyraveshwara Temple at Durgadahalli is the base of your trek. It is said that the king and queen used to come to this temple every day.
TRAIL SYNOPSIS
There are two segments on the trail:

Segment 1 – Durgadahalli to Bandaje Falls
Segment 2 – Bandaje Falls to Ballarayanadurga Fort
Durgadahalli is a small hamlet in Mudigere Taluk, cradled peacefully in Chikmagalur. You can stay here and start the trek early in the morning. The base of the trek, i.e. Rani Jhari Viewpoint, lies at a distance of 3 km from the village. You can hire a tempo or go on your vehicle.

In 8 hours, you will ascend and descend and will reach the Bandaje Arbi initially. Then, trek back to the diversion point and climb to the fort. It's like a Y-shaped trek, and you come to the junction three times: Firstly, while walking from the base to Bandaje Arbi; secondly, while going back from Bandaje Arbi to Ballalarayana Durga Fort, and thirdly, while coming back to the base.
Tip – Monsoon season comes with multiple leeches waiting to suck your blood. These are slimy creatures that stick to you, get comfortable and then suck blood. Keep an eye on these; don't panic if you see one. Don't use methods like pulling, scratching, or sprinkling salt. Applying a sanitiser might also not work during the monsoon since the sanitiser will wash off your skin. There is an easy, more humane and painless way to get rid of these: if you see one sitting on your shoe, skin or cloth, give multiple jerks to the creature with the help of your thumb and index finger till it gets off. 
Good Reads:
Segment 1: Durgadahalli to Bandaje Falls
To Ranijhari Viewpoint:

Rani Jhari Viewpoint is where the trek will start.

Base Point – Contributed by Supriya Sahu

If you take a right from the base and climb the rocks for 5 minutes, the whole panorama of the Kudremukh National Park will open for you. It's a jaw-dropping view from there.

Come back to the start point and go to Bandaje Arbi first.

To Bandaje Falls:

The trail starts with dense forest on both sides, and you will be trekking for 1 km uphill in the beginning, after which you will climb up rock stairs approximately 50 in number. Look behind to get a view of the magnificent Rani Jhari Viewpoint.

The walk from the rocky patch continues for 2 km, after which you will walk on the grassland. This area is relatively flat. For 1 km. Afterwards, you will see that the trail takes you to a land where on one side lies huge Shola grasslands and on the other side Shola forest. It's a moment to capture. Spot a peak that looks like "Lion's Face" on the way.

Lion's Face Peak – Contributed by Supriya Sahu

Walk carefully on a 100 m rocky patch downhill and then it's a 2 km downhill walk on the rocks. Soon you will reach the waterfall. You can take a dip in the cold water, but judge the current of the water before taking a plunge.

Tip – Walk on grass, smaller stones or mud. Fret from stepping on enormous rocks—they might be slippery, and you may end up hurting yourself.
Segment 2: Bandaje Falls to Ballarayanadurga Fort
The fort is approximately 5 km from Bandaje Falls. Trace the same route till the diversion and then take a right. This is 2 km in length.
Whenever you can, take glimpses of the rolling hills; they will not stop surprising you. After 200 m, take the diversion that goes down. Walk on the path with grassland on both sides of the trail. You will easily spot the fort.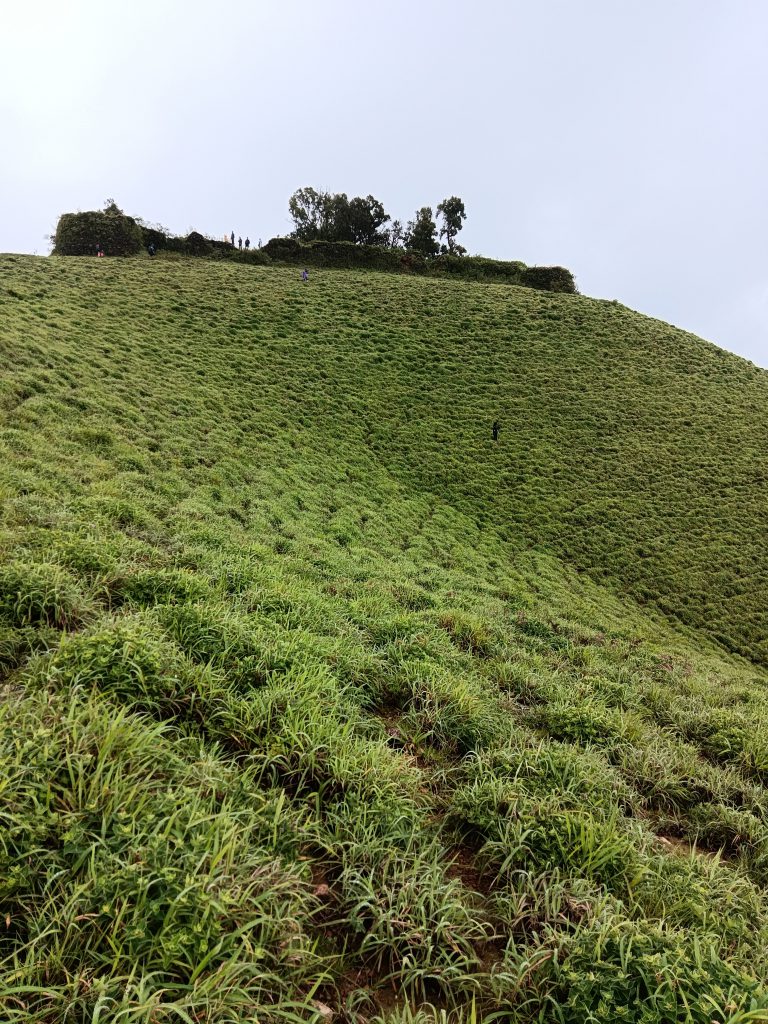 Climb on the stairs, which lay in an ad hoc manner to the fortress.
POINTS OF INTEREST ON THE TRAIL
Ballarayanadurga Fort –

I

t is a fort atop a hill that was constructed by the wife of Raja Ballal I in the 12 century of the Hoysala Empire. The height of the fort is 1500 m above sea level. It is said that the fort was built in the Karnata Dravida style of architecture. Presently, only the remains of the fort remain, for it was not protected over time. However, you can see the walls of the fort and enjoy the setting sun.

The fort has lost its glory and stands as a distant reminder of its beautiful past.

Bandaje Falls –

The falls, at the height of 700 m above sea level, is formed by a tributary of the Netravati river. Locally this fall is called Bandaje Arbi, where Arbi means falls in the Tulu language.


Bandaje Fall plunges 200 feet – Contributed by Oshin

Rani Jhari Viewpoint –

When Tipu Sultan captured the fort and killed Raja Ballal, Rani committed suicide from a point. That point is known as Rani Jhari Viewpoint.

Spotting animals and birds –

You will get a direct sighting of Grey Jungle fowl, Brahminy kite, jungle fowl and endemic species of birds, like Malabar Whistling Thrush and Great Indian Hornbill. It i

s home to various animals, including Tigers, Panthers, Bears, Elephants, Indian Gaur and numerous types of Deer.

Landscapes – The trail transforms from alluring grasslands to dense forests, from treacherous ridges to multiple rocks, from a gentle walk to ascend and descend. It's a charm to witness the beauty of the Western Ghats in all its full bloom.


Rolling hills – Contributed by Mayank

Cultivation –

You will find many Areca Nut, Pepper, Coffee, Guava, Coconut, Banana and Avocado plantations while on the way to trek. 
HOW TO REACH
There are two ways you can do this trek: 
Shorter one day Route:

Mudigere – Kottigehara – Sunkasale. Rani Jhari View Point is the start of the expedition.

Longer two day Route:

Via Bandaje Arbi Waterfalls from Mundaje. Gowdara Mane is the starting point.
The route from Mundaje is a bit tougher and is easier for experienced trekkers. Hence, we will describe the way from the Sunkasale side for all ranges of trekkers. 
Road: The place is well-connected through a network of roads from all major cities. From Bengaluru, Sunkasale lies approximately 300 km, so it's a 6 to 7-hour road journey.
Public Transport: There is no direct bus from Bangalore to Sunkasale. Buses run from different cities to Mudigere. Most of these buses operate overnight. After reaching Mudigere, you can board a bus to Sunkasale, which is 34 km. 
Follow GPS Route on Private Vehicle   
Railways: The nearest railway station is in Chikmagalur. It lies at a distance of 63 km from Sunkasale. Chikmagalur also has a lot of decent stay options. One way to plan your trip is to reach Chikmagalur, stay there, hire a private vehicle and go for the trek.
Alternatively, you can reach Durgadahalli from Chikmagalur, pitch your tent in the open space near Kalabhairaveshwara Temple and stay for the night.
Air: Chikmagalur doesn't have an airport. Although, you can fly to the following airports and take a ride to the base:
Mangalore International Airport – 66.4 km from Sunkasale
Hassan Airport – 74.6 km from Sunkasale
Shimoga Airport – 87 km from Sunkasale 
BEST TIME TO DO THIS TREK
The trek runs throughout the year except for March and April. It's rainy from June to October, so you can try this monsoon trek or avoid it at your convenience. Just note that there will be a lot of leeches during the monsoon. 
FAQs
What is the level of fitness required to do the Ballalarayana Durga and Bandaje Falls trek?

Anyone can do this trek. Although the total distance that you cover is 18 km in 8 hours, the cold weather and views will not let you tire during the trek.

Nevertheless, it is good to be prepared beforehand. To do this trek at ease, you can start with Cardiovascular exercises, fitness training. Also, you will be ascending and descending a lot; hence, keeping yourself flexible with stretching, hip flexors, lunges, cross-overs, yoga, pilates etc., can help you in balancing jerks.


What are the things to take on the trek?

Carry 2 litres of water

One time meal

Poncho/Raincoat if it's monsoon

Carry cash in case of emergency.

Face Masks & Hand Sanitisers ( Mandatory )

Small backpack to carry your essentials during the trek

A comfortable pair of shoes with good grip for trekking

Dry fit clothes

First Aid Kit


What is the level of difficulty?




The difficulty level is considered Medium for the distance and nature of the terrain.

Do I need permission to trek to Ballalarayna Durga?


Yes, you need to acquire a pass to do this trek. The cost of the ticket is INR 250 for adults and INR 125 for children. You can book your tickets prior on the EcoTrip website.

Where will I get the nearest ATM?


You will find ATMs in Mudigere. Although no cash is required while trekking, you can carry extra in case of an emergency, for fetching water bottles, food etc.

Where can I get food and water on the trek?

There is no drinkable water source on the Ballalarayana Durga and Bandaje Falls trek. Carry at least 2 to 3 litres of water and keep sipping it every 20-30 minutes to avoid dehydration. Also, you will not find food options on the trail.

Is there a place to park my vehicle?




Just before you start your trek, there is a small ground where you can park your vehicle.

Are there any washrooms on the trail?

No, there are no developments on the trail. You will not find any washroom on the progression.

In case of an emergency, where is the nearest hospital?

Ujire is the place where the nearest hospitals can be found.
Trek to Ballalarayana Durga Fort and Bandaje Falls with PTU
NEARBY PLACES TO VISIT
Kudremukh Trek –

Rolling green hills, clouds kissing the mountains, forest trails, bamboo shrubs, and a dozen waterfalls, the Kudremukh Peak trek has it all. It is called the

Himalayas of the south

.



Kurinjala Peak Trek

– Kurinjal Peak trek in Kudremukh National Park is one of the best treks in the Western Ghats region, with mesmerising nature and lofty tropical forests.


Kodachadri Trek

– Nestled deep in the Western Ghats in the district of Shimoga and holding its place as the tenth highest peak in the State, Kodachadri is home to lush green jungle trails through dense tropical forests, picturesque waterfalls, and mesmerising landscapes.