The Himalayas, which in Sanskrit means a "temple/abode of snow".I am not sure about the snow part of it but I definitely identify the Trek In The Himalayas as a temple. A temple that has the power to change people and apparently heals broken souls and many people have made the mountains their home leaving fortunes behind them in the chaos.
The Himalayan range is home to 9 of the 10 highest peaks in the world and offers something for every adventure freak. I have heard many stories about how a trek in the Himalayas has changed someone forever and if you're reading this, then probably you have heard them too and are inspired to conquer the mighty peaks.
While that is a commendable and challenging thought, a little preparation will make it a pleasant one too. So, I've listed things that you need to take care of before heading for Trek In The Himalayas.
So, without further ado, let's jump into the details.
Water: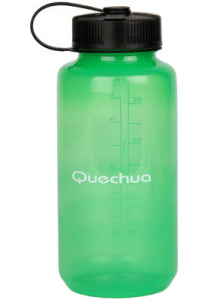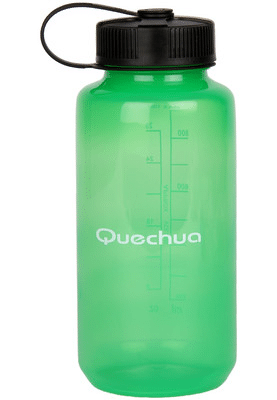 Of course folks, this is a no-brainer. But how much water is too much water? The idea is to start with enough water at the start of every day and at the end of it, you can refill from the fresh streams or the place of camping, so ideally 4-5 Ltrs of water should be sufficient. It adds weight but dehydration can be deadly while trekking. Our bodies constantly perspire even though we don't see visible sweat. Additionally, You may want to add Glucon D or energy powder to recuperate the lost minerals. Though it is a widespread myth that water from streams in the Himalayas is really pure, it isn't completely correct. So you should choose specific places that can potentially have fresh running water.


So, running water is better than stagnant water as running water isn't an ideal place for bacteria, viruses to grow. Natural springs if you can find one, are better. If you don't find anything at all, it is advisable to carry a few chlorine tablets to treat the water before drinking. These tablets can spoil the taste, so add some tang to give it a flavor.
Clothes: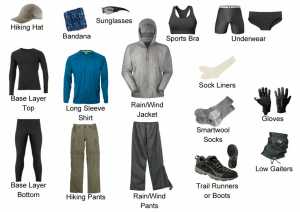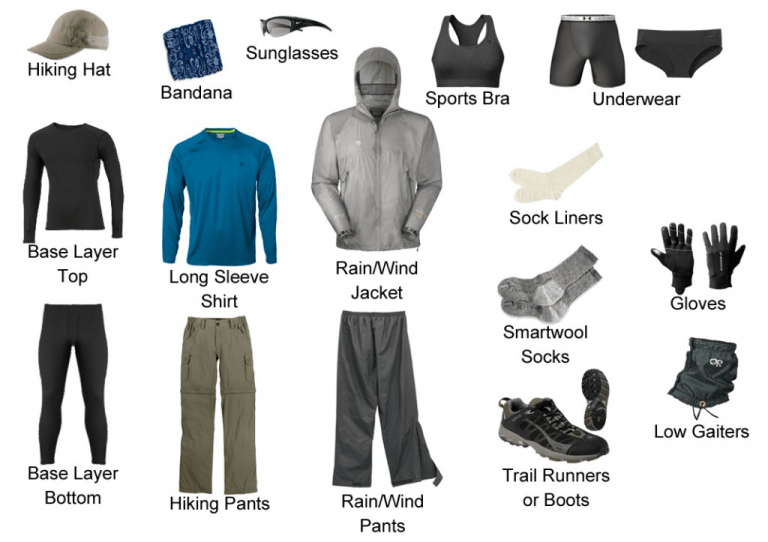 The first line of defense from the biting cold of the Himalayas. You should be very serious when you're packing the bags with clothes. Throughout the trek, you can wear T-shirts(preferably dry-fit ones) and trekking pants. Would be good to avoid track pants but if push comes to shove then choose a thinner track pant.
Thermal inner wears are a necessity. Don't wear boxers and go on a trek :P. A fleece jacket and woolen gloves are a must to save yourself from the biting cold.
Shoes: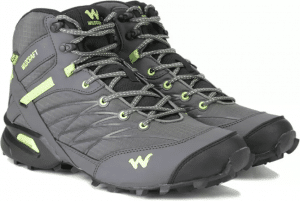 Well, If clothes are your first line of defense against everything else but the ground. And this is the most important contact point to keep your body balance right in turn keeping the whole trek balance right 😉
It is preferable to have lugged shoes that have ankle support(preferably high cut) along with good ventilation. Just like how off-road vehicles have a deeper tread, your shoe needs to have aggressive lugged outsoles.
Because the snow/mud can easily get trapped in smaller outsoles then the sole into a flat surface and then you're as worse as wearing a sneaker 😛 (Also, Happy Sliding and Wish goodbye to your back for some time 😉 )
One thing to keep in mind while choosing shoes for Himalayan treks is for them to be waterproof. Because you'll keep encountering either water or snow or something that wets your feet and trust me your feet are very much irritating when it's wet and may also cause cracks.
So it is recommended to have waterproof shoes, though this comes at an extra cost it is totally worth it considering the situation of a multi-day Himalayan trek.
Trekking Stick:
Well, no description here as pictures are enough 😛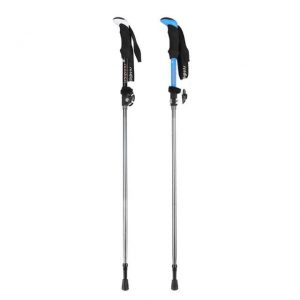 Camping: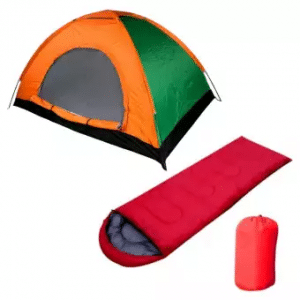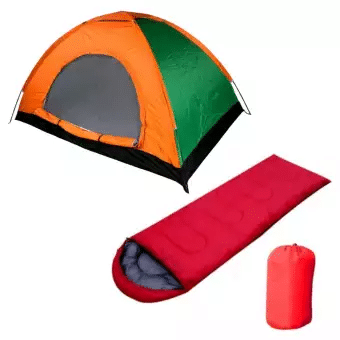 Most of the treks in the Himalayas are multi-day treks and require you to camp at an "A" location. The choice of camping gear is also important. Camping ax and matches or lighter will come in handy to light up a fire for cooking or to warm yourself. It can also help you cut vegetables should you decide to cook a good meal to reward yourself for the achievement so far. If you choose to go with a trekking group, chances are that the organizers will sort these things out or give you a list of essentials that you need to carry. Please do not forget to keep carry bags with you, to carry the waste back to the mainland. Let's keep pristine nature in its natural form.
Food:
The trickiest of all, while we can carry our favorite choco bars and fruits, it also adds weight. And you burn the same food to carry that weight, so it is important to choose food in such a way that is light to carry and at the same time gives you an energy boost i.e higher is Kcals. Idea is to replace the lost calories and give muscles some protein to reconstruct them.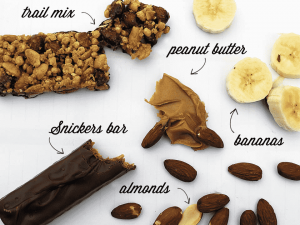 Popular choices among trekkers include:
Dry Fruits.

Ensure that lunch and breakfast are carb-rich. However, a precaution is to go for complex carbs since they take time to be broken down, the release of energy isn't instant but gradual. Keeping your energy at the required level.

For treating fatigue, protein-rich food is very much needed. But meat which is a protein-rich food usually takes a long time to digest hence best avoided. Alternatively, eggs are a good choice and will help greatly in the replacement of broken-down muscles.

Avoid chocolate bars as they're only an instant source of energy. They give you an instant boost of energy and you'll feel hungry soon after the boost dies down.
Bonus
Depending on the season/Time below items can come in handy.
Rain Protection: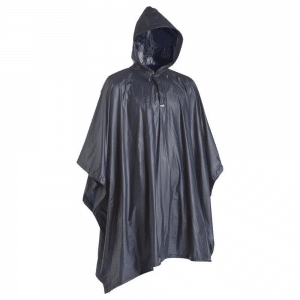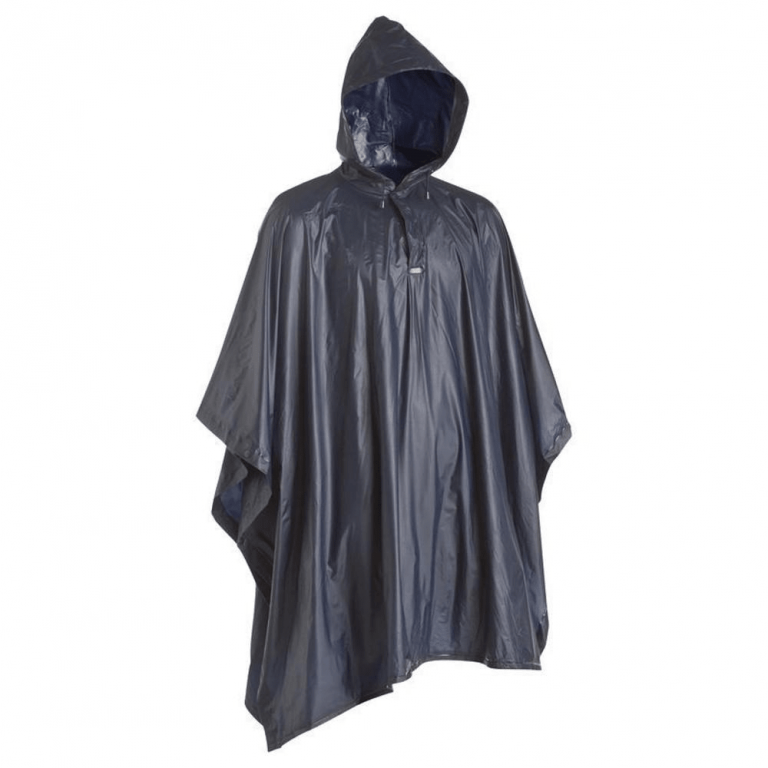 If it's a rainy season and you don't want the spend the rest of the days after the trek, sneezing, then you should consider taking along rain protection.
While there is a variety of rainwear available, I would definitely recommend a Poncho because the umbrella is useless as it ties off one hand, a two-piece rain jacket is not so good with perspiration and takes up a lot of time in putting them on and off.
Ponchos are perfect because they take very little time to put them on and off, and they have ample ventilation for perspiration, thereby removing the moisture buildup.
Torch and extra batteries:
We have a frenzy to use Mobile Phones as a torch. But that would be stupid because the phone has a purpose in an emergency, Torchlight doesn't. To save phone battery as much as possible and the least we could do to save that is to pack a torch and some extra batteries.
Medical Kit:
Though we don't intend to get hurt during the trek, sometimes we do and it's better to be prepared for the worse. Hence carrying a medical kit that has basic antiseptics, crape bands and Reli-spray would be helpful.
Hand sanitizer:
Because you can't keep using your drinking water to clean your hands.
Power bank:
just in case your phone's battery runs off with all the pictures you take and the memories you make.
Miscellaneous(If you think they're required):
Moisturizer, Lip Balm, Toilet paper rolls, Soap Papers,
Beyond material things, physical and mental fitness is very much needed. Physical fitness to endure the challenges the peak throws at you. Mental fitness to keep you moving forward and be a vigil at all times.
Have a safe and fun trek mate!