Kerala is an Indian state on the Malabar Coast. Kerala is the twenty-first biggest Indian state in terms of land size, covering 38,863 km2. It is bordered on the north and northeast by Karnataka, on the east and south by Tamil Nadu, and on the west by the Lakshadweep Sea. Thiruvananthapuram is the capital of Kerala and is separated into 14 districts. Malayalam is the most frequently spoken language and the official language in Kerala.
About Kerala

Following the adoption of the States Reorganisation Act in 1956, it was founded on November 1, 1956, by uniting Malayalam-speaking districts of the former regions of Cochin, Malabar, South Canara, and Travancore. Kerala is the thirteenth-largest Indian state by population, with 33 million residents as of the 2011 census.
Kerala, surrounded by tranquillity, is a wonderful South Indian location that should be on every traveller's bucket list. Kerala tourism provides several tourist spots with which you will fall in love instantly, like the green backwaters, huge and verdant tea farms, scenic hill stations, and the turquoise Arabian Sea.
Kerala tourism is about more than just natural beauty; it is also about its rich culture, which is filled with dances, festivals, wonderful food, literature, Ayurvedic remedies, and art and craft. Kerala truly has it all, and you must see it to believe it.
Kerala's beaches and backwaters are complemented by its beautiful and dreamlike hill stations, the finest spots to visit in the summer being Munnar, Wayanad, and Vagamon. Kerala is the finest wildlife destination and ideal for birding, with the Western Ghats occupying a portion of its territory.
Brief 4 Day Itinerary for Kerala
Day 1
Arrive at Kochi and visit the Mangalavanam Bird Sanctuary, which each year draws a large number of migrating birds.
Head to the Kerala Folklore Museum to become familiarized with the state's heritage.
Don't forget to stop by St. Francis Church and the Santa Cruz Cathedral, as they have beautiful architecture.
Later, visit Fort Kochi and Mattancherry and soak in the atmosphere of the colonial influences visible everywhere.
Discover the Chinese Fishing Nets and the Jewish Synagogue, two attractions that make this city stand out.
Day 2
Arrive at Munnar from Kochi.

Explore the fields and the Mattupetty Dam to refresh yourself with the breathtaking views of the highlands.

Attukad and Lakkom Falls are two must-see waterfalls that will amaze you with their breathtaking splendour.

Return to the hotel after a visit to Kundala Lake.
Day 3
Today, the plan is sightseeing at Munnar.
Visit Meesapulimala, South India's second tallest mountain and a UNESCO World Heritage Site.
Explore the places of Echo Point and Top Station as well to be rewarded with spectacular vistas.
At the Eravikulam National Park, you may see the endangered Nilgiri Tahr mountain goat.
Visit the famed Tea Museum and take a walk through the gorgeous tea plantations while inhaling the invigorating scent of the tea.
Day 4
After breakfast, leave for Thekkady and go to Periyar Wildlife Sanctuary to spot wild animals.
Spend the afternoon at the Spice plantations in search of pepper, cardamom, cloves and other spices.
Visit an elephant farm and spend time with the elephants.
Head to your hometown the next day.
Best Time To Visit Kerala
October to February
Places to Visit In Kerala
1. Sree Padmanabhaswamy Temple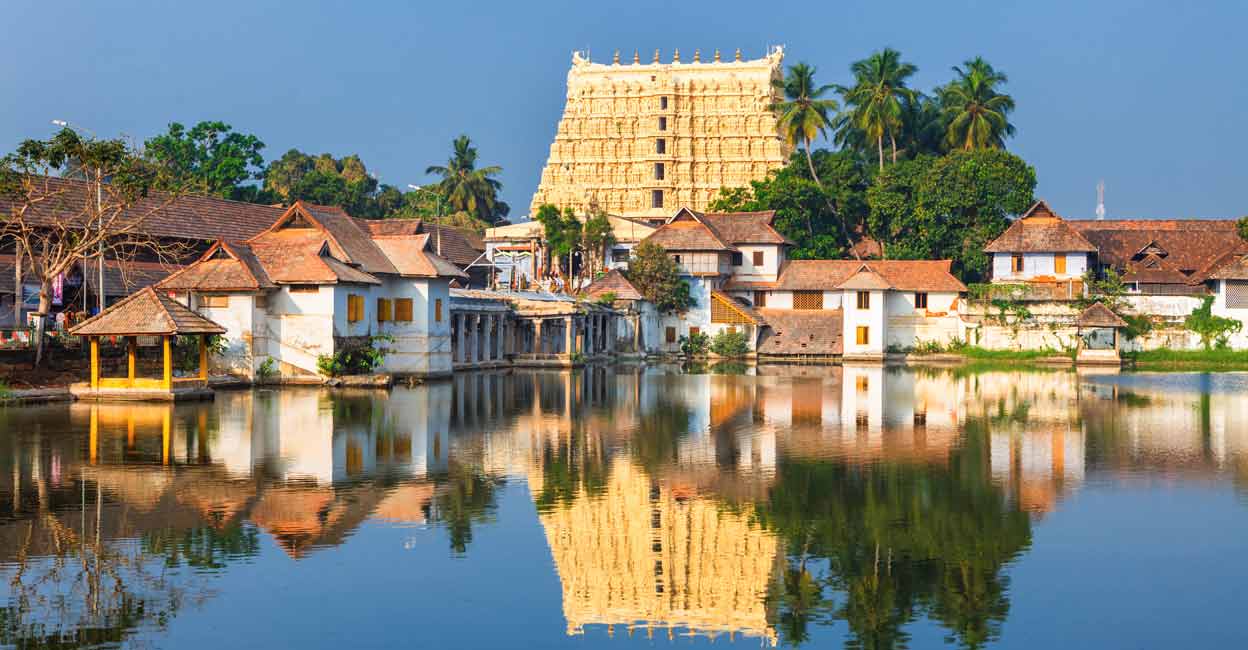 The Sree Padmanabha Swamy Temple, dedicated to Lord Vishnu, is located inside the East Fort in Thiruvananthapuram, the capital city of the Indian state of Kerala. This temple combines Kerala and Dravidian architectural elements. It is thought to be the wealthiest temple in the world.
There is a strict dress code that needs to be followed while entering the temple. Men need to wear mundu or dhoti (worn around the waist and going down up to the heels) and should not wear shirts of any kind. Women need to wear a sari, Mundum neriyathum (set-mundu), skirt and blouse, or half sari.
Dhotis are available for rent at the temple entrance.
Location: Thiruvananthapuram
Timings: 3:30 AM to 8:00 PM every day
2. Kerala Backwaters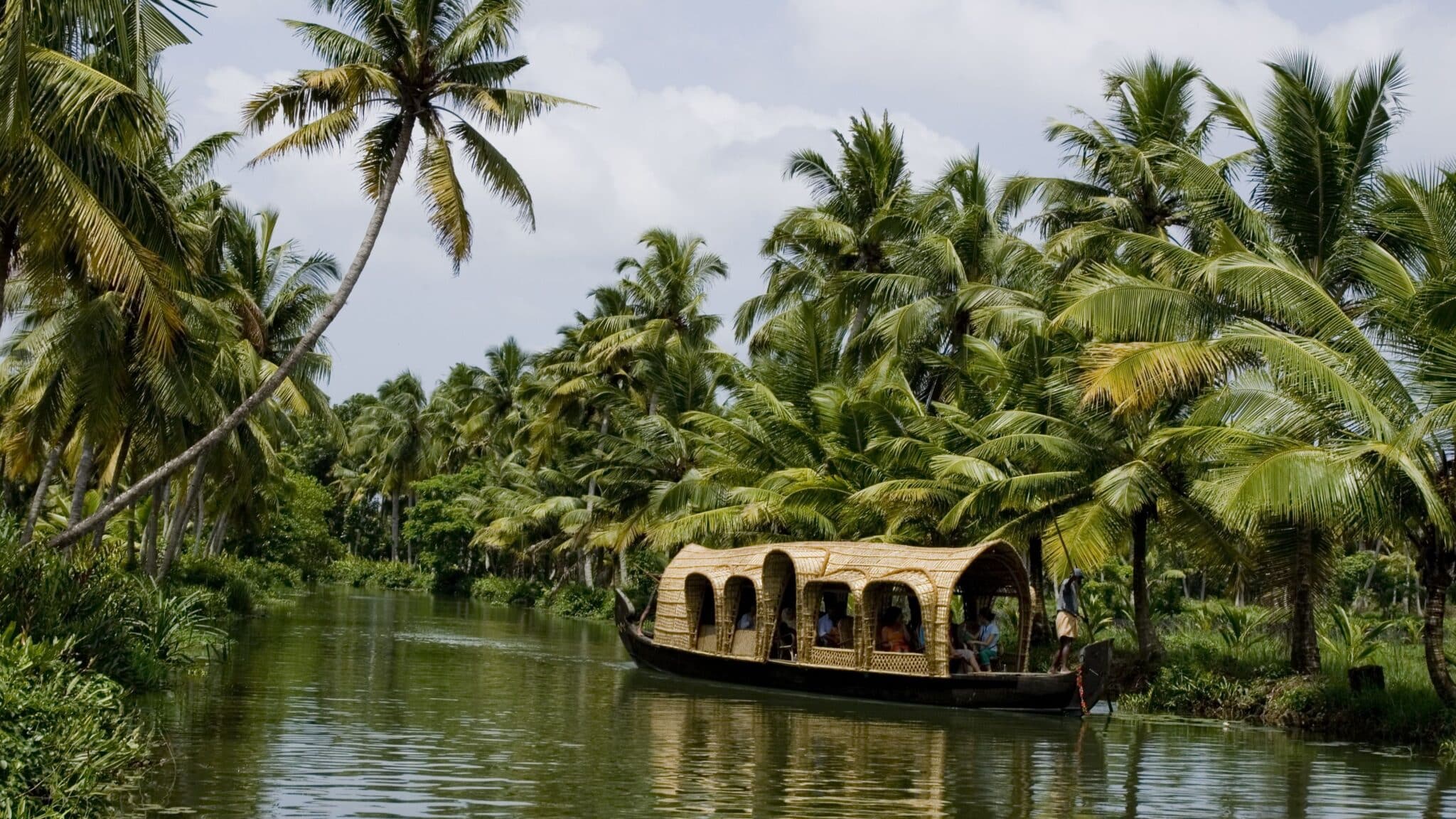 Kerala's gorgeous backwaters are composed of tranquil expanses of lakes, canals, and lagoons that run parallel to the Arabian Sea's shore. Kerala's backwaters are among the most popular tourist sites in the world. Backwater cruises are a once-in-a-lifetime event. Alappuzha, often known as the 'Venice of the East,' is famous for its houseboat tours, which allow visitors to see nature in its purest form.
3. Kerala Kathakali Centre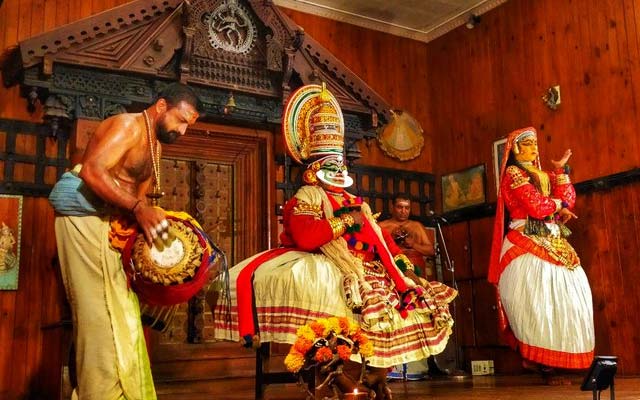 Kathakali is unquestionably one of the most unique, with its extravagant, multicoloured costumes and masks. Kathakali, currently the state dance of Kerala, developed into its modern dance-drama style in the 17th century, under the leadership of the Rajah of Kottarakkara, who moved the performances out of the temples and palaces and directly to the peasants. This renowned facility, which was founded in 1990, commemorates kathakali and Indian classical music and other traditional arts, with nightly performances 365 days a year. The kathakali presentations last around 90 minutes and include an instructional demonstration; arrive an hour early to see the actors put on their intricate makeup and clothing.
Address: KB Jacob Rd, Fort Nagar, Fort Kochi, Kochi, Kerala 682001
Timings: 9:30 AM to 10:00 PM
4. Jatayu Earth's Center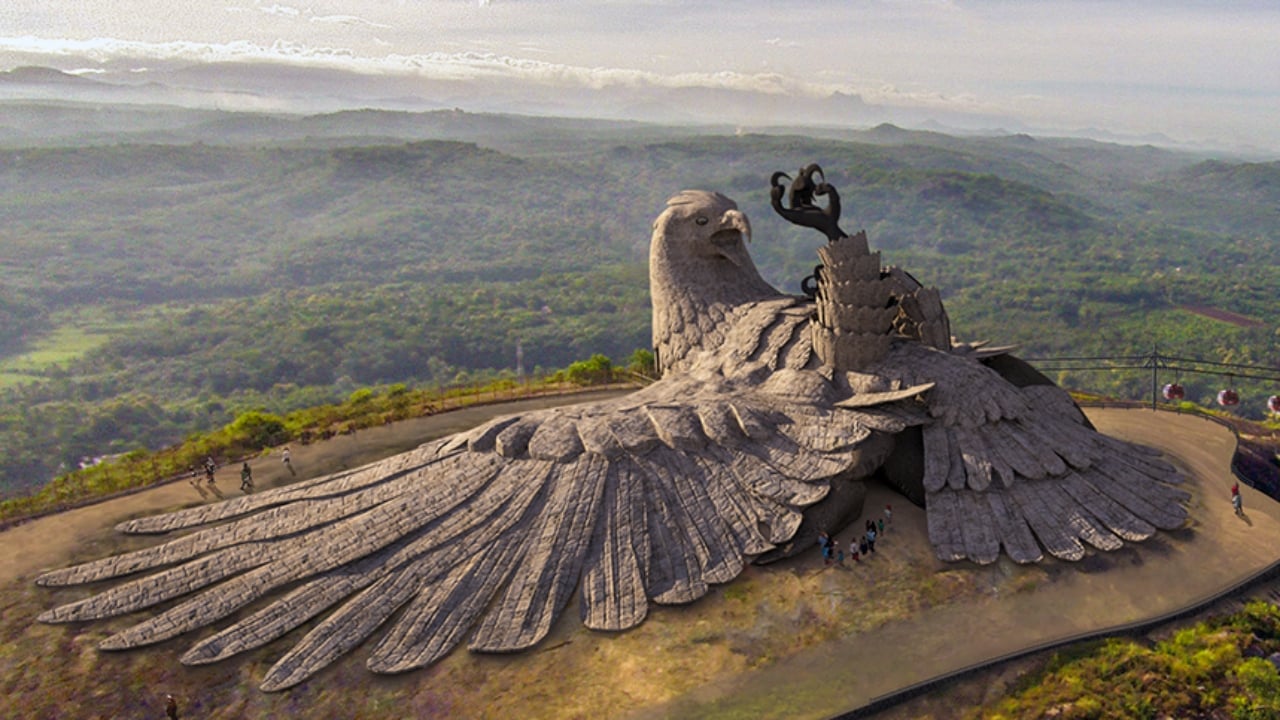 On your trip to Chadayamangalam in the Kollam district, the massive statue of Jatayu lying high up the hill attracts your eye even from distance. The mythological bird Jatayu appears in the Indian epic Ramayana.
A cable car may take you to the summit of the hill. In Jatayu Rock, the tourist will have a plethora of adventures. Inside the sculpture, there is a museum and a 6D theatre. You can even go on a hele-taxi ride from here!
Aside from all of these unique activities, the location also offers Ayurveda, camping, trekking, a live kitchen, and much more to make your vacation unforgettable.
Timings: 10:00 AM to 5:00 PM every day
5. Athirappilly Waterfalls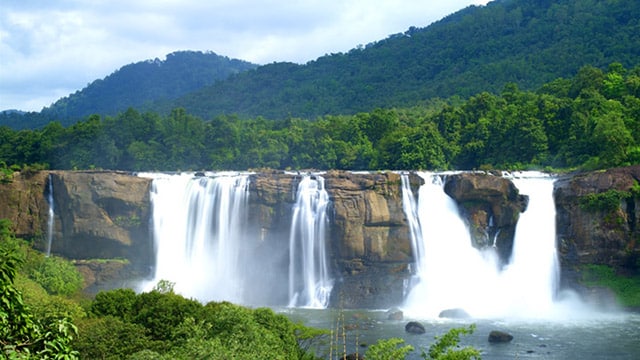 A mystical peace overtakes you as you stroll down the stone slabs that lead to the base of the Athirappilly waterfalls. With a height of more than 80 feet, it is Kerala's most famous and biggest waterfall. The sight of water falling upon the earth leaves you in awe of nature's overwhelming force and grandeur. It is a popular picnic location for people in the vicinity and beyond and is located around 63 kilometres from the district of Thrissur. Its surrounding vegetation is ideal for hikes and picnics with family and friends. It is a branch of the Chalakudy River, which flows through the Western Ghats and into the Sholayar forest ranges.
6. Periyar Lake

The Pandyas governed from Madurai until the 12th century, and the Periyar Valley was part of their domain. The Mullaperiyar dam was built in 1895. The dam, which was erected across the west-flowing River Periyar, dams the river and creates a reservoir. It also resulted in the development of an artificial lake, which added to the valley's allure. The lake, located in the heart of the sanctuary, serves as the reserve's focal point and a gathering area for elephants and avifauna to frolic, sip water, and cool off with dips during the warmer months. The dam profoundly altered the environment and characteristics of the valley by constructing this artificial lake.
7. Idukki Dam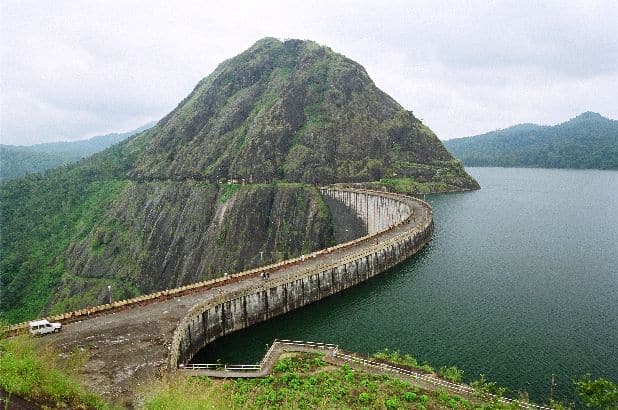 Idukki Arch Dam, a parabolic construction, is the world's second and Asia's first arch dam. It's built over the Kuravan and Kurathi hills. The sight is awe-inspiring in and of itself, given the enormity of the building and the function it performs. The Idukki Wildlife Sanctuary is nearby, where one may find peace in nature.
8. Kerala Folklore Museum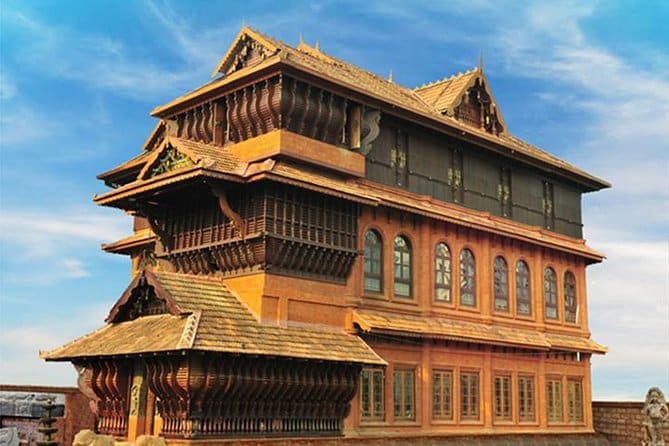 Folklore Museum seeks to give art instruction to students while also assisting with the provision of aesthetic and academic knowledge to art enthusiasts, scholars, and travellers from all over the world. The Folklore Museum is Kerala's only architectural museum and a treasure trove of stone, wood, and bronze sculptures, ancient terracotta, stone Age objects, jewellery, paintings, oil lamps, musical instruments, tribal and folk art, woodworks, utensils, masks, and traditional art forms, and so on. There are approximately 4000 artefacts on display ranging in size from tiny to large. This ethnic museum encapsulates the essence of ordinary man's existence and culture throughout the last 1000 years.
9. Parambikulam Tiger Reserve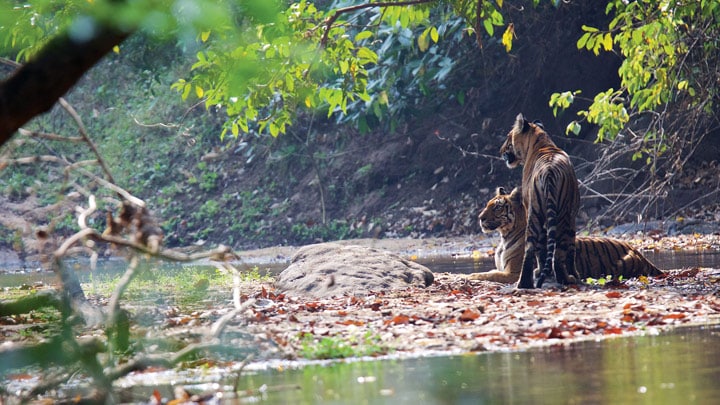 Parambikulam Tiger Reserve is located in the Chittur taluk of the Palakkad district, around 100 kilometres from Palakkad. The tough hill ranges here are located at altitudes ranging from 300 to 1438 m above sea level, and the area has a pleasant environment with temperatures ranging from 15 to 32 degrees Celsius. Parambikulam, which covers an area of 285 square kilometres, is home to the world's first carefully managed teak plantations as well as the world's tallest and oldest teak tree.
10. LuLu Mall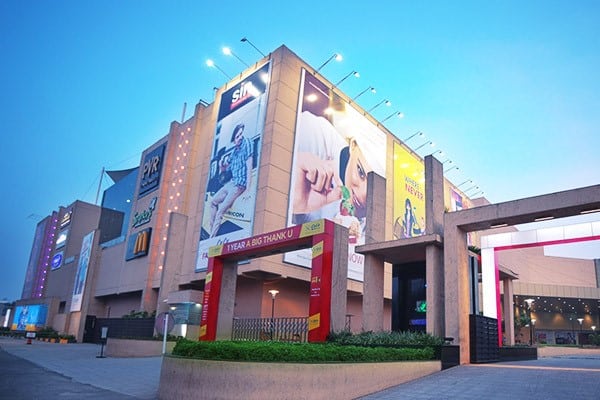 This massive crystal palace, which spans 2.5 million square feet and has ceilings and walls made of spider fitting glass, can accommodate 100,000 people at a time. The mall, which opened to the public on March 10, 2013, has over 300 businesses for jewellery, food courts, fashion accessories, electronic home appliances, footwear, athletics, travel equipment, and other items. This massive shopping centre has more than 320 worldwide brands. A massive two-story hypermarket caters to all types of clients. And Lulu Celebrate is a one-stop-shop for all of your wedding needs.
Adventure Sports in Kerala
Parasailing
Paragliding
Kayaking
Snorkelling
Bamboo Rafting
Scuba Diving
Mountain Climbing
Trekking in Kerala
Chembra Peak Trekking- Wayanad
Ramakkalmedu Peak- Idukki
Agasthyarkoodam Peak Trek- Thiruvananthapuram
Thusharagiri Waterfall Trek- Kozhikode
Chokramudi Trek- Munnar
How To Reach Kerala
Kerala, God's own country, is well-connected by all means. 
By Air
Because of the Cochin International Airport and the Thiruvananthapuram Airport, flying is a simple way to travel to Kerala. Both of these airports are well connected with all domestic airlines that serve major cities such as Mumbai, Delhi, Kolkata, Bangalore, and Chennai.
By Rail
The train ride to Kerala is picturesque and fascinating. More than 500 trains connect Kerala to the rest of India. Kerala Express– 12626 is the train that goes to Kerala from various parts of India
By Road
Kerala is linked to the other two and three-tier cities by the National Highway. There are also private and inter-state government buses, taxis, motorcycles, and self-driving automobiles available.
Budget for Kerala (per day per person basis)
INR 1800 approx per day.
This includes the entry to tourist attractions and food. To commute in Kerala, you can use the bus, auto-rickshaws, cycles, motorbikes and taxis which can cost anywhere in the range of INR 100-INR 1500.
What To Eat in Kerala
Kerala is famed for its Sadhya, which is served on a banana leaf during the Hindu holiday Onam and consists of boiling rice and a variety of vegetarian foods. Because of its lengthy coastline, Kerala cuisine includes a lot of marine food such as fish, prawns, mussels, and crabs. Some of the dishes that you should also try in Kerala include Appam with stew, Karimeen pollichathu (fish), Malabar Parotta with Kerala beef curry and Thalassery biriyani.
Shopping in Kerala
Kerala food and delectable species will delight you, as will the variety of festivals observed in Kerala, and handicrafts, jewellery, clothing and sarees available here will entice you to purchase. Some of the things you can buy from Kerala are Spices, Tea and Coffee, Coir Handicrafts, Shell Showpieces, Kathakali Masks, Kasavu Mundu, and Nettipattam. Most of these can be found in Chalai Bazaar, Kerala's Busiest Street Market.
Places of Stay in Kerala
Hostels/Affordable Homestays
Tripper Alleppey
Golden Beach Homestay
Zostel
Hotels for Stay
The Trios Hotel Kochi.
Koomankolly Heritage Resort
Luxury Resorts for stay 
Taj Bekal Resort & Spa, Kerala
Ramada Resort by Wyndham Kochi
Grand Hyatt Kochi Bolgatty
How Long Should A Trip Be for Kerala
Ideally, you can explore Kerala in 4 days. All sightseeing locations along with activities can be covered in this duration. But if you plan to travel to other states, cities and towns close to Kerala, you might have to spend some more time.
Additional Information about Kerala
Kerala Weather and temperature Information: Kerala has a pleasant environment with temperate temperatures. During the Indian summer, when temperatures in other states reach or approach 40 degrees, the weather in Kerala remains relatively calm and pleasant. Kerala's winter season begins in December. At this period, the average maximum temperature is 32 degrees, while the average lowest temperature is 23 degrees.

Festival that happens in Kerala: Kerala hosts a slew of traditional festivities throughout the year. These festivities involve a large number of areas and villages. The entire state comes together to celebrate these historic events, and the entire area is illuminated. There are large processions and massive displays on the street, with throngs thronging to soak in the pomp and magnificence. Some of the prominent festivals of Kerala are Onam (September/October), Theyyam (November to December) and Thrissur Pooram (April to May)

Read More