Very rarely do we find instances written in books that come to life. Today we will know more about the Valley of Flowers. Let us dive deep into this place discovered by chance and is classified as a national park and a UNESCO world heritage site.

Despite the forecast, live like it's spring. 
The Valley of Flowers lies approximately at the height of 3600 m above sea level in the Chamoli district of Uttrakhand. It envelops itself with supremely refreshing meadow of lush greenery, varied colors of flora and fauna, cold and generous streams. It looks so beautiful that you can never get enough of it.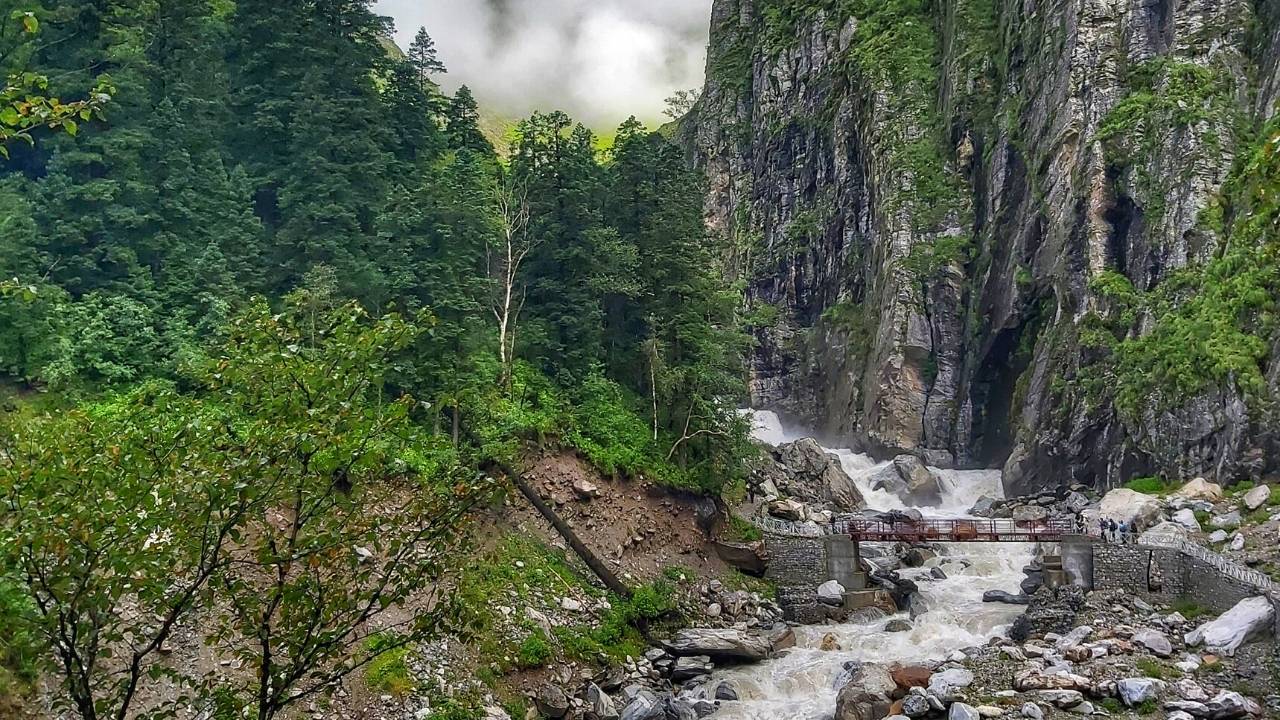 A trek in the valley is the most enchanting experience because you'll find yourself amongst the rare lady's slipper orchids, daisies, snow leopards,  Himalayan black bears, and exotic birds like snow partridges, sparrowhawks, and Himalayan monals. This is a must-experience trek for all nature lovers, bird-watchers, and anthophiles! If you are someone who loves the idea of exploring the wilderness, this handy guide to the Valley of Flowers is for you –  
Flora and Fauna in the valley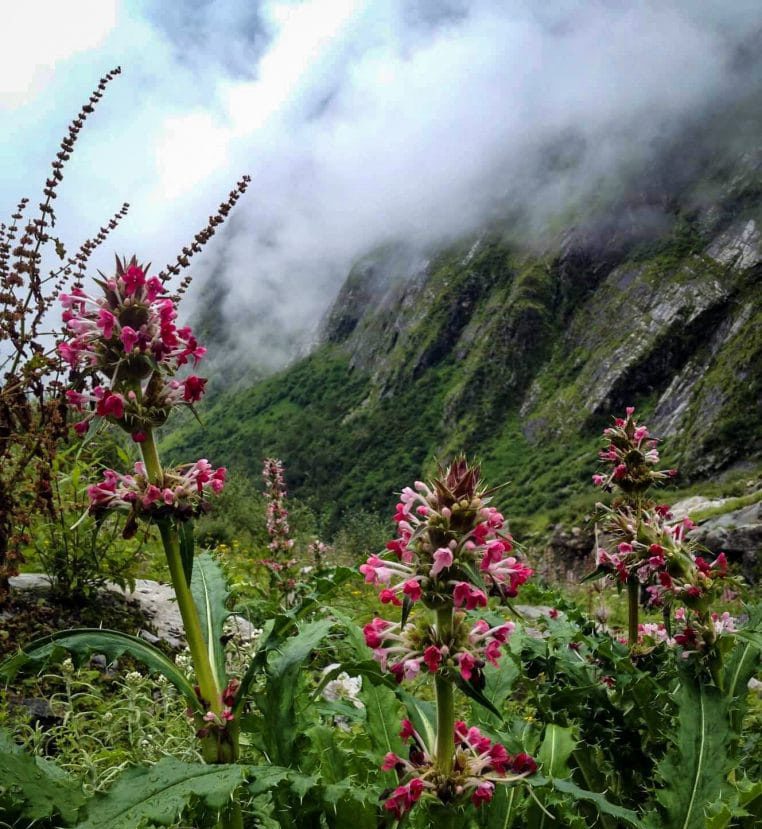 It is appealing to know that the Valley of Flowers, even though at such an altitude and wilderness, hosts life in many forms. The soul of the valley lies in various animals whose voices and foot trails make the place lively. Moreover, the mountains overlook all shades of green. 
As you reach here in the morning, a lot of birds are out to collect food. Sometimes, you will even see them carrying straws to make homes. As one bird chirps, the other chirps in response too. Then they sit on a rock, talk a bit, and head towards their abode together.
As you will look at the other side, you will spot blue, green, red, dotted butterflies, sometimes honeybees, and bumblebees collecting nectar and enjoying various colors and tastes of flowers. This is why we visit the Valley of Flowers to witness everything that we cannot find in cities.
Birds, butterflies, and bumblebee
There are over 110 species of birds found in this region – some exotic and rare ones too. Snow partridges, Yellow-billed and Red-billed Chough, Yellownape woodpeckers, Blue-throated Barbets, snow pigeons, snow doves, Himalayan golden eagles, and Griffon vulture.
Lime butterflies, Yellow snow-tails, common Mormon, Blue Apollo, and Spangles are favorites from the Nanda Devi National Park.
Animals
The Valley hosts some of the most endangered animals in the world, like the snow panther, Asiatic black bear, Cocoa Bear, and Black sheep. Along with these, you can also spot the snow leopard, tahr, musk deer, bharal, brown bears, Ser owl, giant flying squirrel, Yellow-throated marten, gorals, and the mouse hare.
Flowers
In the Spring season, you will spot the Primulas, Calendulas, Anemones, Rhododendron, and of course, the pines. Of 520 species of flowers, the Cobra lily, Blue poppy, Brahma kamal, Lady's slipper orchids are the rare species found in the Valley of Flowers.
The story behind the 'Valley of Flowers' 
The Valley wasn't always known for its breathtaking beauty; in fact, it wasn't known at all! Due to its harsh climate, lack of population, and inaccessibility, the patch stood undiscovered for a significant part of Indian history. 
It so happened in 1931 that Frank Smythe, Eric Shipton, and R.L Holdsworth, while returning from their expedition from Mt. Kamet, lost their way and happened to stumble upon the lush greenery of the Valley of Flowers. Frank Smythe later published a book and named it the "Valley of Flowers." And so later, the valley became famous as the "Valley of Flowers".
Seasons at the Valley
As seasons switch, so does the face of the valley. The entrance to the valley is officially restricted only during June – October, when the valley is relatively warm and welcoming, unlike the snowy winters that prevail through the rest of the months. 
In June, there are chances of spotting some old snow patches along the route. The trek can still be completed as the snow depth has drastically reduced through the months of March-May. Flowers are lesser in variety and number, as the full-fledged blooming season is yet to begin. 
Out of these, July and August are considered the best time to indulge in a trip to the Valley of Flowers as it gives its audience an arresting view and a large variety of flowers. Post the rains, the valley is in full bloom donning maximum kinds and quantities of flowers. 
July offers much better and probably the best weather to explore the Valley of Flowers! Golden lilies, Geraniums, and Anemone tetrasepala are found in huge families at this time. Moreover, this is the only time you might get lucky at spotting the rare – Lady's Slipper Orchids!
August will see different species of flowers from June. Here lies the novelty of the Valley- the flowers change periodically, sometimes within spans not more than two weeks!  Impatiens Davendre is primarily found at this time of the month. Riverbeds are heavily pink because of the flower Epilobium Latiphobium covering even the areas surrounding streams and ponds. 
September and October are when the flowers turn into berries that finally burst to spray an array of seeds for germination. The seeds then get buried under several feet of snow and ice for the rest of the year, which keeps them intact for the following spring. 
Nearby Places to visit
Must-visit Temples
Hemkund Sahib 

Gaurikund 

Badrinath Temple 
Must-visit Scenic Destinations 
Ghanbari

Bedini Bugyal

Lakshman Ganga River

Vasudhara Falls

Bheem pul

Govindghat
Can I cover the Valley of Flowers on a budget? 
Yes, definitely! The Valley of Flowers can be explored on a budget. Based on your interest in solo trekking or group trekking, the budget varies. 
All you need to know about the necessities
Stay is quite abundantly available – small hotels, guest houses, homestays, and camping sites are popular rest stops trekkers use for the nights. 
Note that camping and overnight stay at the Valley of flowers is prohibited by law. 
There are multiple restaurants in and around the valley, so food should not be an issue. The locals try and cater to foreign tastes, but its consistency cannot be assured throughout the trek. Rice is a staple food at such high altitudes, but chapatis and other vegetables can be found in certain restaurants. 
Want it all to be an inexpensive and hassle-free experience? Book with us now! 
Want us to set you up with the trek?
When you trek with Plan the Unplanned, all your needs will be taken care of without you puddling around and getting confused. It is customary for the body to crave warmth and nourishment at such high altitudes, so on our treks, it will be ensured that you have a diet of high carbohydrates and proteins that will suffice you for some strenuous trekking. 
We, Plan the Unplanned, are a loved and popularly recommended travel organization. We make it easier for people from all over India and outside to shape their travel plans to various destinations.
Use this link to read our entire itinerary, inclusions, exclusions, and other information regarding our trek to the valley of flowers. 
Got a Question?
As much as we love to travel, we love talking to people with similar interests. We are always available to sort out your travel plans. Contact us for any further queries; you can chat with us directly through our website, or feel free to call or email us!