Being from Bangalore, the Silicon Valley of India comes with many advantages – one of which is the sheer joy of sipping piping hot tea in the company of pleasant weather. Perched at an elevation of 920 m above sea level and resting on Deccan Plateau, this metropolitan city steals any heart.
And consider yourself blessed if you live here, for it is not just the weather but also the immense opportunities to explore nearby destinations of South India, along with the Weekend Getaways from Bangalore. 
Woefully, living in Bangalore also translates to a fast-paced and traffic-jammed lifestyle that aggravates stress, leaving you on the verge to escape. This is why we are here to reveal an exclusive list of weekend getaways from Bangalore that will feed your soul with adventure, culture, history, and unique architecture: 
1. Nandi Hills
Where:  80 km from Bangalore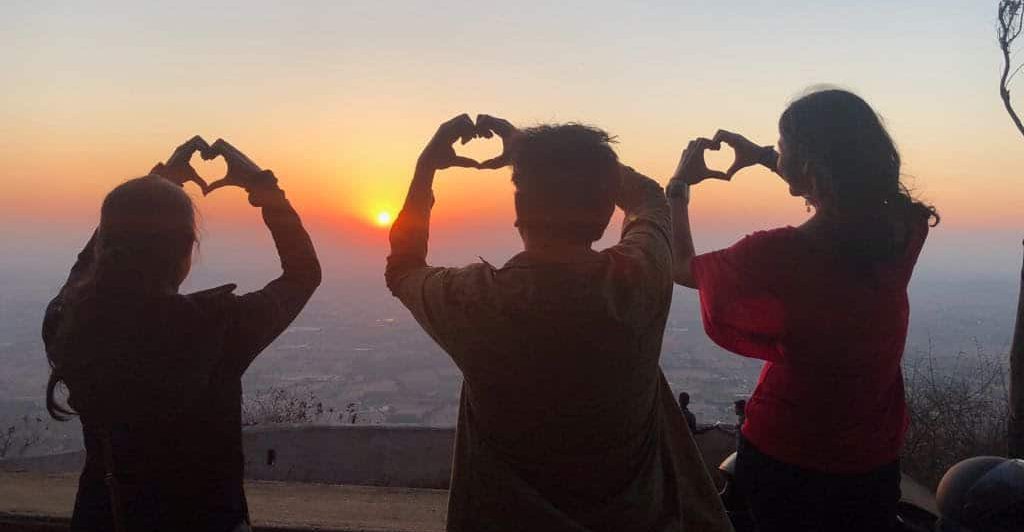 The one place that even non-Bangaloreans must have heard about is the famous Nandi Hills and is one of the most important weekend getaways from Bangalore. An early chilly and foggy morning bike/car ride to Nandi hills to watch the sunrise is an experience that one visiting Bangalore must have! 
It's an easy 'Do it Yourself' hike. The mesmerizing red, purple, yellow hues of the rising sun will captivate your sight, then the cool breeze will capture your attention and will not let you move for some time. Trust us when we say that this place will stir your morning energy and unblock creative juices. 
In addition, there are beautiful gardens, viewpoints, and old temples that host a good crowd, especially on weekends. Come down to have refreshing bhajia, tea, and samosas, and leave satiated.
2. Mysore
Where:  143 km from Bangalore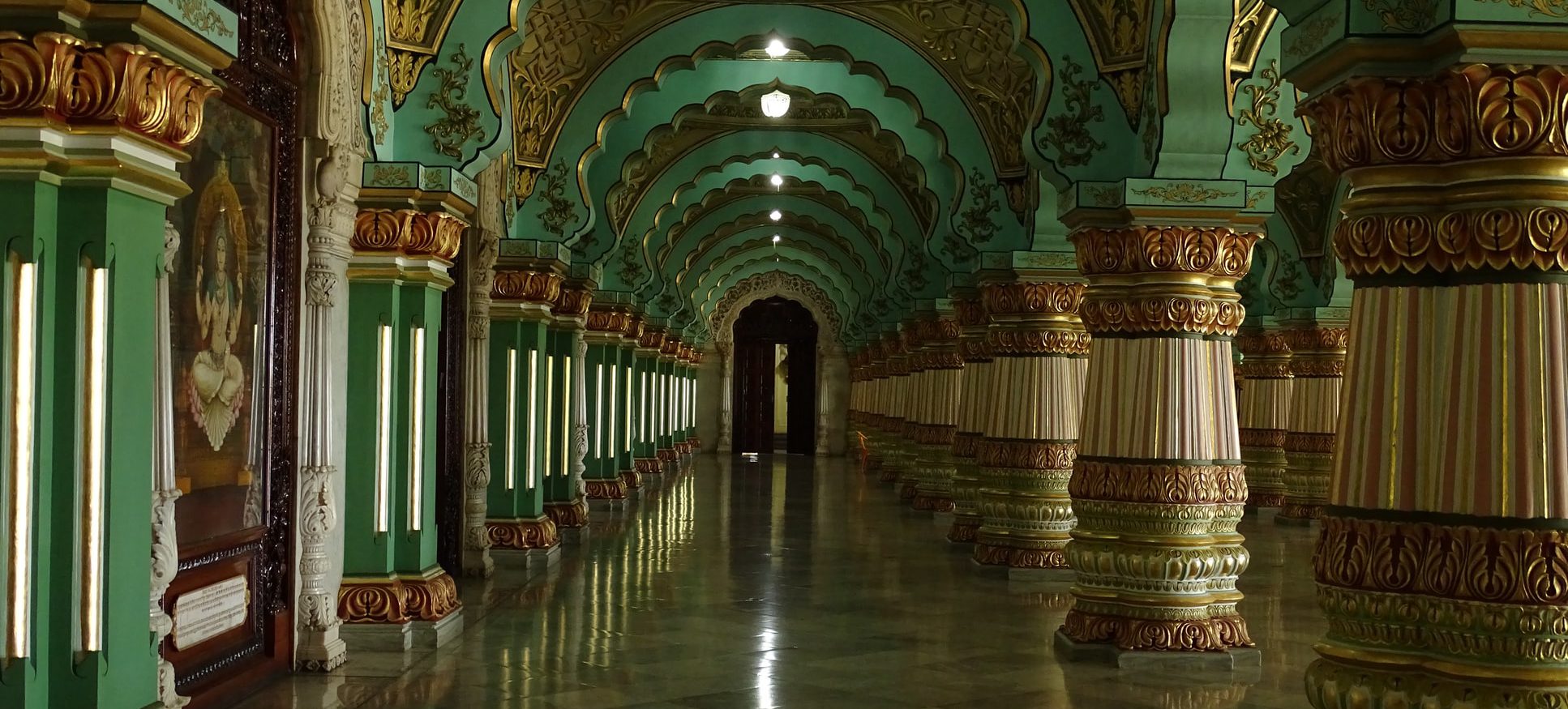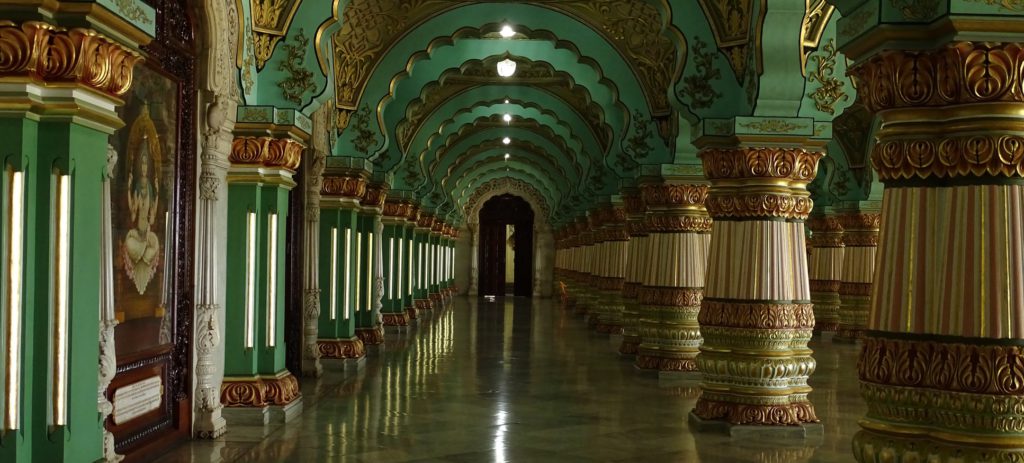 Mysore is known for its heritage structures and palaces. You will experience historical delight as you will be taken back in time on your visit to Mysore Palace, a royal palace known best for its Indo-Saracenic style with domes, turrets, arches, and colonnades. Mysore Palace is often compared with Buckingham Palace for its grandeur.
Apart from the architectural excellence, Mysore boasts its best-in-class Brindavan Gardens. The garden also has topiary works, gazebos, and pergolas, forming an elegant promenade. 
From its renowned silk sarees to the mouthwatering Mysore Pak, this destination has everything to offer to a curious traveler. If you are planning your abode a bit too far, Mysore can also act as your stop. We recommend you plan your travel somewhere around October to February during winter to experience the most.
Also, to experience the exuberance and culture, visiting here during Mysore Dasera, perhaps would be the best. What happens during the festival? What is the best time to visit? Read more about the celebrations and festivals of South India here.
3. Shivagange
Where:  50 km from Bangalore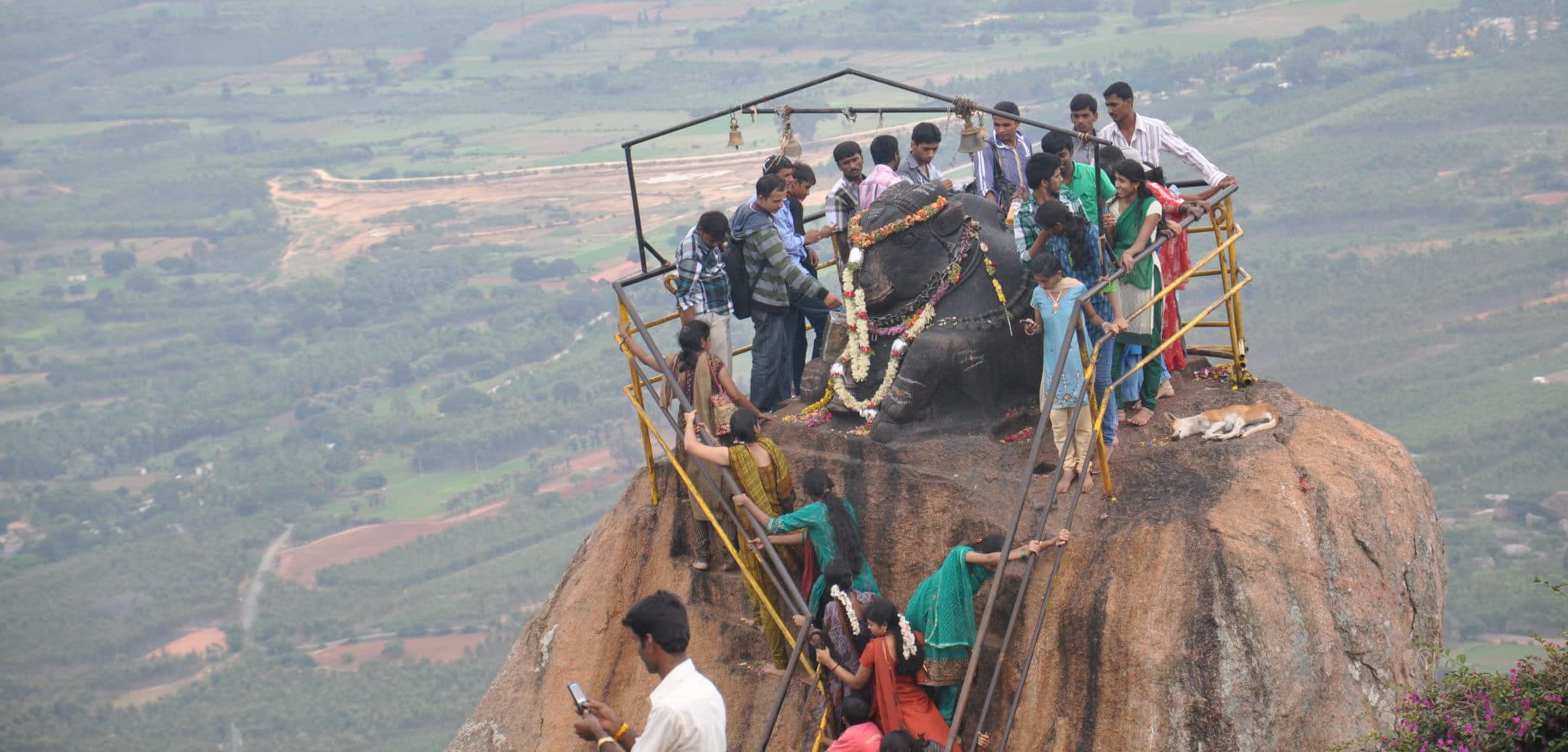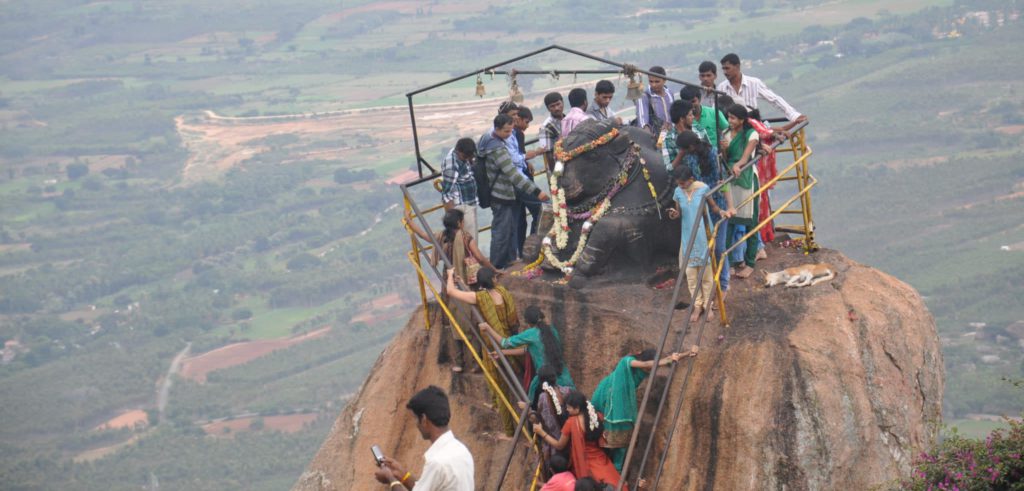 Shivagange offers a double treat to travelers with an epic religious and adventurous activity. This scenic peak and a Hindu pilgrimage center give the appearance of Shiva Linga, a classic representation of Lord Shiva from afar. 
A belief exists around the spring that flows on top of the hill that it is from Ganga, thereby giving it its name as Shivagange.
The area is a popular rock climbing spot in Karnataka. A hike to this Shivagange hillock will be a thrilling experience and a deserved scenic and picturesque journey.
4. Skandagiri 
Where:  60 km from Bangalore
Skandagiri is utterly famous among tourists and locals alike. This mountain fortress is an approximate 10 km trek that one can begin at around 3 AM to catch the sunrise in the early morning. 
Trekking at night adds an element of thrill. Trekkers often set camps at the hilltop to watch the beautiful sunrise and the scarlet view of the valley. One can always light up a good bonfire, play some tunes, or even whisper spooky stories while waiting for the glimpse of the first rays of golden sunlight.
It is also known as Kalavara Durga. You will also get to see a lesser-known fort which Tipu Sultan built in the 18th century. Britishers won the fort after the battle with Tipu Sultan. Today, only a few walls remain, and the remaining demolished pieces uncover parts of the struggle.
5. Madhugiri 
Where:  100 km from Bangalore
As you leave the bustling roads of Bangalore, you will instantly feel relieved from the tension and noise of the city. 
Madhugiri derives its name from a hillock, Madhu-Giri, meaning 'Honey Hill'. There is a fort on the steep slope. Its construction finished in the late 1600s, and now the ruins stand tall as reminders of strategic architectural assets of the then Sultan of Mysore. 
It is a steep trek to ascend but is also very rewarding – thanks to the gorgeous views and soothing breeze, giving a traveler the 'On top of the world' feeling. 
And the best part – It is the second-largest monolith in entire Asia. Are you now intrigued to travel here right away? Check out our itinerary.
6. Makalidurga Fort
Where:  60 km from Bangalore
Makalidurga is a rejuvenating and relaxing trekking spot for adventure lovers. The fort stands at the pinnacle of a vast granite hillock. 
There is a small Lord Shiva temple, an excellent spot to visit while on the trek. The trek offers an easy trail for beginners while also providing a picnic-like feel, thus giving a traveler the best of both worlds.
Visit Makalidurga Fort to rejuvenate and step away from city life for a quick breather.
7. Shivanasamudra Falls
Where:  130 km from Bangalore
This waterfall on the banks of the Kaveri means "Shiva's Sea". The small town, Shivanasamudra, around the falls, is now a popular tourist destination pertaining to the natural beauty, attractions, and this ultimate waterfall. 
The viewpoint offers one to embrace the magnificent waterfalls which blurs and mums the sound of mundane life and other activities. You can just stand there and feel worries melting away with each droplet falling on you.
8. Chikkaballapur
Where:  60 km from Bangalore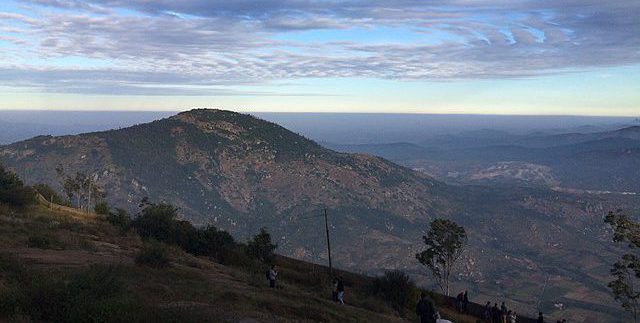 Chikkaballapur is very close to Nandi Hills. It is famous for Vivekananda Waterfalls and multiple rock climbing points. Other attractions of Chikkaballapur include the RanganathaSwamy Temple and Bhoganandeeshwara Temple, which offer a glimpse of ancient South Indian culture, religion, and architecture. Within the district, there is a small, pristine Kandavara Lake. 
What you cannot miss while being here is the Harihara Betta Trek. The trek is also known as Kaurava Kunda Trek on Google; it is an ideal trek for any age group. The rewards are immense – you get the full view of the district from the top, get to visit a temple en route, and the natural scenery.
It is a regional transport and educational hub and is a major site for grape, grain, and silk cultivation.
9. Bheemeshwari
Where:  100 km from Bangalore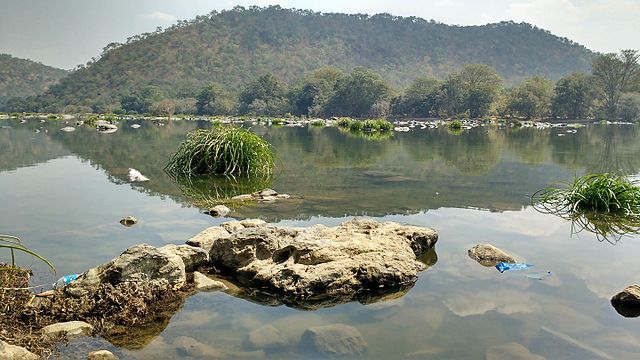 Bheemeshwari, a small town in the Mandya district, is the go-to place for any fishing lover. It is also known as the 'Fishing Village of Karnataka' and is an "Angler's Paradise". The fish Mahseer is the tropical game fish found here, and people try to capture it with great enthusiasm.  
Furthermore, the lush green forest on the banks of Cauvery offers a delightful experience of boating, fishing, bird watching, and camping. The wildlife around the river and the forests allows one to spot different animals, from deers to even leopards. 
Adventure lovers engage in trekking and rafting in Shivasamundra waterfalls on their visit to Bheemeshwari town.
The place is affluent in activities and natural pleasures that it must now slowly slip into your bucket list. Don't rebuff, please!
10. Ramanagaram
Where:  50 km from Bangalore
Ramanagaram offers rock climbing, trekking, and other activities for tourists. It is close to Savandurga, another hill often visited by many tourists. Famous for its greenery and rocky hills, this place has become a tourist spot for weekend getaways from Bangalore. Another interesting fact about Ramanagaram is that it also hosts bird watchers from different parts of the country. 
You have a handful of weekend getaways from Bangalore. So the next time you hear friends complaining that they have nothing interesting and fun to do on weekends, you know what blog post to send them. Plan The Unplanned offers weekend getaways from Bangalore to offbeat destinations.
However, the cherry on the cake is not just the destination, but also the journey, the pitstops, and witnessing the attractive culture of the locals. Stopping at roadside restaurants and eating Idli, Vada, Sambhar, Chutney in the company of clouds and open space relieves all stress. Trust me, these one-day trips will work as saviors and will also give meaning to your life. What are you waiting for, then?
Share a Smile
If you liked this blog, do share and forward it. If there are any places around Bangalore you can't stop talking about, let us know in the comments below. We'd love to hear back from you.