The most flamboyant festival is right around the corner. Get excited about this resplendent festival, with all the bright neon colors, the Balam Pichkaris, and indulge in sumptuous food and the ever-so-famous Bhaang 😉. It's a free-for-all event. Its madness. People chasing each other across streets with packets of Gulal and armed with water guns splattering everybody on the way from head to toe in colors.
Legend has it that Lord Krishna, frustrated by his own dark complexion, complained to his mother that it is only unfair that his complexion was so much darker than the Radha. Listening to this, mother Yashoda playfully asked Krishna to smear color on Radha. People all around the country have kept this unique tradition alive to date in an enthusiastic, fun manner.
Are you tired of all the same old Holi event or party or even the roadside colony celebration? Do something out of the box and a little different this Holi season? Go for a small trip to celebrate this vibrant and colorful festival.
Here are a few places you can visit during your Holi break :
Lath Mar Holi at Barsana and Nandgaon
People at Barsana and Nandgaon(near celebrate this festival in a rather unusual manner. All the ladies out there, ever had the urge to batter your husbands with sticks? This is exactly what happens during this auspicious festival. It's called the Lath Mar Holi.
In the sprawling compound of the Radha Rani temple( the only temple in the country to be dedicated to Radha) in Barsana, thousands gather to witness women beating up men with sticks. History has it that Lord Krishna had visited Barsana (village of Radha) and playfully teased her and her friends.
They chased him away. Keeping in sync with this story, men from Nandgaon visit Barsana every year only to be greeted with lathis( sticks). Every wife's dream, isn't it?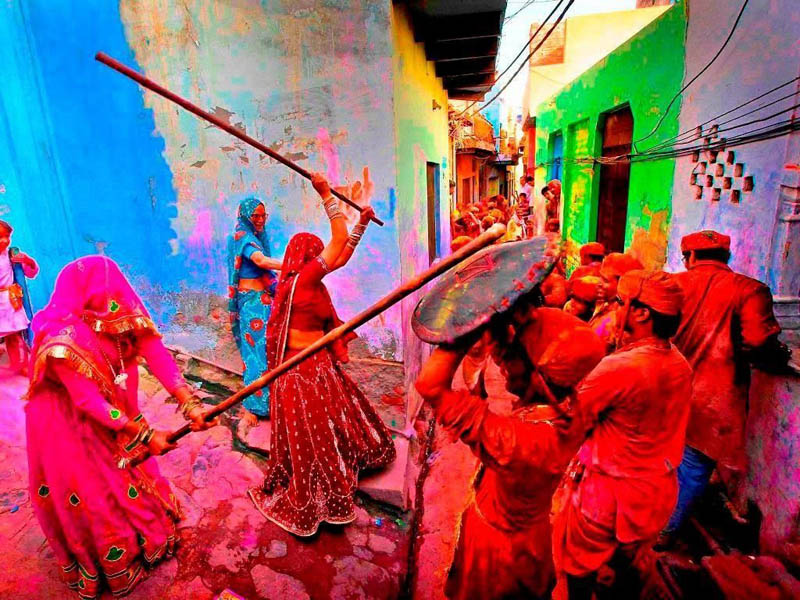 Phoolon Ki Holi at Gulal Kund
Banke Bihari temple in Vrindavan hosts a week-long Holi celebration, and Phoolon ki Holi which's celebrated here is another take on Holi. According to another story, Krishna and Radha first played Holi with flowers.
This event takes place for a short duration of time. As soon as the gates open, the priests throw flowers on the devotees. In Gulal Kund, a place near Govardhan Mountain, it played after the enactment of Rasleela by the locals.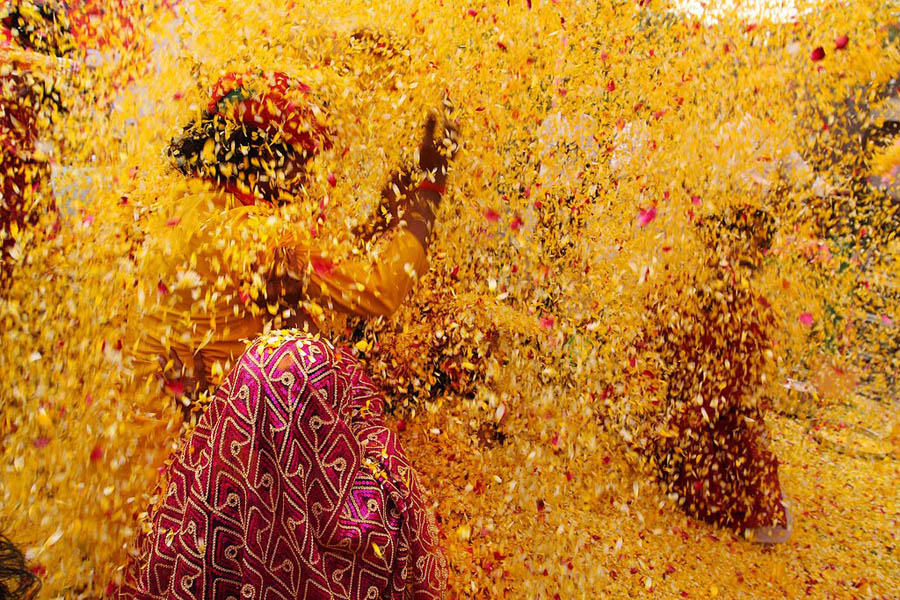 Source: 4.bp.blogspot.com/-VhYV8Pinisg/T0R7SA-RsSI/AAAAAAAARkE/5G5TKtCMy1U/s1600/phoolon-ki-holi.jpg
To get a real insight into this vibrant festival, one has to visit Mathura and Vrindavan. Being the place of Lord Krishna, the whole city comes to life for Holi. It's a week-long extravagant affair. Braj ki Holi is loaded with colors, finger-licking food, age-old traditions, and unrestrained fun.
Be it at the Banke Bihari temple, the Dwarkadesh temple, or any of the Radha Krishna temples the celebration is glorious.
Holi is played with colored water and Gulal, a form of color made using organic substances like flowers and Kesar. Goswamis (priests in the temple) sprinkle colors on everyone using buckets, water guns, etc. The atmosphere is Lit AF with music, dance, and frolic.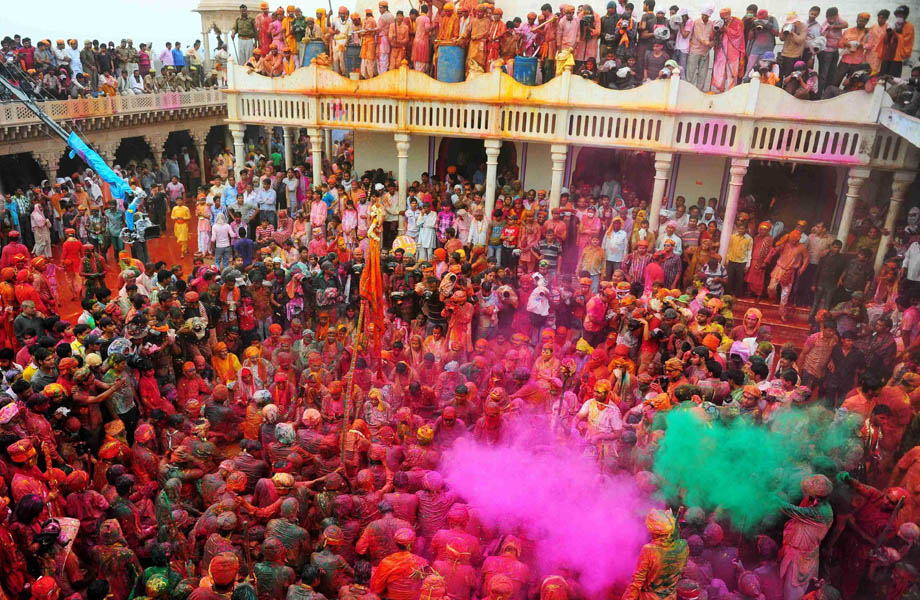 Source: emages.eventshigh.com/2017/2/18/img_88b18e0ff312083d7c61c0d558e23638_1487414201327_processed_original.jpg
Generally, South India is looked down upon when it comes to the celebration of Holi because it is considered to be more of a North Indian festival. But, Hampi is an exception. Holi here is celebrated on a full moon day in the month of Phalguna.
People here celebrate Holi for two days, and they splash colors and dance to drum beats followed by a nice dip in the river. This world heritage site is a must-visit site to indulge in the best of Holi celebrations in Karnataka.
Source: https://www.facebook.com/TravelPhotographyByBinoyGeorge/
Widow's Holi at Vrindavan
Thousands of widows even in this modern world of ours are forced to live the life of a recluse. They are abandoned by their families and widows from all over the country come to stay in the blessings of Lord Krishna at Vrindavan. Earlier, widows were prohibited from even wearing colorful clothes, let alone celebrating the festival of colors.
But by breaking the social shackles, a special form of Holi has been organized for the widows at Vrindavan for the past few years. All the windows can be seen singing bhajans, dancing and twirling in unison like the Radhas of Lord Krishna.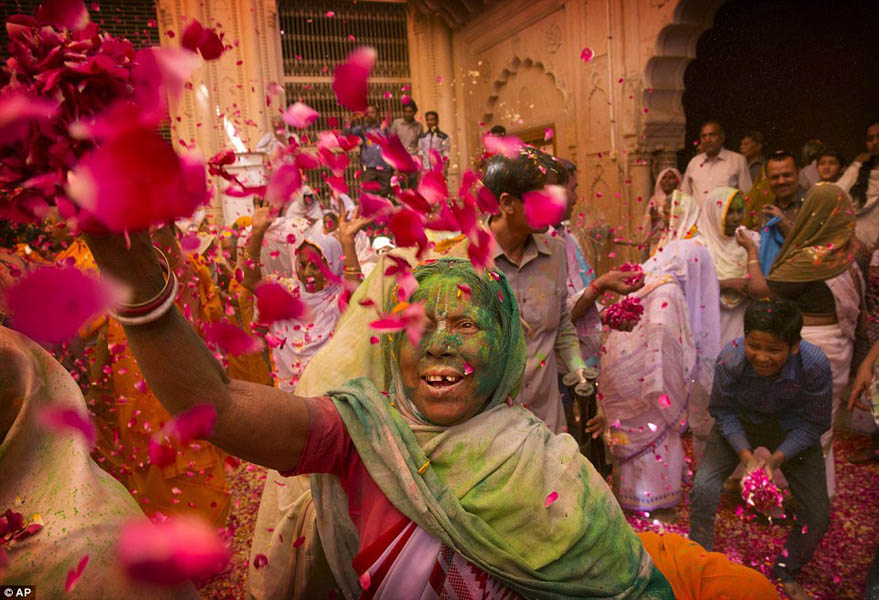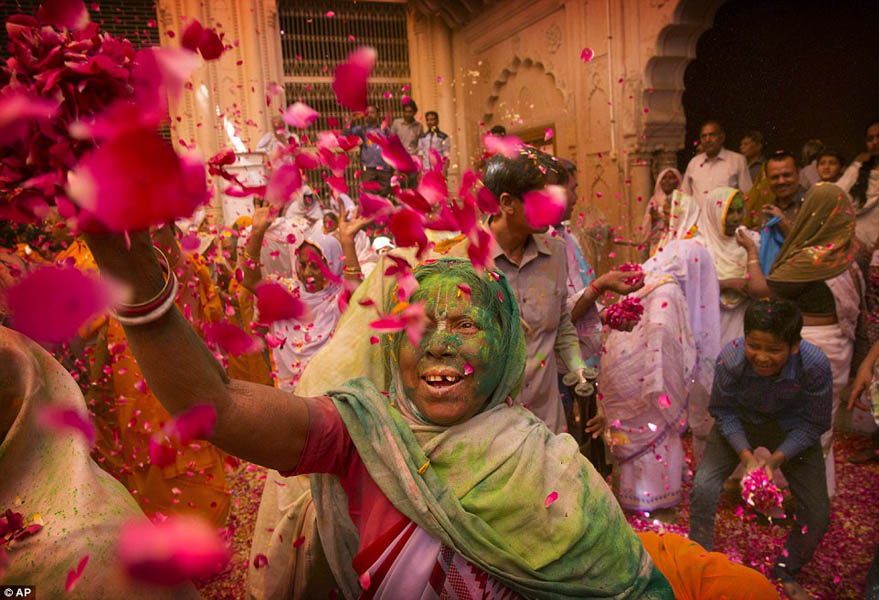 Source: Here
The most aggressive form of Holi. The aggression is of course of women on men 😉 This is celebrated at the Dauji temple near Mathura. The tradition goes back almost 500 years – started by the family that established the Dauji temple. Only the traditional family takes part in this event.
The devotees gather in the central courtyard of the temple, and soon after that, it turns into a battleground literally. Men pour buckets full of colored water on the women, while the women get back at the men in a rather aggressive manner by thrashing them and ripping off their clothes. Pretty interesting, isn't it?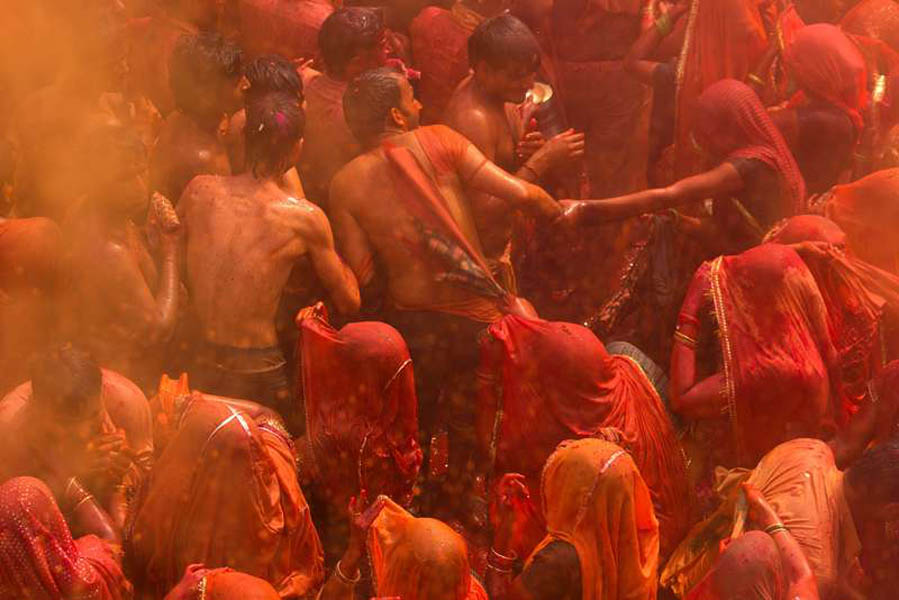 Source: Here
Warrior Holi, Anandpur Sahib -Punjab
Let's take a look at the Sikh traditions during Holi. The Hola Mohalla is celebrated in parts of Punjab in a unique unorthodox manner. Along with tossing colors, they also believe in showing their physical agility and strength by men. This showcase occurs in the form of various competitions like wrestling, arts, mock sword fights, acrobatic military exercises, and turban tying.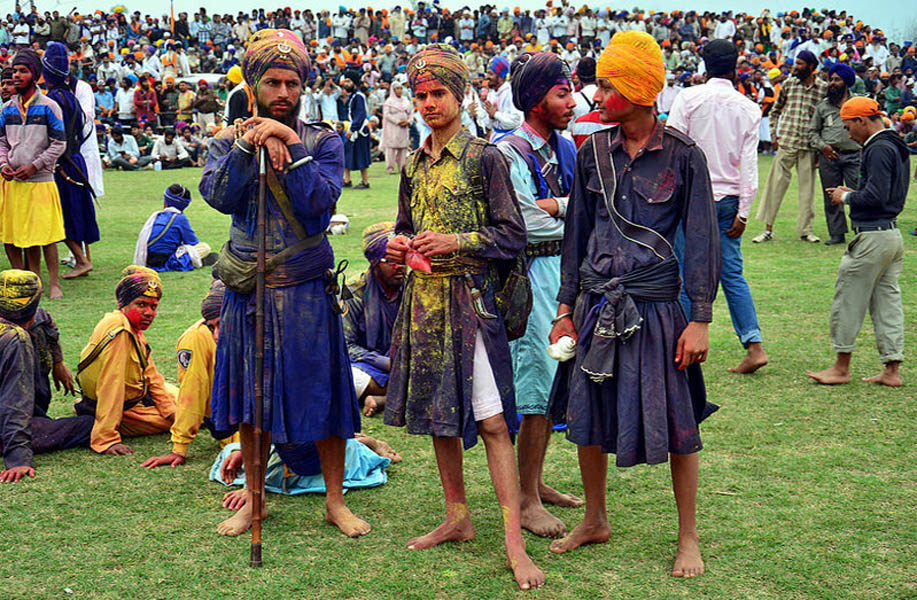 Celebrate the victory of good over evil in one of these offbeat, unconventional ways. The entire team of Plan the Unplanned wishing each one of you a happy and prosperous Holi filled with joy, color, and happiness!
Source: https://www.holidaymirchi.com
Also, you can check Upcoming Holi Events by Plan The Unplanned in Bangalore here