As Menam sweeps the land of Central Thailand before emptying itself into the Gulf of Thailand, opportunities of economic importance rise. Hard workers by heart, the people of Thailand have given their life, sweat and blood for the construction of marvels tourists rush to. 
You have several options to spend time here: Drown in the magical potion of nature and sip it with Mekhong Mojito while lazying in Kanchanaburi. Dress lightly to visit immaculate waterfalls and deep caves. Or, observe one of history's most terror-ridden events on Death Railway Bridge. 
Get bolted by the cultural, economic and political heartland of the country. Let's traverse the five best places in Central Thailand.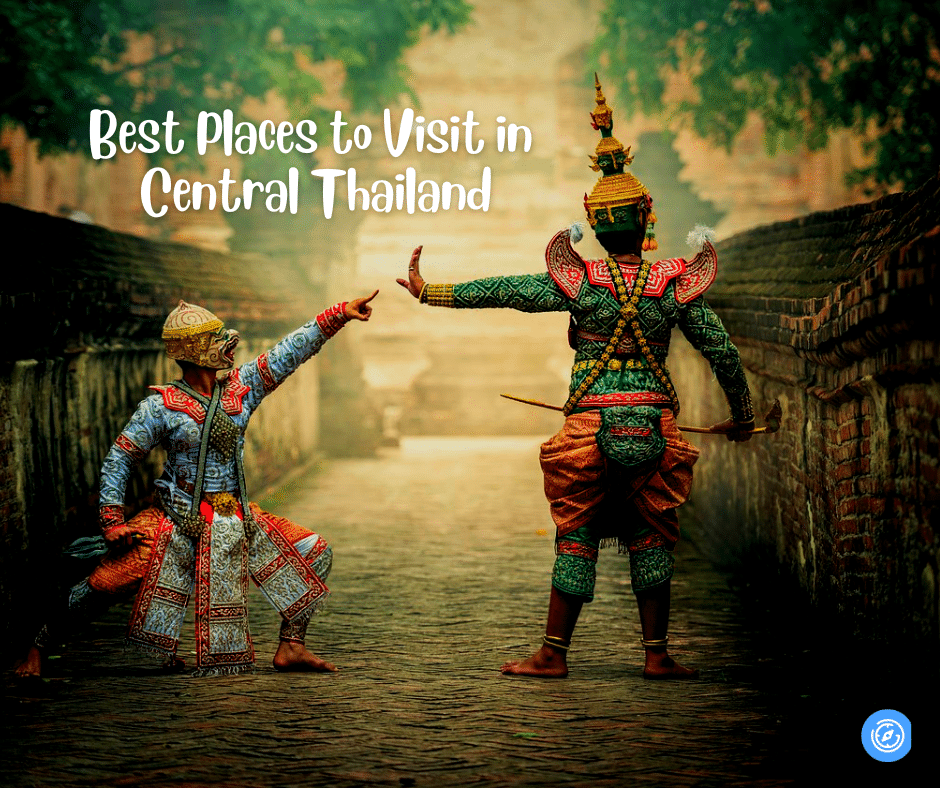 Brief 6 Days Itinerary for Central Thailand
Day 1: Arrival in Bangkok
Visit the Grand Palace.
Explore Wat Pho.
Take a boat ride along the Chao Phraya River.
Day 2: Ayutthaya Day Trip
Explore Ayutthaya Historical Park, the UNESCO World Heritage Site.
Visit Wat Mahathat.
Day 3: Kanchanaburi and River Kwai
Visit the Bridge over the River Kwai.
Explore the War Museum and Allied War Cemetery.
Take a boat ride along the river and visit the Erawan Waterfall.
Day 4: Pattaya
Relax on the sandy beaches, and enjoy water sports.
Visit the Sanctuary of Truth.
Day 5: Hua Hin
Relax on the beautiful Hua Hin Beach
Visit the Hua Hin Railway Station
Day 6: Bangkok Exploration
Visit the vibrant Chinatown district.
Explore the Jim Thompson House.
Places to Visit in Central Thailand
Bangkok
The capital city, Krung Thep Maha Nakhon, bustles and employs people from different backgrounds. From busy streets to peaceful palaces, luxury malls to spiritual temples, vibrant nightlife to enlightening monasteries, Bangkok looks complicated but is a melting pot of contrasting cultures. While ethnically diverse, it's dominated by Thai-Chinese. Originally they were Teochew speakers, tracing their ancestry to eastern Guangdong, but today all speak Thai. 
Ayutthaya
Ayutthaya is a historical city and one of the UNESCO World Heritage Sites, and the old capital of Siam. It is water-locked and stands at the confluence of the Chao Phraya River, the Lopburi River and the Pa Sak River. In the past, it was Thailand's one of most prosperous cities until Burmese invaders eyed its bounty. They burned down the city, resulting in only ruins and burnt scars on the city. 
Kanchanaburi
Giving a respite from Bangkok's chaos, Kanchanaburi is much-loved among travellers for its cultural, natural and historical attractions. You can visit the Thailand Burma railway bridge, built during World War II by war prisoners and enslaved civilians under Japanese occupation. Over 1,00,000 labours died during the construction of this bridge due to inhumane conditions. 
Take advantage of the night market and street food while you are here. Also, explore the nearby Erawan National Park, home to stunning waterfalls and hiking trails.
Pattaya
Pattaya is situated on the eastern coast of the Gulf of Thailand. Being geographically equipped with the ocean, it gives multiple options to travellers on its sand and vibrance. Sanctuary of Truth is an impressive wooden architectural marvel composed entirely of wood. It is built on the religious philosophy of impermanence.
Hua Hin
Highlighting beautiful lucid beach –Hua Hin beach, Hua Hin is a seaside resort city located southwest of Bangkok. Until 1934, it was called Samore Riang, meaning 'rows of rocks'. Later, the village was turned into an elite place for Siam's nobility and upper classes. Apart from the allure of buildings and crystalline beaches, there are options for nature lovers and food connoisseurs. 
That's it. These are our favourite five places to visit in Central Thailand. This list will give you good insights into planning your Thailand trip. Do let us know what we can add!
Here are some important links for your Trip to Thailand