Welcome to the offbeat, often-forgotten part of Thailand – Isan, which beautifully showcases the assimilation of various cultures and crude places hurled with a mix of natural and historical wonders. Also called Isan, North-Eastern Thailand is more Lao than Thai. Sharing borders with Laos and Cambodia, North Eastern Thailand has surpassed boundaries of religions, languages and economic barriers. The influence of America is also seen here because of Vietnam War. 
Wandering in Northeast Thailand means conquering the mountains. The best way to explore this region is by rolling on the road on your bike or car. Here are five places to visit in North East Thailand. Take a look, travel to these five places, and tell us what enamoured you.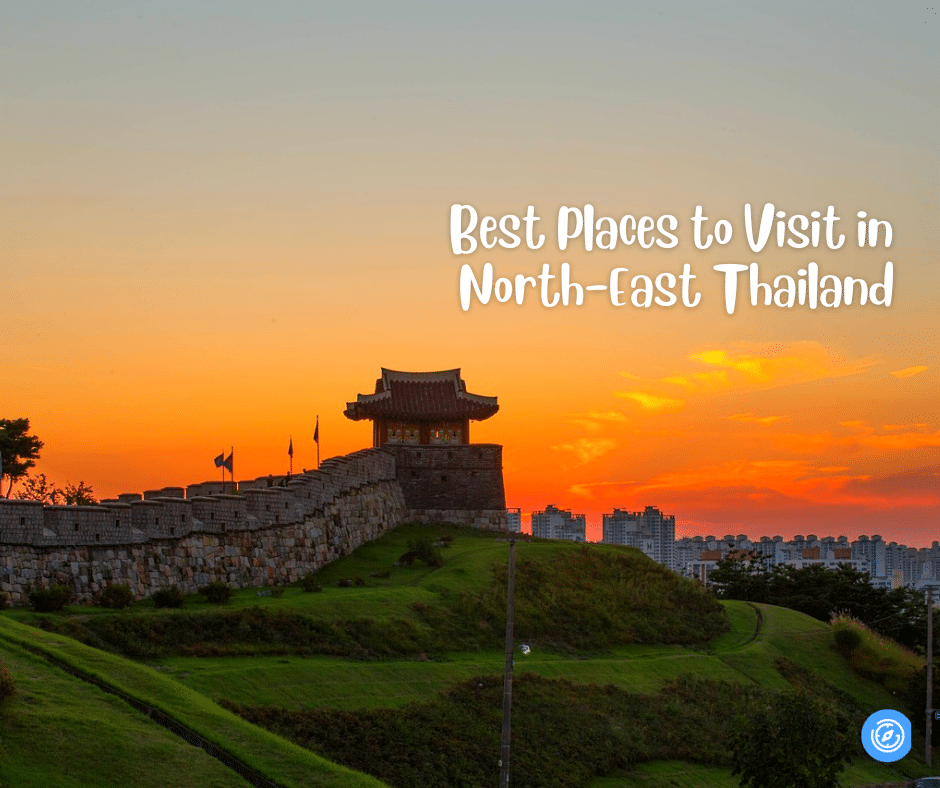 Brief 6 Days Itinerary for North East Thailand
Day 1: Bangkok to Prachin Buri
Depart from Bangkok and head east to Prachin Buri.
Explore Khao Yai, National Park.
Visit the famous Haew Narok Waterfall.
Overnight stay in Prachin Buri.
Day 2: Prachin Buri to Pattaya
Drive from Prachin Buri to Pattaya.
Indulge in water activities like swimming or jet skiing.
Visit the Sanctuary of Truth.
Explore entertainment options in Pattaya.
Day 3: Pattaya to Nong Khai
Head northeast to Nong Khai.
Visit the Sala Kaew Ku Sculpture Park.
Explore the Nong Khai Aquarium.
Overnight stay in Nong Khai.
Day 4: Nong Khai to Udon Thani
Drive from Nong Khai to Udon Thani.
Visit Wat Pa Ban Tat, a forest monastery.
Day 5: Udon Thani to Khon Kaen
Depart to Khon Kaen.
Visit the Dinosaur Museum in Khon Kaen.
Explore Bueng Kaen Nakhon, a beautiful lake.
Day 6: Khon Kaen to Bangkok
Go back to Bangkok.
On the way, visit the ancient city of Phimai and explore Khmer ruins.
Arrive back in Bangkok in the evening.
Places to Visit in North Eastern Thailand
Pattaya
The feel of nightlife in Thailand best comes in Pattaya, where scores of cafes and resorts lay to give you a homely and touristy feeling. Lying on the corner of the Gulf of Thailand, Pattaya became a tourist spot during the Vietnam War when American servicemen came for pleasure and relaxation. Otherwise, it was initially a fishing village. 
For adventure lovers, Pattaya is a famous resort for windsurfers, water skiers, swimmers and snorkelers.
Your stay here will always feel exciting as Pattaya serves an array of food from different countries. You will get the best seafood and global cuisine options, including French, Italian, Swiss, German, Hungarian, Scandinavian, English, Indian, Arabic, Chinese and Japanese.

Prachin Buri
Famous among wildlife, adventure and History enthusiasts, Prachin Buri, located along the Cambodian border, is land for sighting ruins from Dvaravati and Khmer kingdoms. Also a brewing point for biodiversity, it houses three national parks, including Khao Yao, Thap Lan, and Pang Sida National Park. Enrapturing waterfalls and river rapids make this province excitingly angelic. Depending on the season, the province transforms itself into an adventure or calming destination.

Nong Khai
The Mekong River draws a natural border between Nong Khai in Thailand and Laos. Apart from this scenic side, there is the Thai-Lao Friendship Bridge, connecting Thailand and Laos, which was constructed to strengthen diplomatic ties between Laos and Thailand, grow cross-border tourism, and enhance trade opportunities. Apart from this diplomatic manoeuvre, Nong Khai has Sala Kaew Ku Sculpture Park, showcasing multiple massive and intricate Hindu and Buddhist Hindu mythological sculptures. Phra That Nong Khai, situated on a hill, gives a panoramic view of river Mekong while housing relics of lord Buddha.

Udon Thani
Udon Thani played an essential part during the Vietnam War. It was an important strategic location for the United States military, which supported South Vietnam during the war. While the United States had nothing to do with the event, poking its eyes into every conflict is necessary for this imperious country. That aside, Udon Thani flourished during this period as American soldiers took respite in this area away from war zones. 
Make sure to distinguish it from Ubon, a different city in the Isan region. Udon Thani is known for its archaeological sites and vibrant night market. A visit to Ban Chiang Archaeological Site, a UNESCO World Heritage site, will transfer you to the world of ancient artefacts and history.

Khon Kaen
Located at the heart of Isaan, Khon Kaen is the largest and most vibrant city. It is also an educational hub with many prominent universities situated here. Come here for food; come here for nature; come here for trekking. And come here for Buddhist monasteries. Do visit Phu Wiang National Park to see Dinosaur fossils. Visit Bueng Kaen Nakhon Lake, a popular spot for locals and tourists alike, or explore the temples and museums in the city.
That's it. These are our five favourite places in North East Thailand. This list will give you good insights into planning your Thailand trip. Do let us know what we can add!
Here are some important links for your Trip to Thailand
This article on the best places to visit North East Thailand is your saviour. If you have any other doubts or have any information that can be useful to readers, write in the comments.