One could fly down from respective metro cities or towns to Bagdogra! From Bagdogra airport, you can take a taxi or bus and reach the Howrah Petrol Pump, Hill Cart Road in Siliguri. At Howrah Petrol Pump you have buses one in the morning 6 – 7 AM ( approx ) and one in the noon at 2 PM that depart to Phuentsholing ( Bhutan ) Jaigaon is the Indian town touching Indo-Bhutan Border.
All the formalities to acquire permission, in order to enter Bhutan, will be carried out here( Phuentsholing) at the immigration office. Every individual will have to acquire permission to enter Bhutan. You can take an Indian car in Bhutan, but you need a separate permit for the car.
When you get a permit for Bhutan, it will only cover Thimpu & Paro. In case you want to go to Bumthang or any other distant destination, you need a separate permit. 
You can take the help of local tour operators or do it yourself. Kindly note, you will have to provide a pre-decided itinerary to acquire the permit. In our case, we had taken the help of a local tour operator and he got all the essential permits quickly. 
The Tourism Council of Bhutan has now launched e-permits for arrival in Bhutan. You could contact the registered tour operators with a preset itinerary and give them the necessary documents for your e-permits to be done. You can avoid the long queues and just get your passports stamped at the immigration office.
Note immigration officer is usually closed on weekends.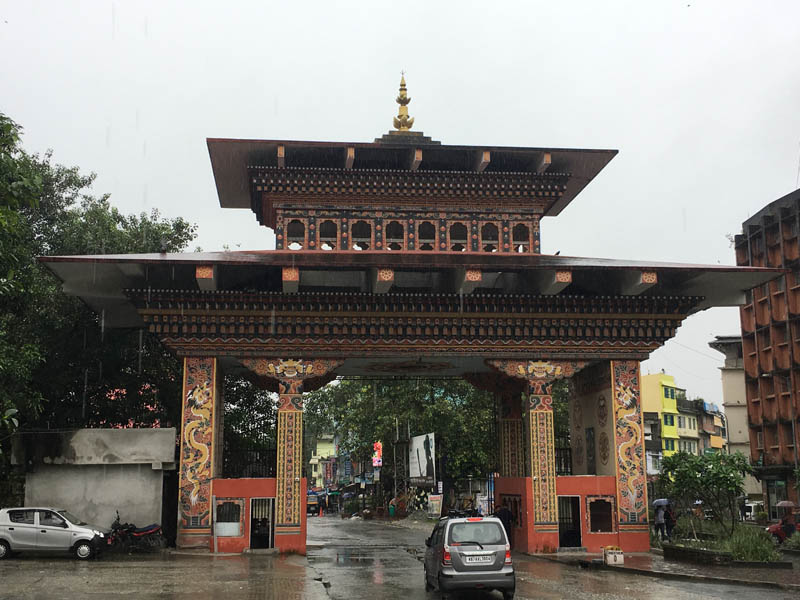 Bhutan Gate –  The Bhutan side is called Phuentsholing and the Indian side of the gate is called Jaigaon.
Documents you need to carry:
To get your permit, you require either a Passport or Voter's ID. Because of the friendly relations between India and Bhutan, you would not require Visa. In case you do not have a passport or Voter's ID, please carry any other identity proof like a driver's license or Pan Card.
You will have to visit the Indian immigration office and ask for further procedure to acquire a permit. They will provide you the assistance required.
Once you have executed the required formalities, you can enter Bhutan and proceed according to the itinerary.
Bagdogra – Bagdogra is a census town in Darjeeling district in the Indian state of West Bengal. It's the last destination in India where you can fly to, in order to reach Bhutan.