Pictures of mouthwatering, spicy, delicious and equally healthy food come rushing when one thinks of Thailand. Many food connoisseurs claim Thailand to be heaven for them. From street foods to moving carts, here is all you need to know about food in Thailand.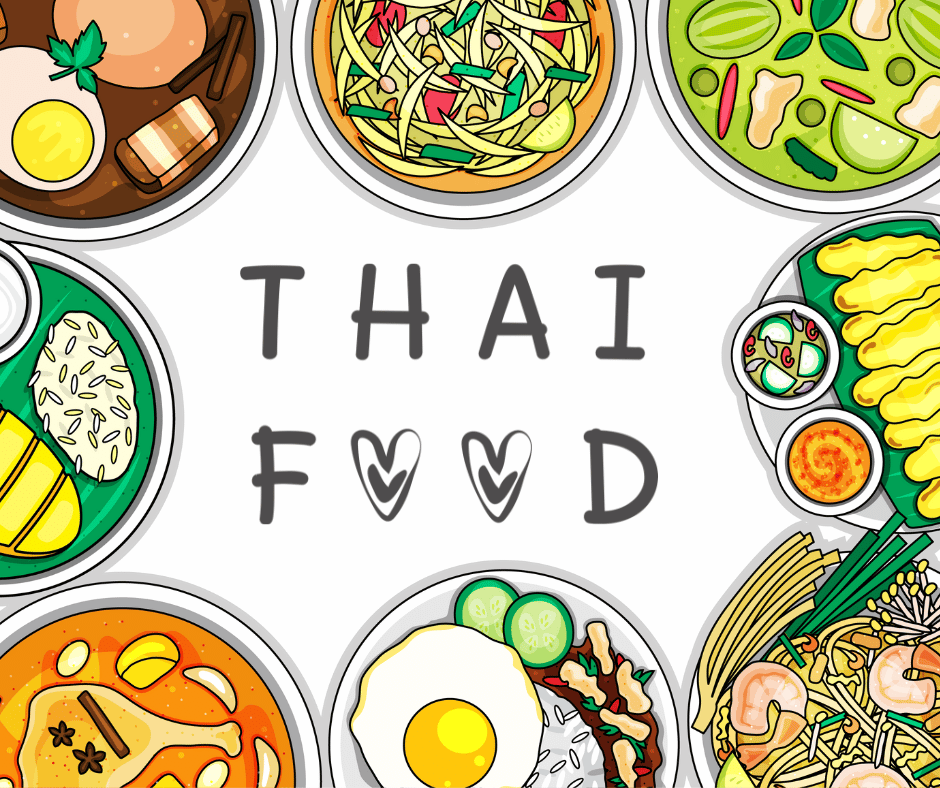 Region-wise Differences in Food in Thailand
Northern Thailand Food: The cold weather makes the vegetables fresher than in the rest of the region, so the northern people tend to use vegetables as an ingredient for every meal.
North Eastern Food: Isan food is famous in the North East. The Isan region receives low rainfall. Because of less rain, people have learned to eat whatever they can find, including insects.
Southern Food: While people from Isan prefer very spicy dishes and sticky rice, people from the Muslim areas of southern Thailand prefer milder dishes and simple steamed rice.
Central Thai Food: In central Thai cuisine, a wide range of sauces, pastes, spices and condiments are grouped into the four basic tastes of Thai cooking; salty, hot, sour and sweet.
Go through the list of 10 enrapturing dishes from the platter that will engage your olfactory senses:
1. Khao Soi – Noodle Dish
A quintessential northern Thai dish, Khao Soi is a Burmese-inspired coconut curry noodle soup. Available in chicken, beef, pork or vegetarian options, this mouthwatering dish has a rich coconut curry base and boiled egg noodles.
2. Pad Thai
A noodle dish made with rice noodles, vegetables, eggs, peanuts, and a choice of protein, usually chicken or shrimp. Pad thai is one of Thailand's national dishes.
3. Massaman Curry
A rich and creamy curry made with coconut milk, peanuts, and various spices.
4. Som tum
A spicy salad made with shredded green papaya, tomatoes, peanuts, and dried shrimp. Som Tam is everything you could want in a salad—refreshing, light, and quick. The salad combines crunchy strips of unripe green papaya with garlic, dried shrimp, and vegetables, all tossed with salty-sour-sweet dressing made with fish sauce, lime juice, and palm sugar. 
5. Kao Niew Ma Muang or Mango Sticky Rice 
Kao Niew Ma Muang is sweet glutinous rice served with slices of ripe mango and a drizzle of sweetened condensed milk.
6. Yam Pla Dook Foo (Fried Catfish with Green Mango Salad)
This is fried catfish with green Mango Salad. The fish fluffed up and fried until golden and crispy.
7. Pak Boong (Morning Glory)
People of Thailand punch up their mornings with extremely healthy Pak Boong. This vegetable is typically fried and seasoned with soybean paste, soy sauce, garlic, chillies and more. 
8. Tom Yum Soup
A spicy and sour soup made with lemongrass, chilli, galangal, kaffir lime leaves, and shrimp.
9. Tom Kha Gai (Chicken in Coconut Soup)
Rich and creamy yet tangy and salty, this Thai coconut chicken soup recipe is filling but light and positively bursting with flavour.
Here are some important links for your Trip to Thailand

Ultimate guide to Thailand