Bulging out Mondops rise in pride as travellers' spiritual journeys get fulfilled in the thicks of forests and flourishing coastline, in the infectious smiles and delectable food, in the relieving massages, in the meditation halls, and in the history of Thailand. 
A traveller goes to Thailand for humbling experiences and beliefs hidden in parables and mystic stories and to fill life with colours that were dropped in abundance here. Culture in Thailand is a culmination of strong Indian influence, Chinese traditions and unique features from the land itself.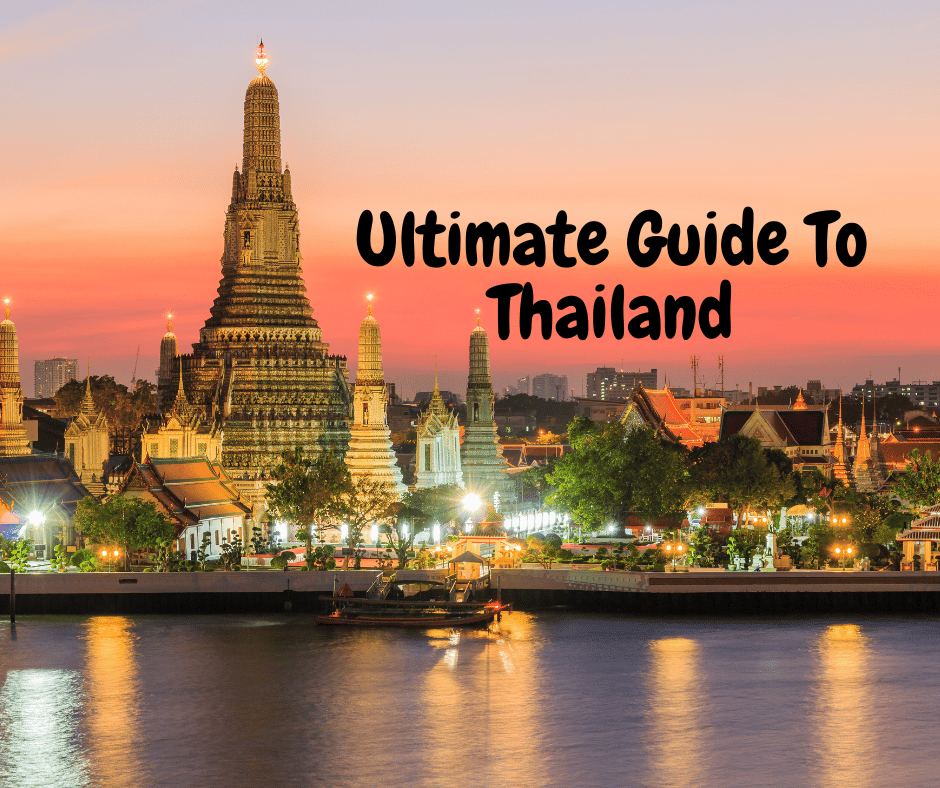 Brief 10 Days Itinerary for Thailand
Day 1
Arrive in Bangkok
Explore the Grand Palace, Wat Phra Kaew, and Wat Pho.
Day 2
Visit the famous Chatuchak Weekend Market
Take a boat ride along the Chao Phraya River.
Day 3
Fly to Chiang Mai
Visit Doi Suthep temple.
Day 4
Explore the city of Chiang Mai, including its night markets and ancient temples.
Day 5
Take a day trip to the Elephant Nature Park, a sanctuary for rescued elephants.
Day 6
Fly to Krabi
Relax on the beaches of Ao Nang.
Day 7
Take a day trip to Phi Phi Islands for snorkelling, diving, or beach hopping.
Day 8:
Visit the Emerald Pool and Hot Springs,
Hike in Khao Phra Bang Khram Nature Reserve.
Day 9
Explore the town of Krabi, including its night markets and local restaurants.
Day 10:
Best Time To Visit Thailand
November to February: Cool and Dry season in Thailand
Best time to visit for beach-goers and those looking to escape the cold weather. 

It is the peak tourist season, so expect crowds and higher prices.
March to May: Hot season 
It's an excellent time to visit if you're looking for off-peak prices but be prepared for the heat.
June to October: Rainy Season
Take advantage of lower prices and fewer crowds.

Avoid visiting the lower gulf – home to Ko Samui, Ko Phangan, and Ko Tao islands. This is when the rain hits.
Places to Visit in Thailand
Northern Thailand
Chiang Mai
Forming the heart of Lanna culture, Chiang Mai concentrates the wealth of millions of rice fields and varied ethnic groups with cosmopolitan and traditional cultures. It is the second largest city after Bangkok and is located in the Ping River valley. The new town, as the name calls it, is culminated from carrying Sri Lankan, Lanna and Burmese styles. Decorated with wooden carvings, naga staircases, leonine and angelic guardians, and pagodas laced with gold filigree, the walls of the new town speak volumes about the history of spiritual Thailand.  
Chiang Rai
The gateway to the Golden Triangle and a well-known tourist trap in Thailand, Chaing Rai has been a renowned area for opium production. The slopes are well-decorated with natural scenery, and one can even go for hikes. The mighty Ruak and Mekong Rivers converge in this region, and the riverbanks are lined with Golden Buddha statues, shrines to the royal family, and massive sculptures. One can also visit the Hall of Opium to get detailed information about opium production and the Golden Triangle region.
Situated at the head of Chiang Rai is Luang Cave, which got into headlines for its rescue operation of a Soccer team of 13 members – 1 adult, 12 children – from the flooded chambers of the cave. 'Trapped' is a recommended web series available on Netflix for travellers looking to know about the culture of Thailand.
Sukhothai
Rising as a dawn of happiness, Sukhothai holds many truths from history and is most famous for the ruins of the ancient city of Sukhothai. Sukhothai Historical Park has been designated as UNESCO World Heritage Site.
Doi Inthanon
Stirring the clouds till 2565 m, Doi Inthanon is the highest mountain in Thailand and known for its chiller vibes and a respite from the tropical climate of the rest of Thailand. It even gets frost in the early mornings during wintertime, and visiting Northern Thailand without covering Doi Inthanon would be a loss.
Mae Hong Son
If your heart calls for a road trip in Thailand, put all your bets on Mae Hong Son. Another name for Mae Hong Son is 'The City of Three Mists', which is covered in mist all three seasons. Include Mae Sariang, Baan Rak Thai and Pai in your road trip.
Eastern Thailand
Pattaya
The feel of nightlife in Thailand best comes in Pattaya, where scores of cafes and resorts are constructed. Lying on the corner of the Gulf of Thailand, Pattaya became a tourist spot during the Vietnam War when American servicemen came for pleasure and relaxation. Otherwise, it was initially a fishing village. 
For adventure lovers, Pattaya is a famous resort for windsurfers, water skiers, swimmers and snorkelers.
Your stay here will never be boring as Pattaya serves various food from different countries. You will get the best seafood and global cuisine options, including French, Italian, Swiss, German, Hungarian, Scandinavian, English, Indian, Arabic, Chinese and Japanese.

Beaches of Eastern Thailand
Beaches surrounding the whole of Eastern Thailand, or vice-versa also apply. The Gulf of Thailand offers many beaches for water, sun and water sports enthusiasts. Some famous beaches to keep on the list are Bang Saen Bech, Jomtien Beach, Laem Mae Phim Beach, and Mae RamPhueng Beach.
Prachin Buri
Famous among wildlife, adventure and History enthusiasts, Prachin Buri, located along the Cambodian border, is land for sighting ruins from Dvaravati and Khmer kingdoms. Also a brewing point for biodiversity, it houses three national parks, including Khao Yao, Thap Lan, and Pang Sida National Parks. Enrapturing waterfalls and river rapids make this province excitingly angelic. Depending on the season, the province transforms itself into an adventure or calming destination.
Central Thailand
Bangkok
The capital city, officially called Krung Thep Maha Nakhon, bustles and employs people from different backgrounds. From the busy streets to peaceful palaces, from luxury malls to spiritual temples, from vibrant nightlife to enlightening monasteries, Bangkok looks complicated, but it is a melting pot of contrasting cultures and faiths.
Ayutthaya
Ayutthaya is a historical city, one of the UNESCO World Heritage Sites, and the old capital of Siam. It is water-locked and stands at the confluence of the Chao Phraya River, the Lopburi River and the Pa Sak River. In the past, it was Thailand's one of most prosperous cities until Burmese invaders eyed its bounty. They burned down the city resulting in only ruins and burnt scars on the city. 
Southern Thailand
Phuket
A bird watching from above will miscalculate Phuket as an amoeba because of its shape. Once it gets closer, it will understand the enormity of this province. Phuket is the largest island in Thailand. Protected by the Andaman sea, Phuket is culturally preserved. A tourist will find respite on its many beaches, pubs and restaurants, but a true traveller will stay for the Chinese Vegetarian festival, to observe Kranok motifs on various constructions, to drown and find answers through spirituality. 
Ko Tao
Koh Tao is an island in the Chumphon Archipelago group of islands in the Gulf of Thailand. Its unpolluted water, inexpensiveness, and variety of sea life invite Scuba divers and snorkellers to explore its depths. Rock climbers and hikers also try to get a pass through the jungles blooming with beauty. 
Hat Yai
Reclining on Malaysia, Hat Yai is a dense eclectic hotspot for travellers, especially Buddhists, who come here for the third largest Buddhist statue on the planet. Apart from the temples, the place is a commercial hub and shopping destination. Floating markets of Khlong Hae and weekend markets, namely Asian trade and Greenway feed and nourish much of the city's economy.
Krabi 
Idyllic isles, limestone cliffs, dense jungles, choppy beaches, lush jungles, and luxurious travellers resorts define Krabi. From the underwater vastness to limited cave chambers, peace here comes wrapped with a buzz of activities. The trick is to take things one at a time to get the most out of Krabi.
Phi Phi Islands
Resting far away from the hustle of the country, Phi Phi Islands is a vibrant outline on Thailand's map. The six islands are a part of Hat Nopparat Thara-Ko Phi Phi National park, which is home to corals and marine life. The dashing mountains, long strips of white sandy beaches, coral caves, and cliffs add a spice of beauty to it.
What To Eat in Thailand
Khao Soi – Noodle Dish

Sai Au – Spicy Chiang Mai sausages.

Pad Thai: Noodle dish with rice noodles, vegetables, eggs, peanuts, and protein, usually chicken or shrimp.

Tom Yum Soup: Spicy and sour soup.

Massaman Curry: A rich, creamy curry made with coconut milk and peanuts.

Som tum: A spicy salad.

Khao Pad: Fried rice with vegetables and meat.

Mango Sticky Rice: Sweet glutinous rice served with slices of ripe mango and a drizzle of coconut milk.
Budget for Thailand
The cost of a vacation to Thailand each day can vary significantly based on several variables, including your travel preferences, the sort of lodging, the meals, and the activities. 
Budget Travel: 1000-1500 Thai Baht (about $35-$50) per day;

Luxury Travel: 5000 Baht ($165) or more.
Breaking costs down based on expenses:
Food: ฿481 ($15) per day

Local Transportation: ฿384 ($12) per day

Hotel: ฿2,041 ($62) per day
How Long Should A Trip Be for Thailand
Ideally, for 9-10 days.
Thailand Guide: The Do's and Don'ts
The social fabric here encompasses all boundaries. People cover extra miles to give you a warm Sanuk feeling. But when visiting this country, specific pointers should be well-noted and practised. 
Do's
Playfulness is central to life in Thailand. For your spontaneously joyful personality, Thailand will open a red carpet with flowers floating on its aisle. 
Family is the second thing central to a Thai's life. You will find many extended families living under the same roof.
Thais are known for self-control. Losing their temper is a sign of shame for them.
Since a European power could never colonise Thailand, the Thais are incredibly proud of their country.
A Thai SIM card is easy to obtain. Both rental mobile phones and SIM cards are conveniently available in most international airports and places like Bangkok, Chiang Mai, and Phuket.
Watch out for pickpockets.
Thailand is a tropical country; thus, the summer sun seems stifling. Please feel free to bring sunscreen and light clothing.
When visiting Thai temples and royal palaces, dress appropriately, with shoulders and knees covered for both genders. The better, the more formal your attire.
Pointing at another person with one's index finger or feet is rude. The soles of one's feet should never be pointed at another person. Feet should be rested on something other than tables or pillows that people sleep on.
Be mindful of what you speak while in Thailand. Speaking ill of the Thai royal family can lead to prison time, regardless of citizenship. Tourists are advised not to mention the king at all.

In 2012, an American went to jail for insulting the Thai king. He was released later.
A Thai man was accused of writing a "sarcastic" Internet post against the king's beloved dog in 2015.
Don'ts
Do not touch someone's head, as it is considered sacred.

Do not point your feet at people or objects, as the feet are considered the lowest and dirtiest part of the body.

Do not touch or pass things over someone's head.

Do not raise your voice or become confrontational in public, as Thais highly value peace and harmony.

Do not disrespect the monarchy or Buddhism, as both are deeply revered in Thai culture.
Here are some important links for your Trip to Thailand
This Ultimate Guide to Thailand is your saviour. If you have any other doubts or have any information that can be useful to readers, write in the comments.