Offbeat Places in Leh Ladakh
Ladakh invites droolers to seek its concealed secrets, jagged peaks, camouflaging monasteries, and cultures stuffed into the mainstream life of locals. For travellers who want a little extra out of place, this list will give you every spice you are searching for in Ladakh. 
Apart from the yellows of the cold desert, you will likely witness Ibex and Bactrian camels, along with hot sulphur springs that have been boiling for ages. You can stop, stay, or move as and when you wish. As Tibet Autonomous Region borders Ladakh to the east, and Himachal Pradesh in India to the South, hints of influence from both places mark this land of high passes.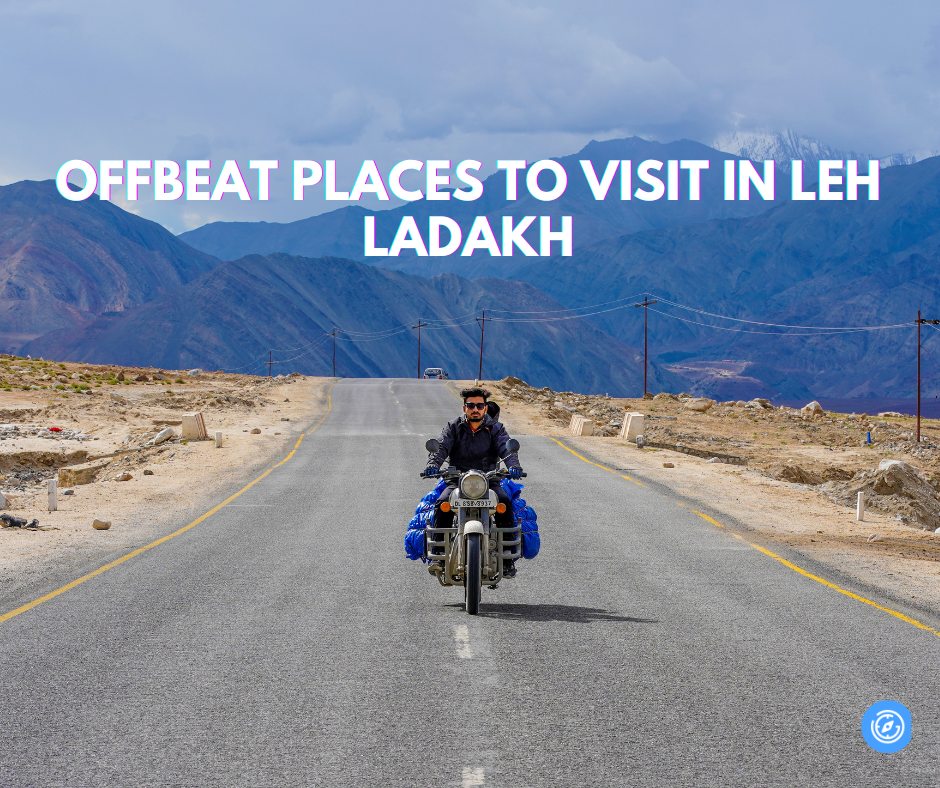 We are presenting a list of 12 Offbeat places in Leh Ladakh that you cannot afford to miss. We promise these will give you glances of Ladakh in its most authentic form.
Offbeat Places in Leh Ladakh
1. Panamik
Panamik, 55 km from Diskit, is a respite from cold Ladakh. Its hot water springs liven you up as your body slowly surrenders to the therapeutic sulphur. There are separate pools for men and women and cabins for changing and taking showers. 
Once you feel rejuvenated, you can explore other gems from this village in Nubra Valley, including Samstanling monastery and Yarab Tso, buy Tibetan and Kashmiri artefacts, and meet army men living nearby in Siachen, the highest battleground on earth. 
Important Information:
Best time – July – September after Khardungla opens for road traffic. 

Sulphur is not naturally toxic since a small quantity is present in eggs and chicken, but it is always advisable to seek a doctor's advice before hitting these pools.

Drinking water with high contents of sulphur can cause diarrhoea; hence, children, especially infants, should be kept away from these springs. 

Sulphur springs should be avoided by people with high BP and by patients put on blood thinning medicines, including pregnant women.
2. Rangdum, Suru Valley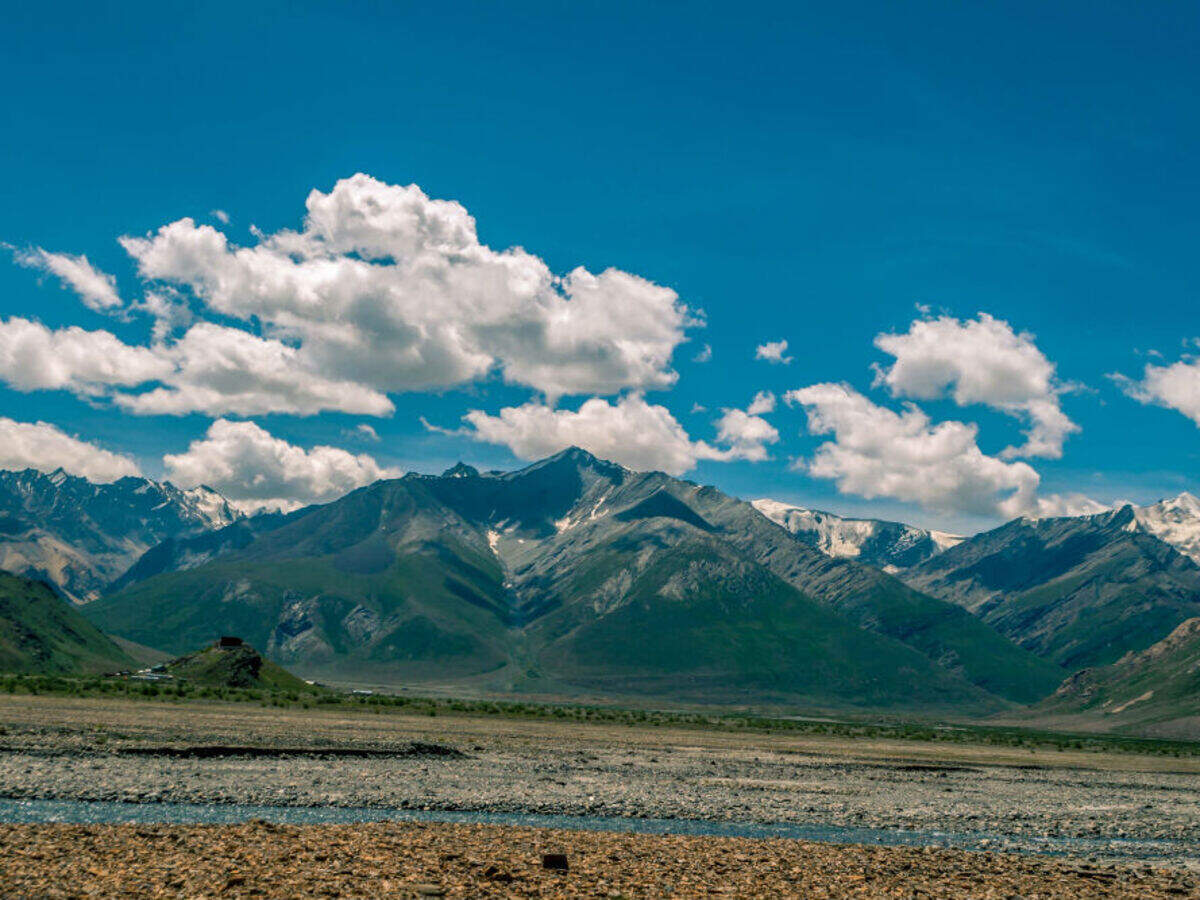 Nestled peacefully, Rangdum is a small Buddhist hamlet situated ahead of Kargil. Situated ahead of Kargil, it is the last inhabited region in the Suru Valley. The 200-year-old nascent Ramgdum monastery rests at an altitude of 4031 m. 
The whole valley shines in two ways. On the one hand, it showcases colourful life providing lush hills; on the other, the majestic glaciers look stark and daunting. 
Secluded from the humdrum, you would want to come here for a peaceful holiday. 
Important Information: Best time: Round the year
3. Changthang Region
Changthang is synonymous with highlands and magnanimous lakes. Situated at 4700 m, there are lesser sightings of flora. You will espy many instances of fauna. Changthang Wildlife Sanctuary is where you will see wolves, snow leopards, gazelles, and regional birds. 
The Changpa Tribe lives here. They herd rare Changi goats, famous for Changi wool. 
Apart from the crazy ecosystem that engulfs us in the jingles of an offbeat location in Ladakh, Tso Moriri submits us to its beauty. Famous because of the movie 3-Idiots, Pangong Tso is also in the Changthang Plateau. A road route directly connects both of these. 
Additionally, you can visit Chushul and Nyoma Village. 
4. Rumtse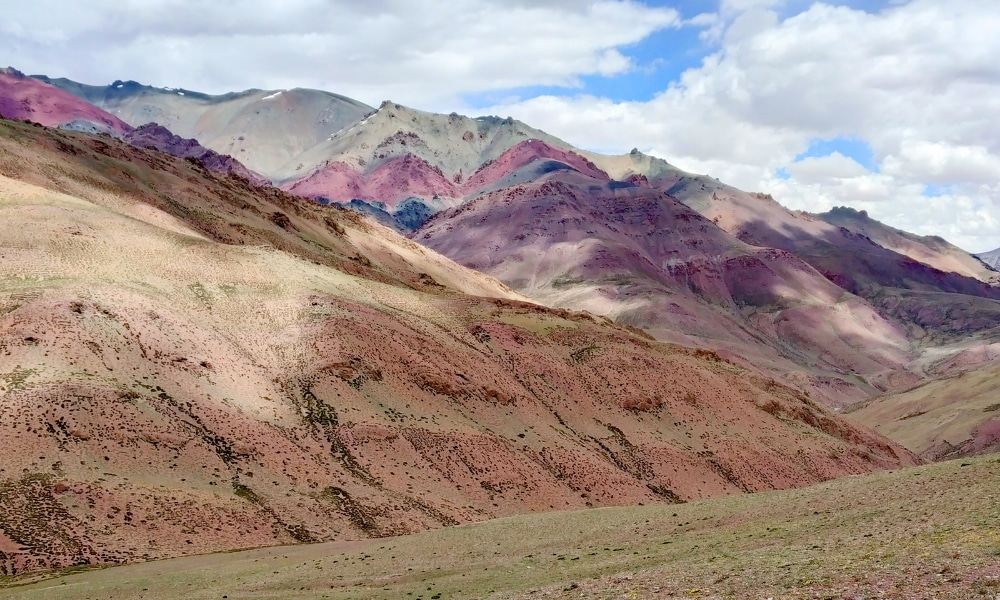 Rumtse is known for its barren landscape and scenic beauty. Eyeing Tso Moriri from 165 km via road, it acts as a base point for the trek to Tso Moriri. The valley is characterised by arid plains, pasturelands, and snow-capped peaks. 
About Tso Moriri trek:
Rumtse is base point for Tso Moriri Lake.

It is one of India's most beautiful, calm and sacred high-altitude lakes.

Duration: 9 days

Difficulty: Difficult

Distance: 98 km

Max elevation: 5435 m

The trek takes you through the Changthang region, with unique landscapes and stunning lakes like Tso Kar and Tso Moriri. 

This region is home to the Changpa nomads with their pashmina goats and yaks. 
5. Upshi
Upshi sits at the crossroad of the Leh-Manali highway. From Upshi, an ancient trade route heads towards Tibet. 
Fur from sheep is collected here for making elegant pashmina shawls. In a radius of 50 km, you will find many monasteries, including Stok, Stakna, Hemis, Thiksey, and Shey. These monasteries play an unforgettable part in educating the upcoming generation and preserving knowledge. 
6. Zanskar Valley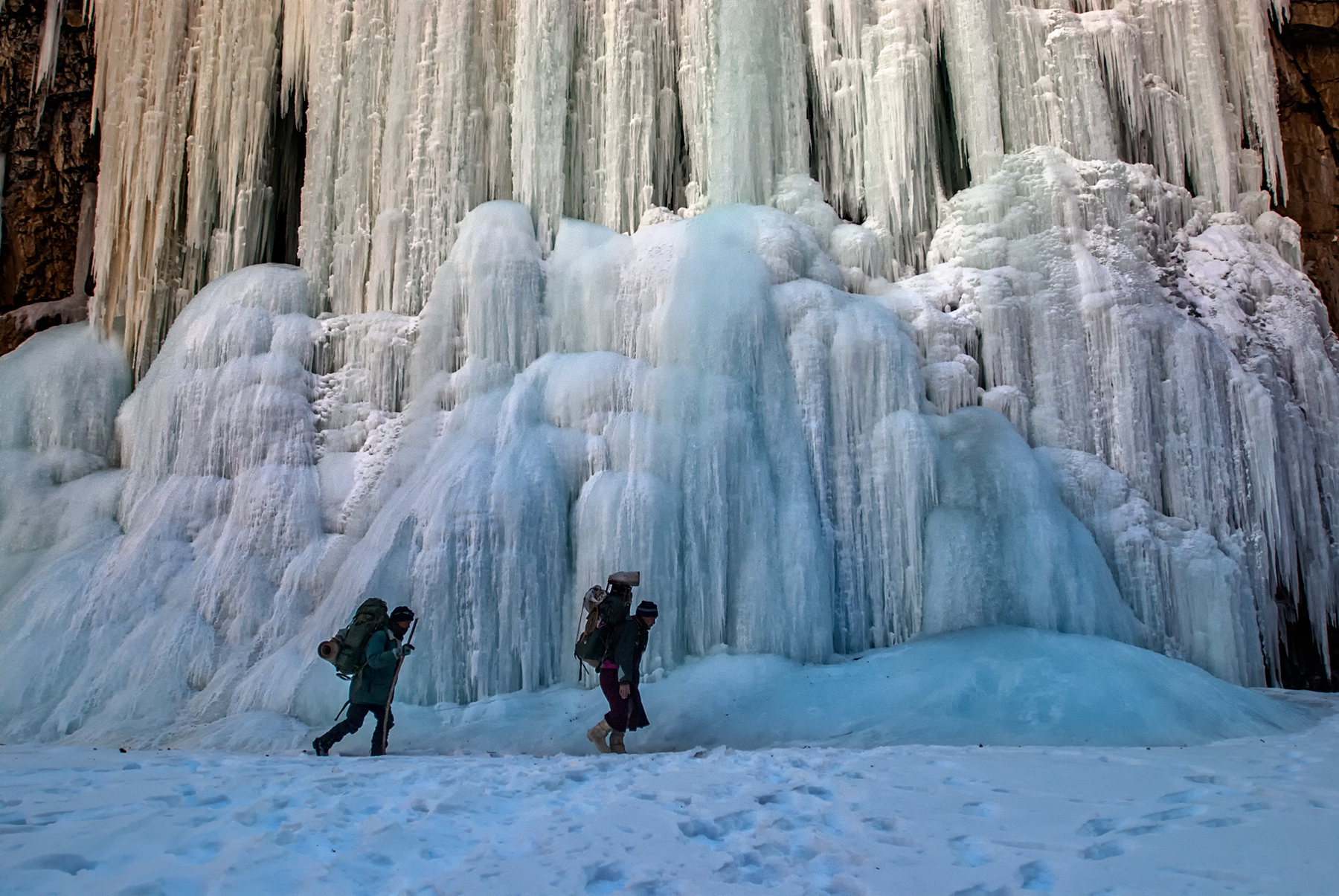 Flanked by humongous snow-capped Himalayas, semi-arid lands, water bodies and scenic landscapes, Zanskar is an adventurers' paradise famous for water rafting, trekking, and paragliding. Swamped by the Zanskar river, the valley provides an exotic experience of the 'Chadar Trek', where people trek on the frozen Zanskar river.
About Chadar Trek:
Chadar River Trek Duration: 9D/8N

Chadar Trek Distance:  62 km

Maximum Altitude: 3400 m

Difficulty Level: Difficult 

Chadar Trek Temperature: -5 to -15 degrees (during the day) and -15 to -25 degrees (at night)

Chadar Trek Best Time: Early January – Early February.
Open vistas, fresh blue streams that cascade through the valley
7. Lamayuru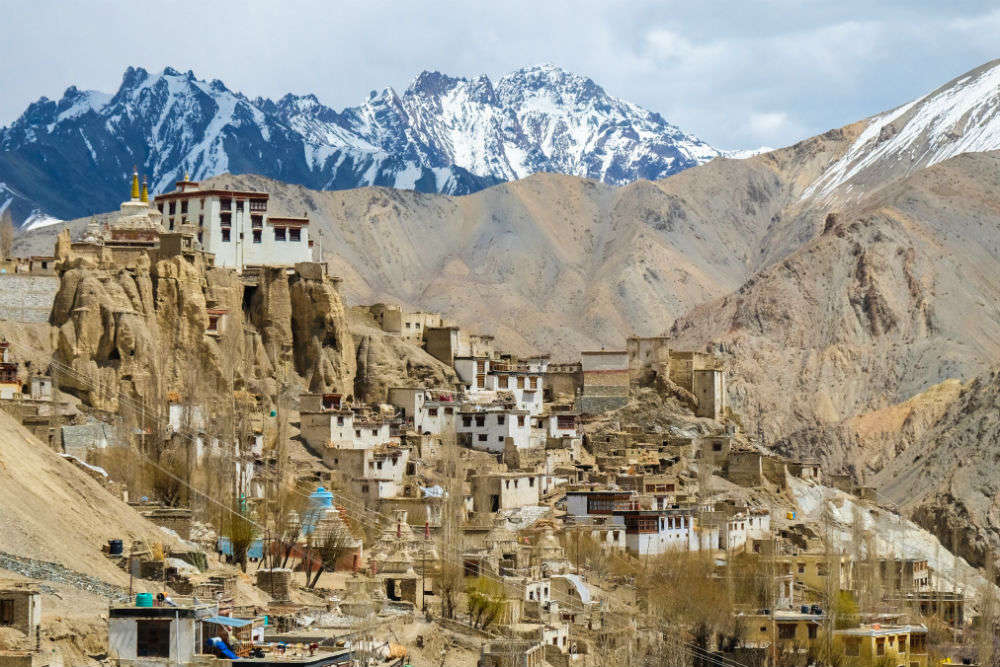 Lamayuru is a village in the Leh district of Ladakh. Due to the exclusive geographical formations, the place is dearly known as 'Moonscape' by travellers. Lamayuru hosts one of the oldest monasteries in Ladakh: Lamayuru Monastery. 
To witness the culture and have a peaceful time, you must visit this offbeat place in Ladakh, where according to folklore, a scholar prayed to God for all lakes to dry up in the region. The water vaporised, and moon-like craters appeared here. 
8. Hanle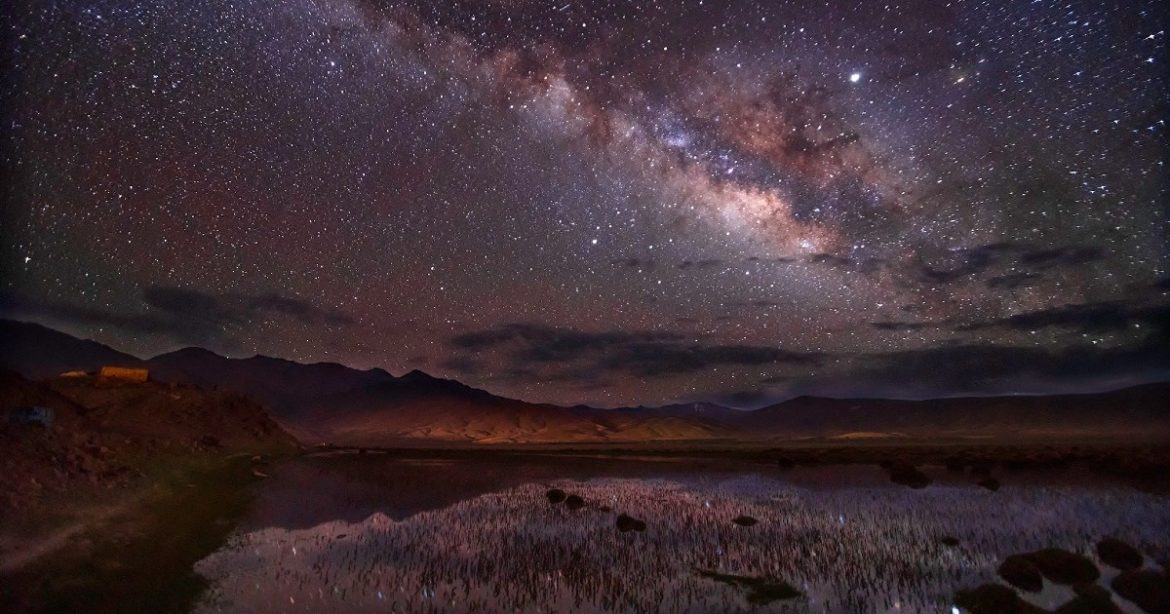 "Think of the radiant sky glamoured with nothing but the darkness of galaxies and trinkets of stars. You will observe constellations hanging somewhere far, making patterns as if they deem disclosure."
Such is the sight of the night sky at Hanle, another less-visited place in the southeastern part of Ladakh. Recently, because of the inauguration of Hanle Observatory, it presents travellers with supernatural vibes, mostly at night. During the day, the place offers a galactic view of the Hanle village as it rests on a hilltop. The Observatory sits at 4500 m, making it one of the highest sites for astronomical observations. 
The road journey to reach Hanle is in itself soul-satisfying. You will see 
Other than this, Hanle Monastery invites seekers for a peaceful experience. Hanle river inundates the region.
Nearby, the Tibetan/Chinese border makes it a sensitive region. As of 2022, Indian tourists do not require permits to travel anywhere in Ladakh. More information on Permits and Permissions further.
9. Turtuk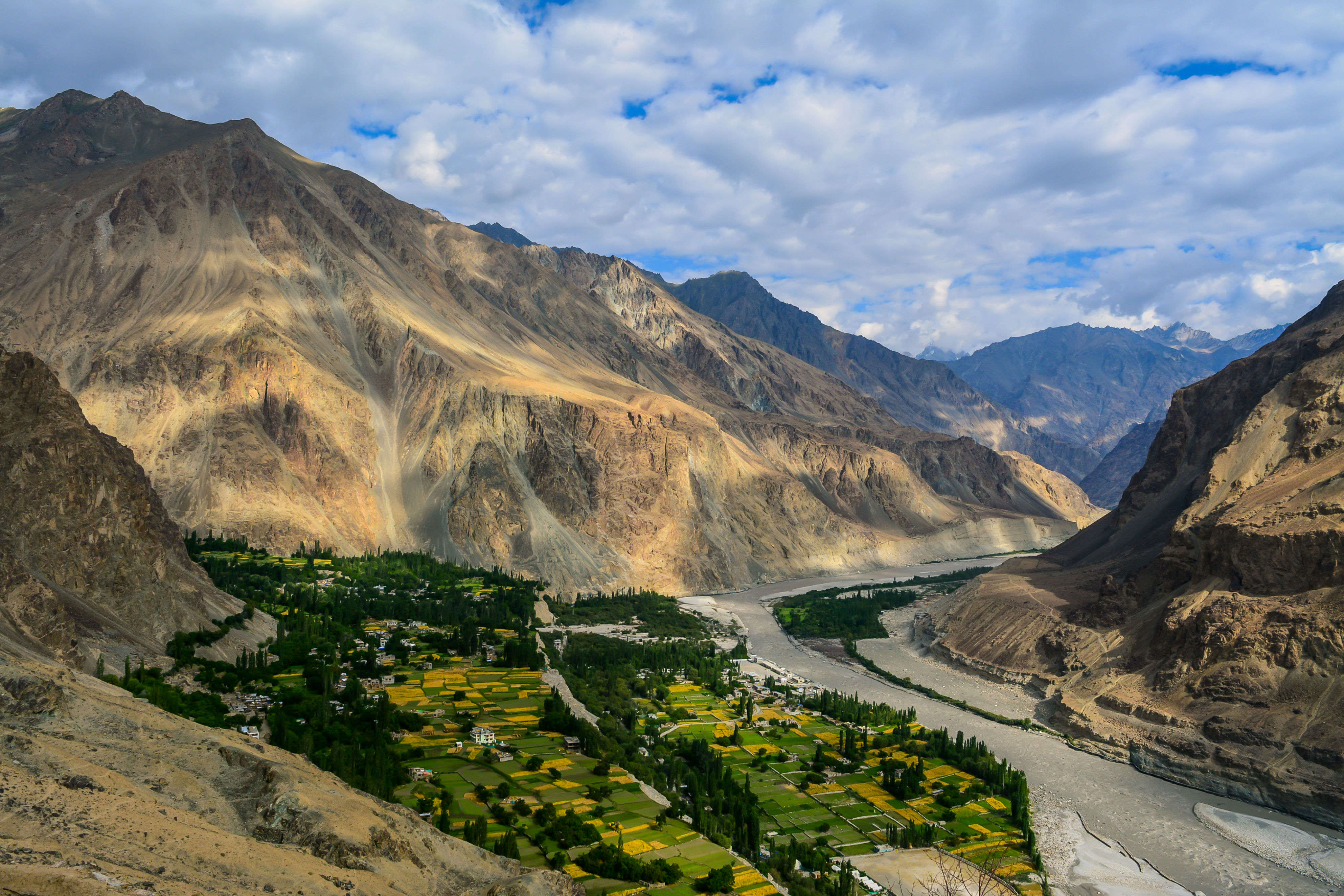 Turtuk is a tiny hamlet circumscribed by Nubra valley, nestled in the Karakoram mountain range, set on the banks of the Shyok river. It lies at one of the remotest reaches for tourists in India; nevertheless, the friendly inhabitants fill one up with juicy conversations, just like the apricot fruits found here. The village was under POK till 1971, but as the history peeps, the villagers don't mind being ruled by either Pakistan or India. They live peacefully and happily. The village opened itself to tourists in 2010. 
You can visit the Baltic museum, shop for dry fruits, go to the Shyok river, cross the wooden bridge, and spot Mount K2.
10. Uleytokpo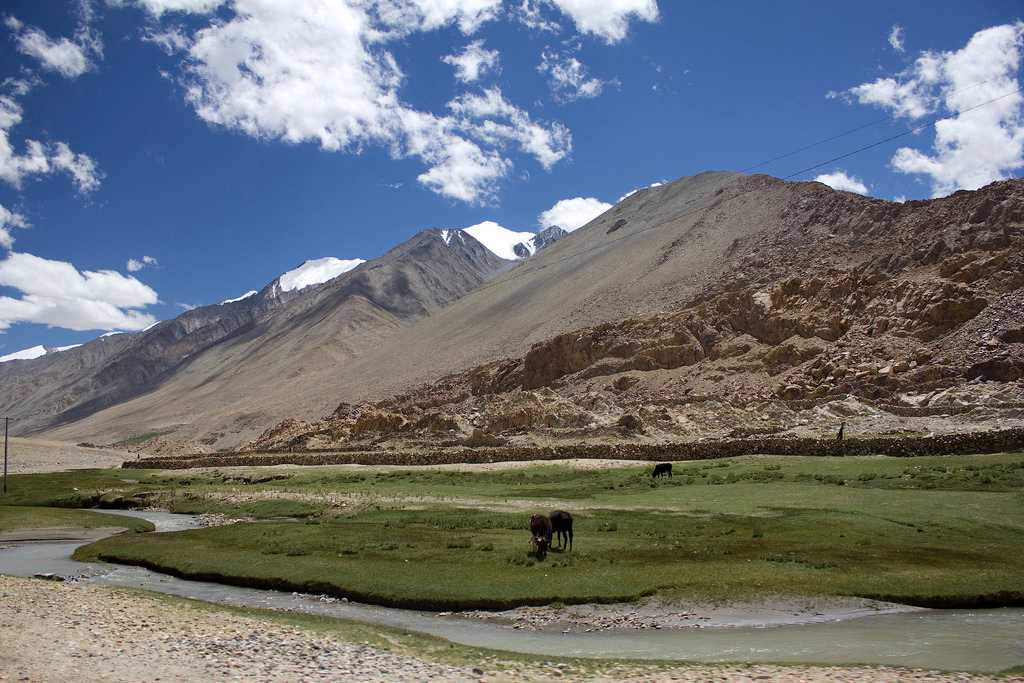 Colours are to Uleytokpo; what barren cold lands are to Ladakh! 60 km from Leh, lying in the Sham Valley, on the banks of the Indus river, Uleytokpo dances on the unspoiled terrain that fills up with lush greenery in summers and cools down to whites in winters. The altitude of Uleytokpo is 3040 m, obscuring some tranquil locations, monasteries and mythological tales. 
The love of visitors has made the villagers adopt camping gear and tents. So, you don't need to carry anything extra. Instead of acclimatising in Leh, you can travel 70 km further into this heavenly village. 
Apart from this, you can plan your visit to Uleytokpo when festivities wake up the town. 
Things to Look out for:
Festival:

Lamayuru Monastery's Yuru Kabgyat. This is a 2-day festival that happens mainly in July or August.

Cham Dance: Masked dance involves mythological tales of Buddhism and local legends.
11. Basgo Palace/ruins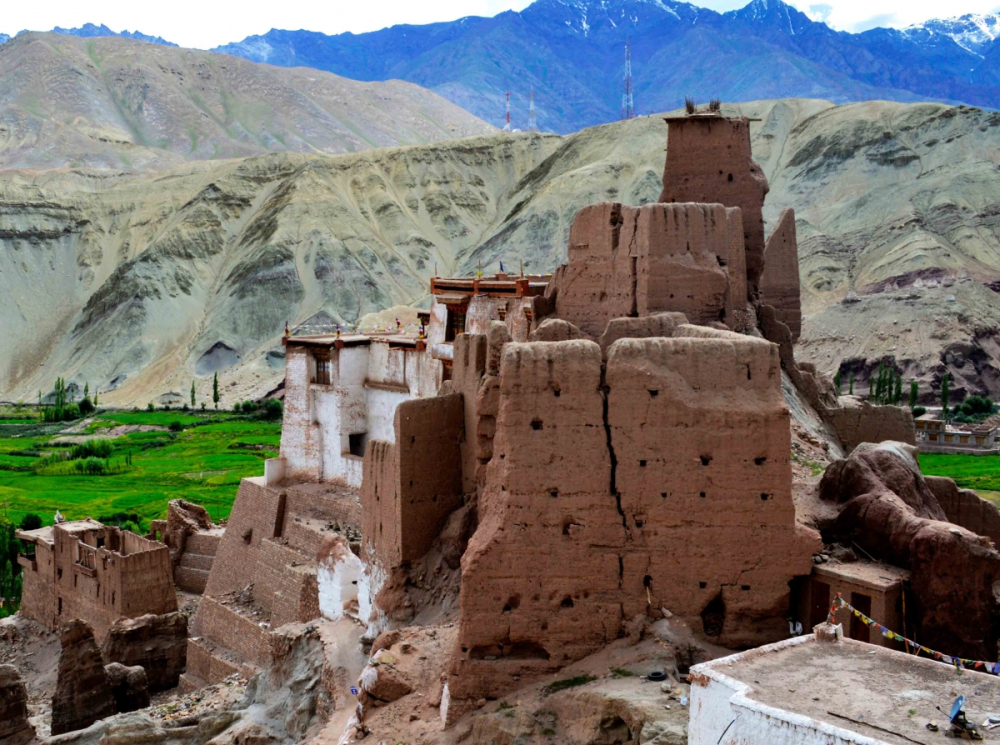 Entering Basgo is entering into a different era altogether. It is affluent in the history of the Leh region. Erstwhile, this village was prosperous and had cultural and political significance. The citadel contains three temples dedicated to the Maitreya Buddha. 

12. Tirith, Nubra Valley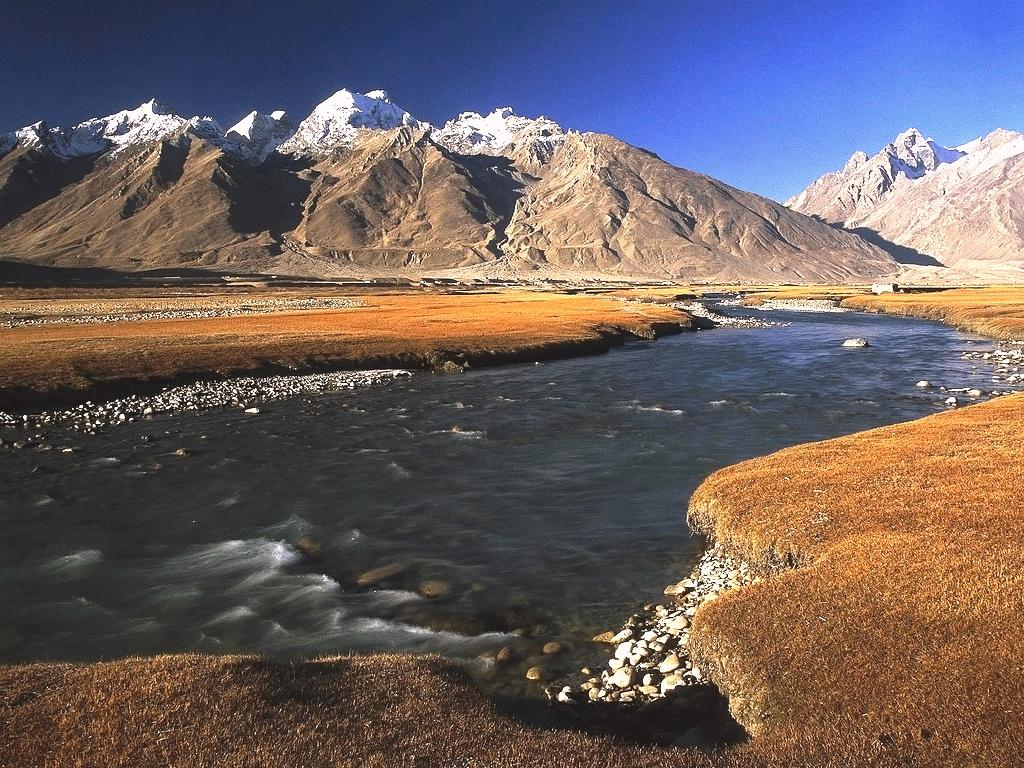 Tirith is situated in the Nubra Valley north of Leh on the banks of the Nubra river. It is known chiefly for Samstanling Gompa, built-in 1841. This monastery vibrates colours and newness.
How to reach Leh Ladakh
By Air
Kushok Bakula Rimpochee Airport. Leh's airport is very close to the city, only 3.8 km away. 
By Road
There are two roads to Leh, one from Manali (Himachal Pradesh) and one from Srinagar. Both routes are equally spectacular in different ways, and both are time-consuming with numerous military checkpoints.
By Rail
Pathankot, Chandigarh and Kalka are the closest railway stations to Leh.
Things to keep in mind in Ladakh 
Be prepared, pack well, and dress suitably.

 

While within monastery premises, take the monk's permission or the person in charge before clicking pictures.

Plastic bags are officially banned in Ladakh.

Ensure you have all required documents and permits, as certain attractions only admit tourists with requisite licenses.

Many festivals, including

Hemis Festival, Losar Festival, Sindhu Darshan, and Dosmoche festival

, are celebrated in Ladakh. It is a good time for tourists to observe Ladakhi culture.

Be mindful and respectful of the

customs and local people's beliefs

. Usually, villagers are very friendly and open to conversation – however, it is advisable to ask before you click someone's picture, for example

Tips for Acclimatization:
Avoid sleeping at high altitudes

Do not overexert yourself

Eat plenty of carbohydrates

Keep yourself warm

Carry AMS medicines

Keep yourself hydrated

 
Book your trips
Leh Ladakh Bike Trip from Manali
Ladakh Tour 5 Nights/6 Days
Ultimate Guide to Exploring Leh ladakh in 10 Nights, 11 Days
Here are 7 Reasons Why You Should Take a Trip to Leh Ladakh
Permits and Permission
Domestic tourists can register here online for offbeat places in Leh Ladakh, pay nominal Ladakh Ecology Fees and get going.
Foreign tourists visit this website for all information. 
Fees Structure:
Red Cross Fees (optional) – INR 50   

Environment Fees: INR 400

Wildlife Fees: INR 80
Five Self Declaration Points:
I will not take photographs of any sensitive places/ defence installation areas.
Government/Issuing Authority will not be responsible for mishap to any registration holder in the restricted/ protected areas.
I will drive responsibly and not go off-roading and disturb flora and fauna of the region.
I will dispose of all trash responsibly in dustbins
I will respect the customs and culture of the region
As you go, the air feels eerily foreign to a plain or plateau dweller. Give Ladakh some time to enter you before you enter it. Uncountable smaller locations wait for its guest to give an offbeat experience in Ladakh. Only an adventure seeker can reach offbeat places in Leh Ladakh unreserved on maps and unclaimed by any territory. If you have travelled to these places, tell us about your experience in the comments.