To put it in brief, I'd say, "It was a cold rainy morning with the fresh smell of sugarcane and petrichor. With people seated and/or walking around the peak, some of us happen to have some meaningful conversations."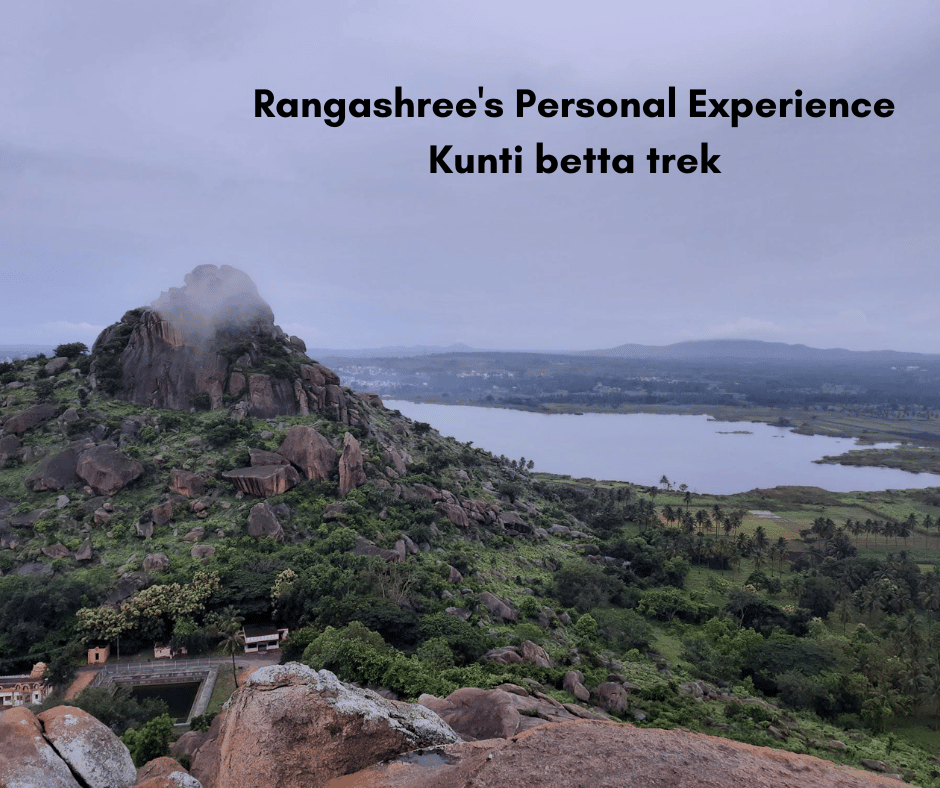 On August 8th, my trek to Kuntibetta was confirmed. I left on Saturday night, boarded the metro and I was the only one to board from the bus stop and we proceeded to leave for Kunti betta. During the 4 hour-long journey, the trek leaders introduced themselves and we had a splendid ice-breaking session. Everyone introduced themselves and we had a memory game of remembering everyone's name. We reach the base of the mountain on Sunday at 3:30 AM and rested for a while. I was fascinated by the idea of trekking during monsoon and I've always wanted to give it a shot.
When we got out of the bus, it was drizzling. It rained heavily, the previous night. We all put on our raincoats and started trekking soon after. This was my second time to Kunti Betta and I was aware of the trail.
We started to walk away from the temple and found a huge rock on our right. To climb this, one requires shoes with a good grip and a steady balance. Our trek lead, Shivam easily climbed the rock while people struggled to climb as the rock was slippery due to the rain. When I climbed halfway through, I could feel that I was losing my grip and slid down while the water splashed on me. People around me freaked out and checked on me if I was injured. Luckily, I wasn't injured, except for a scratch on my hand.
When the trek lead saw us slipping down and struggling to climb the rock, he found an alternate route. Now we could see our bus driver and his friends too come along with us.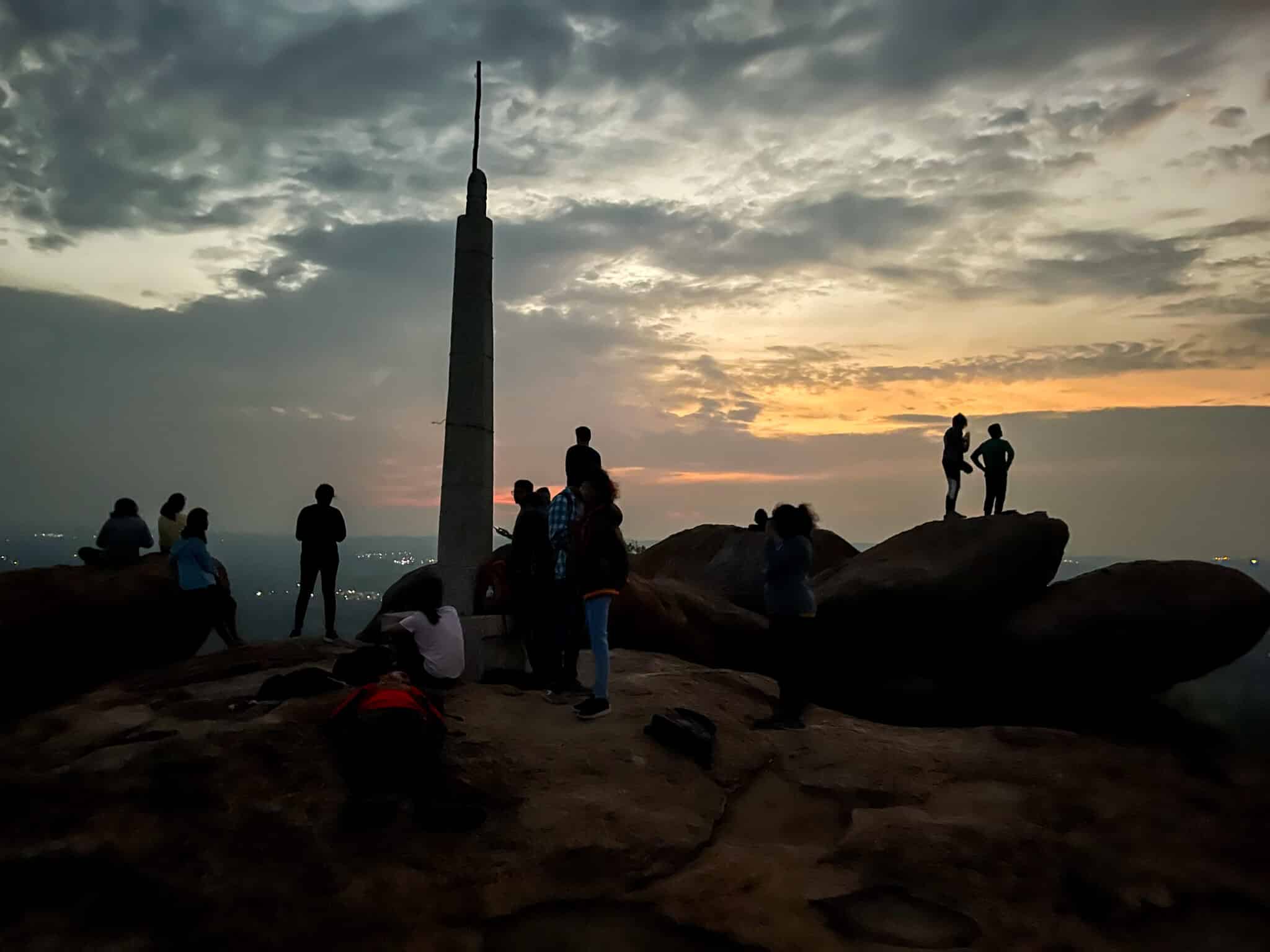 On this trek, some people have trekked before, and also people who were trekking for the first time in their life. I also observed that there were people who just wouldn't trust anyone because they were so scared to climb up. Due to the rain, the trek lead found an alternate route and he kept discovering the way to the peak while we were trekking.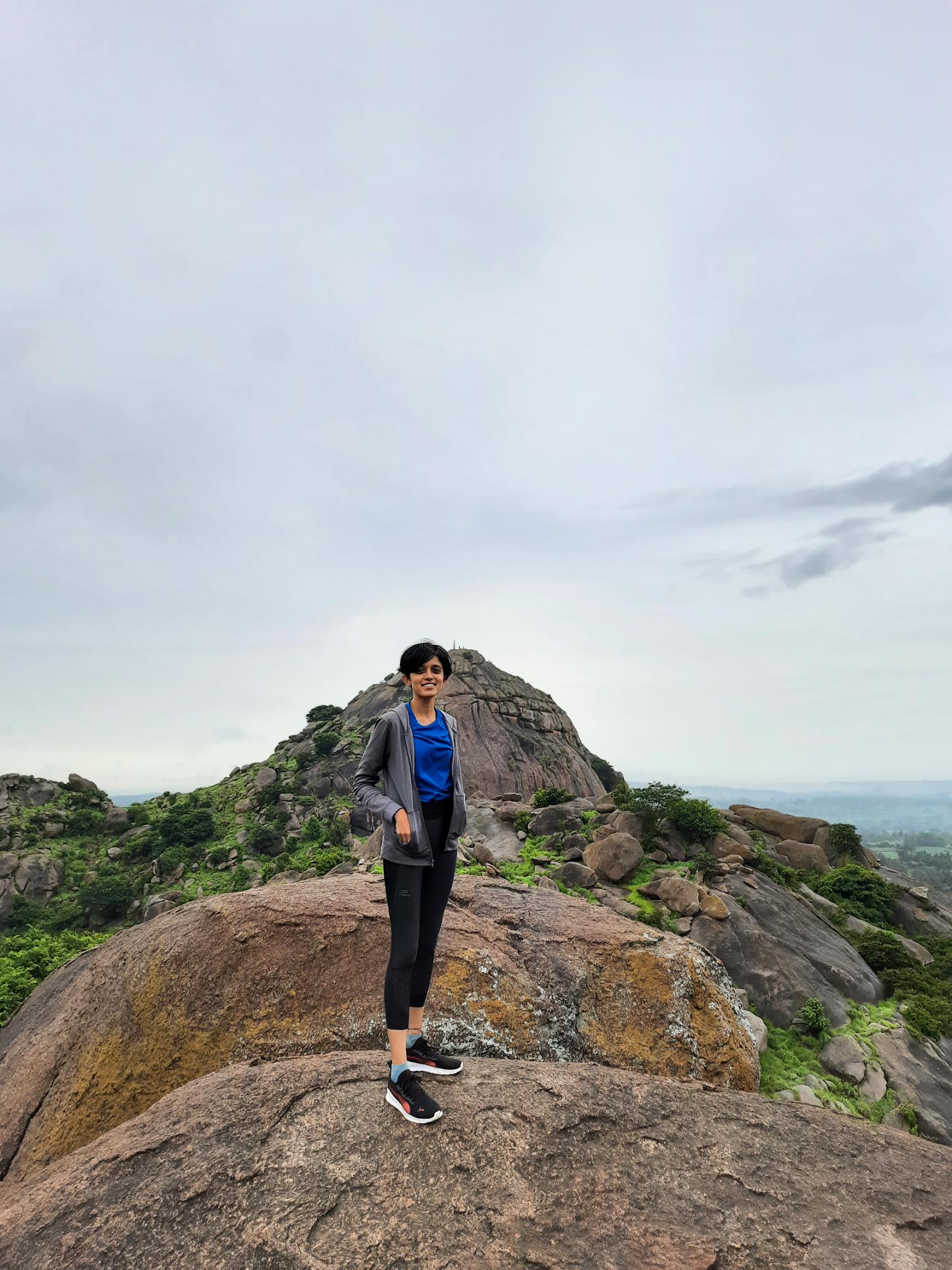 After an hour and a half of trekking, we reached the top and waited for the sunrise. It was 5:00 AM when we heard the sounds of the peacocks. When the watch struck 6, we witnessed the sky changing colours. From purple to orange, to a hint of yellow and then the sky finally turned grey. It was drizzling for quite a while and it stopped at around 7:00 AM.  We found ourselves squeezing the water from our shoes and socks. All of us gathered for a group picture and we descended down the peak.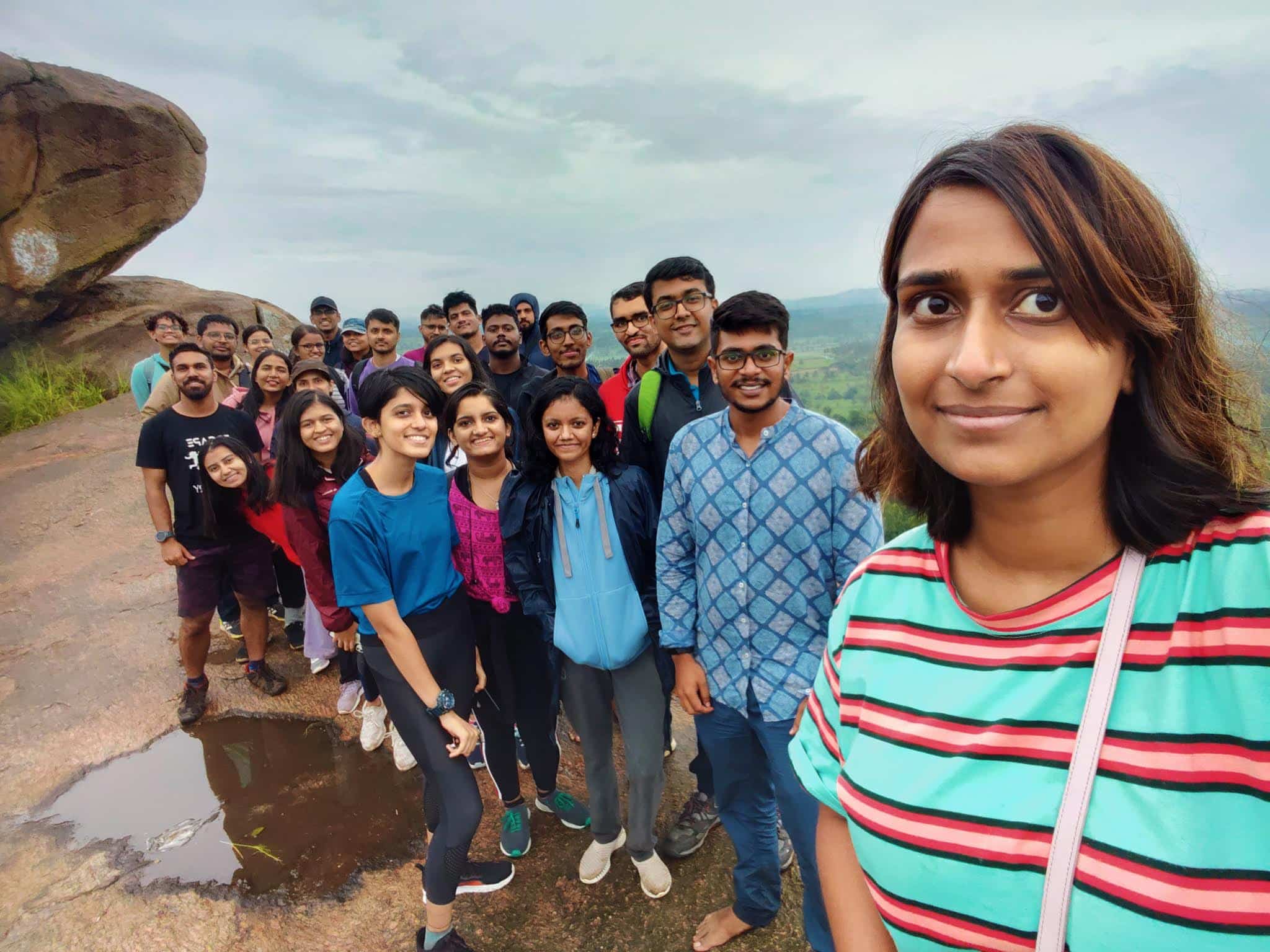 The descent was a challenge than the ascend. The boulders were wet and we found ourselves slipping more than before. We made sure to walk on grass and hold on to the boulders tight. After about an hour, we reached the base and headed for breakfast, had some delicious authentic south Indian breakfast and reached Bangalore.
Brief about Kuntibetta Trek with Plan the Unplanned:
My thoughts on the trail: It was definitely challenging, considering the boulders get slippery during monsoon. The view and the sounds of nature and peacocks are absolutely worth it and one has to look forward to trekking Kunti betta.
Tell me in the comments about your thoughts and experience on this trail.