Tips for long bike Trip
When your veins clamour for liberation in the countryside and your body yells for speed, understand your calling for a long bike trip where you can envisage inhaling some freedom, tasting the dirt and meeting long-awaited wanderlust. To an adventurer, this sounds like a plan; however, to a 'responsible adventurer', this sounds like preparing and digging into the fun! This blog is specifically for those whose life brakes run according to their will, acceleration is their right-hand game, and they employ clutch to balance their torque. For those who love meandering on roads and calling themselves riders, here are some tips to prepare for your long-distance motorcycle trip.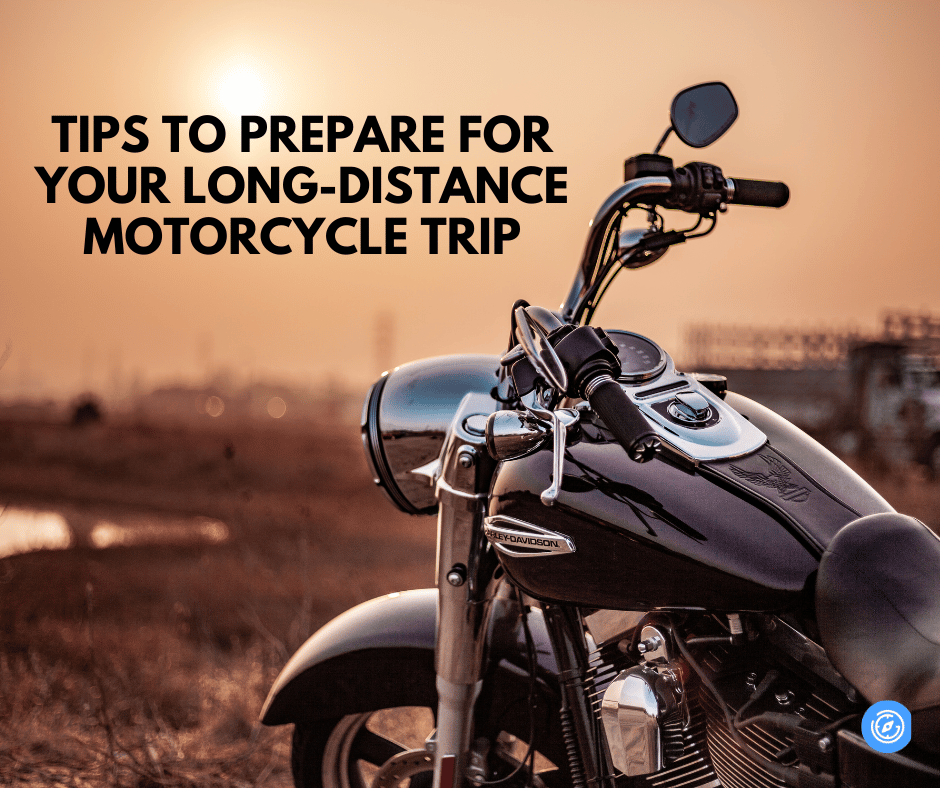 Begin with Bike Servicing
A well-serviced bike will act as your best companion during your long bike trip. You must do your study beforehand and be equipped with tools and know-how to get yourself out of uncertain scenarios. The first step to planning your trip is to get your bike checked and serviced. Some elements that require your attention are:
1. Seating
No brainer here; you will spend most of your time on the bike. You can invest in a seat-pad, air-cell cushion or gel pad. If you rent a bike, you can select the bike according to the terrain, weather and climate conditions. 
2. Check the electricals: Headlight, Side Blinkers and Tail Lamps.
Check if your front and rear headlights are working correctly. First, you want a beam pattern that puts the light where you want it. Next, you want it bright enough that you'll be able to see faraway objects clearly on an unlit road. Since, on your road trip, you might be crossing potholes, speed breakers and roads that won't have white lines, you can keep a safe limit of 800+ lumen for the front light. Rear lights provide excellent safety in road traffic, particularly in the dark.
3. Engine Capacity
For a Himalayan road trip, engine capacity above 200 cc is best. For short distances and relatively flat roads, 160 cc is acceptable.
4. New Cables
Change the accelerator and clutch cable if your bike has covered 4000 km.
5. Brakes
Learn to apply brakes, accelerate and stop smoothly. You can go for shorter rides before you begin your trip to get acquainted with your bike.
6. Lubrication
It's rightly said, "Engine oil is the blood life of a motorcycle". You can go with semi-synthetic or fully synthetic engine oil as they work well in cold and hot temperatures.
7. Clean the Air Filter
Make sure to clean the motorcycle's air filter before starting your trip. On your long ride, there will be times when you will be riding through a dusty and dirty environment that allows foreign abrasives like dust and dirt at the valves, internal bearings and cylinders. Therefore, keep a check on the air filter. Clean or replace it as per the situation demands.
8. Oil the Chain
Lubing the chain just once in the beginning will do on a week-long ride. Otherwise, keep chain oil in your luggage. After every 1000 km, oil your bike for smooth functioning. Whenever you are cleaning your chain, do check the slackness of the chain. Maintain proper slackness, and your chain will give you the optimum performance.
9. Tyre Pressure
Remember to check whether the tyre condition is good for the long trip. On average, tyre pressure is 36/28 psi. Keeping the optimum pressure plays a pivotal role in returning decent fuel economy.
The only time you need to reduce tyre pressure is while riding through sandy or slippery roads, which allows the tyres to get a wider contact patch and bring a better grip.
In sand, you can maintain a minimum pressure of 18 psi. This will inflate your tyre, making it easier to cruise on sand instead of digging it. Remember to drive very slow, since this is extraordinarily less pressure.
On rough terrain that includes crossing rocks and mud, keep front tyre pressure at 22 psi and rear tyre pressure at 32 psi.
10. Back support for the pillion rider.
Your pillion rider will keep you company during the trip. Their safety and comfort matter as much as drivers to avoid any clash. There must be sufficient space between the pillion rider and rider. If your bike doesn't come with back support, you will also aid the pillion rider transfer the extra shoulder bag load to the back support.
9 Important Bike Documents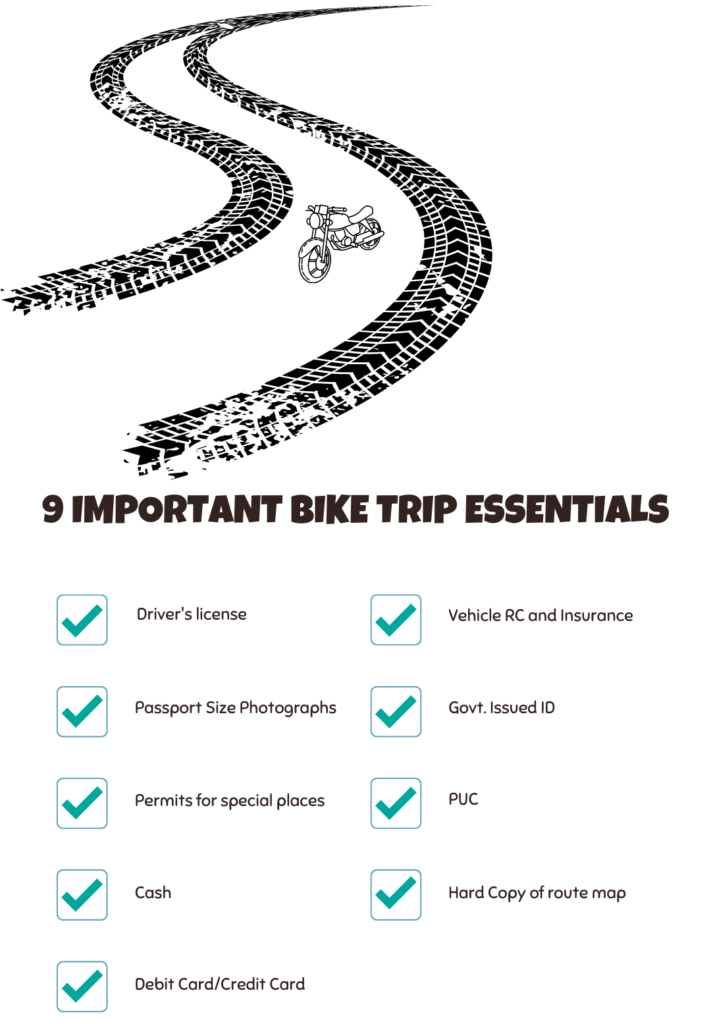 Spares And Essential Tools (Optional)
Tyre Repair Kit
For tube tyre bikes, one tube each for front and rear tyres. For tubeless tyre, a tyre repair kit.
Tyre rod – To separate tyre and rim.
One accelerator cable.
One piece of the clutch cable
Headlamp And rear brake lamp
Multipurpose tool kit
Spare cloth to clean the vehicle
General Tips for Long Bike Trip
Helmet: Invest in quality helmets for both pillion and rider. 
Exercise: Getting into peak physical condition by resorting to morning jogging and strengthening exercises is a good option before planning a long trip.
Time: In India, prefer to plan to travel from November to February as the climate will be pleasant.
Wearables: Wear proper clothes with a waterproof bike suit and gear. 
Brakes are Important: Take small brakes after every two hours of riding. This will give your bike some rest and help you maintain concentration. 
Keep Yourself Hydrated: Keep drinking water regularly.
Don't Overeat: Be half full on your stomach. Eat healthy, light snacks and meals.
Avoid night riding, especially in continuation to day riding. Prefer to start early in the morning. 
Be Map Ready: Keep route mapping of the journey is a must. Try to plan break fixtures for a better experience of local cuisine and culture.
Carry Mechanical Toolbox: You must be carrying a toolbox with you.
Some Road Trips with Plan the Unplanned
Tawang Valley Road Trip
Leh Ladakh Bike Trip from Manali
Spiti Valley Road Trip – Shimla to Manali
Meghalaya Road Trip
Karnataka Road Trip
Longing for a bike trip after reading this? Tell me, what's stopping you?