Ladakh Guide – Where Land meets Sky!
Ladakh has established an important place in history by sitting at the crossroad of many trading routes. At present, it is a little of Tibet splotched on the jagged peaks of the Himalayas; spirituality flows in its air as fluttering flags liven up the scenes. Sitting at the head of India and rising as far as clouds linger, it has guarded, secured and protected India for generations. The Himalayas veiled this land of high passes, making it a dramatic cold desert. Shyok, Indus and Nubra rivers have quenched its thirst for centuries, and the earliest inhabitants like Khampa nomads, Mons, and Brokpas have taught us the basics of life and preserved history simultaneously.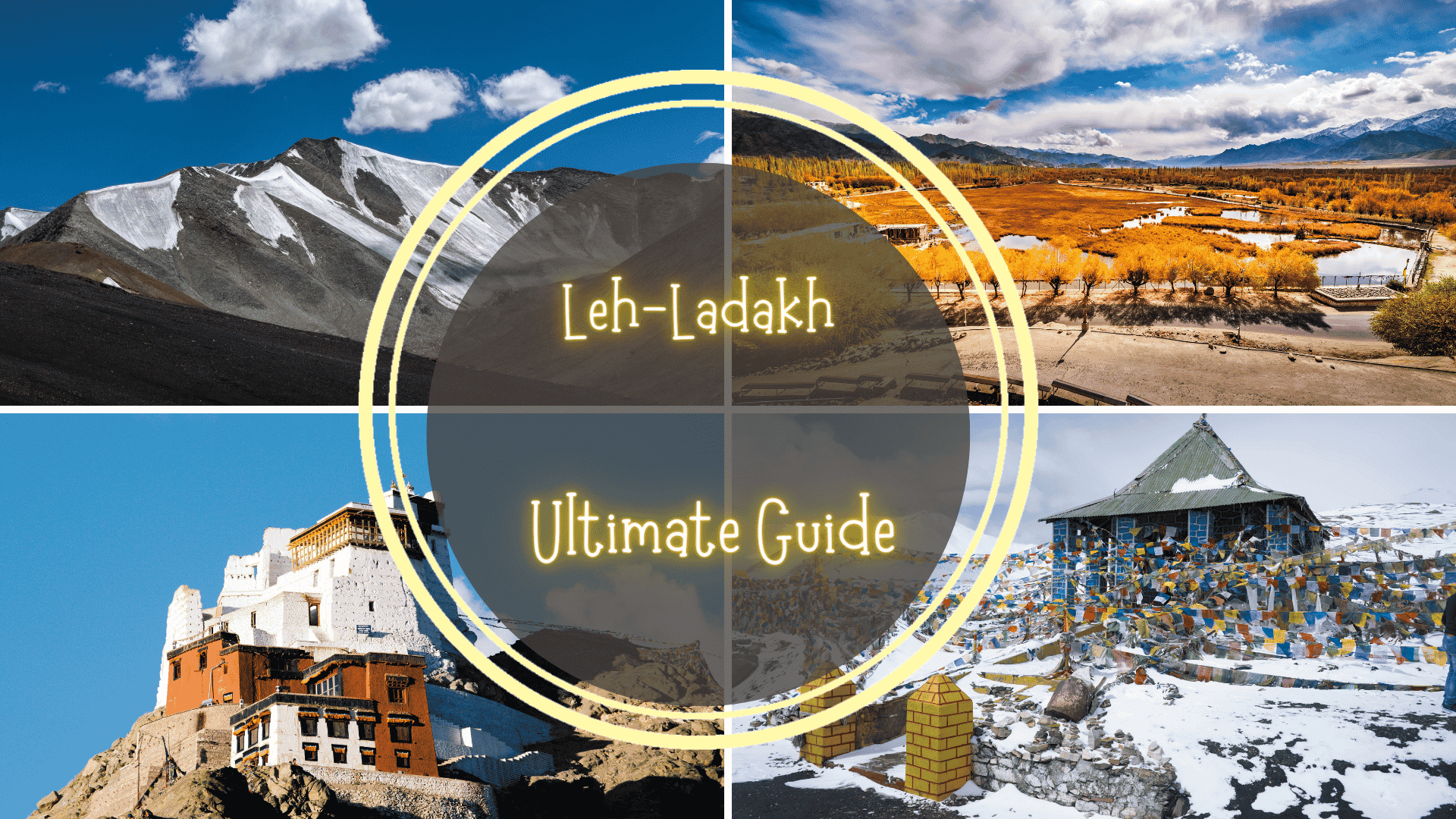 Brief 11 Days Itinerary for Ladakh
Day 1 – Leh acclimatisation
Day 2 – Leh acclimatisation
Day 3 – Leh to Sarchu
Day 4 – Hemis Monastery, Thiksey Monastery, Shey palace
Day 5 – Nubra Valley (Hunder or Turtuk) – Khardungla pass, Diskit monastery
Day 6 – Explore Turtuk, taste Baltistan cuisine
Day 7 – Visit Thang – India-Pak border. Come back to Tiakshi.
Day 8 – Tiakshi to Hunder: explore Tiakshi till the afternoon. Go to Hunder in the second half.
Day 9 – Pangong
Day 10 – Leave for Leh
Day 11 – Explore Leh
Ladakh Highlights
Leh to Nubra Valley

through one of the

Highest Motorable roads

globally,

Khardung La.
Diskit, Thiksey, and Hemis Monastery,

on the way to Pangong Tso.

Explore

Shey Palace

to see the 12-metre-tall gold-gilded Buddha statue and Thiksey Monastery, known to have been the biggest monastery in Central Ladakh.

Head to Leh through one of the highest passes in the world,

Chang La Pass

.

Apart from these, go to uncountable sightseeing places, including the

Hall of Fame, Shanti Stupa, and Magnetic Hill,

to load your soul with memories.

Go to two high-altitude alpine lakes: Pangong Tso and Tso Moriri. 

Crossing highest passes including Zojila, BaraLacha La, Khardung La, and Chang La. 

Witnessing the magical confluence of the Indus and Zanskar river.

Visit Kargil, where the historical war was fought between India and Pakistan.

Have the experience of eating in a Langar in Pathar Sahib gurudwara.
Best Time To Visit Ladakh
Ladakh is a high-altitude cold desert with 300 days of sunshine and only 100 millimetres of precipitation annually. Occasional storms can cause flash floods and mudslides. 
The coldest month is January, with an average temperature of -3°C (27°F) during the day and an average temperature of -15°C (5°F) during the night.
April to July is the best time to visit Ladakh.
Things To Do In Ladakh
Raft across the freezing Zanskar River

Ride a Yak/Bactrian Camel

Ladakh festivals
Places to Visit In Ladakh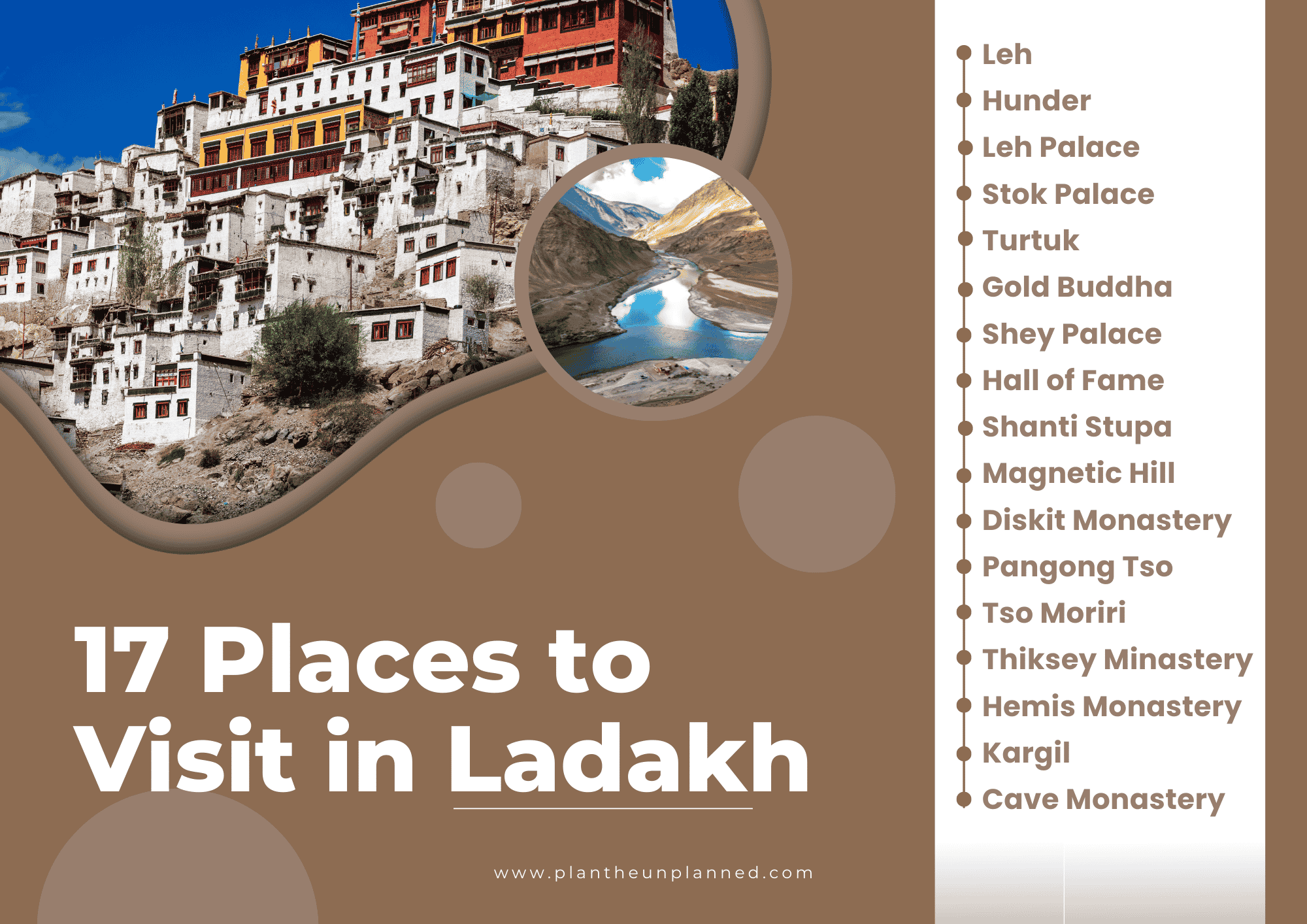 1. Leh
Leh altitude: 3500 m
Also known as the land of the Lamas, Leh is at a crossroads of the old trade routes Tibet, Kashgar and Kashmir. Owing to its geographical location (Kashmir to the West, Tibet to the East, proximity to China and the Indus just beside it), it was a locus for many trading activities. The primary goods carried were salt, grains, Cashmere wool, cannabis resin, silk yarn, and indigo.
It is a small town with everything available within walking distance. Old mud houses and narrow lanes attract tourists for exploration, but the Main Bazaar is the place, mainly like Mall Roads, where you will find cafes and shopping places.
Leh, the joint capital of Ladakh, is the crossing point in a traveller's itinerary. Acclimatisation of 48 hours is compulsory to avoid Acute Mountain Sickness (AMS). 
Note: Leh district in the Ladakh region has been declared a tobacco-free zone.
2. Hunder
Another wonder is Hunder in Nubra Valley. Dunes, Bactrian camels, high altitude deserts and remote vistas are to Hunder what the sun is to this galaxy – only one. This endemism, when combined with sightseeing of several ruined buildings, including the ruins of the King's palace, the Langchen Khar (Elephant Palace), a more remote Gula fort, and a Buddhist temple, makes up for an eclectic experience. You can try the Camel ride here.
Note: Although many people go for Camel and Yak rides, we discourage any kind of animal cruelty. Instead of riding on them, how about you feed them, see them rolling, and admire them.
3. Leh Palace
In the bland Leh, Leh Palace shoots colours and visuals. This massive structure lay at the ridge of Tsemo ridge and was designed in Tibetan style. It is a nine-storey palace with four-foot-tall doors and confidential galleries. It was abandoned in the mid-nineteenth century when the royal family left Leh following the Dogra invasion. Only a little survives of the pride and joy of the old days. 
4. Stok Palace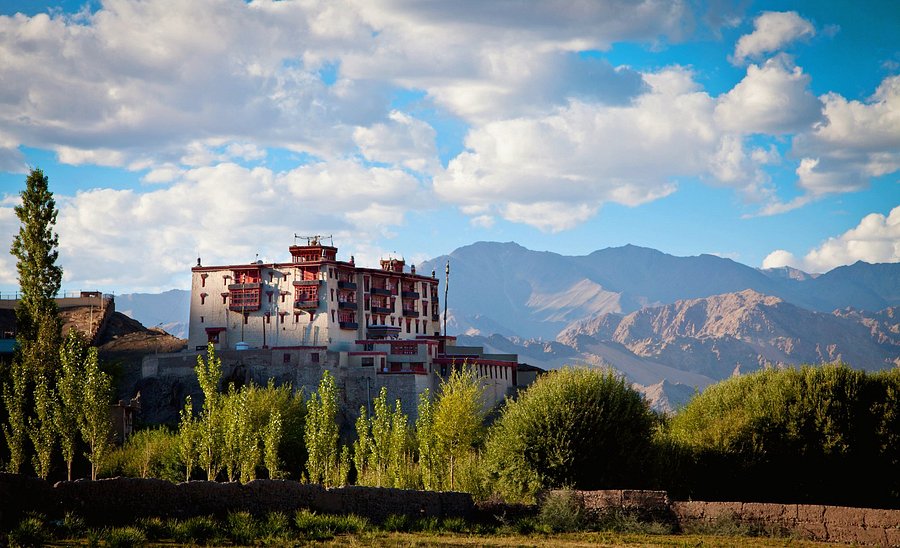 Stok Palace is a 19th-century structure built by the rulers of the Namgyal dynasty. It overlooks the city of Leh and is situated on the other side of the river Indus. You will get views of the Stok-kangri mountains in the Zanskar range. You can stay inside the palace and visit the museum and temple. The palace museum has a unique display of thangkas, old weapons, kings' armour, queens' ornaments and headgear, traditional clothing and jewellery. You will also find ancient coins, royal seals and photographs.
5. Turtuk
Turtuk is a tiny hamlet circumscribed by Nubra valley, nestled in the Karakoram mountain range. It lies at one of the remotest reaches for tourists in India; nevertheless, the friendly habitants fill one up with juicy conversations, just like the fruits found here. The village was under POK till 1971, but as the history peeps, the villagers don't mind being ruled by either Pakistan or India. They live peacefully and happily. 
You can visit the Baltic museum, shop for dry fruits, go to the Shyok river, cross the wooden bridge, and spot Mount K2.
6. Diskit Monastery and Gold Buddha
Diskit Monastery is the oldest and largest Buddhist monastery in the Nubra Valley of Ladakh.
Ladakh is undoubtedly filled with many pieces of art and architecture. One such generous symbol of enlightenment, purity, happiness and freedom, Maitreya Buddha's statue faces the Shyok river, is 108 feet tall and was set up in 2006. However, it was officially inaugurated by H H Dalai Lama in 2010. The statue represents three ideas: protection of the Diskit Village, promoting of world peace & prevention of further war with Pakistan.
7. Shey Palace
Amidst the natural beauty of Ladakh, the Shey monastery was established by King Deldan Namgyal. The demonstration of the rugged Ladakh-ian terrain and bird's eye view makes this place unique. Although most of the area is in ruins, visitors come here to take a pit stop on the Leh-Manali highway. The monastery houses a vast Shakyamuni Buddha statue. It is the second-largest Buddha statue in Ladakh.
8. Hall of Fame
If you are a history lover, you would like to visit the Hall of Fame. It was built in 1986 to showcase the valour of the Indian Army. It portrays weapons, accounts of the courageous soldiers who sacrificed their lives for the nation, and exhibits about the Indian Army. The Hall of Fame museum also displays a 30-minute film that comprises the 1999 'Kargil War'. 
9. Shanti Stupa
As the name reveals, Shanti Stupa, or World Peace Pagoda, symbolises peace. It was built by the Nipponzan Myohoji sect of Japan near Chanspa village. A full dramatic view of Leh Ladakh opens up at its top.
10. Magnetic Hill
Magnetic hill is mainly compared to an enigma, and some say it is an optical illusion. It is a gravity hill that looks as such because of its area. In truth, the mountain is a downhill road, but it appears as if the vehicles are climbing up. Along with this phenomenon, it is a beautiful drive with dozens of cars trying to defy gravity and then finally coming out amazed. 
11. Thiksey Monastery
It is the largest gompa in central Ladakh. The Thiksey monastery is located at an altitude of 3,600 m. It is a twelve-storey complex and houses many items of Buddhist art, such as stupas, statues, thangkas, and wall paintings. 
12. Hemis Monastery
Nestled remotely, Hemis monastery is the spiritual centre of the Drukpa lineage or the 'Red Hat sect'. It was founded in the 1630s by Stag Tsang Raspa under the patronage of King Singge Namgyal. The Hemis gompa is the largest and richest monastery in Ladakh. 
13. Pangong Tso
Spanning over 134 km and situated at an elevation of 4225 m, Pangong Tso came into the limelight after the movie 3-Idiots. But that is not just the reason for its popularity; it is indeed a beautiful blue-water saline lake that occupies eastern parts of Ladakh and western parts of Tibet. Some of it is under India-China disputed region. 
14. Tso Moriri
Cradled in the Changthang plateau of Ladakh is the scenic Tso Moriri lake, a brackish or freshwater lake that lies at an altitude of 4522 m. It is one of the most beautiful and peaceful high-altitude lakes in India. 
15. Kargil
A trip to Leh Ladakh is incomplete without a visit to Kargil. It is the second largest town and also the joint capital of Ladakh. It is a heaven for adventure enthusiasts, for there are many trekking trails around. 
16. Cave Monastery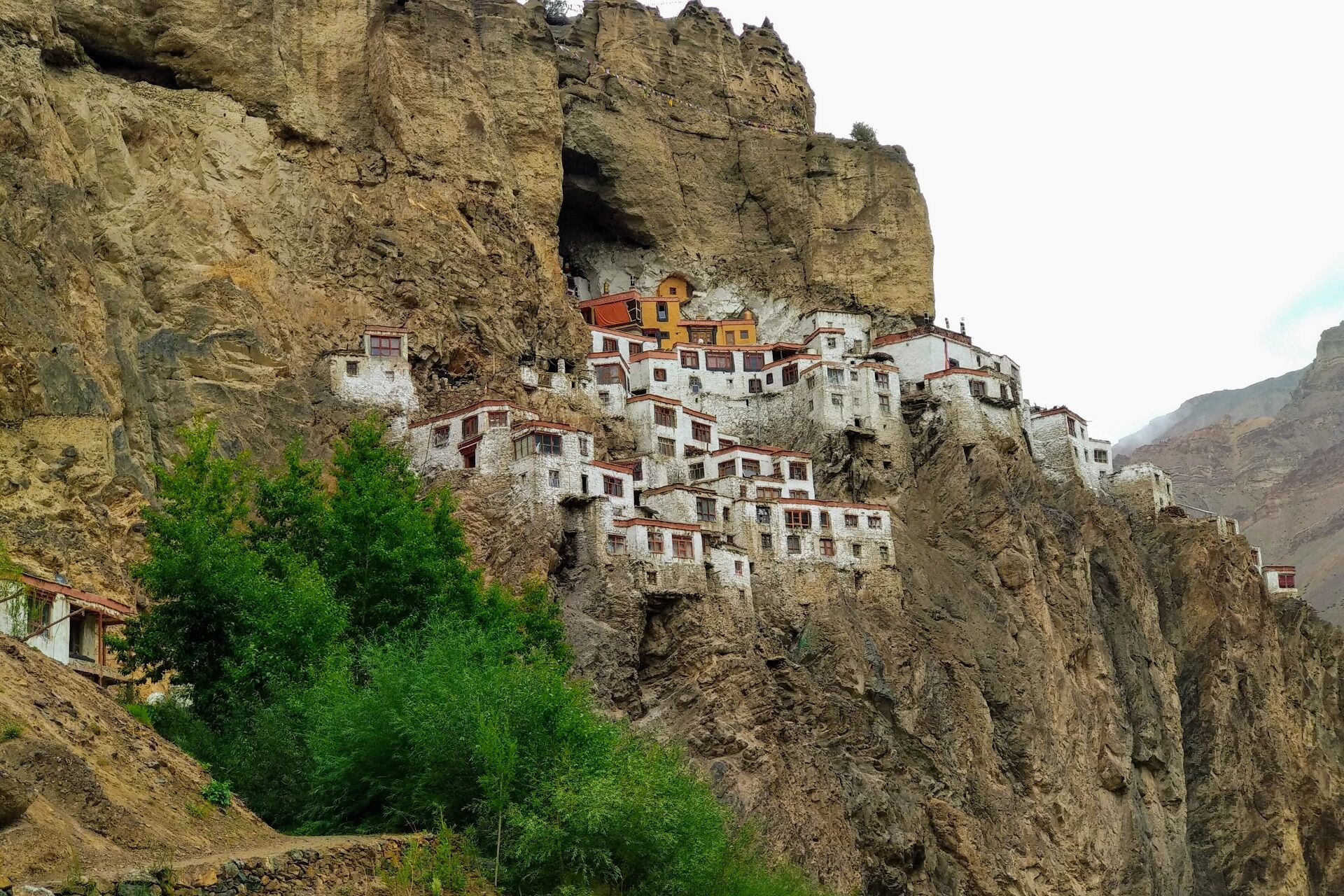 Suspended in the middle of air and mountain, Shargole or Cave monastery is an impressive ridge-sheltered monastery located 35 km before Kargil at Shargole. Tourists looking for peaceful vibes and spiritual enlightenment can come here for meditation. 
17. Pathar Sahib Gurudwara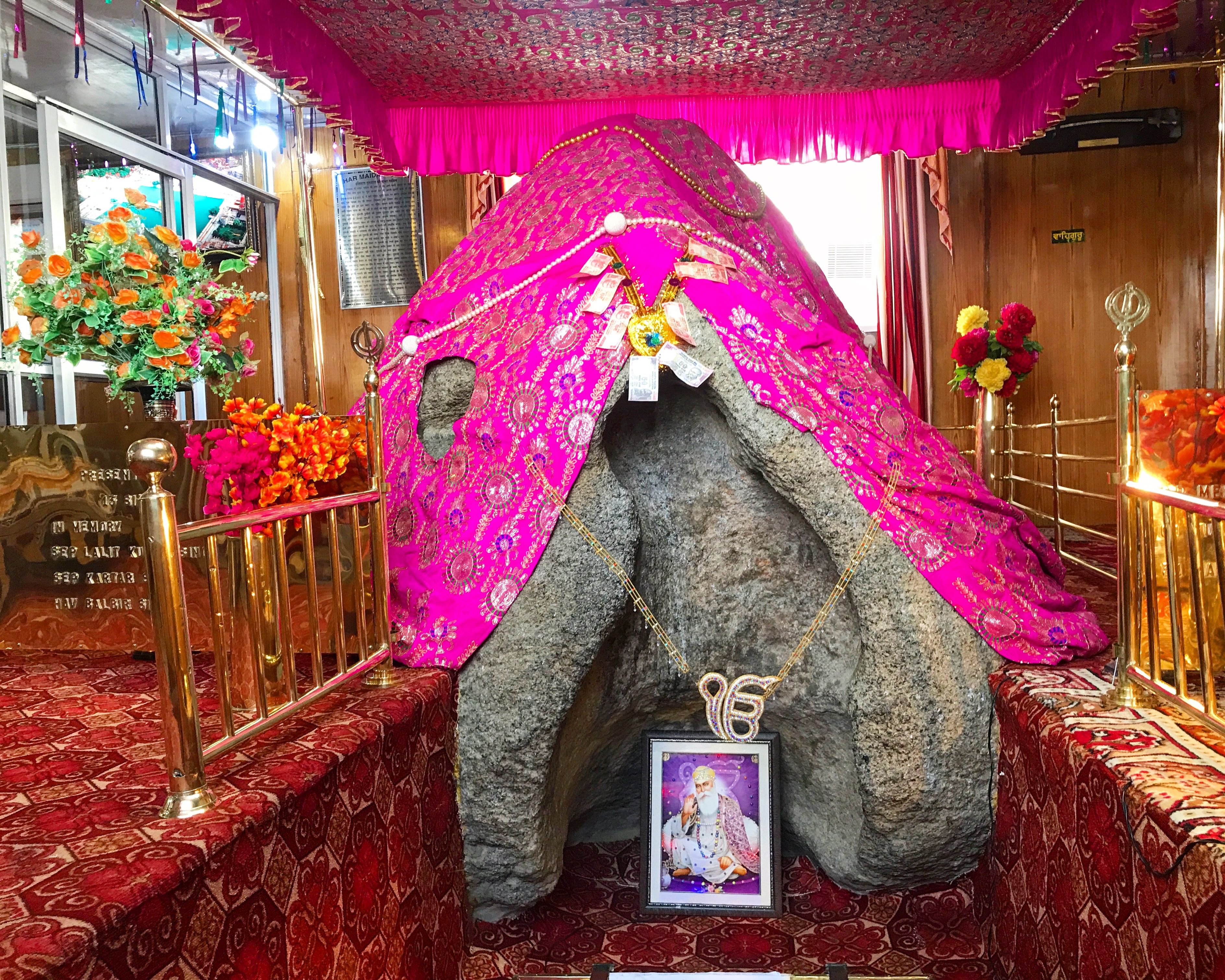 Pathar Gurudwara Sahib is the most revered place for both followers of Buddhism and Sikhism. According to legend, Guru Nanak Ji conquered a demon here, who threw a big rock on him while he was meditating. The rock turned to soft wax, and Guru Nanak Ji was rendered unaffected. Seeing this, the demon turned into a good man and accepted the nobility of Guru Nanak Ji.
Trekking in Ladakh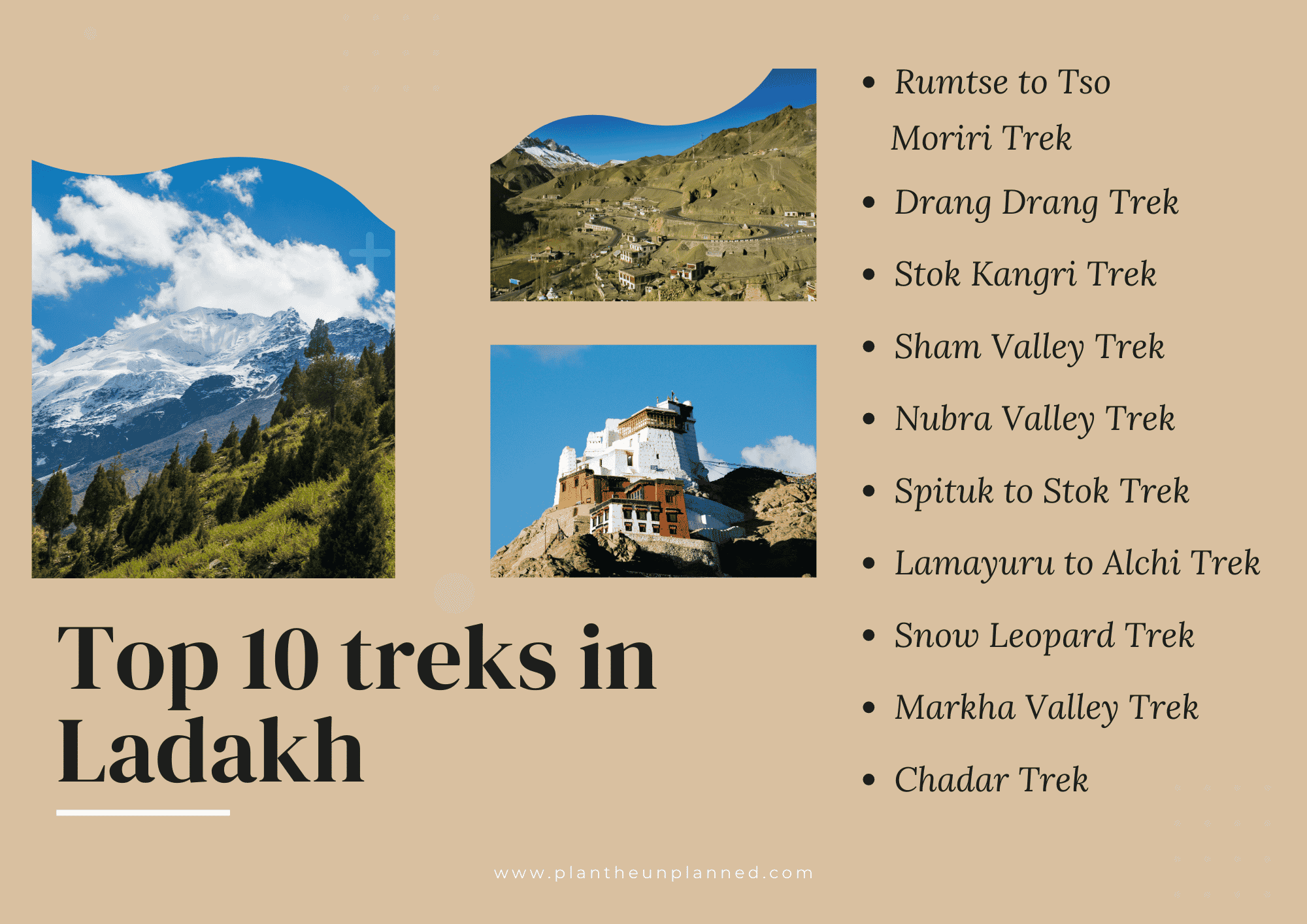 Rumtse to Tso Moriri Trek
Altitude: 5,435 m (at Yalung Nyau La)
Distance: 98 km

Drang Drang Trek

Altitude: 4779 m
Distance: 23 km

Stok Kangri Trek
Altitude: 6,153 m
Distance: 34 km
Sham Valley Trek
Altitude: 3,874 m (at Tsermangchen La)
Distance: 32 km

Nubra Valley Trek
Altitude:5,438 m (at Lasermo La)
Distance: 59 km

Spituk to Stok Trek
Altitude: 4,855 m (at Stok La)
Distance: 39 km

Lamayuru to Alchi Trek
Altitude: 5,153 m (at Stakspi La)
Distance: 71 km
Snow Leopard Trek
Altitude: 3,970 m (at Rumbak)
Distance: 29 km
Markha Valley Trek
Altitude: 5,260 m (at Kongmaru La)
Distance: 78 km

Chadar Trek
Altitude:3,882 m (at Lingshed)
Distance: 54 km
Budget for Ladakh (per day per person basis)
The budget for Ladakh depends a lot on your stay options and commute. 
Commute 
By renting car
A two-way trip to tourist destinations like Nubra valley, Pangong Tso, Tso Moriri will cost you about Rs. 14,000 to 15,000 each (could even be slightly higher) for a 2-day trip.
By shared taxi
Rs. 1000 each for a two-way journey to Nubra Valley, Pangong lake and Tso Moriri.
By local bus
A round trip to Nubra would cost about INR 700-800. For Pangong and Tso Moriri Lake, it would be about INR 500-600 round trip each. For Padum in Zanskar, it would be about Rs. 2,000 round trip to Leh.
You will have to allocate a separate budget for your travel to Ladakh from your base city. 
Stay
INR 700 to 1000 per day
Food cost 
INR 400-500 per day.
In short, a trip to Ladakh from Delhi will cost at least around INR 25,000 by Bike and INR 50,000 by car if travelling alone. These figures are for a 10 to 12 days trip.
What To Eat in Ladakh
Thenktuk

Butter tea

Tingmos and Chhurpi

Momos

Marchwangan korma
How Long Should A Trip Be for Ladakh
10-12 days
How to reach Leh Ladakh
By Air
Kushok Bakula Rimpochee Airport. The airport in Leh is situated very close to the city, only 3.8 km away. 
By Road
There are two roads to Leh, one from Manali (Himachal Pradesh) and one from Srinagar. Both routes are equally spectacular in different ways, and both are time-consuming with numerous military checkpoints.
By Rail
Pathankot, Chandigarh and Kalka are the closest railway stations to Leh.
Additional Information about Ladakh
While within monastery premises, take the monk's permission or the person in charge before clicking pictures.

Plastic bags are officially banned in Ladakh.

Ensure that you have all required documents and permits, as certain attractions only admit tourists with requisite licenses.

Many festivals, including

Hemis Festival, Losar Festival, Sindhu Darshan, and Dosmoche festival

, are celebrated in Ladakh. It is a good time for tourists to observe Ladakhi culture. 
Book your trips
Leh Ladakh Bike Trip from Manali
Ladakh Tour 5 Nights/6 Days
This Ladakh Guide is your saviour. If you have any other doubt or have any information that can be useful to readers, write in comments.