Northeastern India contains the state of Meghalaya. On January 21, 1972, Meghalaya was created by dividing the state of Assam into two districts: United Khasi Hills, Jaintia Hills, and Garo Hills.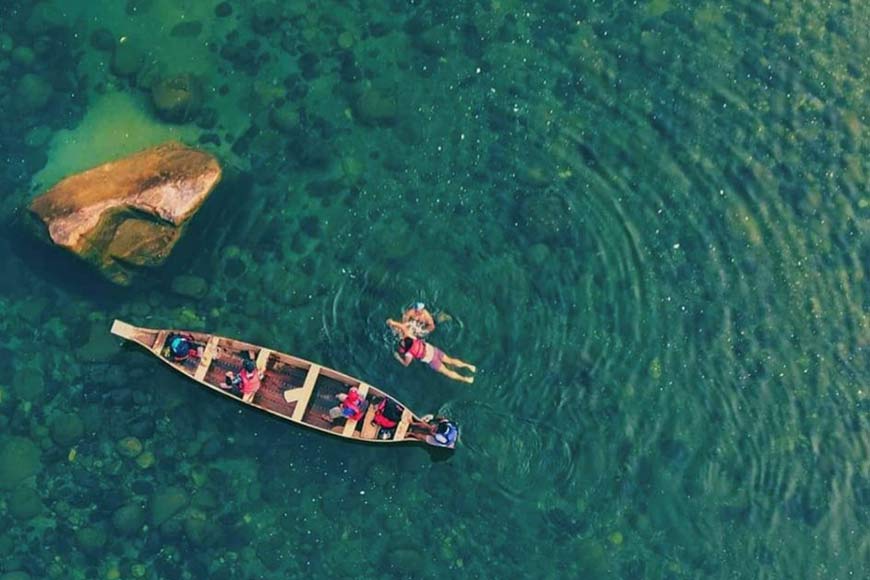 About Meghalaya
A majestic range of green hills with waterfalls gushing down their length emerge from a sea of soft white clouds. Yes, you are in Meghalaya, sometimes known as the "state of clouds." If you go a little closer, you'll see that a complete world has been encased in the emerald green trees and winding little streams. You'll catch a glimpse of tranquil lakes where blue and green tones blend. Shillong, the capital of Meghalaya, may be found in the East Khasi highlands of that state. Shillong was lovingly known by the British as the "Scotland of the East." Meghalaya is the location of heaven if there is such a place on earth.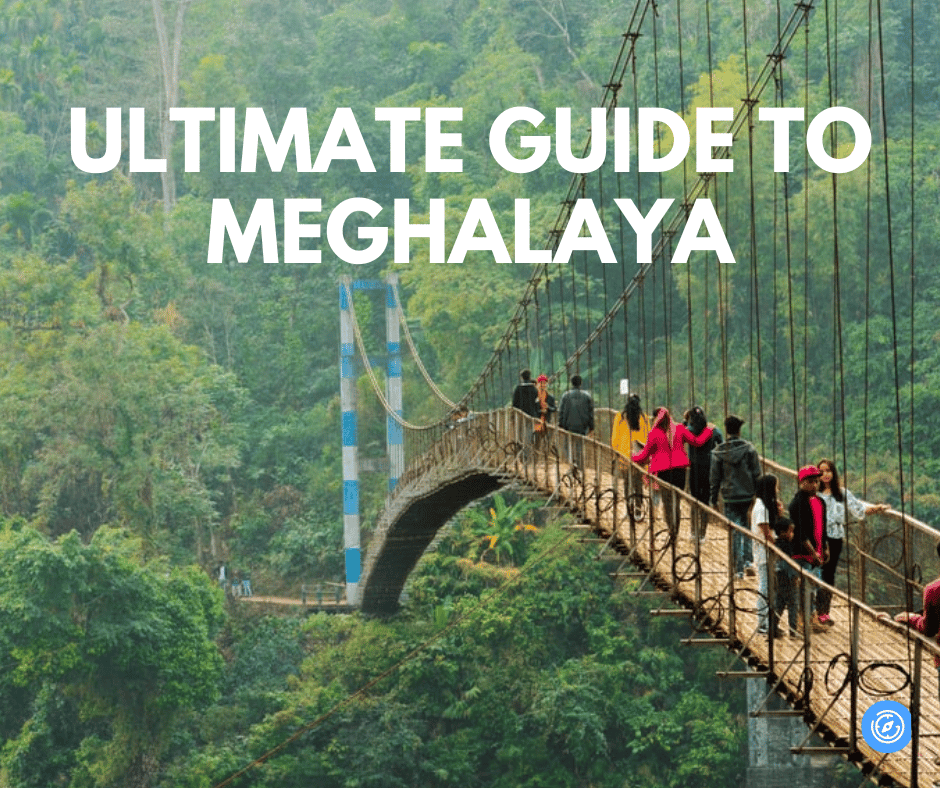 We bet Meghalaya is ought to surprise you! We shall let you imagine as you read the blog. Save this for later!
Brief 6-Day Itinerary for Meghalaya
Day 1
Reach

Shillong

 by flight;

Stop to take in the breathtaking Umiam Lake;
For the night, unwind and rest in Shillong.
Day 2
Start to

Cherrapunji to capture the breathtaking Meghalayan hills and valleys;
While on this excursion, stop at the Nohkalikai Falls, Seven Sisters Falls, Mawsmai Caverns, and Arwah caves;
In the evening, check into your hotel and go to bed;
A stay of one night in Cherrapunji.
Day 3
Get ready to traverse the Double Decker Bridge;
Prepare to hike the Double Decker Bridge; after the hike, tour Cherrapunji's local churches, marketplaces, and stores;
Before returning to Shillong, take a bit of time by yourself and spend a few hours in the zone;
Spend the night in Shillong.
Day 4
Depart for the tour of Dawki and Mawlynnong after breakfast;
Visit Mawlynnong first, which is regarded as Asia's cleanest village. The journey is full of winding roads and beautiful scenery while offering views of the Shillong plateau;
Make your way to the Living Root Bridge after strolling around the hamlet;
Approach Dawki, a border town between India and Bangladesh known for its crystal-clear waters;
You can choose to take a boat trip here;
In the evening spend sleep at the Hotel in Mawlynnong.
Day 5
Take transport to Shillong after breakfast;
Explore the Sacred Grove in Mawphlang first; it's a haven for wildlife and environment enthusiasts;
Proceed to the Elephant Falls next, and then on to Shillong Peak to get a good look at the city;
Visit the well-known Lady Hydari Park on the same day, then All Saints Church and the Cathedral in Laitumkhrah;
You will also go to the Don Bosco Museum;
Spend the night at the hotel in Shillong.
Day 6
Leave the hotel or homestay and proceed to the train or airport.
Bidding goodbye to the journey while carrying the memories in your heart.
Top 5 Trekking in Meghalaya Guide
1. Umden Village Trek
Duration:  1 day
Distance: 18 km
Difficulty: Easy
Key Feature: Mountain biking, the CFT rock garden, and watching and understanding the steps involved in manufacturing silk.

Umden Village is known as the paradise of silk in the area due to its acres of forests devoted to the growing of silk. A close-up and personal encounter with the distinctive culture of the community is provided by this Meghalaya hike. As you explore lovely tea gardens, strawberry fields, and other picturesque rural areas, you'll also learn a little bit about Eri silk.
2. Mawlongbna Village Trekking
Duration:  1.5 days
Difficulty: Moderate
At Mawlongbna Hamlet, trekking often involves an extended stay in the village and combines camping with adventure activities. There is a lot to do, including exploring prehistoric predator fossils, strolling among unusual vegetation, zip-lining through a dense rainforest, and kayaking. If you enjoy the outdoors and adventure equally, this is one of the greatest hikes in Meghalaya.
3. Mawlyngot Trek 
Duration:  1 day
Distance: 6 km
Difficulty: Easy
Key Feature: On this walk, you'll never run out of options, from the relaxing Mawlyngot tea gardens to the close-by Smit and Laitlum canyons.

Mawlyngot hamlet is a short drive from Shillong and is tucked away at 4800 feet in the Eastern Khasi highlands. The hamlet is well-known for being Meghalaya's tea capital. The wide expanses of tea farms are beautiful to look at. This is soothing when combined with the peace of the Umsong River. The trek here begins in the hamlet, travels up a short hill through a dense forest, and concludes at the Umsong River. It is genuinely a fantastic encounter. Another trip from the Umsong River to the adjacent village of Pynursla is also possible in Meghalaya.
4. The Living Roots Bridge Trek
Duration: 1 day
Difficulty: Easy
Key Feature: Multicoloured waterfalls and a bridge made of live roots on two levels.
Distance: 8 km
The live roots bridge trip, as the name implies, entails crossing entirely formed of roots. Meghalaya is full of both man-made and natural wonders. The Khasi tribe created these unusual bridges from ancient rubber trees because they are more durable than wooden walkways, which are often destroyed by the region's intense monsoon. All around Meghalaya, especially Nongriat, a wonderful hiking area, there are several root bridges. This is a quick, yet thrilling trip in Meghalaya that begins in the hamlet and ends at Rainbow Falls. On the root bridges, do not be afraid. They are quite solid but shake a lot.
5. David Scott Trail
Duration:  4-5 hours
Distance:  16 km
Difficulty: Moderate-Difficult
Key Feature: Simpanghang Falls, the fresh and clean Umiam River, and the historical mausoleum in Mawsahep.
Experience history up close and personal on the David Scott path. A historical British official who served in the Khasi highlands from 1802 to 1832 is honoured by the name of this 16 kilometre hike. From Mawphlang, the walk proceeds to Ladmawphlang, where it finishes. Along with beautiful vistas of glittering rivers, tumbling waterfalls, luscious green landscapes, and bridges, this trip in Meghalaya will also educate you about the history, culture, and folklore of the Khasis.
Best Time To Visit Meghalaya
April – June: Summer in Meghalaya
The temperature ranges from 16° and 31° Celsius.
This is the best time to visit Meghalaya.
July – September: Monsoon in Meghalaya
The temperature ranges from 24° to 33° Celsius.
The state experiences rainfall and is also prone to landslides. 
October – March: Winter in Meghalaya
The temperature ranges between 4°C and 16° Celsius.
A paradise for people who love cold winters and misty mornings.
Places to Visit In Meghalaya
1. Cherrapunji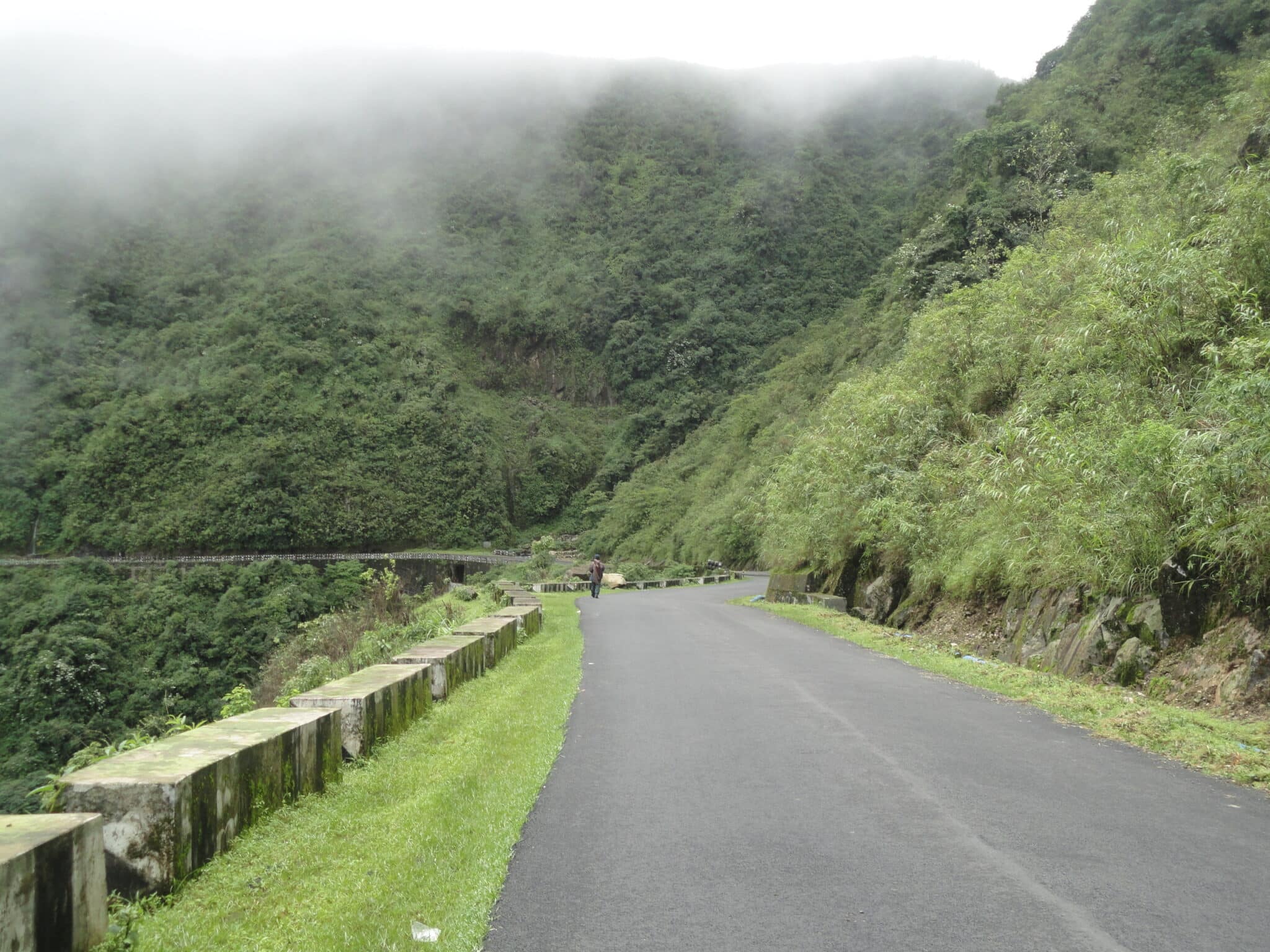 One of the wettest locations on the planet is Cherrapunji. Additionally, it is where India has the most rainfall. The most well-known waterfalls in Cherrapunji are Dain-Thlen, Kynrem, and Nohkalikai, and each year, hundreds of people visit them.
The garden of caverns, Mawsmai cave, captivating waterfalls, an eco-park, and living-root bridges are some of Cherrapunji's top tourist destinations. Among the top tourist destinations in Meghalaya, Cherrapunji must be visited.
2. Shillong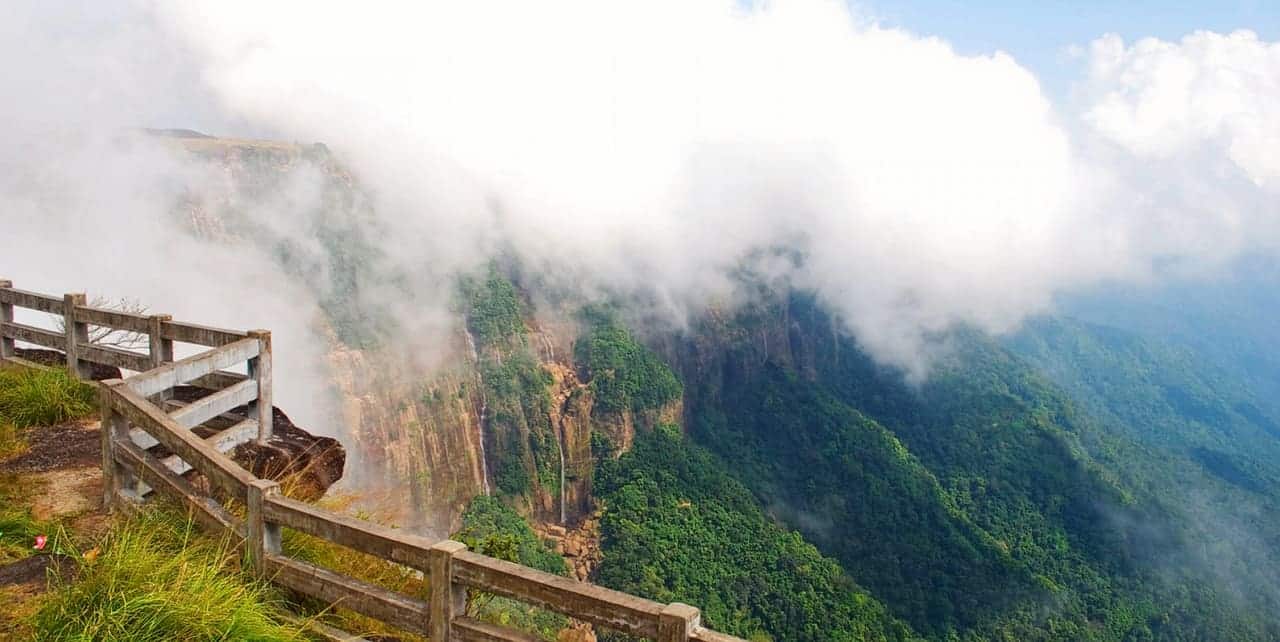 The East's Scotland is how Shillong is affectionately referred to. One of Meghalaya's most well-known tourist destinations, it is undoubtedly on everyone's agenda. Its wooded hills, comfortable atmosphere, and visual splendour, which are far from the bustling life, draw numerous visitors and trekkers from all over the world. Shillong is home to the Mylliem, Bhowal, Maharam, Mallaisohmat, Khyrim,  and Langrim tribes.
Elephant Falls, Shillong Peak, Wards Lake, Lady Hydari Park, and Don Bosco Museum are just a few of the well-known tourist destinations in Shillong.
Due to the location of Meghalaya's primary airport, Shillong is a well-known entry point. There are several activities available in Shillong to make your vacation unforgettable.
3. Nohkalikai Falls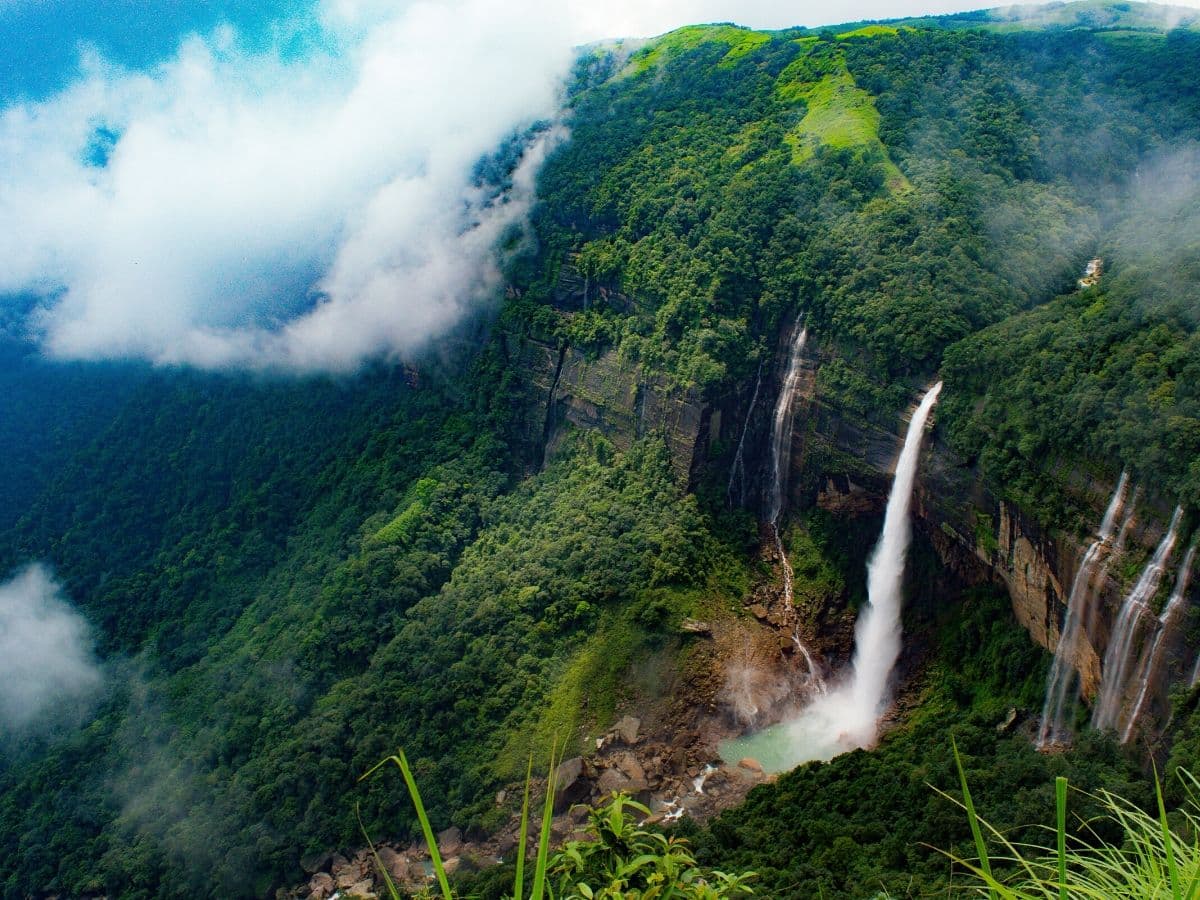 The Nohkalikai Waterfalls rank as the world's fourth most notable waterfalls. It depicts a massive and astounding heavenliness as it plunges around 335 metres from a lush cliff to the earth into a tidal lagoon. One of the best falls in the country, this waterfall is a source of pride for Meghalaya. One of the nicest sites in Meghalaya is this waterfall.
4. Elephant Falls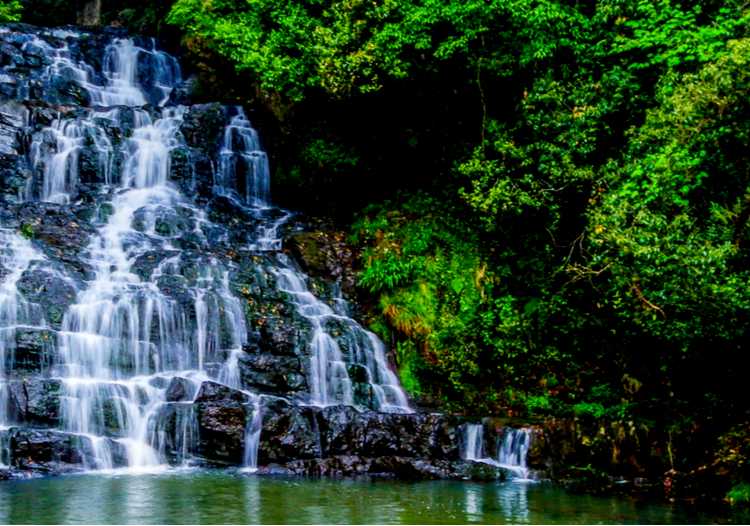 The dense forests of the evergreen Meghalaya spread all around the state. Meghalaya is also known for its amazing waterfalls. Elephant Falls is the highlight of Meghalaya. It has an elephant-like stone at its foot and hence obtained the name Elephant falls. This fall is one of the most popular falls in the Northeast and is one of the most mesmerizing places in Meghalaya.
The majestic Elephant falls is called 'Ka Kshaid Lai Patang Khohsiew' by the Khasi people. It means 'The Three Step Waterfalls' since these falls comprise three wonderful falls in progression.
5. Balpakram National Park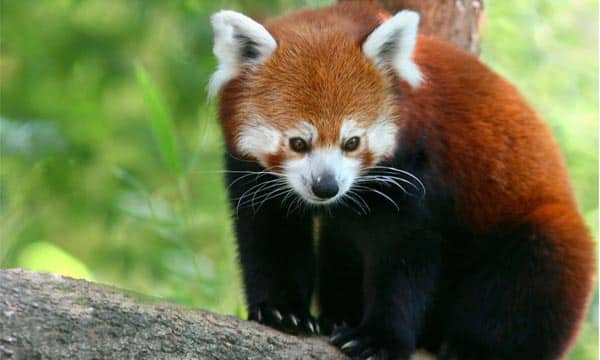 Travellers will find beauty in this National Park. Both visitors and locals refer to this location as the "Land of Spirits."
Red panda, wild buffalo, elephants, tigers, deer, leopards, wild cows, marbled cats, and other creatures may be seen in this national park. For all wildlife aficionados and photographers, it is also heaven.
One of the must-see attractions in Meghalaya is this park. This location is frequently compared by tourists to the American Grand Canyon.
6. Mawlynnong Village
The Mawlynnong village, which is in East Khasi Hilla, takes pride in being the cleanest community in Asia. It is one of Meghalaya's most exotic spots. This community welcomes you with everything essential to make your trip to Meghalaya memorable, including beautiful waterfalls and tree-root bridges, a clean atmosphere, and picturesque views. In addition to this, there are several bamboo cottages where you must spend at least one night. In Meghalaya, this hamlet is a must-see location. You'll be astonished by how tidy it is.
7. Tura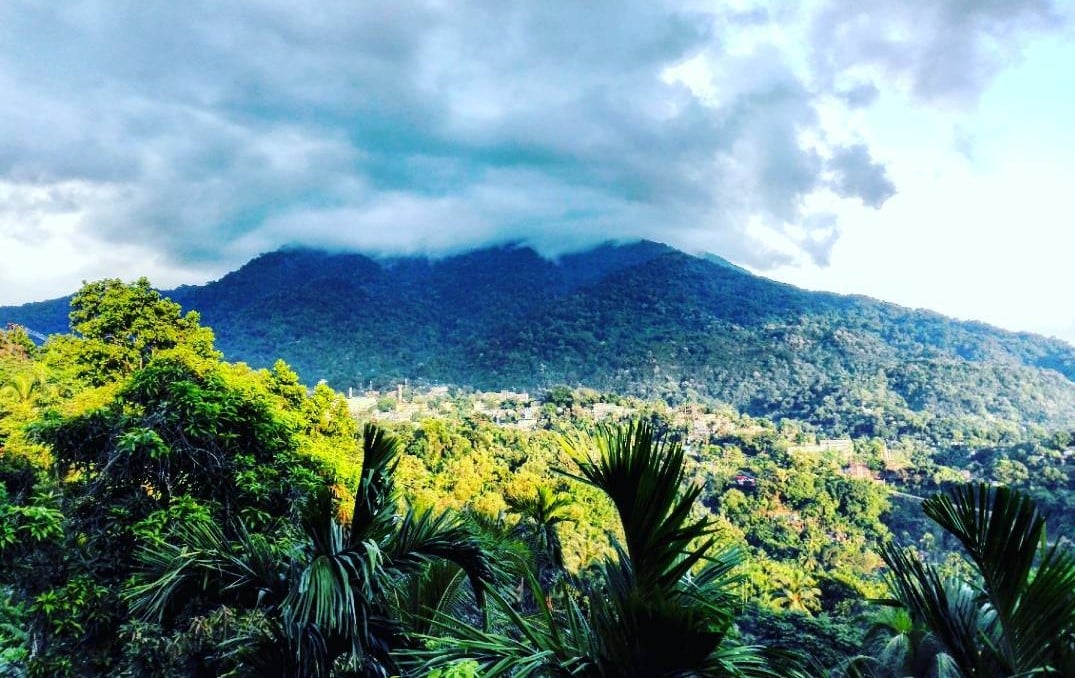 Due to its tranquil surroundings, Tura is one of Meghalaya's most popular tourist destinations. It is situated in the Garo Hills and has many lovely sites to see. For those who enjoy the outdoors and animals, Tura is heaven. It has untouched biodiversity and is engulfed in the scent of mountains and vegetation.
On your vacation to Tura, you really must see the Siju Caves and Nokrek National Park.
8. Umiam Lake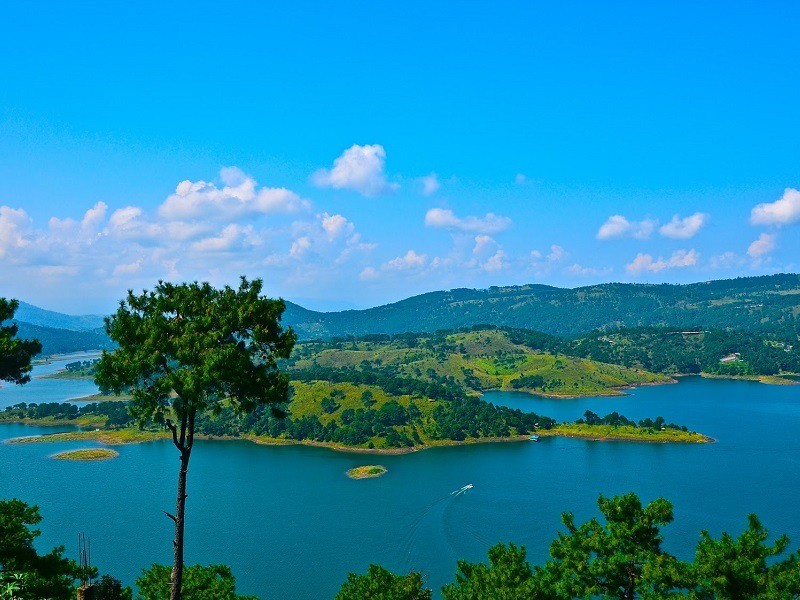 A magnificent artificial lake called Umiam Lake has located around 15 km from Shillong. After a dam was built to generate hydroelectric power, the lake was created. Nature enthusiasts will find the lovely Umiam Lake surrounded by lush East Khasi hills to be a captivating sight. It's a joy to see the sunrise at the lake with your own eyes, so don't miss it. You may enjoy drifting and various water activities, as well as a lengthy boat trip on the lake.
9. Living Root Bridge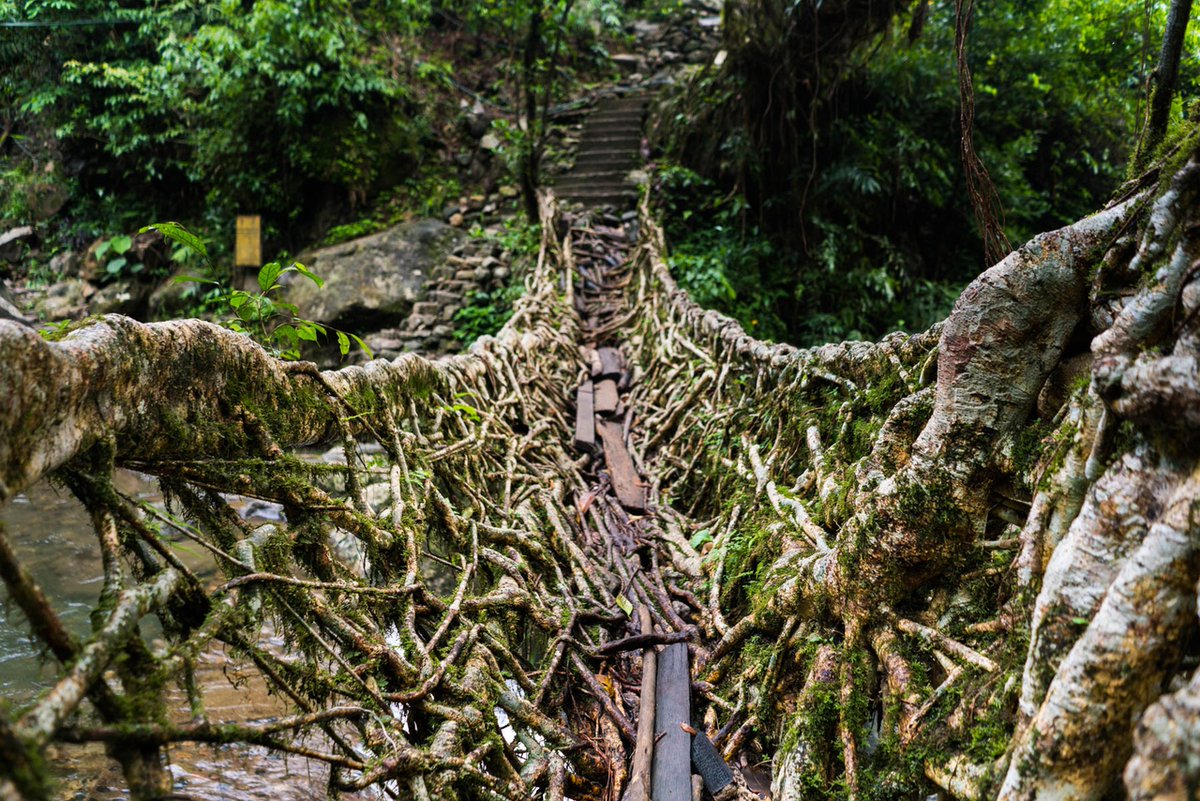 One of the most popular destinations in Meghalaya is the Living Root Bridge, a well-known bridge constructed from the roots of an Indian rubber tree. This bridge, which spans Cherrapunji, is 3 km long and 2400 ft high. The oldest natural bridge, constructed around 200 years ago, is the Living Root bridge.
Enjoy the scenery of the Umshiang river that flows beneath the bridge as you stroll along it. One of North East India's beautiful walks is this one. Do not skip visiting this Meghalayan location if you are on your honeymoon.
10. Kyllang Rock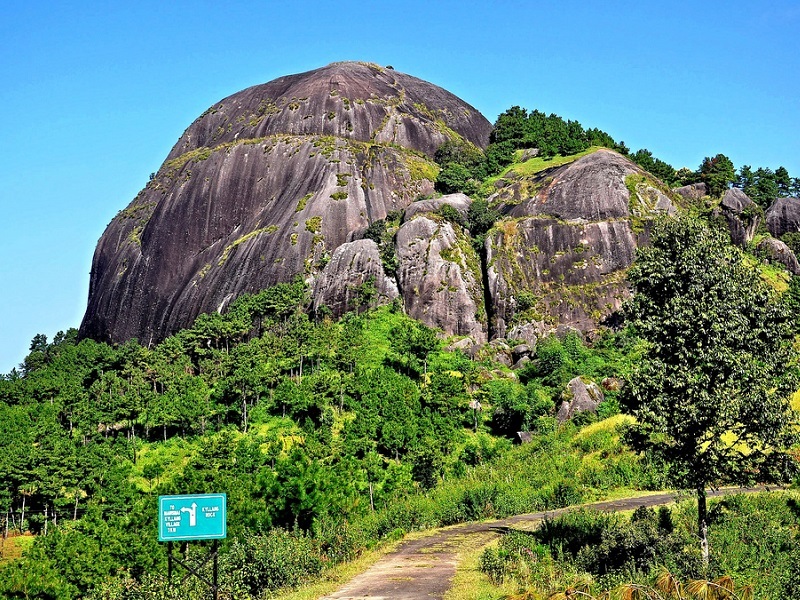 The distance between Shillong and this remarkable red stone huge rock is 78 kilometres. At 5400 feet above sea level, Kyllang Rock is located in Meghalaya's West Khasi Hills. It is a massive granite square with a dimension of around 1000 feet. You may enjoy the stunning view of the surrounding area by climbing to Kyllang Rock's highest point.
What To Eat in Meghalaya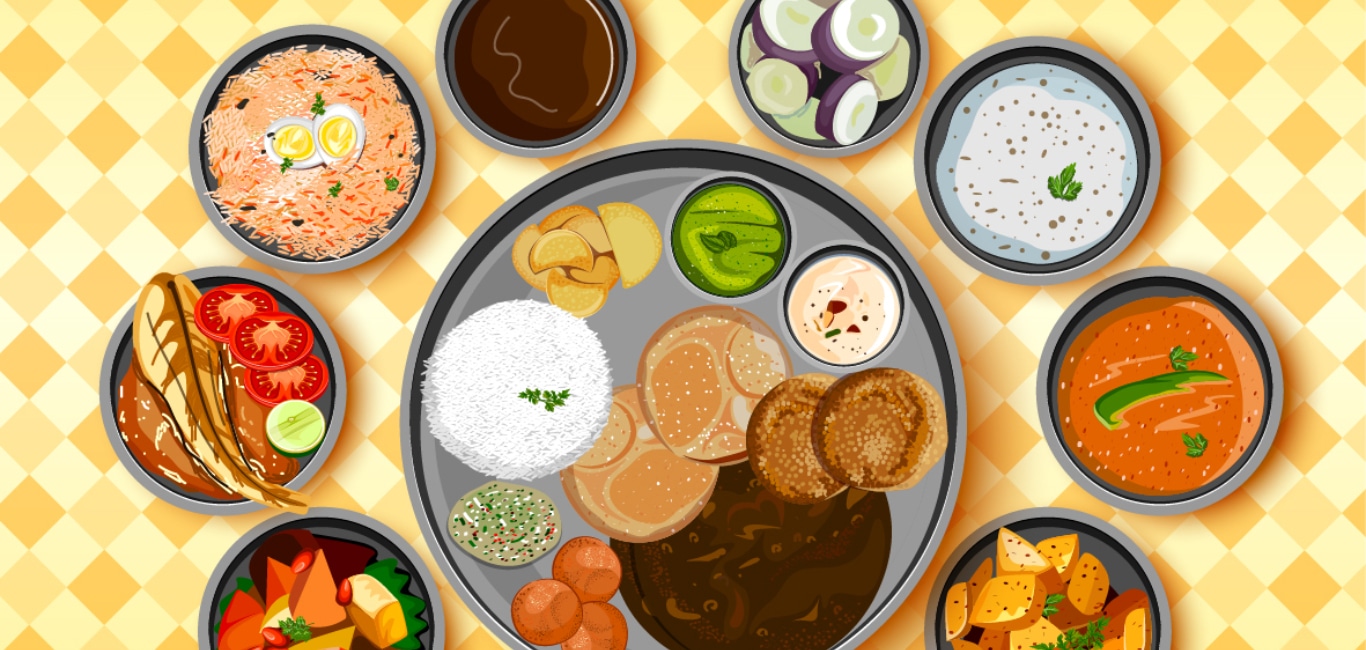 Dohneiiong
Pumaloi
Tungrymbai
Kyat
Minil Songa
Sakin Gata
Pudoh
Doh-Khlieh
Nakham Bitchi
Jadoh
Shopping in Meghalaya
Polo Bazaar.
OB Shopping Mall.
Bara Bazar/Lewduh Bazar.
Laitumkhrah Market.
Lew Sohra Bazaar.
Gokolgre Daily Market.
Dawki Market.
Hat Thymmai.
Budget for Meghalaya
Stay: INR 1500-2000 per day
Food: INR 300 per day
Travel (depends on the places and mode of travelling): 
Private taxi: Minimum INR 2000 per day to a maximum 3000 per day.
A shared jeep charges INR 500 per person to a maximum of INR 1000 per person
How Long Should A Trip Be for Meghalaya
5-7 days
How to reach Meghalaya Guide
By Air
If you want to fly above Meghalaya, you must fly to the Umroi Airport in Barapani, which is between 25 and 30 kilometres from Shillong. There are few connections from this airport to most cities. The Guwahati airport, located 125 kilometres away, is the closest big airport. Taxis are standing by to transport you to Shillong outside the Guwahati airport.
By Rail
The closest train station to Shillong is Guwahati. Shillong is 100 kilometres distant and may be reached by cab from the train station. Fortunately, the Guwahati train station has excellent connections to several important Indian towns.
By Road
Meghalaya has excellent road access to all of India's main cities. From Guwahati (also known as the Assam Trunk Road), take the NH37, then the GS road, then the NH40 till you reach Nongpoh, where you enter Meghalaya. You have a choice between using government- and privately-run buses or driving yourself.
Meghalaya Guide: Important notice for tourists
Avoid travelling without a qualified guide to remote areas.
Ask for automobiles at the hotel front desk at all times. Avoid using cabs without license plates. Sit behind the driver so that you can see him from the rear glass but he cannot see you. Only tip the driver once you've arrived at your location and are still inside the vehicle.
Tourists can employ the services of Authorized Travel Agents if their hotel or guest house does not have a help desk.
Tourists should call the Tourist Information Center of MTDC Ltd. at 0364-2226220 from 7 AM to 7 PM for guides or any other tourism-related services.
For guidance, get in touch with the Government of India's tourist office or any trusted travel company.
In case of emergency, call Police Control Room No. 100. Every hotel, guest home, and other relevant location should have this number visible.
Avoid dealing with touts and middlemen for any services.
Don't mark the luggage with your home address and phone number. Keep your address inside instead. Avoid displaying name tags in public. Remove your tag as you leave the hotel or meeting room if you are travelling on business. Keep your bags with you until it has been checked.
Maintain separate handbags for your passport, credit cards, driver's license, and other critical paperwork. As soon as you have one, put it in the hotel safe.
Have a little flashlight on hand. You never know when you'll find yourself in the dark all of a sudden.
Avoid eating anything sold by roadside sellers. I exclusively drink bottled water. Verify the package's seal and expiration date.
Be wary of fake traffic incidents. Perhaps the only goal is to catch you off guard.
Inform the front desk of your hotel or your pals of your plans. To contact them in case of emergency, save their phone numbers.
Bring recent photos of each child with you when travelling if you have children in case you become separated from them.
Never divulge any personal information, including travel plans, in public. Be wary of prying ears.
Obtain health and travel insurance for your protection.
Always have first aid materials with you.
Check the local weather by doing some research. Choose your attire accordingly.
Retain sanitation and hygiene, especially in places with delicate ecologies. Respect for regional customs and culture.
Book Your Meghalaya Backpacking Tour Here
This Meghalaya Guide is your saviour. We hope you enjoy the trip as much as we did!
If you have any other doubts or have any information that can be useful to readers, write in the comments.