From scenic hilly forested areas and cave structures to diverse forests, Northern Thailand flaunts its cool temperature and tribal propensity. The air is saturated with auspicious dates, lucky numbers, stories about the shapes of the moon, and beliefs bigger than life. 
Humbled humans here spend their lives in simplicity and peacefulness, devouring Khao Soi – the staple food of Northern Thailand, celebrating traditional festivals, indulging in creative demeanours and articulating local folk tales. Spending a few days here is a peregrination that will stir your senses and present you with authentic Thailand feels.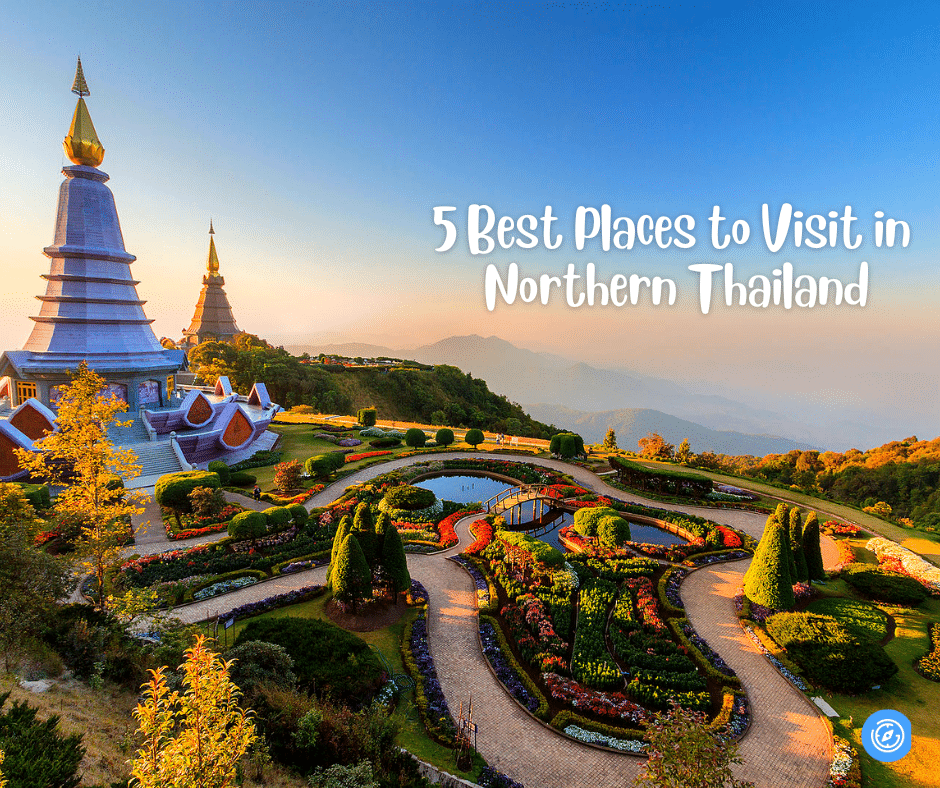 Brief 6 Days Itinerary for Northern Thailand
Day 1: Chiang Mai
Day 2: Explore Chiang Mai
Temple tour – Wat Phra Singh and Wat Chedi Luang.
Explore markets, including the famous Night Bazaar.
Head to the lively Nimmanhaemin to experience Chiang Mai's cafes and restaurants.
Day 3: Doi Inthanon National Park
Hike to the summit or simply enjoy stunning views from various viewpoints.
Day 3: Chiang Rai
Visit Wat Rong Khun (White Temple), Black House, an art museum featuring the work of the late Thai artist Thawan Duchanee.
Day 4: Golden Triangle and Mae Sai
Take a day trip to the Golden Triangle, where Thailand, Laos, and Myanmar meet.
Visit the Hall of Opium museum.
Day 5: Pai
Explore the local temples, relax in hot springs, or trek to visit the hill tribes.
Day 6
Places to Visit in Northern Thailand
Chiang Mai
Forming the heart of Lanna culture, Chiang Mai concentrates the wealth of millions of rice fields and varied ethnic groups with cosmopolitan and traditional cultures. Chiang Mai is the second largest city after Bangkok, located in the Ping River valley. The new town is culminated from carrying Sri Lankan, Lanna and Burmese styles. Decorated with wooden carvings, naga staircases, leonine and angelic guardians, and pagodas laced with gold filigree, the walls of the new town speak volumes about the history of spiritual Thailand.  
Chiang Rai
The gateway to the Golden Triangle and a well-known tourist trap in Thailand, Chaing Rai has been a prominent area for opium production. The slopes are well-decorated with natural scenery; one can even hike. The mighty Ruak and Mekong Rivers converge in this region, and the riverbanks are lined with golden Buddha statues, shrines to the royal family, and massive sculptures. One can also visit the Hall of Opium for information about opium production and the Golden Triangle region.
At the head of Chiang Rai is Luang Cave, which got into headlines for its rescue operation of a Soccer team of 13 members – 1 adult, 12 children – from the flooded chambers of the cave. 'Trapped' is a recommended web series available on Netflix for travellers looking to know about the culture of Thailand. 
Sukhothai
Rising as a dawn of happiness, Sukhothai holds many truths from history and is most famous for the ruins of the ancient city of Sukhothai. Sukhothai Historical Park has been designated as UNESCO World Heritage Site.
Doi Inthanon
Stirring the clouds till 2565 m, Doi Inthanon is the highest mountain in Thailand and known for its chiller vibes and a respite from the tropical climate of the rest of Thailand. It even gets frost in the early mornings during wintertime, and it would be a loss to visit Northern Thailand without covering Doi Inthanon.
Mae Hong Son
While in Thailand, if your heart calls for a road trip, put all your bets on Mae Hong Son. Another name for Mae Hong Son is 'The City of Three Mists', for it is covered in mist all three seasons. Include Mae Sariang, Baan Rak Thai and Pai in your road trip. 
Here are some important links for your Trip to Thailand
This article on the best places to visit Northern Thailand is your saviour. If you have any other doubts or have any information that can be useful to readers, write in the comments.