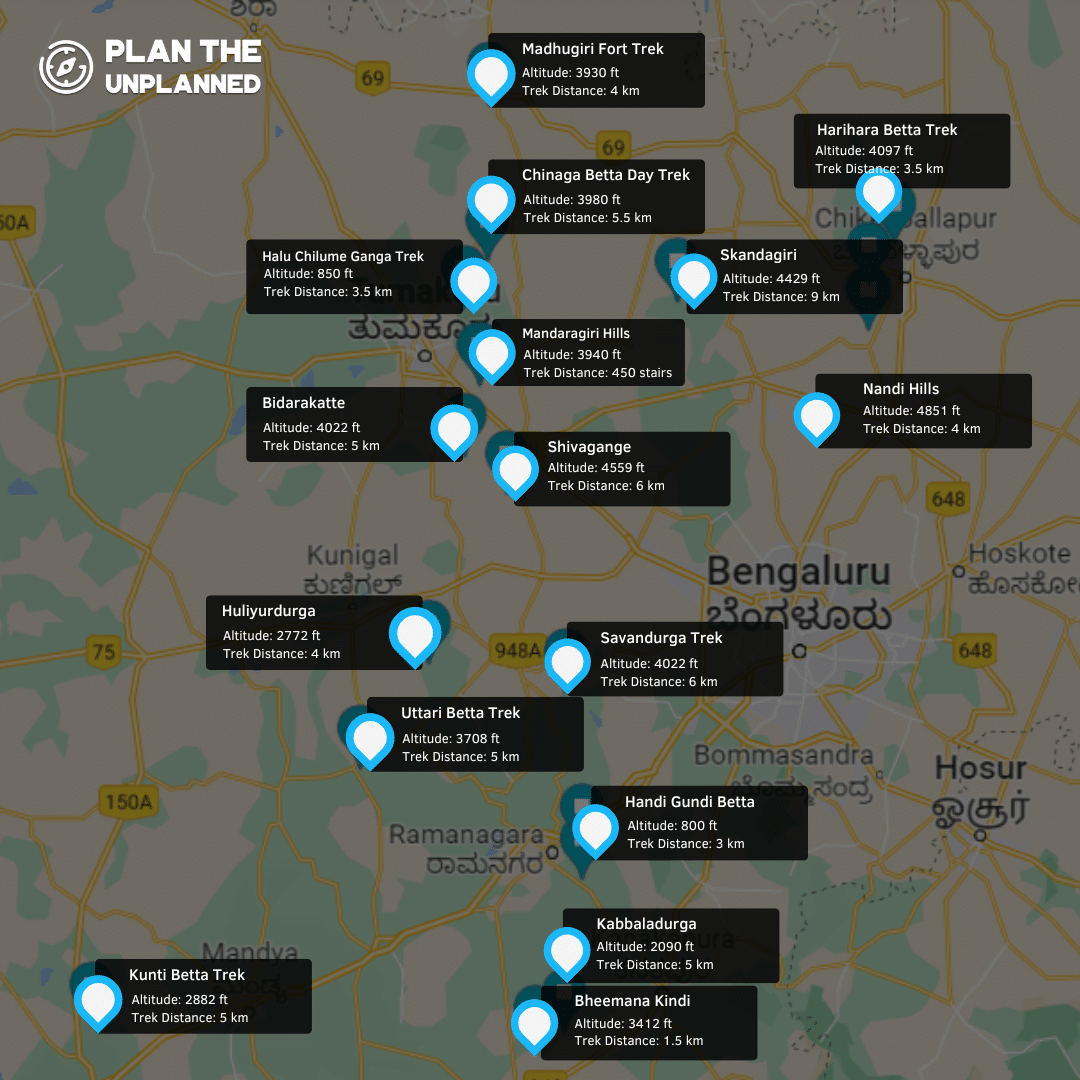 1. Anthargange Trek
Anthargange Trek Starting point: Kolar
Anthargange Trek Length: 3 km
Anthargange trek Distance from Bangalore: 80 km
Best time for the Anthargange trek: October through the end of March
How to Reach Anthargange trek base: Bangalore – Kolar – Anthargange
Antharagange literally translates to "The Ganges from the deep" and is located around seventy kilometres from Bangalore in the Kolar District of Karnataka, which lies in the Shathashrunga range. A mountain with an altitude of 1712 meters from sea level hosting rocky boulders and small caves is all set to be explored, which is wrapped with a dense plantation. Antargange is known as the Kashi of the south as it is home to the famous Sri Kashi Vishweshwara temple. The temple dedicated to Lord Shiva has a pond with continuous underground water flow from the Basava/Stone bull's mouth.
2. Bheemana Kindi trek
Bheemana Kindi trek Distance from Bengaluru: 45 km
Bheemana Kindi trek Length: 1.5 km
The Bheemana Kindi trek is Ideal for Everyone (All age Groups)
How to Reach Bheemana Kindi trek Base: Bengaluru – Kenchanahalli
Best Season for Bheemana Kindi trek: October to February
Just beside the well-known Kabbala Durga hike lies a lesser-known trail. Legends have it that while Kunti was bringing food to Bheema, she lost her way into the forest. To rescue her, Bheema hit the topmost cliff with his mace and paved an entry through the arch for his mother. However, Geologists believe the arch was formed due to weathering and erosion. Truth, mythological and historical apart, the panoramic enlightenment is what brings offbeat onlookers to this hike. It is one of the smallest and nearest hikes from Bengaluru that gives the same pleasure as others. Although the vicinity brightens up in monsoon, we do not recommend hiking Bheemana Kindi because the rocks become slippery. 
3. Bidarakatte trek
Bidarakatte trek Distance from Bengaluru: 65 km
Bidarakatte Trek Length: 5 km (both ways)
Bidarakatte trek is ideal for Everyone (All age Groups)
How to Reach Bidarakatte: Bengaluru – Ramanagara – Savanadurga state forest – Bidarakatte
Best time to visit Bidarakatte: All year round/Monsoons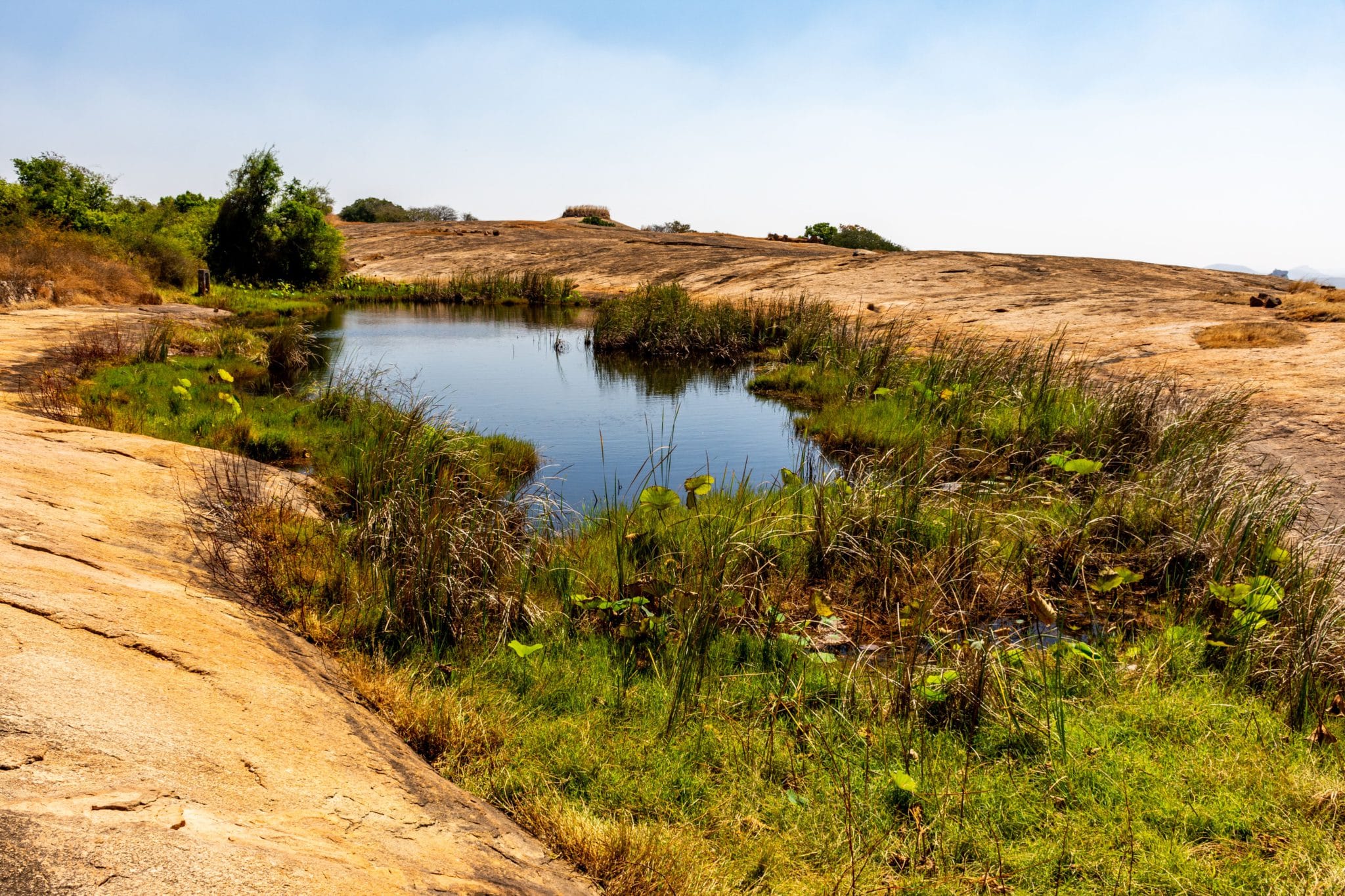 A lesser-known weekend trekking destination from Bangalore, the Bidarakatte trek is perfect for beginners. The hike offers the perfect weekend escapade from the city for seasoned trekkers. With the Savnadurga hills in the backdrop, the Bidarakatte trek starts from the Kempegowda tree park, following a gradual ascent offering lush green vistas during the monsoons. A water pond situated here also makes for a great point of attraction for the weary trekker.
4. Channarayana Durga Trek
Channarayana Durga Trek Length: 5 km (both ways)
The Channarayana Durga trek is ideal for Everyone (All age Groups)
Best time to visit Channarayana Durga: September to December
How to Reach Channarayana Durga trek base: Bengaluru – Madhugiri – Channarayana Durga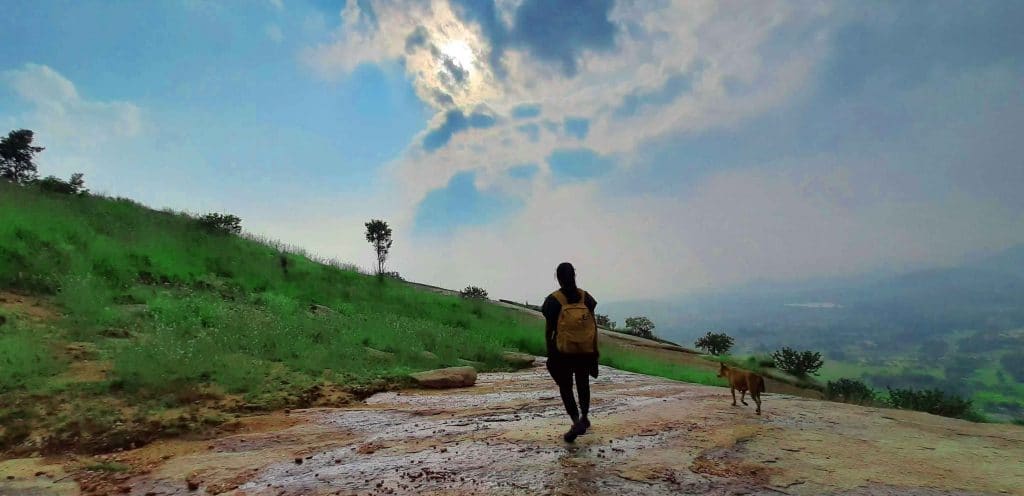 A perfect weekend escapade for history buffs, the Channarayana Durga fort dates back to the 17th century and has laid witness to the rise and fall of several kingdoms and rulers over the centuries. The entire fort is divided into multiple layers and sections. One can see the brilliant labour that went into designing the structure of this fort built in the 16th century. You will get the thrill of climbing the Granite Rock.
Book Channarayana Durga Trek Here
5. Chinaga Betta Day Trek 
Chinaga Betta Trek Distance from Bengaluru: 80 km
Chinaga Betta Trek Length: 5.5 km (both ways)
Chinaga betta Trail type: Rocky terrain
Chinaga Betta Trek is Ideal for Everyone (All age Groups)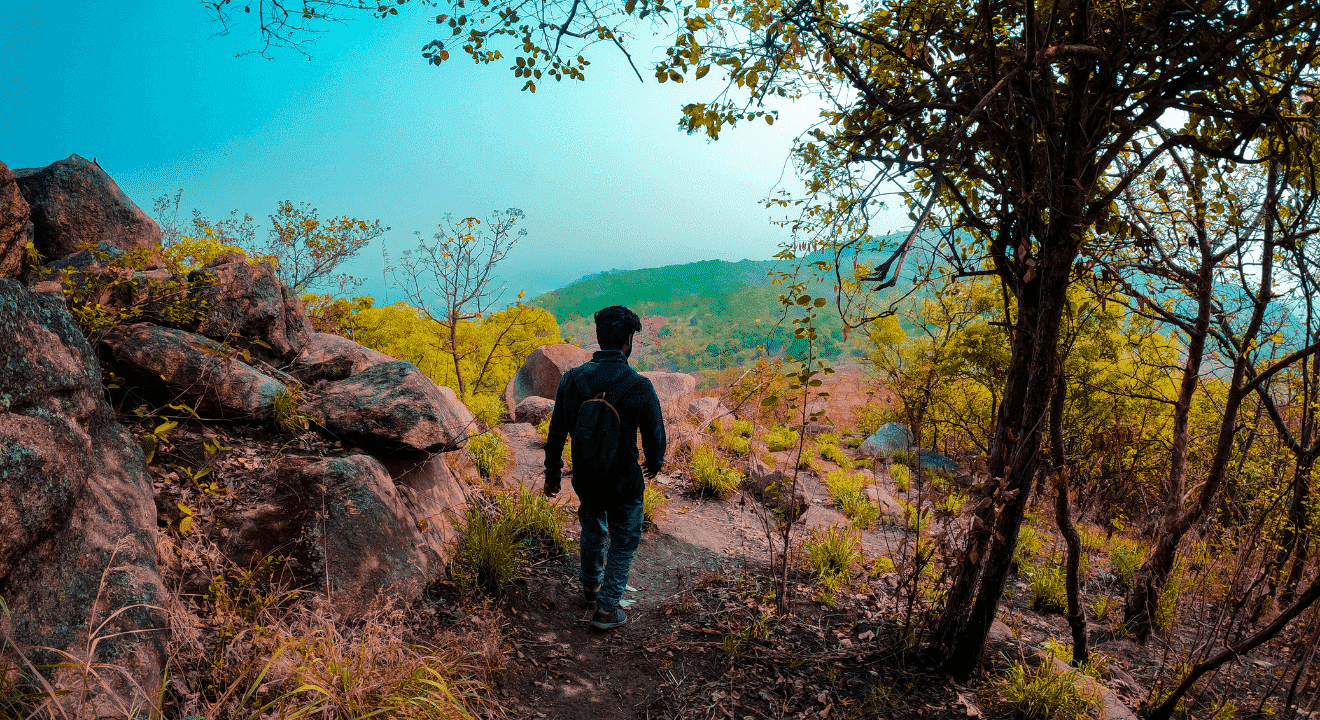 In the vicinity of Tumkur district lies heaven for nature lovers: Chinaga Betta trek. The easy hike, the soothing climate of Bengaluru and the beautiful scenery will make your heart groove. The Chinaga Betta trek starts from Torana Anjaneya temple and ends at Sri Lakshmi Ranganatha temple.  
6. Halu Chilume Ganga Trek
Halu Chilume Ganga Trek Highest Altitude: 3,310 ft
Halu Chilume Ganga Trek Starting Point: Mallasandra
Halu Chilume Ganga Trek Length: 3.5 km
Halu Chilume Ganga trek Distance from Bangalore: 60 km
Switching from the thorn-filled route, unexplored nooks, rocky sections, boulders and forest trails, the Halu Chilume Ganga trek takes a hiker on a journey of Karnataka. All around the trail, you will find bunches of bells hung onto rocks, the reason for which is unknown. 
 The summit offers views of Makalidurga Hill and Gundamagere Lake at the top. The locals of the area frequent it for the temple in which an idol is carved on a rock. In addition, a special pooja is organised every Monday.
7. Handi Gundi Betta
Handi Gundi Betta Highest Altitude: 800 ft
Handi Gundi Betta Trek Starting Point: Basavanapura, Ramanagara
Handi Gundi Betta Trek Length: 3 km (both ways)
Handi Gundi Betta Distance from Bangalore: 50 km
To the offside of Bengaluru, near Ramnagara, lies a trek sheerly highlighting natural beauty. Handi Gundi betta is an easy walk amidst muddy trails, farmlands, rocks, bushes and vegetation. You will have to obtain permission from the Forest Department. We do not recommend trekking in monsoon as the trail gets slippery.
8. Harihara Betta Trek
Harihara Betta Highest Altitude: 3,456 ft
Harihara Betta Trek Starting Point: Kavaranahalli/Hariharapura
Harihara Betta Trek Length: 3.5 km (both ways)
Harihara Betta Distance from Bangalore: 65 km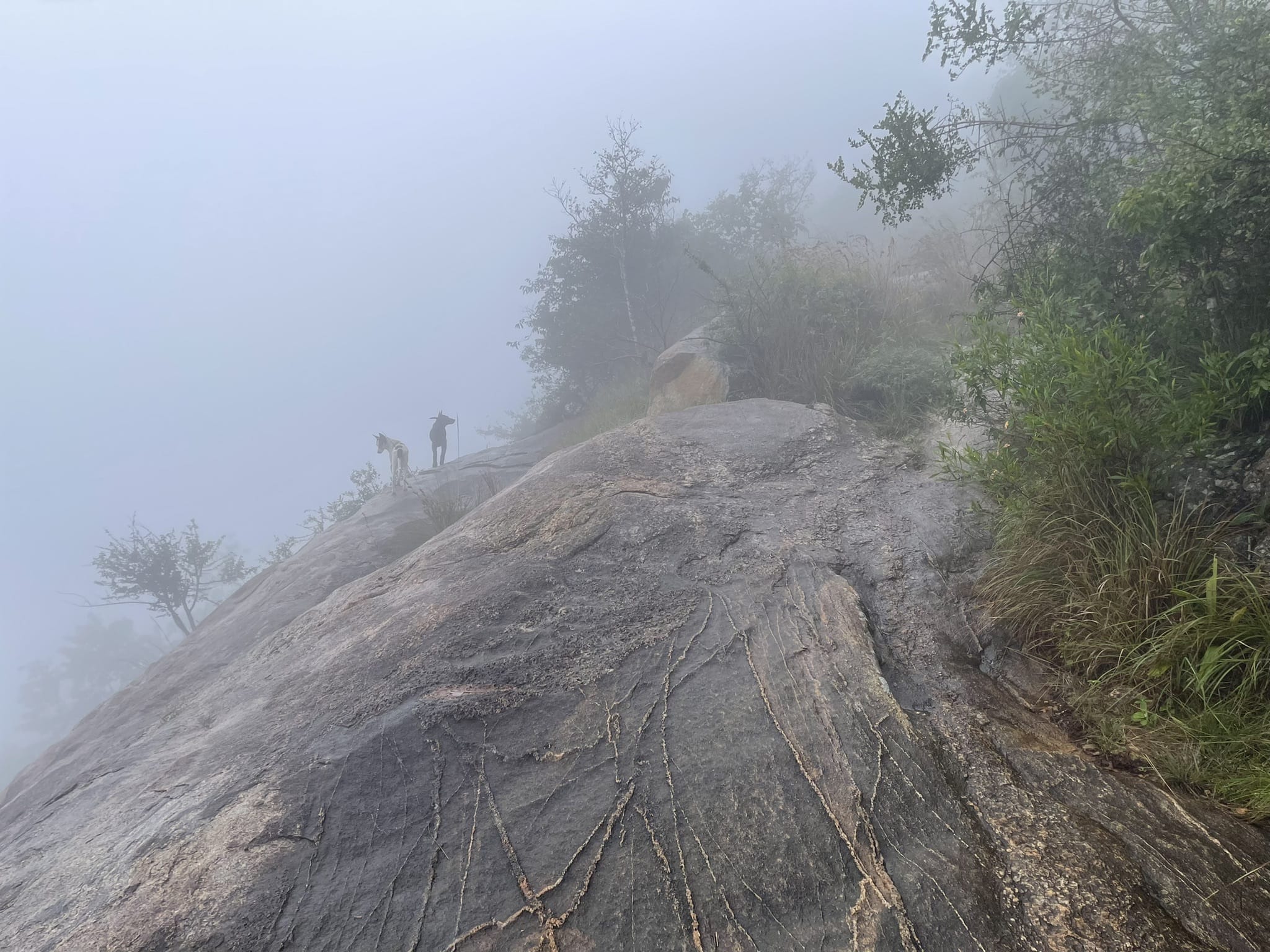 Harihara Betta trek is situated near Chikkaballapura, just right off the Bengaluru-Hyderabad highway. The trek leads to an isolated temple, cornered nooks, a flatland and stunning views of Nandi Hills and Skandagiri. Harihara Betta trek is also known as the Kaurava Kunda trek and is ideal for beginners.
9. Huliyurdurga Trek
Huliyurdurga Highest Altitude: 2,772 ft
Huliyurdurga Trek Starting Point: Huliyurdurga
Huliyurdurga Trek Length: 4 km (both ways)
Huliyurdurga Distance from Bangalore: 97 km
One of the Navdurga treks, the Huliyurdurga trek is as grand as its history. 'Huli' resonates with Tiger, and 'Durga' is Fort. Legends say that tigers used to roam and rule this area during the 16th century. Walking past the Huliyurdurga, you will come across the fortified hill about 845 metres above sea level which is said to have been erected by Kempe Gowda, founder of Bengaluru.
10. Kabbaladurga trek
Kabbaladurga trek Distance from Bengaluru: 80 km
Kabbaladurga Trek Length: 6 km (both ways)
The Kabbaladurga trek is ideal for Everyone (All age Groups)
How to Reach Kabbaladurga: Bengaluru – Kanakapura – Kabbaladurga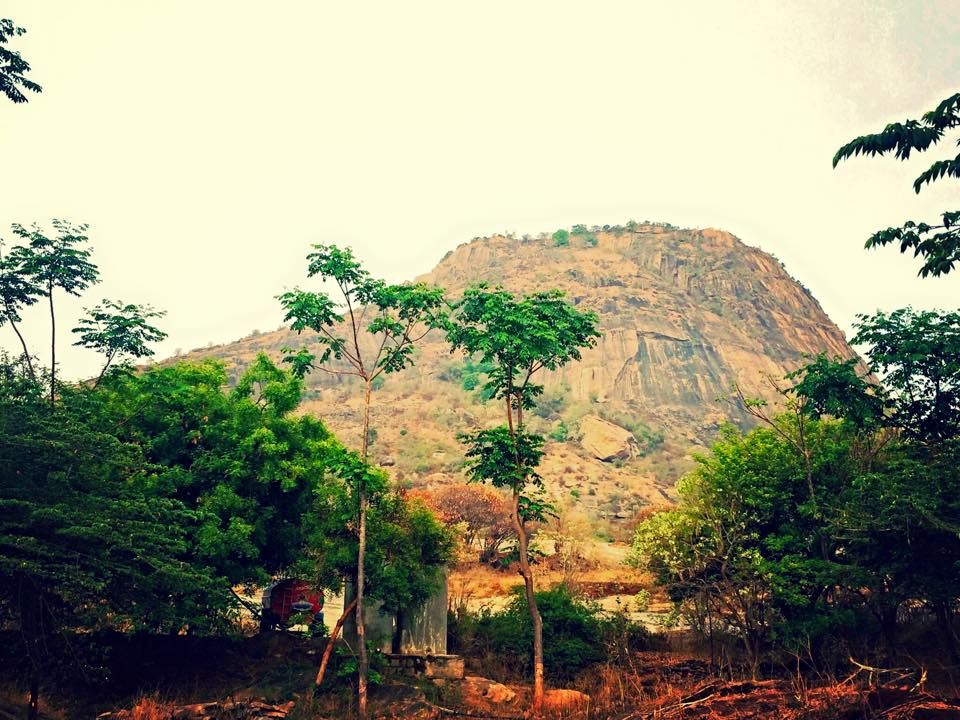 Kabbaladurga is a small hillock. The trail is well-marked and passes through rocky terrain, dense vegetation and steep inclines. Once you reach the top, you will be rewarded with breathtaking views of the surrounding landscape, including the Arkavathi River and the nearby hills. There is also a small temple dedicated to Goddess Kabbalamma at the top. 
11. Kunagalu Betta Trek
Kunagalu Betta Highest Altitude: 2788 ft
Kunagalu Betta Trek Starting Point: Kunagalu Village, Ramanagara
Kunagalu Betta Trek Length: 4.5 km (both ways)
Kunagalu Betta Distance from Bangalore: 57 km
Best time to do the Kunagalu Betta trek: February-July
Kunagalu betta trek is one of the contributions to Ramanagara's bounty. The trek has a rock structure that resembles the face of a puppy. The hike gets its name from the local deity Koonamma. You cross cave, loose boulder section, to finally reach the top. 
12. Kunti Betta Trek
Kunti Betta Distance from Bengaluru: 120 km
Kunti Betta Trek Length: 5 km (both ways)
The Kunti Betta trek is Ideal for Everyone (All age Groups)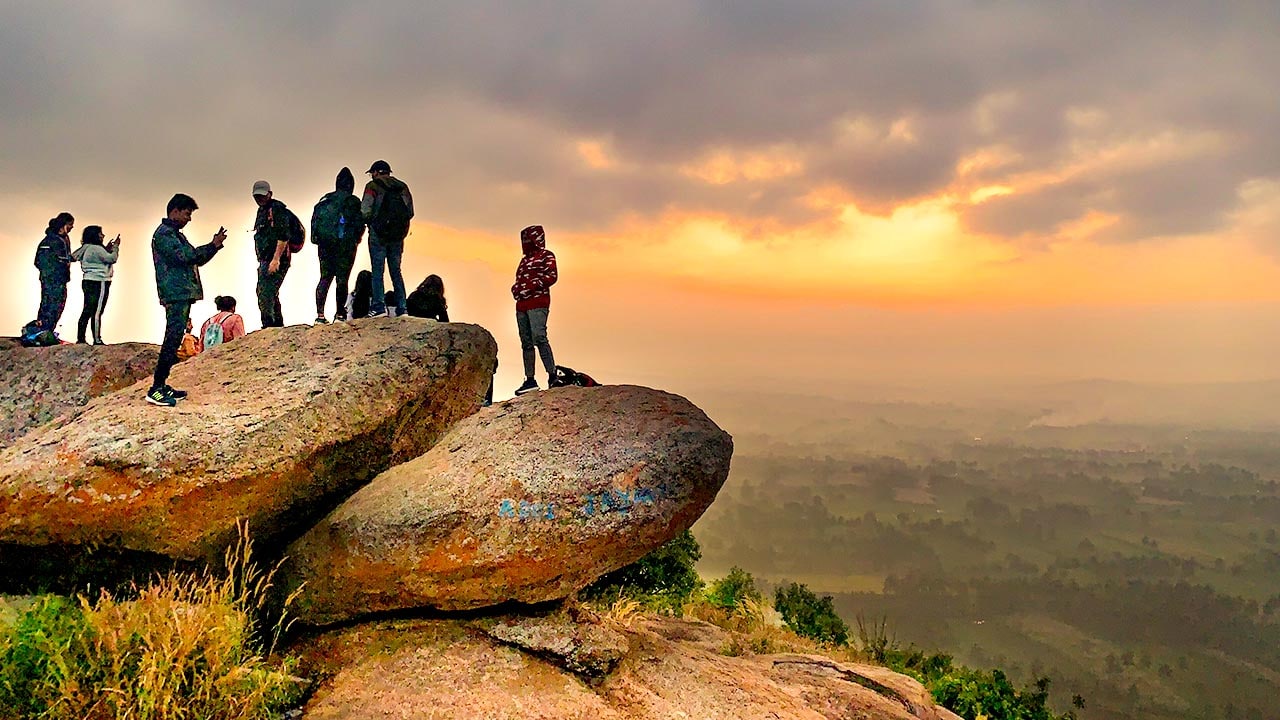 Coming out southwest of the city environment of Bengaluru, you will enter Pandavapura, the town where Pandavas ended their exile. Kunti Betta is an easy climb with its steep rock faces and a stone pillar on the summit. The presence of Thonnur Lake nearby gives trekkers an interesting and rejuvenating element.
13. Madhugiri Fort Trek
Madhugiri Fort Distance from Bengaluru: 105 km
Madhugiri Trek Length: 4 km (both ways)
Madhugiri trek is ideal for Everyone (All age Groups)
Best Season to do the Madhugiri trek: September to February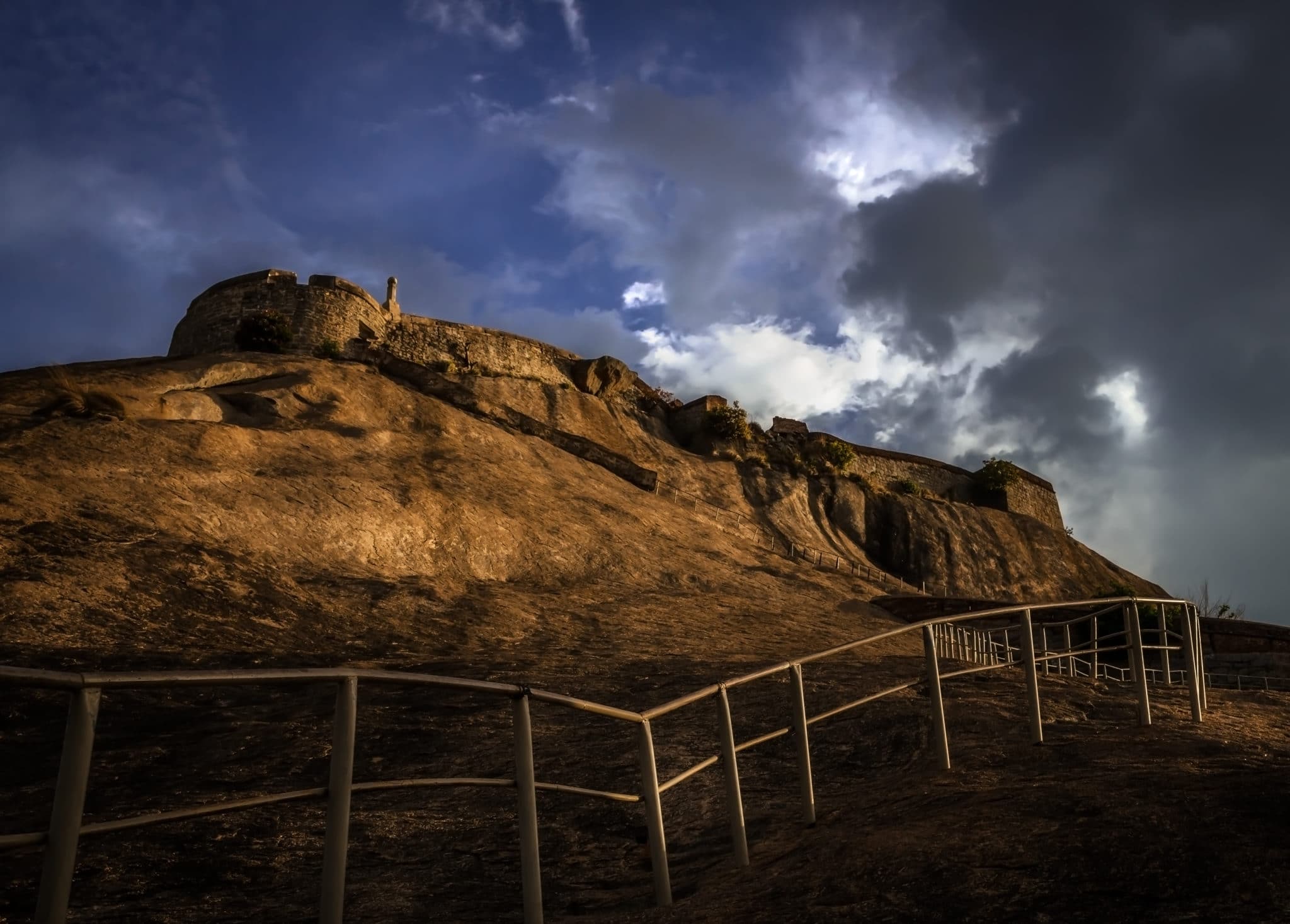 Madhugiri is the second largest monolith in Asia after Savandurga. It derives its name from Honeybee colonies that used to be prevalent atop the fortress during ancient times. Originally built in 1678 by Raja Heera Gowda of the Ganga Dynasty, various additions were made to the fortress later on by Hyder Ali, the then de facto Sultan of Mysore. 
It's a pleasant and challenging climb to the top as it involves crossing an almost vertical passage with few rock sections. The scenery, interlaced with greenery and open air, calls nature lovers to its bounty.
14. Makalidurga Trek
Makalidurga Trek Distance from Bengaluru: 64 km
Makalidurga Trek Trek Length: 5 km
Makalidurga Trek is Ideal for Everyone (All age Groups)
How to Reach Makalidurga Trek: Bengaluru – Makalidurga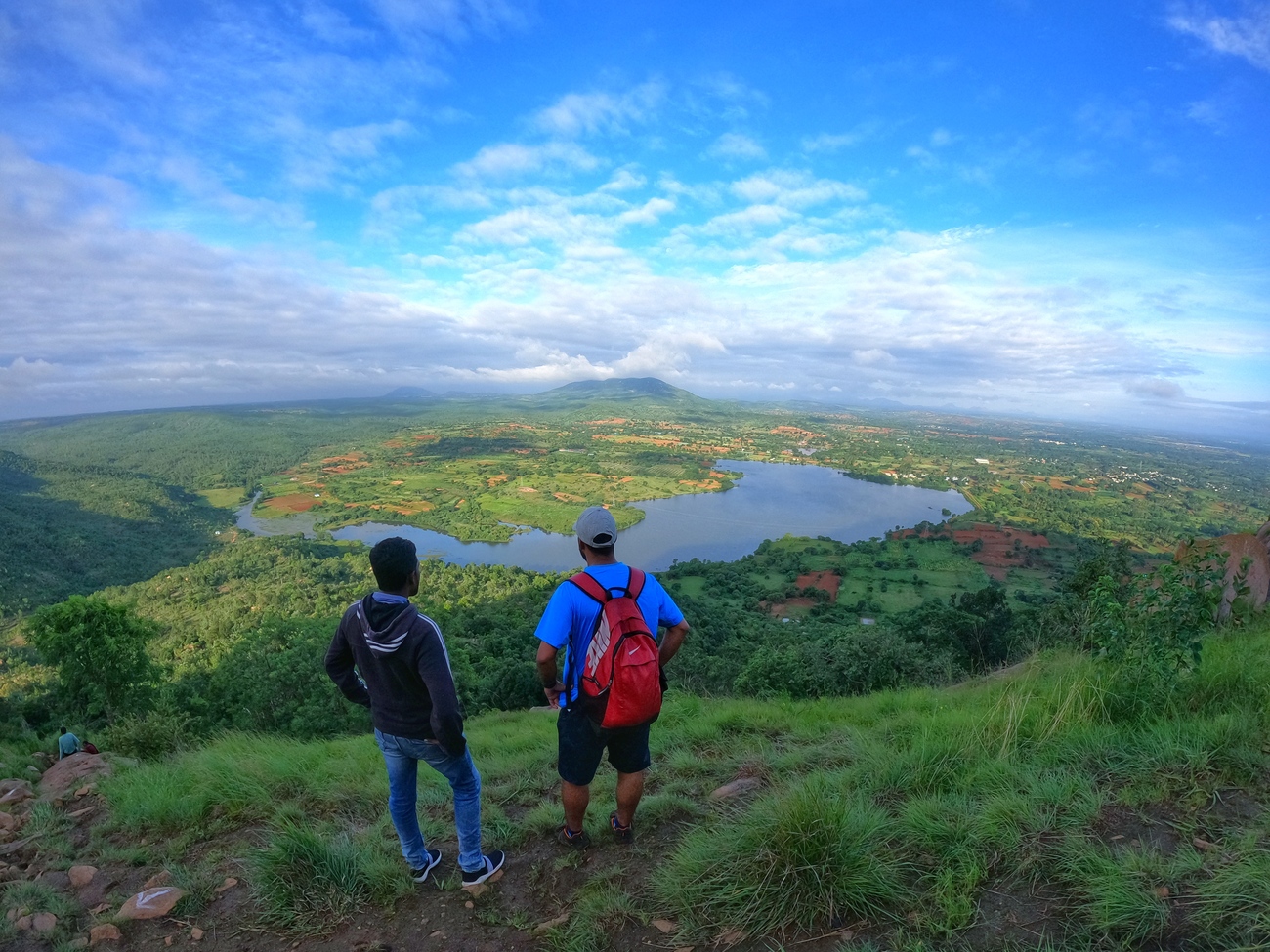 Makalidurga is a trek to one of the most enchanting places, as this hill has twinkling skies, a rich history, and a railway line running through the lush greenery of the hills. It is located only 60 kilometers away from Bangalore and 10 kilometers away from the town of Doddaballapur. It's because of this that a number of people, ranging from travel junkies to adventure lovers as well as those who adore nature, make their way to this stunning hill every weekend.
15. Mandaragiri Hills
Mandarigiri Hills Distance from Bengaluru: 60 km
Mandarigiri Hills Trek Length: 450 staircase
Mandarigiri Hills is Ideal for Everyone (All age Groups)
How to Reach Mandarigiri Hills: Bengaluru – Mandaragiri
When Mandaragiri Hills call, it is mostly for a picturesque ride rather than a hike. But the views from the top, after climbing some 100 stairs, are breathtaking. With Mydala Lake on one side and the uniquely quaint Guru Mandir Jain temple on the other, this hike can be reserved for a peaceful day. 
16. Minchikall Betta trek
Minchikall Betta Highest Altitude: 3340 ft
Minchikall Betta Trek Starting Point: Masanipalya
Minchikall Betta Trek Duration: 3 – 3.5 hours
Minchikall Betta Distance from Bangalore: 85 km
For a walk down history lane, to the time of Hyder Ali, head to Minchikall Betta, which is a perfect hike for beginners. Before this was a three-staged fortified hill. The ruins of the fort wall, along with dilapidated houses, were shelters for soldiers and workers during the king's era.
17. Mutturayaswamy betta Trek
Mutturayaswamy Betta Highest Altitude: 3018 ft
Mutturayaswamy Betta Trek Starting Point: Muthurayaswamy Temple, Ramanagara
Mutturayaswamy Betta Trek Length: 3.5 km
Mutturayaswamy Betta Distance from Bangalore: 60 km
How to reach Mutturayaswamy Betta: Bengaluru -> Mysore highway -> Bidadi -> Ramnagara
The Muthurayaswamy Betta Trek is an offbeat hidden treasure for nature lovers. The trek is on a barren hillock except for the sparse vegetation on the rocks. The summit gives a bird-eye view of Ramnagara town and breathtaking views of the surroundings. If you go in the right season, you will find a hidden waterfall. The waterfall lies hidden from the normal trail, but if you observe keenly, you will hear the faint sound of water. There is a small lake nearby.
18. Nandi Hills 
Nandi Hills Distance from Bengaluru: 65 km

Nandi Hills Trek Length: 3 km (both ways)
Nandi Hills is ideal for Everyone (All age Groups)
Best Time to Visit Nandi Hills: Early morning
Permit Fees for Nandi Hills: INR 10  
The one place that even non-Bangaloreans must have heard about is the famous Nandi Hills. It is one of the most essential weekend getaways from Bangalore. An early chilly and foggy morning bike/car ride to Nandi Hills to watch the sunrise is an experience that one visiting Bangalore must have! It's an easy 'Do it Yourself' hike. The mesmerising red, purple, and yellow hues of the rising sun with the cool breeze will captivate you.
19. Narayangiri trek
Narayangiri trek Distance from Bengaluru: 76 km
Narayangiri Trek Length: 6 km (both ways)
Narayangiri trek is Ideal for Everyone (All age Groups)
How to Reach Narayangiri trek base: Bengaluru – Ramnagar – Jalamangala village – Narayangiri trek base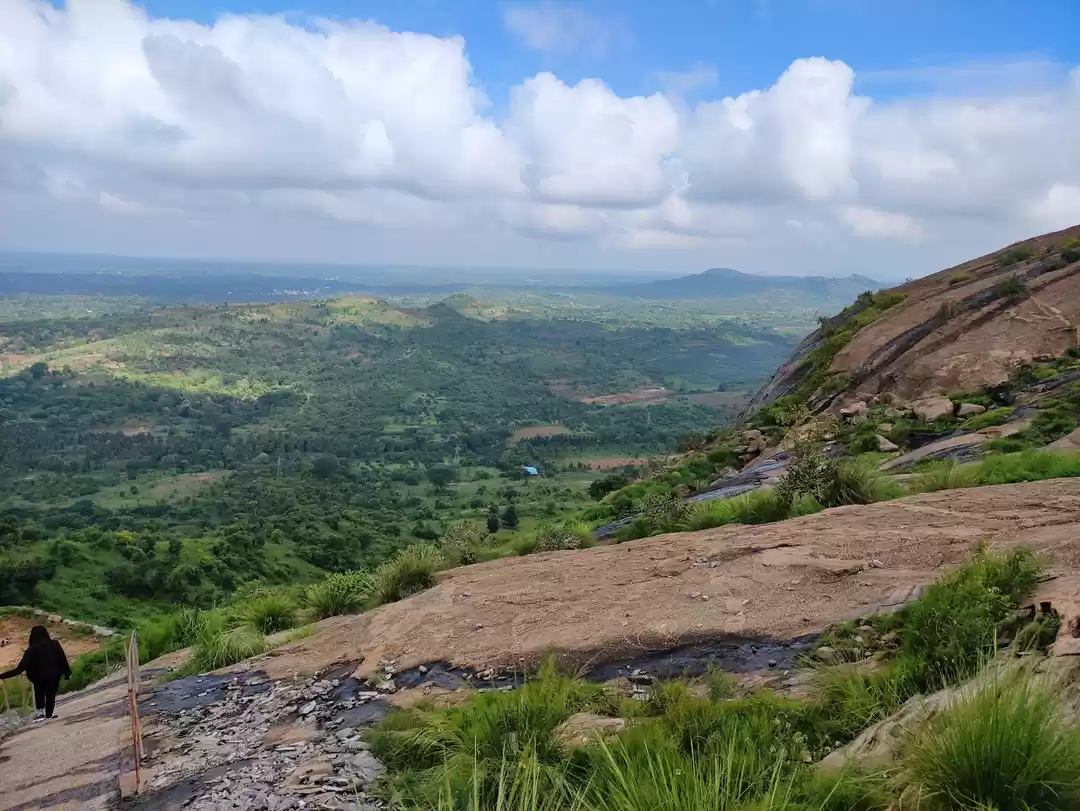 Oz location for team outings in Jalamangala village, Narayangiri, offers options for water activities. Plus, a vast number of mystery caves make up for a thrilling and surprising hike. The summit opens with Laxmi Narayana temple, which remains open only on weekends. Plus, the encircling remains of the fort give a historic outlook to the trek. 
20. Savandurga Trek
Savandurga Trek Distance: 6 km (both ways)
Savandurga Trek Duration: 5 hours
Bangalore to Savandurga Hills Distance: 50 km
Best time to visit Savandurga Hills: September to February
How to Reach Savandurga Hills from Bangalore: Bangalore –> Magadi Road –> Savandurga Hills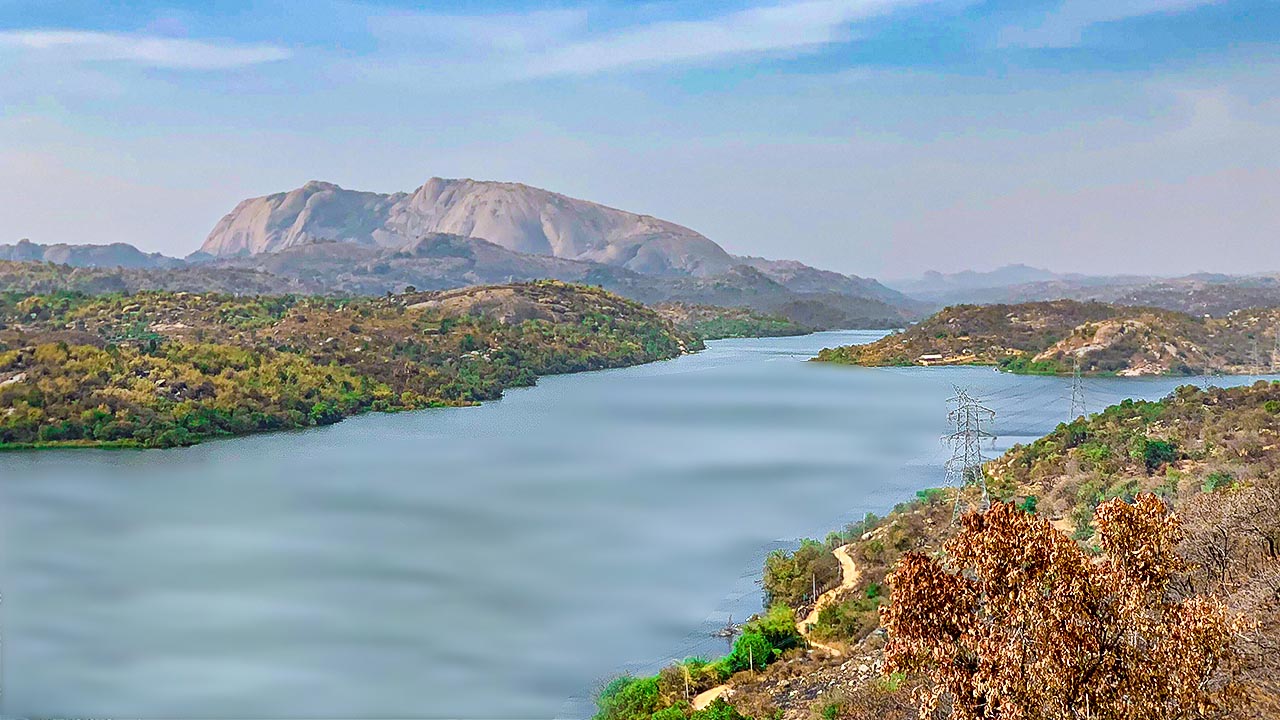 While trekking on one of the largest monoliths in Asia, you will get amazing views of Magadi, Manchanabele and Thippagondanahalli reservoirs and the Arkavathi River. It is also called 'Savinadurga' or the Fort of Death because of the steep incline and defence structure. Savandurga has two temples at the base: Savandi Veerabhadra Swamy temple and Sree Lakshmi Narasimhaswamy temple. 
21. Shivagange Trek
Shivagange Trek Distance from Bengaluru:  50 km from Bangalore
Shivagange Trek Distance: 6 km (to & fro)
Bangalore to Shivagange Hills Distance: 50 km
Best time to visit Shivagange Hills: October- March
How to Reach Shivagange from Bangalore: Bengaluru –> Nelamangala –> Dobbaspet –> Shivagange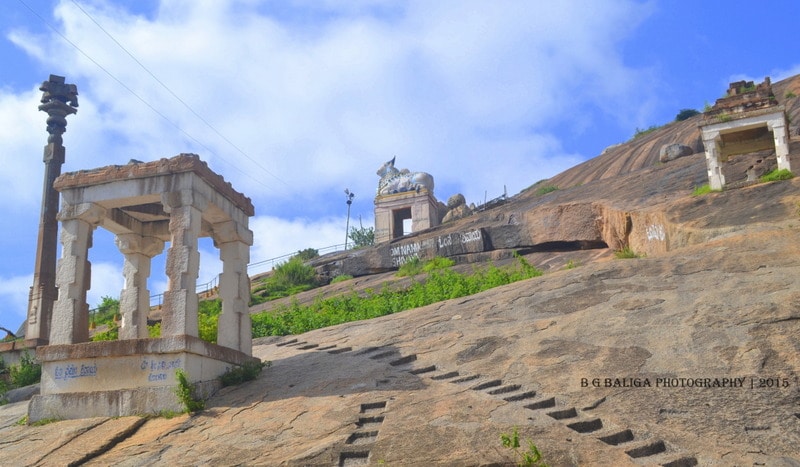 Named after its unique shape of that of a Shiva Linga along with a local spring flowing through the area called 'Ganga', the Shivagange Hills is a prominent Hindu pilgrimage centre located near Dobbaspet. With man-made steps carved into the rocks and supporting rails at the most tricky places, the Shivagange trek requires more stamina than skill. 
However, the monkey menace here is no laughing matter. It is advisable to avoid carrying eatables and instead opt for the numerous shops available along the trail for water and snacks. The Shivagange summit is marked by a narrow area housing a Nandi statue overlooking the panoramic views below.
Shivagange area is a popular rock-climbing spot in Karnataka. A hike to this Shivagange hillock will be a thrilling experience.
22. Skandagiri Trek
Skandagiri Distance from Bengaluru: 60 km
Skandagiri Trek Length: 9 km (both ways)
Skandagiri trek is ideal for Everyone (All age Groups)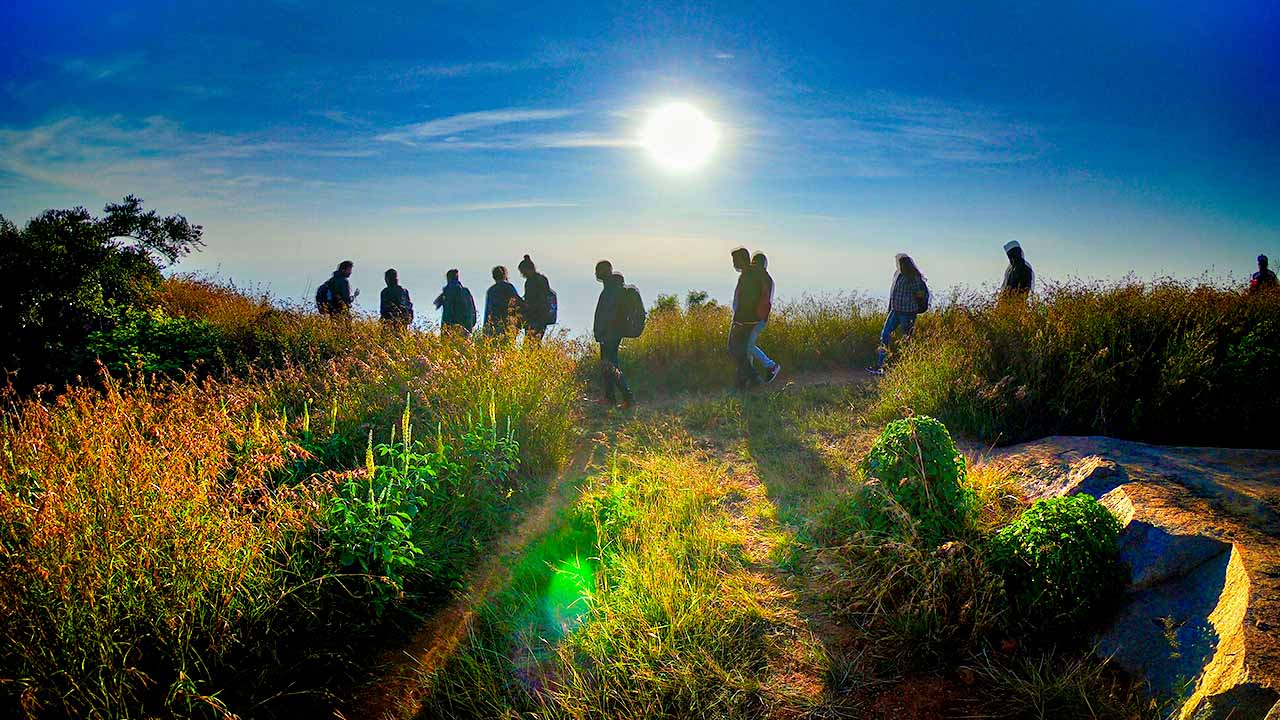 After the imposition of restrictions, Skandagiri is one of the few sunrise treks near Bengaluru. Tipu Sultan built this fortress, and it has been left deserted since 1791 after he lost the Anglo-Mysore War. Since then, the fortress has been weathered away, and now only ruins remain. However, the beauty of the ancient Skandagiri Hills has increased over time. It gives novices and experiences a fit of adventure therapy. 
23. Uttari Betta Trek
Uttari Betta Distance from Bengaluru: 90 km
Uttari Betta Trek Length: 5 km (both ways)
Uttari Betta trek is Ideal for Everyone (All age Groups)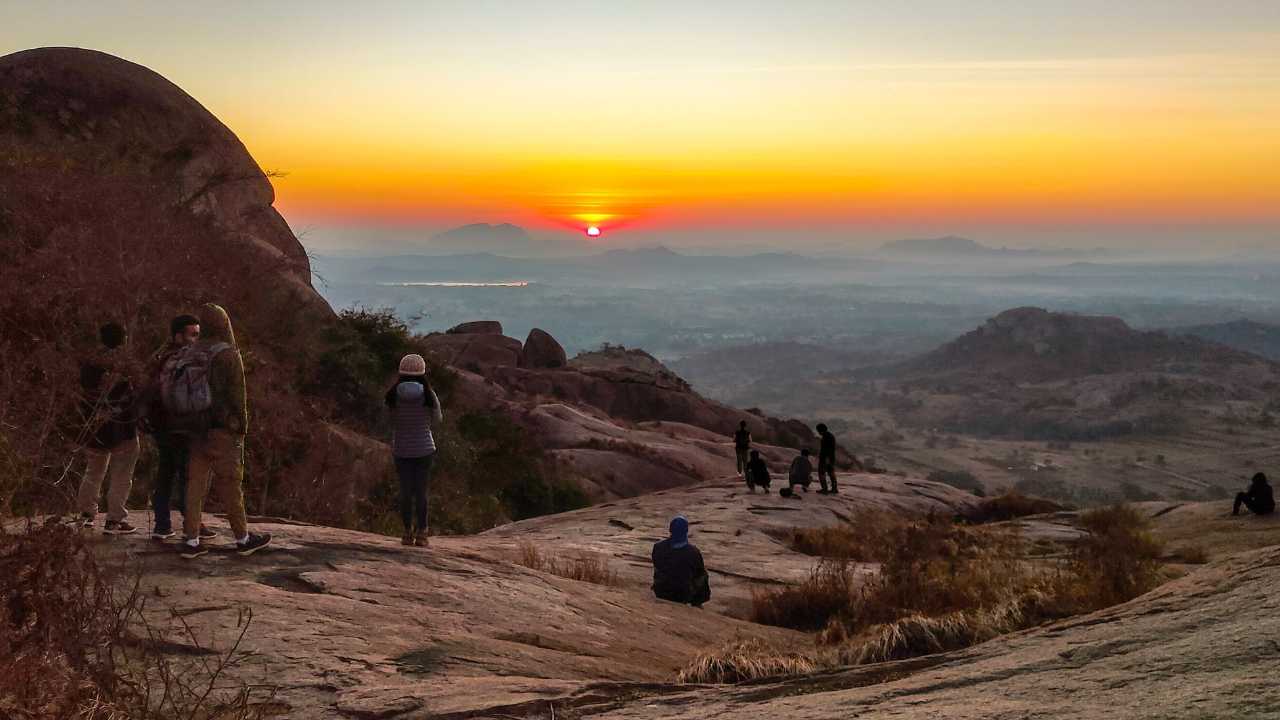 Located 15 km from Kunigal town, Uttari Betta trek is a fortified hill known as Hutridurga. Scenic views thrill you with the historic fort walls and intricate stone steps. This hill fort is said to have eight gateways from the foot to the summit and several other outer gates. The trek summit delivers the temple of Sankareshwar, where you will get extensive views of landscapes dotted by many hills.
There are nine fort treks near Bangalore which go by name Navdurga Treks near Bangalore. Here is the map: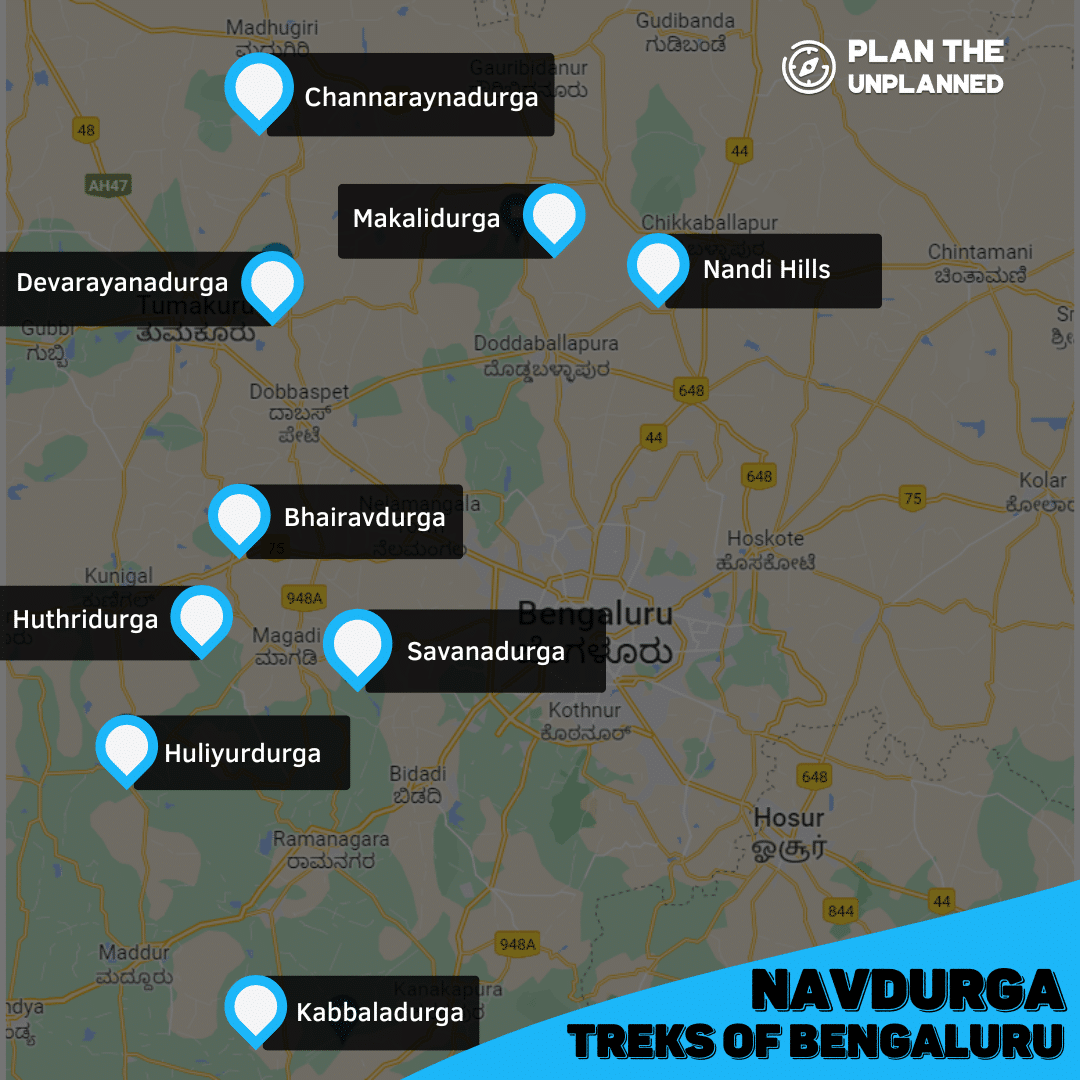 If you stay in or near Bengaluru, consider the list of one-day treks near Bangalore is not exhausted. When you are with us, you get unlimited options in South India. Go through other blogs for your travel plans:
Do mention in comments any additional one day treks/hikes near Bangalore.