1. Anthargange Trek
Anthargange Trek Starting point: Kolar
Anthargange Trek Length: 3 km
Anthargange trek Distance from Bangalore: 80 km
Best time for the Anthargange trek: October through the end of March
How to Reach Anthargange trek base: Bangalore – Kolar – Anthargange
Antharagange literally translates to "The Ganges from the deep" and is located around seventy kilometres from Bangalore in the Kolar District of Karnataka, which lies in the Shathashrunga range. A mountain with an altitude of 1712 meters from sea level hosting rocky boulders and small caves is all set to be explored, wrapped with a dense plantation. Antargange is known as the Kashi of the south as it is home to the famous Sri Kashi Vishweshwara temple. The temple dedicated to Lord Shiva has a pond with continuous underground water flow from the Basava/Stone bull's mouth.
Book Anthargange Day Trek Here
2. Channarayana Durga Trek
Channarayana Durga Trek Length: 5 km (both ways)
The Channarayana Durga trek is ideal for Everyone (All age Groups)
Best time to visit Channarayana Durga: September to December
How to Reach Channarayana Durga trek base: Bengaluru – Madhugiri – Channarayana Durga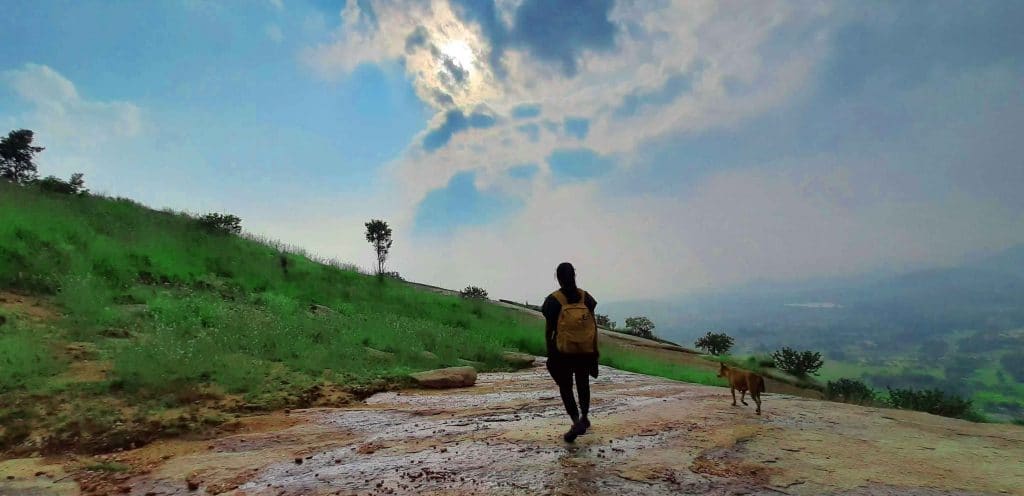 A perfect weekend escapade for history buffs, the Channarayana Durga fort dates back to the 17th century and has laid witness to the rise and fall of several kingdoms and rulers over the centuries. The entire fort is divided into multiple layers and sections. One can see the brilliant labour that went into designing the structure of this fort built in the 16th century. You will get the thrill of climbing the Granite Rock.
Book Channarayana Durga Day Trek Here
3. Chinaga Betta Day Trek 
Chinaga Betta Trek Distance from Bengaluru: 80 km
Chinaga Betta Trek Length: 5.5 km (both ways)
Chinaga betta Trail type: Rocky terrain
Chinaga Betta Trek is Ideal for Everyone (All age Groups)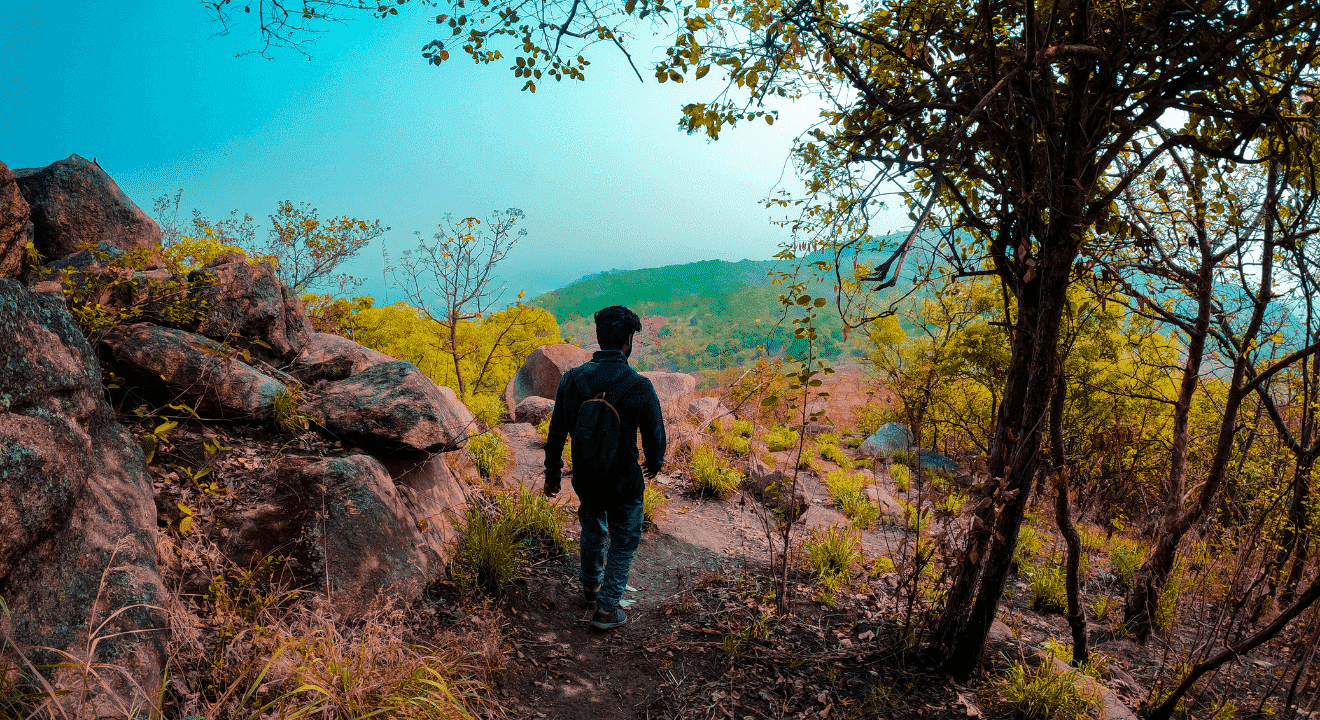 In the vicinity of Tumkur district lies heaven for nature lovers: Chinaga Betta trek. The easy hike, the soothing climate of Bengaluru and the beautiful scenery will make your heart groove. The Chinaga Betta trek starts from Torana Anjaneya temple and ends at Sri Lakshmi Ranganatha temple.  
Book Chinaga Betta Day Trek Here
4. Makalidurga Trek
Makalidurga Trek Distance from Bengaluru: 64 km
Makalidurga Trek Trek Length: 5 km
Makalidurga Trek is Ideal for Everyone (All age Groups)
How to Reach Makalidurga Trek: Bengaluru – Makalidurga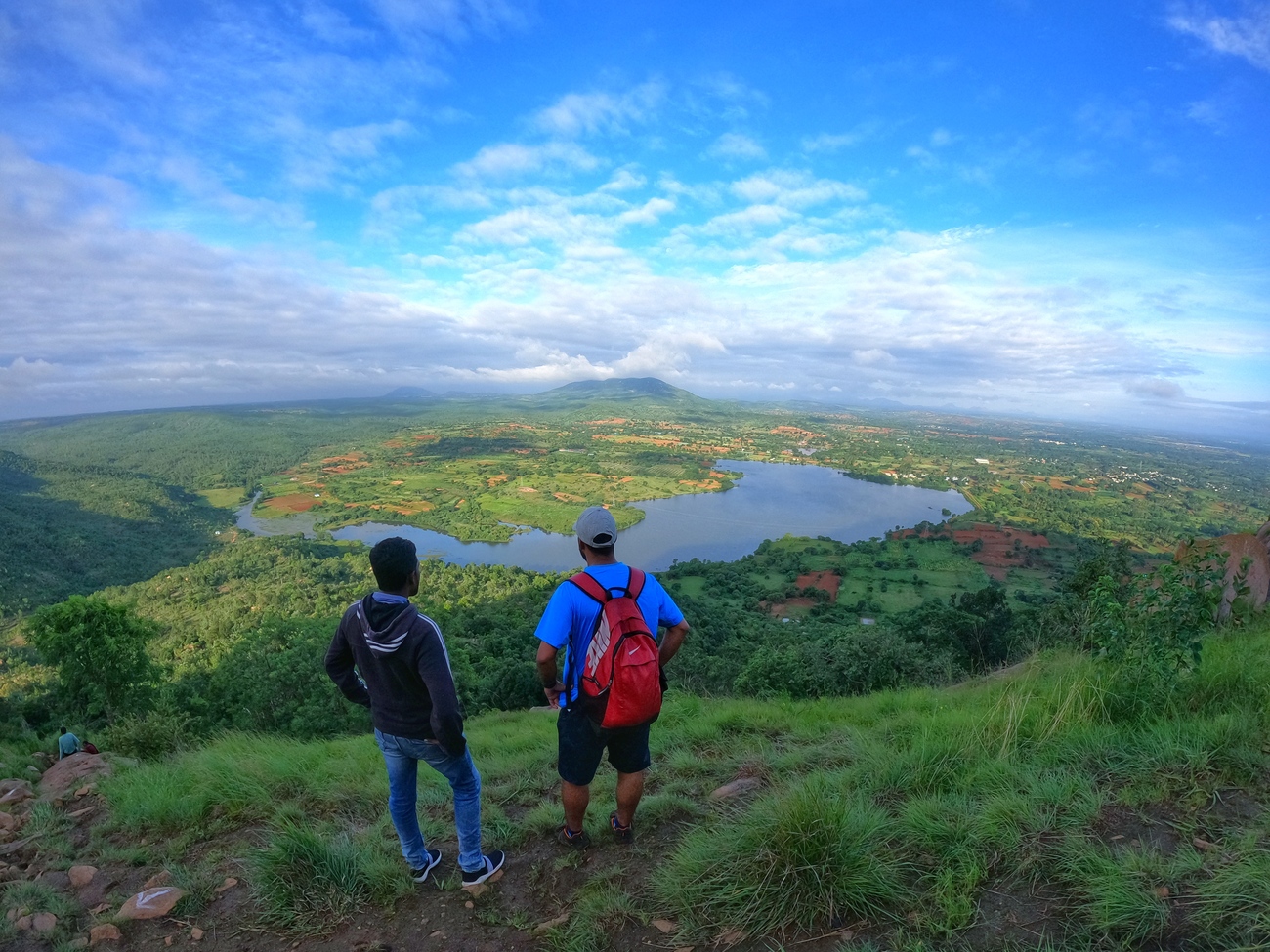 Makalidurga is a trek to one of the most enchanting places, as this hill has twinkling skies, a rich history, and a railway line running through the lush greenery of the hills. It is located only 60 kilometers away from Bangalore and 10 kilometers away from the town of Doddaballapur. It's because of this that a number of people, ranging from travel junkies to adventure lovers as well as those who adore nature, make their way to this stunning hill every weekend.
Book Makalidurga Day Trek Here
5. Mandaragiri Hills
Mandarigiri Hills Distance from Bengaluru: 60 km
Mandarigiri Hills Trek Length: 1 km staircase
Mandarigiri Hills is Ideal for Everyone (All age Groups)
How to Reach Mandarigiri Hills: Bengaluru – Mandaragiri
When Mandaragiri Hills call, it is mostly for a picturesque ride rather than a hike. But the views from the top, after climbing some 100 stairs, are breathtaking. With Mydala Lake on one side and the uniquely quaint Guru Mandir Jain temple on the other, this hike can be reserved for a peaceful day. 
6. Nandi Hills 
Nandi Hills Distance from Bengaluru: 65 km

Nandi Hills Trek Length: 3 km (both ways)
Nandi Hills is ideal for Everyone (All age Groups)
Best Time to Visit Nandi Hills: Early morning
Permit Fees for Nandi Hills: INR 10  
The one place that even non-Bangaloreans must have heard about is the famous Nandi Hills. It is one of the most essential weekend getaways from Bangalore. An early chilly and foggy morning bike/car ride to Nandi Hills to watch the sunrise is an experience that one visiting Bangalore must have! It's an easy 'Do it Yourself' hike. The mesmerising red, purple, and yellow hues of the rising sun with the cool breeze will captivate you.
7. Kunti Betta Trek
Kunti Betta Distance from Bengaluru: 120 km
Kunti Betta Trek Length: 5 km (both ways)
The Kunti Betta trek is Ideal for Everyone (All age Groups)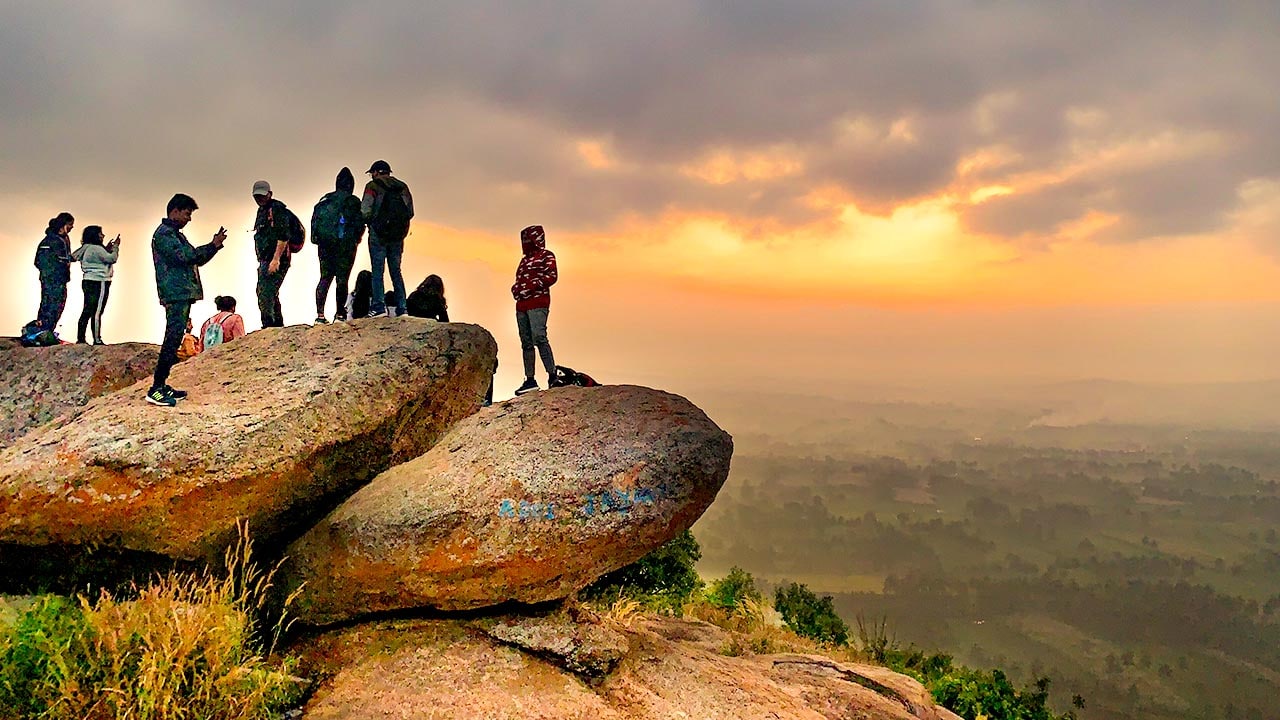 Coming out southwest of the city environment of Bengaluru, you will enter Pandavapura, the town where Pandavas ended their exile. Kunti Betta is an easy climb with its steep rock faces and a stone pillar on the summit. The presence of Thonnur Lake nearby gives trekkers an interesting and rejuvenating element.
Book Kunti Betta Sunrise Trek Here
8. Savandurga Trek
Savandurga Trek Distance: 6 km (both ways)
Savandurga Trek Duration: 5 hours
Bangalore to Savandurga Hills Distance: 50 km
Best time to visit Savandurga Hills: September to February
How to Reach Savandurga Hills from Bangalore: Bangalore –> Magadi Road –> Savandurga Hills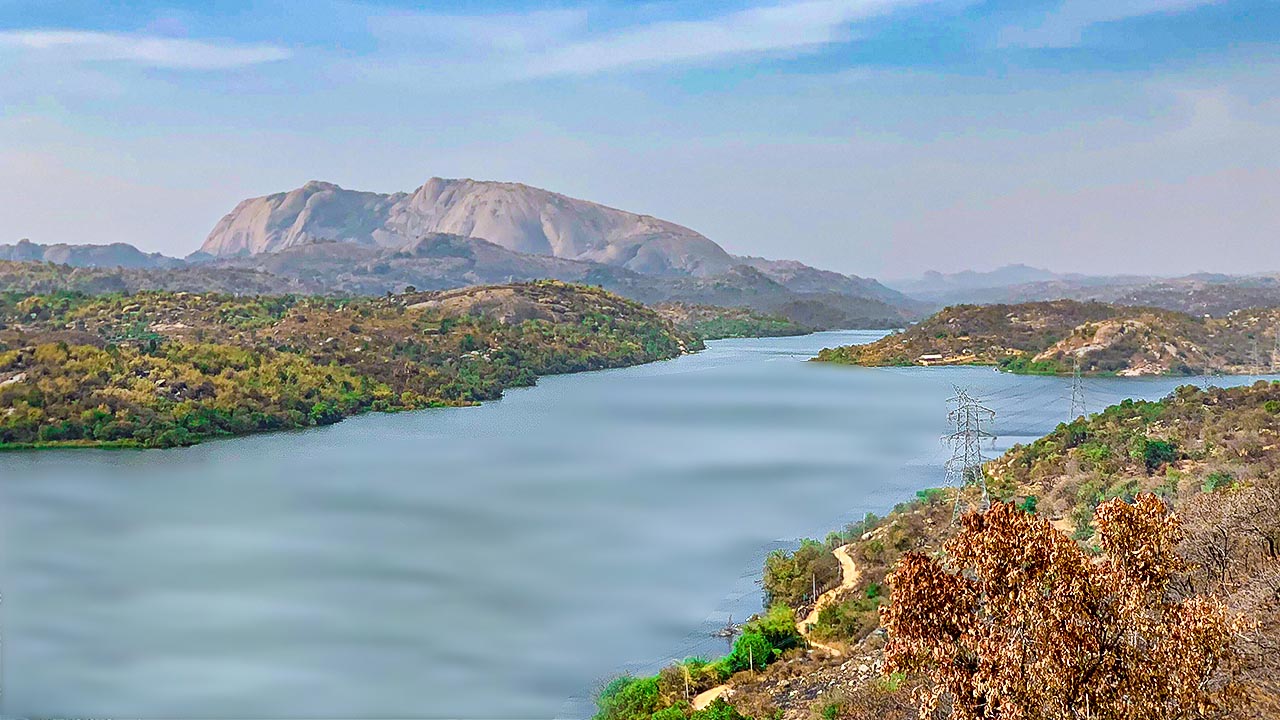 While trekking on one of the largest monoliths in Asia, you will get amazing views of Magadi, Manchanabele and Thippagondanahalli reservoirs and the Arkavathi River. It is also called 'Savinadurga' or the Fort of Death because of the steep incline and defence structure. Savandurga has two temples at the base: Savandi Veerabhadra Swamy temple and Sree Lakshmi Narasimhaswamy temple. 
9. Skandagiri Trek
Skandagiri Distance from Bengaluru: 60 km
Skandagiri Trek Length: 9 km (both ways)
Skandagiri trek is ideal for Everyone (All age Groups)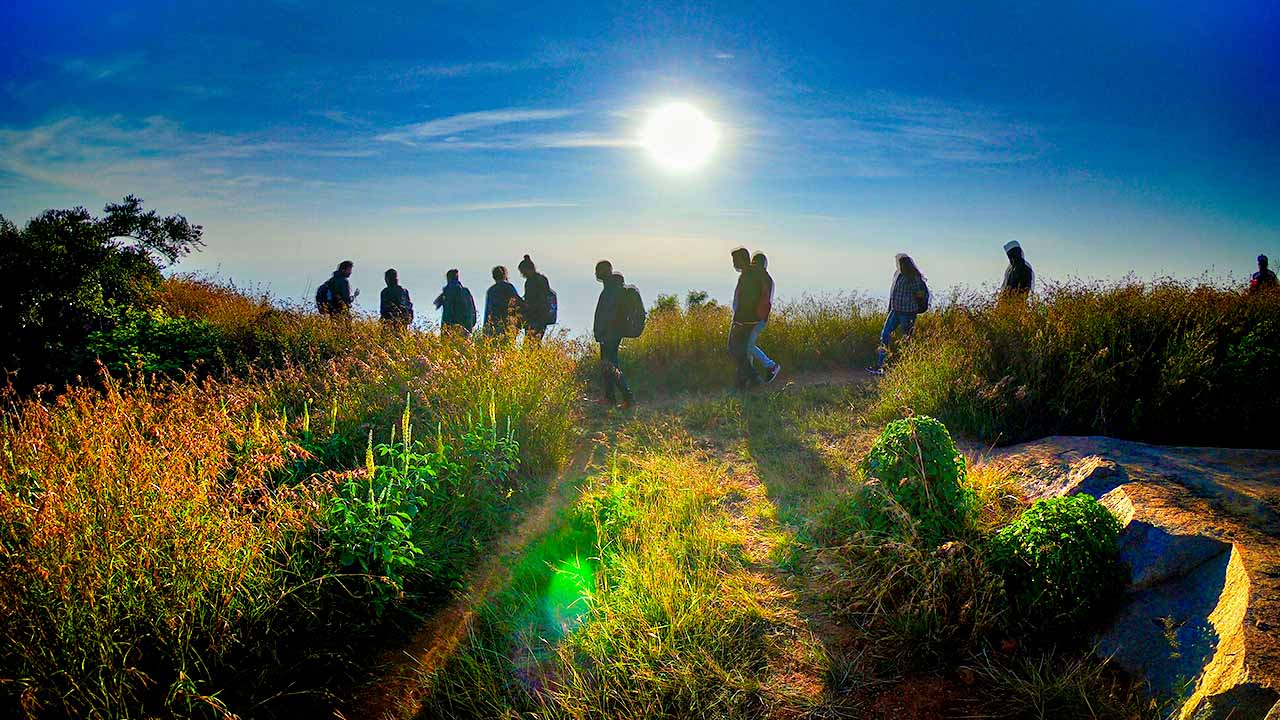 After the imposition of restrictions, Skandagiri is one of the few sunrise treks near Bengaluru. Tipu Sultan built this fortress, and it has been left deserted since 1791 after he lost the Anglo-Mysore War. Since then, the fortress has been weathered away, and now only ruins remain. However, the beauty of the ancient Skandagiri Hills has increased over time. It gives novices and experiences a fit of adventure therapy. 
Book Skandagiri Sunrise Trek Here
10. Uttari Betta Trek
Uttari Betta Distance from Bengaluru: 90 km
Uttari Betta Trek Length: 5 km (both ways)
Uttari Betta trek is Ideal for Everyone (All age Groups)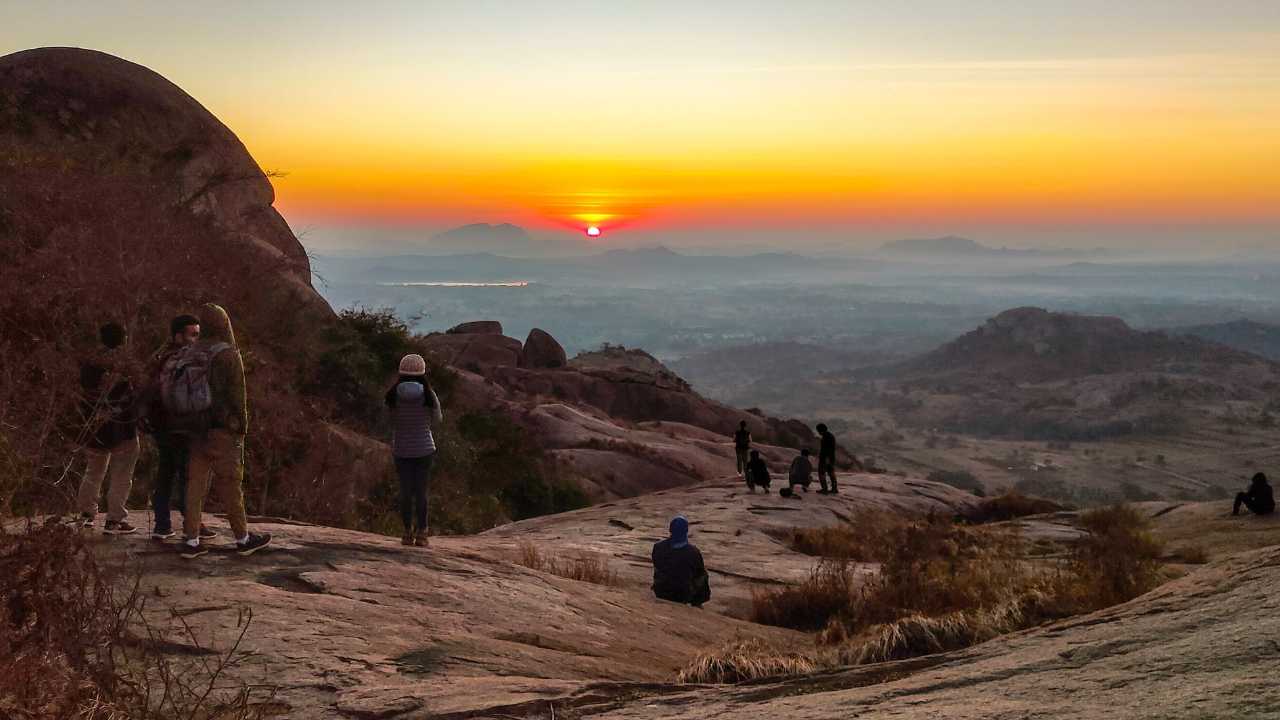 Located 15 km from Kunigal town, Uttari Betta trek is a fortified hill known as Hutridurga. Scenic views thrill you with the historic fort walls and intricate stone steps. This hill fort is said to have eight gateways from the foot to the summit and several other outer gates. The trek summit delivers the temple of Sankareshwar, where you will get extensive views of landscapes dotted by many hills.
Book Uttari Betta Sunrise Trek Here
Well, these were some of our favourite sunrise treks near Bangalore. If you stay in or near Bengaluru, consider the list of treks near Bangalore is not exhausted. When you are with us, you get unlimited options in South India. Go through other blogs for your travel plans: