Bir-Billing is a doubleton destination, one incomplete without the other. The rural setting, adventure activities, spiritual aura and Tibetan vibes call people from across nations to this holy cum audacious land. Welcome to the melting pot of cultures and the "Paragliding Capital of India", where you can amalgamate peaceful days with blessings.
Pinned down in the Joginder Nagar Valley in Himachal Pradesh, India, the villages swank lush tea gardens, colourful fluttering flags, roaring waterfalls, and calming monasteries. Besides, Bir-Billing draws thrillers in the air by proclaiming itself as Asia's highest and world's second-highest paragliding destination.
Here we have set everything for you in this Bir Billing guide. Have a look:
About Bir Billing
Bir and Billing are two different places in the same valley. From a paragliding perspective, the take-off site is in Billing, above 2400 m above sea level. It glides down 14 km to the landing site, i.e., Chowgan, the southern edge of Bir, which is 1525 m above sea level. 
Local accounts indicate that the first permanent settlements in Bir were established by immigrants from Bengal around 1600 C.E. These families settled in the foothills of Bir proper or 'Upper Bir'.
In 1966, Neten Chokling, the third lama of the Nyingma lineage of Tibetan Buddhism, settled in Bir with his family and entourage. Initially, he purchased land with financial aid, which was finally distributed to the Tibetan families. During the same time, a lot of monasteries were built. 
Bir's ecotourism, spiritual studies, and meditation centres draw many visitors throughout the year. Tourists usually stay in the Tibetan Colony, which is one of the major attractions of Bir. 
Brief 2 Day Itinerary for Bir Billing Guide
Day 1
Reach Bir in the morning, have breakfast and freshen up;

Trek to Billing Paragliding take-off point. The trek is approximately 16 km and will take 5 hours; 

Enjoy a 15 to 30 min paragliding session to the Bir landing site;

Land at Bir
Day 2
Explore Bir:

Tibetan Monasteries, Tea Factory, cafes, Tibetan colony area. Cycles are available for rent.
Places to Visit In Bir Billing
Tibetan Colony
Established in the 1960s, this colony is a Tibetan refugee settlement in Chowgan near Bir. The colony houses several Tibetan monasteries (representing the Nyingma, Kagyu, and Sakya traditions), a Tibetan handicraft centre, Astronomical Institute, shops, and cafes. One can also find handicrafts that are sold at reasonable prices.
Deer Park Institute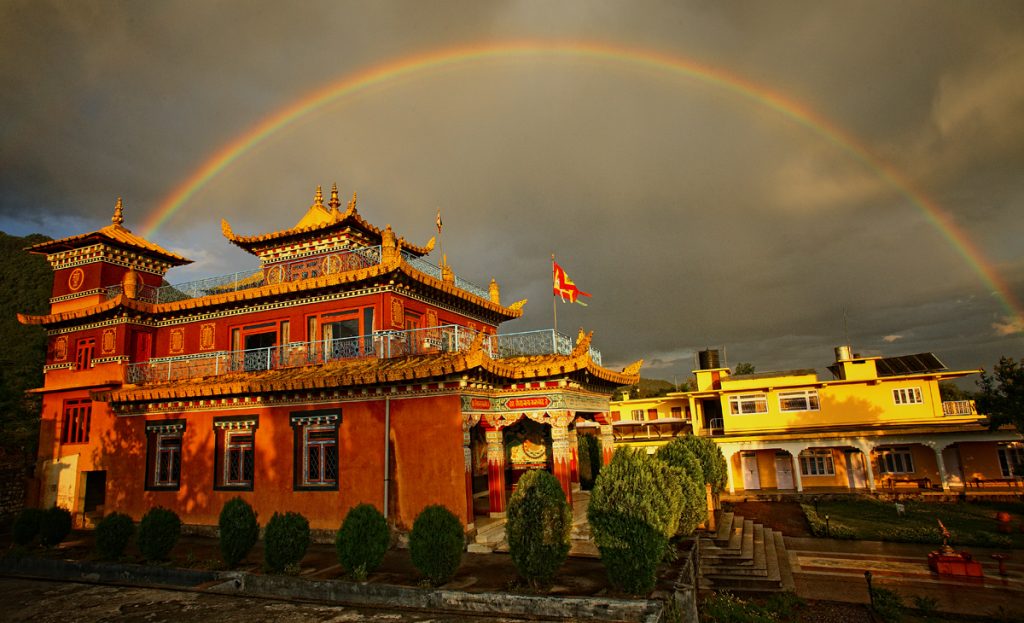 Named after in remembrance of Buddha's first teaching at the historical Mriga Dava (Deer Park) in Sarnath, it is a centre for studying classical Indian wisdom traditions. Thousands of students register their presence every year for courses on Philosophy, meditation, art, ritual, classical languages, Yoga, etc., ranging from two days to a month. One can enrol for these courses here.
Chokling Monastery
For a small glimpse of Tibet in India, visit Chokling Monastery situated in Tibetan Colony. The entrance is decorated with sculptures and painted stones with scores of Tibetan monks' life stories. Moreover, there is a retreat centre inside the monastery to spend some lull moments.
Palpung Sherabling Monastery
Palpung means "glorious union of study and practice". A quiet walk through the pine forest will bring you to the Sherabling Monastery. The monastery has shrine halls, a school, library, museum, exhibition hall, and a dispensary.
Bir Tea Factory
As playful tea leaves sprout on the slopes of Bir, women wearing baskets and vibrant shawls flock to pluck their livelihood. Alongside, they sing songs, the voices of which make their way to the nearby tea factory, which then dissolve and are packed to us. Tourists are allowed to roam inside and learn about the plantation.
Drukpa Kagyu Monastery
This monastery resonates with the Tibetan culture and teachings of the Tibetan heritage. It has a lot of inscriptions and stone sculptors that document various sects and sub-sects of Tibetan culture. One can even meditate inside the premises. 
Adventure Sports Bir Billing
Paragliding

Trekking

Camping 

Travel by toy train 

Mountain biking
How To Reach Bir Billing
There is no direct flight or rail connectivity to Bir.
By Air
There is no direct flight to Bir. Kangra airport in Dharamshala is the nearest airport, 67.6 km away from Bir, but the flight connectivity is limited here. Although, the Dharamshala airport is connected to Delhi and Kullu. Other airports close to Bir are: 
Chandigarh – 290 km
Amritsar airport – 260 km
New Delhi – 520 km
By Road
The best way to reach Bir is by taking an overnight bus from a major city to Bir.
By Railway
Ahju railway station is the nearest railway station, only 3 km away from Bir.
The Pathankot railway station is connected to the country's major cities.
Budget for Bir Billing (per day per person basis)
15-20 minutes of paragliding will cost INR 3000. Other expenses include food, travel and entrance tickets. You can keep an additional budget of INR 1000 per day.
What To Eat in Bir Billing
Delicacies of Bir are a unique combination of Himachali and Tibetan cuisine. You can try Dhaam, Siddu, Aktori, and Mittha, including Tibetan dishes like Tsampa, Thukpa, Tibetan momo, Balep Korkun, and Chang.
Shopping in Bir Billing
Shopping in Bir can give you a unique experience since it is laden with a combined market according to the needs and availability of resources for Indians and Tibetans. You can shop handicrafts, dry items, clothes etc., from Tibetan Colony, Bir Bazaar, Bajinath and Kotli.
Places of Stay in Bir Billing
Hostels/Affordable Homestays
You can directly hit the street and ask for homestays. Many of them provide food options.
Gostops
The Hosteller Bir
Hipostel Bir

Hotels for Stay
Luxury Resorts for stay 
Madhuban Tatva Bir Resorts
Parvatah 
How Long Should A Trip Be for Bir Billing
A typical trip to Bir Billing is of 2 to 3 days. All sightseeing locations along with activities can be covered in this duration.  
Additional Information about Bir Billing
Google map from major cities: Delhi to Bir
Bir Billing Weather and temperature Information: Although Bir sees visitors round the year, March to June is the ideal duration to visit Bir. Temperatures rise to a high of 25°C and drop to a low of 11°C in the nighttime.
Festival that happens in Bir Billing: Bir Music Festival happens yearly, which started in 2019. It offers a perfect platform for new and emerging artists to showcase their talents.
Book Your Trek Here
We hope this Bir Billing guide will push you out of your comfort zones. Share pictures later. Also, let us know if any of your queries did not get answered; we reply quickly to comments.