"Aloo and Bhalu", "Banaras and Hathras", "Ahmedabad and Aurangabad", "Bengaluru and Mangaluru", and our favourite, "Kedarnath and Kedarkantha"—all of these have one thing in common: similarity in pronunciation. That's why, when we receive calls from people asking more about the 'Kedarnath trek' itinerary that they claim they have seen on the website, we are pretty sure they are talking about Kedarkantha. It tickles, and every time a smile silently lurks on our faces. Well, Kedarnath is not kedarkantha! This article is all about the differences between the two places.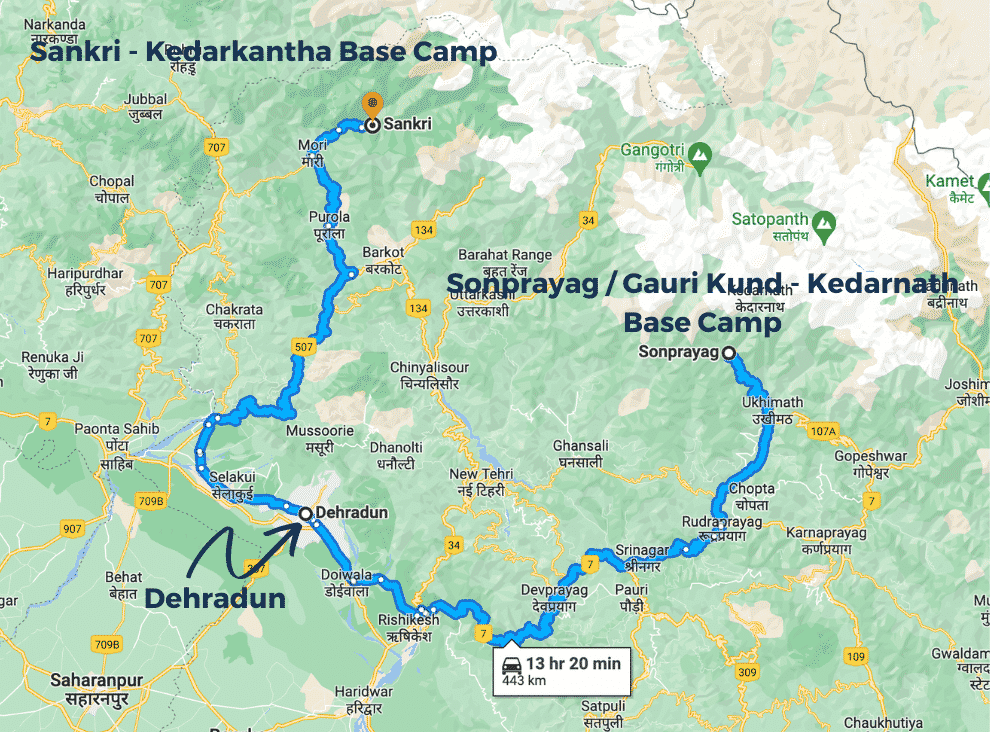 Mythology 
Beliefs, myths and mystical stories are part of Indian culture. Parents guide their children with various godly stories. They take pride in moralising us to follow the same path as gods, who fought to protect the truth. Wondrously, no one has seen these gods, but their reference from books and tales is good enough to usurp their stand. 
Analogous to Uttarakhand's other regions, Kedarnath is also stitched with countless stories from Dwapar and Treta Yuga. 
A legend recounts that the Pandavas sought Lord Shiva to pardon them for their sins on the advice of Lord Krishna. They had killed their kin during the Mahabharata. Shiva was angry with them for their conduct and avoided them by taking the form of a bull and leaving for the Garhwal region. The Pandavas sighted Shiva grazing as a bull in the hills of Guptkashi and tried to grab its tail and legs forcibly. The bull disappeared into the ground and later reappeared as Lord Shiva in five places—

hump at Kedarnath, legs at Tungnath, face at Rudranath, stomach at Madhyamaheshwar and hair at Kalpeshwar

.

Another local myth relates to the Pandavas, who went to the Himalayas to seek Lord Shiva's blessings. He hid from Bheem and disguised himself as a bull. So, Shiva hid underground. When he rushed out of his hiding place, his body parts got divided, and each piece fell at a different location. His throat fell on the Kedarkantha, thus earning the peak its name—transliteration—"the throat of Lord Shiva".
Firstly, know this—Kedarkantha is a mountain peak in the Himalayas, and Kedarnath is a town. Apart from this, here are all the other differences: 
Kedarnath
Kedarnath, the most dramatic among its sister dhams, is hushed amidst the snow-clad mountains of the Gharwal region of Uttarakhand. It is revered by Lord Shiva's devotees who trek 16 km to visit this one among Chota Char Dham pilgrimage sites, others being—Badrinath, Yamunotri, Gangotri. The spiritual aura and divine mysticism call worshippers of Shiva during the open season. Devotees throng the place to see the 'hump'. 
This place has been created and destroyed multiple times, much like Shiva's nature. Forest fires, floods, landslides, and the most recent cloud burst of 2013 nearly destroyed the place, but it came back to life every time. 
Kedarkantha Trek
Kedarkantha is an all-season trek for beginners and seasoned trekkers. The thick pine forests above Sankri, dense oak forests, maple trees, shepherd huts, and frozen streams make the journey classic.
Why must one go on the Kedarkantha trek?
The drive from Dehradun to Sankri is an enchanting hill drive of 10-11 hours, stretching over approx 210 km via Mussoorie, Damta, Naugaon, Purola, Mori, and Natwar.

It is one of the best treks for beginners. For seasonal trekkers also, it's a boon and a quick getaway.

Sankri

is a quiet and beautiful village in the

Govind Pashu Vihar National Park

.

Juda ka Talab is a frozen lake with a small island in the middle, thick pine and oak forest in the background, and an alpine meadow.

The trail also passes through a lot of picturesque bridges.

Look out for some shooting stars at night.

Watch out for many shepherd huts in open meadows as the trail continues to the base camp.
While one is about to arrive at Kedarkantha Base, the fascinating views of an arc-shaped range of mountains comprising Bandarpoonch, Swargarohini, Kala Nag, and Ranglana are visible. With an altitude of 6,387 m, Black Peak is the highest peak in the Garhwal Himalayas.
Complete Kedarkantha Trek Guide here.
I hope you got a basic glimpse of the differences between Kedarnath and Kedarkantha. Kedarkantha is not Kedarnath. Have you also come across such confusion in the past? What did you do? Tell us in the comments.