The  "13 Amazing Things To Do in Coorg" quaint hill station located on the eastern slopes of the Western Ghats, Coorg or Kodagu is bestowed with abundant natural beauty.
Rolling hills, dense forests, gurgling rivers, and vast coffee and spice plantations make up its landscape home to a plethora of wildlife, vegetation, and the warmest Kodava people. 
From choosing a cabin in the woods at Dubare to river rafting on the raging Barapole river, Coorg can be as relaxing or adventurous as you choose it to be offering a wide array of activities to choose from suitable for nature lovers, photographers, food connoisseurs, adrenaline junkies and culture vultures alike.
Here's a list of everything that Coorg offers whether you are looking to spend time amidst her verdant natural beauty, have a little bit of adventure or immerse yourself in its rich culture and history.
For the Nature Lover
Go Trekking in Coorg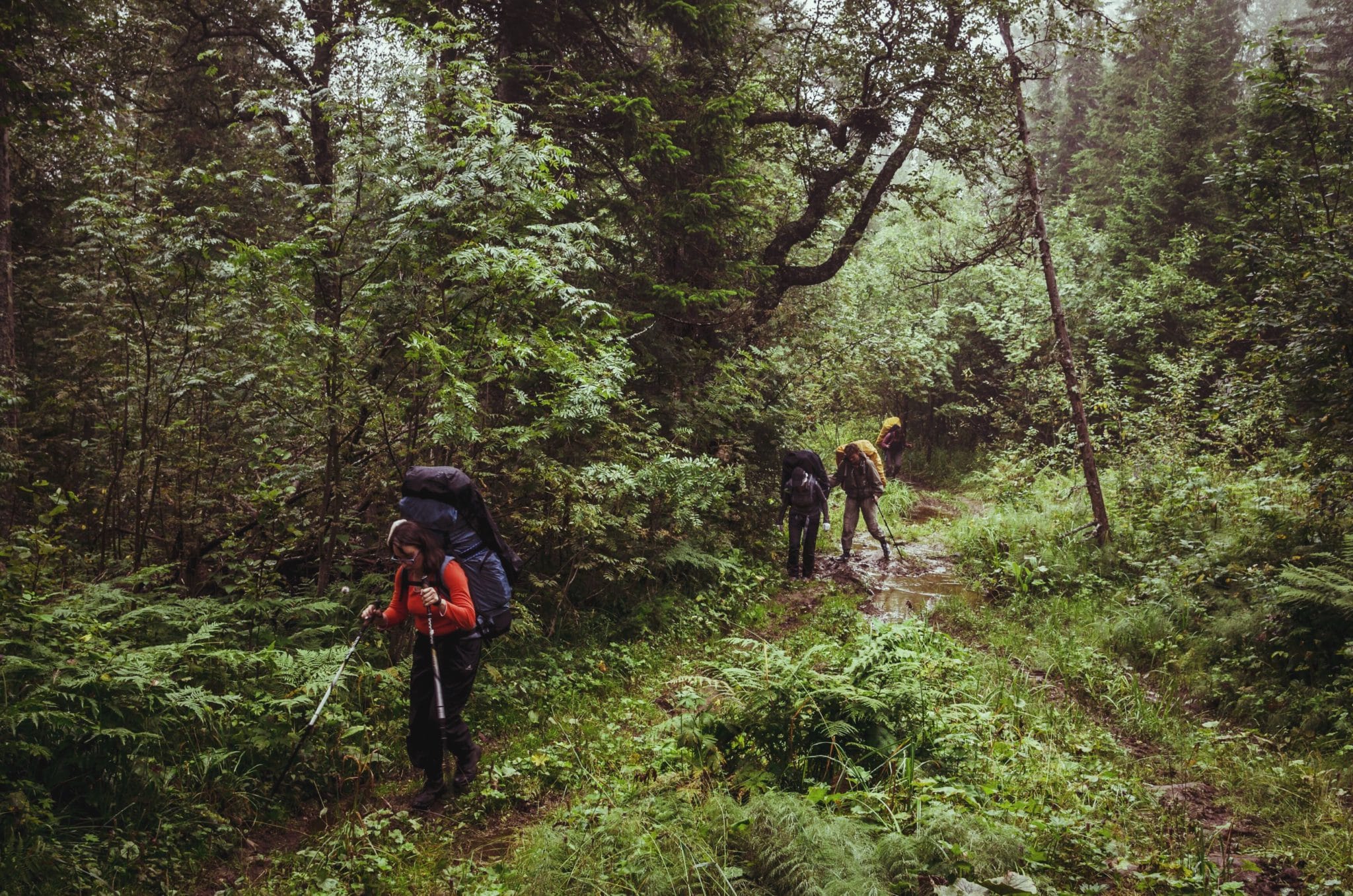 Nishani Motte Trek: A relatively lesser-known but extremely scenic alternative to the Tadiandamol trek in Coorg, Nishani Motte is a 15 km (to & fro) easy to moderate level hike that starts from the Bhagamandala forest Range.
The trail starts from Talacauvery and the permits for the same should be obtained prior from the FRH Office at Bhagamandala. 
Tadiandamol Trek: Located 1,746 meters above sea level, Tadiandamol forms the highest peak in Coorg and takes you through dense shola forests, vast open grasslands, and several stream crossings. 35 km from Madikeri,
Tadinadamol lies in the  Brahmagiri Wildlife Sanctuary in the Bhagamandala Range Forest and has gone on to become one of the most popular treks in South India.
Shepherd's Trail Trek: A lesser know trail in Coorg that takes one through thick forests, waterfalls, and streams, the Shepherd's Trail Trek is a 12 -14 km hike with beautiful meadows filled with Neelakurinji flowers which when in full bloom, gives the whole mountainside a purple hue.
Galibeedu Trek: This 14 km trail up the Galibeedu peak once believed to have served as a landmark to track the entry of enemies into the Kodava lands, offers a remote and offbeat trekking experience for both novice and experienced trekkers.
At just 12 km from Madikeri, Galibeedu offers the typical Coorg landscape throughout the trail with a mix of steep inclines, thick forests, open meadows, and streams.
Kumara Parvatha: Located in the Pushpagiri Wildlife Sanctuary at an altitude of 1712 meters, the 14 km (one way) Kumara Paravatha trek takes around 8 to 10 hours to complete. Also known as Pushpagiri, it falls under the moderate to difficult category of treks and is considered to be one of the best ones in South India. 
Kopatty: Located in the Talacauvery range, 3 km from a small town called Cherambane before Bagamandala, Kopatty showcases the best of what the Western Ghats has to offer through a relatively easy hike from the base. 
Brahmagiri: Located on the border between Kerala and Karnataka in the Brahmagiri Wildlife Sanctuary, the Brahmagiri trek can be done either from the Kerala side or the Karnataka side.
The entire trek takes close to 12 hours to complete the 20 km trek starting from Iruppu falls and takes one through steep valleys, hillocks, evergreen forests, and shola grasslands before culminating at the Brahmagiri peak.
Prior permissions for the trek are to be obtained from the Range Forest Officer (RFO) at Srimangala.
Explore a Waterfall in Coorg
Abbey Falls: Set amidst sprawling coffee and spice plantations Abbey falls or Abbi Falls has located 8 km from Madikeri and is one of the popular tourist attractions in Coorg especially during the monsoons when the falls can be seen in their full glory.
Although bathing here is now prohibited, catching a glimpse of its gushing waters plunging down from a height of 70 feet is a sight to behold and is best viewed from a suspension bridge right opposite to the falls.
Entry Fee:  ₹15 per person
Timings: 9:00 am – 5:00 pm (All Days)
Iruppu Falls: Iruppu falls is located in the Brahmagiri Range bordering the Wayanad district of Kerala and cascades down over several tiers from a height of 170 feet.
The falls form the starting point of the Lakshmana Theertha River, a tributary of River Kaveri, thus giving it its name.
With a Shiva temple located at its entrance, it is also a popular pilgrimage destination attracting hoards of pilgrims during Shivaratri.
Reaching the falls requires a scenic 20-minute hike through dense forests and makes for an adventurous affair.
Entry Fee: ₹50 per person
Timings: 6:00 am – 6:00 pm (All Days)
Mallalli waterfalls: At the foothills of the Pushpagiri Range, the river Kumaradhara falls from a height of 1000 meters to create the spellbinding Mallalli waterfalls.
Best visited during the monsoons, the Mallalli falls are located around 60 km from Madikeri and can be reached either by way of a trek or by jeep.
Entry Fee: NA
Timings: 9:00 am – 5:00 pm (All Days)
Go on a Jeep Safari in Coorg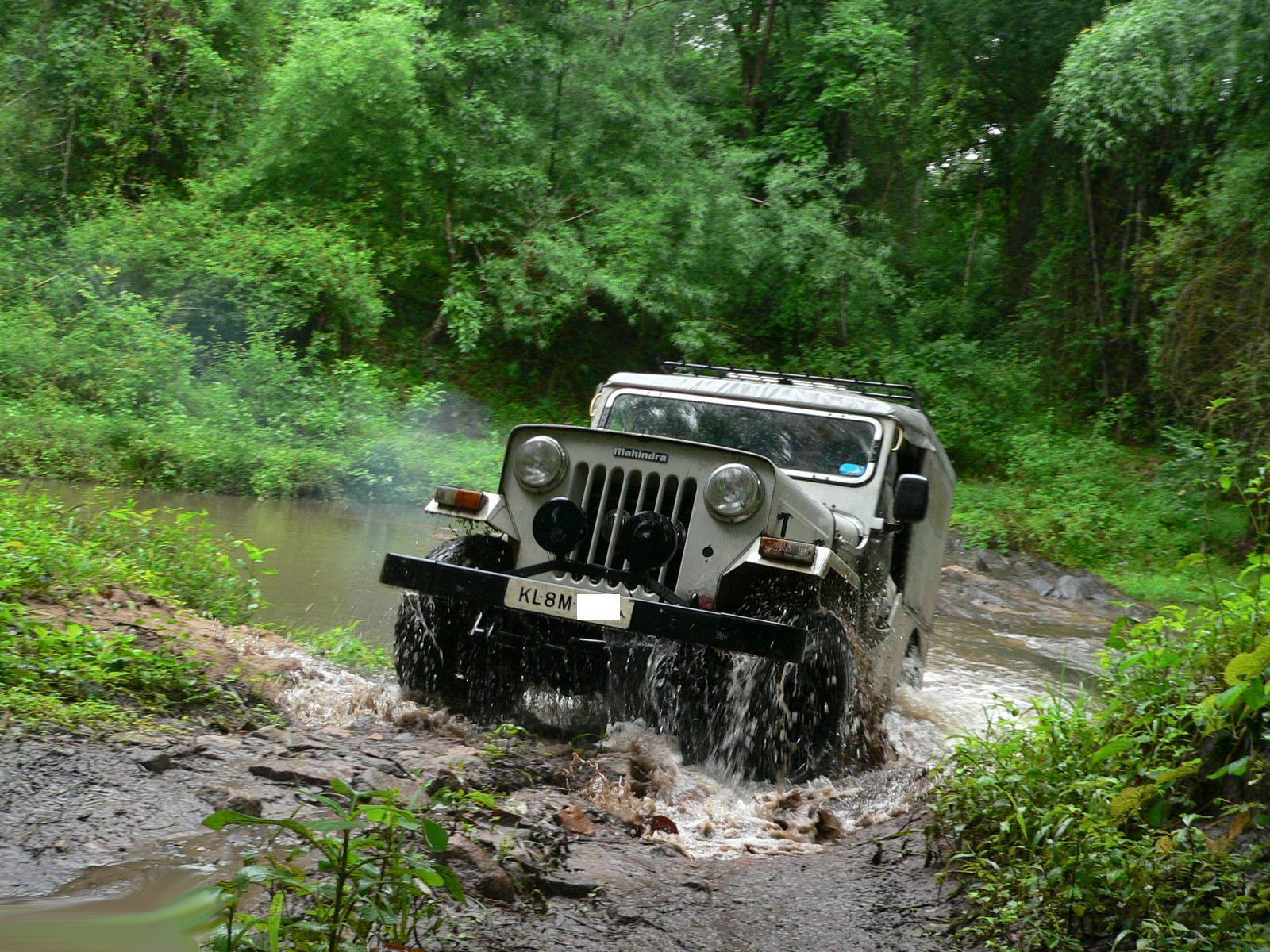 Mandalpatti: Literally meaning' Market of Clouds' in the local language, Mandalpatti lives up to its name located at an elevation of 1600m.
On the road to Abbey Falls, a jeep ride to Mandalpatti from Madikeri takes around 40 minutes to cover the almost 18 km trail and is one of the best spots to catch the mesmerizing sunset and sunrise views around Coorg.
Entry Fee: ₹ 25 per person
Jeep Ride: ₹ 1500 per Jeep
Timings: 6:00 am – 6:00 pm (All Days)
Kabbe Hills: Wedged on the Kerala-Karnataka border roughly 45 km from Madikeri and at a height of 3800 feet, Kabbe Hills offers picturesque views of majestic hills on one side and verdant coffee plantations and shola forests on the other.
Apart from panoramic sunset views, one can also visit the Chelavara Waterfalls located en route to Kabbe Hills.
Encounter Wildlife in Coorg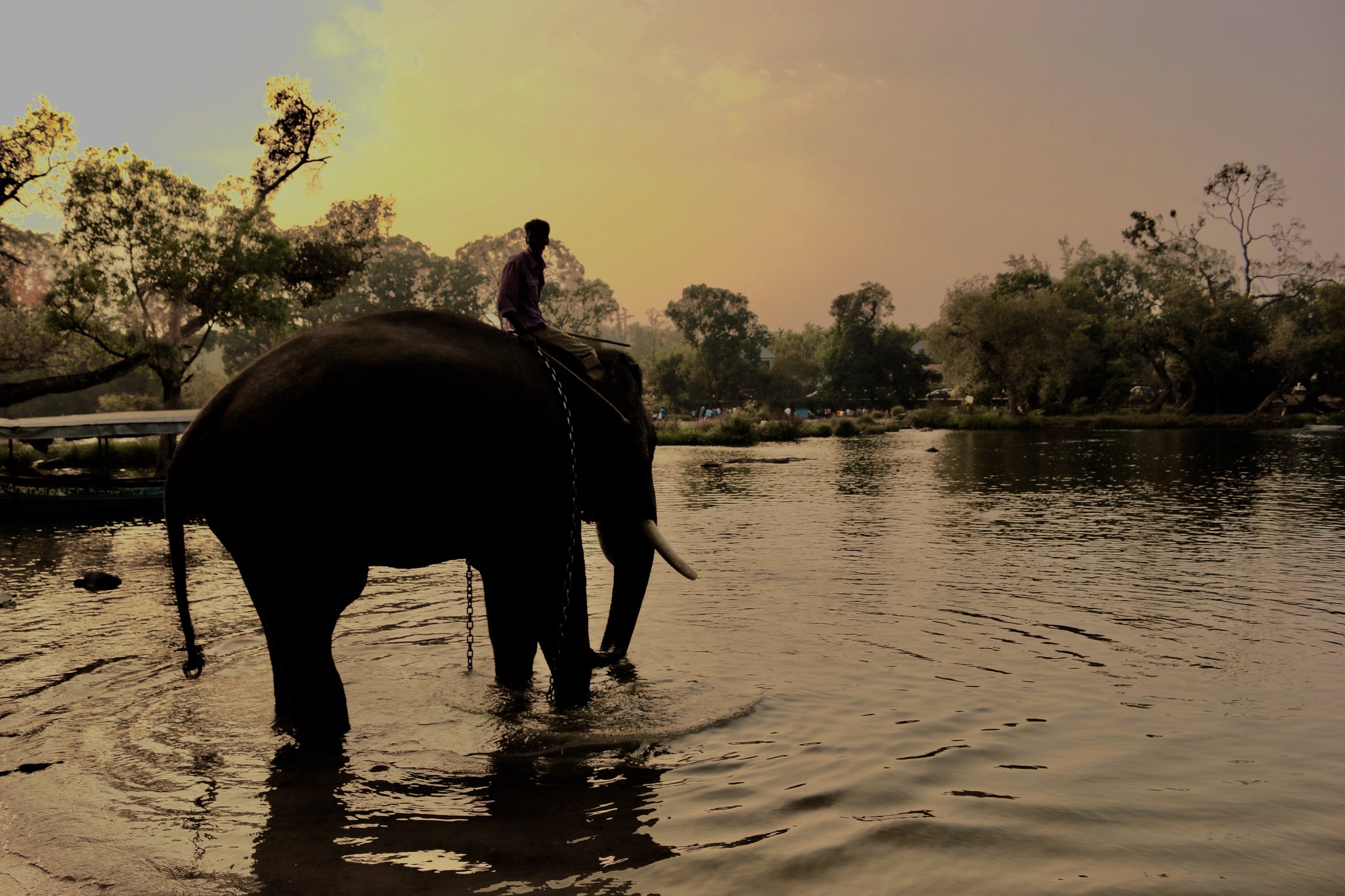 Dubare Elephant Camp: The Dubare Elephant Camp offers a must-visit experience for the elephant lover in you offering visitors a chance to interact and spend time with these gentle beasts.
Apart from the elephant camp, options for stay, trekking, and other activities are also offered here by the Jungle Lodges and Resorts (JLR), an eco-tourism wing of the Tourism Department. 
Cost: Depends on the activity/package
Nagarhole National Park: One of India's premier Tiger Reserves, the Nagarhole National Park spread across an area of 247 square miles is home to a wide variety of wildlife including the Indian Tigers and Asiatic Elephants.
The Nagarhole National Park is best visited from October to May as it usually remains closed during the monsoons.
The Forest Department conducts wildlife safaris at the park twice daily from two different locations – Nanchhi Gate at Kutta and Veerana Hosahalli Gate. Slots are often limited and advance booking is recommended.
Safari Timings: 6:00am to 8:00am & 3:00pm to 5:00pm (One hour ride)
Cost: Van safari: ₹350  Per head, Jeep Safari: ₹1,500 Per head
Adventure Activities in Coorg
Try White Water Rafting in Coorg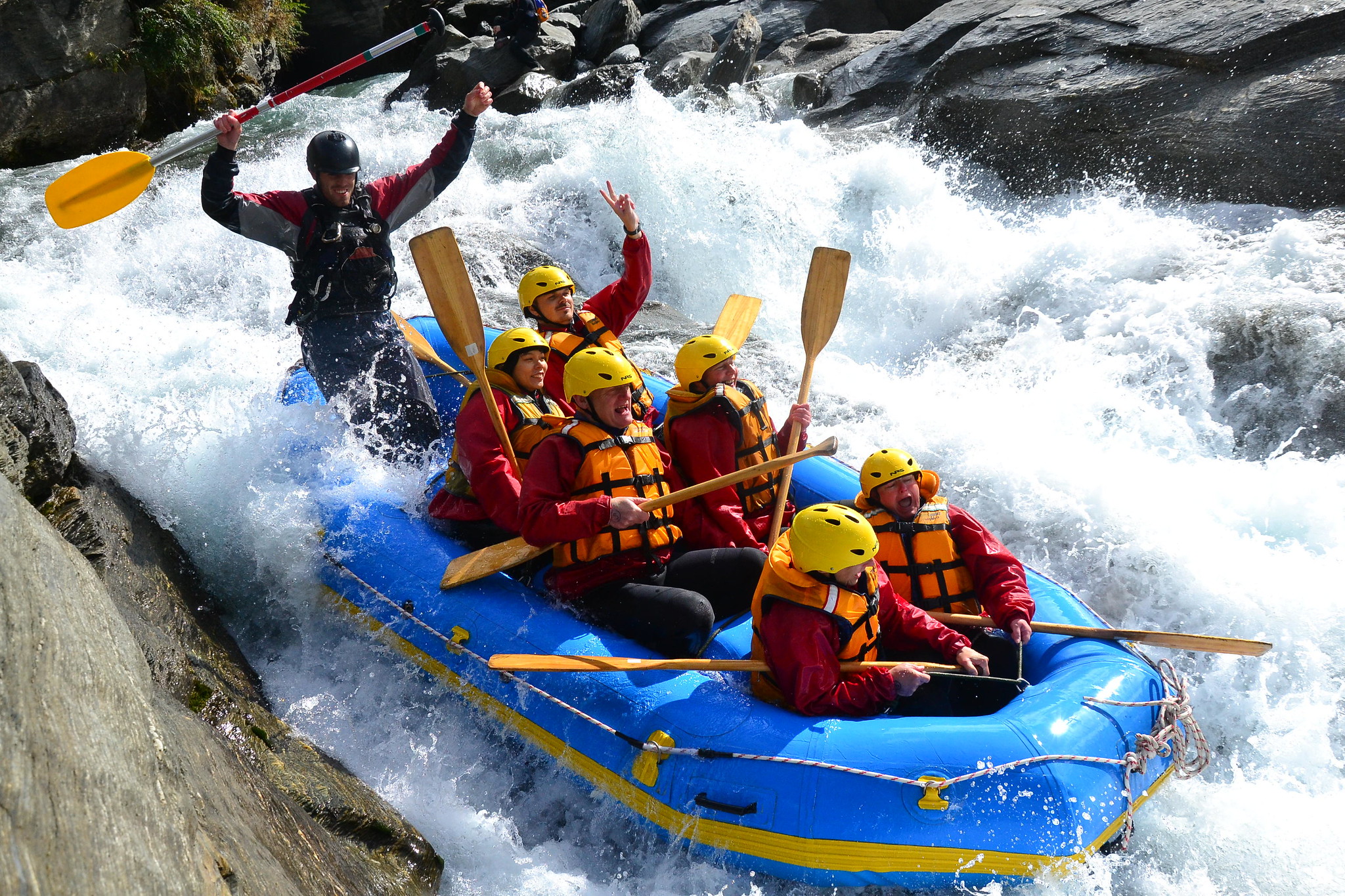 Barapole River Rafting: The Barapole River in Coorg offers one of the most challenging and intense white water rafting experiences in the whole of South India with rapids ranging up to level V within a short distance of just 3 to 5 km.
The monsoon months between June to October offer the best rapids and are the best season for white water rafting in Coorg.
Timings: 9:00am to 4:00pm
Cost: ₹1000-₹2000 Per Head
Duration: 30 mins to 4 hours depending on the stretch
Dubare River Rafting: The Dubare River Rafting offers still water rafting on the river Cauvery with rapids ranging from grades I to II spread across a distance of 8 to 12 km and is more suitable for beginners
Timings: 9:00am to 4:00pm
Cost: ₹600-₹1000 Per Head
Experience Quad Biking in Coorg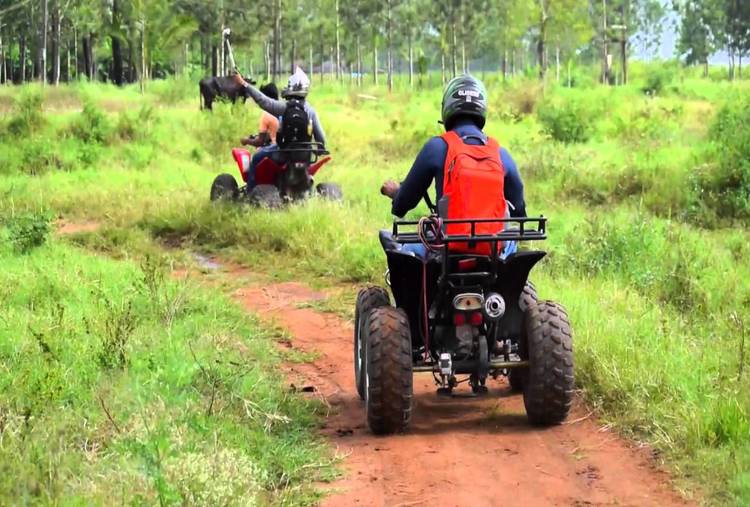 The rugged and rough terrains of Coorg through coffee plantations and muddy trails offer the perfect landscape for Quad Biking or All-Terrain Vehicles (ATV's). Tracks usually range up to 4 km in distance and offer an exhilarating experience for the adventure enthusiast.
Duration: Upto 90 minutes
Cost: ₹400 to ₹600 per head
Attempt Rock Climbing in Coorg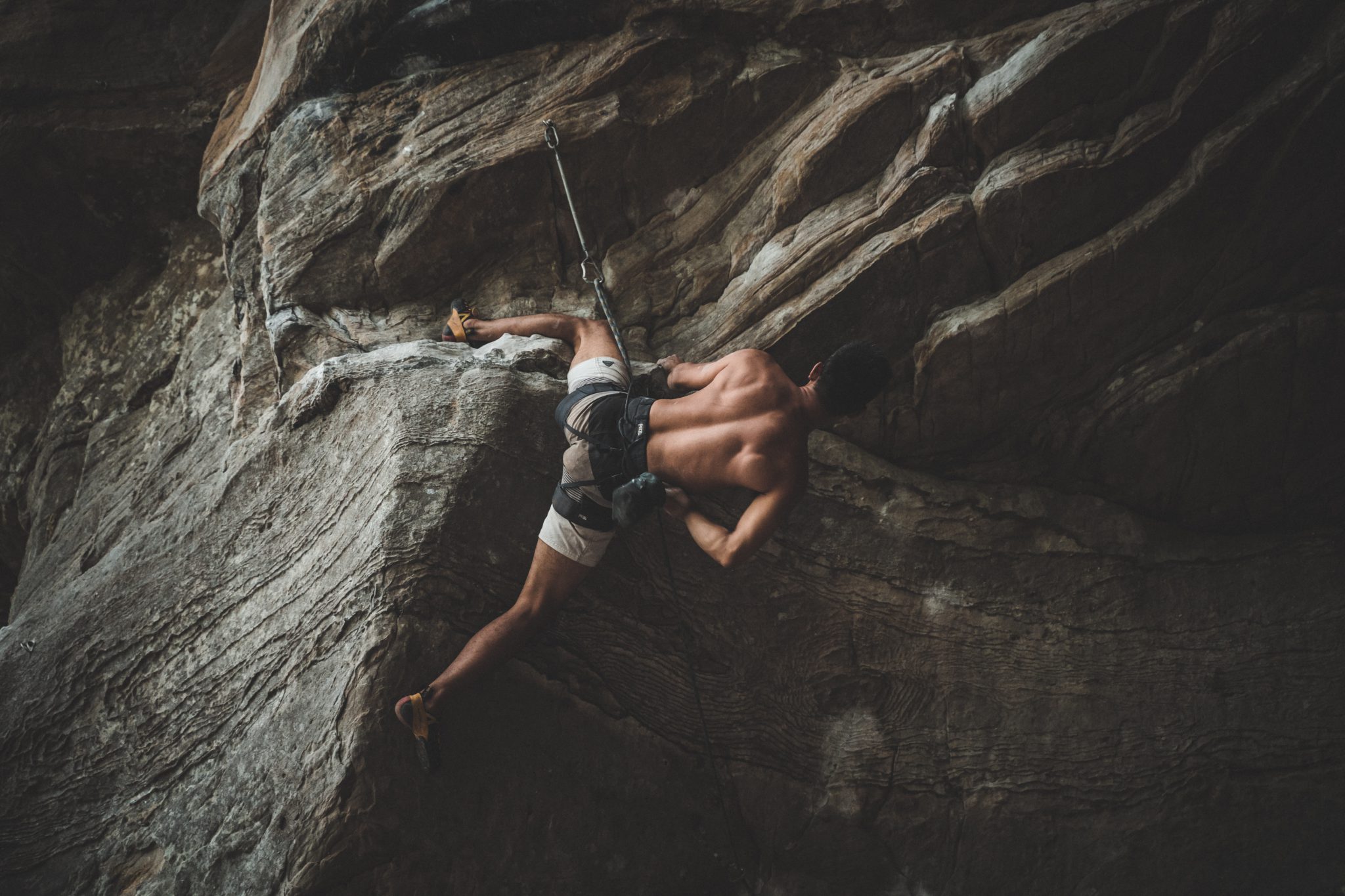 The steep and rocky hills of Coorg offer the perfect settings for rock climbing and rappelling with Honnamanna Kere considered to be one of the best rock climbing destinations here.
Gavi Betta and Mori Betta are also popular locations for the sport and attract enthusiasts in large numbers. Many local operators organize rock climbing in Coorg suitable for all experience levels and with all safety measures in place.
Cost: ₹1,000 to ₹1,500 per head
Go Waterfall Rappelling in Coorg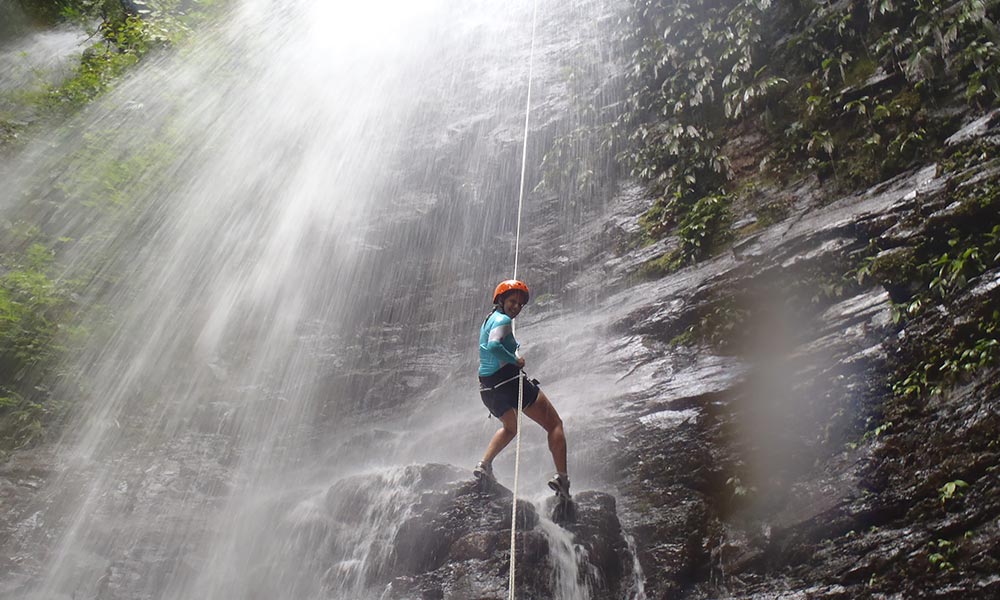 Rappelling down a 150-feet high cascading waterfall may not be for the faint-hearted but the daring sport offers an opportunity to admire and appreciate the many mesmerizing waterfalls of Coorg that few others get to experience.
The Chelavara waterfall in Coorg currently offers the perfect opportunity to experience waterfall rappelling with many organizers offering the same with all safety precautions and gears.
Cost: Starts from ₹1,000
Microlight Flying in Coorg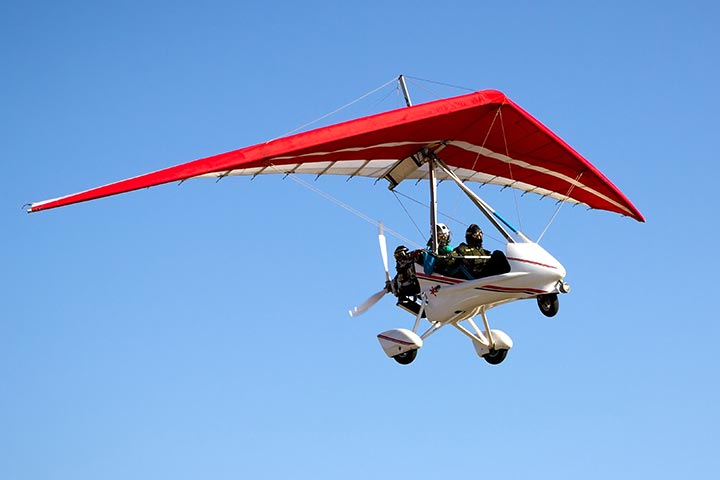 A unique and adrenaline-pumping experience, Microlight Flying enables one to witness panoramic aerial views of the breathtaking Coorg landscape from a staggering height of 5000 feet up in the air.
Starting from Ponnampet, a typical ride takes you on a motor-powered hang-glider along with an experienced instructor and lasts anywhere between 10 to 30 minutes.
Cost: Starts from ₹2,500
Go Mountain Biking in Coorg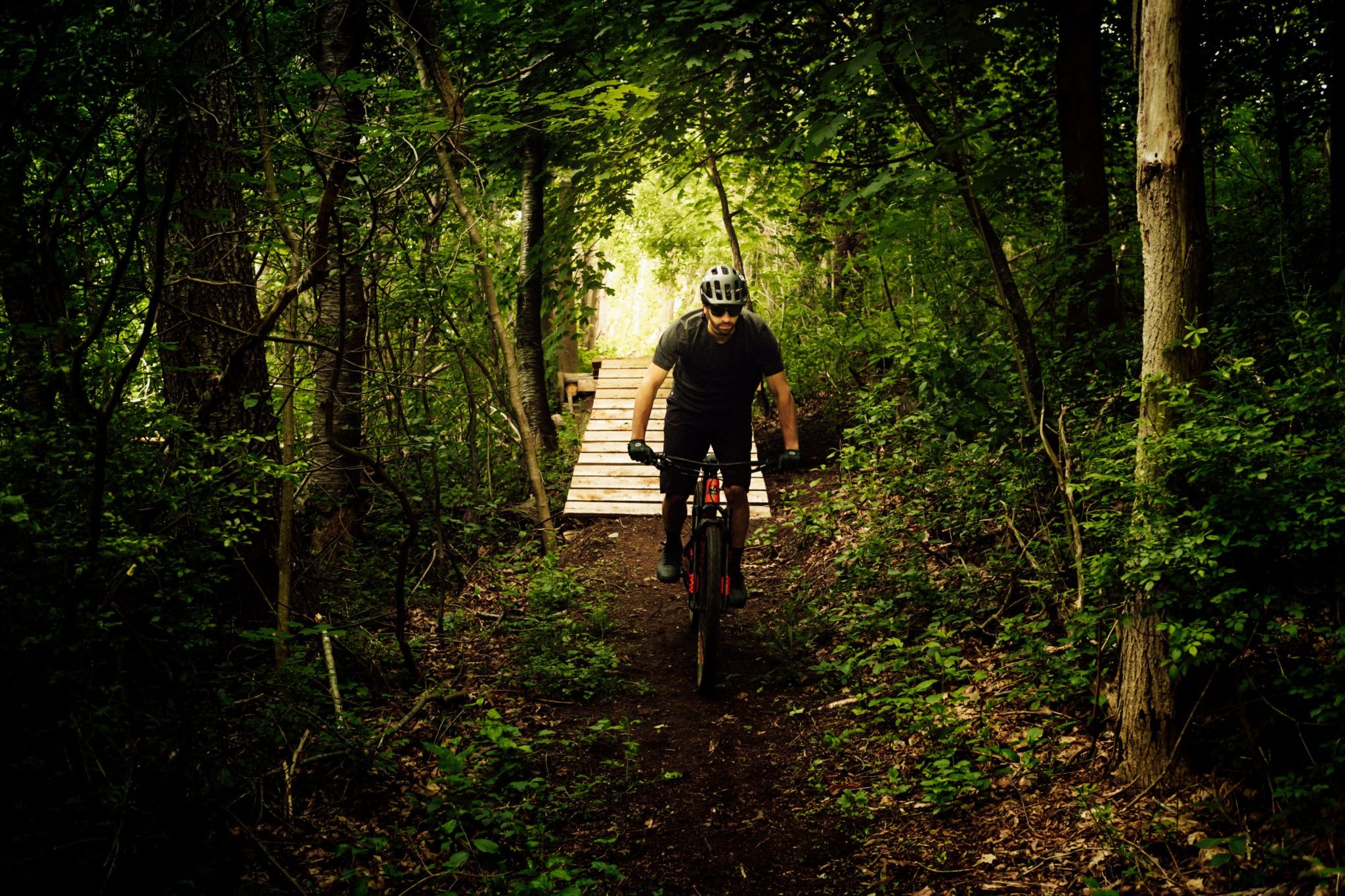 The majestic hills of Coorg combined with its thick canopy, moderate temperatures, and humidity make for ideal conditions for mountain biking with Kote Betta being one of the more popular trails for the same.
Taking one through undulating coffee and spice plantations, quaint villages, and the dense forests.
The Kote Bette trail keeps you enraptured throughout before culminating at the peak offering grand views of the surrounding Kumara Parvatha range and Harangi backwaters.
Best time to go mountain biking in Coorg: October to March
Cost: Varies depending on duration, distance, and other inclusions
Experience Coorg Culture and History
Find Serenity at the Golden Temple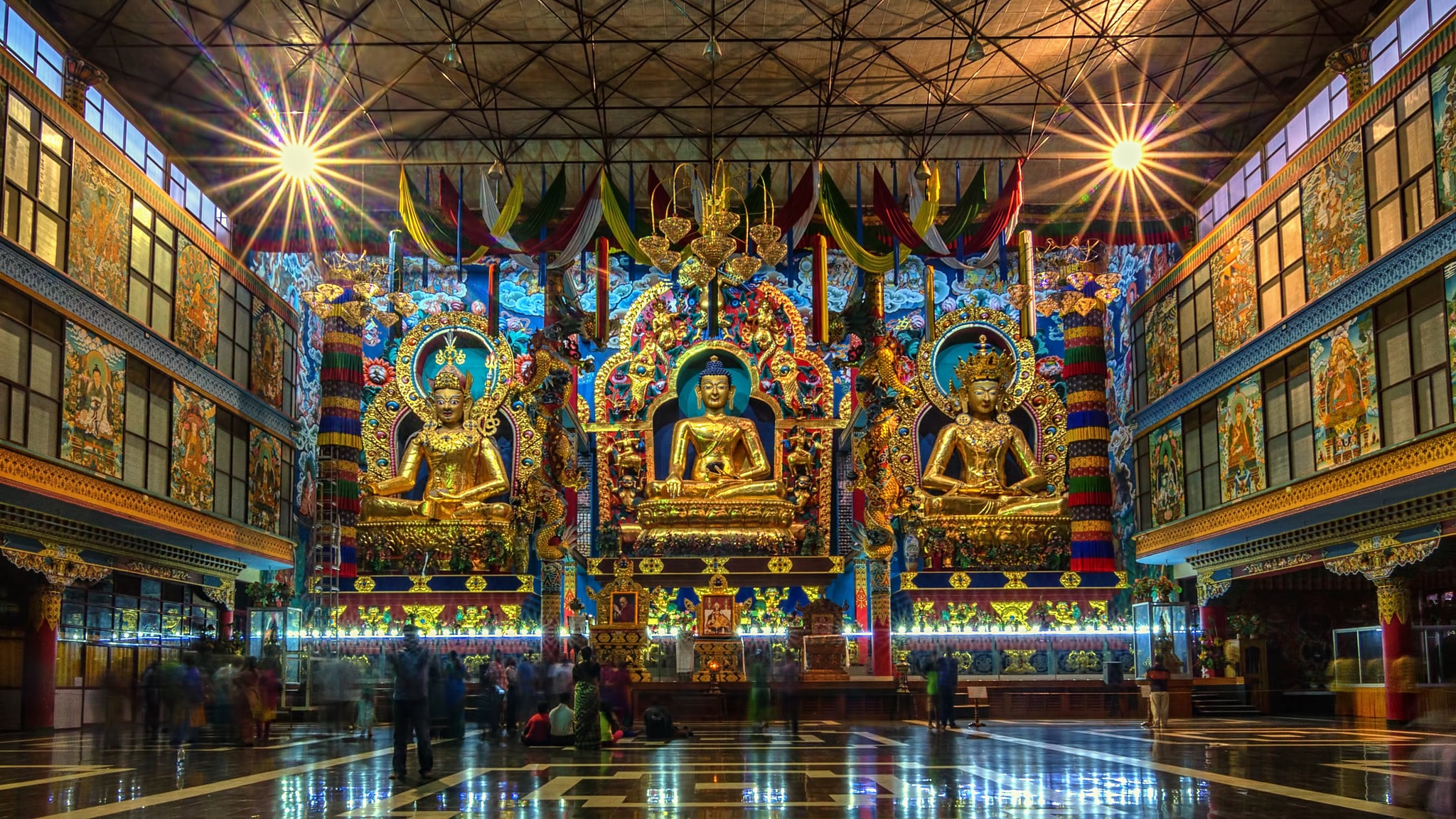 This Tibetan Monastery located 6 km from Kushalnagar, offers a calm and spiritual ambiance to its visitors and is the second-largest Tibetan settlement in India after Dharamsala.
Home to thousands of Tibetan refugees and Buddhist monks, the Namdroling Monastery gives one an interesting insight into Buddhism and Tibetan culture.
Entry Fee:  Free 
Timings: 7:00 am – 7:00 pm (All Days)
Go Back in History at Madikeri Fort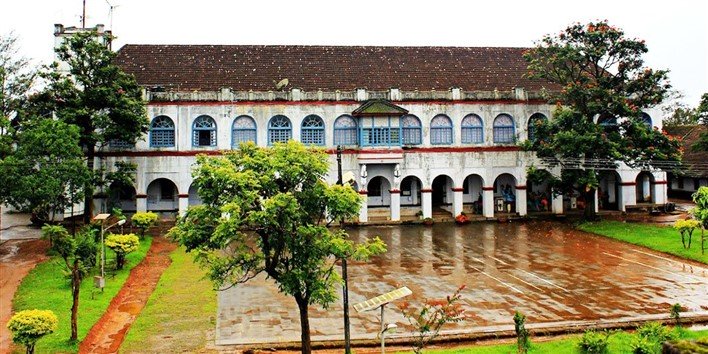 Dating back to the 17th century, this enormous fort originally built by the erstwhile rulers of Coorg has stood testament to the history of the region with several rulers making changes to it over the centuries including the likes of Tipu Sultan and the British.
Standing against the backdrop of verdant mountains and the open sky, the Madikeri Fort takes you on a historical journey back in time. 
Entry Fee: Nil
Timings: 10:00 am – 5:30 pm (All days except Monday)
Experience Authentic Coorg Cuisine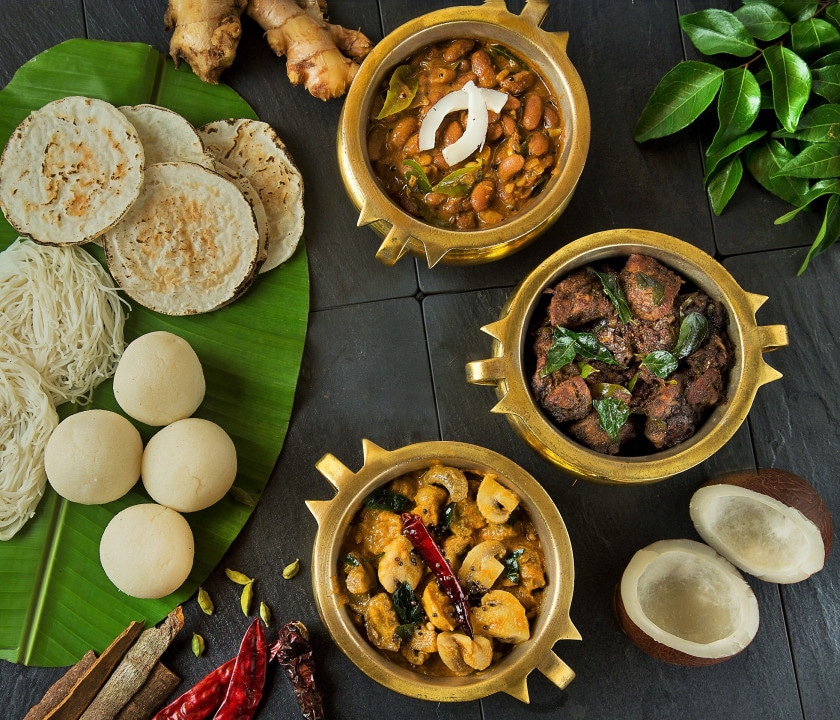 To experience Coorg to its fullest, you must experience its cuisine. Rice forms the major part of the cuisine and takes various forms like akki roti (flatbread made with rice), puttu (steamed rice cake), and Noolputtu (string hoppers).
The cuisine here is also seasonal with tender bamboo shoots, wild mushrooms, and a range of chutneys taking the center stage during winter while wild fruits, mangoes, and jackfruits being popular options during summer.
Spicy meat dishes include the classic pandi curry or  Kakkada Nyend Curry are also prized delicacies unique to the region.
Staying at a homestay is the best way to taste authentic Coorgi cuisine while also giving you a glimpse into the culture and hospitality of the region.
With endless mountains, national parks, and waterfalls to trek, safari, camp, or sightsee combined with a rich culture and history, the above list of things to do in Coorg is in no way exhaustive and is only indicative of the vast treasures Kodagu has in store for her visitors.