Deemed to be one of the best winter treks in India, Kedarkantha is one of those rare Himalayan treks that remains accessible even during winters. Suitable for those looking to begin their journey into the Himalayas or even experienced trekkers looking for a quick getaway, the Kedarkantha trek offers a unique experience to trek across snowy trails and get a glimpse of life in the mountains even in the dead of winters.
With a trail dotted with thick oak and pine forests, wide-open green meadows, serene lakes, picture-perfect campsites and panoramic views of majestic Himalayan peaks, the Kedarkantha trek offers the perfect mix of challenge, adventure and breathtaking views.
Kedarkantha Trek – All You Need to Know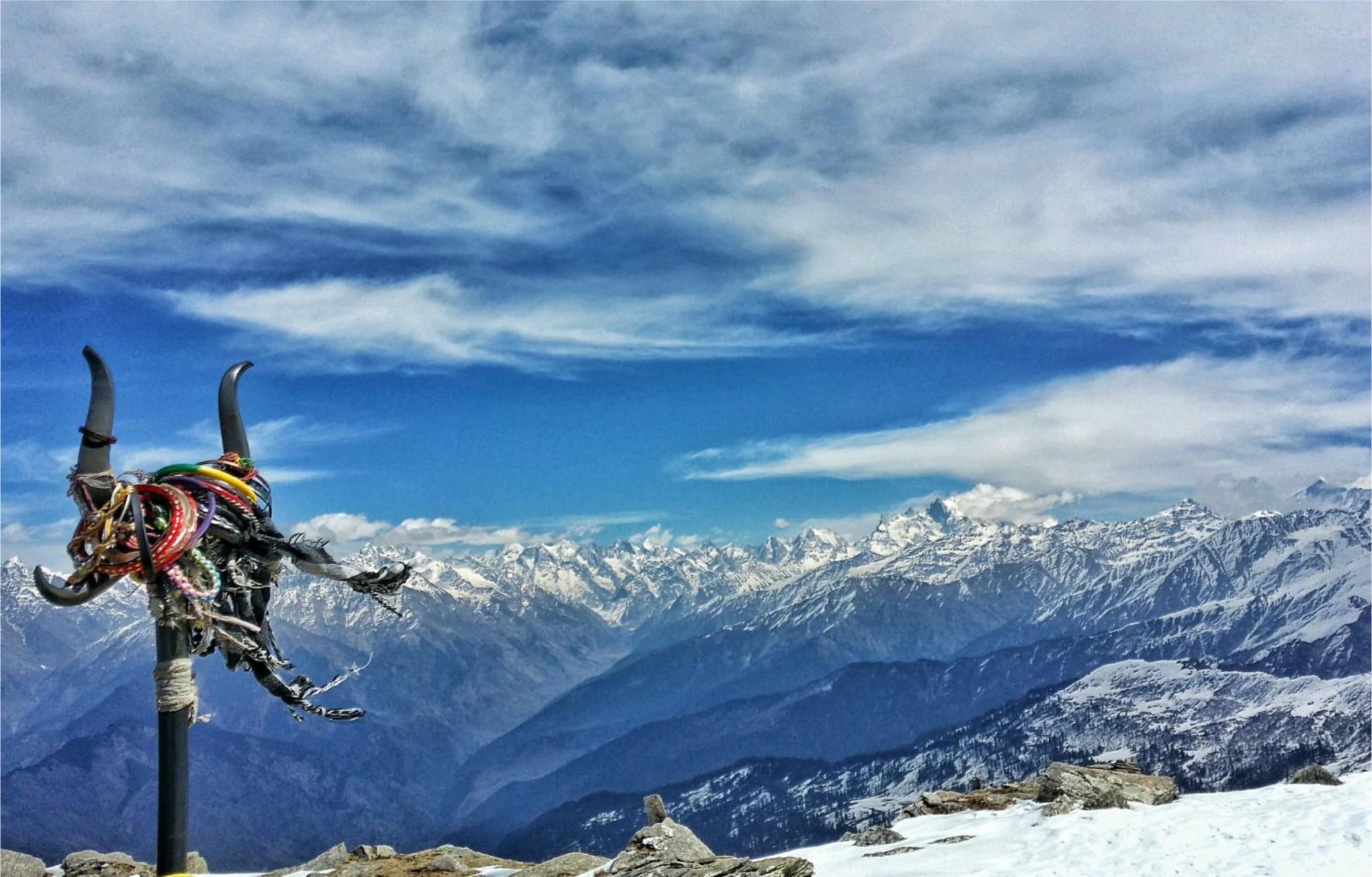 Kedarkantha Trek at a Glance
Difficulty: Moderate (Suitable for Beginners)
Kedarkantha Trail: Dense Pine & Oak forests, open meadows & snow during winters.
Region: Uttarakhand
Base Camp: Sankri (200 kms from Dehradun)
Kedarkantha Altitude: 6,000 ft at Sankri to 12,500 ft. at Kedarkantha Peak
Kedarkantha Trek Distance: 25 km (Approx)
Kedarkantha Trek Duration: 4 days (Sankri – Sankri)
Best Season for Kedarkantha Trek: December to April
The Kedarkantha trek starts from the quaint village of Sankri in Uttarakhand located at a height of 6,000 feet. With panoramic views of snow-clad peaks almost all throughout the trail, the Kedarkantha trek takes one through dense pine and oak tree forests, frozen lakes and snowy trails towards the Kedakantha peak situated at an elevation of 12,500 feet. The entire trek takes around 4 days starting from Sankri and back, apart from additional days for travelling from Dehradun and beyond.
Mythology of Kedarkantha
As is with most destinations around Uttarakhand smeared in mythological references, Kedarkantha is no different. The most popular reference relating to the place comes straight from the Mahabarata, which claims Kedarkantha to be the place where Lord Shiva in his bull avatar sought refuge from the Pandavas and meditated in the valley but on being disturbed by the locals, he later fled towards Kedarnath. The Trishul of Lord Shiva, erected at its peak is also believed to protect the valley and its people.
Best Time to do the Kedarkantha Trek
Although the Kedarkantha trek can be done throughout the year, it is one of the few Himalayan treks accessible during winters and hence it is best done during the winter months between December all the way towards the end of April giving trekkers an opportunity to not just witness its snowy landscapes but also the experience of trekking on the crackling snow. With just the right amount of snow and devoid of extreme temperature changes, the Kedarkantha trek is not too challenging and hence suitable for even first-timers.
Kedarkantha Trek Weather & Temperatures 
Month
Maximum Day Temperature
Minimum Night Temperature
Weather
May to June (Summer)
20°C
6°C
-No snow
-Hot mornings and cold evenings
-Mild rainfall by end of May
July to August (Monsoons)
17°C
4°C
-No snow

-Moderate to heavy rainfall with occasional landslides
-Cloudy and wet with green landscapes

September to November (Autumn)
15°C
2°C
-No snow
-Mild mornings and very cold evenings
-Mild rainfall until end of September
December to February (Winter)
10°C
-8°C
-Fresh Snow and snowfall
-Mildly cold mornings & extremely cold nights
March to April (Spring)
12°C
0-5°C
-Residual snow
-Lush green forests and meadows
-Warm mornings and cold evenings
Itinerary for Kedarkantha Trek
Short Itinerary
Day 0: Arrival at Dehradun
Day1: Drive from Dehradun to Sankri Base Camp
Day2: Trek from Sankri to Juda Ka Talab
Day3: Trek from Juda ka Talab to Kedarkantha Base Camp 
Day4: Trek from Kedarkantha Base Camp to Kedarkantha peak and back to Hargaon Campsite
Day5: Trek back from Hargaon to Sankri and return to Dehradun
Kedarkantha Trek – Detailed Itinerary
Day 0: Arrival at Dehradun
Dehradun forms the gateway towards Sankri and is well connected to major cities, the closest and cheapest option being Delhi.
Delhi to Dehradun-
Distance: 260 km
Duration: 7 – 8 hours
By Bus: One can opt for the several overnight Volvo, deluxe, semi-deluxe or UPSRTC buses available from Delhi to Dehradun.
Cost: Starts at ₹400 Per ticket
By Air: Flights are available to the Jolly Grant Airport at Dehradun from most major cities.
By Train: Overnight trains are available from Delhi to Dehradun including the Nanda Devi AC Express which leaves at 11:50 PM from Delhi and reaches Dehradun at  5:40 AM. Trains are also the more comfortable option when compared to buses and offer more reliable arrival timings.
Cost: Starting from ₹150 Per ticket
Day1: Dehradun to Sankri Base Camp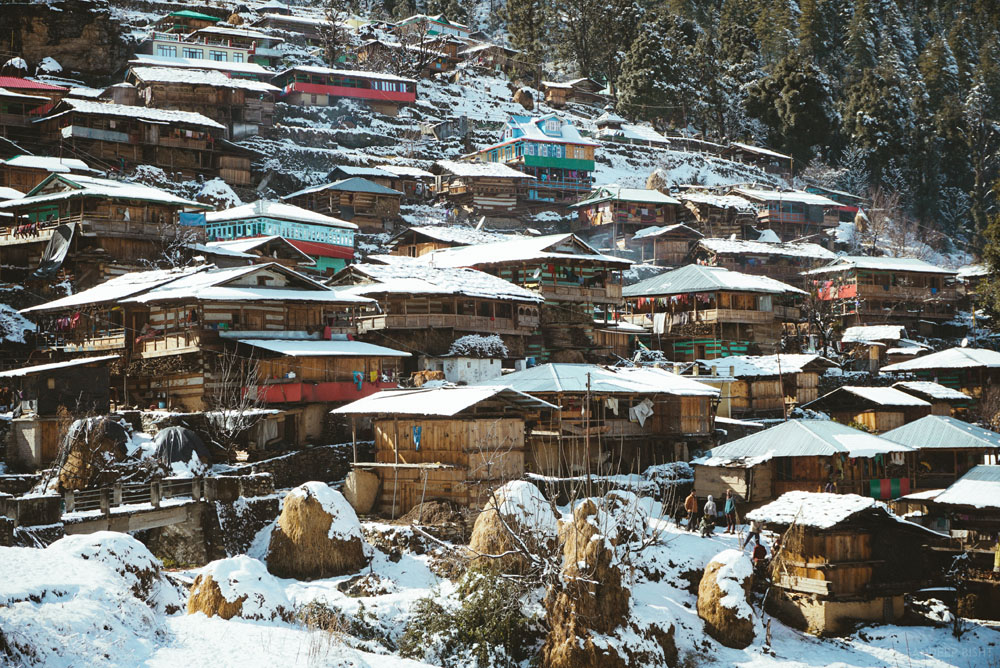 Leave Dehradun early in the morning (6 AM) and reach Sankri by evening to catch the beautiful sunset from this quaint little village steeped in natural beauty. This also gives you ample time to do some last-minute preparations and get some good rest before starting the trek the next day. 
Distance: 220 km
Duration: 10 – 11 hours
Altitude: 6,400 feet
How to Reach Sankri from Dehradun
One can reach Sankri from Dehradun only by road either by a private vehicle, a bus or hiring a private cab.
By Private Vehicle: The following route can be taken to reach Sankri from Dehradoon if coming by your own vehicle.
Dehradun – Purola – Mori – Naitwar – Sankri
By Bus: Two buses are available from Dehradun to Sankri from the Mussoorie Bustand (4 km away from ISBT) one at 5 AM & another at 7 AM.
Cost: ₹300 Per ticket*
In case you miss the morning bus, connecting buses are also available to the nearby villages of Purola or Hanol. From here buses, as well as shared taxis, are available towards Sankri.
By Cab: You can also hire a shared taxi from Dehradun to Sankri
Cost: ₹5000 – ₹6,000 per cab for upto 5 people*
(*As on October 2020. Please check the latest timings & price before arrival)
Day2: Sankri to Juda Ka Talab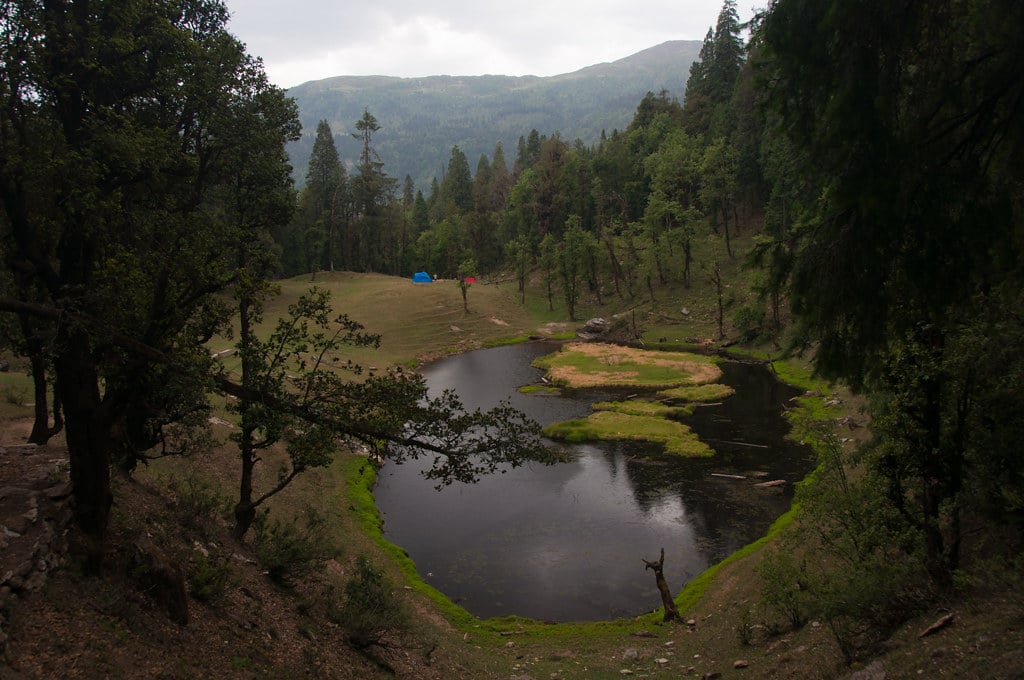 Distance: 5 km
Duration: 5 hours
Altitude: 9,100 feet
A roughly 5 km trail from the base camp through green meadows and thick pine and oak forests takes you to the picture-perfect Juda Ka Talab campsite. Juda Ka Talab as the name suggests is a serene frozen lake which once used to be two lakes but has now conjoined as one.
Day3: Juda ka Talab to Kedarkantha Base Camp 
Distance: 4 km
Duration: 3 hours
Altitude: 11,250 feet
From Juda Ka Talab, a 4 km trek initially through thick pine forests later opens up to lofty mountain views leading you to the Kedarkantha Base Camp located at 11,150 feet. From here one can enjoy panoramic views of the surrounding snow-clad peaks including Bandarpoonch, Swargarohini, Kala Nag, and Ranglana to name a few. The Kedarkantha peak is also clearly visible from here.
Day4: Kedarkantha Base Camp to Kedarkantha peak to Hargaon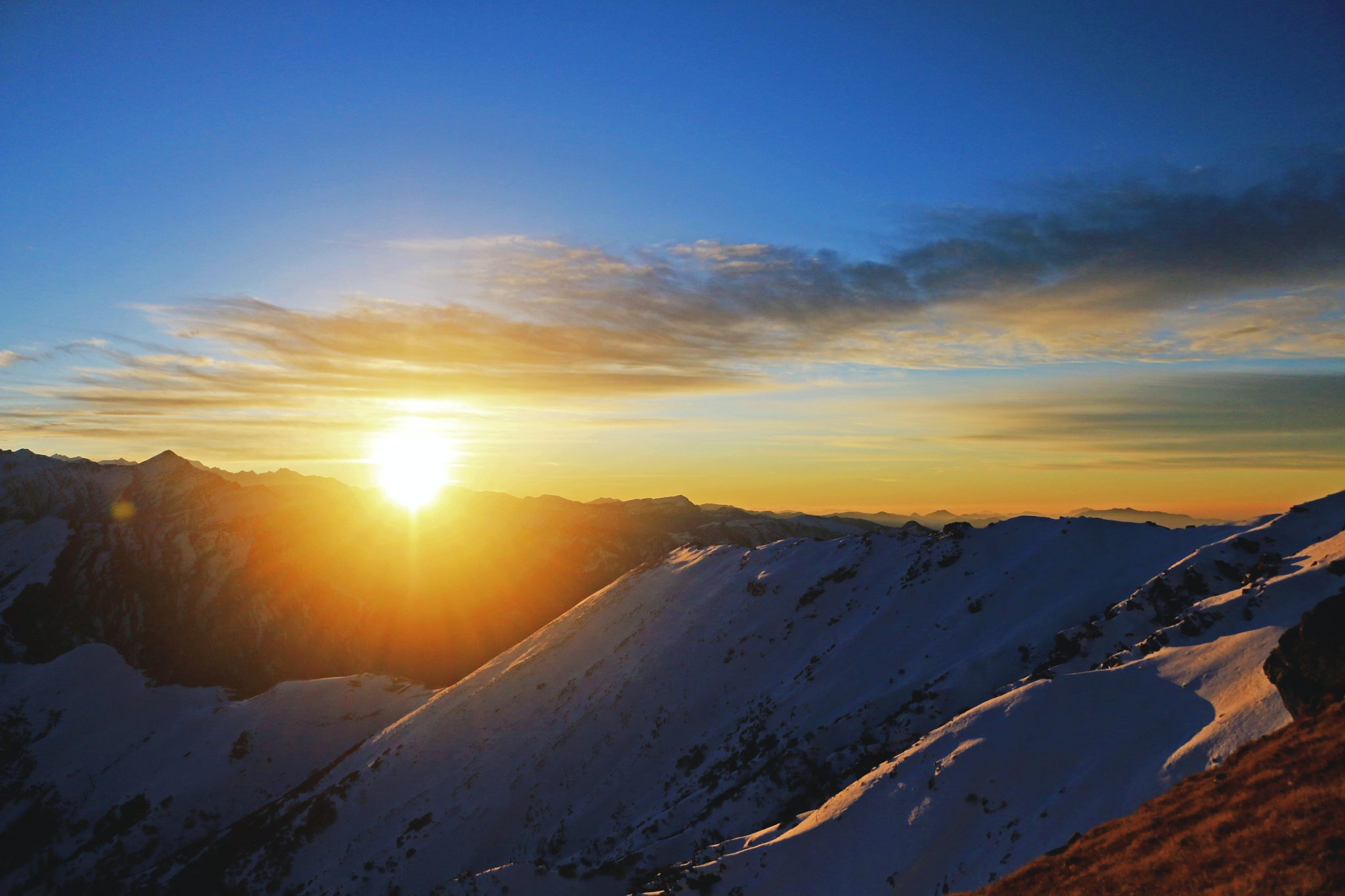 Distance: 6 km
Duration: 6 – 7 hours
Altitude: 12,500 feet to 8,900 feet
The Kedarkantha summit, marked by a Trishul pointing to the sky is around 2 hours away from the base camp and can be reached through several routes. It is advisable to start the trek before dawn (as early as 3 AM) in order to catch the mesmerizing sunrise (usually around 7 AM) from atop the peak. Although the trail starts off with a gradual ascend, as you get closer to the peak, the trail becomes more challenging with almost 80-degree inclines at a few stretches.
Apart from the breathtaking sunrise, the Kedarkantha summit offers 360-degree views of the surrounding Himalayan ranges including Gangotri, Yamunotri, Chanshil Pass, and Kinnaur Kailash ranges.
From the summit descend back to the Kedarkantha base camp and further down towards the Hargaon campsite.
Day5: Hargaon to Sankri/Dehradun
Distance: 6 km
Duration: 4 hours
Altitude: 6,400 feet
The trail from Hargaon to Sankri is well marked along a stone-paved route and takes relatively less time owing to the descent. You also get some splendid views of the Har ki Dun valley along the way. Once back at Sankri, you can either chose to spend the rest of the day at Sankri and explore the beautiful Himalayan village or head back to Dehradun the same day provided you came by your own transport or private cab.
Buses are only available from Sankri to Dehradun at 5 AM & 7 AM every day and take around 10 hours to reach.
Accommodation Options During Kedarkantha Trek
Stay at Sankri
Sankri is a remote village with a limited number of homestays and a few hotels for accommodation. Homestays offer a more budget-friendly option while giving you an authentic experience of the Himalayan way of life. However, prior booking becomes mandatory during the winter seasons from December to March as this is the peak trekking window in this region. Do note that Sankri does not have ATMs or Banks, hence carry sufficient cash with you before your arrival here.
Stay During Kedarkantha Trek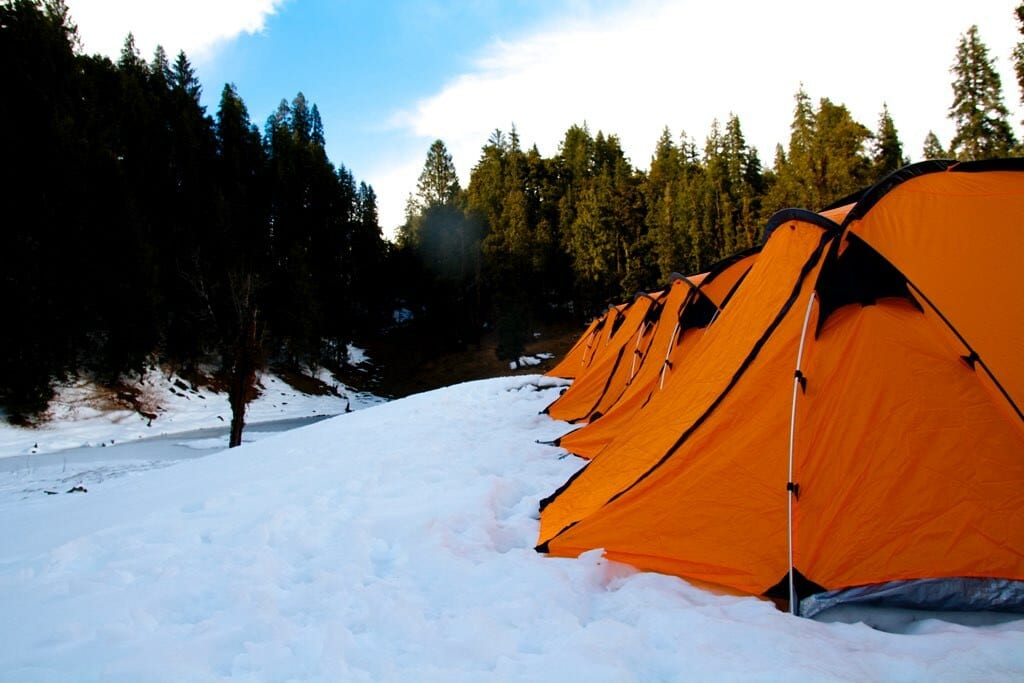 Apart from Sankri, there are no homestays all throughout the Kedarkantha trail, and relying on the existing campsites on the trail or camping on your own is your only option. If you happen to be trekking with any organization or opting for a trekking package that includes accommodation you would not have to worry about the same as you will be staying in their designated campsites along the trail.
If you plan to camp on your own, you will have to carry all necessary camping equipment including tents, sleeping bags, liners, etc. The same can also be rented out from Sankri.
Food Options during Kedarkantha Trek
Apart from Sankri, there are very limited tea houses along the trail that offer a few simple options like Maggi and some snacks. However, the chances of them being open are uncertain and hence should not be entirely relied upon. Opting for a trekking package that covers food and accommodation would be your best bet for arranging the same. Those wanting to trek by themselves will obviously have to carry the required supplies along with a portable stove and fuel.
Permits & Local Guide for Kedarkantha Trek
As a mandatory rule enforced by the authorities of Govind Vihar National Park, Kedarkantha trekking permits are issued only if you are accompanied by a local guide registered with the forest department. The local guide will also help you with getting the required permits from the forest office at Sankri. 
Hiring a local guide not only ensures your safety by making sure you stay on the right trail and help deal with emergencies and other uncertainties while on the trek, but it also gives you an interesting insight into the local culture and geography of the region. Pre-booking of a local guide is essential especially during peak seasons.
Cost of Local Guide: ₹1,000 per guide
Cost of Permits for Kedarkantha Trek: ₹50 per day
Things to Carry for the Kedarkantha Trek
The following are some of the essential items required while going on the Kedarkantha Trek. Do note that if you are planning to undertake the trek by yourself and not with an organization or package, additional items for camping and cooking will also be required to be taken by you.
Category
Item
Clothes
T-shirts/shirts, trekking pants
Windproof Jacket
Raincoat
Winter Wear
Minimum 4 to 5 layers of clothing is required during winters including woolen fleece jackets, thermals, gloves, caps, mufflers, or neck warmers, and socks.
Footwear
Hiking shoes
Sandals or slippers
Crampons and Gaiters (Required during winters)
Toiletries
Toothpaste & brush, liquid soap, sanitizer, tissues, sunscreen lotions, lip balm
Electronics
Chargers and power banks
Camera with extra memory cards & batteries
Snacks
Energy bars, biscuits, chocolates, dry fruits, glucose & ORS
First Aid kit
Diamox for altitude sickness, an essential medication for headache, stomach upset, etc. band-aids, volini spray for sprains
Miscellaneous
Headlamp Torch
Trekking pole
Water Bottle/Flask
Sunglasses with UV protection
ID & photocopies
Things to Know Before Attempting the Kedarkantha Trek
There are no ATM's after Mori, so carry a sufficient amount of cash from Dehradun itself for the entire trek.

There is no mobile connectivity after Purola. Only a sparse BSNL network is available in and around Sankri.

Prebooking of accommodation, guides, and equipment is compulsory in the peak season between November to January.

Pack light as you will have to carry your backpack for the entire trek. It is advisable to keep your backpack weight under 10 kgs.

Choose for train travel to Dehradun while coming from Delhi as the same is more comfortable and avoids delays.

Hydrate yourself all throughout the trek starting from the time you wake up.

You can opt to trek by yourselves along with a local guide or choose to go with one of the many organizations that conduct the Kedarkatha trek. The latter ensures that all your accommodation, food, and other formalities are taken care of for a hassle-free trekking experience.

Be a responsible trekker and make sure you do not litter the trail and surrounding areas and to bring back any waste or plastic items and dispose of the same responsibly.