Are you trying to decide when to go trekking? It's not too hot or too chilly. You are in the autumn season. Here is all the information you want for hiking in the Himalayas following the monsoon. The Indian Himalayas shed their winter coats and reawaken, welcoming you with a brand-new, energising, and warm aspect of themselves. The Himalayas experience the best weather from the end of September to the end of November when the snow and rain have halted falling.
The fact that many dormant waterfalls come to life during the autumn season makes the Himalayan journey the greatest. When the monsoon rains stop, the cover of flowers and other flora comes to life, bringing colour to the area. The most alluring forms of nature are present, along with pure lush greenery and fresh air.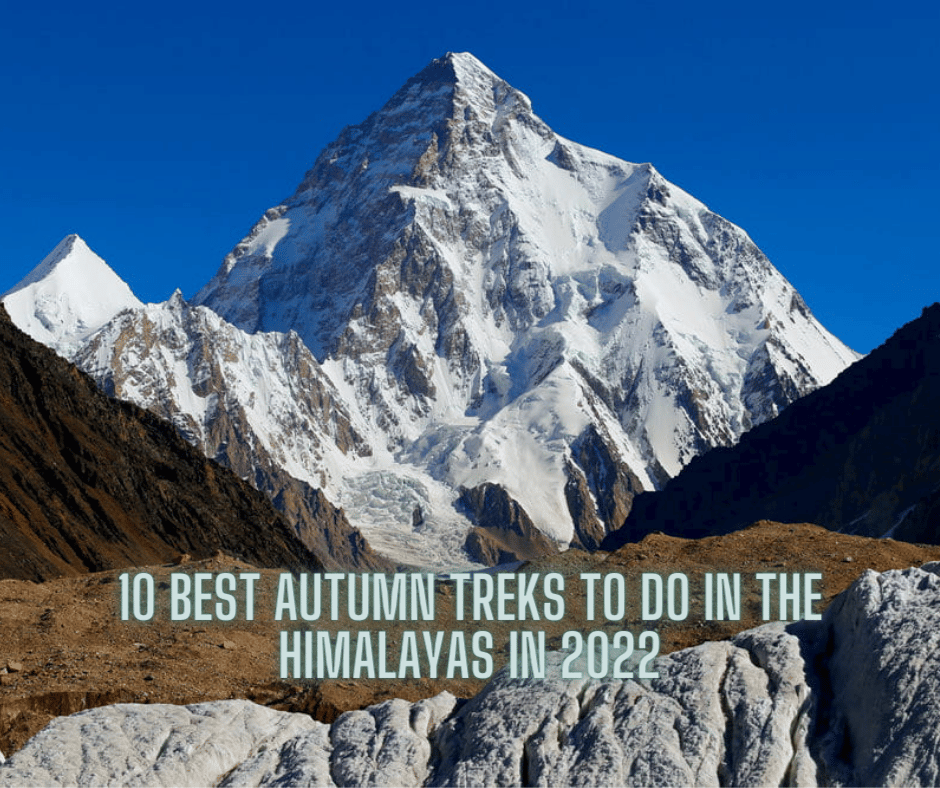 Here are some of the treks you should check out that can be done during the autumn season!
1. Dayara Bugyal trek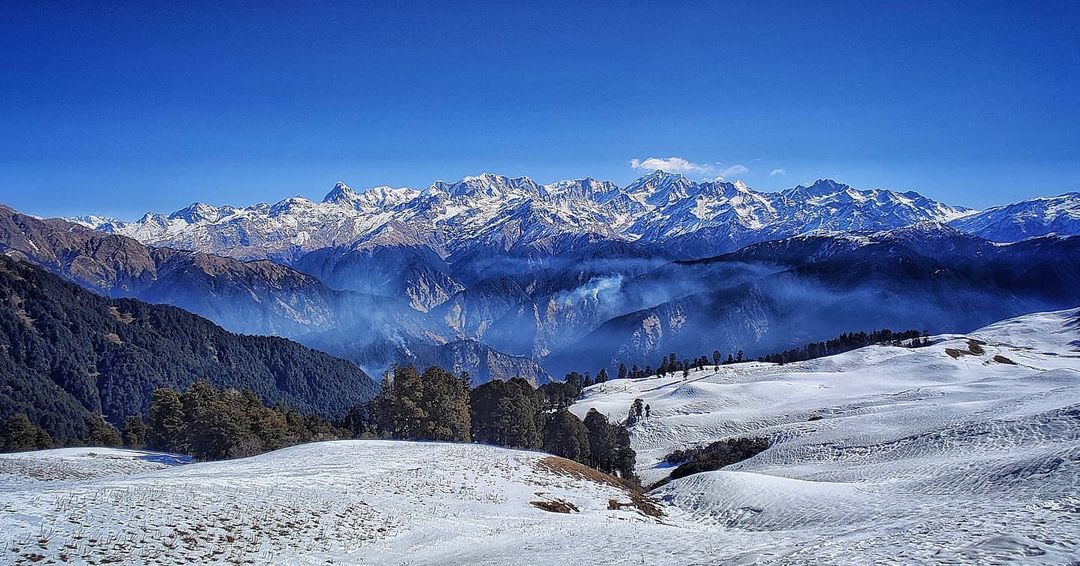 Trek Distance: 40 Km
Duration: 6 Days
Max Altitude: 3850 mts
Map Coordinates: 30.8383656°N 78.5550349°E
Base Village: Barsu
Dayara Bugyal is a mountainous area in the district of Uttarkashi in the state of Uttrakhand. One of the most well-known trekking paths in the Garhwal Himalayas leads through dense woods to a vast expanse of beautiful green grassland.
Starting at the village of Barsu, the Dayara Bugyal trek begins. A broad, sweeping, undulating, and verdant meadow called Dayara Bugyal is all left as you continue to rise. Trekkers can pause and stop to take photographs of the stunning scenery as they take in the lovely sights of a stream running. The Dayara Bugyal walking route continues through a lush woodland of maple and oak trees. Except for a mountain dog that might hike with you the entire way, there are no animals. The forest begins to disappear as one keeps trekking Dayara Bugyal.
2. Deoriatal Chandrashila trek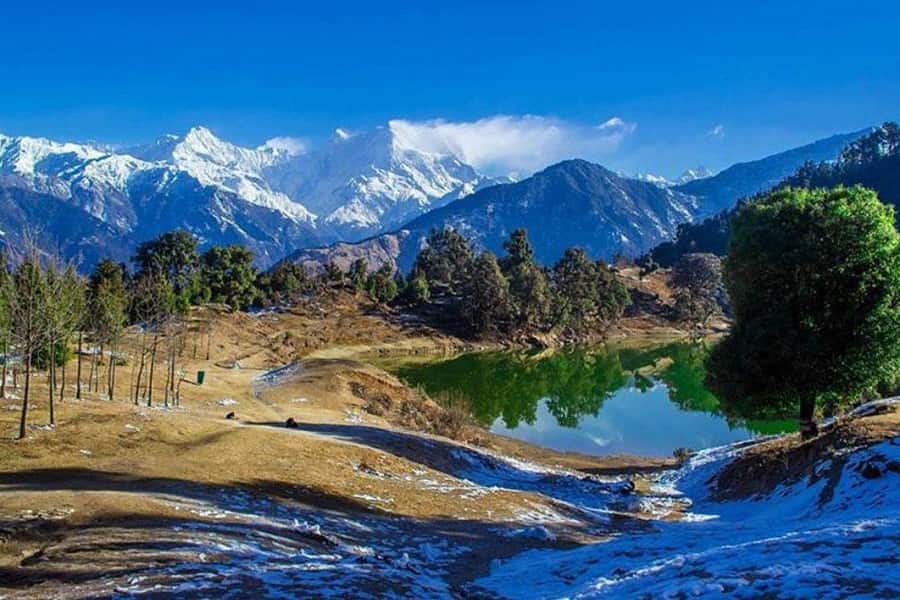 Trek Distance: 30 Km
Duration: 5-6 Days
Max Altitude: 13,600 feet
Map Coordinates: 30°29′17°N 79°13′17°E
Base Village: Sari
On the Ukhimath-Chopta route in the Indian state of Uttarakhand, the lake known as Deoria Tal is located approximately 3 kilometres from the communities of Mastura and Sari. It features a thickly forested, lush green environment with snow-covered mountains in the background and is located at an elevation of 2,438 metres in the Garhwal Himalayas.
The gorgeous, snow-covered hills are awe-inspiring, and the combination of the eerie atmosphere and the bizarre beauty draws everything to a stop. A dense bed of blooming plants surrounds the route and is shaded by an imposing grove of oak, deodar, and rhododendron. This unspoiled, underappreciated gem offers a 360-degree perspective of some of the Garhwal Himalayas' most breathtaking panoramas. For those who wish to begin hiking in the Himalayas, this route is excellent. In addition to being a visual joy, it draws photographers from all over the world to capture the splendour.
Deoriatal Chandrashila Trekking is best done between January and May and again between October and December. In November, snow begins to fall, and it becomes progressively worse. The Deoriatal Chandrashila hike has a maximum altitude of almost 13,600 feet. The Deoriatal Chandrashila Trek spans a distance of around 30 kilometres, and it takes 5-6 days to accomplish.
3. Kedarkantha trek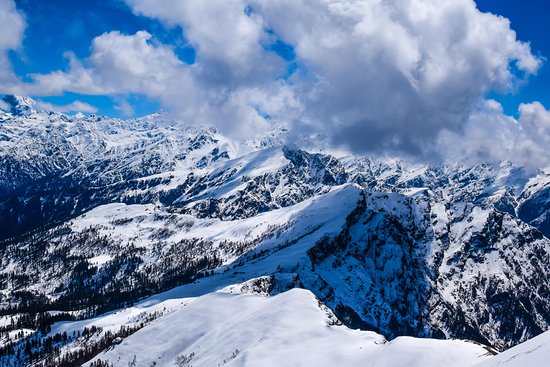 Trek Distance: 25 Km
Duration: 5-6 days
Max Altitude: 12,500 ft
Map Coordinates: 31.022466°N 78.17179°E
Base Village: Sankri
Kedarkantha Trek is located in Uttarakhand's Uttarkashi district. It begins in the native Sankri village. With mountains covered with snow and a glittering river flowing through it, the settlement is pretty lovely. The most lovely aspect of this house is its charm.
The gradient remains constant the entire distance. It also gets more challenging as you near the peak. But until you reach the peak, the enormous mountains of the high Himalayas keep you company.
4. Brahmatal trek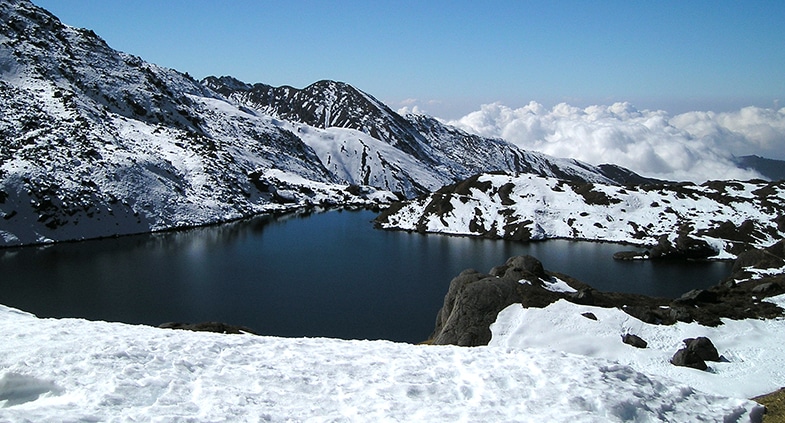 Trek Distance: 28 Km
Duration: 6 Days
Max Altitude: 12200 ft
Map Coordinates: 30.1769929°N,79.5871179°E
Base Village: Lohajung
The Brahmatal trip, a 28-kilometre journey, starts at Lohajung, a base hamlet in the Chamoli region of the Garhwal Himalayas. Through deep conifer, cedar, oak, and fir forests, the 6 km hike from Lohajung to the Gujreni campground is traversed. The Gujreni campground is located in the centre of a lovely open surrounded by oak and rhododendron trees and offers expansive views of snow-capped mountains.
The best time to trek Brahmatal is between March and April, you'll find abundant Rhodedrones growing at this place that make the whole surrounding look picturesque.
5. Rupin Pass trek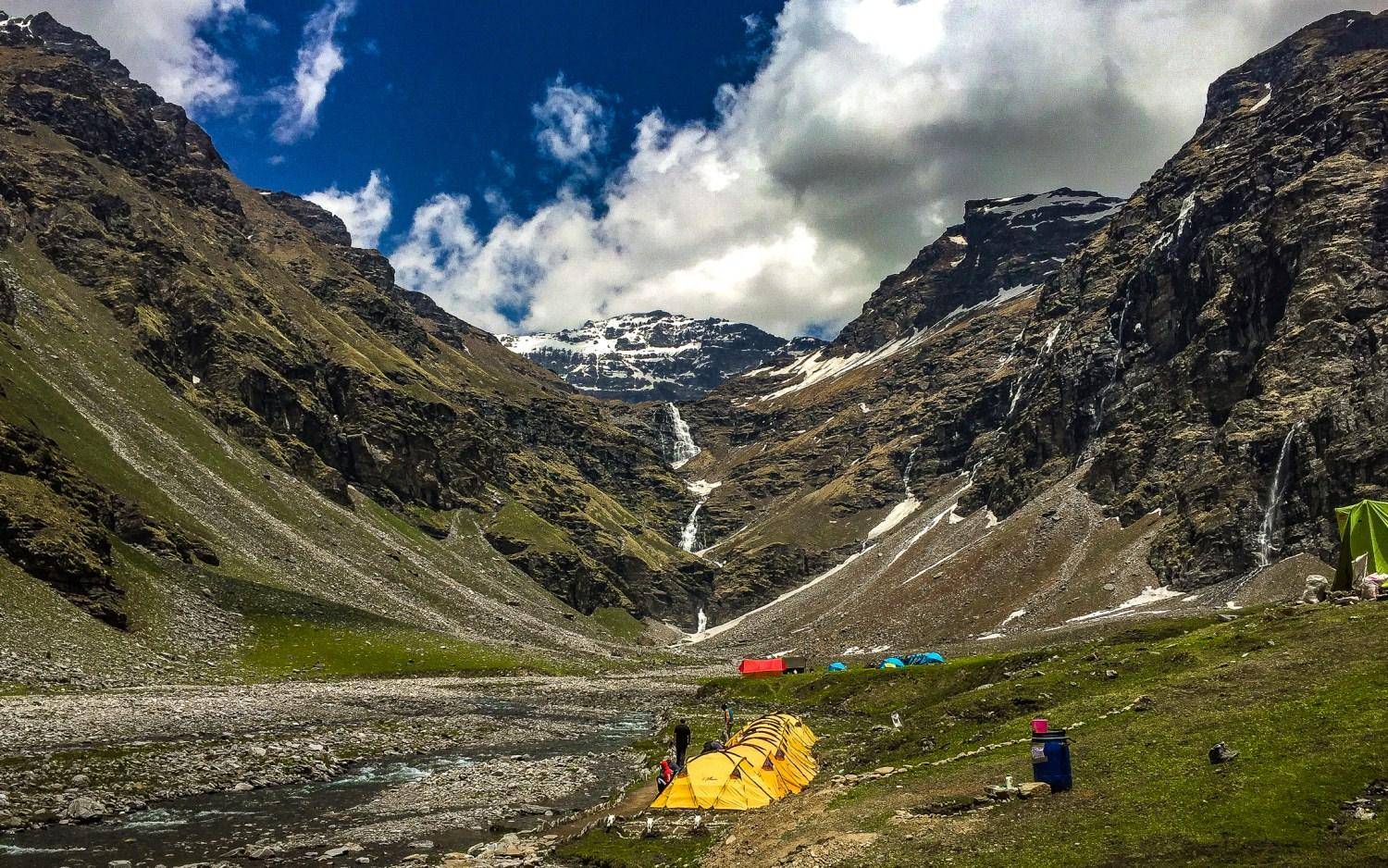 Trek Distance: 41 Km
Duration: 7 Days
Max Altitude: 15250 ft
Map Coordinates: 31°20′41°N 78°09′52°E
Base Village: Dhaula
The Rupin Pass trip is a challenging ascent that begins in Dhaula, Uttarakhand, and concludes at Sangla. Some of the most picturesque locations and views in the world are visited over the entire trekking journey across Himachal Pradesh.
One of the highest-range trekking expeditions in India, this high-altitude trek is located at a height of 15,250 feet. In addition to the varied curves and bends and the natural splendour of the area, quite a few nature enthusiasts are drawn to the trails' abrupt changes.
With such stunning scenery, it makes for the perfect hike for practically any kind of adventure seeker. The journey gradually moves through the warmer areas before reaching the colder ones.
6. Har ki Dun- Ruinsara Valley trek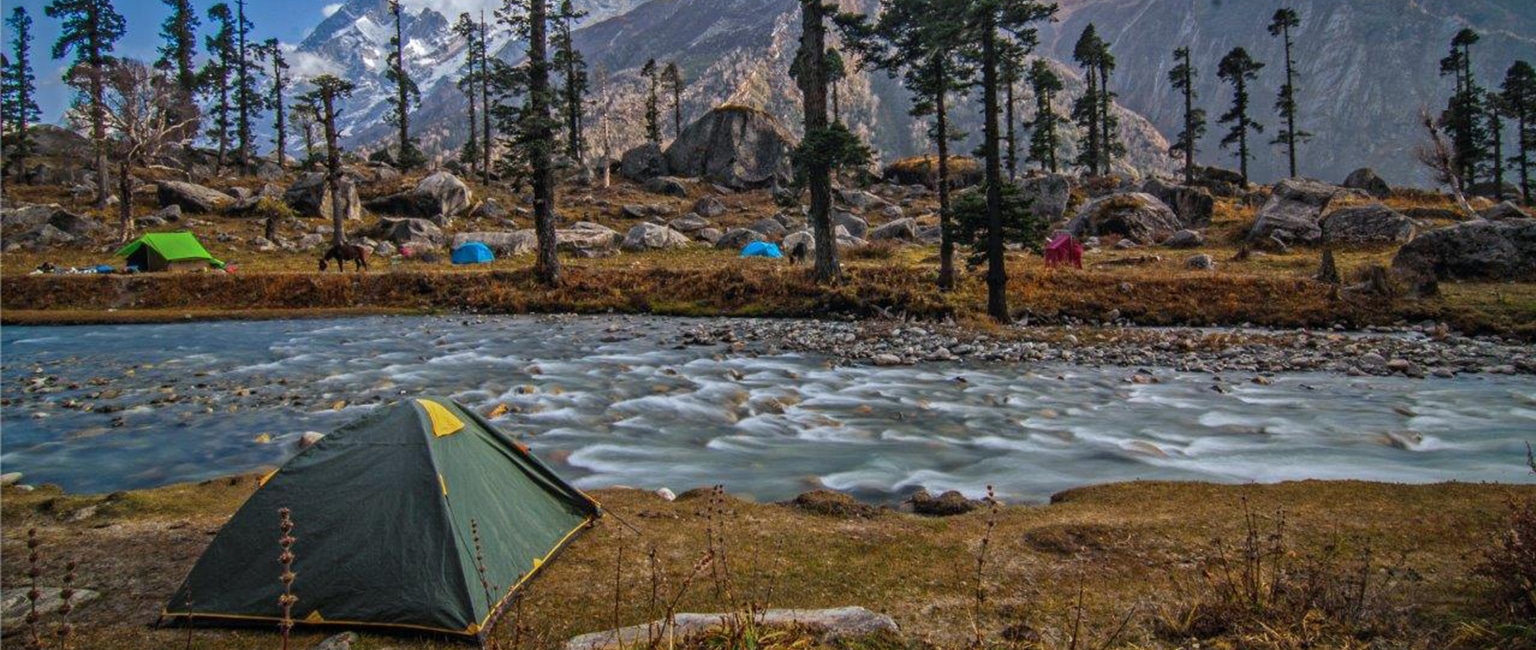 Trek Distance: 48 Km
Duration: 7 Days
Max Altitude: 11,675 ft
Map Coordinates: 31.150017991298476°N, 78.42678470770555°E
Base Village: Sankri
Har Ki Dun, also known as the Valley of Gods, is located in Uttarakhand's Uttarkashi district in the Garhwal Himalayas. One of the country's most beautiful river valley hikes is Har Ki Dun, which is located at 3,500 M. Diverse flora and wildlife, massive vistas, small settlements buried into the mountains, and big, sweeping meadows will leave you speechless.
Every season brings a new landscape to the Har Ki Dun route, which is well known for this. The valley has comfortable temperatures in the spring and summer. A beautiful variety of fauna may be seen, and the flowers are in full bloom. The valley receives snowfall every few weeks as winter approaches, turning the valley's rich green accents into immaculate whiteness.
Swargarohini Peak, Hata Peak, and Black Peak, among others, may be seen on a clear day. This moderately difficult hike offers a variety of enjoyable features, including alpine flowers, wide-open meadows, deep coniferous woods, and vistas of enormous mountain ranges.
7. Sandakphu Phalut trek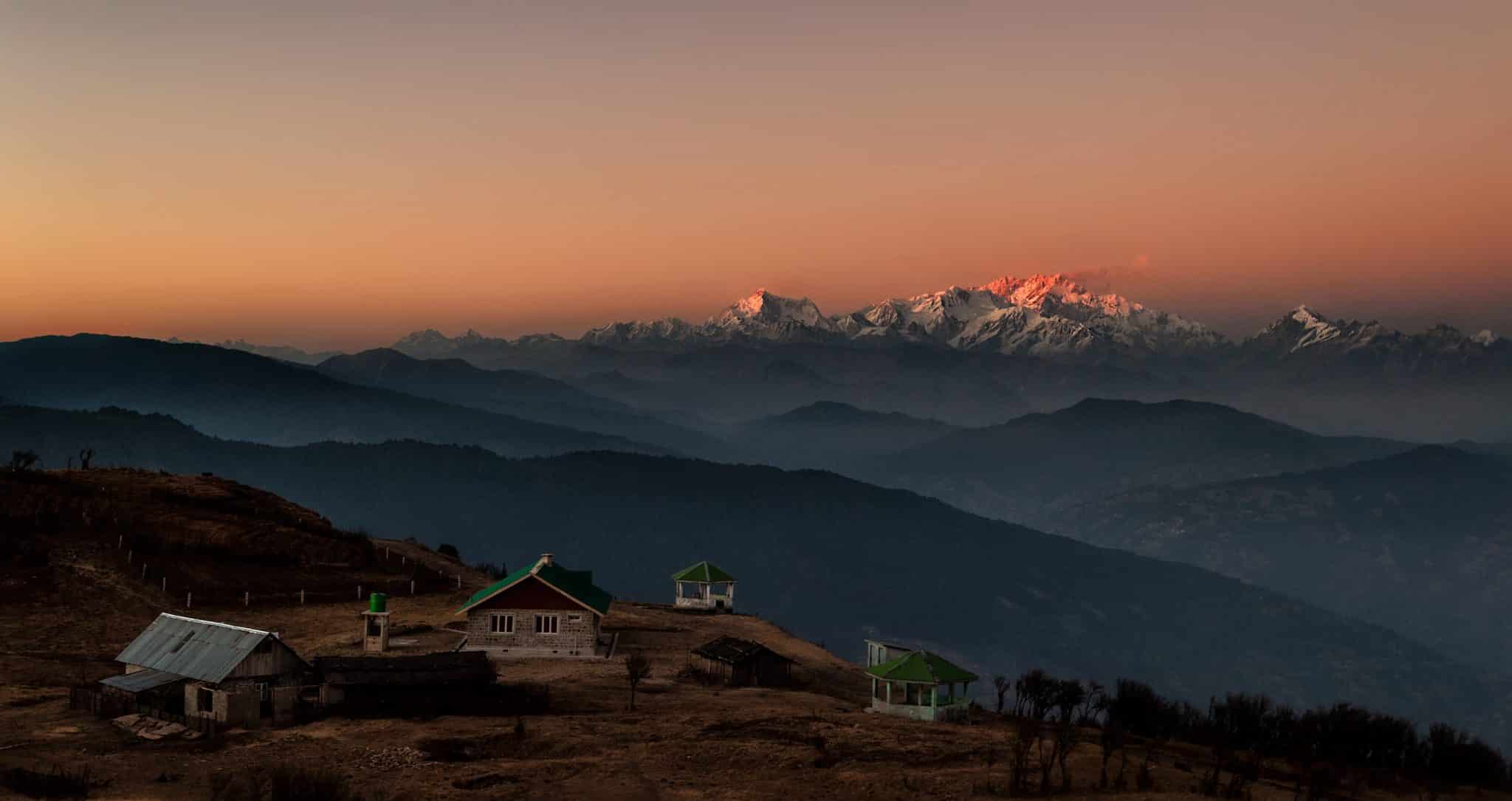 Trek Distance: 68 Km
Duration: 7 Days
Max Altitude: 11,930 feet
Map Coordinates: 27.105096°N, 88.001708°E
Base Village: Kopidana
With a height of 3636 metres, Sandakphu is West Bengal's highest point, while Phalut is another tabletop on the same ridge. This walk travels over the well-known Singalila Ridge, a notable outcrop of high terrain at the southern tip of a long crest that descends from the Kanchendzongha massif and serves as the boundary between Sikkim and Nepal. The greatest views in the Himalayas can only be seen from high up, which makes travelling there a must. However, the trip up this ridge, which passes through tiny communities, is possibly one of the most scenically rewarding in the Himalayas.
8. Ali Bedni Bugyal trek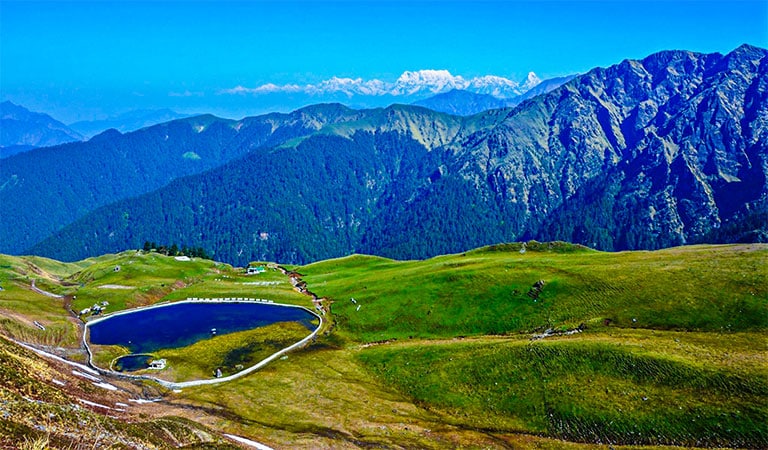 Trek Distance: 30 Km
Duration: 6 Days
Max Altitude: 11350 ft
Map Coordinates: 30.206°N 79.663°E
Base Village: Didna
One of the most tranquil and peak view-rich trails, the Ali Bedni Bugyal trek, is formed by two nearby alpine meadows. On the large stretch of the alpine meadows, known locally as Bugyal, one will spend close to two days. One may stroll across this undulating expanse of meadow, which occasionally has green, and yellow hues, whether it is summer, autumn, winter, or spring. In peak winter months, prepare for a beautiful layer of snow.
9. Goechala trek

Trek Distance: 90 Km
Duration: 8-10 Days
Max Altitude: 15,100 ft
Map Coordinates: 27°36′28°N 88°11′13°E
Base Village: Yuksom
The third-highest peak, Mount Kanchenjunga, can be seen well from the 16,207-foot Goechala hike, which is located. Many adventure seekers dream about it and want it. Surrounded by entrancing flora and animals that are so brilliant and colourful that they may lift anyone's spirits.
With so many significant summits, the Goechala pass climb is a true adventure. The trail's connection to the well-known Kanchenjunga National Park, where one may experience pure nature, will refresh your senses.
10. Bali Pass trek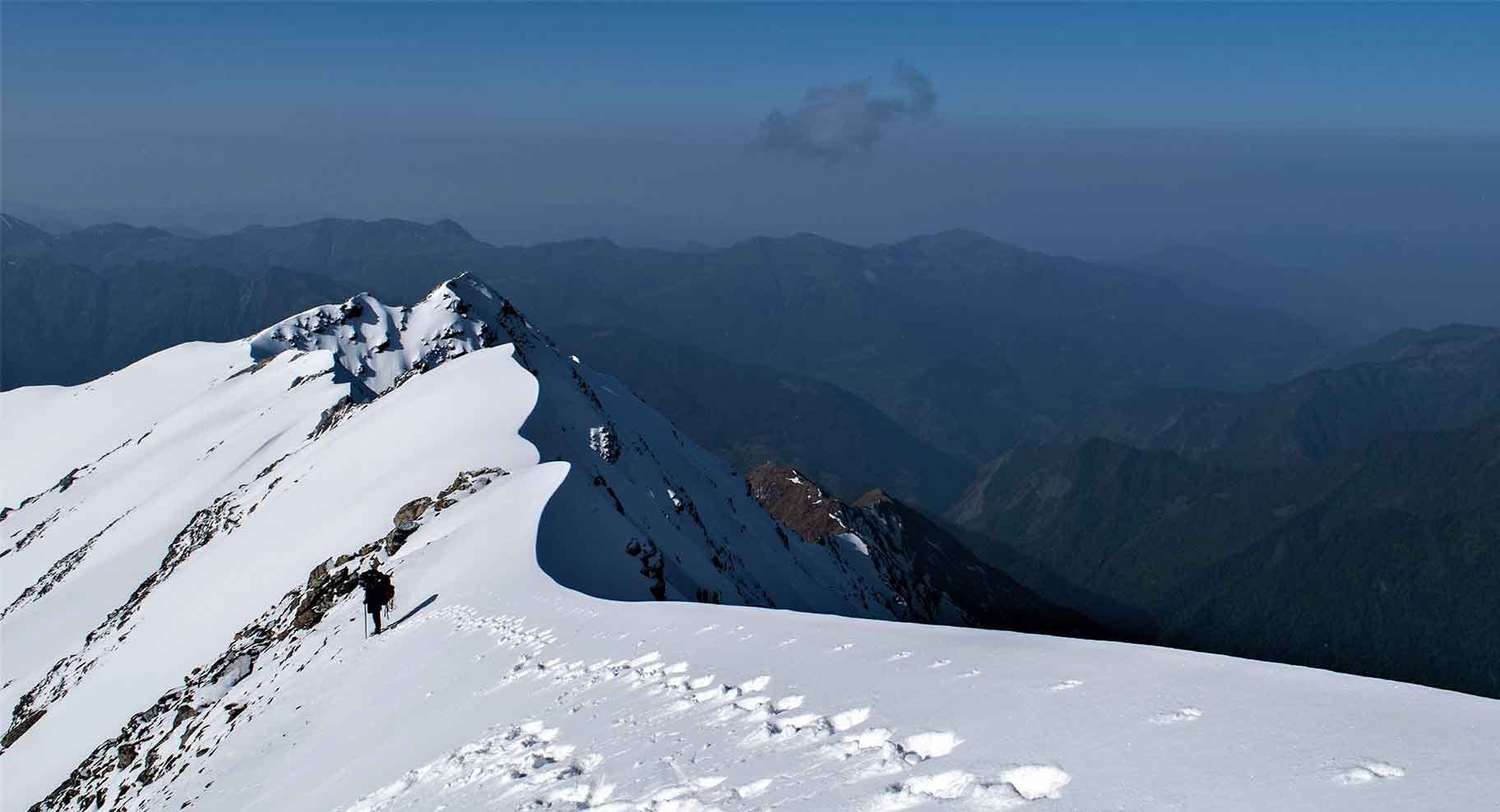 Trek Distance: 55 Km
Duration: 8 Days
Max Altitude: 16,207 ft
Map Coordinates: 30.73085°N 78.44378°E
Base Village: Kotgaon
The trek to Bali Pass begins in Uttarakhand's Sankri town and concludes at Janki Chatti. This hike provides stunning panoramic views of the Swargarohini, Bandarpoonch, and Kalanag peaks. One needs to have very strong physical and mental stamina to complete this journey successfully due to the difficult terrain, steep climbs and landings, thrilling pass crossings, and short routes.
Trekkers who want to challenge their boundaries and enjoy nature at its finest might consider the Bali Pass hike. At a height of 16240 feet, the Bali Pass Journey connects Yamunotri and the Har Ki Dun Valley. You should keep an eye out for the Dev Thach alpine meadows, which are located in the Ruinsara forest. The Ruinsara lake is of unparalleled grandeur and beauty and has a fantastic tale attached to it. It is a challenging trek suitable only for experienced hikers. The ideal times to hike the Bali Pass are in May, June, and September, October.
Read More: 
Book Your Trek Here
We hope this post will push you out of your comfort zones. Share pictures later. Also, let us know if any of your queries did not get answered; we reply quickly to comments.