Colours commingle in the galactic Sikkim; virtuousness is present in its peace and tolerance; young and energetic people make it alive; holy rituals and rites, religious festivals and ceremonies, gaudy dance and dresses sublimate heaven for explorers. The settled mighty Himalayas and their eclectic peaks, including Mt. Kanchenjunga, can't be mapped or explored by a single force, making Sikkim even more obscured and inviting. 
Ever since 'The Kingdom of Sikkim' merged with the Union of India in 1975, it has surprised humanity despite being the second smallest and least populous state in India. Influenced by various cultures, the state has inherited many languages and religions from its neighbours: Bhutan, Tibet, Nepal and West Bengal. Working consciously toward the environment, Sikkim has hugged many ecotourism practices and has gone 'all Organic' since 2016. 
We present to you a ten days guide to exploring Sikkim. Let's traverse the state and mark our presence in Sikkim's touristy and not-so-touristy places.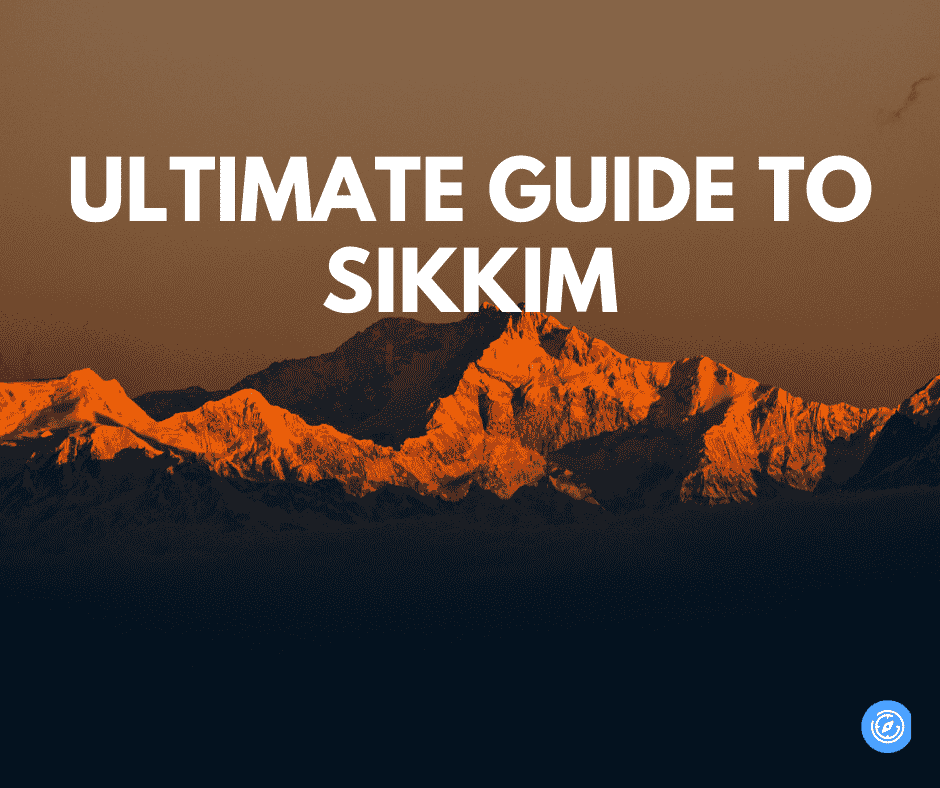 Brief 10 Days Itinerary for Sikkim
Day 1
Reach

Siliguri by flight;

Transfer to Bagdogra (gateway to the Northeast);

Explore malls and tea estates. Stay overnight.
Day 2
Start to Gangtok in the morning; 

Stop at Kalimpong midway;  see the foothills of the Himalayas;

Visit Neora Valley National Park and Durpin Gompa in Kalimpong;

Hanuman Mandir;

Kanchenjunga Viewpoint;

Pine View Nursery;

Reach Gangtok by afternoon;

Explore the marketplace and MG Road in Gangtok; 

Stay overnight. 
Day 3
Start for North Sikkim;

Stop at Lachen and stay overnight. Go in the vicinity of the Teesta river.
Day 4
Gurudongmar lake;

Visit Gurudwara Nanak Lama Chungthang;

Kala Patthar;

Go to lachung.
Day 5
Zero-point;

Yumthang valley while returning (Valley of Flowers);

Return Gangtok;

MG Road at night. Overnight stay in Gangtok.
Day 6
Start to East Sikkim;

Tsomgo lake;

Nathu La;

Return to Gangtok.
Day 7
Start to West Sikkim;

Ravangla;

Ralang monastery;

Buddha Park;

Night stay at Ravangla.
Day 8
Rabdentse Ruins;

Kitam Bird Sanctuary;

Kanchenjunga Falls;

Night stay in Pelling.
Day 9
Singshore Bridge;

Reach Bagdogra by evening;

Shop at the night market (teas);

Night stay at Bagdogra.
Day 10
Catch a flight from Bagdogra.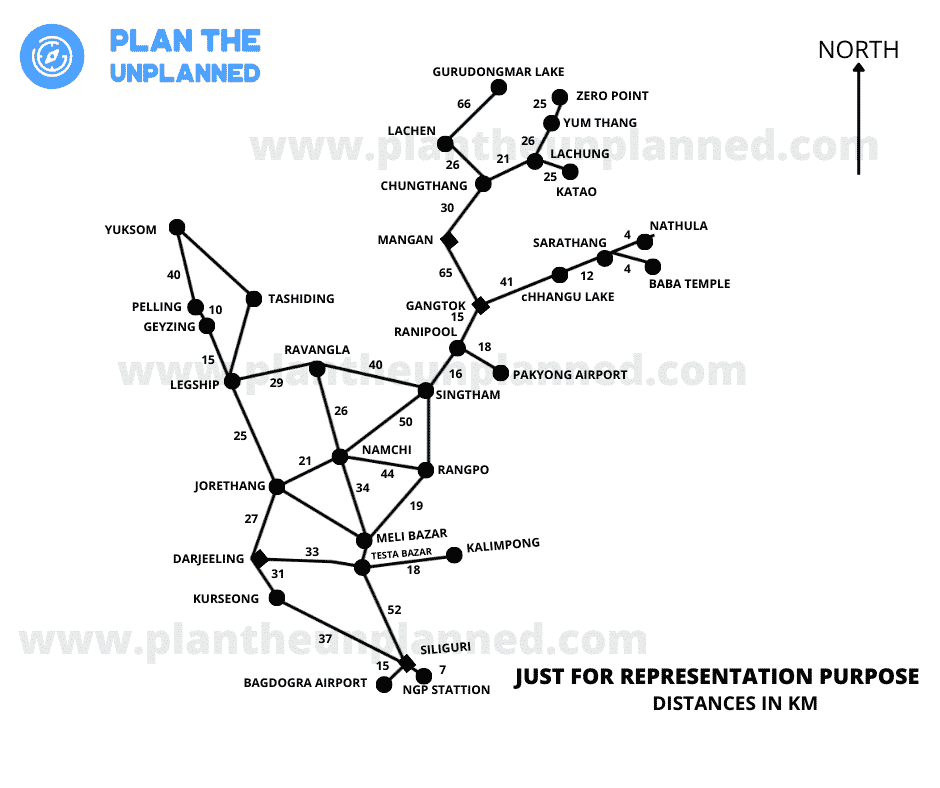 Top 5 Trekking in Sikkim Guide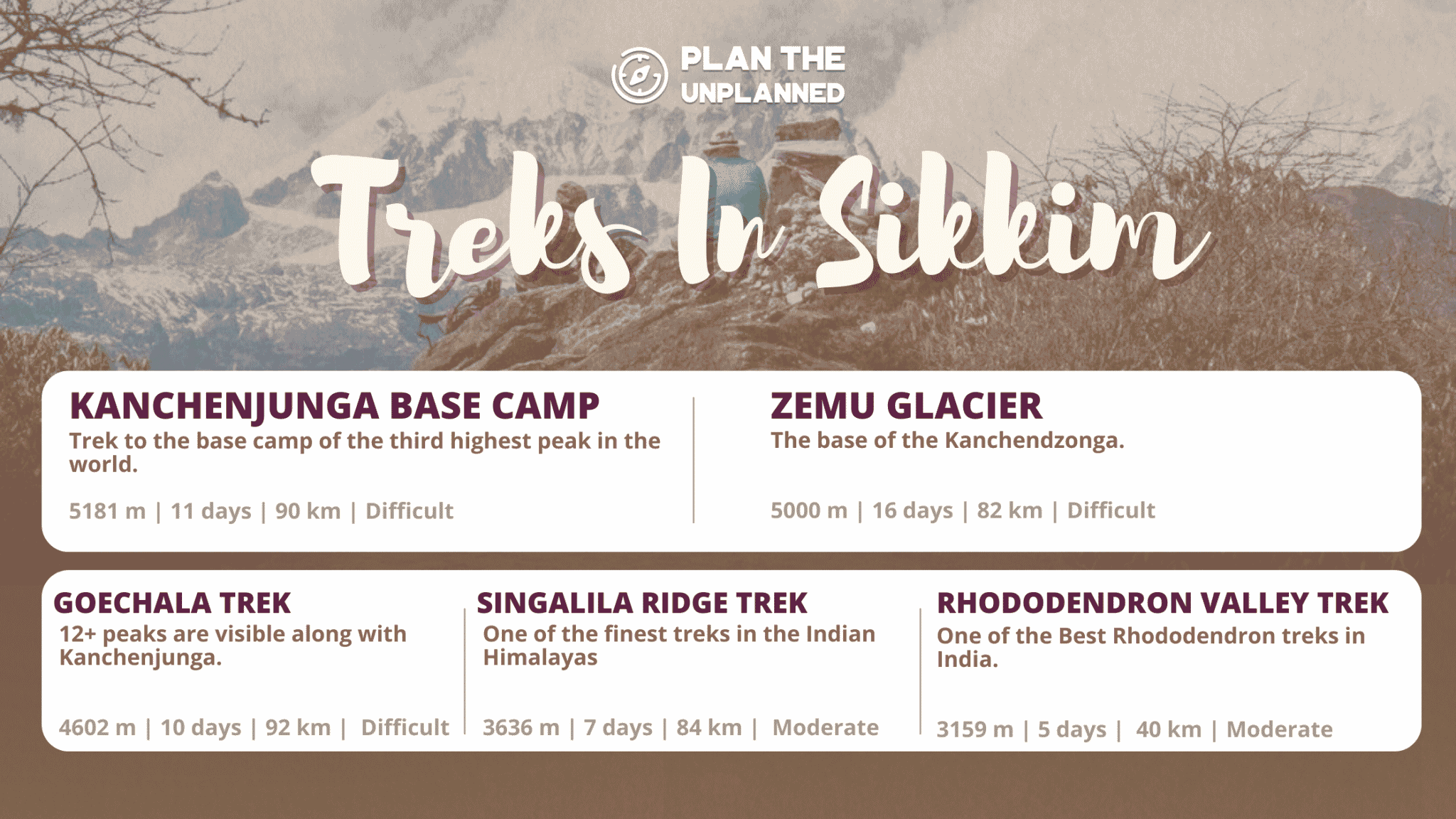 1. Kanchenjunga Base Camp
Elevation: 5181 m
Duration: 11 days
Distance: 90 km
Difficulty: Difficult
Key Feature: Trek to the base camp of the third highest peak in the world.

Route: Yuksom -> Sachen -> Tshokha -> Phedang -> Dzongri -> Thangshing -> Goechela -> Lamuney -> Tshoka -> Yuksom

2. Singalila Ridge trek
Elevation: 3636 m
Duration: 7 days
Distance: 84 km
Difficulty: Moderate
Key Feature: One of the finest ridge treks in the Indian Himalayas.

Route: Dhotre -> Tonglu -> Kalapokhri -> Sandakphu -> Gurdum -> Sepi
3. Goechala Trek
Elevation: 4602 m
Duration: 10 days
Distance: 92 km
Difficulty: Moderate – Difficult
Key Feature: 12+ peaks are visible along with Kanchenjunga.

Route: Drive from Siliguri -> Yuksom -> 10 km hike to Sachen -> 7 km hike to Tshoka -> 10 km hike to Dzongri -> Dzongri La pass -> 10 km hike to Thansing -> 14 km to and from Goecha La Pass -> 16 km hike from Thansing to Tshoka -> 17 km hike to Yuksom -> Drive back to Siliguri.
4. Zemu Glacier
Elevation: 5000 m
Duration: 16 days
Difficulty: Difficult
Key Feature: 
The Zemu glacier is the largest in the Eastern Himalayas in Sikkim. It is at the base of the Kanchendzonga and is one of the sources of the river Teesta.

Green Lake
Route: Lachen – Tallem – Jakthang – Yabuk – Rest Camp – Green Lake – Rest Camp – Yabuk – Jakthang – Tallem – Lachen
5. Rhododendron Valley Trek
Elevation: 3159 m
Duration: 5 days
Distance: 40 km
Difficulty: Moderate
Key Feature: One of the Best Rhododendron treks in India. 
Route: Hilley -> Lasune -> Barsey -> Joreybotey -> Thulodhap -> Chewa Bhanjyang -> Uttarey
The prices will decrease if you opt for a bus over a shared jeep.
Best Time To Visit Sikkim
April – June: Summer in Sikkim
The temperature ranges from 5 to 25 degrees Celsius.
This is the best time to visit Sikkim.
July – September: Monsoon in Sikkim
The temperature ranges from 4 to 15 degrees Celsius.
The state glimmers in the rain, but is also prone to landslides. 
October – March: Winter in Sikkim
The temperature falls as low as -5 degrees Celsius.
Snow lovers are welcome.
Places to Visit In Sikkim
1. Gangtok
The beauty of Gangtok cannot be described; it is like views manifest goodness from every angle. Resting at an elevation of 1650 m, Gangtok is a hill station carrying a mix of ethnicities and religions. The exuberance, cultural and historical significance can only be realised by coming here. Steep-narrow lanes form the city's nerves and transfer one life form from one end to another. 
From March to Mid-May, you'll be received with the fragrance of Rhododendrons spread throughout the city.
West Sikkim Guide
2. Pelling
Forming a base for adventure mongers for rock climbing, trekking, and mountain biking, Pelling is an equally revered place for peace lovers. It is a heavenly hill town in West Sikkim. Sophisticated for its virgin landscapes, therapeutical atmosphere, numerous waterfalls and historical structures, it is favourably included by travellers in their itineraries. 
Local communities contribute majorly to the sustainable development of the town. Other local youths are involved in Darap Eco-Tourism Committee, a leading organisation that manages emerging Village Tourism.
3. Rabdentse Ruins
350+ years old, Rabdentse ruins are a testimony of the former living kingdom of Sikkim. Surrounded by thick forests and lakes, this second capital city of the kingdom was destroyed and invaded by the Gurkha army. Now, only the ruins remain along with chortens. One can visit Pemayangtse Monastery, one of Sikkim's oldest monasteries. The Archaeological Survey of India has declared this monument of national importance.
Peace seekers can go across this Buddhist religious pilgrimage circuit: Dubdi Monastery, Yuksom -> Norbugang Chorten -> Tashiding Monastery -> Pemayangtse Monastery -> the Sanga Choeling Monastery -> Khecheopalri Lake.
4. Kanchenjunga Falls
Kanchenjunga Falls is a perennial fall that takes birth in the glaciers of Mt. Kanchenjunga and drops from 100 feet before plunging into a pool.
5. Shinshore Bridge
Most notably, the fearless of all, the Shinshore bridge suspends at 100 m and extends for 240 m. It overlooks the majestic peaks and sweeping forest cover. Daunting as it may sound, this highest bridge in Sikkim and the second highest in Asia, provides memories of a lifetime.
6. Pelling Skywalk and Chenrezig statue
If you have acrophobia, imagine this: A place so beautiful, so divine is set at 137 feet, and you don't want to go? 
Set amidst alluring green vistas, Pelling Sky Walk leads one to Chenrezig Statue. It sounds terrifying, but the experience is worth it
7. Kaluk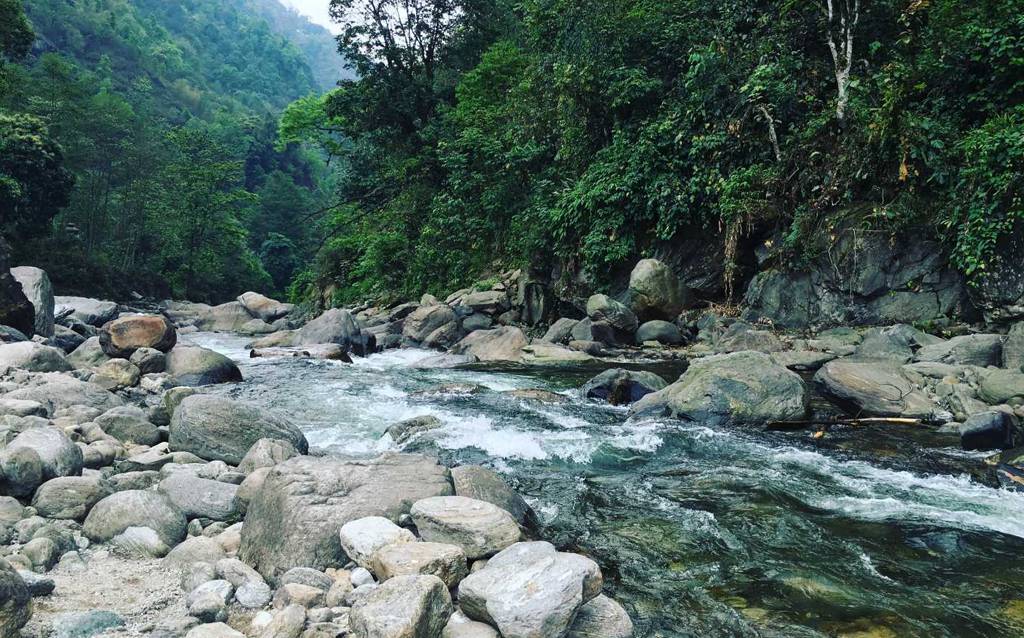 Bolt yourself in the healthy high greenwood and al fresco ambience of Kaluk before planning your journey ahead. Free from the hustle and bustle of bustling tourist places, dreamlike Kaluk awaits as you sieve down the rest of pretty West Sikkim. 
It is one of the mesmerising offbeat villages offering 180 degrees panoramic view of Mt. Kanchenjunga. People from the Lepcha tribe inhabit it, and Kaluk once formed a unique place in the trade history of the world for its connection with the silk route. 
8. Kanchenjunga National Park
Kanchenjunga National Park and Biosphere Reserve, a UNESCO World Heritage Site categorised as the first "Mixed Heritage" site, is located at the heart of the Himalayan range. It contains the most extensive zone of krummholz (stunted forest) in the Himalayan region. The unique natural landscapes, including plains, lakes, glaciers, mountains, rivers, and bustling biodiversity, make it synonymous with love. Mythological stories are associated with this mountain. Locals worship several natural formations like rivers and lakes. 
9. Do Drul Chorten
Cutting Sikkim from Chumbi Valley, Nathu La is a pass at 4310 m. It forms a vital trading route between India and China. It is known as "the whistling pass" because stronger winds produce a whistling sound when hit by the mountains. Visitors casually shake hands with the Chinese army that strolls past the border. 
North Sikkim Guide
10. Lachen
Splashed over by dramatic panoramas, Lachen will colour your gaze at 2693 m.  Especially during summer and monsoon, the whole place fills up with flowers of all kinds. Fluttering flags and prayer wheels enchants travellers to this sacred place.
You can talk to locals about the local self-governance practised in the region: Dzumsa. Everybody is a member of this traditional administrative system in some way or another. 
Lachen has varieties of handicrafts and handlooms. Blankets made from yak and sheep wool, carpet, shawl, and handbags are some handlooms produced at Lachen. Women's handicraft centre is a prime centre to learn about weaving. Other than this, set at a picturesque location, the Lachen monastery or Launching Gompa overlooks the villages and houses the statue of Guru Padmasambhava. 
11
. Gurudongmar Lake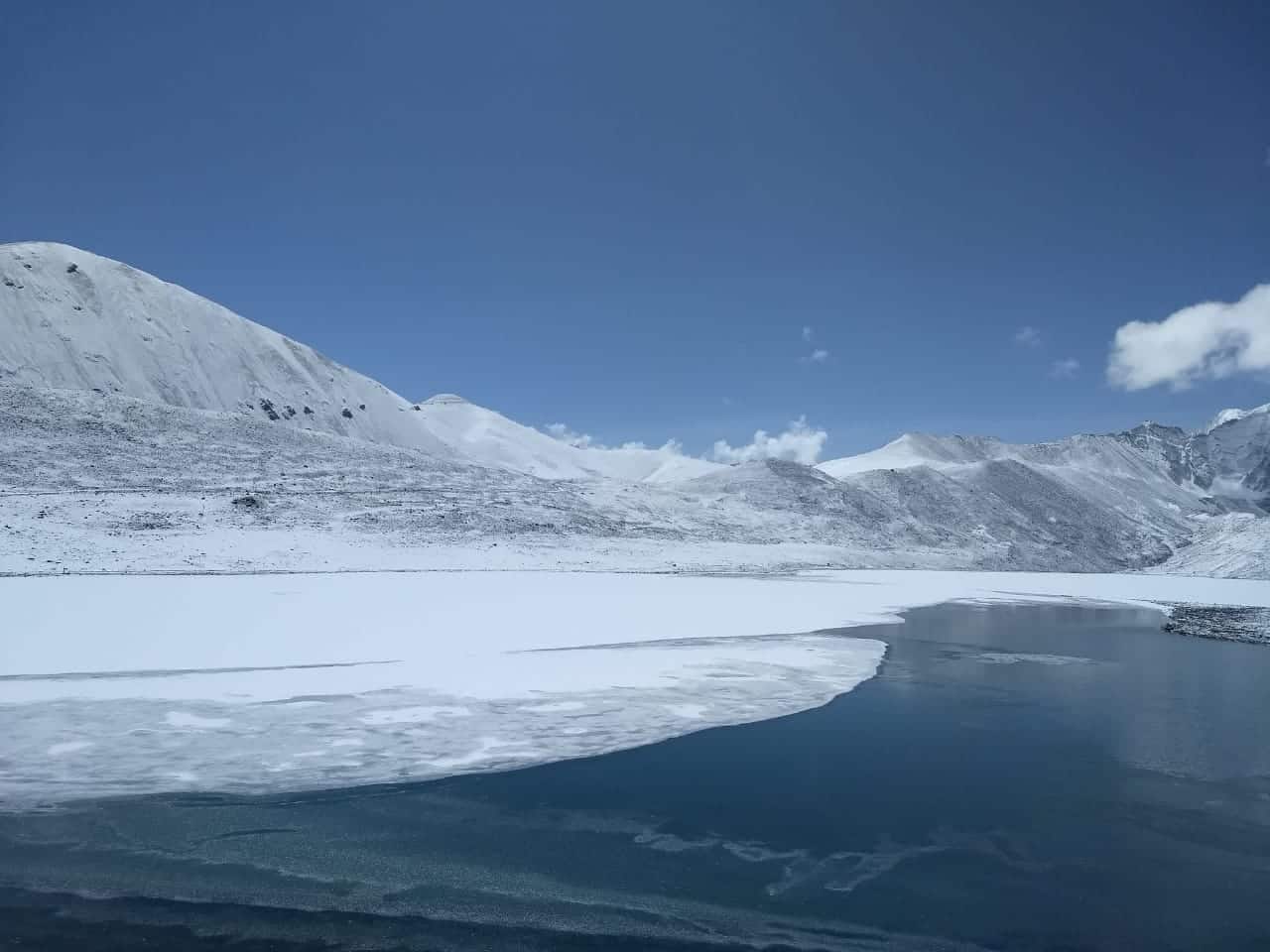 One of the most pristine lakes in Sikkim is Gurudongmar lake at 5425 m. This is also one of the significant reasons people desire to visit Sikkim. The sacred lake is encircled by snowy massifs, forming a majestic translucent image on its surface. Otherwise, it is mainly frozen, with a part of it remaining unfrozen. It is believed that Guru Padmasambhava used his powers to keep a part of the lake unfrozen; since then, it has remained the same in winters. Locals use the same water for their daily chores. 
It is interesting to note that the freezing alpine lake is one of the significant sources of the river Teesta. 
Munch on popcorn and chocolates to avoid any kind of high-altitude sickness.
12. Kala Patthar
The actual feeling of the treacherous, prettiest and peaceful Himalayas comes at Kala Patthar, meaning black rock, mainly located in Nepal. It is a "No Man's Land". The place is recognised as always covered in snow. The snow is so white, as a result of which the rocks (originally green due to moss) appear black. It is especially well-known among trekkers for it provides close-up views of Mount Everest. On a clear day, a traveller is bathed in the sights of Nuptse and Changtse. 
13. Lachung
Lachung is a tiny hill station at the confluence of Lachen and Lachung Rivers, sitting comfortably at the height of 2624 m. The region oversees seasons of Rhododendron-filled sanctuaries, mighty Himalayan landscape, and motley biodiversity. 
Most of the houses are either homestays, small eateries, or hotels. The best episode to register during your visit to Lachung is to know the local inhabitants—Lepcha and Tibetan descent.
14. Zero Point or Yume Samdong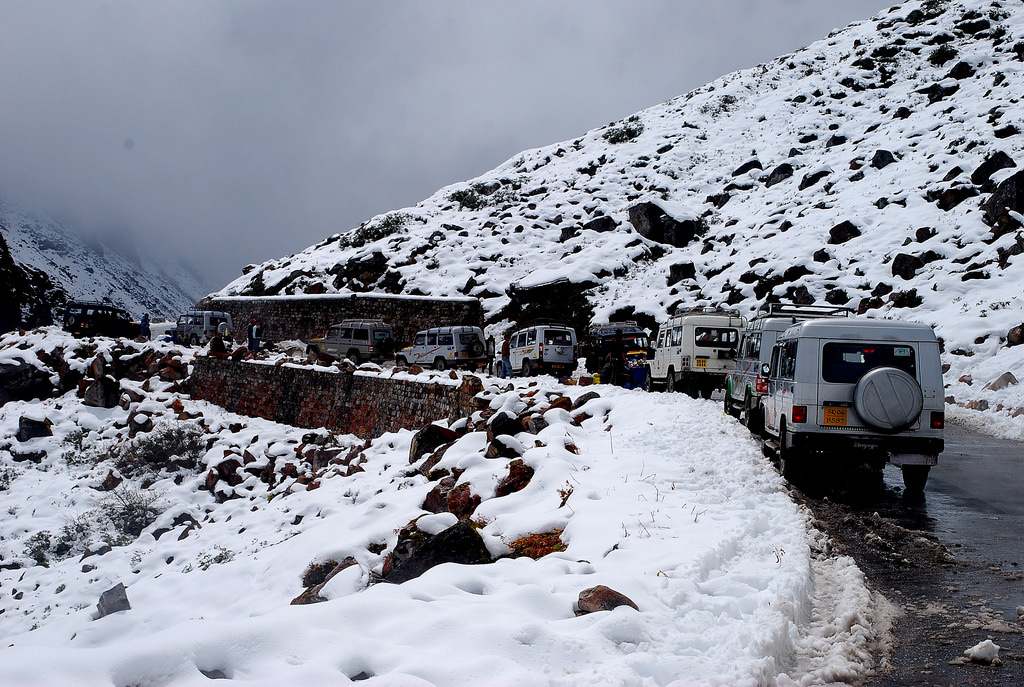 North Sikkim shares a sensitive border with the People's Republic of China; hence, civilians are not allowed beyond Zero Point. The place is named as such for the same reason. 
The road to Zero Point is often compared to the most adventurous ride to heaven, the elevation being 4663 m. The route is decorated with views of snow-capped mountains, carpets of red moss on the roadside and peaks adorned with colourful Chimal trees. Both sides of the Zero Point are adorned with soaring Dongkila Peak and Khargula Peak. 
15. Yumthang Valley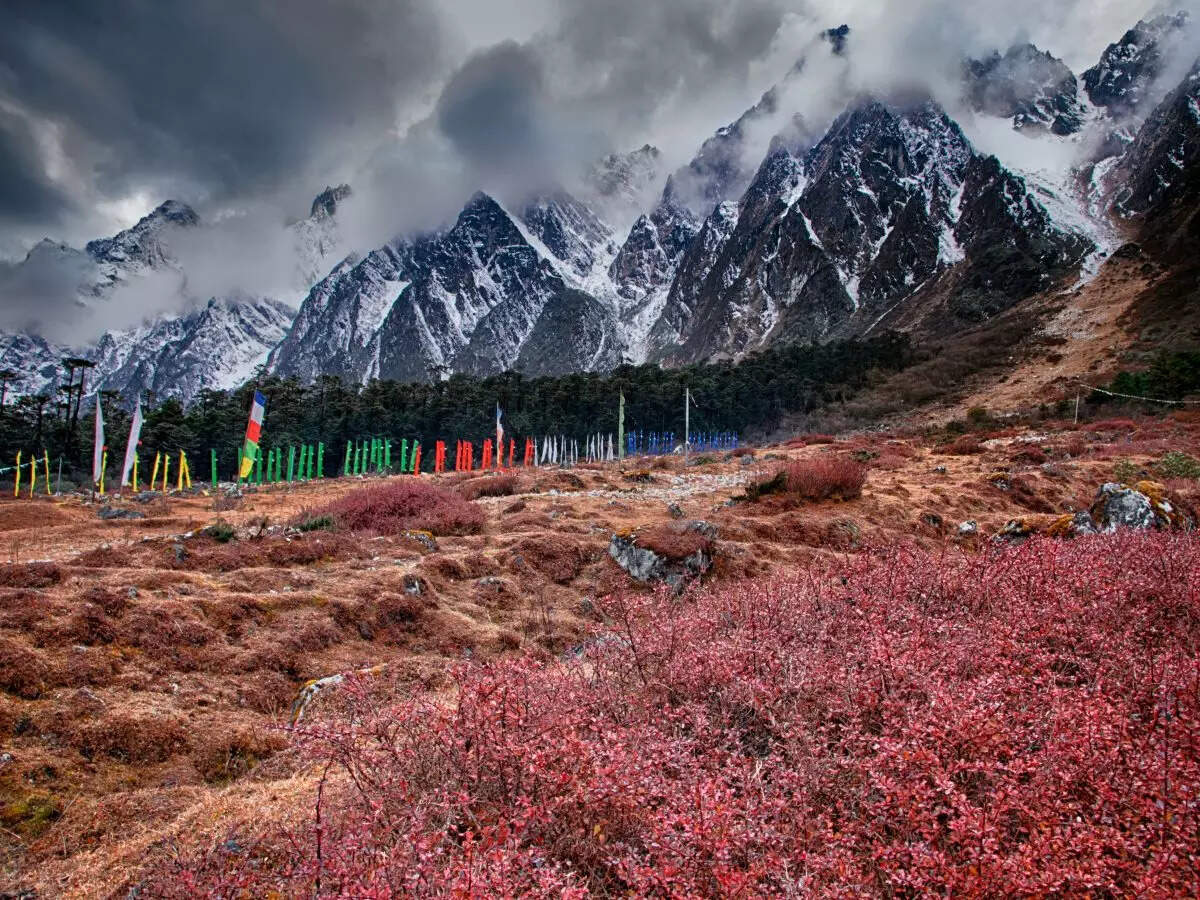 Rising to an elevation of 3564 m, Yumthang Valley, also known as the Valley of Flowers, is a big deal in Sikkim. Rivers irrigate it; 250+ species of flowers embellish it; 20+ varieties of Rhododendrons make it home; hot springs emerge magically in its land, and the Himalayas provide love to all. 
The place scintillates with glory from late February to mid-June when countless flowers carpet the valley in hues of all colours one can imagine. 
South Sikkim Guide
16. Namchi
Cradled in the Changthang plateau of Ladakh is the scenic Tso Moriri lake, a brackish or freshwater lake that lies at an altitude of 4522 m. It is one of the most beautiful and peaceful high-altitude lakes in India. 
17. Ravangla
Poised at an altitude of 2438 m, Ravangla is blessed with unbeatable views of the Great Himalayan Range. Coming here is a visual treat. For hours, one can glance at Mt. Kanchenjunga, Mt. Pandim, and Mt. Kabru; the place comes alive with flowers, including Orchids and others.
East Sikkim Guide
18. Tsomgo Lake
Tsomgo lake or Changgu Lake is a glacial lake of religious importance in East Sikkim. It mostly remains frozen during winters. During summers, it receives water from surrounding streams, springs and melting snow. 
Tsongmo originates from the Bhutia dialect, meaning "source of the lake" ('Tso' means 'lake' and 'Mgo' means 'head'). It is primarily known for changing colour and healing powers. During Guru Purnima, the lake sees several faith healers, Jhakris, who come here to derive healing benefits.
19. Nathu La
Cutting Sikkim from Chumbi Valley, Nathu La is a pass at 4310 m. It forms a vital trading route between India and China. It is known as "the whistling pass" because stronger winds produce a whistling sound when hit by the mountains. Visitors casually shake hands with the Chinese army that strolls past the border. 
Monasteries in Sikkim
20. Rumtek Monastery (23 Km from Gangtok)
21. Enchey Monastery
22. Phodong Monastery
23. Tashiding Monastery
24. Pemayangtse Monastery
25. Padmasambhava statue Monastery
What To Eat in Sikkim
Momos

Thukpa

Gundruk

Sinki

Kinema

Dal Bhat

Dhindo

Phag Shapa

Sael Roti

Chang

Kinema Curry

 Churpi Soup
Shopping in Sikkim
MG Road

Lal Bazaar

Old Market

New Market

Directorate of Handicrafts & Handlooms
Budget for Sikkim
Stay: INR 1000 per night
Food: INR 1000 per night 
Travel (depends on the places and mode of travelling): 
Private taxi: Minimum INR 3000 per day to maximum 5000 per day.
A shared jeep charges INR 200 per person to Darjeeling (3 hours journey), INR 250 per person to Gangtok (4-5 hours journey) and INR 100 per person to Siliguri (40 minutes). 
How Long Should A Trip Be for Sikkim
10-12 days
How to reach Sikkim Guide
By Air
Bagdogra Airport, West Bengal.
By Rail
Sikkim doesn't have a train network. New Jalpaiguri (NJP), Siliguri serves as an entry point to Sikkim.
By Road
You can hire cars and jeeps from the market area in Gangtok. And buses run regularly between Namchi to Gangtok, Pelling, Jorethang, Kalimpong and Siliguri.
Sikkim Guide: The Dos and Donts
Maintain peace in the monasteries.

Avoid littering the environment.

While trekking, do not interrupt the fragile vegetation.

Dress modestly while visiting religious places and be aware of the customs and culture.

Always travel with a local guide.

Do not litter in open areas. 

Keep your identity card and passport with you at all times. 

Smoking and drinking in sacred sites are restricted.

Do not disregard the food offered by the locals.

Take proper permits and pay prescribed fees before entering restricted areas in Sikkim.

Ensure you know Restricted Area Permit and Protected Area Permit before visiting Sikkim.
Book Your Sikkim Backpacking Tour Here
This Sikkim Guide is your saviour. If you have any other doubts or have any information that can be useful to readers, write in the comments.