About Goechala Trek 
Goechala, a marvellous peak in the centre of Sikkim, is a treat that the North East's alluring magnetism delivers. Goechala trek is a fantastic hiking location that is adored by tourists and trekking aficionados alike. It has gorgeous rising mountains and gargling streams meandering over stretches of meadows. As you advance towards Bhakim, Tshokha, and Dzongri on this thrilling hiking trip, you pass through the breathtaking scenery of Sachen. While Goechala Pass will captivate you with its captivating mountain vistas from a towering peak of 16000 feet, the baffling Dzongri Peak gives a breathtaking perspective of the Kanchenjunga and Pandim Peaks.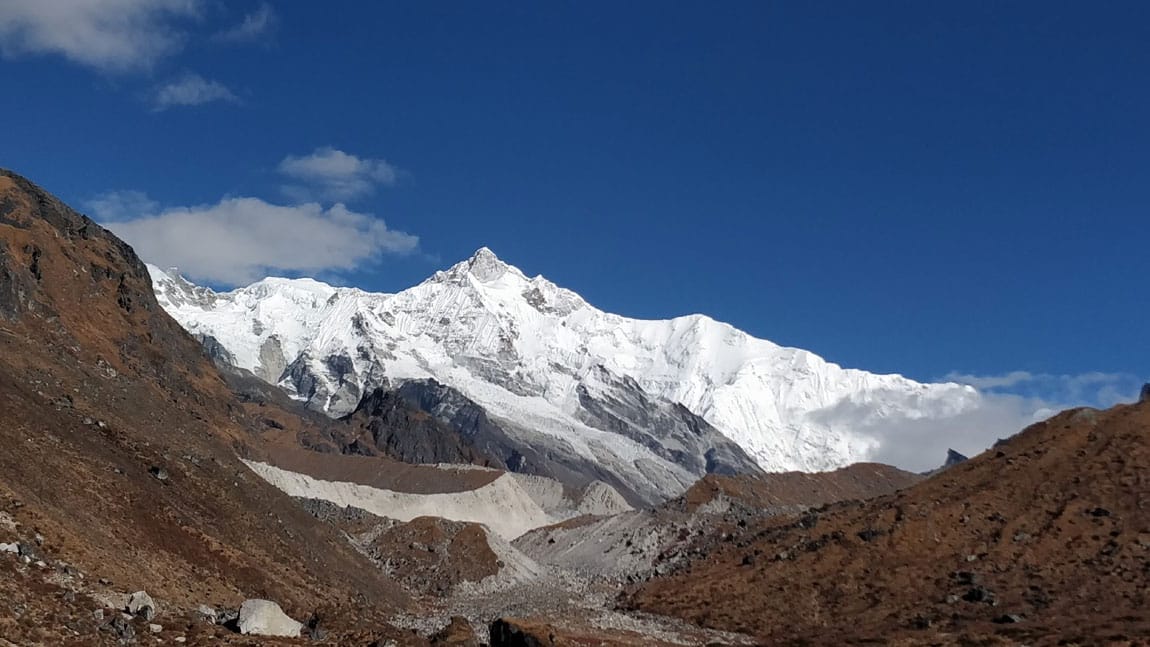 A quick brief to Goechala Trek
Location: Sikkim
Starting Point: Yuksom
Ending Point: Goechala
Altitude: 16000 ft.
Duration: Approx 11 Days 
Distance Covered: Approx 90 Kilometers
Level of Difficulty: Moderate to Difficult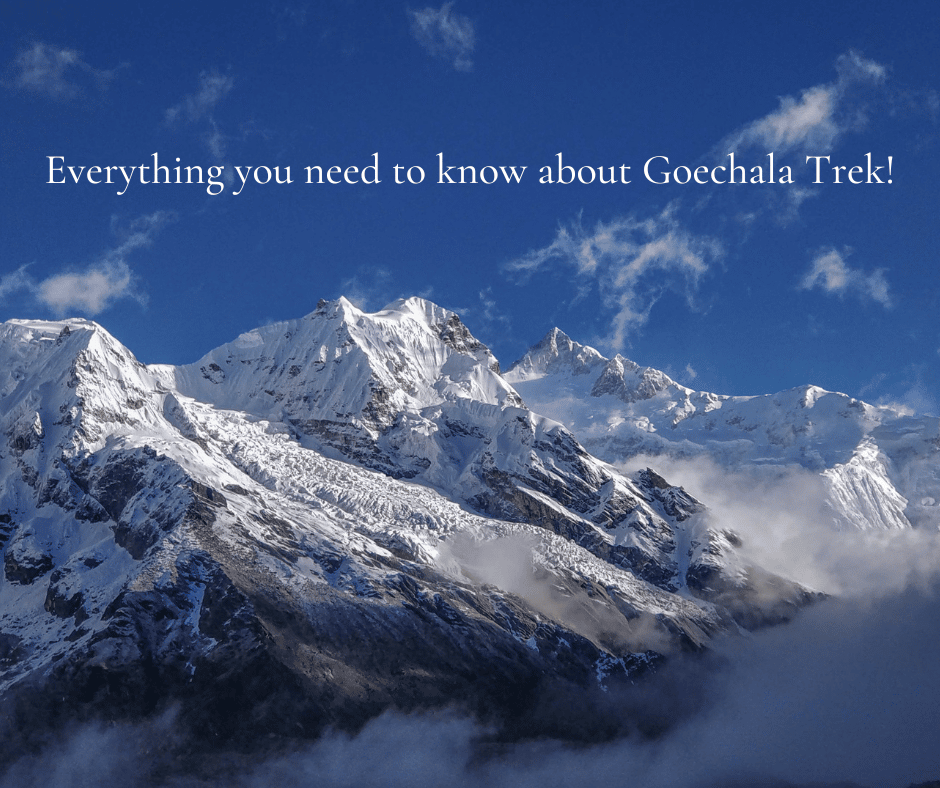 Be prepared to be mesmerised by the magnificent mountains, the intriguing people, their unique culture, and the alluring routes that take you to awe-inspiring experiences. 
Here's how you will be covering the Goechala Trek in 11 days!
Day 1: Arrive at Yuksom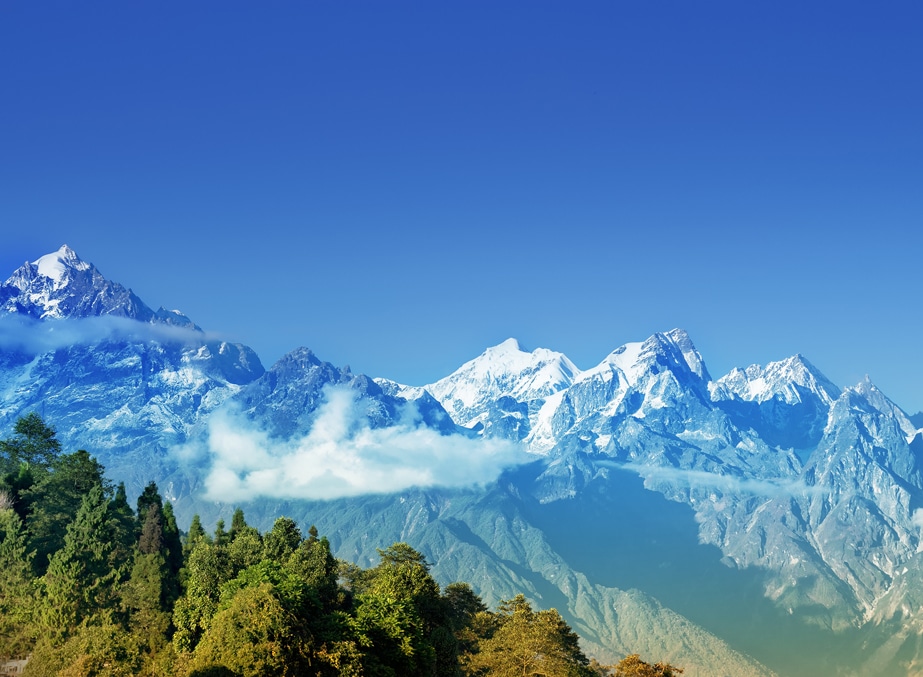 Altitude: 5,670 feet
The nearest train station to Yuksom's base camp is New Jalpaiguri Junction, where intrepid individuals must travel to embark on an excursion to Goechala Trek. You may drive up there in around 6 hours, at which point you will have ascended to a height of 5,670 feet.
Day 2: Yuksom To Sachen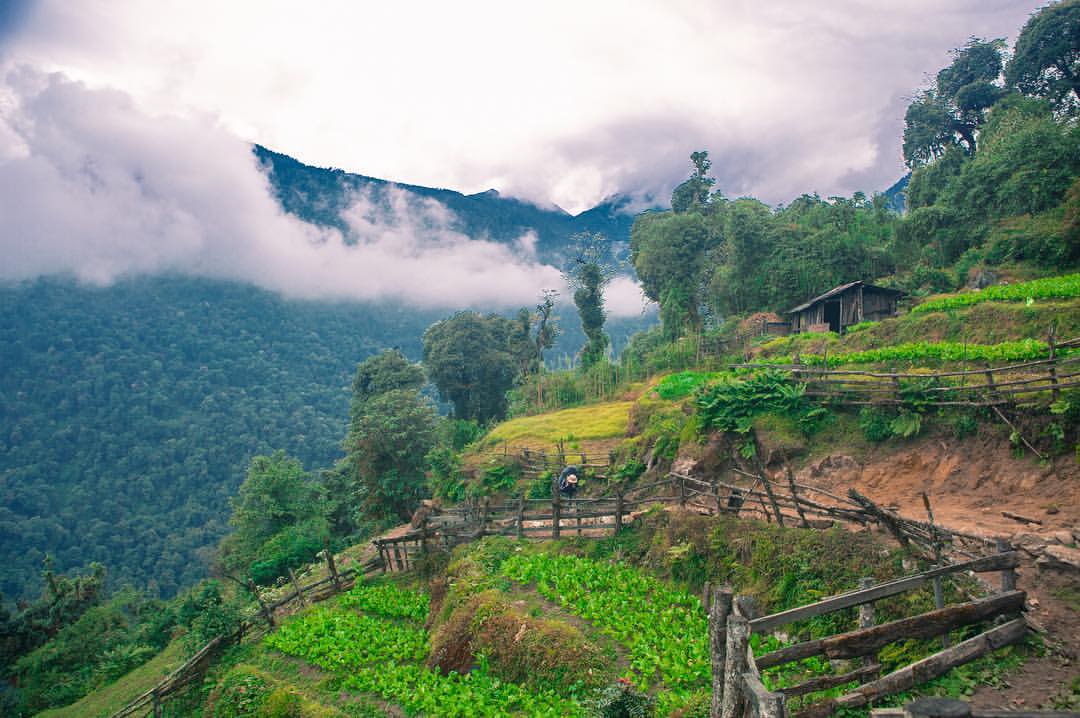 Trek distance: 8 Kilometers
Altitude: 7,150 feet
Although it is popular to hike from Yuksom to Tshoka in a single day, it is best to start slowly so that you may conserve energy for the days ahead. Before arriving in Sachen, travellers will unexpectedly pass through the Mentogang Khola River, the Tshushay Khola waterfalls, as well as the Pha Khola old bridges as they pass through beautiful surroundings and deep woods. 
Day 3: Sachen to Tshoka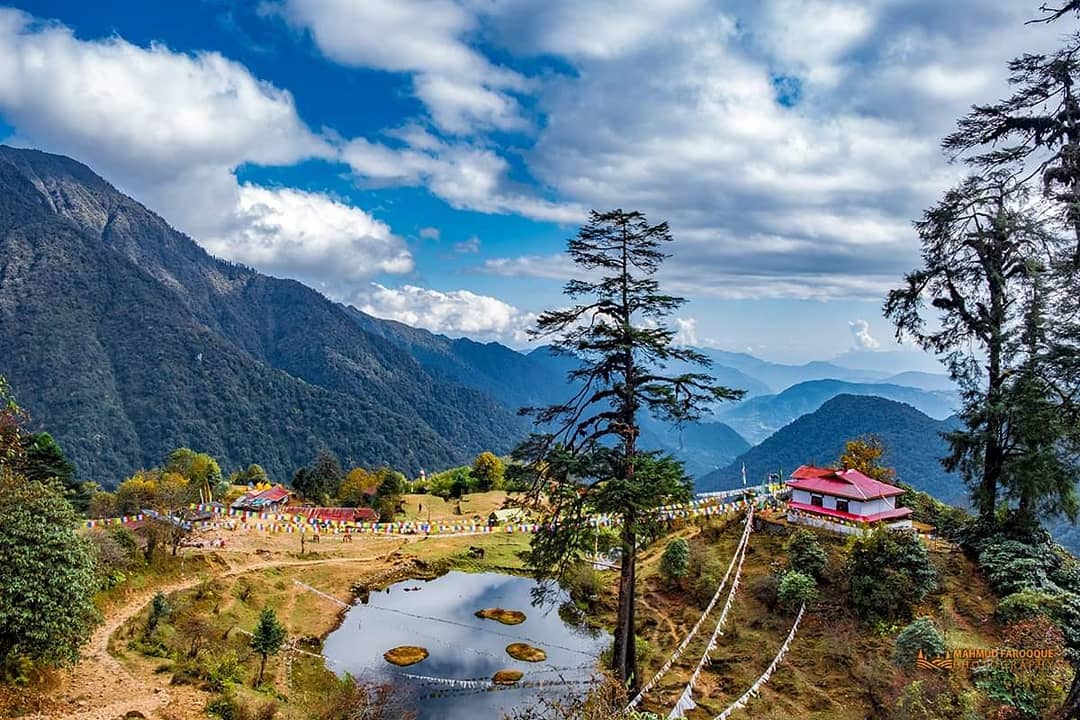 Trek Distance: 8 Kilometers
Altitude: 9,700 feet
Just on the following day, the trek takes from Sachen to Tshoka, passing through the settlement of Bakhim. This portion of the journey will allow the clear sky to take you farther. The trail is nice the entire way through Sachen, but as the hikers reach River Perk, it quickly becomes a difficult climb. Bakhim is a stopover point. Follow the route till it ends at Tshoka, where you'll be rewarded with stunning views of Mount Pandim and Mount Kanchenjunga. 
Day 4: Tshoka to Dzongri
Trek Distance: 9 Kilometers 
Altitude: 12,980 feet
The most beautiful and important portion of the journey is here, surrounded by rhododendron plants. The track takes hikers to Phedang after roughly an hour of hiking on a mixture of incline and flat wooden roads, and by the time they arrive, it's almost time for lunch. After then, go on your trek down the path that leads to Dzongri.
Day 5: Spend a day at Dzongri
After four days of nonstop hiking, give your body a break and let it recover. Get enough sleep the night before and spend the next day preparing for an exciting adventure.
Day 6: Dzongri to Thangsing
Distance covered: 9 Kilometers 
Altitude: 12,900 feet
The trip to Kokchurang should begin from Dzongri and last no less than five hours or more than six hours. The ascent from Dzongri and descent to the Kokchurang meadows are well-balanced in this section of the journey. The Prekchu River is where Thangsing's next stop is located, so continue on the trail until you reach it. 
Day 7: Thangsing to Lamuney
Trek Distance: 4 Kilometers 
Altitude: 13,600 feet
The downhill portion of the walkthrough of Thangsing's meadows provides a clear perspective of Mount Kanchenjunga and some other summit peaks, although it does call for some caution from hikers. The steep slope might be dangerous in disguise because of the captivating vistas. You can reach the Lamuney lands by following the path through the trekkers' hut. 
Day 8: Lamuney to Goechala viewpoint
Distance covered: 2.5 Kilometers 
Altitude: 16,000 feet
This is the day that will undoubtedly be filled with rewards for all of the time, effort, and hard work that this adventure has required of you. Start your journey as early as 3 am. The route from Lamuney to Goechala through Samiti Lake begins to get steeper as the ridge is clearer and seems closer, forcing hikers to pay attention to the shift in the terrain. From the moment one starts down the steep trail, it shouldn't take more than forty – five minutes to get to Samiti Lake. Once hikers arrive near the lake, it is the moment where extreme caution is required.
The trail keeps growing smaller, the ascent is far too difficult, and the ridge leads you into dangerous mountainsides. Reaching Zemathang will take no more than two hours, and getting to Goechala will take another two hours. Because it is not permitted to camp at dangerous altitudes when oxygen levels are insufficient, one may take their time admiring the scenery before returning to Thangsing for the night.
Day 9: Lamuney to Kokchurung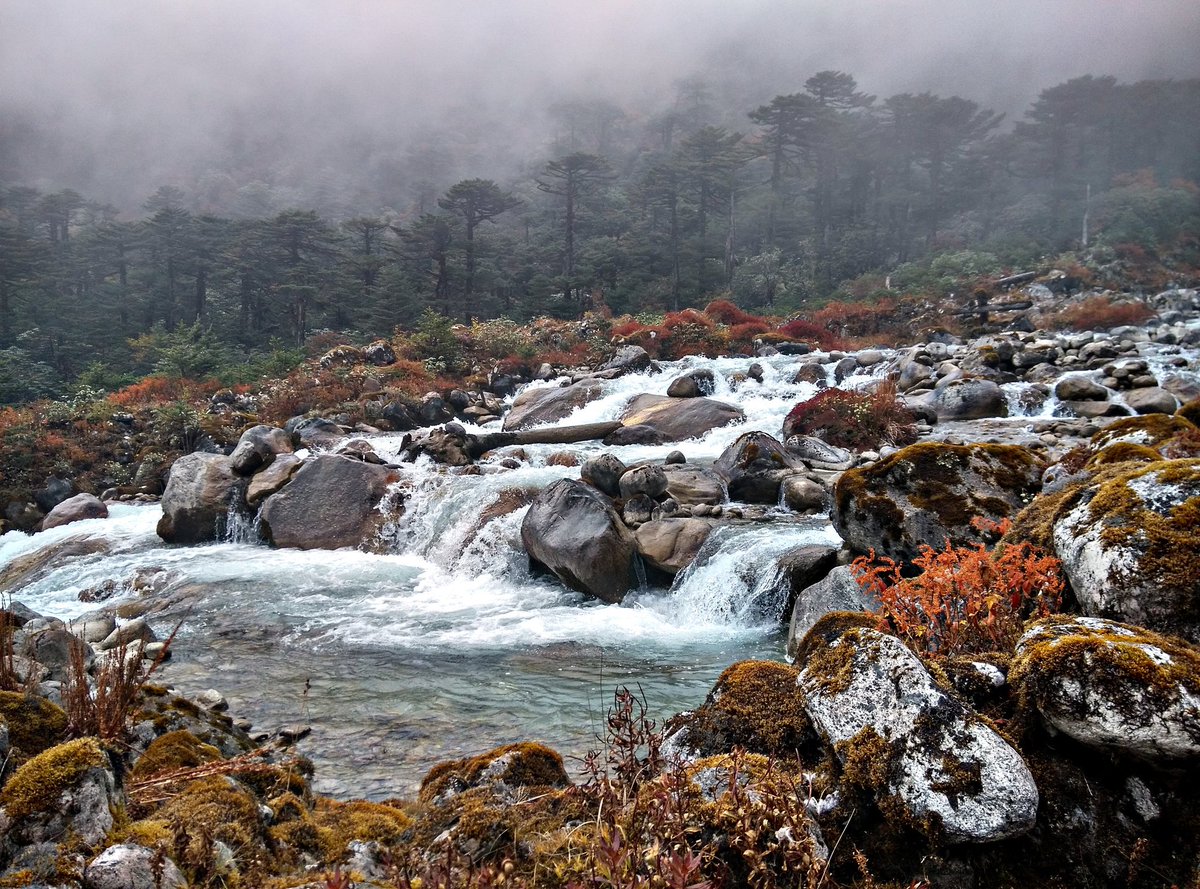 Distance covered: 7 Kilometers
Altitude: 12,000 feet
Continue on the same path that will take you to Lamuney, from whence you may travel through Thangsing to Kockchurang. The downhill walk is quicker than the uphill, so continue on the path that goes to Phedang and you'll be in Tshoka in no time. In Tshoka, hikers have the option of sleeping at the trekker's hut or setting up their tents.
Day 10: Kokchurung to Tshoka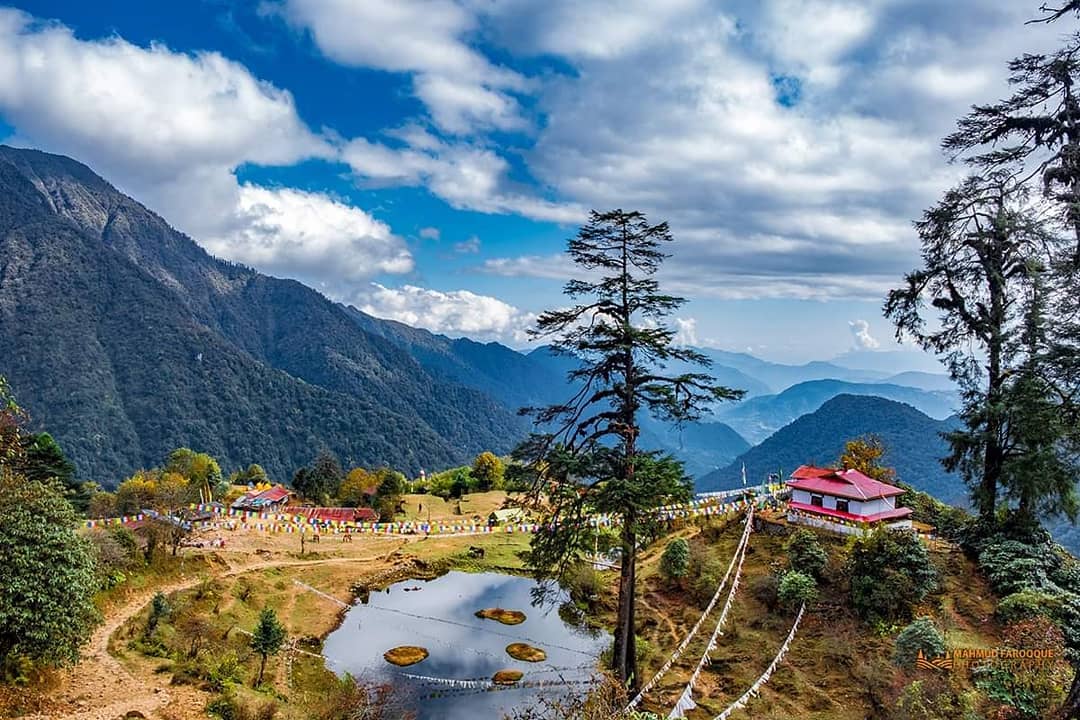 Distance covered: 16 Kilometers
The distance between Tshoka and Sachen through Bakhim may be covered in less time by travelling downhill than it would take to go uphill due to the steep slope. The final few kilometres that will get you to Yuksom's village don't take too long to go.
Day 11: Tshoka to Yuksom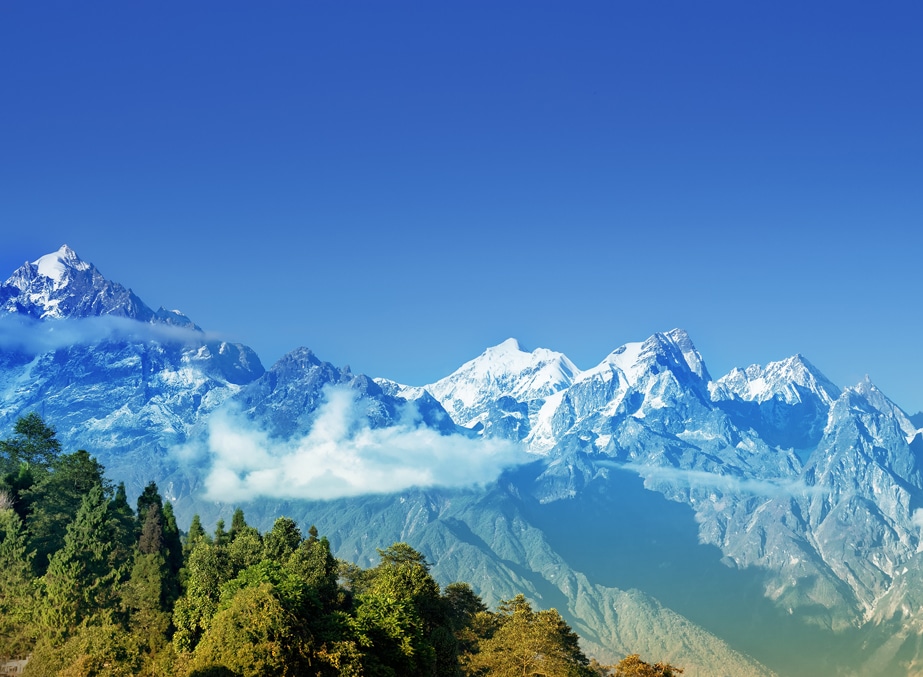 Distance covered: 16 Kilometers
For those who don't intend to stay any longer in Yuksom, a taxi can take them to the New Jalpaiguri Junction in Siliguri. This marks the end of the journey.
Best time for Goechala Trek
October to November is considered the ideal time for a Goechala Trek.
How to reach Goechala trek's base camp?
By Air: 
The nearest airport Bagdogra Airport is accessible to most urban centres. The trip to Yuksom, which is about 155 kilometres away and can be reached by taxi, will take no more than 6 to 7 hours from this airport.
By Train: 
New Jalpaiguri Junction, which is in the centre of Siliguri, West Bengal, is also the closest rail station to Sikkim, which has good connections to other major cities. From New Jalpaiguri Junction, which is 150 kilometres away, one may take a taxi to Yuksom in around 6 hours. The majority of cities are connected via Bagdogra Airport, which is the closest airport. To get to Yuksom, which is 155 kilometres away and can be reached in around 6 to 7 hours, one may fly into this airport and then take a taxi.
By Shared Taxi: 
The majority of shared taxis that depart from Siliguri will require you to disembark at a location midway and then take another connecting cab to Yuksom. Few choices exist for taking a shared cab from Siliguri directly to Yuksom.
Every morning, this one departs from Yuksom for Siliguri and returns in the late afternoon. Since the cab typically drives at night and the driving conditions are poor, using this alternative carries some danger. Having said that, it's also not entirely forbidden! One may choose to employ this method if time or money are significant constraints.
Electricity at the campsite 
Throughout the journey, there is no electricity. Before and after the trip, Yuksom will be the only spot you can plug in to recharge your phone or camera batteries. Use your technological devices responsibly as a result. Before leaving your hotel, fully charge your batteries, and use your electronic devices sparingly. Another thing to consider is that batteries drain more quickly in colder temperatures. A power bank or additional batteries are helpful.
Mobile connectivity and ATM near Goechala trek.
ATM:
It may be found in Jorethang Town. Take out emergency cash from this location if necessary. But don't rely just on the final ATM because they often run out of money. Before you start your drive to Yuksom, withdraw money.
Mobile connectivity:
At the Yuksom base camp, there is Airtel and Vodafone connectivity. The base camp could have a 4G service. There will be no internet reception other than this. Call your loved ones and let them know you're leaving Yuksom and won't be back until Day 9 when you return to the base camp.
 Read our blogs:
We hope you enjoyed reading this blog post as much as we loved researching and writing it. Do let us know your experience of this trek in the comment section. Have a wonderful trek!