Guide To Dandeli is all about watching the orange-red hues of the setting sun from atop Shiroli Peak like a painting come to life, rafting through the raging, sometimes calm river Kali, taking a ride back to the past at Shivaji Fort, discovering wildlife at the Wildlife Sanctuary and plenty of other experiences that are sure to leave you wanting more.
If you haven't guessed which place I'm talking about, it's the adventure town of Dandeli in Karnataka! 
If you've been planning an adventure trip in nature forever, or want to experience the magic of the Western Ghats, but cannot come to a decision, here's my advice: stop searching and start packing for Dandeli. 
An idyllic town situated on the banks of the Kali River in the Uttara Kannada district of Karnataka, Dandeli is a part of the Western Ghats.
Overflowing with thrilling activities and places to rejuvenate, it's the perfect weekend getaway, and if you've got more time on your hands, even better! 
It's quite obvious that before you travel anywhere, you have to do your research, right? And the Internet overflowing with information, it's easy to get swept up in the data and lose track of your trip plan.
No worries, I am here to give you an easy-to-follow travel guide which will help wrap up most of your planning.
From how to get there to what you can do to general information you need to know, you have it all right here. Read on and start planning an unforgettable trip, you'll be proud of yourself ;D
There are lots of places to cover in Dandeli if you're up for it. It's like that with any new place, isn't it?
So much to see, so little time! You can visit the major spots on a weekend, but if you want to explore deeper then I'd suggest taking a few extra days.
Let's take a look at some of the more popular places in Dandeli ;
---
PLACES TO VISIT IN DADELI
KALI RIVER (AKA KALI NADI)
The Kali river is home to many thrilling watersports, the most famous being white water rafting [link] (with even class 3 rapids! Rapids, btw, are sections of the river when its gradient becomes steep causing turbulence and whitewater.
How MUCH turbulence is determined by the class). If it's watersports you're looking for, then most of them happen at Ganeshgudi, some 22km from the main town.
Recommended for all thrillseekers and water-lovers, these are some adrenaline-pumping encounters with nature. 
You can spend an entire day here with White Water rafting, Kayaking, Canoeing, Canyoning, Rappelling being a few activities you can go for.
The surroundings are home to many birds, notably the hornbill, and are ideal for a birdwatching experience(link to birdwatching).
Which brings us to our next destination… 
DANDELI WILDLIFE SANCTUARY + ANSHI NATIONAL PARK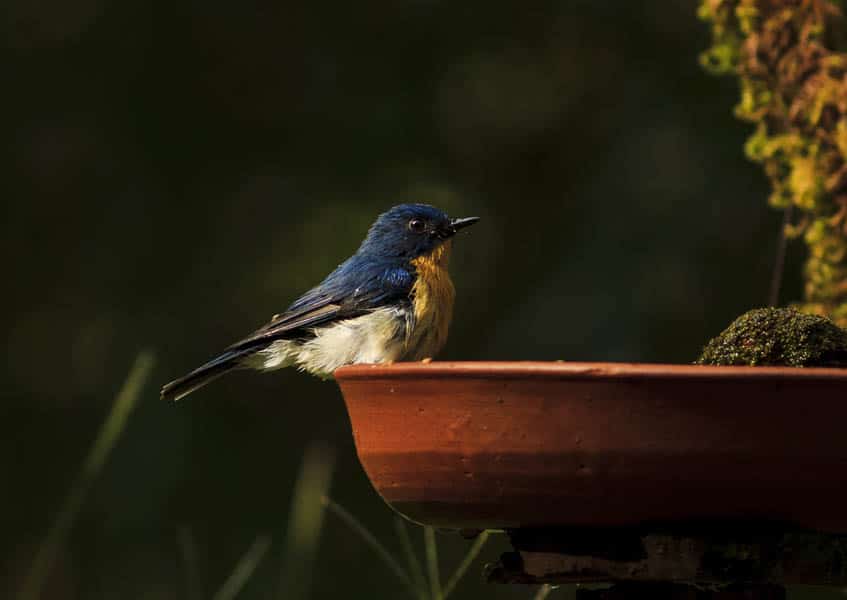 A glorious mixture of flora and fauna, the wildlife sanctuary, along with neighboring Anshi National Park, are a must-visit in Dandeli! 
You can take a jungle safari, or go on bird walking trails, and who knows, you might spot one or more of the big five; Elephant, Black Panther, Bison, Leopard, or Tiger.
Not to forget, the famous Hornbill (named after which they have a festival![link to hornbill festival]) and also 200 other species of birds, which is quite exciting for an experienced bird enthusiast as well as for newbies.
SUPA DAM
Built across the Kali river and commissioned in 1985, the Supa Dam is a hydropower plant of large magnitude
.
The gushing waters of the river through this dam make it an ideal place for watersports. All the watersports that happen at Dandeli happen near the Supa Dam! It is located at Ganeshgudi which is about 22km from the main town of Dandeli.
The power station being a highly sensitive area is not open for tourists to be at its proximity.
However, with permission from the Karnataka Power Corporation Ltd, one can go to the top of the dam and experience the views from up there.
You can also understand how hydropower plants work and expand your understanding a little bit…so at that next party, you have an exciting story to tell! 😉
SYKES POINT + SHIROLI PEAK
SUNSETS. Every sunset is an indefinable beauty for me, and there will never be a time or place when I say "Let's go, guys, I'm bored of the sunset!".
And most of you will agree with me. To add to it, you have the lush greenery of the forests and a captivating view of the Western Ghats. Let's not imagine too much, and get going on a little trek up Shiroli Peak, or Sykes Point, for a magnificent sunset view!
Shiroli Peak is inside the wildlife sanctuary; you will have to be accompanied by proper guides and have permits to go up. You can turn into a trek[link to trekking] (the Potoli-Shiroli trail) of about 11kms, taking 5-6 hours to complete the entire trail.
Something to keep in mind, the Sykes Point comes under the jurisdiction of the KPCL due to the Ambikanagar hydropower plant, hence you will require Govt. permits to climb up to the viewpoint. 
DANDELAPPA TEMPLE 
A temple dedicated to Lord Dandelappa who served the Mirashi landlords faithfully. It is said that the name 'Dandeli' is a derivation of the deity's name.
This temple is nestled in the heart of picturesque forests and exudes divine energy. It's a wonderful place for some nature meditation and also to get a glimpse of the culture and history of Dandeli. 
It is situated inside the town of Dandeli and won't require much of your time unless you love the place so much that you want to spend some quality time here.
SYNTHERI ROCKS
Located a little away from the main town of Dandeli, Syntheri Rocks is the name for a monolithic granite structure, at the core of which the river Kaneri flows.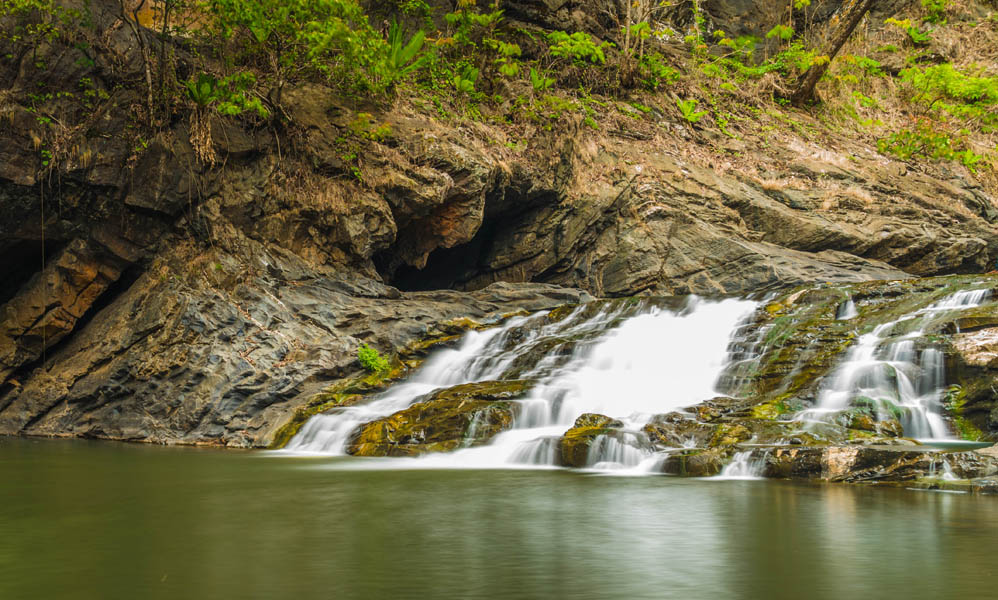 After taking a downhill walk (200-250 steps approx., which can be a little tiring), you reach the Kaneri. If you are a nature-lover, then set aside a few hours (or even an entire day) to soak in the place. Its beautiful formation and the flowing river will calm and renew you.
MINI TIBET 
Known as the Doeguling Tibetian Settlement and located approximately 70km away from Dandeli, Mini Tibet is a place filled with resplendent monasteries where you can indulge in the history of Mahayana Buddhism of the Tibetians.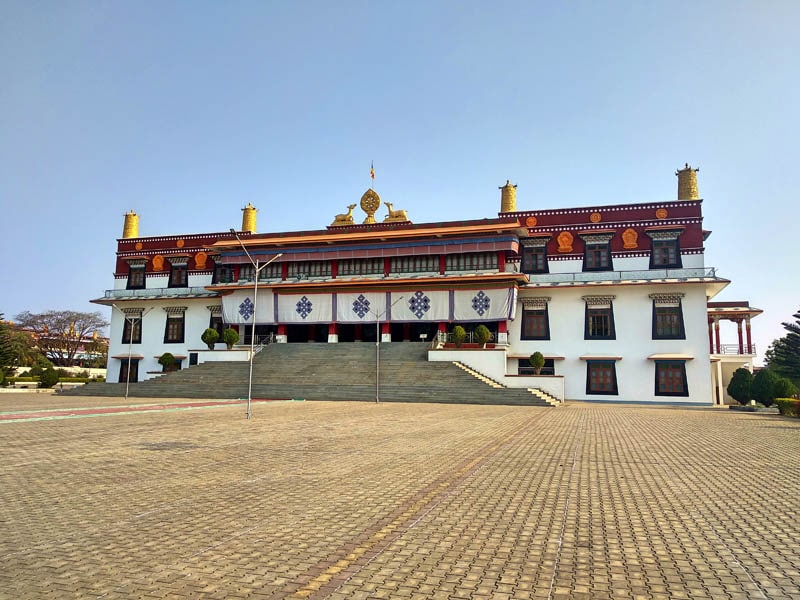 It is the largest Tibetian settlement in Karnataka and has often been compared to McLeodGanj in Dharamshala.
To feel the intense energies, to explore the spiritual culture of the Tibetians, and for a vibrant experience, this place is a must! It will open your mind and change your perspective, give you something to think about. 
SATHODI + MAGOD FALLS 
A big fan of waterfalls? And maybe getting some swim time, too? I am totally like that! Waterfalls are bliss, and of course, if there's more water, the better, right?
I can already hear the rushing of the water through the rocks and imagine myself immersed in it. If you're a big fan, like me, then head on over to Sathoddi and Magod falls, located in the Yellapura district.
A day spent blissfully in the water is worth a week spent at work. Maybe more. Rejuvenation makes your trip totally worthwhile!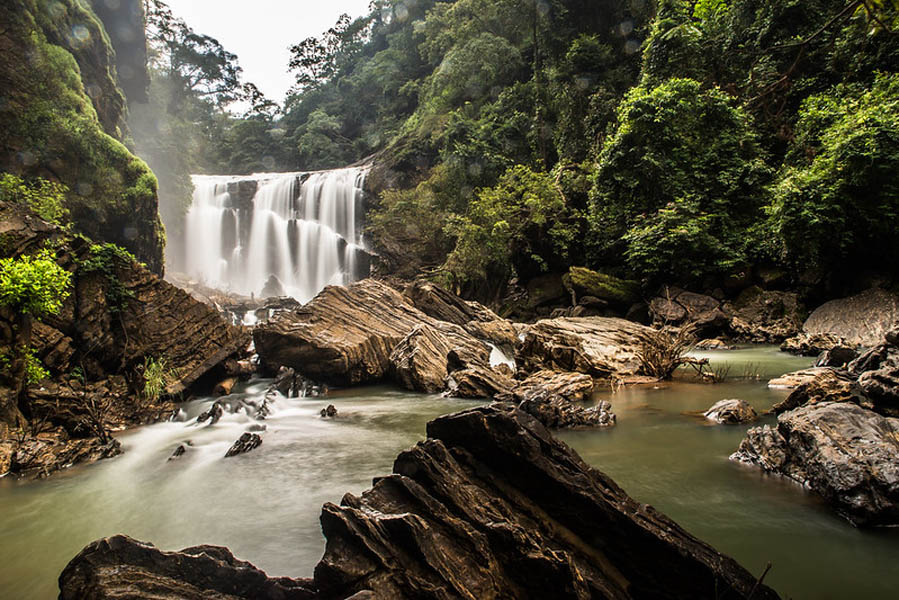 It's not a good idea, however, to visit during the monsoon as the roads get all slippery and difficult to navigate, plus the waterfalls might be restricted.
The months after the monsoon are ideal (October to March), as the water is overflowing and will definitely leave you mesmerized! 
They're about 40km from each other, and I'd suggest a day to cover both these places and the drive back to Dandeli. 
SHIVAJI FORT 
Believed to be built by Chhatrapati Shivaji Maharaj, this fort is located in the middle of the dense forests of the Western Ghats.
If history is one of your loves, and even if you want to start somewhere, Shivaji Fort is a great place to see the stories of old. You get to take a look at architectural styles and strategies of warfare during the Maratha Empire. 
To make it a double delight, it's a great hiking experience surrounded by greenery, and who would want to miss on that? 
Shivaji Fort is in the Haliyal Taluk, around 23km from Dandeli town and a 40-minute drive.
KAVALA CAVES
Located deep within the dense jungles of Dandeli, these caves have formed due to volcanic activity in the earlier times. You will reach these caves after walking downhill for a few kilometers.
There is a temple at the cave, and you have to crawl in for about 50m to take a look at the naturally formed Shivalinga. Since it usually remains closed other than on Shivratri,  there is a Govt. organized trek to Kavala caves every day at 6 AM.
Alternatively, you can take a rented jeep or your 4-wheeler to the caves, after acquiring the needed permissions from the Karnataka Forest Department.
The occasion of Maha Shivratri (February) is a grand one at these caves when visitors and devotees alike come in hordes to visit. There are no restrictions to visit during Shivratri. 
The Kavala caves are located close to the Ambikanagar Powerhouse.
---
RECREATIONAL ACTIVITIES IN DANDELI
WHITEWATER RAFTING 
An adrenaline rush that makes you forget the world, forget your worries, and focus on the moment! Imagine rafting your way through the rushing river Kali; your blood pumping, a sudden urge to scream and say "I LOVE LIFE!" That's what you'll be experiencing, and much more.
One of the most popular activities in Dandeli covering a 9km stretch, the Dandeli rafting trail takes you through thriving forests and over crazy, class 3rapids. It's an experience of a lifetime!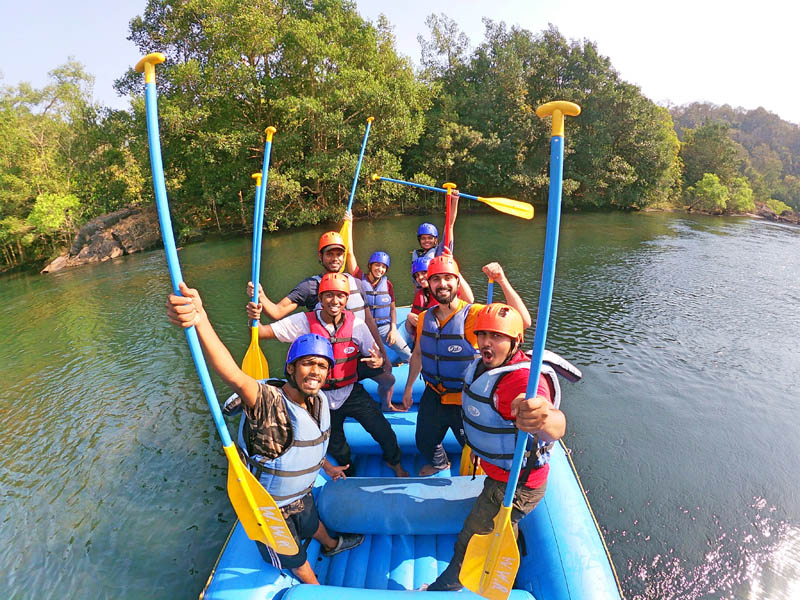 There's also a shorter route that you can opt for, which should cover about a km or two (you'll still go through some steep rapids). You'll be given instructions and provided helmets and life jackets, so there's no need to worry.
(You can even jump off the raft for a quick, fun swim! 😀 )
To make it super easy, we at Plan the Unplanned have crafted a plan for you, so head on over to https://www.plantheunplanned.com/planned-treks/dandeli-river-rafting-camping/ to find out more or book with us. 
KAYAKING
A kayak is a small, one- or two-person boat in the shape of a banana. The use of a double-bladed paddle is necessary for kayaking. Ganeshgudi, near the Supa reservoir, is a place where first-timers and experienced kayakers can enjoy the thrills of kayaking experience.
Kayaking can be done in vast expanses of still water or through raging rapids which are more challenging. The fee would be about Rs. 250 – Rs. 300 per person.
If you're a first-timer, guides provide instructions that cover everything and even give you a demo of basic techniques.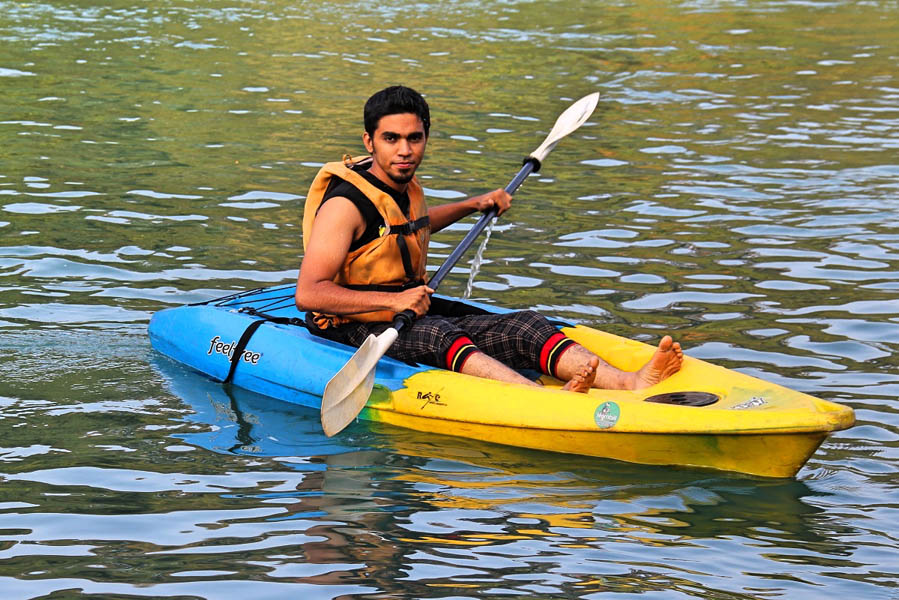 ZORBING, ZIPLINING, NATURAL JACUZZI BATH, RIVER CROSSING, SWIMMING, CORACLE RIDING are some of the other water activities you can delight in. All water activities happen at Ganeshgudi, a place near the Supa Reservoir, 22km away from Dandeli town.
JUNGLE SAFARI
Who doesn't love a ride on an open jeep through the jungle? Spotting wild animals like tigers, panthers, elephants, antelope, and a diverse range of birds and insects in their natural habitat. It's a wonder unlike anything else, a breathtaking experience. 
The safari is for a duration of 1 hour through the wildlife sanctuary where you will be greeted with a view of rivers, lush forests of Dandeli, and a chance to experience the wild, as it is!
CROCODILE SPOTTING 
In the midst of a privately owned jungle is a waterbody that the crocs call home. You will be guided by the owner to the place where you can spot the crocodiles bathing, lazing around and living life.
This place is not to be missed if you'd like to witness these reptilian wonders!
BIRD WATCHING TOURS
Dandeli is a great place to discover and rediscover some amazing bird species, the most famous being the Great Indian Hornbill. You can also spot many other flying beauties like the Malabar Trogon, Velvet-fronted Nuthatch, Crested Serpent Eagle, White-bellied Blue Flycatcher and lots more.
Bird walking tours happen around Ganeshgudi as the dense region is home to various birds. October to March is the best time when you can even spot migratory birds along with the indigenous ones.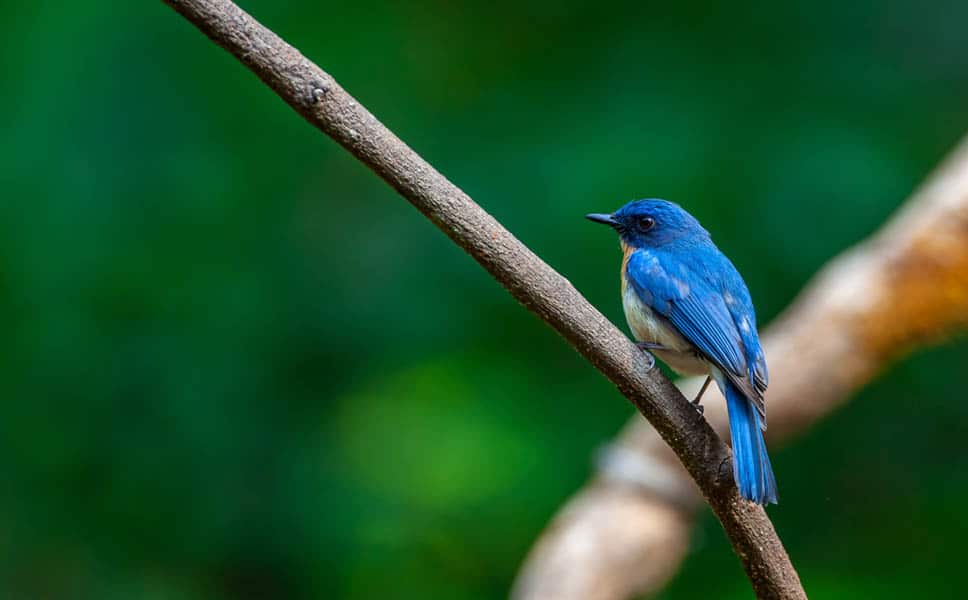 While bird walking experts will thoroughly enjoy the trails, it's a great idea for exploring minds to get a sneak-peek into the world of birds. 
Don't forget to carry powerful binoculars! 
HIKING
Ah, I can see that the Trekkies (like techies, but for trekking 😉 ) are already excited about what this space is going to talk about. 
The trekking routes of Dandeli are the Kavala Caves which is organized by the Govt. Forest Department at 6 AM, the  Kulgi-Nagazari Valley Deep Jungle Trek, and the Potoli-Shiroli trail.
Kulgi-Nagazari Valley Deep Jungle Trek 
This trek is about 16km in total, usually ending at Sykes point for a panoramic view of the Western Ghats with a refreshing breeze. Being quite an arduous trek, it will take up an entire day.
You will be crossing dense jungles, small and medium streams, and a lot of rocky paths. The challenging nature of this trek is quite worth it as it gives you a chance to spot colorful birds and know more about the rich forests.
It is advisable to take this trek with experienced guides who know the routes and can explain the biodiversity around.
Potoli-Shiroli Trail
A laid-back hike through nature, this trail is recommended for beginner trekkers, but hardcore trekkers can also take this refreshing course that covers around 12km in total.
Your last point will be the Shiroli peak where the magnificent view will take you in and make you feel at one with nature. Bring your binoculars in case you spot some rare bird species on the way. 
You can put up tents at both the peaks and stay the night. The ideal time to finish your trek is evening so you do not miss out on the mesmerizing sunset! Carry food, water, first aid medical supplies for your treks, else you'll have to make do with stream water and berries from trees! 😛
---
Dandeli Travel FAQs
Q1. WHAT'S SOMETHING SPECIAL IN DANDELI?
HORNBILL FESTIVAL
"I am glad I will not be young in the future without wilderness." – Aldo Leopold
THE WILD, NATURE, MOTHER EARTH, whatever you call it, you cannot deny that it lends a sense of aliveness to us like nothing else can. It's a nurturing, healing call, and it is now that we must pay the most attention to it. 
The Hornbill Festival happens in Dandeli, organized by the Karnataka Forest Department in association with The Tourism Department of Karnataka, to raise awareness about the most admired Hornbill and all the other species of birds; how important it is to preserve their habitats!
Imagine if our children, grand-children did not have the opportunity to bask in the wilderness. We wouldn't want them to grow up amongst dust and cement and pollution and traffic, would we? And miss the wonders of the wild? NOT a chance, right?
The forests of the Haliyal Division range from Tropical dry deciduous to Tropical evergreen, providing a diverse habitat for wildlife. The Govt. is taking active steps in its conservation and awareness.
The Hornbill festival boasts of events like Birding Walks, Interaction with Eminent Birders and Bird Photographers, Talks on Bird Conservation, Painting & Quiz competitions, etc.
TRIBES OF DANDELI
Your usual day probably consists of waking up and checking your phone, getting dressed and going to work/college, traveling amidst the traffic with everyone honking, cursing, and totally zonked. 
Well, imagine the opposite of this…the other end of the spectrum. You wake up to the early morning songs of the birds, look out your window and you're in a forest! It's like paradise, maybe. Or not?
You earn a living doing odd jobs like cutting wood, herding cows, selling milk… phones are not an everyday device, selfies don't happen 24 times a minute. It's a digitally cut-off tribal village. Yes, there are people who still live like this!
Meet the tribes of Dandeli; The Gowli, Siddi, Lambani, and Medar being a few. These people live in the dense forests in and around Dandeli, celebrating their traditions and living a different culture than we are used to.
Some of these people have migrated from different places, like the nomadic gypsies called Lambanis who hail from the deserts of Rajasthan and have made a home here. 
Others, like the Siddi tribe, who are of African origin, came to India as slaves during the Portuguese rule and have since settled here. 
The Gowlis are believed to be descendants of ancient cowherds of the Yadava clan of Krishna; they carry on the tradition of cow herding till today and make living selling milk, paneer (cottage cheese), and other milk products. People are only now starting to move towards the cities in search of 'better' jobs. 
Understanding and celebrating our cultural differences is essential to growing as a community. We do not know about a majority of the different cultures in India itself.
A land of diversity, we can meet all kinds of people in this country. Maybe during your visit to Dandeli, you will get a chance to interact with these tribal people and understand their way of life a little better. 
Let's cultivate an attitude of compassion and love for people everywhere! 
Q2. HOW DO I GET TO DANDELI?
BY AIR
Closest Airports:
Hubli (HBX) – (65 km)
Belgaum (IXG) – (103 km)
Goa (GOI) – (132 km)
Dandeli is well connected to Hubli, Belgaum, and Goa by road. You can take buses from these cities to Dandeli at affordable prices. The journey is about a few hours.
BY TRAIN
The closest train junctions from Dandeli are : 
Alnavar (LWR) – (33 km)
Londa (LD) – (38 km)
Hubli (UBL) – (72 km)
Again, you can easily take KSRTC buses from these places (provide little more info) 
BY ROAD
As mentioned, Dandeli is well connected by road to major cities like Hubli, Belgaum, Goa, and Bangalore. There are regular buses to and fro. 
If you're feeling road trippy, it's not a bad idea to drive there, either! 
Distance to Dandeli from major cities: Bangalore – Dandeli = 467km
Goa – Dandeli = 100km
Hubli – Dandeli = 75km
Belgaum-Dandeli = 90km
Hampi – Dandeli = 237km
Q3.WHAT'S THE BEST TIME TO VISIT DANDELI?
Although Dandeli has a relatively pleasant feel throughout the year, it's recommended to go during the months of October – March, because of the lush greenery and wonderful, breezy weather after the recent monsoon.
You'll also be able to indulge in watersports, go for the longer treks, and enjoy the views from the peaks.
 Summer will be scorching hot, so definitely not recommended!
 Of course, it rains quite a lot during the monsoon, so it's not preferred if you want to get out and explore. If you want to sit in your homestay (or resort), enjoying a hot cup of coffee and watching the rains, then go ahead! 
Q4.HOW MANY DAYS WILL I NEED TO COVER DANDELI AND SURROUNDINGS?
To have a glimpse of the full experience, for a quick getaway from your bustling city, for the weekend (2 days) – You can have a great rafting experience, explore the town of Dandeli and maybe 1-2 nearby spots (Syntheri Rocks, Dandelappa Temple, etc.)
For the fuller experience, for a rejuvenation that goes deeper, for an extended getaway (4-5 days) – Not only will you be able to visit spots near Dandeli (and Dandeli itself, of course), but you can also visit a few far-off places which are a real treat (Sathodi+Magod Falls, Mini Tibet, Hiking trails, etc.)!
Q5.WHAT'S THE IDEAL BUDGET FOR A TRIP TO DANDELI?
You'll have to take care of accommodation and travel, keep in mind food (unless provided by the accommodation itself) and drink, and you'll be spending on adventure activities like watersports, ziplining, etc.
The river-rafting should cost you close to Rs. 1500/- so set aside the amount for that. 
Overall for a 2-3 day trip, the budget comes close to Rs.5000-Rs.6000. If you plan accordingly, it could be lesser. And if you plan for more days, it could be higher, too.
Q6.WHAT ARE SOME THINGS TO KEEP IN MIND BEFORE VISITING DANDELI?
The major places can be covered in a span of 2 days, but I highly recommend you to take some time off and spend a few days (4-5) in Dandeli so that you have a wholesome experience; watersports, treks, and your visit to the other places.

It's best if you have a rented vehicle (preferably 4-wheeler) when IN Dandeli, to ease your exploration of the places around. 

When you're going for a trek or a hike, take essentials with you like water bottles, maybe some snacks, sunscreens, hats, shoes, of course, hiking poles (if needed), etc.

We all love spending time in nature; it nurtures and heals us. Remember to give back to Mother Earth, by keeping the places you visit clean and not littering.

Avoid playing loud music in the forests as this can disturb the wildlife around. Be a conscious traveler 🙂 
Well, I hope that's enough information and you're now convinced, with your bags all packed and waiting to book.
Get in touch with Plan the Unplanned so you can finally experience everything that you read about. Have a mind-blowing vacation!