Here is the detailed Netravathi Peak trek guide, one of Karnataka's Prettiest Treks.
Let's Make Memories on Fleeting Clouds,
Hear Valleys Gurgling Various Truths,
Play Hide and Seek with the Mountains,
And Witness the Netravathi River Taking its Route.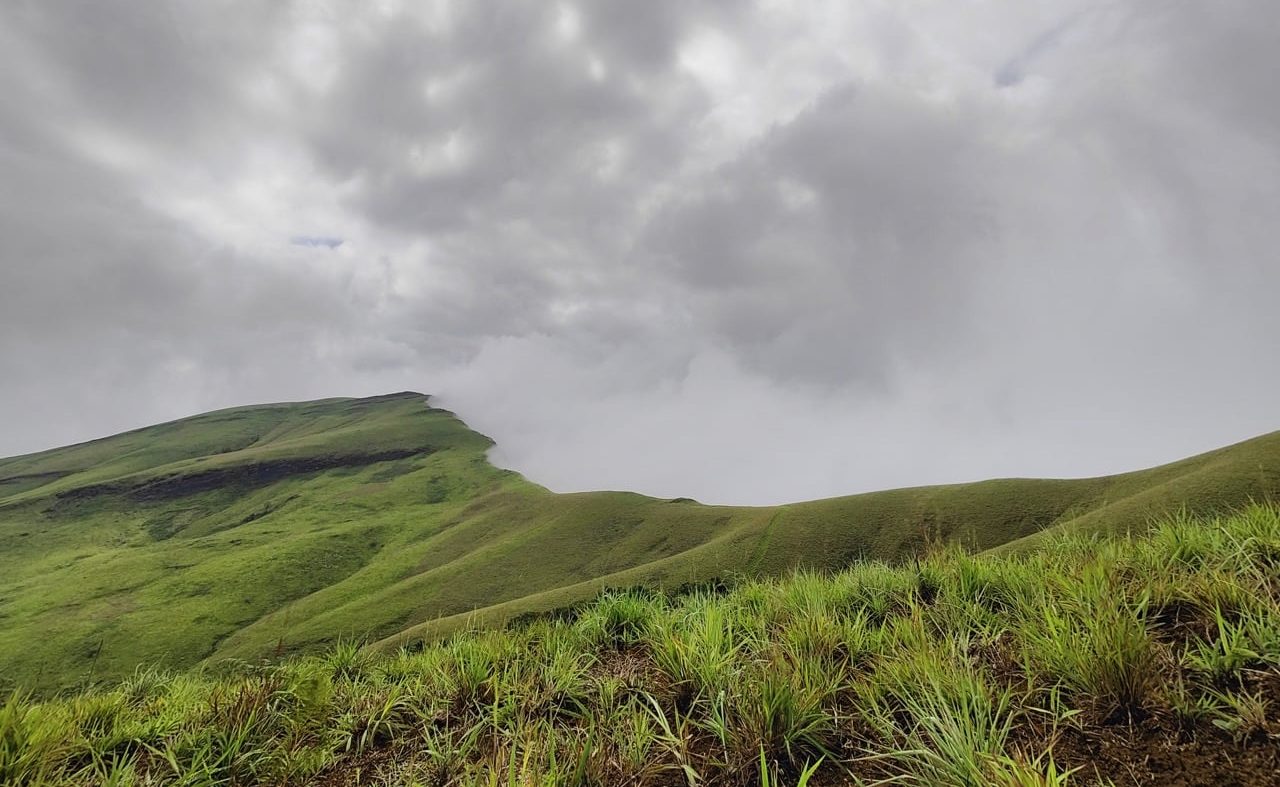 Kudremukha National Park stands at the centre stage and forms a critical link connecting wildlife sanctuaries like Someshware, Mookambika, Brahmagiri, Talacauver and Pushpagiri, and tiger reserves like Bhadra and Nagarahole. Lying in one of its pockets, the Netravathi trek runs from where clouds rise, and the Netravathi River is born. 
Combine sanctity, adventure, playfulness, scenery, purity, and bliss – you will probably get 1% of what the Netravathi trek is about. Here mountains play hide and seek, voices of birds stop you from moving, water streams gurgle stories of their discovery, the Netravathi river boasts of its capabilities, and clouds rise to the sky only to fall. There is so much to learn from this trek, but ssh… you ought to remain quiet and observe – mountains will speak to you!
Lying at the intersection of Chikmagalur, Udupi and Dakshina Kannada districts, Netravathi Trek gets its name from the Netravathi River, which originates from Bangrabalige Valley, Yelaneeru Ghat in Kudremukh.
Total Netravathi Trek Distance: 12 km
Netravathi Peak Altitude: 1520 m 
MYTHICAL STORIES OF NETRAVATHI TREK
According to locals, the river was first discovered by sages living in Dharmasthala, who came to collect the holy water. Netravathi River flows through the famous pilgrimage place Dharmasthala and is considered one of the sacred rivers of India.
In another tale, it is believed that Lord Almighty, in his incarnation as Varaha protected the land immersed in floods by raising it. Relieved, the ground in the state of bliss shed happy tears and the same is considered as Netravathi's birth. 
Note: The Bandaje Falls, on Bandaje and Ballalarayana Durga trek, is formed by a tributary of the Netravathi River.
BASE CAMP/STAY
You can camp either in Samse, Belthangady or stay near the base of the Netravathi. As you take a jeep ride from Samse to Netravathi Basepoint, you will find some homestays, resorts, and plantations of Coffee, Areca and Chilly. When writing this guide, in 2023, a homestay is under construction at the base of the trek but is not yet functional.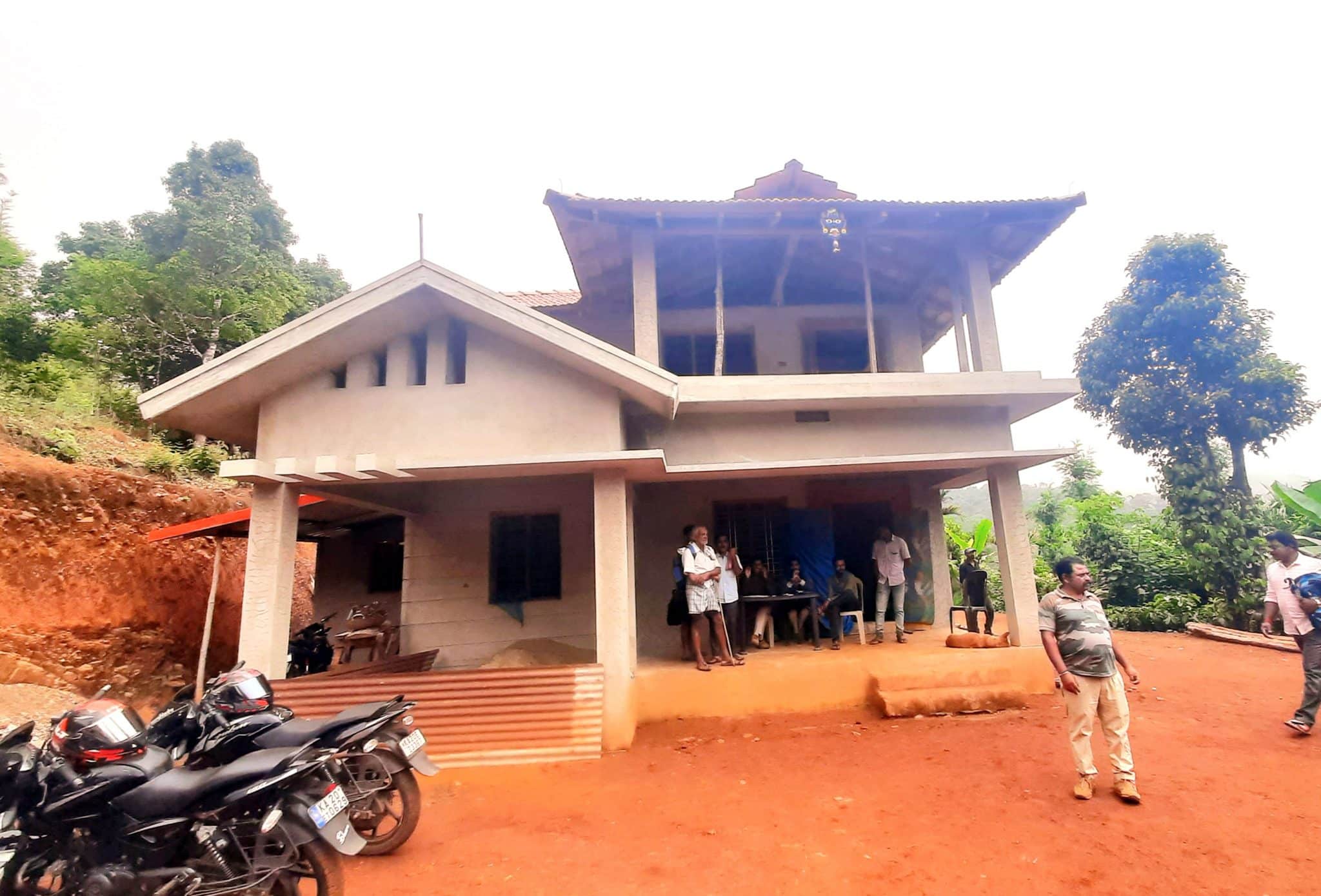 Samse –

The base of the Netravathi Peak trek is 14 km from Samse. No buses run to the base; hence, hire a tempo, get a lift or arrange your vehicle to reach the base. It will take 20 minutes to reach the base.

You can stay in Bella Homestay.
Belthangady –

You can stay in Belthangady. The base of the trek is at a distance of 30 km from Belthangady.

Dharmasthala – Dharmasthala is some 25 km from the trek base. It is a famous pilgrimage site for Hindus. Hence, you will find many resorts and homestays here. You will also get ATMs, Petrol Pumps and hospitals here.
PERMITS AND GUIDE
Earlier, this trek was free. But owing to its popularity, the Forest Department now charge INR 500 per person. This is done exactly at the starting point of the trek. 
One local guide is mandatory for every 12 people. One guide charges INR 1000 per trek. Giving this reasonable amount to local guides is acceptable as they work hard. During weekdays, these local guides work at plantations like Areca, Avocado, Chilly, and Coffee.
Drones and Cameras are charged extra. Every drone goes for INR 1000, and the camera is INR 300.
TRAIL SYNOPSIS
There are three segments on the trail:
Segment 1 – Base to crossing the two-tiered waterfalls and dense forest section
Segment 2: Netravathi River to Grasslands
Segment 3: Crossing False Peaks and Steep sections to reach the peak. 
On an approximately 12 km trail, you will come across two water streams, waterfalls, dense forest sections, and open grasslands, and will also witness armpits of the Western Ghats existing in dankness on lustrous grasslands' surface.
You will be able to comfortably finish this trek in 4.5 hours. The route that you take to climb is the same route for descent.
Tip – Monsoon season comes with multiple leeches waiting to suck your blood. These are slimy creatures that stick to you, get comfortable and then suck blood. Keep an eye on these; don't panic if you see one. Don't use methods like pulling, scratching, or sprinkling salt. Applying a sanitiser might also not work during the monsoon since the sanitiser will wash off your skin. There is an easy, more humane and painless way to get rid of these: if you see one sitting on your shoe, skin or cloth, give it multiple jerks with the help of your thumb and index finger until it gets off.
Good Reads:
Segment 1: Base to crossing the two-tiered waterfalls and dense forest section.
The Netravathi Trek is located in Kudremukh National Park and stands at a humbled elevation of 1520 m. The trek will start with a steep elevation but soon flatten out after 1 km of ascent through a rocky section.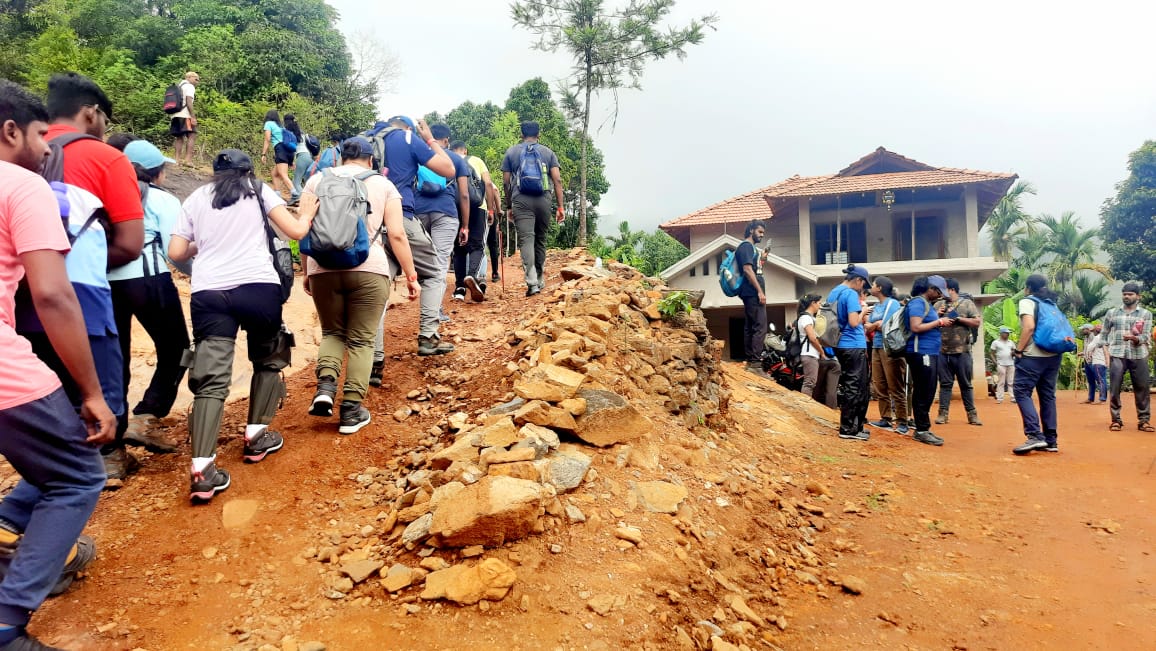 Fortunately, you will quickly come across the first waterfall after 1.5 km of ascent. This is a 2-tiered waterfall. Take a left here.
Tip – Walk on grass, smaller stones or mud. Fret from stepping on enormous rocks—they might be slippery, and you may hurt yourself.
Crossing the initial dense forest section, we will soon start seeing the grasslands opening up on the left. Keep walking; you will see an open area where you can relax for some time.
Segment 2: Netravathi River to Grasslands
After some minutes, search for the right, which is slightly obscured. As you walk, you will start hearing the sound of a stream on the left. This is Netravathi River. Although the visibility of the stream depends on the season, you will hear the sound of it.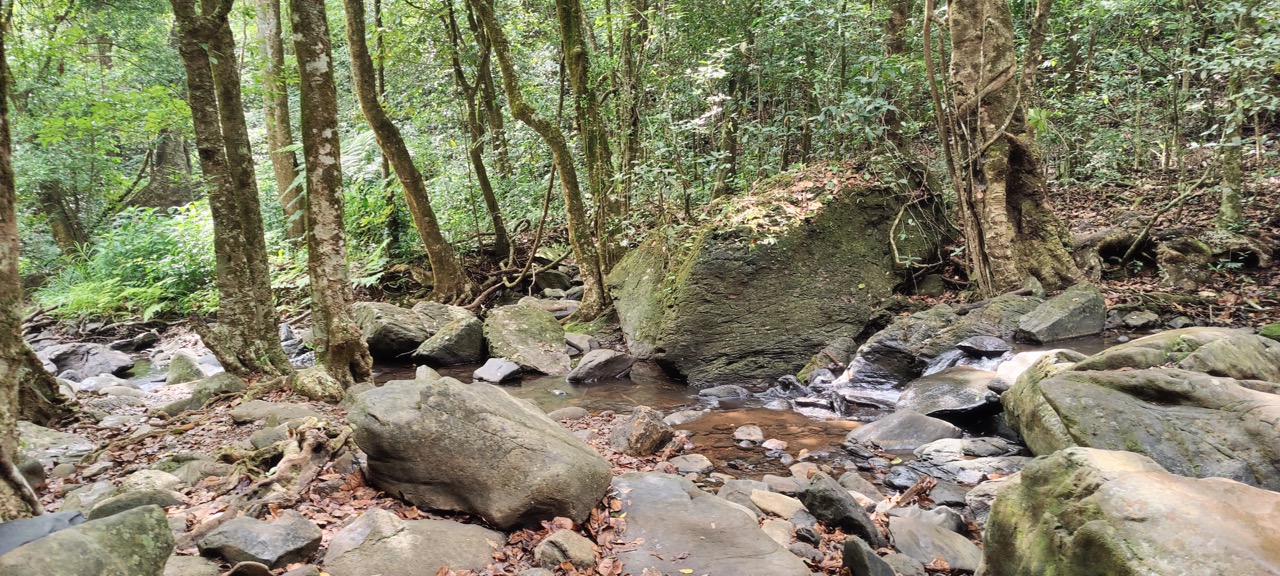 The best part of Netravathi trek is that you will never get bored. The terrain keeps switching, the mountains keep playing hide and seek and waterfalls keep refreshing your soul.
Once you cross this section, know you have practically covered 4 km. Come out of the forest section, and land into the magical world of grasslands. From here, the steep sections begin.
Segment 3: Crossing False Peaks and Steep sections to reach the peak.

 
You will see the peak, but contrary to our fortune, this is just a false peak. The mountains from here will start playing with your mind. As you cross one jumbo peak, two others will open up. But again, these are just typical mountains on the way. Keep climbing on the ridge.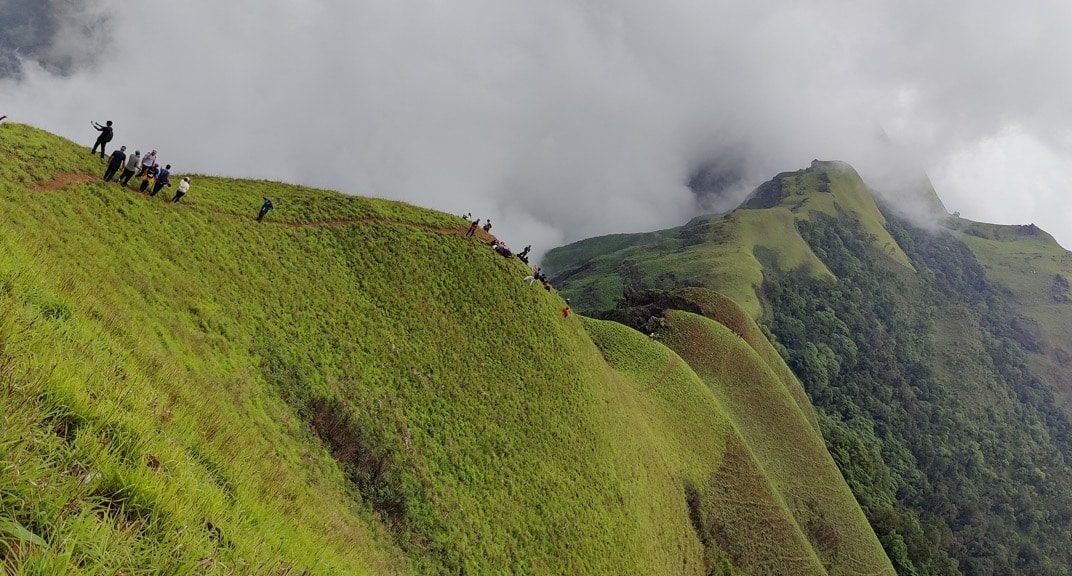 Soon, this game will end, and you will win. On your left, check out the valley of clouds. You will find the clouds here playing the climbing and falling game. They will rise up; in another second, they will precipitate. The entire panorama is a treat to your spirit, with majestic peaks on all sides, covered with shiny grass and pits of trees highlighting the surface. It feels like heaven.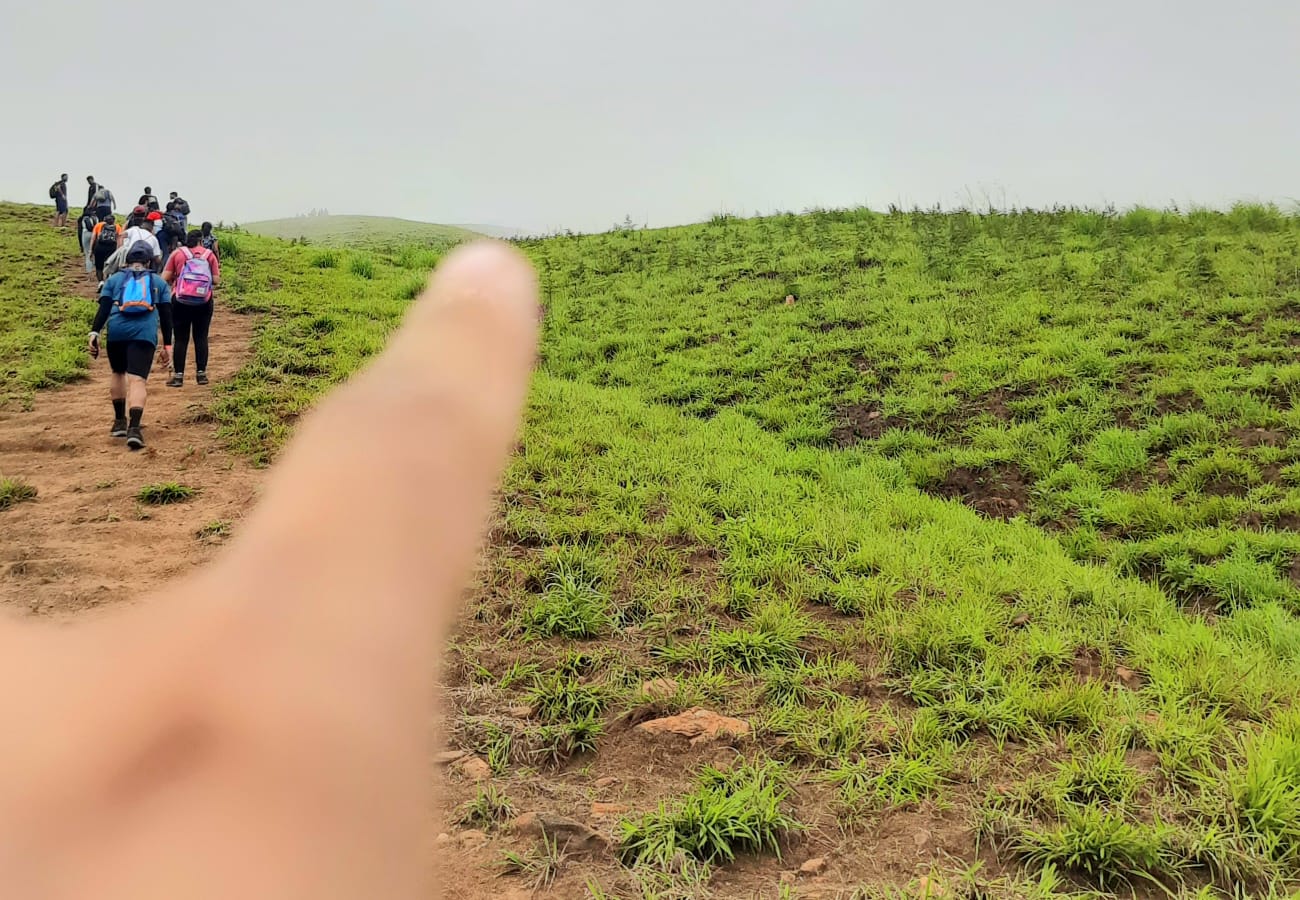 On a clear day, the Kudremukh Peak and Jamalabad Fort Peak are visible from Netravathi Peak and vice-versa. Kudremukha Peak is 15 km away from Netravathi Peak.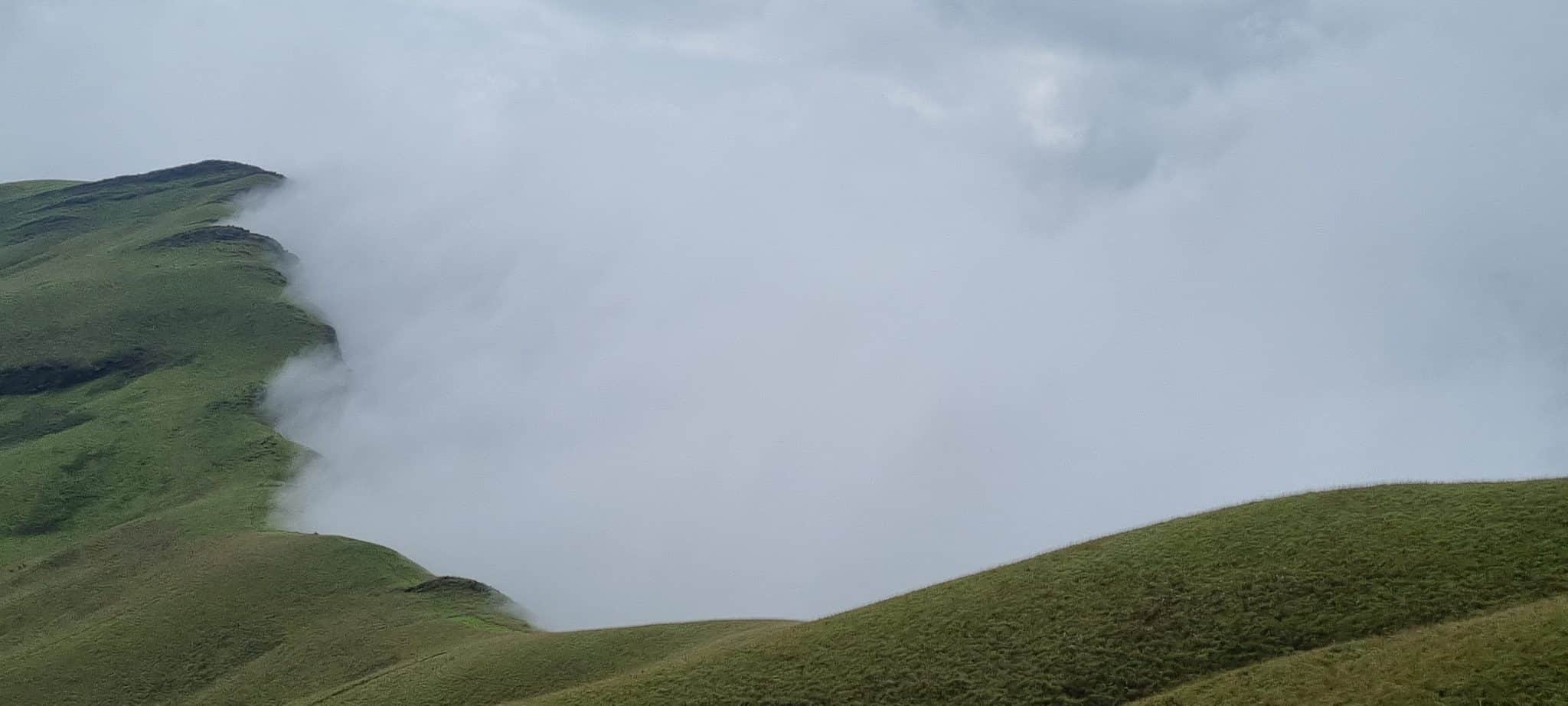 Spend some time, have lunch, and then retrace on the same track. You will be able to descend in much less time. Just pray it doesn't rain. It takes approximately 1.5 hours to descend to the base. 
HOW TO REACH SAMSE (Preferred Base)
The starting point is a small village called Samse, located amidst tea plantations. While this is located in Chikmagalur district, you don't really have to pass through the town of Chikmagalur (which is a popular hill station). The route from Bangalore passes through Hasan, Belur. Samse is nestled amidst the scenic hills of the Western Ghats in Karnataka. It is situated approximately 20 kilometers northwest of the town of Kudremukh and around 110 kilometers from the city of Chikkamagaluru. 70 km from Sringeri. 106 km from Dharmasthala.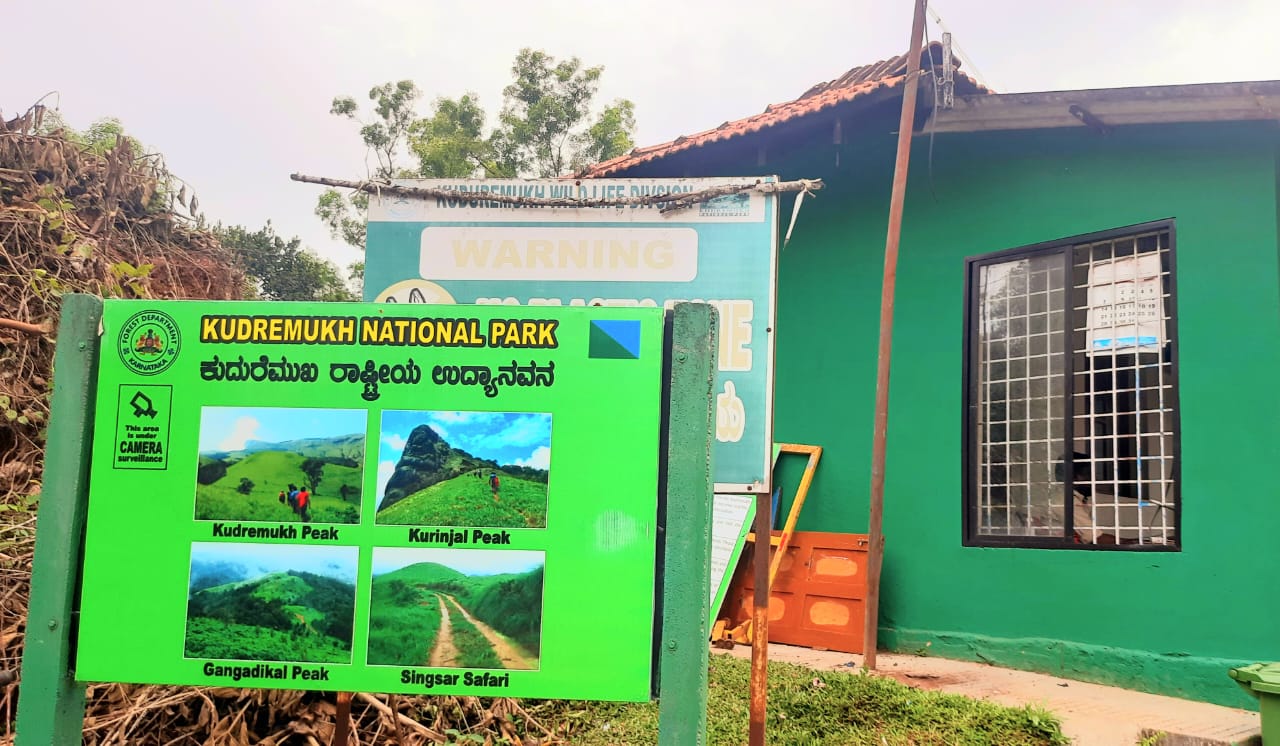 From Bangalore, you should find overnight buses to Kalasa (310 KM/ 6-7 Hrs) which is a small town. Samse is around 10 KMs from Kalasa and you should find some local transport or buses from Kalasa. 
Also, in case you need to know, the nearest major train station is Hasan and from here you can find local buses to the interiors.
BRIEF 3-DAYS ITINERARY FOR NETRAVATHI TRIP
Day 1: Netravathi Peak Trek
Day 2: Dharmasthala Visit
Day 3: Kodige Falls, Chennakeshava temple, Belur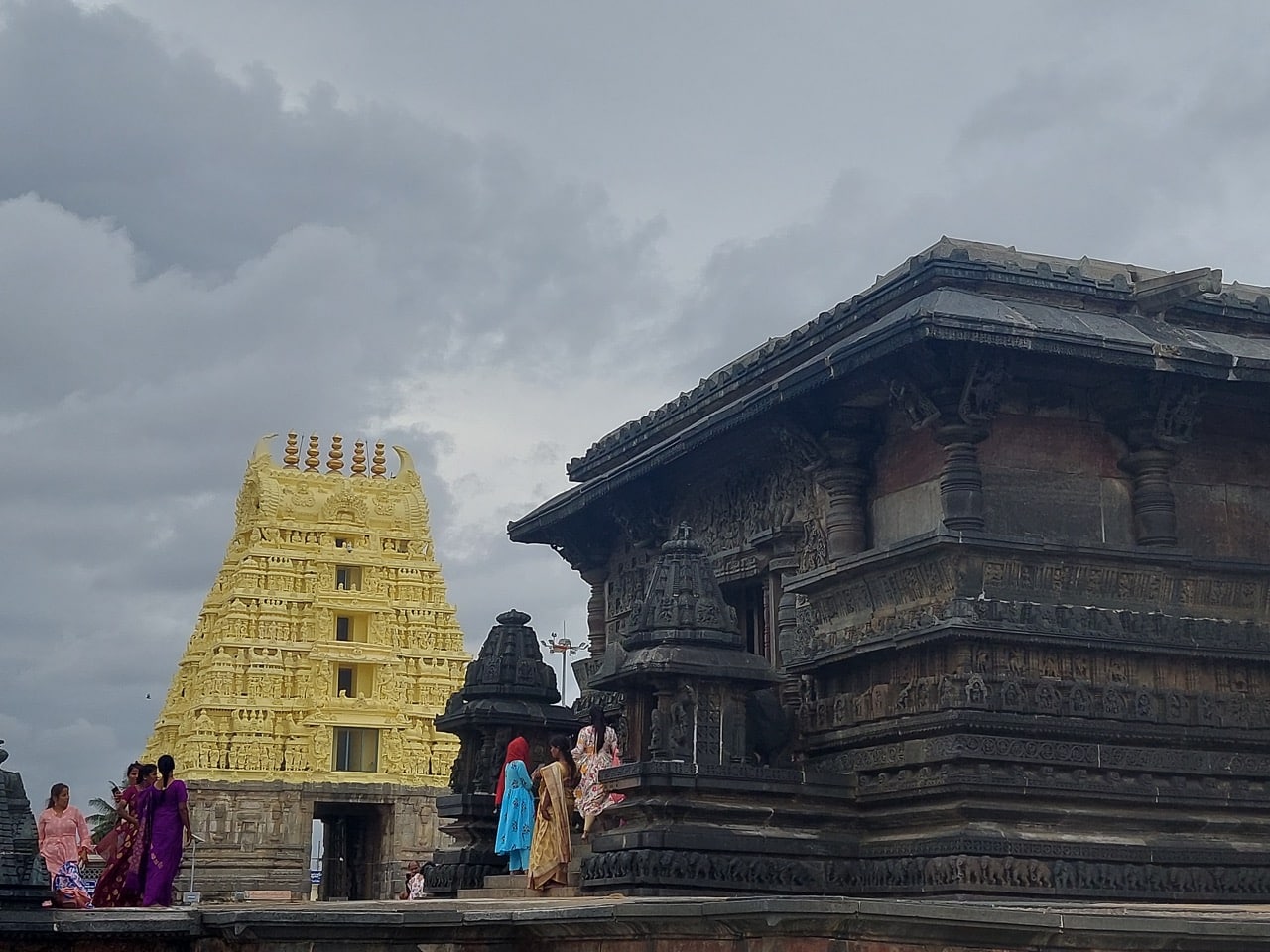 BEST TIME TO DO NETRAVATHI TREK
June to September. The best time to visit Netravathi is from June to September during monsoon. The trail is set on the grassland, and there are no trees to shelter you once you come out into the grasslands. 
Expect crowds during the weekend in the monsoon.
Good Reads: 15 Unnoticeable Things That You Should Never Miss in a Place While You Travel
FAQs
1. How long is the Netravathi trek?
The trek is approximately 12 km long, with an elevation gain of over 1,520 m. It takes about 5 hours to complete the trek.
2. What type of terrain should I expect?
The trek takes you through a variety of terrains, ranging from rocky trails to lush green forests. There are also some steep sections, so be prepared for an adventurous journey.

3. Is the trek suitable for beginners?
The trek is suitable for physically fit people. Although experienced trekkers attempt the trek, beginners are welcome. Just know that there are some steep ascents. If you can manage them, this trek will suit you very well.
Nevertheless, it is good to be prepared beforehand. To do this trek at ease, you can start with Cardiovascular exercises, and fitness training. Also, you will be ascending and descending a lot; hence, keeping yourself flexible with stretching, hip flexors, lunges, cross-overs, yoga, pilates etc., can help you in balancing jerks.
4. What kind of accommodation is available?
There are no official campsites along the trek, but plenty of basic lodges and homestays are scattered throughout the area. Some of these offer basic amenities like hot water and meals. We stay in Samse at one of our trusted homestays. Also, know that we outsource the stay part. The same homestay people also arrange food.
5. What are the things to take on the trek?
Carry 2 litres of water

ID

Lunch box and spoon

Poncho/Raincoat if it's monsoon

Carry cash in case of emergency.

Face Masks & Hand Sanitisers

Small backpack to carry your essentials during the trek

A comfortable pair of shoes with good grip for trekking

Dry fit clothes

First Aid Kit
Read this detailed list of Things to Carry on a Western Ghats Trek.
6. What is the level of difficulty?
The difficulty level is considered Easy to Moderate for the distance and nature of the terrain.
7. Do I need permission to trek to Netravathi Trek?
Earlier, this trek was free. But owing to its popularity, the Forest Department now charge INR 500 per person for entry. This is done exactly at the starting point of the trek. 
One local guide is mandatory for every 12 people. He will charge INR 1000 per trek. Giving this reasonable amount to local guides is acceptable as they work hard. During weekdays, these local guides work at plantations like areca, chilly, and Coffee.
Drones and Cameras are charged extra. Every drone goes for INR 1000 and camera INR 300.
8. Where will I get the nearest ATM?
You will find ATMs in Samse. Although no cash is required while trekking, you can carry extra for an emergency, food etc.
9. Where can I get food and water on the trek?
There are drinkable water sources on the Netravathi Peak trek. Carrying just  1 litre of water is enough; the rest you can refill during the trek. Don't drink the water from the stream directly since this water contains a lot of energy. You might catch a cold. It is advised to keep sipping water every 20-30 minutes to avoid dehydration.
Also, you will not find food options on the trail. We will provide you with packed lunch at the homestay that you can relish at the summit. 
10. Is there a place to park my vehicle?
Just before you start your trek, you can park your vehicle.
11. Are there any washrooms on the trail?
No, there are no developments on the trail. You will not find any washroom. 
12. Is prior trekking experience required for the Netravathi Trek?
While prior trekking experience is not mandatory, it is recommended. The Netravathi Trek involves steep ascents, descents, and uneven terrain, making it easy to moderately difficult. 
13. How long does the Netravathi Trek take to complete?
The duration of the Netravathi Trek typically depends on your speed. But even the slowest person can complete this trek in seven hours, given that they take breaks and spend a good time at the summit. 
14. What is the best time to undertake the Netravathi Trek?
The best time to undertake the Netravathi Trek is from June to February in the pre and post-monsoon and winter seasons.
Trek to Netravathi Peak with PTU
NEARBY PLACES TO VISIT
Trek to Netravathi Peak with PTU
Remember, trekking can be physically demanding and risky. It's important to be well-prepared, physically fit, and cautious during the trek. If you are an inexperienced trekker or unsure about navigating the trail, it's recommended to join a guided trek or seek assistance from experienced trekkers.