Here is a well-prepared itinerary for your Do-It-Yourself Puducherry trip for 2 Nights, 3 Days.
Newly named as Puducherry (Originally, Putucceri, derived from the Tamil words putu – "new" and Ceri – "village". The French corrupted this to Pondicherry.) in 2006, it is a union territory of India. This place might be small but has the most affluent colonial architecture, modern sea promenades, historic sites, bougainvilia-laden homes, golden sand, and rock beaches. 
It's heaven, if not more. Interestingly in the past, it passed into multiple hands and equally gracefully absorbed the culture of all: Dutch, Portuguese, French, English. You will blend into the rendezvous of hippies, photographers, spiritual seekers, history enthusiasts, food aficionados, and nature lovers. The union territory also hosts several adventure sports ranging from hiking, cycling, snorkeling to scuba diving. These reasons leave us no option to overlook this magical location, bound by the Bay of Bengal from one side and Tamil Nadu from the other.
Step 1: Booking Your Travel
Book your travel from your city (for example – Bengaluru) to Pondicherry; an overnight bus or train is the best option.
Bus Service: Many popular Bus Service Providers run from different cities to Pondicherry regularly. 
From Bengaluru, It should cost you around INR 600-800 per head for going one way. The trick is to make a reservation at least 3-2 days before you plan the trip.
Train Service: Dadar-Puducherry Chalukya Express runs on Mondays, Tuesdays, and Saturdays, and Yeshwantpur-Puducherry Daily Express runs on Fridays.
Step 2: Booking your Stay
Stay varies from traveler to traveler. Suppose you're on a budget, post about your travel plans on CouchSurfing. A lot of hosts will reach out to you, offering accommodation at their homes.  
Airbnb is another option to search for homestays and rentals. Firstly, you can use their filters to list out your preferences. Secondly, use the 'Map Hover Feature' to judge location and distances from prime areas. Look out for 'Superhosts' and 'Guest Reviews' from the listing to make the best choice.
Where to stay during the Puducherry trip?
Popular locations to stay in Pondicherry are near the Rock Beach/ Promenade. But, nowadays, Serenity Beach is preferred. There are two reasons for this: one, the beach is just sand and no boulders and two, it's less crowded. 
The beachside villas are also economical options for a group.
Step 3: Getting Around
For commuting within the territory, there cannot be a better way than renting two-wheelers. Mission Street has many rental shops where you may choose low-budget Activa/Mopeds, fancy colored Vespas, or even geared bikes and Enfields.
Google Maps in Pondicherry are to swear by for navigation!
Step 4: What to See during the Puducherry trip?

 
Day 1
Sri Aurobindo Ashram – Sri Aurobindo Ashram is a spiritual community. In 1926, Sri Aurobindo had a major spiritual realization, after which he withdrew from all public views to continue his spiritual works. Soon after, he transferred the full responsibility of the ashram to his spiritual collaborator — "The Mother".Until today, many people live and work in the ashram for a simple and healthy life. There are also libraries for study and facilities for various cultural pursuits, including music, dance, theatre, and the arts.
Promenade Beach aka Rock Beach – The beach is rightfully named; unlike sand beaches, it has rocks separating the road and the ocean. A mile-long promenade dotted by hotels, eateries, and government offices is an excellent location to witness the sunrise and sunset. source beach is not just good for a beautiful walk but also offers significant tourist spots: War Memorial, Gandhi Statue, Jeanne d'Arc Dupleix's Statue, and an Old Lighthouse.
Gandhi Statue – At Promenade Beach, the statue of Mahatma Gandhi, revered as Father of the Nation in India, is one of the prominent landmarks in the territory of Pondicherry. The statue was built by a famous sculptor, Roy Choudhary. It's not known to many that just below the figure, there is a tunnel that leads to Gingee. Presently, the tunnel is closed and is not accessible to the public.
Day 2
Auroville – If you told us to just speak about one place to visit in Pondicherry, we would not think twice to say – Auroville. Auroville, aka "the City of Dawn", is an experimental self-sustained city created by Mirra Alfassa, a disciple and spiritual collaborator of Rishi Aurobindo fondly remembered as 'the Mother'. SourceThe Matrimandir in the centre of the ground is a place for guided meditation. Entry to the large garden surrounding the Matrimandir is restricted to maintain a calm ambience inside. Plus, there is an urn that contains soils from different countries, denoting that people from different nationalities and religion live here in peace and harmony.Built for 50,000 people, Auroville has only about 2,500 permanent residents and roughly 5,000 visitors. The place runs on donations from residents and the Indian government. Plus, UNESCO has protected the township since its birth in 1968.
Paradise Beach – Take a boat from the town to get access to this beach. The Paradise beach, resting aloof from the main town's humdrum, offers a retreat and peaceful experience to its visitors. As you will exit the town's shore, you will enter into the mangrove forest area, which in itself will hold you by charm. Then, relax on the extraordinary sand of the paradise beach, play with your family and spend a beautiful time in this heaven.
Serenity Beach – Just a twenty-minute drive from the northern part of Pondicherry, Serenity beach will leave you enchanted by alternating golden sands and rocky beach stretch. Additionally, multiple palm trees on the shoreline fringe the beach.A nearby surf school and fishing boats will let you bring some physical activity into your life.
French Town – As mentioned above, Pondicherry was the largest French colony in India until 1954. Till the mid of 20th century, it was inhabited by the French public, and hence it reflects the lifestyle and culture of French people to the fullest. This "Little French Town of India" has French street names. Currently, most of the houses are transformed into heritage homestays, hotels and restaurants. But as you will observe closely the bright colours, jazzy lifestyle, and marketplaces will quickly steal your heart away.
Day 3 
Arikamedu – Just 7.5 km from Pondicherry, you can cover Arikamedu, an

abandoned city of South India. It was a flourishing Indo-Roman trade center during the 1st century BC. On entering the territory of this heritage site, you will come across the relics of walls, columns, and mortars standing alongside the bank of the Ariyankuppam River. The sight itself will take you back to the days of Roman trade in this region.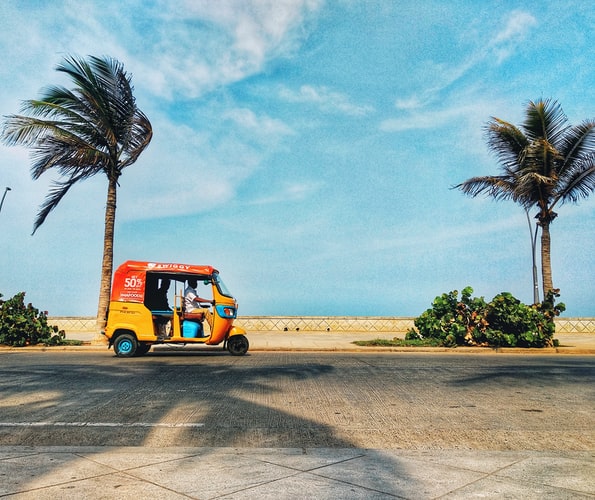 Source
However, there are more things to cover in your Puducherry trip apart from these: as time limits us, we have to reserve some for the future. If you are here for more days, you can cover these places –
Karaikal Beach

Ouster Lake

Botanical Garden

The Pondicherry Museum

La Maison Rose

Eglise De Notre Dame Des Anges

French War Memorial

Chunnambar Boathouse

Sri Varadaraja Perumal Temple

Bharati Government Park

Old Lighthouse

Basilica of Sacred Heart of Jesus
We really hope that this guide for the Puducherry trip for 2 Nights and 3 Days would come in handy while you plan your Puducherry trip. Let us know in the comments if we missed anything.
Also Read – 

Firstly, Trekking in Sri Lanka – The Ones You Must Add To Your Bucketlist

Secondly, 5 Best Things to Do in Andaman for a Perfect Vacation