Karwar, which is mostly influenced by South Indian culture, exhibits an exquisite fusion of different other cultures as a result of its history as a subject of numerous kings and rulers. Karwar's vast biodiversity is a sight to behold, and its special position contributes to this. Both adventurous and relaxed vacationers like visiting Karwar. Karwar is a great destination for vacations since it is full of attractions and places to go sightseeing. The finest part is that this place combines the benefits of hills and seas. Additionally, as it is a well-known tourist destination, you may locate lodging and fantastic hotels for a long stay with ease.
About Karwar

One of the top beach resorts in Karnataka is Karwar, a little charming town that is only 59 kilometers from Gokarna. For beachgoers who enjoy lounging by the water and soaking up the sun, it is the ideal vacation destination. Karwar is a Karnataka destination known for its gorgeous beaches, closeness to Goa, the Kali bridge, a leisure park, a planetarium, and other attractions.
Language spoken at Karwar
Karwar's primary language is Konkani. However, like the majority of Karnataka's minority language-speaking regions, Kannada is utilized for practical reasons. After the states' linguistic reorganization in 1956, the percentage of Konkani speakers fell.
Best Time To Visit Karwar
October to February.
Places to Visit In Karwar
There are several places and attractions in Karwar that you may visit. The following is a list of some of Karwar's attractions. Make the ideal list of places to visit for Karwar by taking a peek.
1. Guddali Peak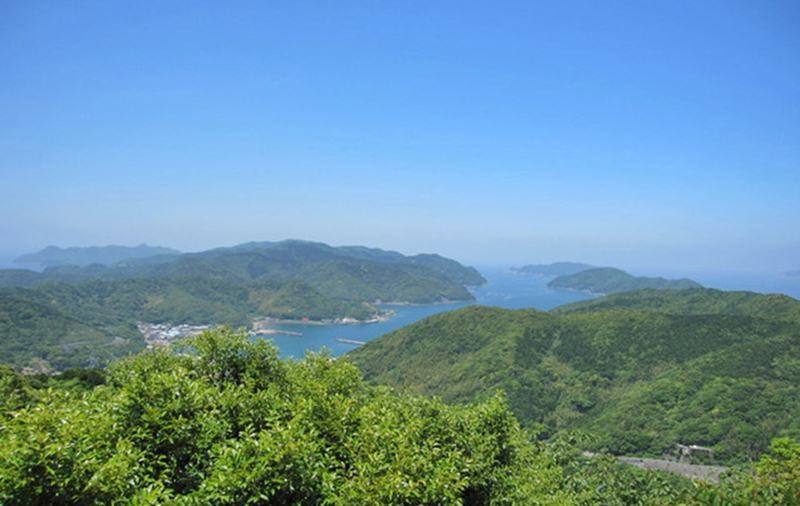 The Guddali Peak should be on your list of sights to see in Karwar if you enjoy mountains and hills. Being 1,800 feet above sea level, it is one of the highest peaks in the Haidar Ghat range. This location gives a magnificent view of the Kali and Belekeri River and the Arabian Seas and was once utilized by the British as a summer resort. You will have to hike up to the spot for around 5 kilometers. You will pass through lush woods and springs on your journey.
2. Oyster Rock Lighthouse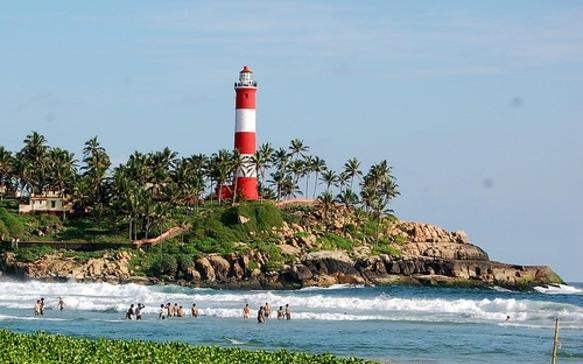 On the Devgad islands, 11 km from Karwar, is a group of rocks known as the Oyster Rock Lighthouse. A popular destination, this lighthouse was built in the 1860s and started operating on March 25, 1964. From the Karwar harbor, take a machine boat to this stunning location, where you can see the sun rise and set from the top of the lighthouse. Additionally, you may engage in adventure sports like scuba diving and snorkeling here.
3. Kurumgad Island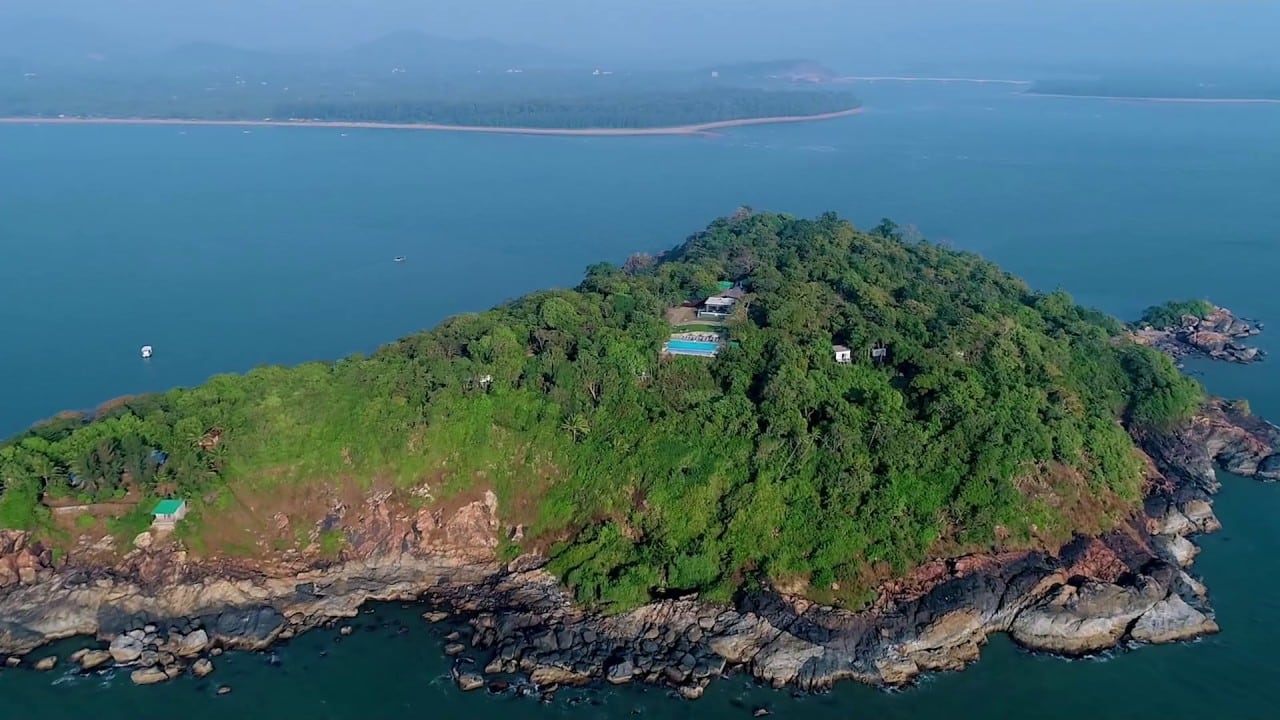 Kurumgad Island's form, which resembles a tortoise, is what makes it intriguing. This island is home to the Narasimha temple, a well-known destination for pilgrims if you're a devotee. To get your fill of thrills, though, if you're an adventurer, the island offers a variety of water activities. If you enjoy history, this abandoned lighthouse will keep you entertained with its historical significance.
4. Tilmati Beach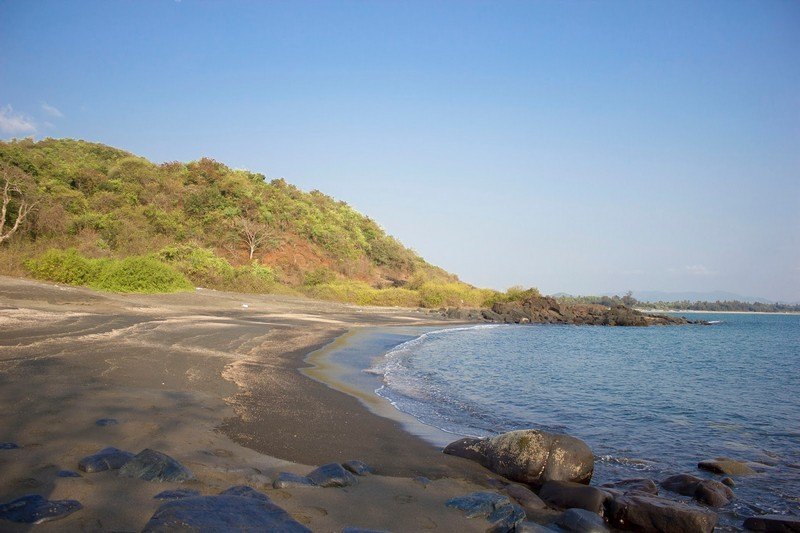 One of the many undiscovered locations to visit in Karwar is this beach, which is blessed with incredible beauty and a peaceful atmosphere. This beach stands out among the region's other tourist destinations because of its breathtaking views of the Arabian Sea. If you want to get the most out of your vacation to Karwar, come here just before sunset when Tilmati Beach offers a stunning view of the setting sun.
A significant portion of tourists come here for overnight camping and astronomical excursions. Locals love Tilmati for its black sand beach. It is thought that the Arabian Sea is what transports the black sand from the Kali River to the beach's coastlines.
Activities include watching the sunset, nature hikes, and camping at night 
5. Narasimha Temple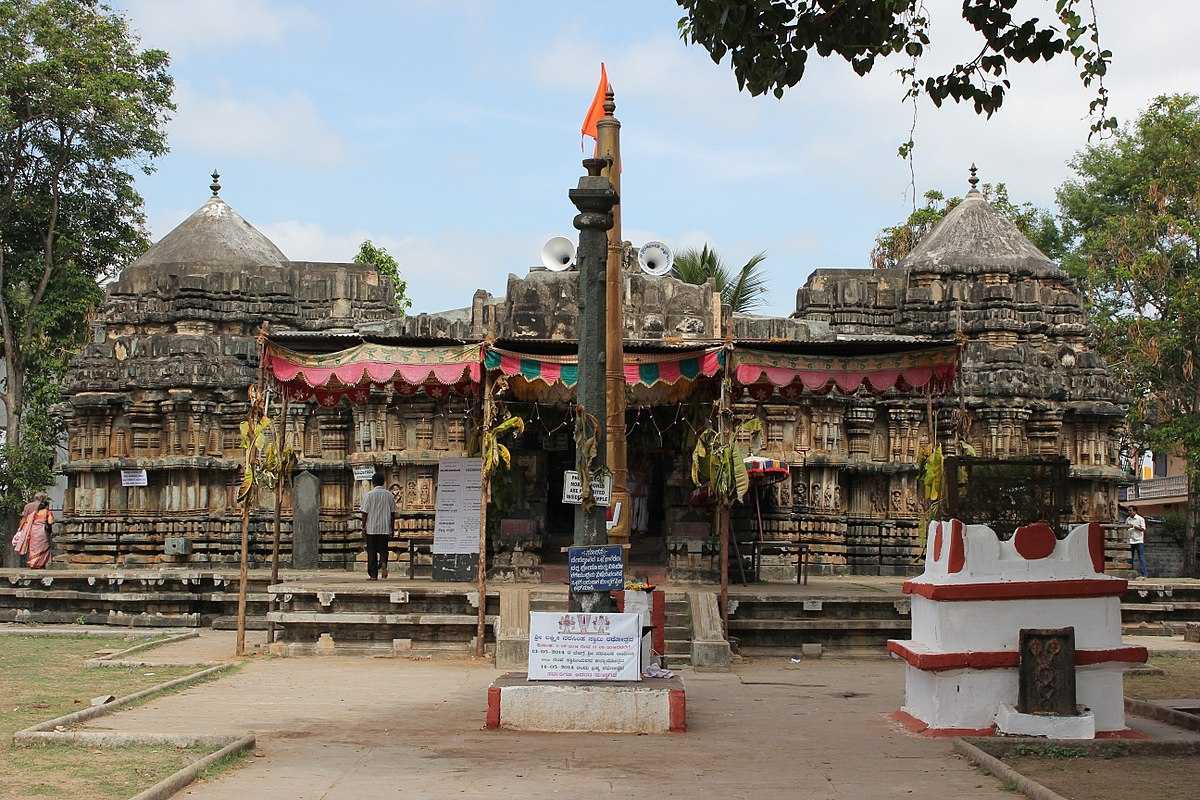 The stunning Narasimha temple, a Vishnu temple in Kurumgad, receives a tremendous number of visitors every year. With the start of the yearly festival, Yatra, the temple is engulfed in a mood of celebration and pleasure throughout January.
Some of the young tourists like making the walk to the temple. This pilgrimage destination is also accessible by boat services. Narasimha Temple continues to be one of the most well-known destinations in Karwar for Hindu devotees.
6. Rabindranath Tagore Beach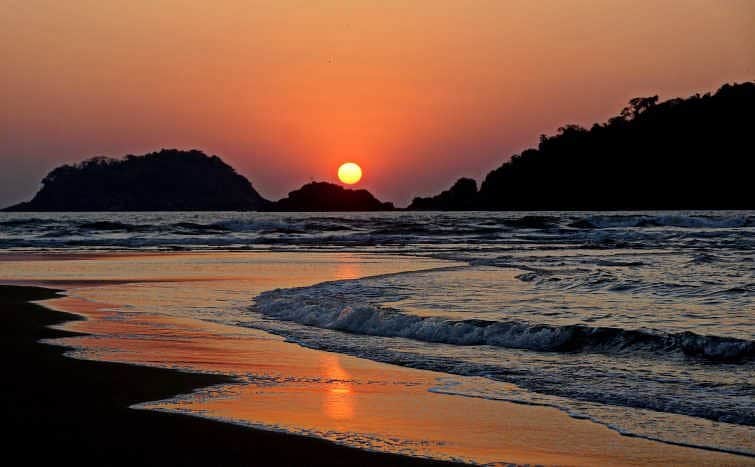 Rabindranath Tagore Beach, one of Karwar's most visited tourist destinations, is located where the River Kali and the Arabian Sea converge. There are other tourist attractions on the shore, such as the Warship Museum. Explore the planetarium, aquarium, and recreational park that are located on the property as well.
Despite the lack of beach sports at Ravindranath Tagore Beach, you may still partake in recreational pursuits like swimming and nature walks. Karwali Utsav, Karwar's largest cultural celebration, which takes place in December and January, is also held there. If you don't want to spend too much time outside, simply soak up the sun's warmth or take in the sunset from this beach as the cool evening air blows.
7. Kali Bridge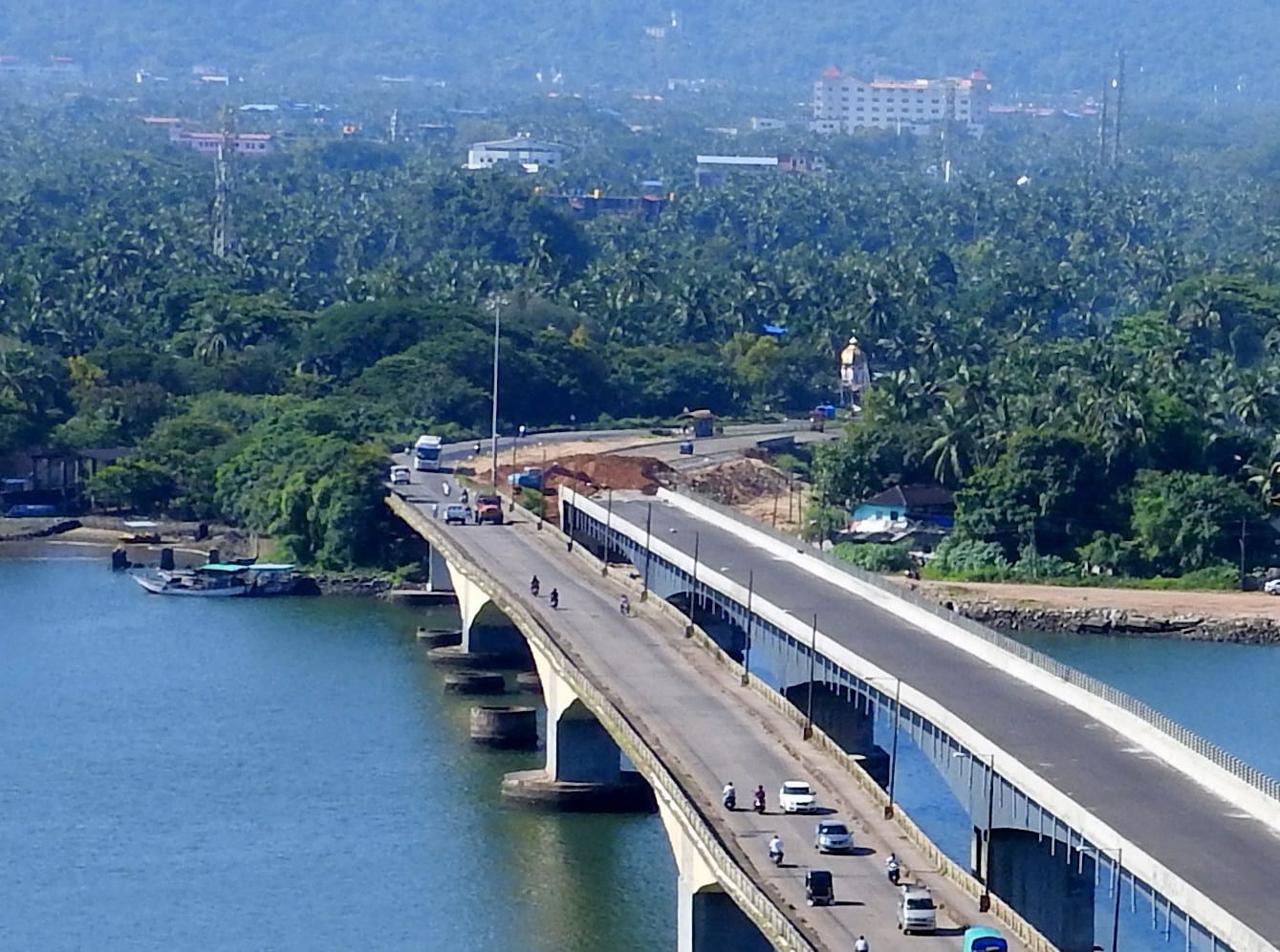 Kali Bridge is a popular tourist destination in Karwar due to its gorgeous surroundings and welcoming atmosphere. This bridge is renowned for its breathtaking views and serene ambiance and is located at the confluence of the Kali River and the Arabian Sea. It was built in 1983 to connect the states of Goa and Karnataka.
To see the place where two bodies of water converge, a sizable group of nature lovers congregates here. Don't overlook exploring the old Sadashivgad Fort while you're at the Kali Bridge; it's only a short distance away.
8. Devbagh Beach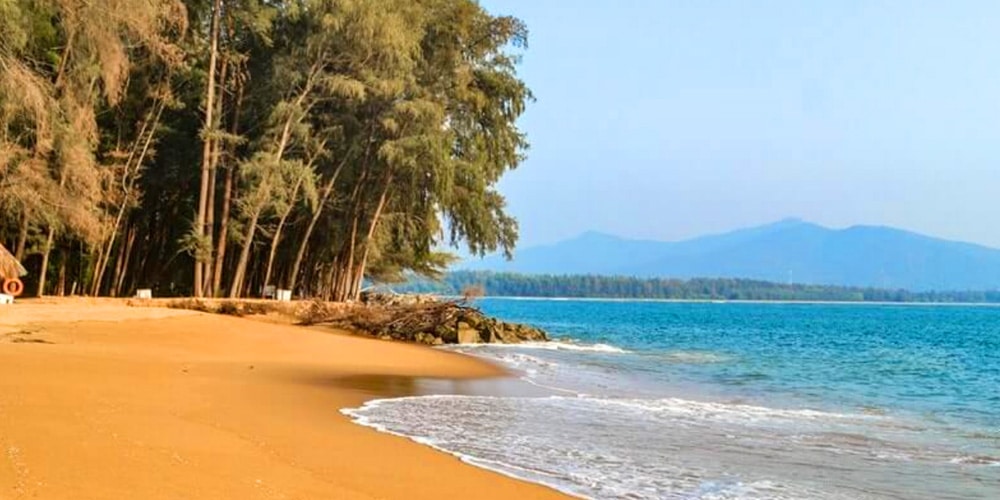 Devbagh, a private beach located on the border of Karnataka and Goa, is the perfect retreat spot for couples and those looking for tranquility. This lovely beach is nestled between the Arabian Sea and the Western Ghats. Devbagh is well-known among those who enjoy outdoor activities for its ethereal sceneries and golden sand.
There isn't a water sport you will miss out on in this place, including kayaking, parasailing, and banana boat trips. You may reserve a room at one of its resorts, houseboats, or cottages for an extended holiday. It's certainly worth trying the delicious seafood at this restaurant.
Activities include taking a banana boat trip, kayaking, fishing, snorkeling, and viewing dolphins.
9. Warship Museum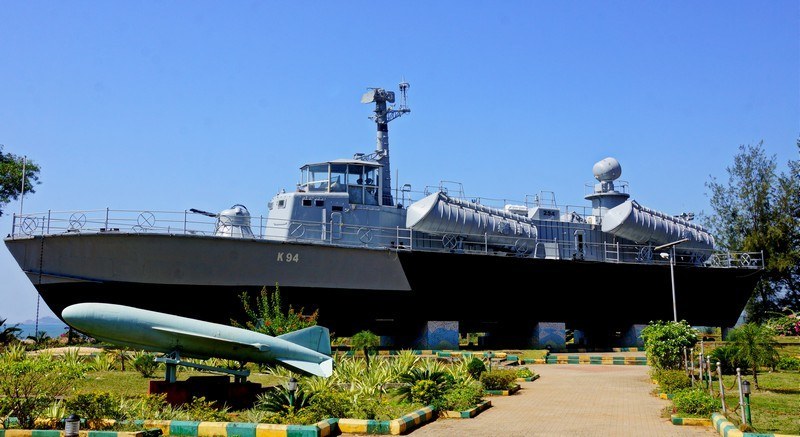 On the stunning Rabindranath, Tagore Beach sits the INS Warship Museum. The INS Chapal, an OSA missile boat built in Russia, is the inspiration for the museum's name. Warship Museum, a 245-ton vessel also known as K94, is renowned for its actions during the 1971 Indo-Pak conflict.
You may locate several artifacts and collections during your visit to this museum that will provide you with a quick overview of maritime combat. There are also other mannequins inside that are dressed as captains, medics, and sailors in addition to this. Warship Museum is among the most important attractions in Karwar to see if you enjoy history.
10. Majali Beach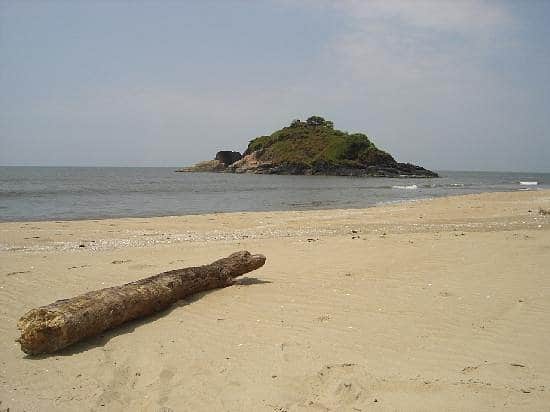 Numerous resorts and seaside villas along Majali Beach, offer tourists first-rate service These rooms have everything covered, including private balconies, in-house laundry, and sit-outs. Indulge in recreational pursuits like bird viewing and fishing while you're at the beach. You will also fall in love with this resort because of the beach's sunset vista.
Activities include rowing, fishing, bird viewing, and kayaking.
Budget for Karwar (per day per person basis)
INR 1700 approx per day.
Food – INR 500.
Travel – INR 200 on local transportation.
Stay – INR 800.
Where To Eat in Karwar
Karwar is also a seafood haven where you can escape. It is a well-known port of delectable seafood cuisine because it is a seaside location. Rice, cashews, and coconuts are some of the most important ingredients in local cuisine. Therefore, while in Karwar, make sure to sample some of these delicious seafood specialties. In addition, there are several choices for vegetarian foodies.
Amrut Restaurant, Udupi Cafe, Hotel Poornima, and Swetha Lunch Home are among the best places to experience these delicacies.
How To Reach Karwar
Karwar, one of the top tourist destinations in Karnataka, is a simple spot to get to. You have a few options on how to get here. Let's look at it!
By Air
The Dabolim Airport in Goa is 98 kilometers distant from Karwar and is the closest domestic and international airport. It is an airport with good connections and is reachable from many important nations and states worldwide. From the airport, you may take a cab to Karwar.
By Rail
Karwar has a separate train station that is around 7 kilometers from the city of Crore. Karwar station has good access to major Indian cities via the Konkan railway station.
By Road
Karwar is the city that is the easiest to get to by bus, since several deluxe, semi-deluxe, and luxury buses travel from surrounding cities like Bangalore, Mangalore, and Mysore to Karwar. These buses are frequently used and easily accessible. They are also extremely reasonably priced. You may rent a cab after you get to Karwar to see the area.
Karwar is a lovely location, ideal for those who enjoy spending time outside. Karwar is the perfect destination for family vacations because there is nothing to do there but unwind and clear your thoughts. Grab a coconut, relax by the water, and take in the view. This is the epitome of a fantastic vacation. Visit Karwar's stunning blue seas to see for yourself.
How Long Should A Trip Be for Karwar
If you plan to see Karwar in and out, you need to spare at least one week. Otherwise, you can break your travel plan to 3 days and see the important tourist attractions.
Additional Information about Karwar
Google map from major cities:

Bangalore

,

Mumbai

,

Hyderabad.

Karwar Weather and temperature Information: The climate of Karwar is Tropical.

The average annual temperature of Karwar is 28 degrees Celsius, which is considered to be mild. The summers should be avoided as much as possible because of how hot and muggy they may be. The monsoons are beneficial because they provide moderate precipitation. But ultimately, the greatest time to visit Karwar is during the winter.



Festival that happens in Karwar: The three-decade-old Karavali Utsav celebration is held in this coastal region of Karnataka. In the district, District Administration organizes this celebration annually. Because it draws people together throughout the festival season, this festival promotes harmony among people. While it first just affected the coastline region, this eventually expanded to all of the district's talukas. One of Karnataka's largest districts, Uttara Kannada, has 11 talukas. This region is endowed with stunning natural features such as rivers, mountains, waterfalls, tranquil beaches, a wildlife reserve, etc.
Good Read: South Indian Festivals are harbinger of good days, check this list!