In the Bhagwan Mahaveer Sanctuary and Mollem National Park close to Goa, Dudhsagar Falls is located on the Mandovi river. This waterfall rises to over 600 meters in elevation and cascades beautifully. The English translation of Dudhsagar is "Sea of Milk."
About Dudhsagar Falls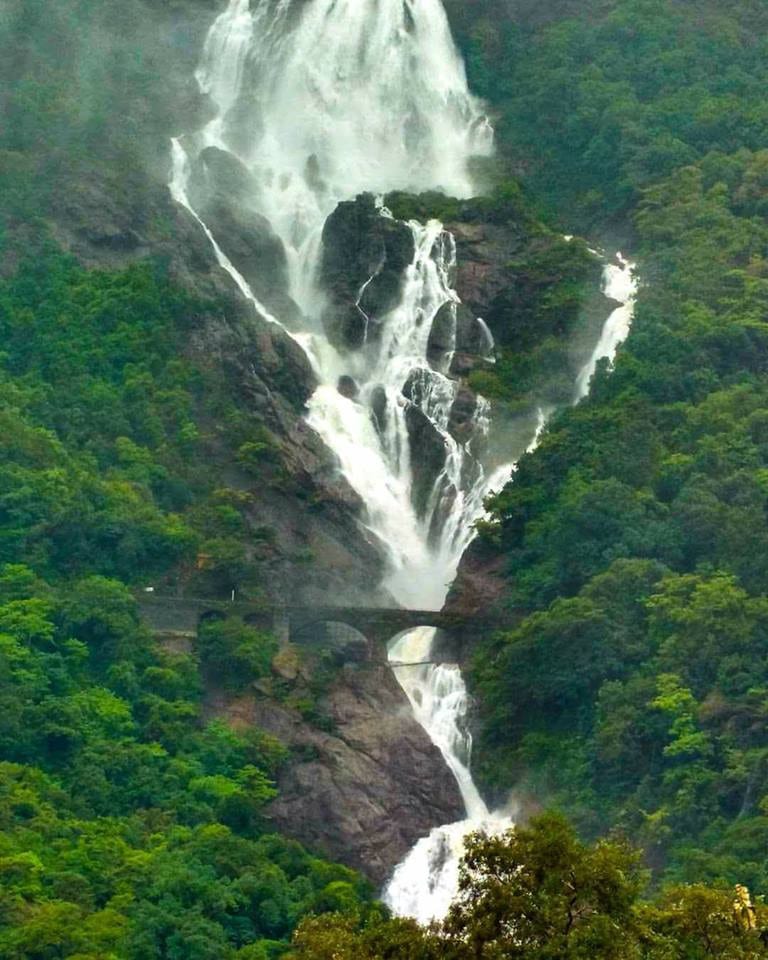 The Dudhsagar waterfalls are located on the border between Goa and Karnataka. These waterfalls acquired a lot of attention after appearing in the film Chennai Express, and they became well-known throughout south India the following year.
Most routes provide diverse vegetation, animals, and scenery, and this one is no exception. However, this journey has an additional attraction that few treks possess: an excellent old railway track!
The Indian Rail Network and privately run tour company jeeps are used to make the walk to the waterfall. The waterfall comes to life during the monsoon when it plunges from 310 meters, looking as white as milk.
Dudhsagar Trek difficulty Level: Easy to Moderate

Best time for Dudhsagar trek: July to Dec (during Monsoon)

Distance between Dudhsagar railway station & waterfall: 1 Km
Dudhsagar Trekking Route: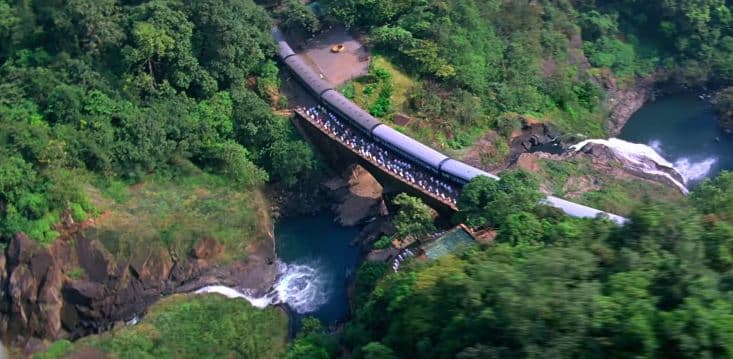 The recommended Dudhsagar trek entry point if you are coming from the Bangalore side should be Castlerock. In Karnataka, you can find Castlerock Railway Station. Castlerock railway station should thus be your preferred train station to begin the hike if you are coming from stations like Hubli, Dharwad, Londa, Dandeli, etc.
The most well-known trek is from Castlerock to Dudhsagar. However, this path is typically congested during the weekends. If you're coming from Bangalore, you may board the Madras-Vasco Express on Friday at 21:35 at Yashwantpur and arrive at CastleRock at roughly 09:20 on Saturday.
In addition to being longer than the Kulem-Dudhsagar route, this hiking path contains additional tunnels along the way, including the renowned second-largest tunnel.
Other benefits of beginning the Dudhsagar journey from Castlerock station include:
Parking your car at the CastleRock train station will allow you to enter Goa even if you are arriving in a hired car like a Tempo-traveler or a taxi. In this method, you also avoid paying interstate road tax.

Additionally, there is a hotel/residence called Castlerock Adventure Camp next to the Castlerock train station. They are hotels that the state of Karnataka has certified. Either you may reserve the entire package from them (Stay + Trek), or if you are only staying, you can park your car there and try the trek.

Asking for permission to park your car there is possible even if you aren't staying at all. Or you may park close to the train station.
Bonus Route:
The Kulem hiking path rivals the Castlerock trekking route in terms of scenery and vegetation. From Madgao railway station, Kulem is a short 20 km via cab or train ride away from Goa. From Madgao to Kulem, trains don't run as often, though. 
This path has the well-known Dudhsagar vista, which is among its most significant features ). A railway does a complete U-turn and makes a turn at Dudhsagar viewpoint, which is one km from the waterfalls. From here, which is located along the Kulem road, one can see the magnificent waterfalls of Dudhsagar.
Best time to visit Dudhsagar Falls?
June to September and November to December.
Things to carry on Dudhsagar Waterfalls Trek:
A sturdy walking shoe with high traction as railroad rails can get slippery

An easy backpack

sleeping bag (if you're staying overnight and they aren't)

To keep them dry, cover them in with waterproof plastic.

Tent (For the same above reason)

Torch (A must)

Poncho (You would love walking in rain)

The second set of clothes

ID badge

Toiletries (There are no toilets there)

fully charged cell phone and camera

individual medicine

Sufficient food (Dudhsagar has no food stalls)

enough money
 Trekking tip:
A list of fundamental necessities is helpful. The most crucial should come first, followed by the least important. You may start eliminating from the bottom. Purchase light. Wear and wash textiles. Additionally, putting a waterproof poncho at the top of the backpack gives the contents of the extra bag waterproofing.
Is it secure to walk beside railroad tracks?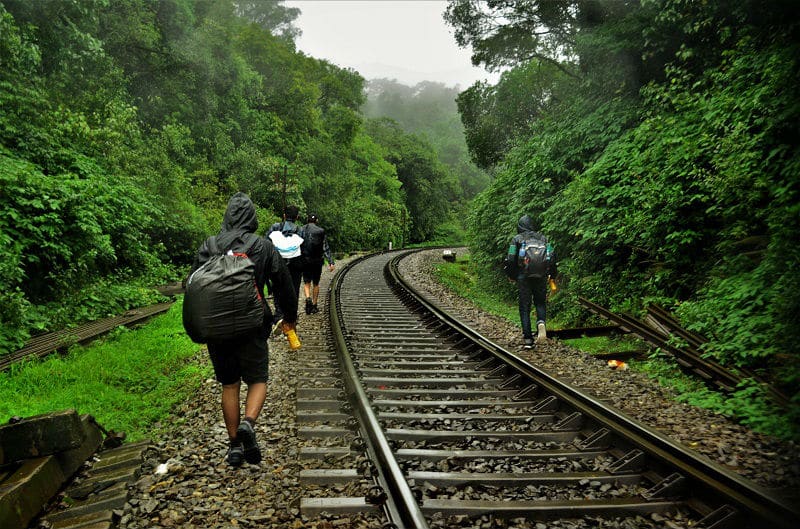 Of course, we are aware that walking beside railroad lines is not very safe. The trains run less often on this line since it is less busy. that walking is made comfortable. However, there may not always be anything to do. Be wary and stand as a train approaches. Additionally, following the monsoon, the rainstorm makes the rail tracks exceedingly slick. Wear appropriate footwear with good traction to prevent slipping on wet surfaces track.
On the Dudhsagar Falls Trek, where can I camp?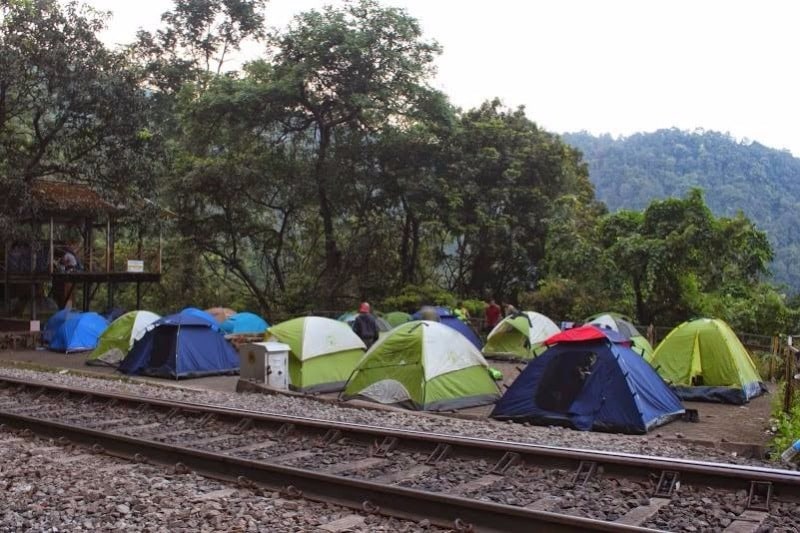 The Dudhsagar camping area is located closer to the falls. You may lay your tents there.  On the other hand, weekends at Dudhsagar station are typically packed. It is advised to begin your walk early. There is no fee for camping. 
Other amenities like food, restrooms, and lodging at the Dudhsagar Falls or Railway Station.
At the Dudhsagar train station, there are no food facilities. As a result, you will need to provide your meals. It might be difficult to find dry forests during the monsoon. Be ready for it if you intend to prepare your supper at night.
Nevertheless, throughout the day, local merchants charge a higher fee to sell food and beverages near waterfalls.
At the Dudhsagar railway station, there are no restrooms either. For that, you must use nature. Make sure the females you are traveling with know in which they are going if you are traveling in a group.
How can I go from Kulem/Castlerock to the Dudhsagar waterfall?
You may have to go back to the Kulem or Castle Rock train station on foot in the worst-case scenario. However, there are plenty of freight trains traveling over this railway line.
The goods train occasionally makes a brief halt at the Dudhsagar railway station to inspect its breaks since from the station onward, the train drops along the tracks, necessitating inspection.
If either engine or the guard's boogie stops in those circumstances, you can stand there. The guards on goods trains can then assist you till Kulem or Castlerock depending on the way the train is headed.
One or two passenger trains may occasionally arrive and slow down somewhat without necessarily stopping. In certain situations, you will need to act quickly to board the train because several others will be vying for space inside.
Is the Dudhsagar trek restricted?
Dudhsagar is not a forbidden place. However, because of the congestion and a couple of students' drownings in the river. Last year at Dudhsagar Falls, the police prohibited the trip for a month or during the monsoon, when the falls' water level was quite high. But now that the hiking on this trail has restarted, people have also begun trekking.
How To Reach Dudhsagar Falls?
By Rail
If you lack the time or don't want to visit Dudhsagar, you may still enjoy viewing the waterfall from the train. The railroad crosses from the Dudhsagar falls and travels through several tunnels. Additionally, a quick U-turn is made close to the Dudhsagar falls so that you may get the whole panorama of the falls.
On weekends, further details on the trains to Dudhsagar are provided in the Dudhsagar Trains Information Towards Kulem/ Castle Rock.
By Road
Kerala is linked to the other two and three-tier cities by the National Highway. There are also private and inter-state government buses, taxis, motorcycles, and self-driving automobiles available.
Budget for Dudhsagar Falls (per day per person basis)
INR 1500 approx per day.
This includes entry to the falls (INR 300). Other expenditures like food, travel, and staying close to Dudhsagar Falls
Places of Stay in Dudhsagar Falls
Hostels/Affordable Homestays
The Lost Hostel, Goa, Palolem
Off The Grid
Hotels for Stay
Ginger Goa, Madgaon
Hotel Cosmique
Luxury Resorts for stay 
Fairfield by Marriott Goa Benaulim
Sea Breeze Max Resort & Spa
How Long Should A Trip Be for Dudhsagar Falls
Ideally, you can visit the falls in a day or two but if you need to explore nearby places, then plan your trip ideally for 4 days
Additional Information about Dudhsagar Falls
Dudhsagar Weather and temperature Information: Between January and February the climate is perfect. The temperature rises to 36°C and, in February, 0 days of rain are expected.

Read More