The architecture of India is rooted in culture, history and is magnificently unique with its style. As we marvel at the architectural assets of India that's left behind, there is one such masterpiece piquing the adrenaline of travelers, standing as a highlight of South Indian travel destinations.
Yes, I am talking about Gandikota!
It is also known by the names of Great Canyon of India and Arizona of India, because of its steep valleys and massive boulders of granite, and its spectacular gorge formed by Pennar river which leaves one in awe! We now can cherish the grandeur and spectacular steep-sided canyon as that of the Colorado River in Arizona.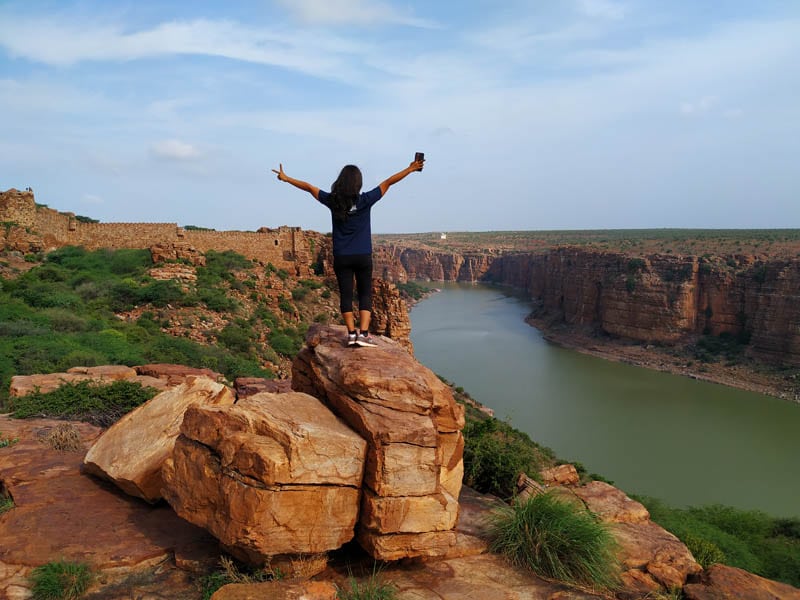 Situated on the banks of river Pennar, the story behind the name Gandikota is from two Telugu words 'Gandi' meaning gorge and, 'Kota' meaning fort. This small village in Kadapa district of Andhra Pradesh remains an offbeat tourist place located on the right bank of Pennar river, and it cuts through Erramala Hills of the village in the banks of Kadapa. This unexplored place in India staggers you with mesmerizing landscapes, dramatic scenery and vast natural resources. 
Top Things To Do In Gandikota
Gandikota Fort 
Obviously, a prime attraction you cannot miss on your cruise to Gandikota is the Gandikota Fort. It is located majestically on the top of the gorge, guarded by a huge entrance gate of 20 feet high and 101 bastions each over 40 feet high, surrounded by a deep gorge and hilly trails, truly justifying why it's one of the greatest forts of South India.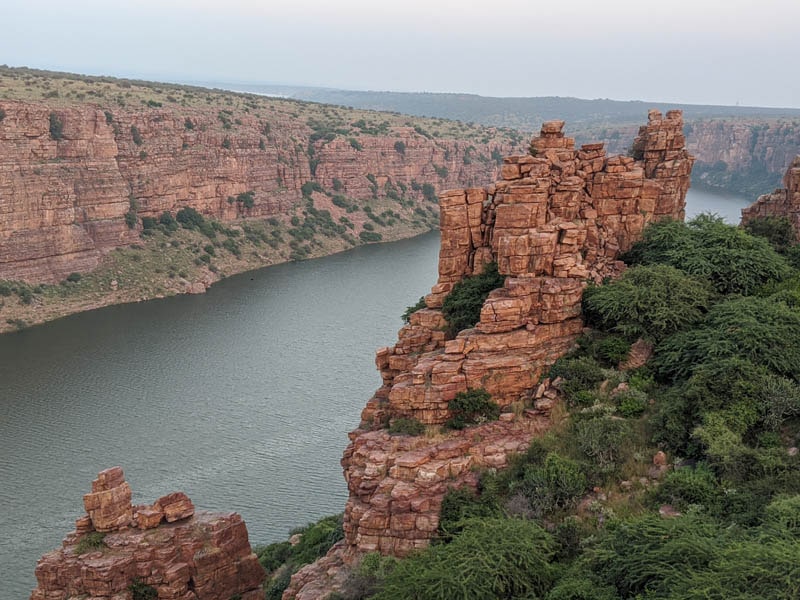 In the ancient times, this fort was meant to provide naturally a line of defense to the residence of the fort. The landscape till date includes monolithic boulders of red granite!
Sunrise or Sunset at the Canon 
As far as travelers are concerned, the sunsets and sunrises excite them. The viewpoint from the canyon, takes one's breath away, with the majestic Pennar River cutting through the gorge. The magnificent nature drawing of orange rays and the unbrushed brush strokes of threatening clouds, leave you with an unforgettable splash of colors and not to forget, your holiday sunset photos.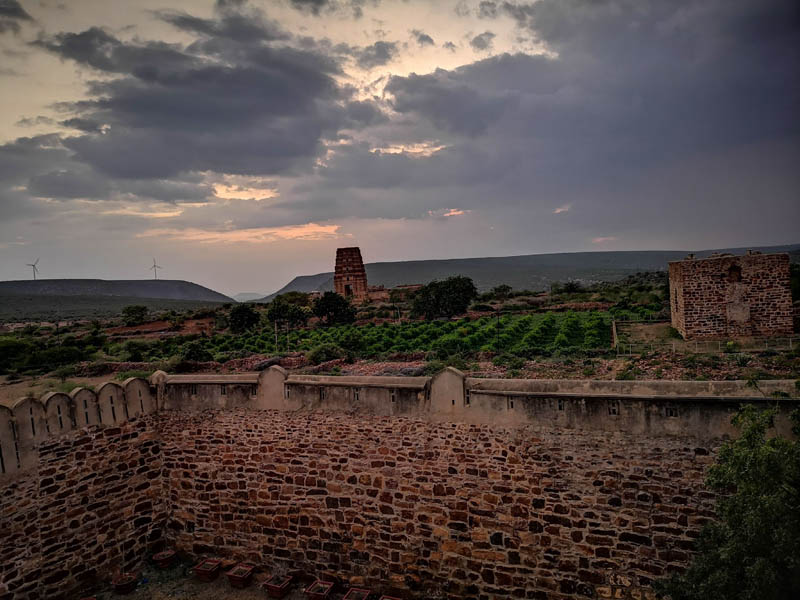 Camping at Gandikota
A more adventurous solution to your Gandikota trek is to spend an unforgettable night under the starry skies. Camping at Gandikota, you can pitch your own tent and at a safer spot. When you do visit this place, get set  to lose yourself and relish in the starry sky lit with bright stars in the beautiful ambiance of nature's sounds and the pleasant winds. 
Belum Caves
Located in Kurnool district of Andhra Pradesh, the second largest caves in India after Krem Liar Prah in Meghalaya, it is located at a  very close distance from Gandikota. The depth of Belum Caves go as deep as 46 meters, and ends at a point known as Pataalaganga. An underground stream flows all year at this point, gliding over the rocks and hiding beneath the surface again.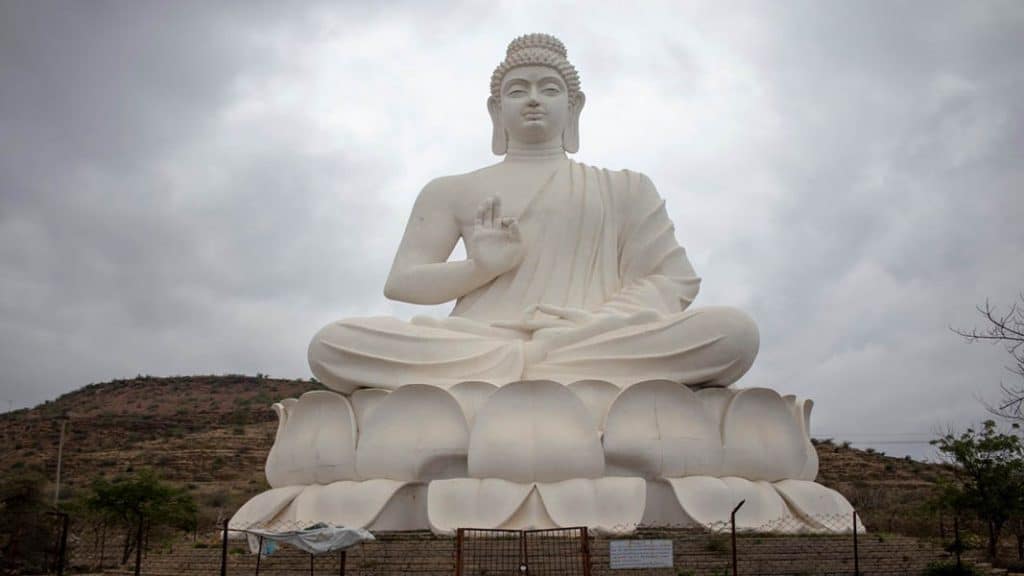 One of the major attractions of Belum caves is the forty feet tall statue of Lord Buddha,  installed outside the caves to commemorate the roles of monks in the caves.
Religious destinations around Gandikota
Ranganath Swami Temple
– This ancient temple believed to be constructed about 500 years ago, is a masterpiece of fine architecture and design and is very attractive thus having a dashing impact on devotees.
The Madhavaraya Temple
– Architecture of this temple is much more intricate than that of the Ranganath Swami temple. This holy place committed to Mahavishnu has attractive interiors versus its humble exteriors. One can find small statues and sculptures of Hindu Gods carved over the Gopuram and the many walls of the temple. Artistic carvings of fishes and tortoises can also be spotted inside the Dwaram entrance. 
Jamia Masjid – Jamia Mosque of Gandikota lies very next to the Ranganatha Swami temple. Even though it has a simple architecture, it's massive in size, with elegant Islamic architecture that makes it look similar to the Charminar in Hyderabad. It's a big structure with a grand multi-arched entrance, followed by the main prayer hall. The top of the entrance holds a view of the tower of the  Madhavaraya temple. This mosque is within close proximity to the Ranganatha Swami temple.
And, that's a wrap! 
Thirsty for an adventure? This spellbinding landscape with the Great Canyon will leave you with tales to tell. Also check out the other weekend destinations, or getaways you'd never want to miss! 
Gandikota – Travel FAQs
Which is the best time to visit Gandikota? 
One can visit Gandikota during the months of winter i.e. August to January as the weather will be pleasant. Summers are hot there, which can go up to 45-degree celsius.
Kadapa is well connected with major cities like Hyderabad, Vijayawada, and Bangalore by road. One can reach either Proddatur or Jammalamadugu and from there can catch an auto or a cab to drive to Gandikota. 
By Air
Bengaluru International Airport at Bangalore is the nearest well-connected airport to Gandikota. One can take a flight to Bangalore and can cover the rest of the distance to Gandikota by bus or private cab which is 345 km (6 hours) away.
By Train
The railway stations near Gandikota are at Jammalamudugu(18 km away), Kadapa (77 km away), and Tadipatri(85 km).
By Road
Gandikota is well connected to major cities like Bangalore, Hyderabad, and Vizag through the Indian national highways. Andhra Pradesh is well-connected to various link roads and state highways.  
What are the nearby attractions in Gandikota?
Belum caves

Owk reservoir

Yaganthi temple

Oravakallu rock garden

Kurnool fort
Which type of clothing is preferred for Gandikota?
A pair of shoes with good grip, sunscreen, a hat or even a large handkerchief can also make your life a lot easier while exploring these canyons.
What should I carry for Gandikota?
As there are not many food stalls near-by the fort, you can pack food beforehand and also carry lots of water to stay hydrated along the way.
What is the history of Gandikota?
Gandikota was under the rule of numerous empires – The Chalukya, Viyanagara, Nayaka, Mughal, Quli Qutub and also the British. Hence, the region has a mixed reminiscence of all these reigns, with a higher significance of Nayaka dynasty who took over the control of this fort and approximately used it for 300 years!
What are the largest canyons in the world?
Yarlung Tsangpo Canyon in China

Kali Gandaki Gorge in the Himalayas

Tiger Leaping Gorge in China

The Indus Gorge in Pakistan
How to reach Belum Caves?
Belum caves are located in a small village  called the Belum Village. You can take a bus or hire a taxi to reach the caves from Kurnool (106km).
 What are the activities in Gandikota?
You can engage in a number of adventure activities like rock climbing, kayaking, rappelling and trekking on your trip to Gandikota! 
So, what are you waiting for? Join us for an adventurous weekend in Gandikota, meet some like-minded travelers and set yourself free amidst nature's best!