Those who are bitten by the wanderlust bug know that traveling is the best medicine for the soul, but they are also aware of the fact that not every journey is as smooth & glamorous as it might appear on Instagram!
Most of the breathtaking adventures, especially while venturing off-the-beaten-path, come with their own fair share of bumps, bruises, aches, germs, anxiety, and stresses.
While it might appear to be intimidating to leave one's comfort zone with just a rucksack in search of the wonders of the world, the journey definitely holds a lot more than one can predict about it.
In today's date, it is essential that millennials embrace 'wellbeing' while traveling and fuel the mind, body & spirit properly, in order to keep going on!
In this article, we shall look into some essential tricks and tips, that would help us in maintaining proper mental & physical health while we are out there, exploring the unknown trails, and ticking things off the bucket list.
Tips To Be Physically Healthy While Traveling:
1# Get enough sleep!
Well, who cares to sleep while on a trip – but mark my words, if you don't get a good sleep every day, your entire journey might just get spoiled! Carry a proper neck pillow, that'll allow you to relax and sleep while on a flight, or bus/ car.
In case you're out for a road trip and have a major FOMO, don't hesitate to take a quick nap (for half an hour or so) – trust me, you won't miss much! If you are traveling abroad, then you'll surely suffer from jetlag, and there's no way to deal with it other than getting enough sleep till your mind, body, and soul are in sync.
Like we need to charge smartphones and all other electronic gadgets, similarly, sleep is the best way to recharge our senses, and it's something absolutely necessary while we are out for a holiday!
2# Keep yourself hydrated.
Water is an essential aspect of staying healthy any day, and especially while traveling, it's essential to keep ourselves hydrated. It's necessary that you drink, even when you are not thirsty – and then, drink some more! If you don't feel like having water, then sip on some lime juice or iced tea.
Remember to carry your own bottle of water (so that you can avoid buying those plastic bottles and be a little sensitive towards the environment as well) and fill it whenever you can. Consumption of water will also help in metabolism and keep your energy levels higher.
3# Balance your diet!
Being a foodie myself, I know that many of you out there might want to explore the culinary delights that the place has to offer, but you should be aware of not affecting your health in any way! If you are eating a lot of proteins and carbohydrates like steaks and burgers etc, make sure to eat salads alongside, which would balance your diet.
Avoid anything that might cause some allergies for you, if you haven't had that before. Be mindful of what you're eating, especially when binging on local cuisine, street food, or spicy platters.  
Pack your favorite snacks to keep in your daypack, so when you are hungry or feel like munching something, you can grab a granola bar or some nuts on the go.
4# Walk as much as you can!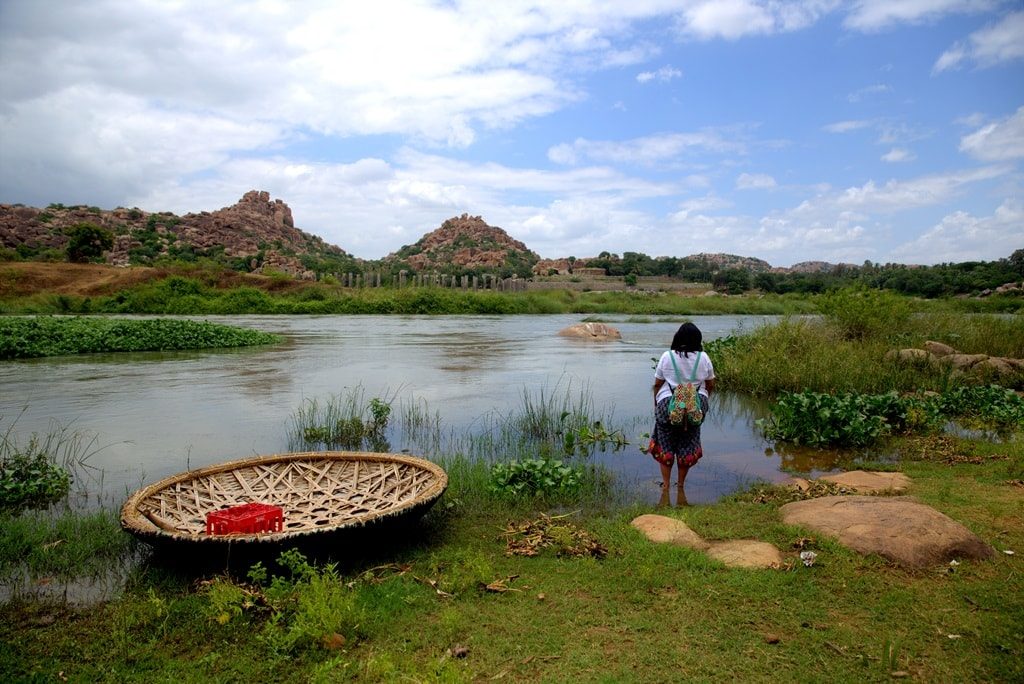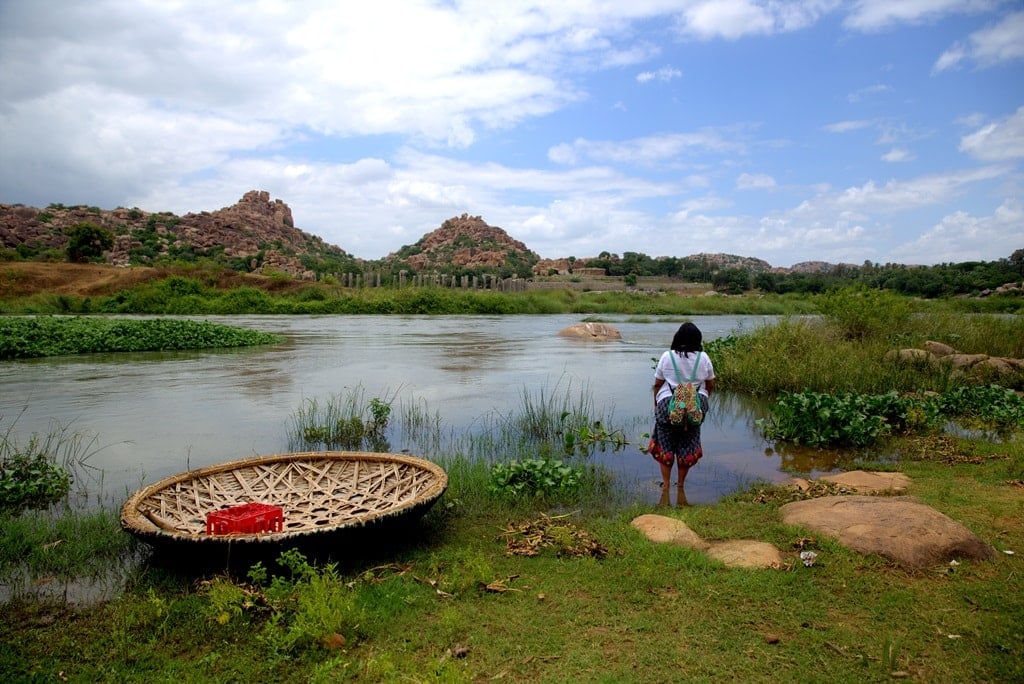 The best way to explore a place is by walking down the lanes and finding the hidden trails that aren't usually followed. It may sound like a no-brainer to you, but you'd be surprised how easy it is to keep your metabolism moving and your mind in a state of Zen just by walking.
No matter whether you are on a casual holiday, a backpacking journey, or a family vacation – you can take your time out to walk and enjoy some 'me time' as well.
Head out to explore a market, walk to the nearest parkland or visit the zoo, go for a beach walk, or choose a day hike – anything you do would keep your muscles moving and tickle your adrenaline for good!
5# Protect your skin!
This is one thing we travelers pay the least attention to, but that shouldn't definitely be the case! Of course, we all love to get sun-kissed and tanned, but too much sun is harmful to the skin and might cause sunburn, if not skin cancer! It's not just the beaches where the sun gets too harsh, but often in the mountains (especially when you're in a high altitude area), the scene is quite bad.
Protect your skin by using a good sunscreen lotion (preferably SPF 50) and keep yourself covered as much as you can! Use a hat and sunglasses when heading out in the day. You can also use aloe vera gel during the daytime, as it soothes the skin and keeps it hydrated.
Tips To Be Mentally Healthy While Traveling:
6# Write – as much and as often as you can!
Carry a notebook and a pen in your bag! Write while you are waiting at the airport, or in-flight while walking down the busy markets or sipping a cup of coffee at a quaint cafe.
Write about the people you've met on the journey, the old man who sat next to you on the plane, the air hostess who smiled for no reason, the shopkeeper who gave a discount, the bus driver who dropped you at the correct stop – write about them all.
Write about what you ate, about the place you visited, about the person you missed on the journey – pour out the thoughts and de-clutter your mind. Emotional health is very closely linked to our physical well-being, especially when we are traveling!
You can also jot down the little things, and then make your own blog when you head back home!
7# Learn some basic meditation techniques and practice them!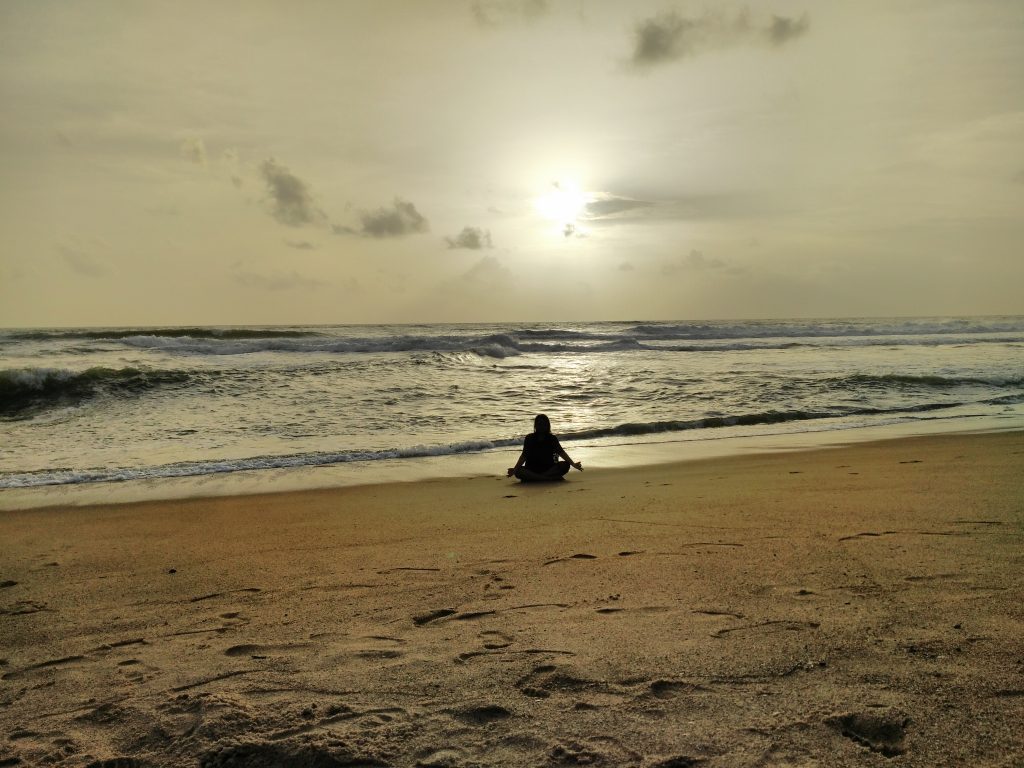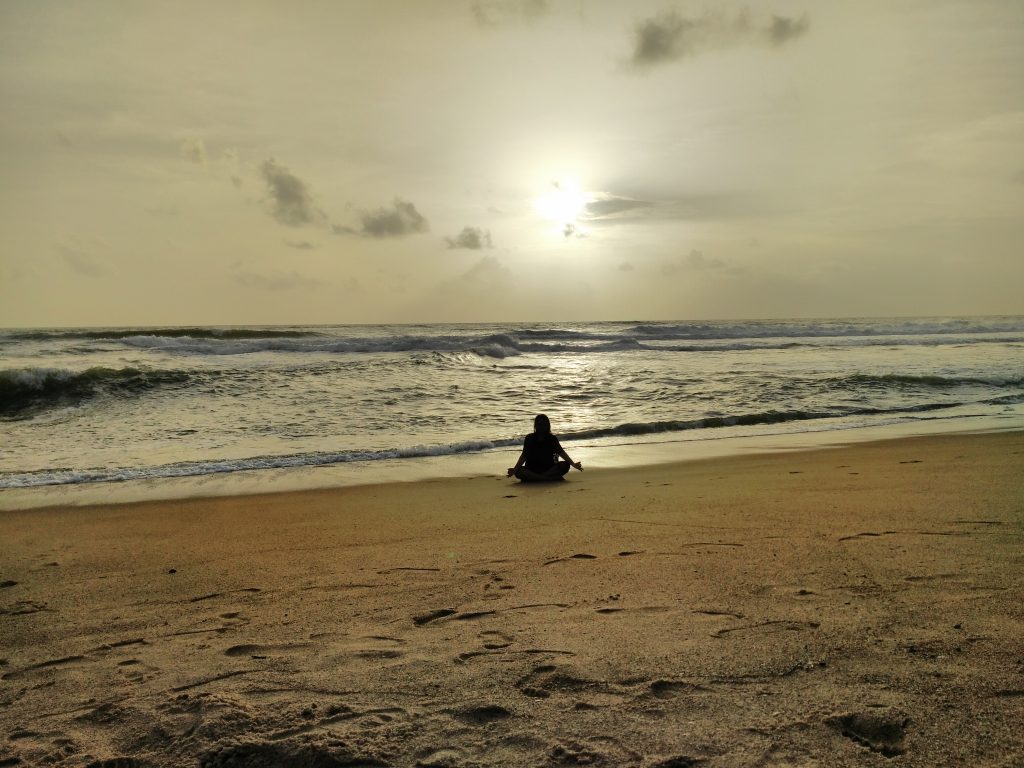 Meditation is all about focusing on your breath and being calm. While we are traveling, there are a lot of things that keep bothering us and we often get stressed thinking about the flight delays, and hotel bookings, day trips, and managing other plans! Hence, it'll be extremely beneficial for you, to take out 5 – 10 minutes each day, and practice mindful breathing.
Be in the moment, and let relaxation follow through your veins and senses. Many avid travelers across the world find it helpful to meditate in order to channel some inner peace into their weary bones and tissues and carry on with the journey in a much more energetic manner.
Also, if you're traveling solo, you'll feel the bliss and know about the ingredients of a good life!
8# Rather than just traveling, explore more!
While taking care of your body is important, it is equally important to nurture your spirit. Just hopping from one place to another will not just make you tired and exhausted, it'll also restrict you from connecting to each place that you visit.
Instead, you can opt to stay at a place for longer, soak in its authentic vibes, indulge in understanding the culture and lifestyle, and explore the hidden trails that are often skipped by others. This will definitely give you a better perspective of the place you visit and help you to understand the deeper meanings of your place under the stars.
9# Go for a digital detox.
Keep your mind calm by letting go of your social media activities! Well, in this 21st Century, I understand that it's too hard not to post on your Instagram and update your Snapchat every hour, but for once, try to close the doors of the virtual world and experience the reality around you! Trust me when I say this, as you'll travel to some lesser developed parts of the world, you'll see that people who have the least are the happiest.
They are so content with themselves, that they don't care much about others! I was in Bhutan for a month which changed my way to look at life! I was surprised to see how a simple lifestyle sprinkles happiness amongst all. It's a lesson you'll get to learn and apply in your life, of which the first step can be a digital detox. 
10# Enjoy your own company!

Last, but not least – one of the most important tips to be mentally healthy while traveling is to learn to enjoy some 'me time. Maybe you aren't a confident solo traveler, or you are more comfortable being with others, but the roads can tell you a lot about yourself, that you can't learn from anywhere else.
The journey will test your patience and stamina, your madness and energy levels, your adrenaline rush and your metabolism rate – there will be highs and lows, overwhelming moments and stressful events – but no matter what, if you are confident about yourself and know how to enjoy your own company, you'll beat it all and experience a journey like never before.
As they say, "There are lessons which you can't learn from a book, they are waiting on the other side of the flight you're gonna take!" So set out my friend, indulge in that amazing journey, and remember these essential tips to remain healthy throughout.