This detailed travel guide on backpacking across Sri Lanka covers everything you need to know from major attractions, travel itineraries and tips to help you make your journey to the teardrop isle a memorable one.
WHY SHOULD YOU TRAVEL TO SRI LANKA?
"Sri Lanka is an island that everyone loves at some level inside themselves. A very special island that travellers, from Sinbad to Marco Polo, dreamed about. A place where the contours of the land itself forms a kind of sinewy poetry."

— Romesh Gunesekera
Witness the romance between the deep blue ocean with her white-sandy shores or take a whiff of the tropical air as you meander on a bright blue train up misty hills, listening to the poetry that her ancient forests weave across mythical landscapes, home to hundreds of creatures who call her home while spicy curries tingle your taste buds and you wash it down with a cup of sweet milk tea; feel the warmth of its people, through their melancholic smiles that tell stories of their own; know what it's like to find yourself and lose yourself, all at the same time while you experience serendipity like never before on the isle that gave meaning to the word itself; that is Sri Lanka for you.
Sri Lanka offers a surprisingly myriad of experiences to see and explore given its relatively small land area and it can be a daunting task to decide where to go and next to impossible to cover everything this island nation has to offer. A few factors to consider while making this decision is the duration or period of your visit, what your personal preferences are as far as activities or sightseeing go and how fast or relaxed you want your entire trip to be.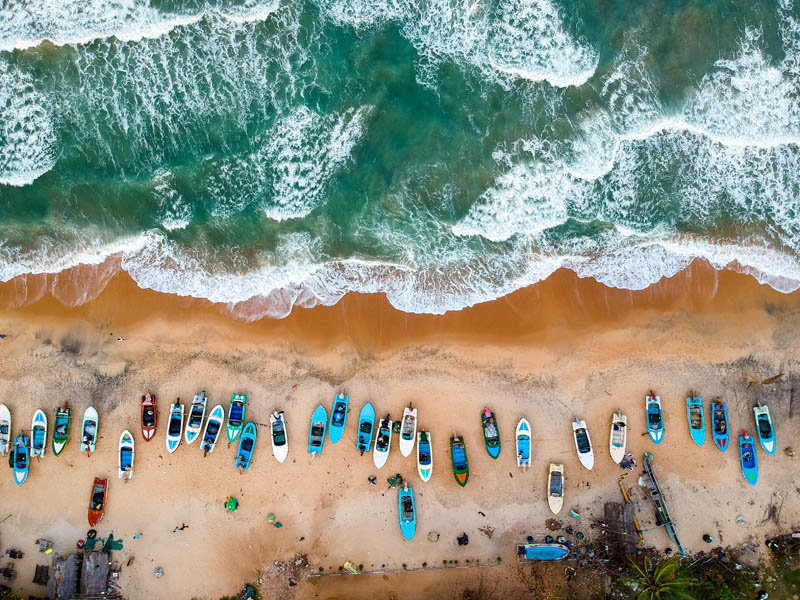 IDEAL  ITINERARY FOR SRI LANKA
A summarized list of destinations based on each of these factors can be found below. Ideally, your itinerary for Sri Lanka should be an equal mix of pristine beaches, stunning landscapes, some wildlife spotting and exploring its ancient heritage and culture. A pint of city life thrown in the midst also helps to keep things interesting. Do keep in mind that this is in no way an exhaustive list and the opportunities for exploration in Sri Lanka are endless if you have the time and the resources for it.
PLACES TO VISIT IN SRI LANKA BASED ON TRIP DURATION
Two Weeks or Less:
Columbo: The bustling capital city with its chaotic markets and urban life can be a good base to start your Sri Lanka tour provided you can find your way out amidst all the chaos.
Galle: The fortified city of Galle further down south, reminiscent of its colonial past, begs for an evening stroll along its fort walls or to explore the many cafes and fancy boutiques along its colonial streets that litreally take you back in time.
Mirissa: Home to one of the prettiest beaches on the South Coast and a backpackers hub, the insta-famous Coconut Tree Hill can also be found here that makes for some delightful photo ops. It also offers the best base for spotting blue whales that surge past Dondra Head.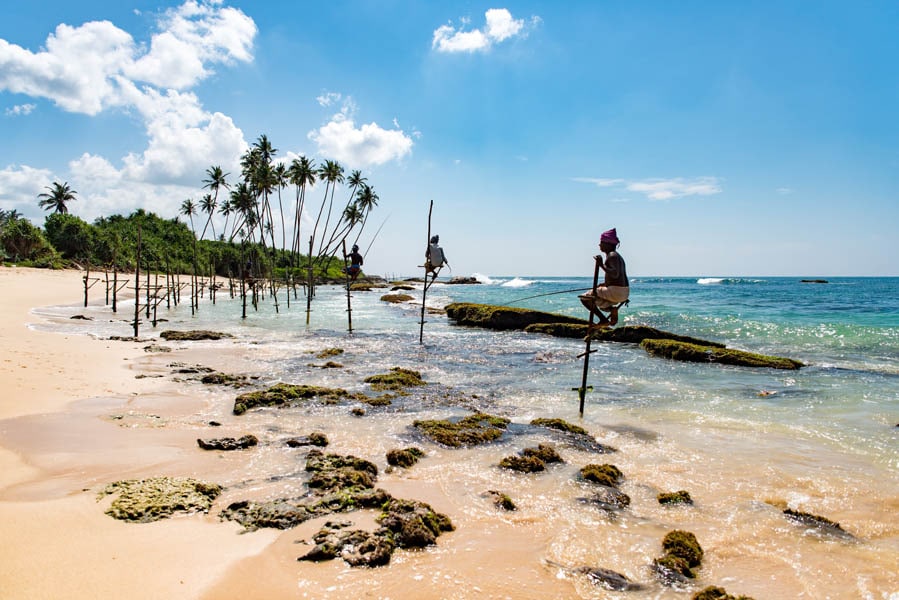 Yala National Park: It is, without a doubt, one of the busiest national parks in Sri Lanka booming with both wildlife and tourists alike. The 1268sq km park houses lush green forests and wide-open plains along with a vast variety of wildlife including the largest density of Leopards in the world.
Ella: Escape the coastal heat to Ella, located at the heart of Sri Lanka's hill country and home to the roaring Diyaluma Falls, the challenging hike up Ella rock, the stunning Nine Arch Bridge and the magical train ride from Kandy to Ella through rolling tea estates that form the cherry on top.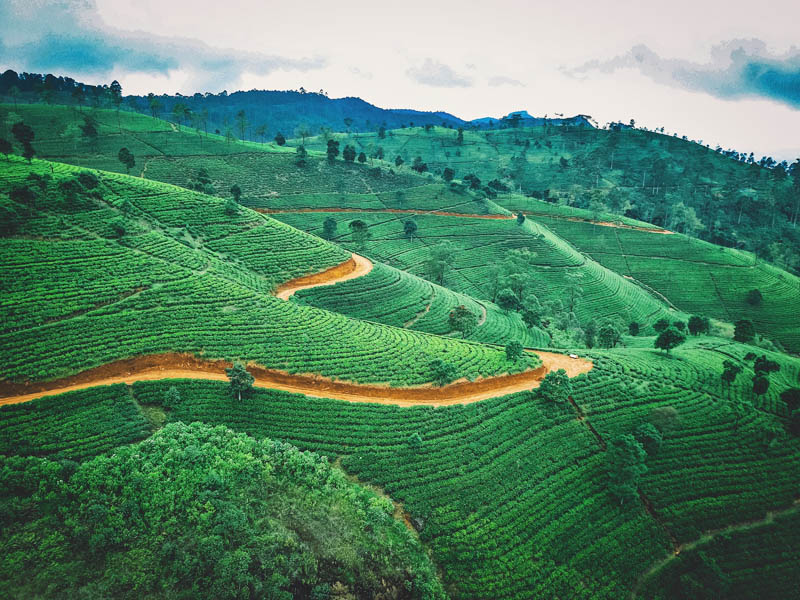 Kandy: Undoubtedly the cultural capital of the country, Kandy lies hidden away amidst misty hills and charming tea plantations. One can also find the Temple of the Tooth here, which houses the most important Buddhist relic in Sri Lanka – the Buddha's tooth itself.
Sigiriya: Also known as Lion Rock, this an ancient palace-fortress built atop a natural rock island that rises 200 meters above the jungle surface below to provide a view like no other. A sunrise hike up the adjacent Pidurangala rock is the best way to witness this panoramic view in all its glory.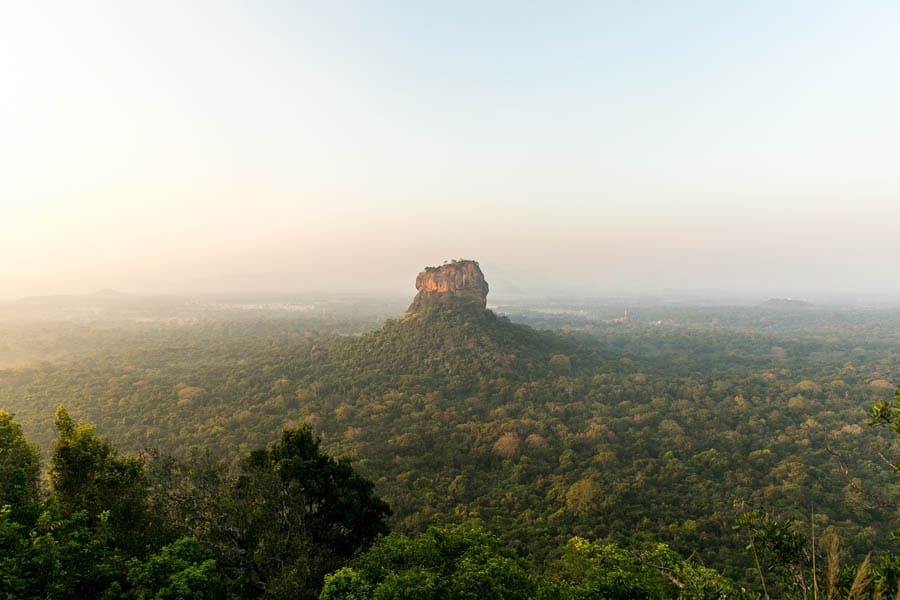 Polonnaruwa: One of the three hubs considered to be the ancient cities in Sri Lanka, the other two being Sigiriya and Anuradhapura, Polonnaruwa is home to ancient temples and timeless ruins located amidst thick jungles and gives you a glimpse into the history and culture of the country.
Three or More Weeks:
The above itinerary can be expanded into a three week one as well by including some of the places mentioned below. 
Weligama: This beach offers the perfect surfs for those looking to learn the sport with hundreds of surf schools located right on the beach. 
Hiriketiya: A place where the jungle meets the ocean, Hiriketiya is fast becoming the hub for digital nomads and backpackers alike with golden palm-fringed beaches, chilled out cafes and a haven for surfers. It is also home to one of Sri Lanka's first co-working spaces. 
Nuwara Eliya: Located between Kandy and Ella in the Hill Country amidst sprawling tea estates and a great base for innumerable hiking opportunities around the region including the most popular one through the Horton Plains to World's End, Nuwara Eliya also referred to as 'Little England' is an eternal winter land and a great place to simply unwind.
Adam's Peak (Sri Pada): This lofty peak is a prominent pilgrimage destination for locals and tourists alike with various legends being attributed to it. But with over 5000 steps leading you to the top, this is definitely not a hike for the faint-hearted.
Anuradhapura: The largest and oldest of the three ancient cities, Anuradhapura is located further north of Polonnaruwa and is a must-visit to satiate the history buff in you.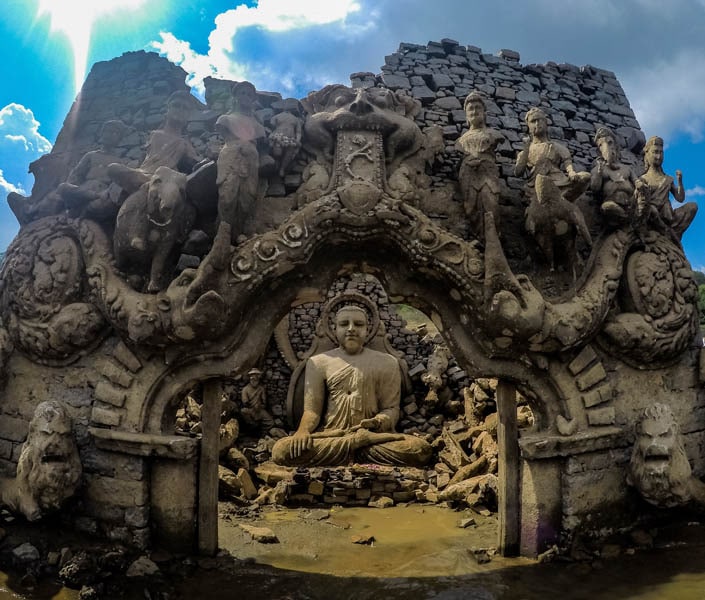 Jaffna: Having open to tourism only recently, the northernmost capital is still raw and authentic compared to the rest of the country. Being heavily influenced by South India, in terms of religion, cultures, and cuisines, Jaffna offers several unique things to see and do including ancient temples, forts, markets, and vibrant island life.
Trincomalee: Located on the North-Eastern coast, the crystal clear waters, shallow reefs, and abundant marine life make the nearby Pigeon islands the best spot for diving & snorkeling for both beginners and experienced divers alike and also offers excellent opportunities for whale watching.
Arugam Bay:  A surfers paradise, this pristine locale boasts of white sandy beaches and chilled out vibes and is inarguably the most popular spot on the southern coast of the country. It also offers the best surf in the country between the months of April to October.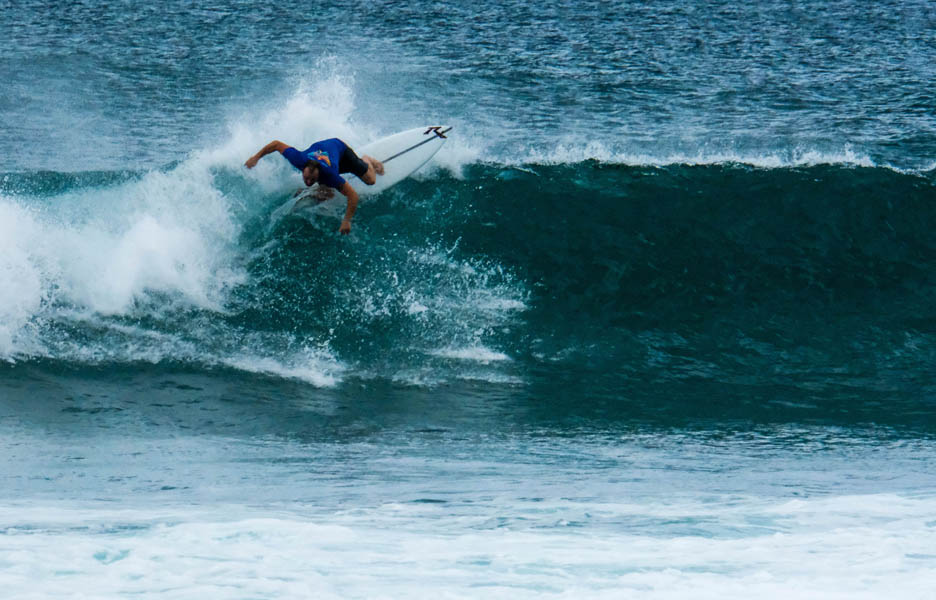 DESTINATIONS BASED ON ACTIVITIES
Water-Based Activities: Arugam Bay, Bar Reef, Great Basses Reefs, Pigeon Islands, Weligama, Batticaloa
Hiking & Trekking: Adam's Peak, Knuckles Range, Sigiriya Rock, Pidurangala rock, Horton Plains
Wildlife Safaris: Uda Walawe National Park, Minneriya National Park, Pottuvil Lagoon safaris, Yala National Park, Kumana National  Park, Sinharaja Forest Reserve
Heritage Sites: Anuradhapura, Polonnaruwa, Sigiriya, Cave systems at Dambulla, the Hindu temples at Jaffna, Galle Fort,  Temple of the Tooth at Kandy
Shopping: Colombo, Galle, Negombo, Hill Country
BEST TIME TO VISIT SRI LANKA
Although Sri Lanka is a country that can be explored throughout the year, the ideal period of visit mostly depends on which part of the country you plan to visit and what activities you intend to do during your stay. What makes this even more challenging is the fact that Sri Lanka has two monsoon seasons that need to be factored in while making your decision.
Peak Season: The winter months between December to March form the peak season and prices are often on the higher side. The "Maha" Monsoons which is the less severe of the two, occur during this period between October to January on the East and Northern regions (includes Arugam Bay and Trincomalee), keeping the South and Western coasts including the Hill-country relatively drier and busier. 
Off-Season: On the contrary, the main monsoon called the "Yala" brings rain to the main tourist regions of the south-western coasts plus the Hill Country during the summer months of May to August leaving the weather in the North and Eastern regions dry and pleasant. This period is considered to be the off-season across the country and prices are relatively lower nationwide.
Shoulder Season: This leaves the months of April & September as the shoulder season and provides the best odds for good weather if you're planning for a countrywide trip.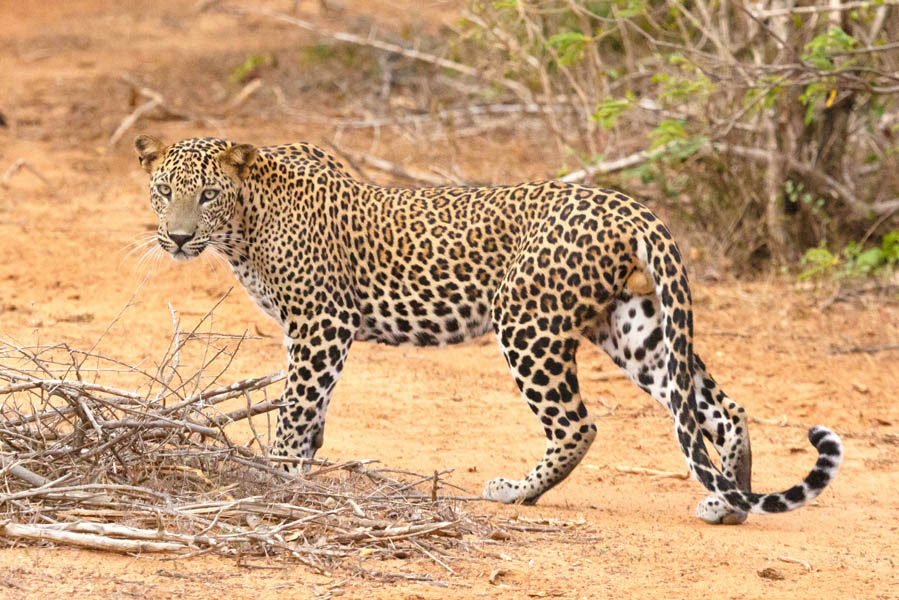 HOW TO REACH SRI LANKA?
By Air: The only way to reach Sri Lanka is by air. The main airport in Sri Lanka, the Bandaranaike International Airport is located 30 km to the north of Colombo and 8 km from Negombo.
By Ferry: All ferry services from India have been suspended indefinitely for various reasons and although presently there are a handful of luxury cruises that take you on a tour of the island nation starting from Mumbai, their costs and the number of days involved usually don't justify them.
Bonus Tip: Although there are exceptions, the cheapest flights are usually available three months or 3-4 weeks before your date of departure. Using the  'anytime' feature on the Skyscanner app can also help you find the cheapest dates to fly across various platforms.
Traveling from the Airport to Colombo/Negombo: From the airport, you have three main options to reach the starting point of your journey which can either be the capital city of Colombo or the relatively more quieter Negombo. The most expensive of the lot is to hire a pre-booked taxi or private transfer service. The more adventurous option is to hire a tuk-tuk from outside the airport premises and the cheapest option is to hop onto one of the many shuttle bus services starting directly from the airport.
GETTING AROUND IN SRI LANKA
Public transport
Public transportation is your best bet if you're looking for an affordable means of getting around the country. They can be, however, quite slow, chaotic and not the most comfortable. But that's just part of the many experiences this country has to offer. 
Local buses: They offer the most widespread, fastest and cheapest network of transportation across the country. However, there are barely any pre-booking facilities available and your best bet is to simply show up at the right bus stop and ask around.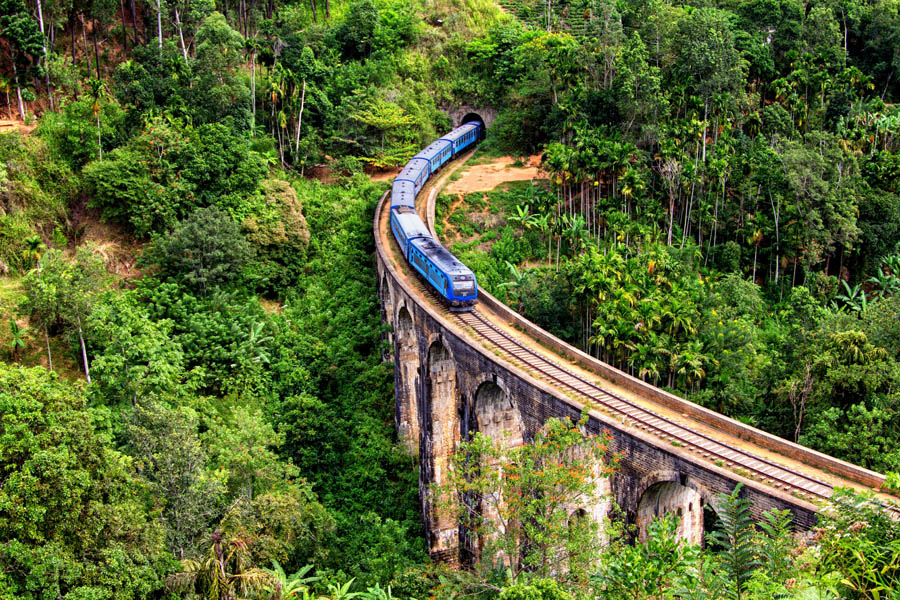 Trains:  Although not as reliable or fast compared to buses, trains offer the most scenic journeys and have litreally put Sri Lanka on the map for being home to some of the most iconic train journeys in the world. The picturesque train ride from Kandy to Ella has become an experience on its own and is now a must-do while in Sri Lanka. You can get a broad idea about the various train schedules and stops here.
Tuk-Tuks: They are the more adventurous option to cover shorter distances. Although their prices are often way higher than buses or trains, their ease of availability makes them an option worth considering. 
Private Services
Hiring a Private Taxi:  Hiring a taxi along with a driver offers a lot more flexibility than public transport but comes at a much higher premium for the comfort they offer. They can be booked by yourself at the major tourist centers, through travel agencies or can even be arranged for you by your hotel or guesthouse. Your driver can also act as your personal guide if you're hiring the vehicle for several days.
Self- Drive Rent a Car/Bike: None of the above, however, comes close to the freedom you have when renting yourself a self-drive car or motorcycle. This is a great alternative for those true wanderers who wish to travel and explore at their own pace and rules. Given the ever-increasing demand for the same, several companies have come up offering vehicles of all shapes and sizes including cars, motorcycles, scooters and even Tuk-Tuks around Colombo and Negombo. Renting bicycles are also a great alternative for local sightseeing and covering shorter distances without breaking the bank.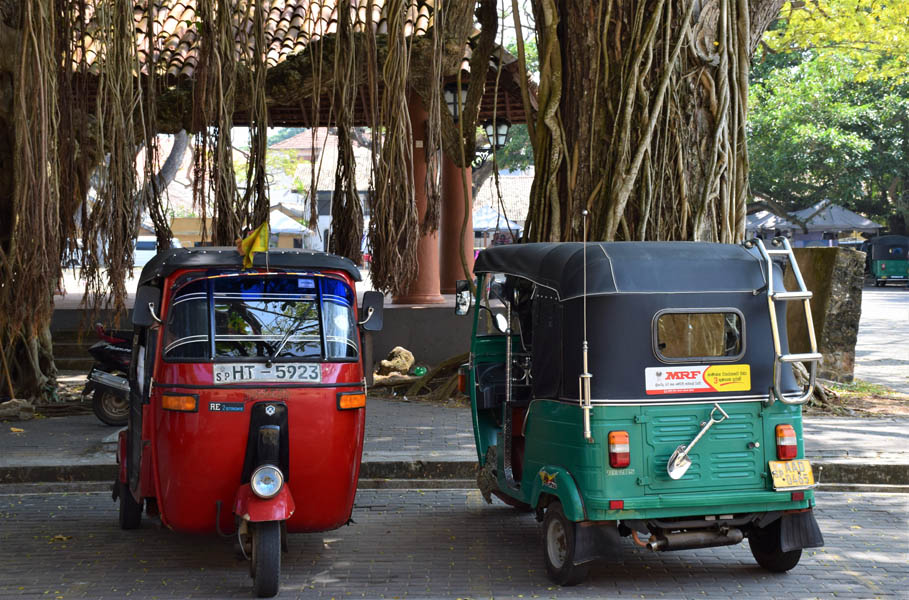 WHERE TO STAY IN SRI LANKA?
Contrary to popular belief, Sri Lanka offers an array of accommodation options ranging from budget backpacker hostels to 5-star luxury suites with the only concern being the depth of your pockets.
Guest Houses: The most popular option is to opt for the many guest houses here which can be found even in the more remote areas and cater to travelers of all budgets apart from offering a truly authentic Sri Lankan experience during your stay with local families. They are also a great option to try out the many local dishes the country has to offer which you might not get to taste elsewhere.
Hotels: With the boom of the tourism sector in the country, you will find everything from five-star hotels offering world-class facilities to your typical shoebox budget rooms. Resorts, rented villas and Ayurvedic spa retreats also form part of the higher end of the spectrum. 
Hostels: Although a savior for the budget backpacker, they are not as common as guesthouses and are mostly limited to the main tourist centers and cities.
Bonus Tip: Online booking platforms such as Booking.com, Airbnb, Hostelword and others are your best bet at finding the best deals and value for money accommodation during your stay in Sri Lanka.
WHAT TO EAT IN SRI LANKA?
Sri Lankan cuisine is influenced both by its proximity to India and its colonial past along with the availability of fertile farmlands and the ocean; a paradise for seafood lovers and those having a taste for everything spicy.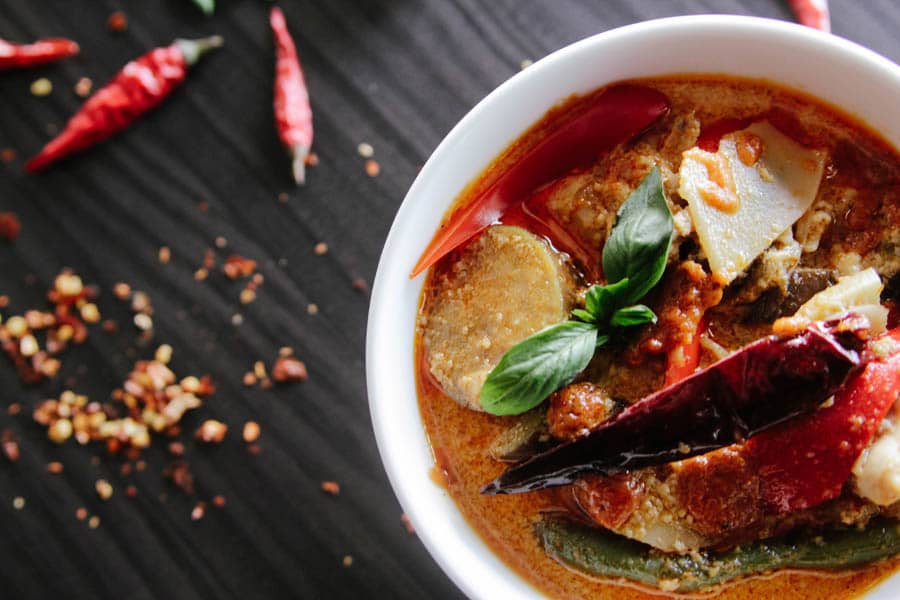 Rice served with an assortment of curries forms the national favorite and a staple for lunch, followed by the Kothu Roti (Chopped rotis with vegetables or meat), Hoppers (similar to the Kerala Appams, but with a twist) and a variety of other South Indian inspired dishes including Dosas, Vadai and more forming the majority of the local cuisine here apart from an array of seafood options to choose from. Being a country having a significant vegetarian population, finding vegetarian meals here will hardly be a problem.
And as always, if you're in the mood to splurge, the fancier restaurants and hotels will serve you everything from international cuisines to local delicacies.
PEOPLE OF SRI LANKA – LANGUAGE, CULTURE, AND RELIGION
The fusion between its original inhabitants, South Indian influences and the colonial invaders have created an interesting mix of cultures, beliefs and traditions in the country with the Sinhalese Buddhists forming over 70% of the total population, who speak the Sinhalese language followed by the Hindus and Muslims belonging to the Tamil ethnicity and speak the Tamil language. Christianity is also followed by a small minority here. English, although being an official language is mostly limited to the places exposed to tourism and amongst the younger population.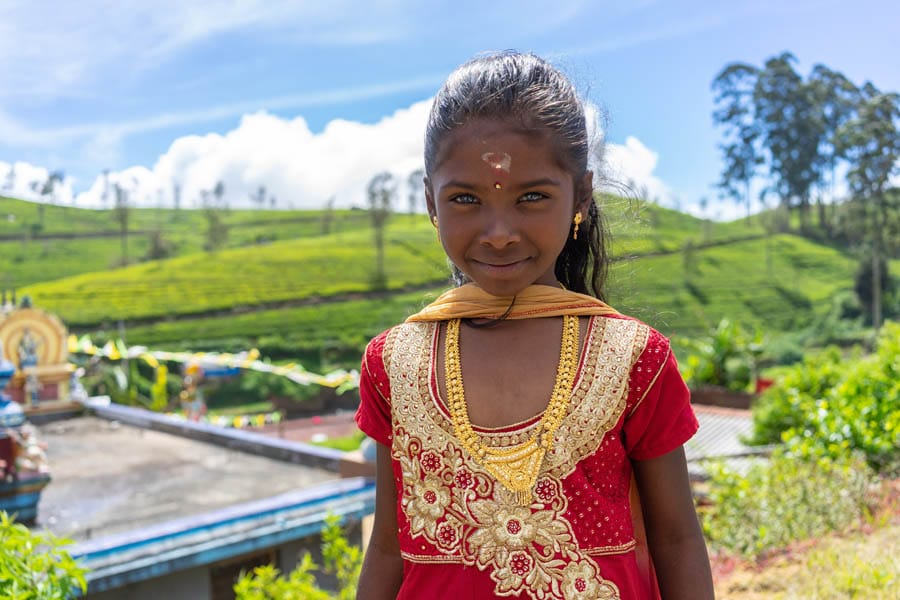 DAILY BUDGET FOR SRI LANKA
A basic breakdown of minimum per day expenses for those backpacking Sri Lanka on a budget is given below. Do note that all figures are approximate and dependent on factors such as the location, period of visit, service provider, personal preferences etc.
Currency: Sri Lankan Rupee (Rs)

Conversion Rate: 1 INR = 2.55 LKR (as on January 2020)
Accommodation:
Budget Guesthouse: 1500 – 3000 LKR
Meals:
Basic Rice & Curry: 150 – 350 LKR
Transportation:
Bus Fares: Upto 300 LKR Per Day
A mix of bike rentals, trains and hiring taxi: Average 3000 LKR Per Day
Entry Charges for Sightseeing: 
Monuments, temples, heritage sites, etc.: 300 – 2000 LKR
Charges for Activities & Adventure Sports: 
Whale Watching, Surfing, Wildlife Safaris, etc.: Average 5000 LKR
VISA FORMALITIES FOR INDIAN CITIZENS VISITING SRI LANKA
The procedure for Indians wishing to enter Sri Lanka is now an extremely simple process and all that is required is to obtain an Electronic Travel Authorization (ETA) that allows one to enter the country for 30 days Per Entry for tourism, business, and transit purposes. No other Visa is required. An Indian citizen can apply for ETA by filling out the requisite information here. 
Once the application is filled out, an online processing fee has to be made depending on the processing time chosen by you. It can be a standard processing fee of USD 20 for processing the ETA within 24 hours or a 'Rush Processing' fee at USD 50 for 4 hours or even a 'Super Rush' processing fee of USD 70 for processing the same within 30 minutes of application.
The following documents or information are required while applying for your ETA:
An Indian passport.

Proof of a valid round-trip ticket 

Proof of funds to cover expenses during your stay.
Note: Children under 12 years of age do not require an ETA for entering Sri Lanka
More information regarding visa formalities for Indian Citizens entering Sri Lanka can be obtained here.
TIPS ON PACKING FOR YOUR TRIP TO SRI LANKA
Expect a hot and humid climate (28C & higher) along the coasts year-round but things can get a lot colder when traveling to the hills So packing for two seasons is a must if you're planning to venture into the hill country.

Also because of the fact that the country faces two monsoons affecting different parts of the island at different times, it makes more sense to plan your itinerary for Sri Lanka first before planning on when to visit. This will give you an idea about your chances of facing one of these monsoons and hence the need to pack or avoid your rain gear.

Hand luggage and backpacks win over hard luggage every time, especially in a country like Sri Lanka where there is a lot of moving about involved in public transport.

Some of the essentials to be included in your packing list are as follows:

Backpack and a Daypack
Warm Weather Clothes
Hiking shoes
Sandals or Flip Flops
Beachwear
Quick Dry Towel
Mosquito Repellents & Sunscreen
Rain Jacket and Umbrella
Jacket or Pullover
Toiletries and first aid kits
Power Bank and Camera Gear
ETIQUETTES TO BE FOLLOWED WHILE IN SRI LANKA
Being a relatively laidback country, there aren't many things you need to worry about as far as etiquettes go as most principles that apply to Indian cultures apply here as well. 
Shoes need to be removed while visiting temples in Sri Lanka as well; shoulders and legs should be covered and any headgear such as hats should be removed.

Having your back to a Buddha statue is considered disrespectful; keep this in mind especially while taking photos. 

Having visible pictures of Buddha as tattoos or on clothing is an offense and can get you arrested or even deported. Hence make it a point to avoid such clothing or cover up those tattoos.
CONCLUSION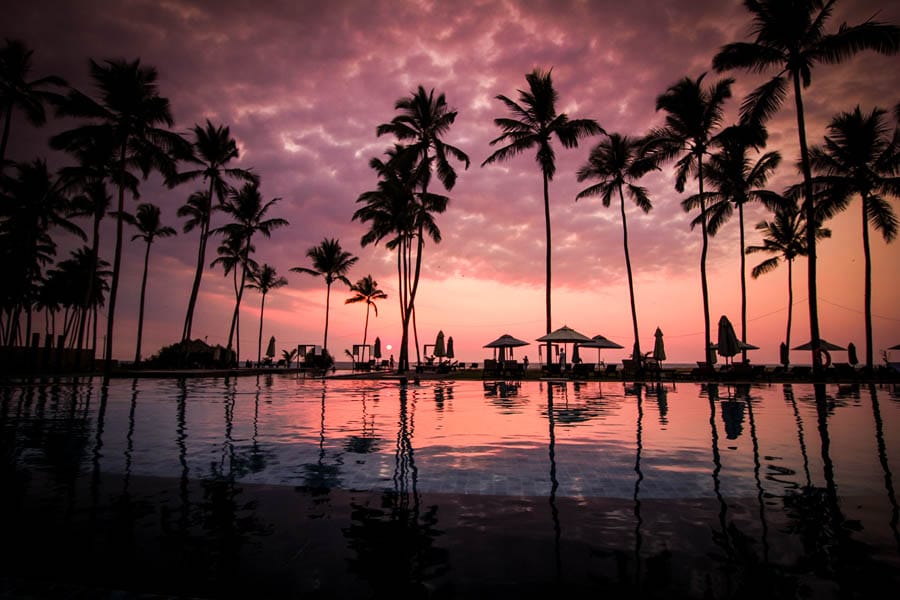 This bite-sized isle definitely packs a punch and can surprise you in more ways than one, if you let it. And in case you've been planning a trip to Sri Lanka and want something a little more experiential, do have a look at the Sri Lanka backpacking itineraries from Plan The Unplanned that help you go beyond the tourist tag and see and experience a little more of what this island nation has to offer, without breaking your bank.
Sri Lanka Trip – A Budget Backpacking Journey!
Whether you're a fan of planned tours or all about unplanned adventures, the fact remains that Sri Lanka will always be a backpacker paradise with spellbinding sights, immersive experiences, and vibrant cultures.
All images sourced from Unplash.com
---
SRI LANKA TRAVEL FAQ
Q1. How long does it take to travel around Sri Lanka?
With unlimited possibilities to explore, a typical Sri Lanka itinerary can last from one week to two or three weeks. Ideally, a two-week Sri Lanka itinerary will help you explore the best destinations the country has to offer at a slow and relaxed manner.
Q2. How is Sri Lanka as a tourist destination?
A tropical destination with laid back vibes, endless beaches, timeless ruins, welcoming people, majestic creatures, spicy curries, famous teas, scenic train rides, and cheap prices.
Q3. What are some of the best tourist destinations in Sri Lanka?
The ruins of Sigiriya, the Hike to Adam's Peak, the forts of Galle, the Leopards of Yala National Park, the UNESCO World Heritage sights at Polonnaruwa, the picturesque train ride from Kandy to Ella and the laid back beaches on the southern coast are some of the highlights of Sri Lanka that should not be missed.
Q4. What is Sri Lanka famous for?
Untouched beaches along the entire coast along with infinite opportunities for water sports and whale watching, misty hills and rolling tea plantations up in the hill country and endless hiking trails, national parks and world-famous train rides, UNESCO World Heritage sites across its ancient cultural triangle, Buddhist temples in the south, Hindu temples in the north and architecture that's reminiscent of its colonial past almost everywhere!
Q5. Is Sri Lanka easy to travel around?
Sri Lanka has a widespread network of public transportation including buses, train, and tuk-tuks which are cheap but often slow and chaotic. Private vehicles with drivers are easily available on hire or on the self-drive basis for those willing to shell out the extra fares.
Q6. Is there Uber in Sri Lanka?
Although earlier Uber Intercity services only provided one-way trips from Colombo to Galle, it has now expanded to offer one-way trips to any city in Sri Lanka. Apart from Uber, PickMe Trips and Taxiyak also provide packaged tours to outstation cities.
Q7. Can you drive around Sri Lanka?
For driving around in Sri Lanka one needs to obtain a temporary driving permit at the Department of Motor Traffic or get your International Driving Permit endorsed by the Automobile Association of Sri Lanka. Most vehicle rentals can arrange the same for you at an extra cost provided you inform them in advance.
Q8. Which side do you drive in Sri Lanka?
In Sri Lanka, vehicles drive on the left with the steering wheel on the right side. 
Q9. Is it safe to visit Sri Lanka now?
After a history of civil wars and social unrest, things have slowly but surely come back to normalcy with more and more tourists flowing in every year. The U.S. Government has issued a Level 2 Travel Advisory for Sri Lanka, which says tourists should exercise increased caution during their visit. Other countries in the same class include France, Mexico, and the United Kingdom.
Q10. What is the best time to visit Sri Lanka?
The peak season is from December to March followed by April and September being the shoulder season. The months from May to August experience monsoons on the South Western coast and are generally avoided by tourists.
Q11. Do I need a visa for Sri Lanka?
Indian citizens visiting Sri Lanka need to obtain an online Electronic Travel Authorization (ETA) similar to a Visa, that allows one to enter the country for 30 days Per entry for tourism, business, and transit purposes. Know more about it here.
Q12. Do we need a passport for Sri Lanka from India?
Yes, a  passport with a minimum of six months validity is required while applying for the ETA.
Q13. How can I go to Sri Lanka from India?
Fights are the only way to reach Sri Lanka from India.
Q14. How should I dress in Sri Lanka?
Modest dressing is recommended even on beaches. While visiting temples, shoes and headgears should be removed, legs and shoulders should be covered. Wearing clothes or even tattoos with images of Buddha on them is a criminal offense.
Q15. Is it OK to wear shorts in Sri Lanka?
Yes, apart from the temples, it is perfectly fine to wear shorts in Sri Lanka.
Q16. Is Sri Lanka cheap travel?
For Indians, Sri Lanka is a relatively cheaper travel destination owing to the higher exchange value of Indian currency (1 INR = 2.55 LKR) 
Q17. How much money do I need to travel across Sri Lanka?
For the budget traveler, basic guesthouse costs anywhere between 1500 – 3000 LKR and a basic meal costs 150 – 350 LKR. Bus tickets cost up to 300 LKR per day and a mix of bike rentals, trains and hiring taxi will cost you on average 3000 LKR per day. Entry Charges for Sightseeing range between 300 – 2000 LKR and charges for activities & adventure sports will cost you around 5000 LKR per activity.
Q18. What are the currencies accepted in Sri Lanka? Can I carry Indian rupees?
India rupees is not accepted in Sri Lanka as the official currency for all transactions within the country is Sri Lankan Rupees (LKR). The same will have to be exchanged on your arrival in Sri Lanka. LKR can also be directly withdrawn from ATMs using international debit cards that offer better exchange rates than the former option.
Q19. Is Sri Lankan food spicy?
Although influenced by South Indian cuisine, Sri Lankan food is generally much hotter than their Indian counterparts and are considered to be some of the world's hottest in terms of chill content.
Q20. How can I avoid getting sick in Sri Lanka?
Carry all basic and personal medication with you.

Some recommended vaccinations before your visit to Sri Lanka are Hepatitis A, Typhoid, Japanese Encephalitis, Tuberculosis, and Rabies vaccinations.

Avoid dengue fever by staying away from stagnant water sources and covering yourself up and using mosquito repellents in places prone to mosquitoes. 

Avoid Traveler's Diarrhea by drinking only boiled or treated water, visiting cafes and restaurants with high turnover and look clean, making sure the food is properly cooked and always practicing good hygiene while traveling.
Q21. Can you drink alcohol in Sri Lanka?
You are free to drink in restaurants, bars, night clubs, and private commercial spaces. However, drinking in public places like streets, parks, buses, or other public places is punishable by law. 
Q22. Can female tourists drink alcohol in Sri Lanka?
There are no laws that ban or prohibit women both local or tourists from purchasing or drinking alcohol in Sri Lanka. 
Q23. What to pack for Sri Lanka? 
Backpack and a Daypack
Warm Weather Clothes
Hiking shoes
Sandals or Flip Flops
Beachwear
Quick Dry Towel
Mosquito Repellents & Sunscreen
Rain Jacket and Umbrella
Jacket or Pullover
Toiletries and first aid kits
Power Bank and Camera Gear