Nagaland is known for its picturesque valleys, verdant surroundings, spellbinding wildflowers-dotted hilltops, and meandering streams that wade through the pristine valleys playfully.
Dzukou Valley borders Nagaland and Manipur and is touted to be one of the best trekking spots in North-Eastern India. Let us take a look at why this valley is so magical and elevating for trekking aficionados in Nagaland.
OVERVIEW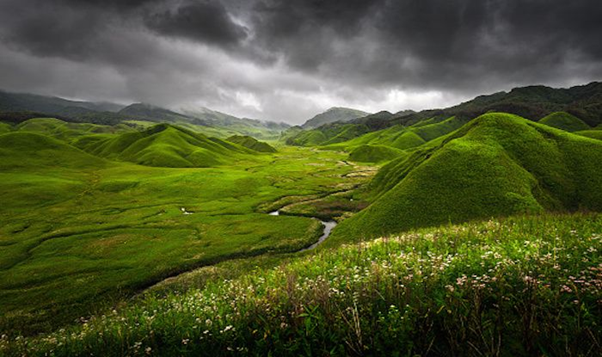 Tucked away in the lush green covers of the Nagaland border, is a trekking paradise overlooked by grey rain-bearing clouds, seldom touched by human activity, and flamboyantly dotted with myriad blooms that entice you with their splendid hues. Perched at an altitude of 2438 meters above sea level, Dzukou Valley is nothing less than heaven on earth.
During Summer, the rolling green hills culminating at the blue mountaintops give you goosebumps as you gape in awe at mother nature's mysterious ways, while the vivid flowers and tall grasses touch down at the self-illuminating valleys often enshrouded with a magical mist that whispers sweet nothings.
During Winter, the valleys are frozen and the mountains are capped with white lush snow.
Two rivers namely, Japfu and Dzukou, water this valley, which is fondly addressed as "The Valley of Flowers" among locals.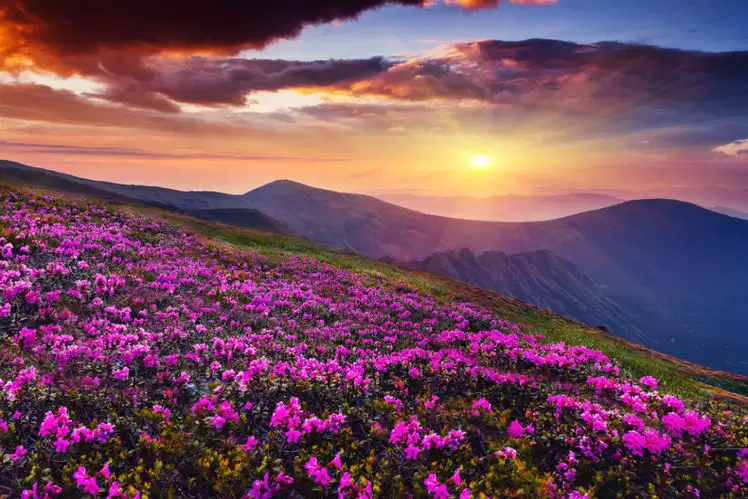 FULL BLOOM AT DZUKOU VALLEY
Dzukou Valley flowers include multi-colored Rhododendrons, Euphorbia, Lilies, and Aconitums that in full bloom, form a luscious carpet during the peak season.
The best time to visit Dzukou valley is from the end of June until September when the mesmerizing hues on the sloping valleys are simply breath-taking.
Though the climb is pretty steep and trekking through the dense forests and the challenging bamboo thickets is an unforgiving task lasting between 2-3 hours, Dzukou Valley trekking gives you immense satisfaction and inner peace. Dzukou Valley trekking will give you a good glimpse of the Japfu peak upfront which has an elevation of 3048 meters, the second-largest in Nagaland.
Dzukou Valley is the crater base of an extinct volcano with the best panoramic view at its highest point of 2600 meters. The sunrise and sunset views at this point are undeniably once-in-a-lifetime experiences.
Our Dzukou Valley Trek Package includes a 4N/5D tour program with visits to the Viswema and Zakhma villages.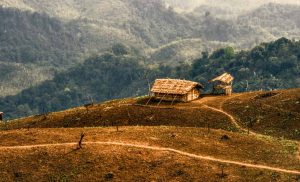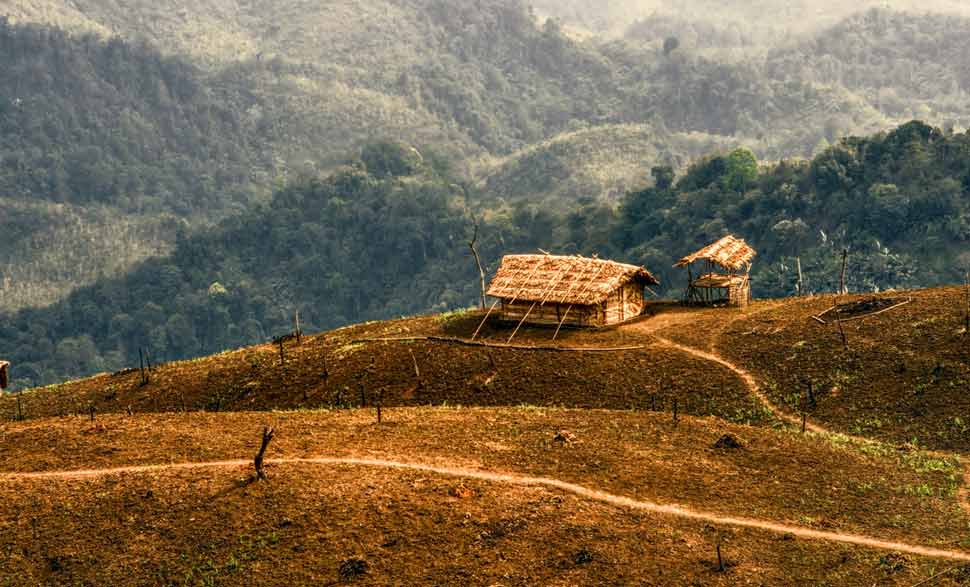 ITINERARY                                                         
Day 1: DIMAPUR TO KOHIMA CITY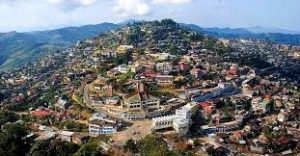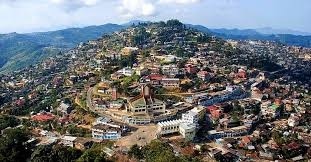 Kohima is the capital city of Nagaland and is located around 80 km from Dimapur, the nearest railway network to reach Dzukou valley. Dimapur is the only city in Nagaland that is well-connected by air and rail to other major cities in the country. Trekkers will be transported to Kohima for a stopover at a pre-booked accommodation.
---
DAY 2: Kohima to Viswema village and the ASCEND TO DZUKOU Valley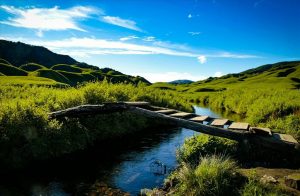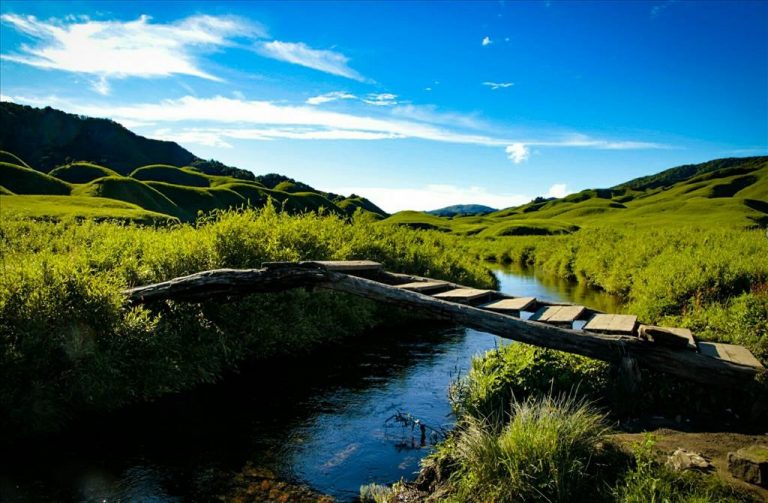 Kohima to Dzukou valley distance of about 25 km can be covered in less than an hour's time and trekkers will be driven to Viswema village that is the base camp for the Dzukou Valley Trek after breakfast.
Viswema Village to Dzukou Valley TREK
Altitude: 5,351 ft to 8,045 ft
Duration: 7-8 hours; 25 km
Trek gradient: Moderate
Water sources: Halfway into the trek there is one source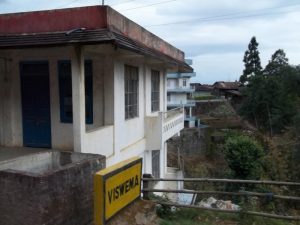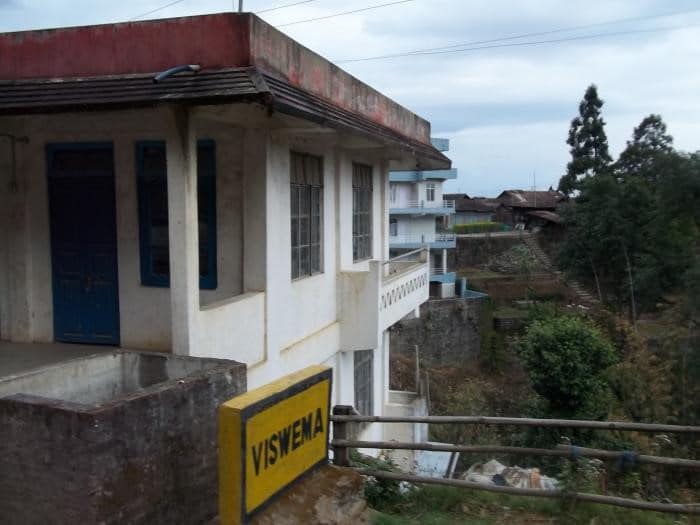 The trek starts at the village with a rough pebble-laden path and unfolds into gradual breath-taking views as one reaches a higher altitude.
The 8 km trail distance reveals some of the most surreal views along the motorable road that is sandwiched between the sub-tropical cover of Bamboo, Deodar, and Silver Ferns on either side and takes about 3 hours to complete.
Two resting camps are located 3-4 km away from each other for a pitstop in case the trek starts late. It is a good idea to carry enough nutrients for the trek as there are no shops or restaurants mid-way. A 45 minute to one hour's climb follows at the end of this road.
A steep hike starting here of about 3-4 km, along with stone-carved steps and slippery green algae-covered terrain depending on the weather, and the route is covered with dirt and mud. A green signboard instructs the way to Dzukou valley. The tall and stunning trees offer luscious cover while intermittently giving magnificent views of the valley.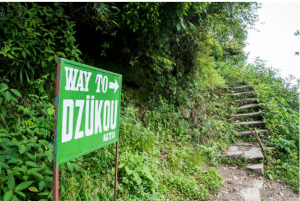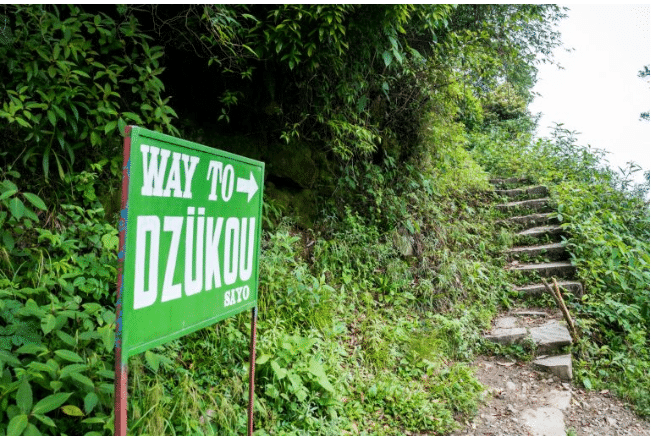 You will be rewarded with the best view of Dzukou Valley after this toiling climb. Across the hairpin pass, the
skirting trail along the bridge comes to a split. Taking the path on the right is advised due to its short descent. Half-
an-hour of trekking along brings you to a tiny stream that leads you to the Dzukou Trekker's Hut.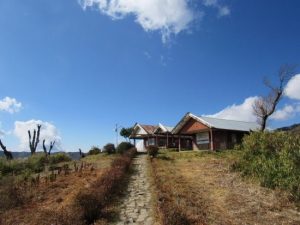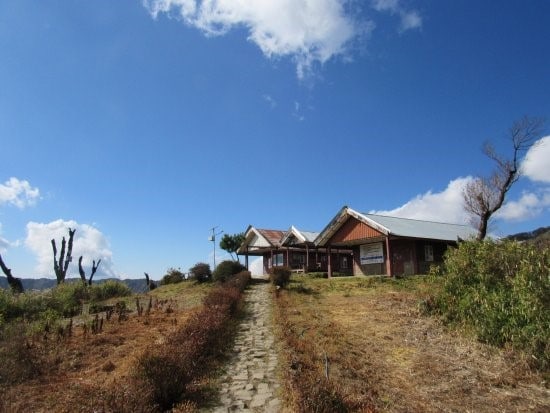 This cozy rest house has concrete flooring and a couple of wooden platforms for setting up your bedding with sleeping bags. The hut also offers two dormitories @ INR 100 per person/night and private rooms (VIP) @ INR 300 per room/night. There is a total of six private rooms in the hut.
Behind the Trekkers' Hut is a small shop where one can buy Maggi and Cup Noodles for double the MRP. We recommend that trekkers rather carry their own food. A great spot to sit and unwind is located along the charming Japfu and Dzukou rivers. Cooking your own food will be fun here or you could hire the local caretaker to do it for you.
---
Day 3: Exploring Dzukou Valley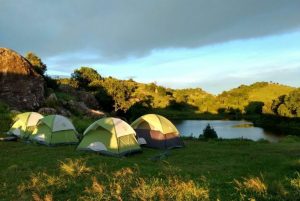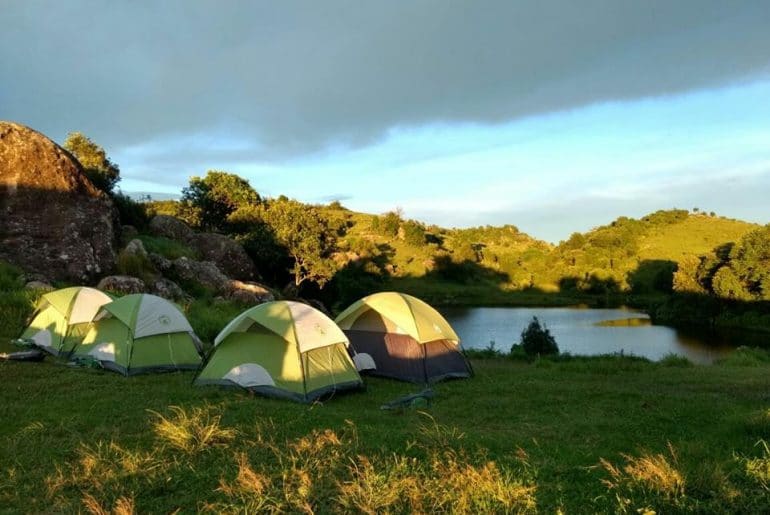 After sinking in the infinite beauty of the picturesque surroundings, you could head on to a 15-minute walk towards the 'Bhoot Gufha' or the Ghost Cave.
The cave extends up to 1 km in length which can be explored better using torch lights. You could also choose to descend to the bottom of the vast caldera and explore the grasslands, rolling meadows, and the plush fauna of the valley. Take enough photographs as this is a trekking experience that is rare and full of ethereal beauty.
---
Day 4: Descent from Dzoukou Valley to Zakhma/Jakham Village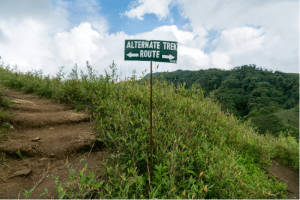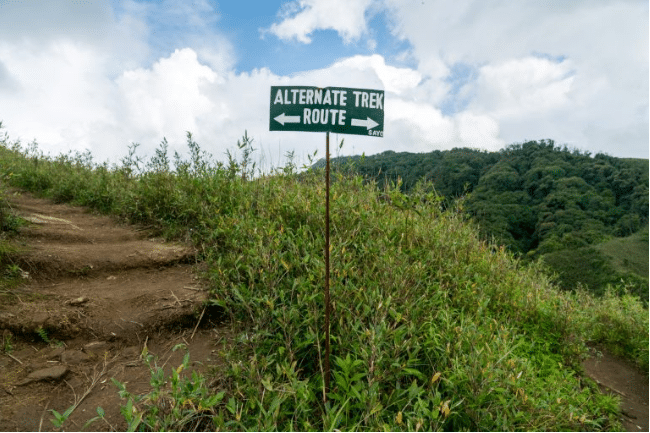 After spending a thrilling day at the valley, it is time to descend down to Zakhma village which is an alternate camp base to Dzukou Valley.
Dzukou Valley to Zakhma/Jakham Village Trek
Altitude: 8,045 ft
Duration: 4 hours; 9 km
Trek gradient: Moderate, a little steeper
Water sources: Halfway into the trek there is one source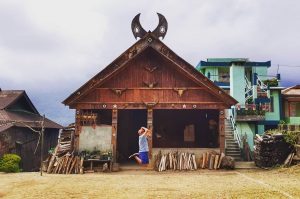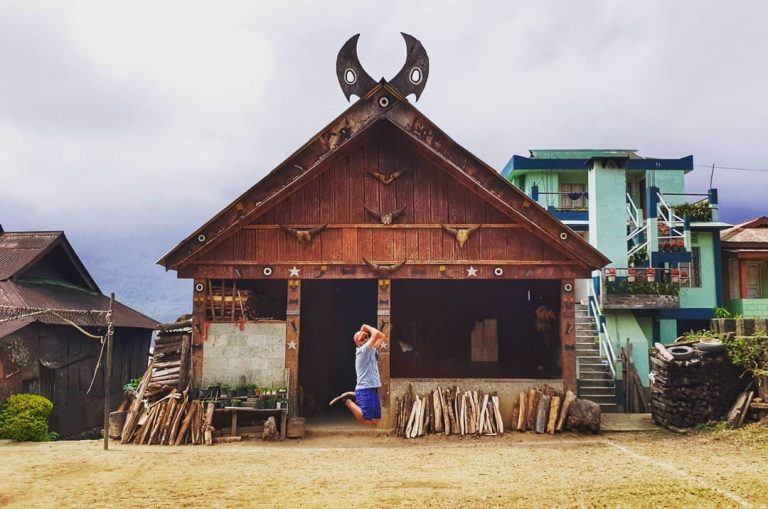 This steep trail is lined with rough-stoned steps and slippery patches which are considered easy to descend than to ascend. The path merges with a leading trail from the valley starting near Viswema.  You finally reach the motorable road at Kohima. The mossy trail is approximately 5 km from the resting spot along the 1 km long stream at the Crying Child Valley along the way to the unnamed 2550 meters pass.
It is advised that you carry packed lunch or enough munchies along the way down to Zakhma.
A 2 km walk along the stream and the bamboo and deodar-covered trail through the motorable road, will lead to the Zakhma check post.
After your touchdown at the Zakhma check post, landmarked by a petit tea stall, a small fee of INR 80 is collected by the local students' union for maintaining the cleanliness of the area.
A private taxi that charges INR 500 for the service will await your arrival and head straight to your Kohima accommodation on NH 39 which is around 15 km away. You will spend the night in Kohima.
Day 5: KOHIMA TO DIMAPUR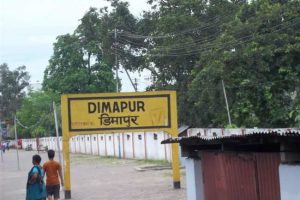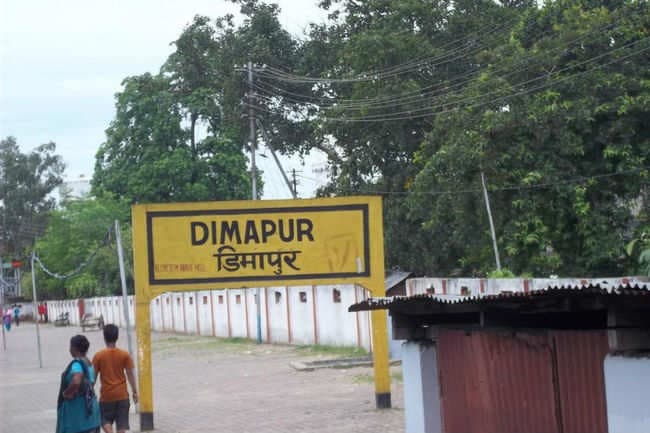 You will be transported to Dimapur for your onward journey on day 5 either in the morning or after lunch based on the train/flight timings. You can discover the local savoir-vivre of this small city, mingle with the locals, understand their culture, and indulge in some local shopping before you depart.
---
Optional Trek – Viswema Village to Japfu Peak on Day 2
Altitude: 6,000 ft Approximately
Duration: 5-6 hours; 10 km
Trek gradient: Moderately ascending trail
Water sources: None. Carry at least 2 liters of water from Viswema
You need to reach the Japfu base camp from Viswema if you choose to take this trek. Carry enough water, food, and camping supplies for the same. Heading 3 km along the northwest main road will lead you into a steep yet fun trail that gradually merges into an ascent. This dense forest cover is a bird watcher's paradise. The trail skirting around a ridge has many water springs and connects to a campsite marked by the 'Japfu Peak' signboard. The distance between the base camp and the peak is 6 km. The final 150 meters of the tree-lined trail to the peak opens up to the Japfu peak which is 3100 meters in altitude.
You will get a spectacular view of all three neighboring villages of Nagaland, Assam, and Arunachal Pradesh from here.
---
POINTS TO NOTE
A special inner line permit is required in Nagaland for outsiders which can be obtained from Nagaland House in Guwahati or Dimapur. You need to pay INR 50 per person (non-resident of Nagaland) for entering Dzukou Valley which can be paid at the entry point or while obtaining the permit.
Tips for Dzukou Valley Trekking
Carry the following for a better experience
Good trekking shoes and camping/sleeping equipment
Small bottles of water or juice packets and enough food
Mosquito Repellent creams, sprays, coils
First-Aid Kit
Smaller Currency Denominations
Blankets, Inflatable Pillows, and Bed Sheets for the night stay
Appropriate Gear for the Trip
---
A LITTLE BIT ABOUT KOHIMA- THE CAPITAL CITY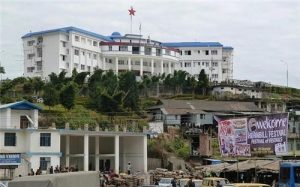 Kohima is the capital city of Nagaland located amidst the magnetic green hills and verdant surroundings. Known for the Hornbill Festival which is conducted every year between 1-10 December, Kohima is particularly known for its Angami tribes among other 16 tribes in Nagaland.
The local attractions include the cemetery of British and Indian martyrs of World War II, the interesting state museum of Nagaland, the Cathedral of Reconciliation, Bara Basti the cultural corridor of the state, and interactions with the local tribes at Kisama Heritage, Jakhma, and Kigwema villages.
The best time to visit Kohima is between October and May. Kohima will give you a slow-paced and peaceful holiday to get away from the hustle and bustle of a city. There are many wholesale markets in Kohima town where you can get the freshest vegetables and supplies.
---
GETTING THERE
Kohima is located at the following distances from its neighboring state capitals:
Guwahati (Assam)– 339 km
Imphal (Manipur)- 145 km
The nearest Airport, Railhead, and Road network are in Dimapur which is located 74 km away
NH 39 connects Kohima to Dimapur and Imphal.
---
HOW WE CAN HELP                                         
At Plan the Unplanned, we organize amazing trips to the Dzukou Valley with our irresistible packages. Do get in touch for more on this life-changing expedition that will unfurl some amazing trek stories.