Karnataka has some great trekking spots which travellers frequent to. Many of these trekking spots are religious places. As the number of people visiting these destinations has increased, so has the problem of trash! The government struggles to deal with the garbage that is filling up our green and serene mountains and hill stations. In this, there is a need for cleanup drive organised by local bodies or organizations.
What is the Problem?
Some treks like Kodachadri, Kudremukh, Tadiandamol etc., have strict rules where one needs to register the plastic carried. Everyone is expected to bring back the plastic that they take on treks without littering the mountains. Unfortunately, despite all the rules and regulations, places like Kodachadri – which are also accessible by jeep (thus, making it challenging to keep an account of the amount of plastic carried to the peak) – are being tainted and polluted with many kilograms of rubbish on an average weekend.
A similar problem was brought to light by one of the trekkers who noticed a huge pile of garbage near the Mookambika temple in Kodachadri. The place needed help, and it was time to take matters into our own hands. If not us, who will step forward to rescue the divine creation?  
We had to start somewhere!
On this thought, one of Plan the Unplanned's fellow trek leaders, Abhiram with his friend Adith, took this initiative of the cleanup drive. But only two were not enough to finish the job. Our team circulated a message on social media groups, asking people to join us in this initiative. It was an opportunity to give something back to nature and ensure that our future generations are not deprived of the location's simple joys.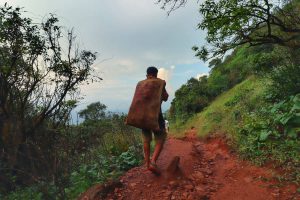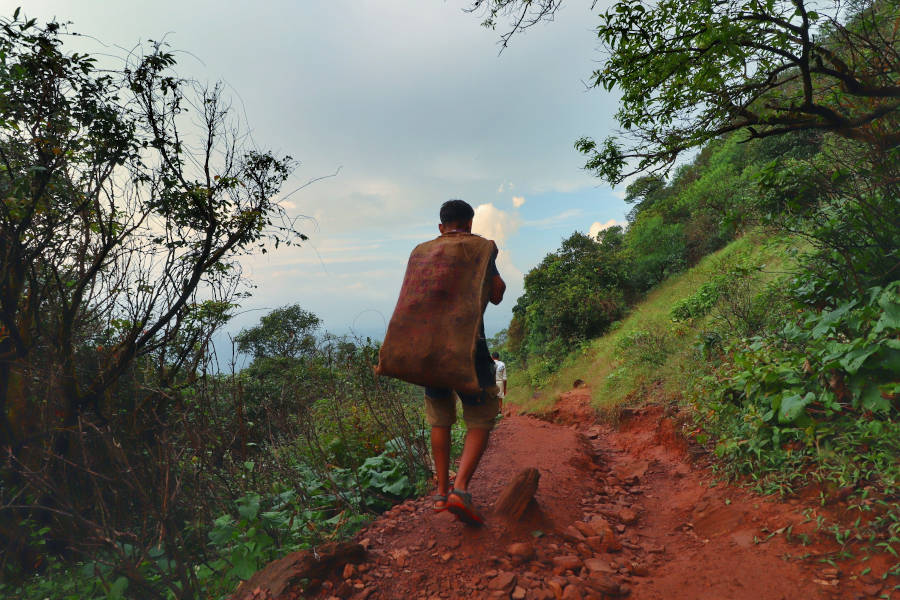 How did Plan the Unplanned complete the rigorous task of cleaning and restoring the wilderness?
Social Media turned out to be a boon in this case. With the support of our vast social media family, multiple people came forward and soon, the group size increased to 19 people. With enthusiasm reaching heights, we made it to the check-point on Saturday early in the morning and took a Jeep ride to save time. For day 1, the plan was to clean the temple premises and the area around it. For the second day, we planned a cleanup drive on the trail on the way back to the base camp. Additionally, the collected garbage was to be sent back to the city, where it would be processed appropriately.
The plan was all set. The group was split into multiple pairs, each with a sack. The start was slow. The main trail seemed clean, but as we moved towards the temple, we realised that it's not a one day task. There was trash everywhere. 
The waste mainly consisted of worn out foot-wears, plastic bottles, toffee wrappers, umbrellas, polybags etc. Not only that, there were places that resembled old dumping grounds for plastic! The more the people dug, the more plastic re-surfaced. Each of the members was dripping with sweat, covered in dust and thorn, and was exhausted from all the hard work. At this point, we took a lunch break to regain strength.
Later, in the second round, with double energy, one team cleaned up the area near Aghori Caves, and the other went back to the temple. In the end, five dustbins were installed on the trail.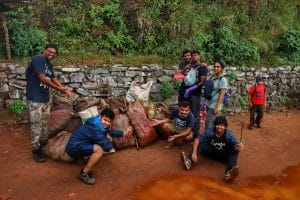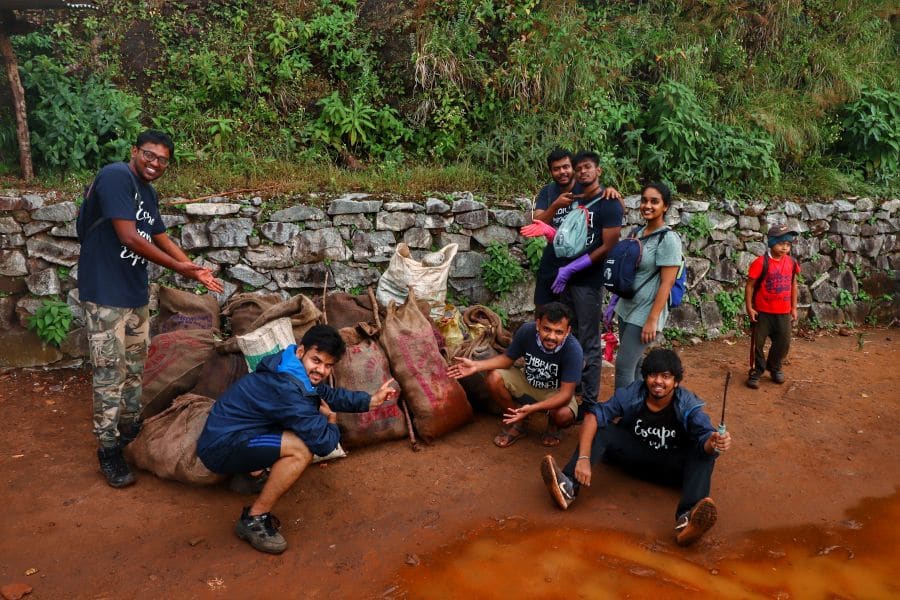 What did we come back with?
Trash! Trash! More Trash! – Plan the Unplanned team along with the volunteers

 came back with hefty 22 sacks,

each weighing 8-9 kilograms. We wouldn't lie; we had to let go of some plastic as it was dangerous to go around the trail's edges. But now, the area was far cleaner and better than we had found it.

Lessons of a Lifetime –

Nature is our home. From the time when we were not stuck in self-created races, we lived in the wild. One thing was clear after we were done cleaning and sacking up the trash – each one of the travellers has to be aware of the term – sustainability.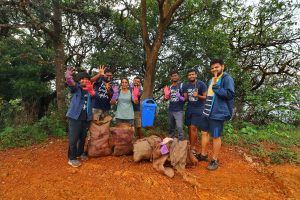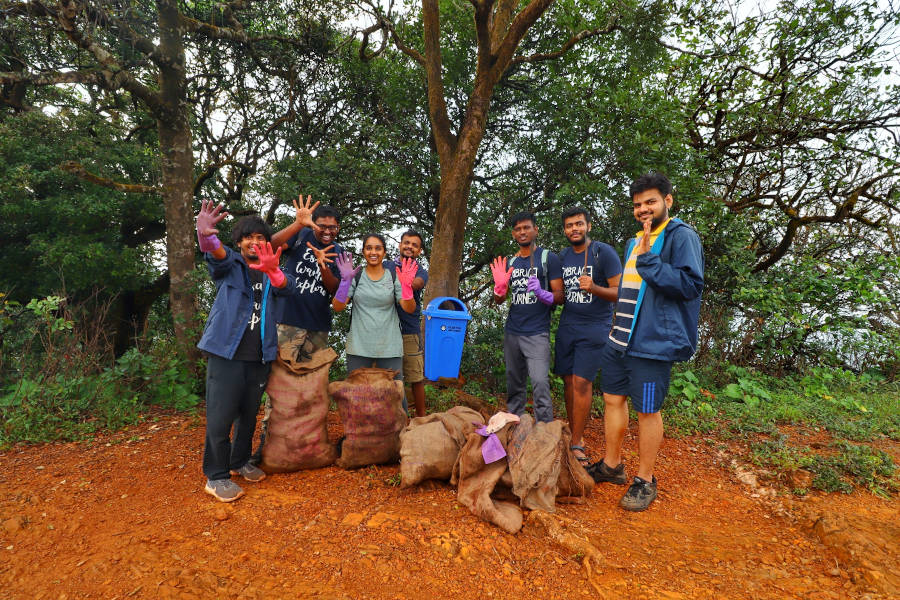 How can all of us ensure Sustainable Travel?
Some fundamental but crucial tips to follow while travelling will only lead to a cleaner environment. Here are the following tips –  
Carry your own bag, or wait to litter till you find a dustbin.

Educate people to take responsibility to leave the trail as they found it.

Ditch plastic produce bags and use reusable produce bags. Not just plastic, try to bring back metal, milk packets, electronic items. Along with these, don't even leave paper, bills, passes on the trail – nature takes significant time to even recycle paper.    

Apart from the visible waste, try to reduce air pollution as well, by walking to the places if you can – use shared rides instead of travelling on one vehicle alone; 

Carry a personal kit consisting of a lunch box, spoon, cup or glass.

For girls, use environment-friendly Menstrual Cups.
Would Plan the Unplanned organise any such drive in future?
We are so enthusiastic to announce that this drive was a big success. Not only did we come back with waste, but also sweet smiles, and a relatively spotless trail. We also learnt planning, strategising, taking permission from authorities. We are so pumped up that we keep on organising these drives every month. This creates awareness and also cleans our beloved mountains, one at a time. 
We are thankful to the organisers and our leaders who work very hard to ensure that all the supply needs are taken care of, making each plan an ultimate success.
In the end, we would also like to emphasize more on the importance of bringing back what we carry to the mountains. Then, there wouldn't be a need for a cleanup drive and our surroundings would be so much cleaner and greener.
What you should do now?
1. If you want to work with us: Click here to read about open positions.
2. Read reviews about Kodachadri Trek: Refer to this page to know more about it.
3. If you want to know about the next trips on our calendar: Read about it here.
4. Check out our Instagram account: Check here for the latest updates.