The northeastern Indian state of Meghalaya is known for its misty hills, valleys, glittering rivers, lakes, and most notably, its stunning waterfalls. Any ardent traveller should go there since its name, which translates from Sanskrit as "abode of clouds," is a requirement. It is a pleasure to visit and enjoy any of Meghalaya's most tranquil waterfalls.
Natural beauty is abundant in Meghalaya. You won't often stop being astounded and awed by Meghalaya's incredible charm wherever you go. Whether it's the tranquil waterfalls, the lush green woods, the deep prehistoric caverns, or the mesmerizingly admirable culture and heritage. The kind and welcoming folks deserve a lot of praise as well.
Mid-June through September is when the monsoon season occurs. Numerous waterfalls pour down rushing canyons from the highlands. During this time of year, the hills are covered under a blanket of clouds, and the entire area is surrounded by meadows with lush, deep green grass. Any traveler would find this to be a visual delight.
From November until June, the dry season, which gives landscapes painted in autumnal tones. Even though certain waterfalls dry up during this season's clear, sunny days, we are still able to explore several sites that are often shrouded in mist and foggy during the monsoon. Therefore, it is excellent to visit Meghalaya throughout both seasons. In certain Indian states, such as Meghalaya, the bulk of the population is made up of indigenous people. Khasis, Garos, and Jaintias are the three major tribes. The locals refer to the various tribes as "hill tribes" since they live in Meghalaya's Khasi, Garo, and Jaintia hills.
1. Dainthlen Waterfalls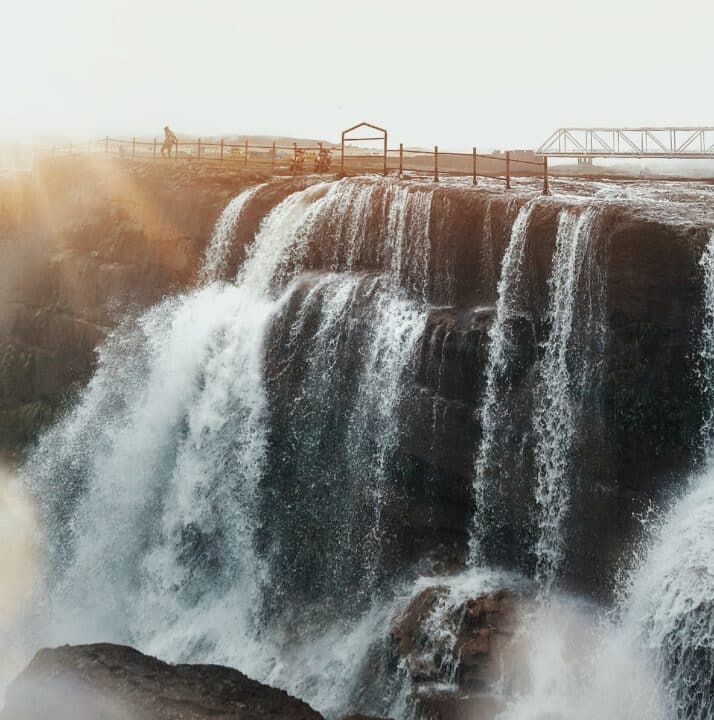 One of the most popular waterfalls, Dainthlen Falls is situated in Sohra, close to Cherrapunji, and is famous for its breathtaking scenery. In folklore, a gigantic snake that formerly resided in a neighboring cave gave the waterfall its name. Due to the havoc, it was inflicting on the community, the natives killed this enormous snake. The most peaceful and gorgeous sight one can see is the river rushing down with all of its furies.
2. Sweet Falls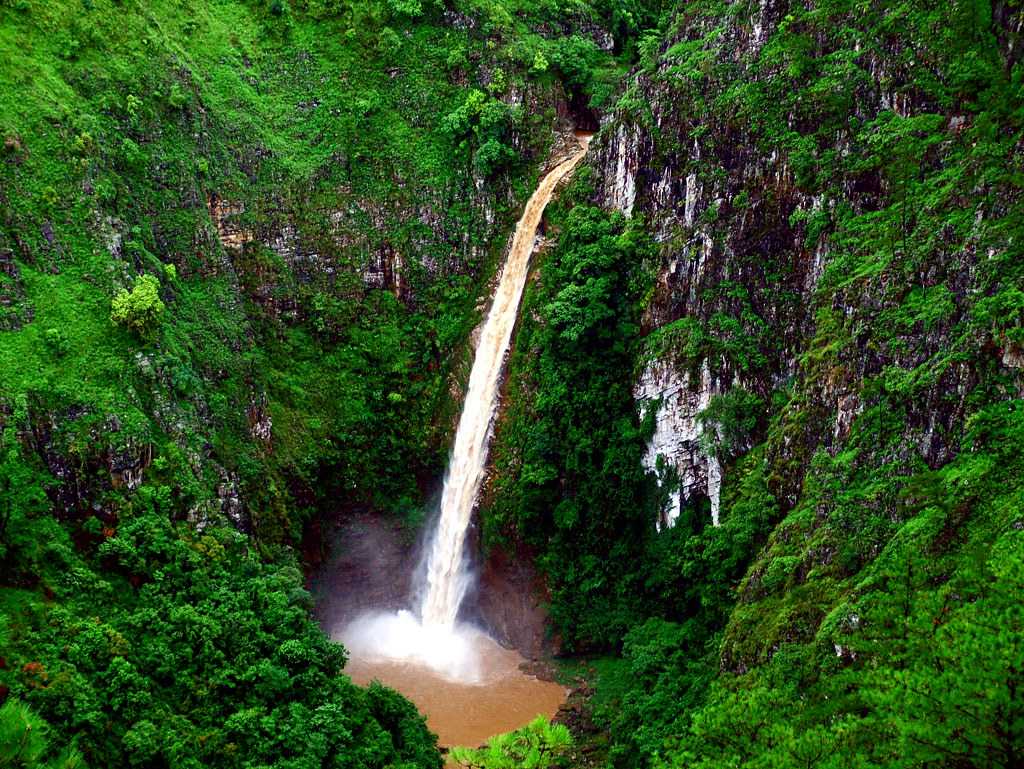 Near Happy Valley, there is a flowing natural wonder called Sweet Falls. It was regarded as the ideal location for unwinding and taking in peace. Since it is coated in slick rocks throughout, Sweet Falls is well known for being one of the most hazardous waterfalls in Meghalaya. Travelers are not permitted to go to the base of the falls, but you may still admire their magnificence from Happy Valley, according to the tourist authority.
3. Nohkalikai Falls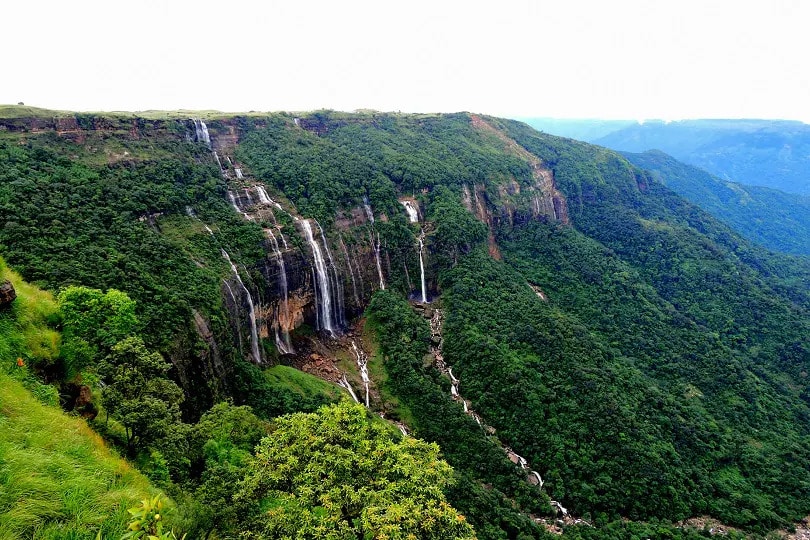 Seven kilometers separate Cherrapunji and Nohkalikai Falls. It is well known for being India's tallest waterfall with a plunge. The water flows down from a great height, making a deep dive pool that is visually stunning. On top of the falls, there is a viewing gallery where one may go to get a birds-ey perspective of the cascade and plunge pool.
4. Elephant Falls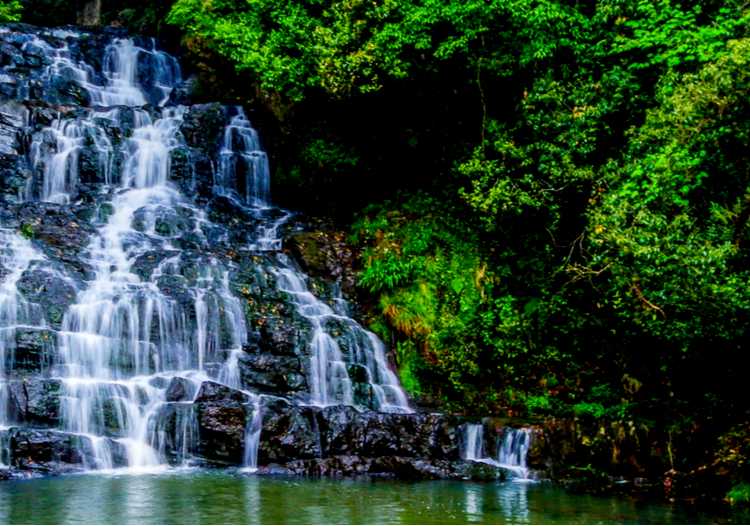 Three-tiered stunning cascade known as Elephant Falls. This waterfall, which is near Shillong Peak, is known locally as "Ka Kshaid Lai Pateng Khohsiew," or "three-step waterfalls." After the monsoon season, especially from October to December, it is stunning and torrential and is located in Shillong's deep and lush woods. It was given this name because of a large boulder that looks like an elephant and is located at the base of the waterfall. But since it was devastated by an earthquake, the rock isn't there right now. This location, which is 12 km outside of Shillong, is frequently frequented by both tourists and residents, especially on the weekends.
5. Bishop And Beadon Waterfalls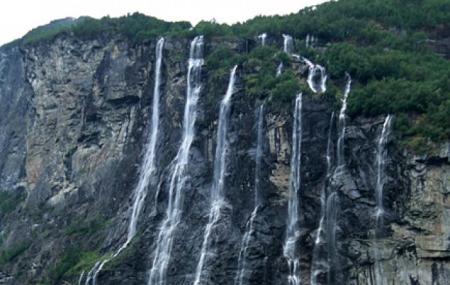 Meghalaya has twin waterfalls named Bishop and Beadon. At a height of 446 feet, Bishop Falls is a three-level watercourse that descends. The surroundings and nearby rocky hills may be seen from Beadon Falls, where frothy water from Bishop Fall pours down to make a vast chasm. Both Falls fall through the picturesque Suna Valley and into the canyon of the Umiam River.
6. Kynrem Falls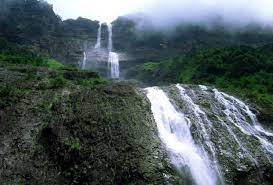 This waterfall, one of the tallest in Meghalaya, is close to Cherrapunji. Kynrem Falls, which is roughly 1003 feet in height, is ranked as India's seventh-highest waterfall. It displays its mesmerizing splendor throughout the post-monsoon and winter months. Pillar Rock, also known as Shiva Rock, is one of the main draws in this area. This enormous rock, sometimes referred to as Khoh Ramhah or Mothorp, is situated right next to the falls and provides a breathtaking perspective of the Meghalayan lowlands.
7. Seven Sisters Waterfalls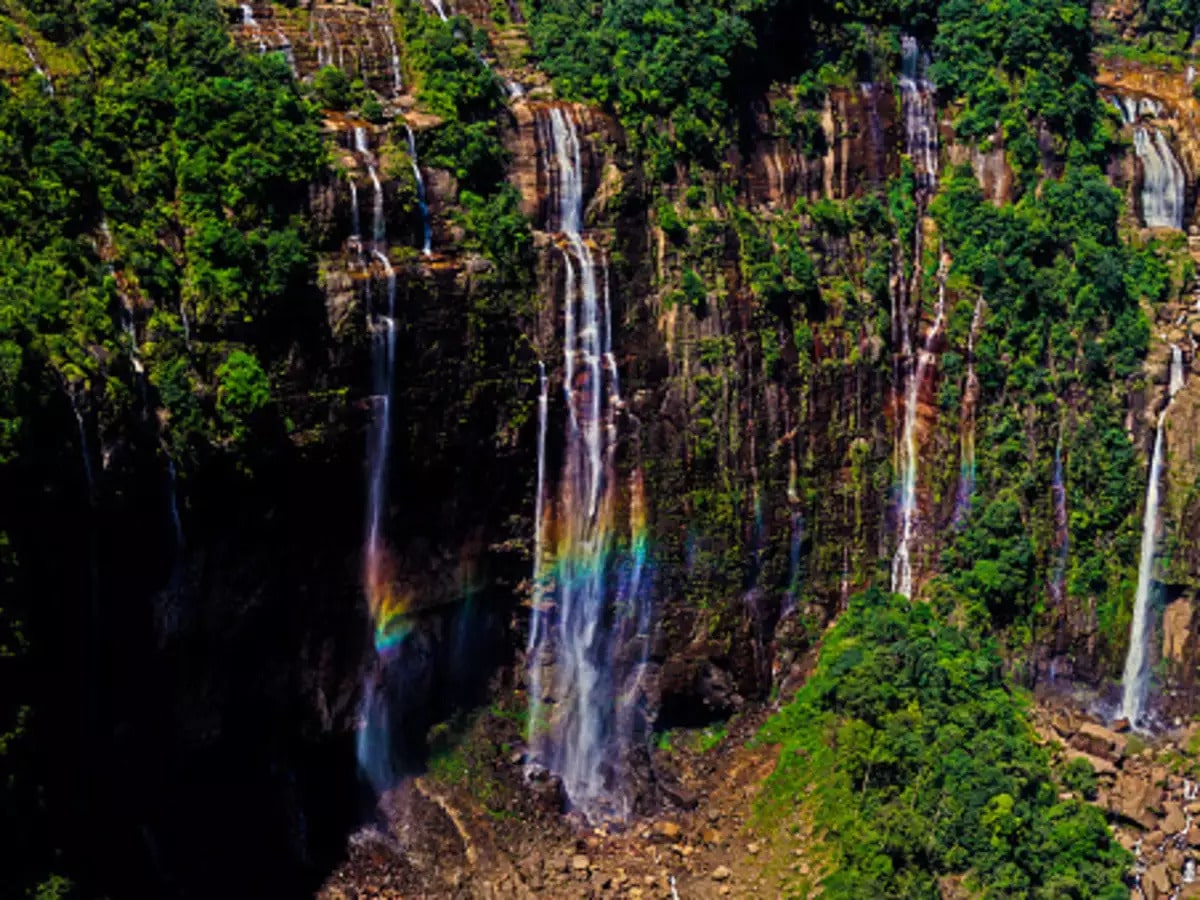 One of Meghalaya's most captivating waterfalls, Seven Sisters Falls is a seven-step cascade that descends from a height of 1033 feet over the Khasi Hills' limestone cliffs, making it one of the highest waterfalls in India. The best time to see this waterfall is between July and September to catch the brooks in their full flow. You will undoubtedly be in awe of the waterfall's grandeur as it cascades into seven streams while being surrounded by beautiful, green woodlands.
8. Langshiang Falls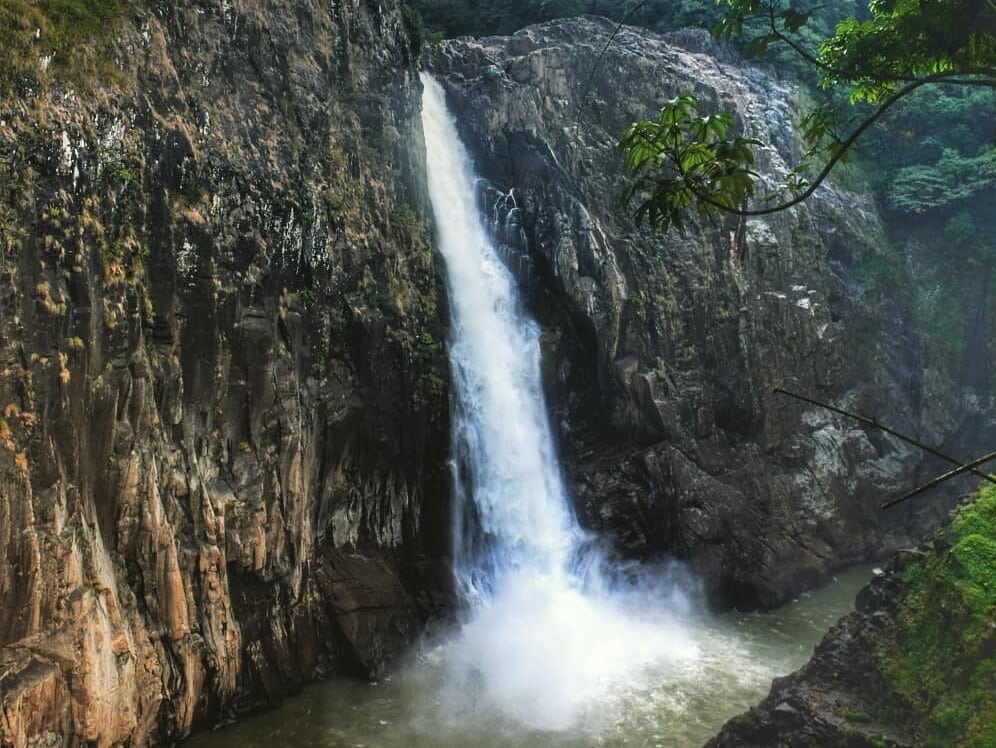 To create the Langshiang Falls, the river Kynshi flows through the West Khasi Hills. The Sangriang forest, close to Nongstoin, is home to one of Meghalaya's largest waterfalls. This waterfall, which the locals call "kshaid Ur-Nar," is a calming sight that also gives views of the nearby hamlets and lush hills.
9. Mawphlang Falls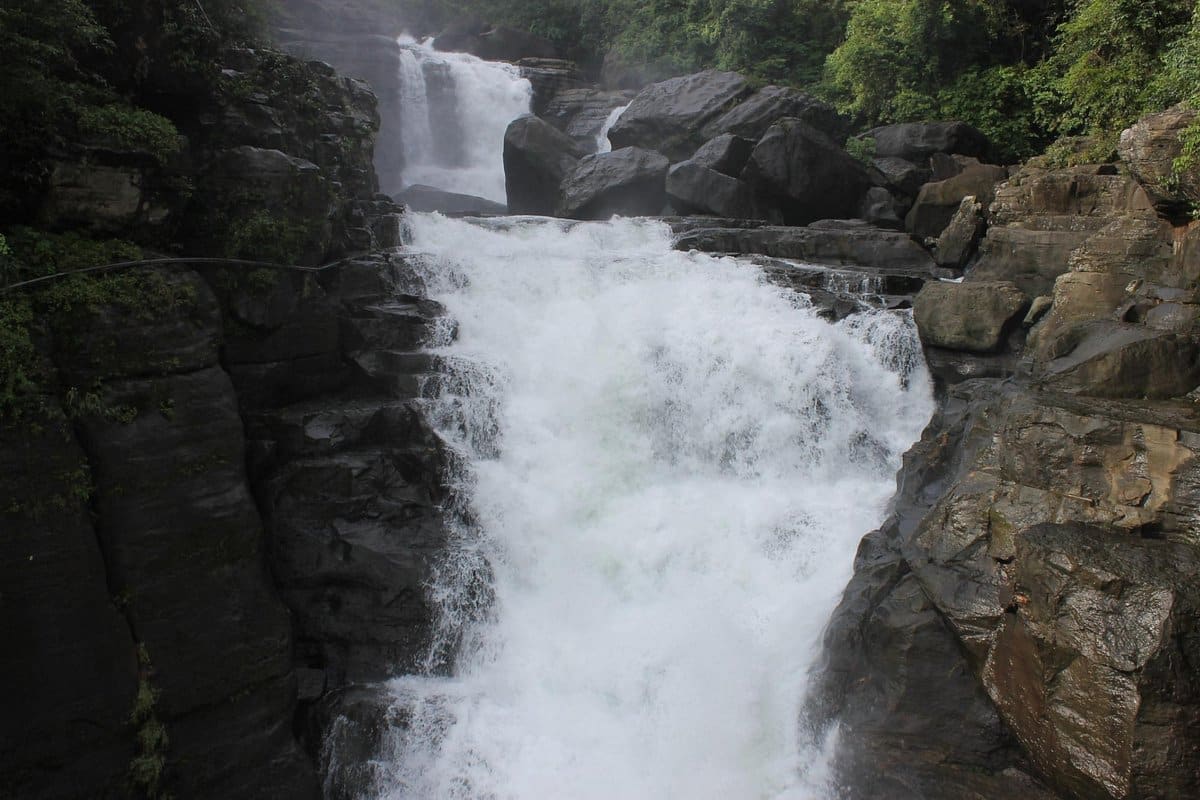 Mawphlang is a waterfall in the state that is among the most beautiful. In the Mawhplang Sacred Forests, it is a tranquil fall that cascades down several tiers from a considerable height. A little plunge pool where waterfalls are the ideal spot to unwind, recharge, and spend some time in the quiet surroundings of nature.
Enjoy some downtime by swimming and immersing your feet in the plunge pool. The trees of Mawhplang Sacred Forest are revered by the locals. It is also an unforgettable experience to go through this woodland and take part in such worship.
10. Krang Suri Falls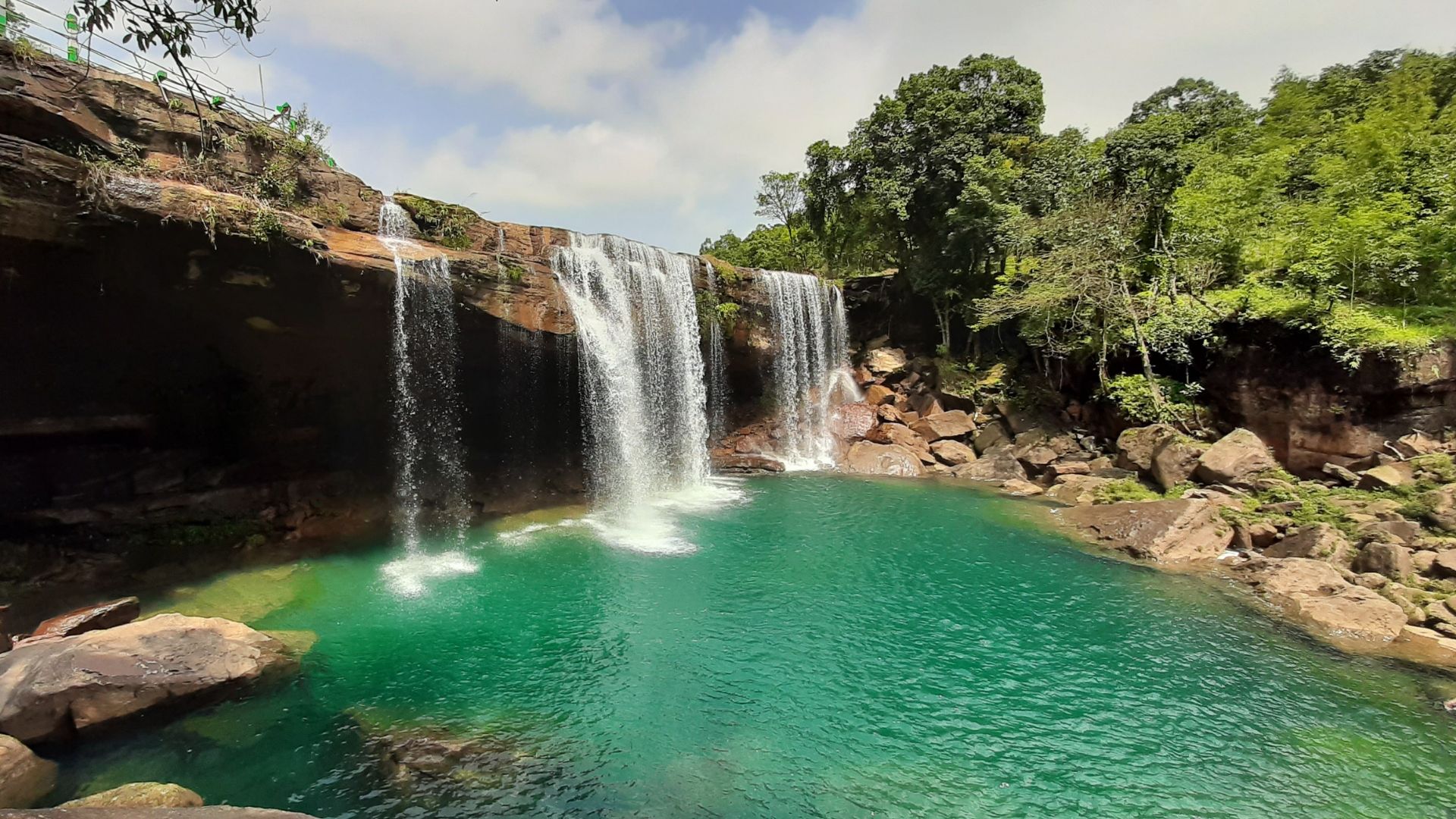 Krang Suri Falls is another waterfall that ranks among the most stunning and enchanted. Many people find this natural marvel to be energizing thanks to its picturesque vistas. This waterfall, which is located in the Amlaren Civil Sub Division, is decorated with walks made of chiseled and graveling stones, enormous overlooks from which one may take in the breathtaking splendor, and rich vegetation that has thousands of different colors of green. These walkways were hewn using stones of various hues that the workmen chose. Since no concrete was used to maintain them, they are arranged symmetrically, allowing one to see the actual hues.
These are the 10 famous waterfalls of Meghalaya. You are going to have a wonderful time full of adventure and incredible adventures. This post should make you plan your vacation to Meghalaya now! Click on the link below to check the Meghalaya tour of Plan The Unplanned!
We hope this list of the top ten waterfalls in Meghalaya will be useful for you. Feel free to add more in the comments; we will add them to the list.  
Book your next Meghalaya trip with Plan The Unplanned here!