Here is a well-prepared itinerary for your Do-It-Yourself trip for 3 Nights, 2 Days in Srinagar.
Kashmir is the land of innocence and beauty. Topping it all, it is a wave that transports you to its trickling lucidity. There is no better place to experience Kashmir than Srinagar, where artificial and natural wonders form its lifeline. Moreover, it is a place nestled quietly with no added artificial flavours or layers. It is this simplicity that entices everyone. 
Remember when they say Kashmir is beautiful, do not exclude the men, women and children. People most importantly are hospitable, respectful and angelic here – all of them. 
Although to experience the grandeur of Kashmir even a lifetime is less, if you want to touch base upon the most famous things without getting distracted, Srinagar is open to show you its colours, people, practices, cultures and much more. 
You can plan 3 nights 2 days in Srinagar after/before your trek to Tarsar Marsar, Kashmir Great Lakes Trek or Gangabal Lake Trek. I understand you will be tight on time and budget. So, here is 3 nights 2 days in Srinagar itinerary that will give you the taste of Srinagar, just the way you want it.
Travelling to the main city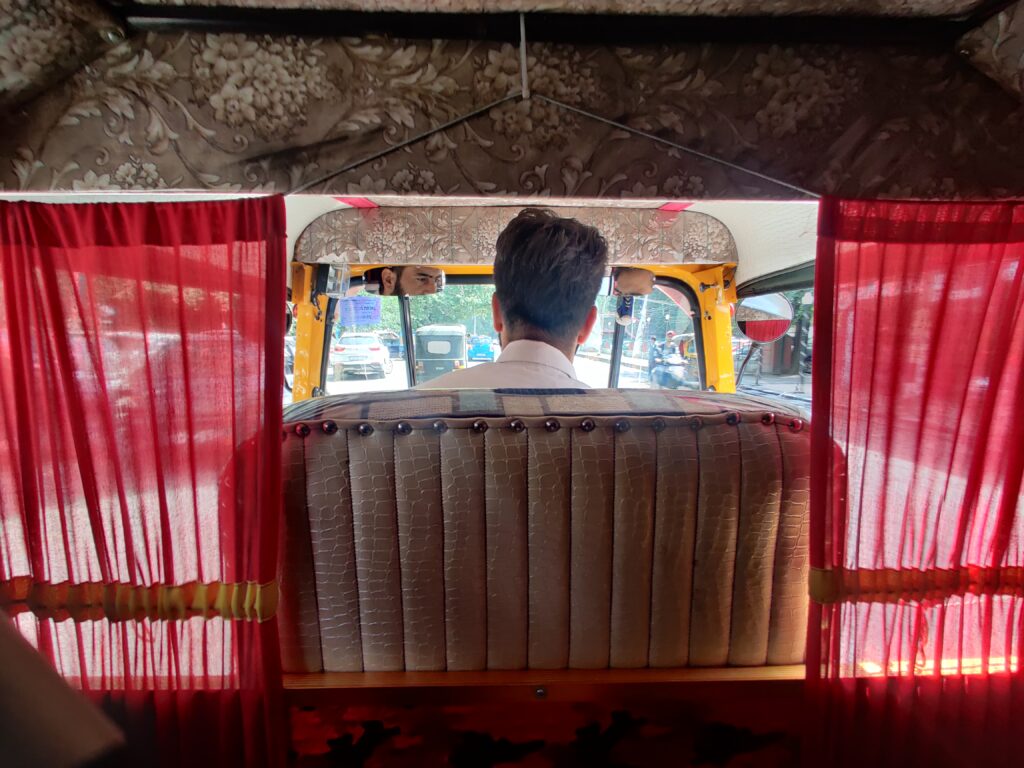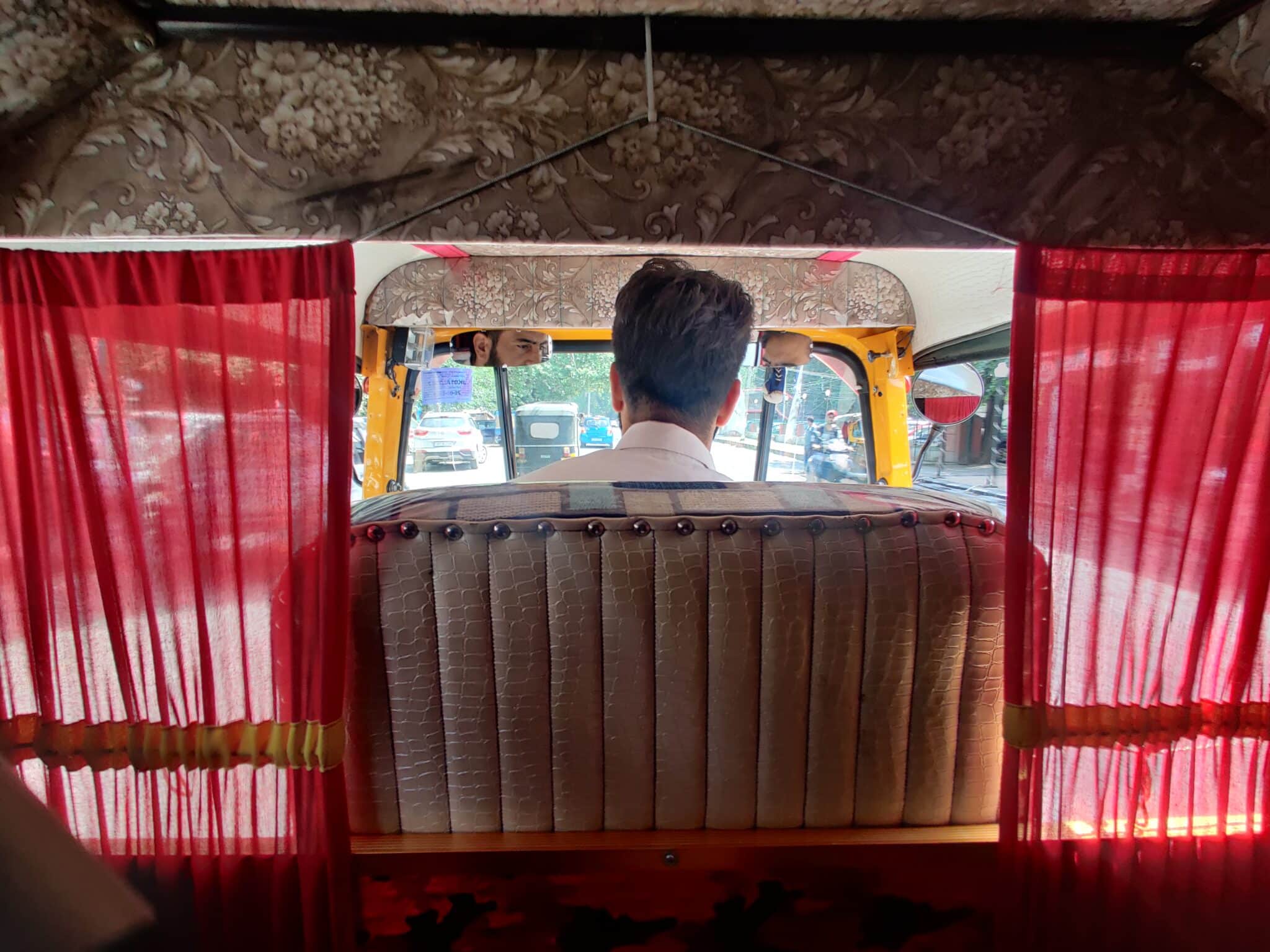 The airport is 10 km from the main city. There are many options to reach the main town.
Bus: If you are a budget traveller or travelling solo, take a JKSRTC bus from the airport directly. 
Cab: If you are travelling with your family, take a cab instead. The taxi service is standard for all, and you have to pay at the counter. According to the number system, you would get a cab that will accompany you to the city. 
Auto: Both these are sure shot and thug free systems. If unluckily, both of these are unavailable, take an auto. 
Note that Srinagar is a tourist destination. Most of its residents in some way or another depend on tourism. Also, most of them rely on you for cash transactions. There are plenty of ATMs in Srinagar but carry upto INR 5000 of cash so that you do not face any difficulty. 
Finding stay in Srinagar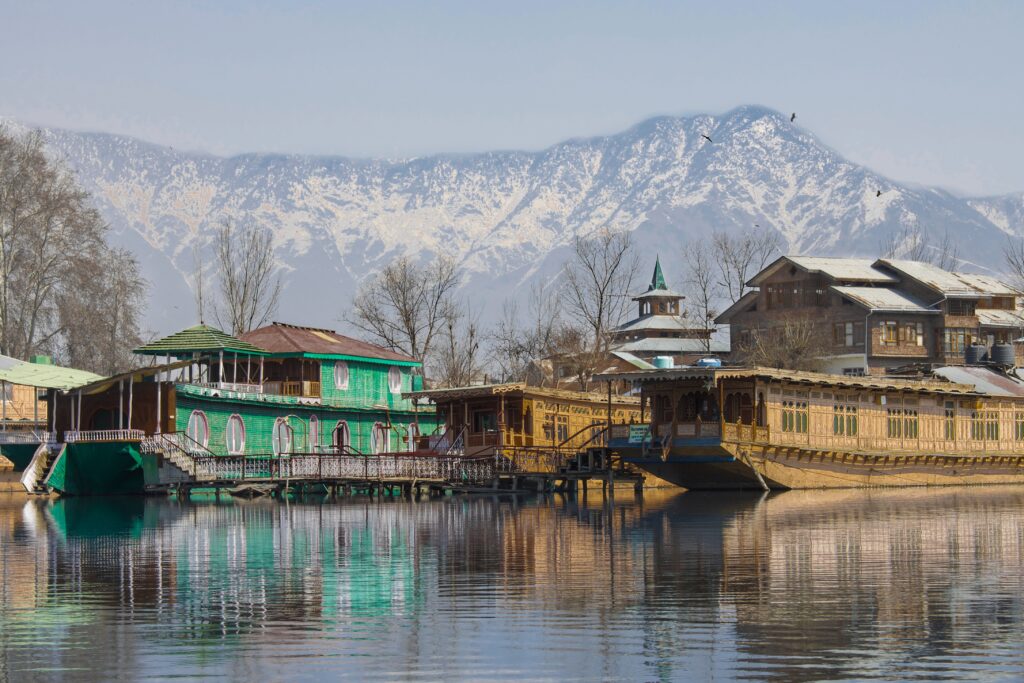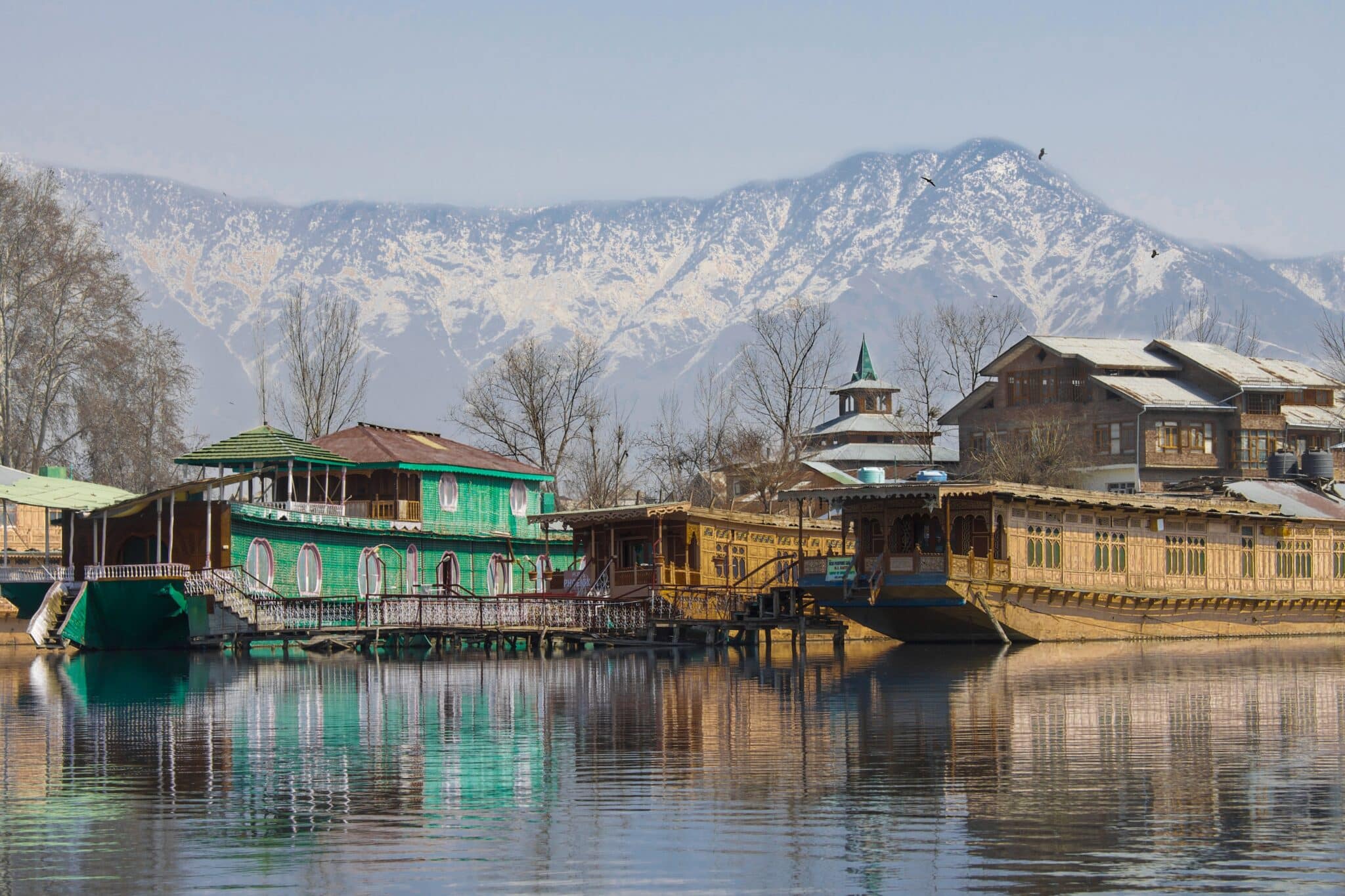 Needless to say, you would need a home. 
Dal Lake is a perfect place to submerge in the peacefulness of water, enjoy shikara rides, and stay in houseboats without burning a hole in your pocket. There are plenty of options available. The houseboats are pretty cheap and impressively royal. An average room in a houseboat with all amenities, including breakfast, will cost around INR 900. 
Delicacies of Srinagar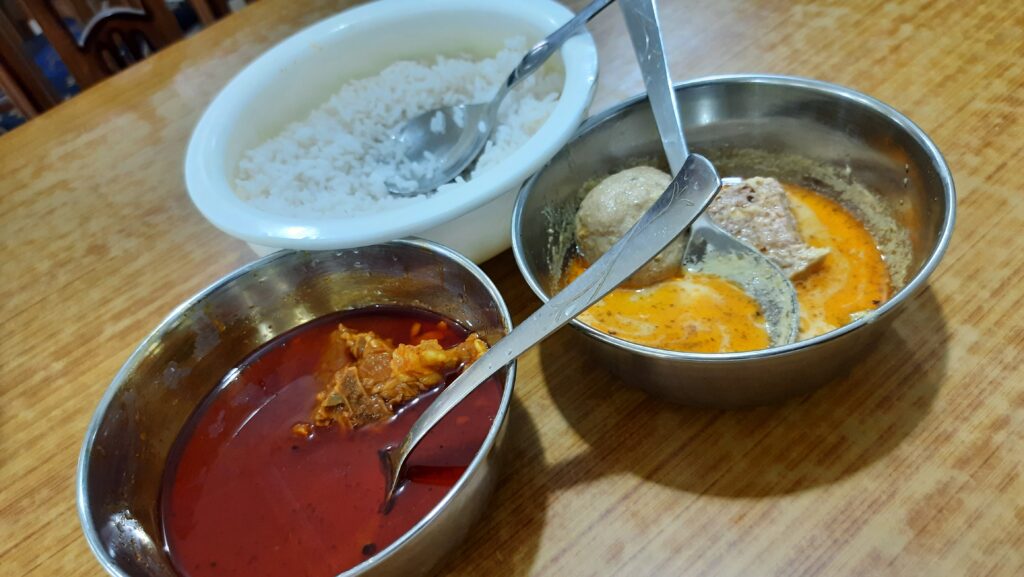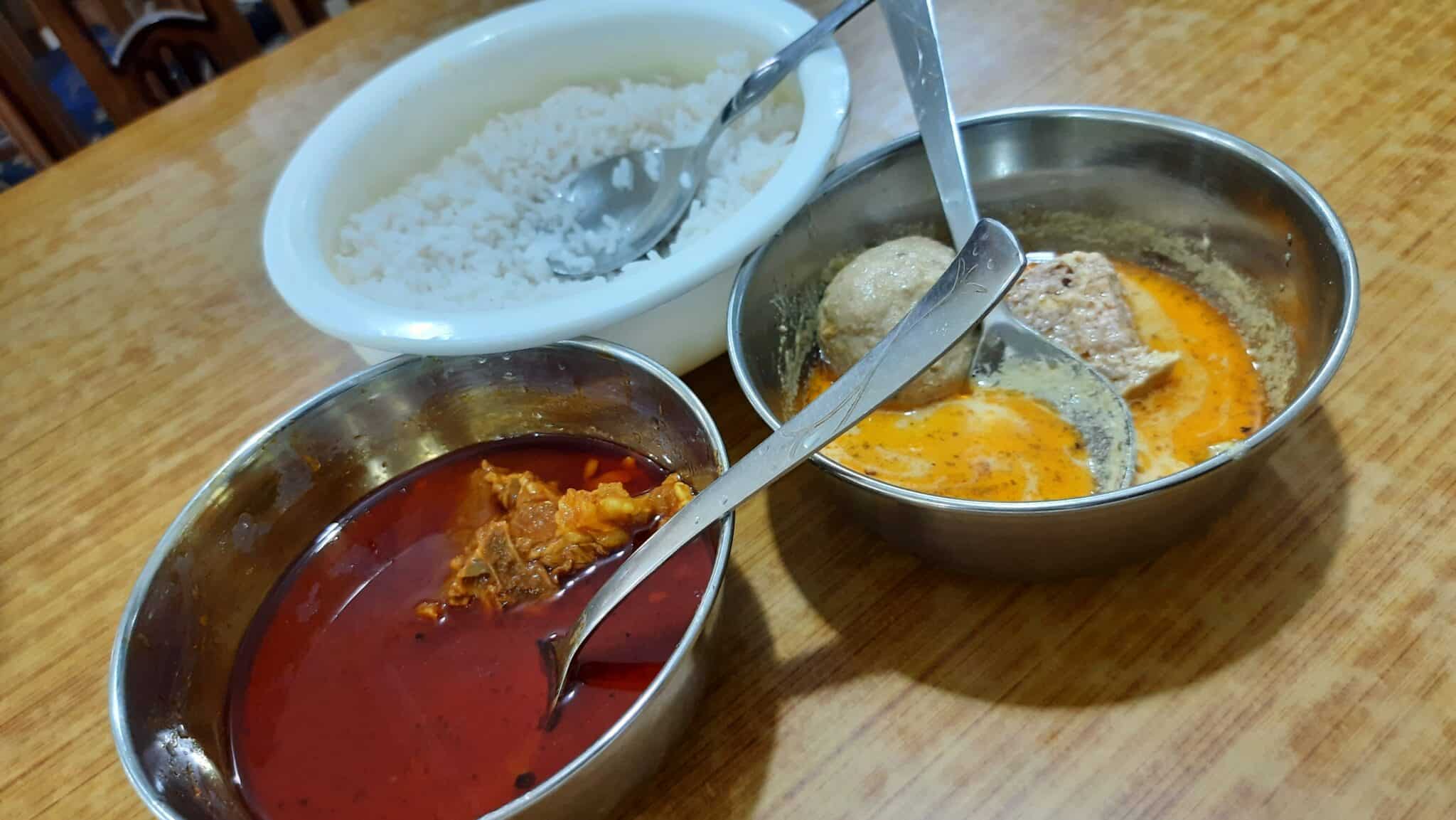 I cannot even describe the licious food of Srinagar. Many indigenous spices are grown here, and so the flavours of Kashmir would fill your mouth with water every time you see it. You will also get all kinds of North and South Indian cuisine, but eat Kashmiri dishes in Kashmir. 
There are so many food options in Srinagar. 2 Nights 3 Days in Srinagar, you will indeed have four full-course meals – 2 lunches and two dinners. 
1. Non-vegetarian Wazwan
Wazwan in itself is a multi-course meal. Almost all dishes are meat-based. It is a combination of 36 dishes that includes meat dishes, rice, and others.
Must Try in Wazwan: Gushtaba, Rogan Josh, Riste, Doudha Ras, waza Kokur, Tabakh Maaz, Dhaniwal Korma, Aab Gosh, Tabakh Maaz, Koshur Kabab, Naate Yakhin.
2. Vegetarian and Non-Vegetarian Kashmiri Pulao
3. Vegetarian Options
Ladyar Chaman (Indian Cheese in Turmeric), Veth chaman (Indian Cheese, cooked in oil and Kashmiri spices), Dama oluv (Potato), Nadru yakhni (Lotus Stem), Hak (with nadru/vangan), Nadru palak.
Fill your mornings and evenings with Kahwah tea and noon-chai with some bakery biscuits and Kabab on the side.
Some famous places to try food in Srinagar:
Shopping in Srinagar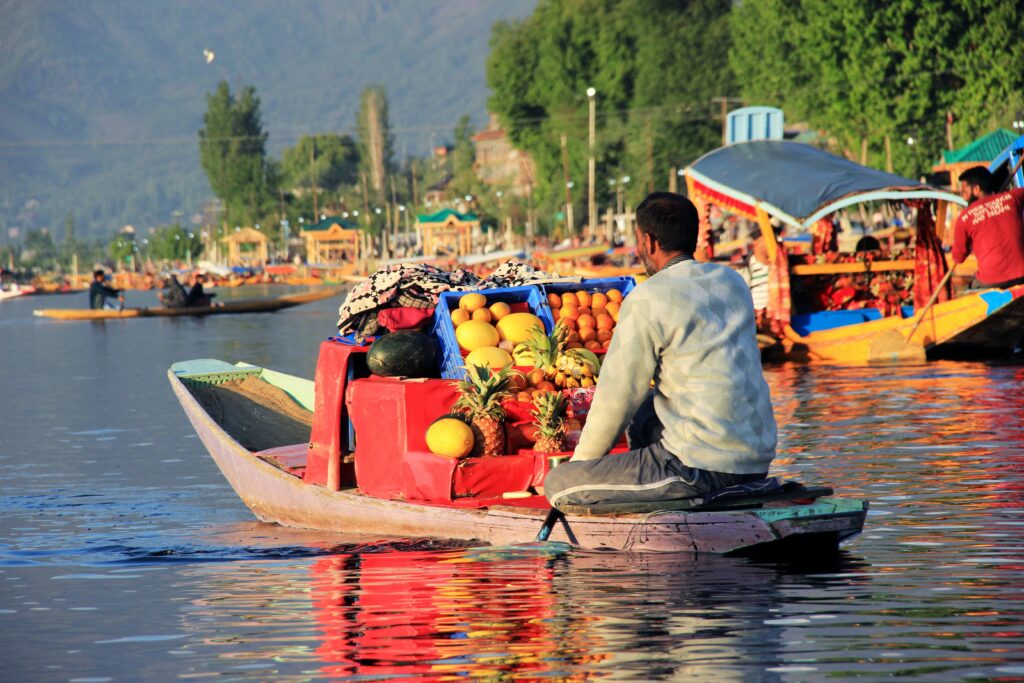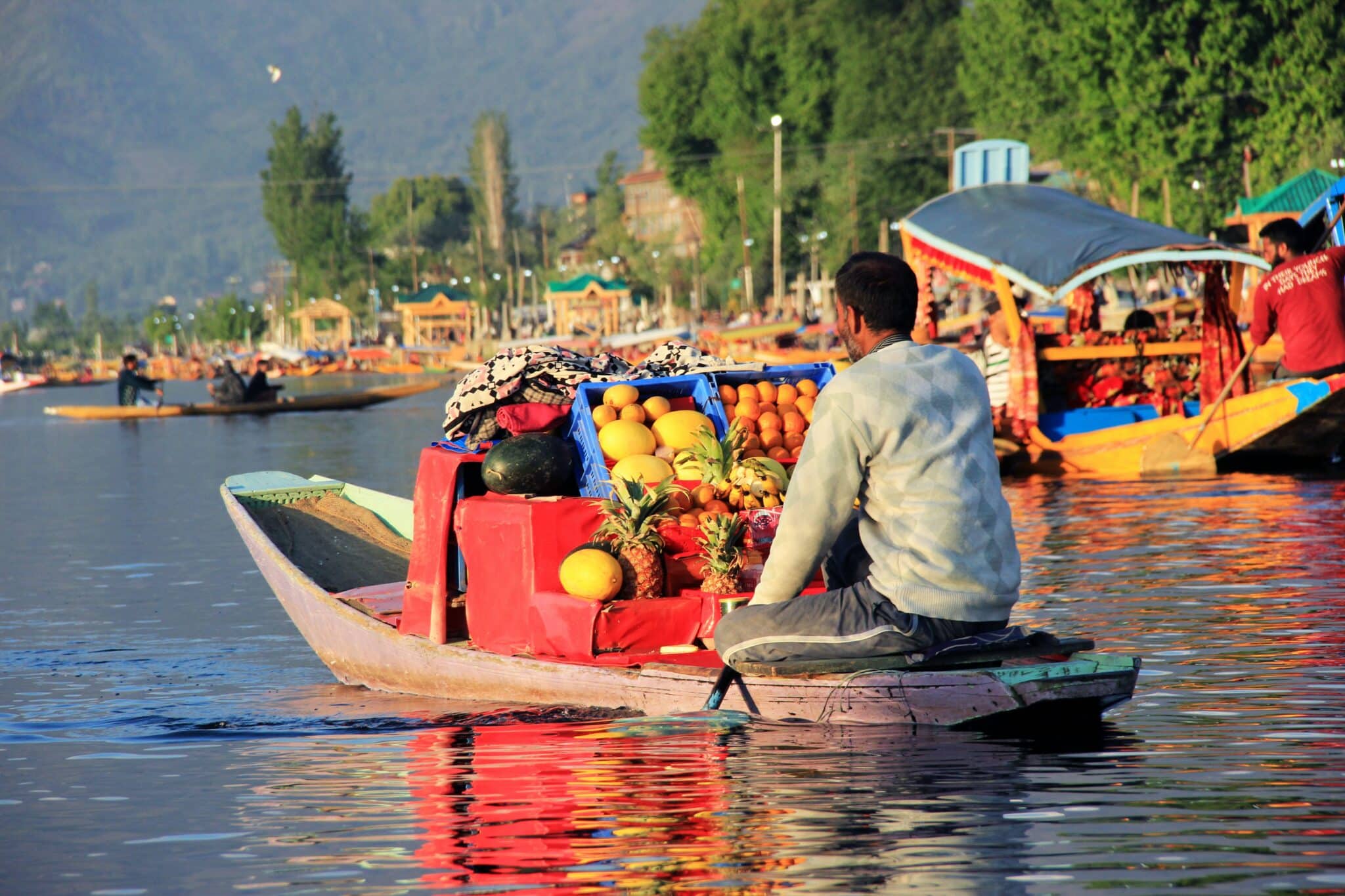 Shopping in Srinagar is a must. I would advise you to come almost empty-handed and go back stuffed. Warm clothes, ponchu, and shawls come in a wide range. 
Coming to the markets where you will get good clothes at affordable prices, here is the list:
Dal Lake Street Market:

Every day from 07:00 pm to 10:00 pm, a street market is set up on Ghat 15.

Sunday Market: This market is a flea market that runs in Lal Chowk and opens after 10:00 am every Sunday.
Budshah Chowk
Residency Road
In food items, walnuts, apples, and saffron are also famous.

Buying Saffron: Srinagar is famous for its indigenous spices. Saffron is probably one of the priciest spices in the world. But it comes with many medicinal benefits, and its aroma and colour fill up one's senses. Apart from Iran, Spain and Greece, it is best grown in Kashmir. But buying it without knowing how to judge its quality is not advised because you might end up paying money on a fake one that might impact your health negatively. Here is an article on how to buy the best saffron.
Places to Visit in Srinagar
Day 1
Dal Lake and Shikara Ride – Everything in Srinagar goes in and around Dal Lake. It is believed to be the flood-lung of the Jhelum river. Dal Lake in itself is divided into two parts: Small Dal and Big Dal, both separated by swamp and slush.

Contributed by Santhosh

Dal Lake is marked and dotted by many marvellous wonders. A calming Shikara ride will take you to the intricate waterways of Dal Lake and will transport you to a peaceful world surrounded by the bubbling sound of water and birds. To observe the melting sun and let the mirages dissolve in the placid water, take a Shikara ride in the evening. Apart from being the gondolas of the water, they also serve as mini-shops for food, flowers, and artefacts sellers.

Char Chinar – Char Chinar/Rupa Lank is one of the two artificial islands constructed by Mughal Emperors. Another artificial island is Sone Lank that overlooks the holy shrine of Hazratbal.

Pride of Kashmir – Chinar
Chinar amplifies the grandeur and pride of Kashmir. Brought and planted in India by Akbar, its values and beauty outweigh anything else.
It switches colours: blood red, amber, yellow; the vast canopy provides shade on hot days; it is used for medicinal purposes; its wood is used to make decorative items; lastly, its fallen leaves are still valuable for making Kangri, which is a fire pot used to keep the place warm in the cold.
Chinar is not just a tree; it has an enigma attached to it. No one who sits under it leaves without feeling the magic and touch of the Chinar.
Hazratbal Dargah – Situated on the left bank of Dal Lake, the Hazratbal is a majestic and architecturally unique shrine. It contains a relic, the Moi-e-Muqaddas, which is believed to be the hair of Prophet Muhammad's beard.
The shrine sees an influx of locals for mass prayers on Fridays. Tourists flock to Hazratbal to seek blessings and get a glimpse of relics that are displayed on special occasions. 
It is important to note that men can go to the inner hall, while women are allowed only till the outer hall.

Nigeen Lake – Nigeen Lake is a mildly eutrophic lake, sometimes considered a part of Dal Lake—a narrow strait connects them. The lake is significant because it is primarily surrounded by a large number of Willow and Poplar trees.
Day 2
Vegetable Market

–

Just as the dawn cracks, you will start hearing sounds of local vegetable vendors dressed up in traditional pheran, coming out on their boats to sell their produce. More than 6000 local families depend on this.
In the morning, so much goes on in Dal Lake that you cannot even imagine it without witnessing it. With the sun still sleeping, as the mountains cover beautiful Srinagar, and voices of sellers occupy the whole valley, you can be a silent spectator or indulge in the epiphany if you want to.
And just like that, in a snap, in less than an hour, before the dawn breaks, everything disappears as if nothing ever existed.

Pari Mahal – Pari/Peer Mahal is a seven-terraced garden located at the top of the Zabarwan Mountain range, which was made as patronage in the reign of Mughal emperor Shah Jahan. It is an example of Mughal architecture and is known for its breathtaking views of Dal Lake and the Kashmir Valley.
Shalimar Bagh – One of the best Mughal monuments is the Shalimar Bagh in Srinagar. Emperor Jahangir built it in 1619.  Through a channel, the garden is linked to the northeast of Dal lake.

Shankaracharya Temple – Dedicated to Lord Shiva, its origin goes back to 200 BC. The temple opens doors to history buffs, nature lovers, spiritual seekers and believers. It is a Hindu temple and is also considered sacred by Buddhists. Reachable just by climbing 243 stairs, this temple is mainly frequented by devotees during Amarnath Yatra. People also celebrate Mahashivratri here with great pomp and show.
Musical Fountain and Laser Show – Another attraction on Srinagar's plate is the Musical Fountain and Laser Show. The show runs adjacent to SKICC Boulevard every day, and tickets are available at the site. With mouth-watering delicacies served in open restaurants on the side, you can relish the sights and story of Srinagar and spend a beautiful evening here.
Note, the show timings are 08:00 to 08:30 pm. 
Best time to travel to Srinagar
Srinagar is blessed with 4 seasons: Spring, Summer, Autumn, Winter.

Winters start in October and end in March. It is when Srinagar wraps itself in the veil of snow and rests for a while. Anyways, visiting Srinagar in winter is a different experience altogether. 
If you want to see colours, experience happiness, witness the lifeline flowing on the Dal Lake, you must come in between April to October. You will come bewildered and leave speechless.
Other Places to Visit near Srinagar
You don't go to Srinagar every day. If you have more time to spare, cover these places as well and tick some checkboxes from the list: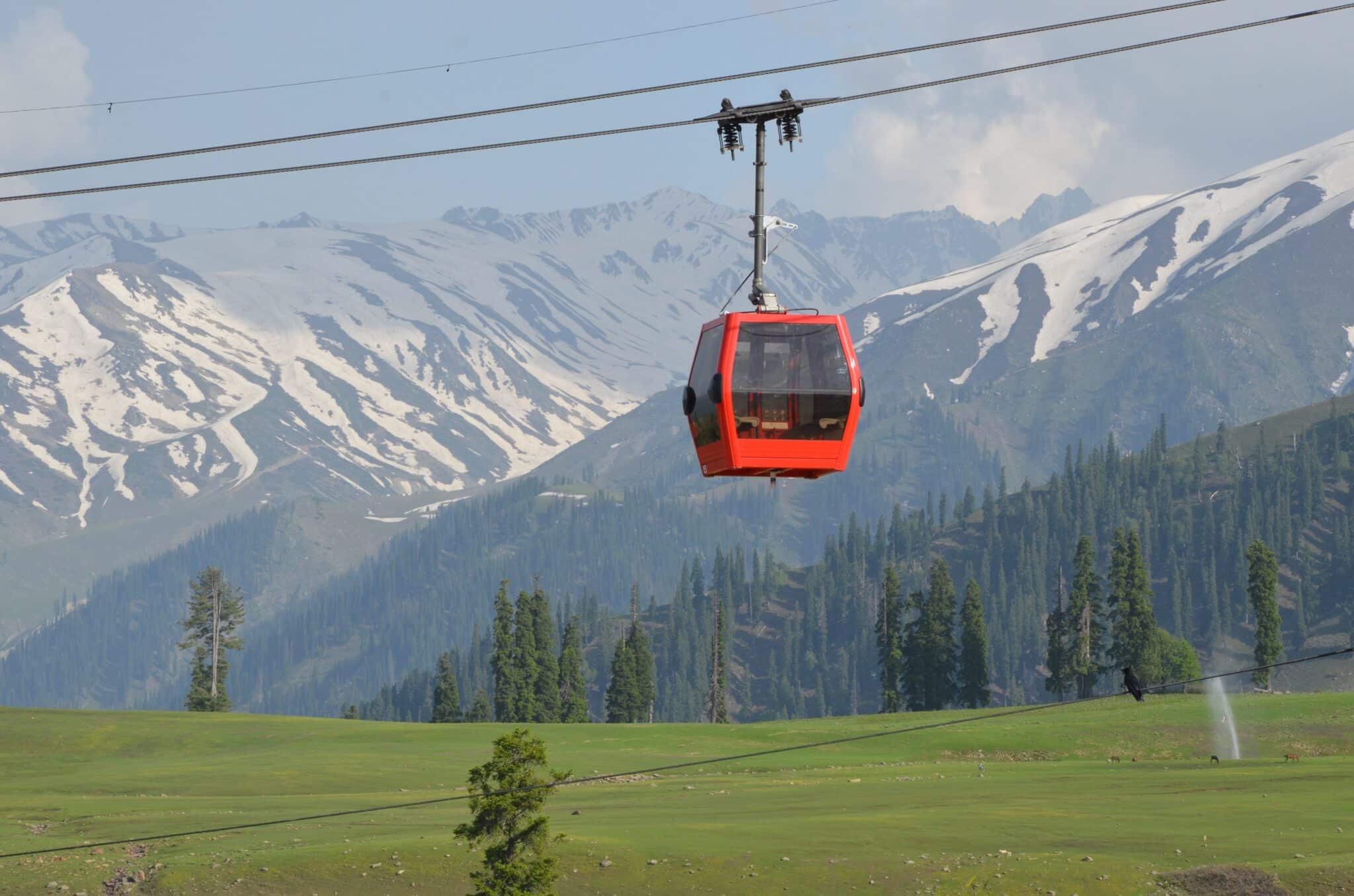 Gulmarg is a popular hill station for Skiing and Gondola Ride. It is located just 47 km from Srinagar. You can go to Alpather Lake, Apharwat Peak, Maharani Temple, Gulmarg Golf Course, St. Mary's Church, Maharaja Palace, Children's Park, Strawberry Valley. You can also go for a Pony ride.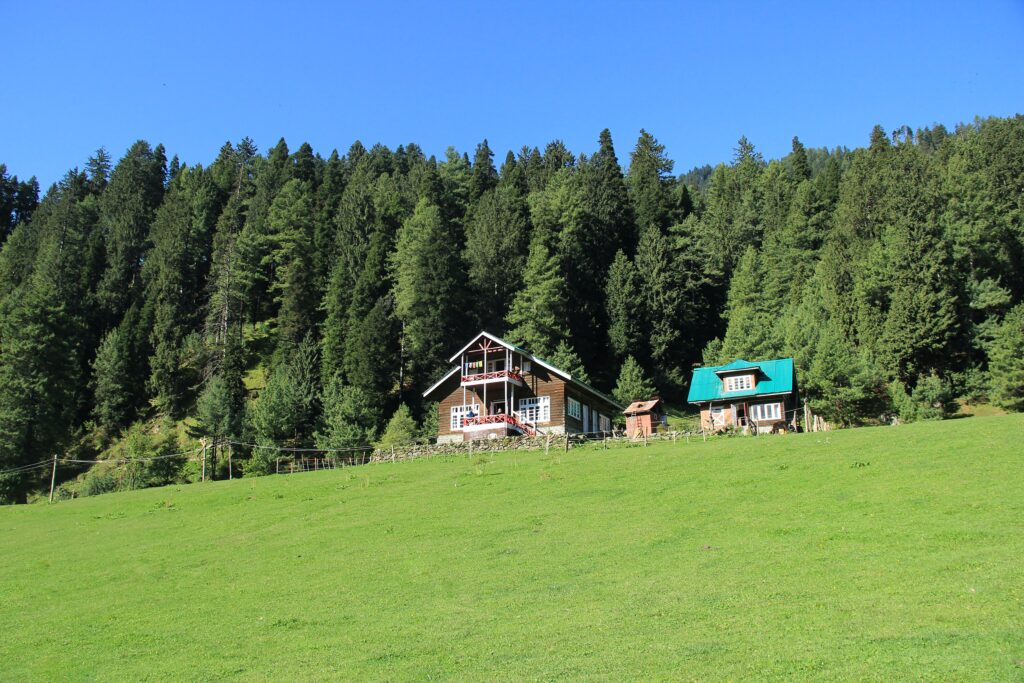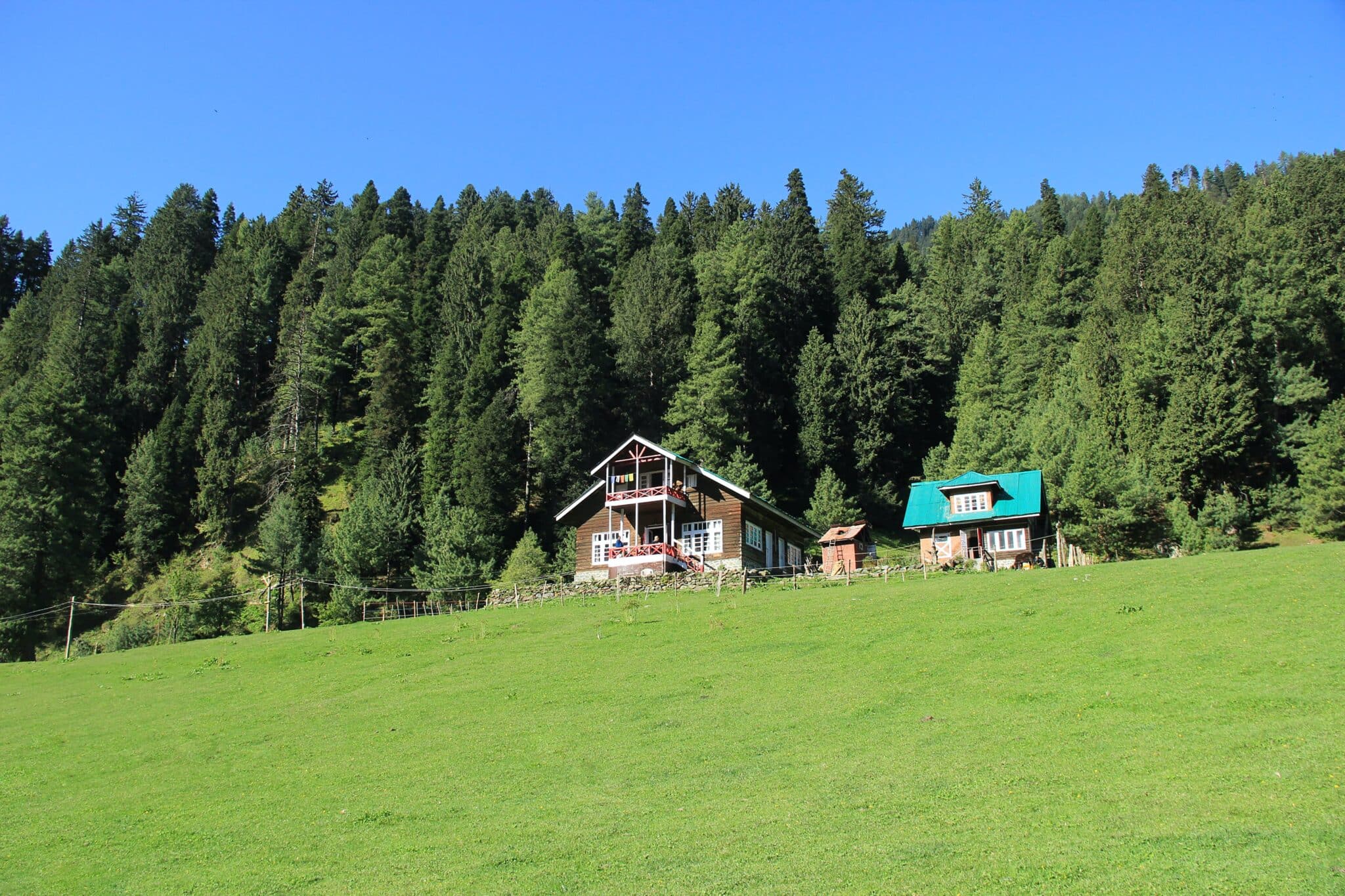 I will be frank. In Pahalgam, you have beautiful sightseeing places but almost nothing to do, except Pony ride. From Pahalgam, you can go to Aru Valley, Betaab Valley, Baisaran, Chandanwari, Lidder River etc.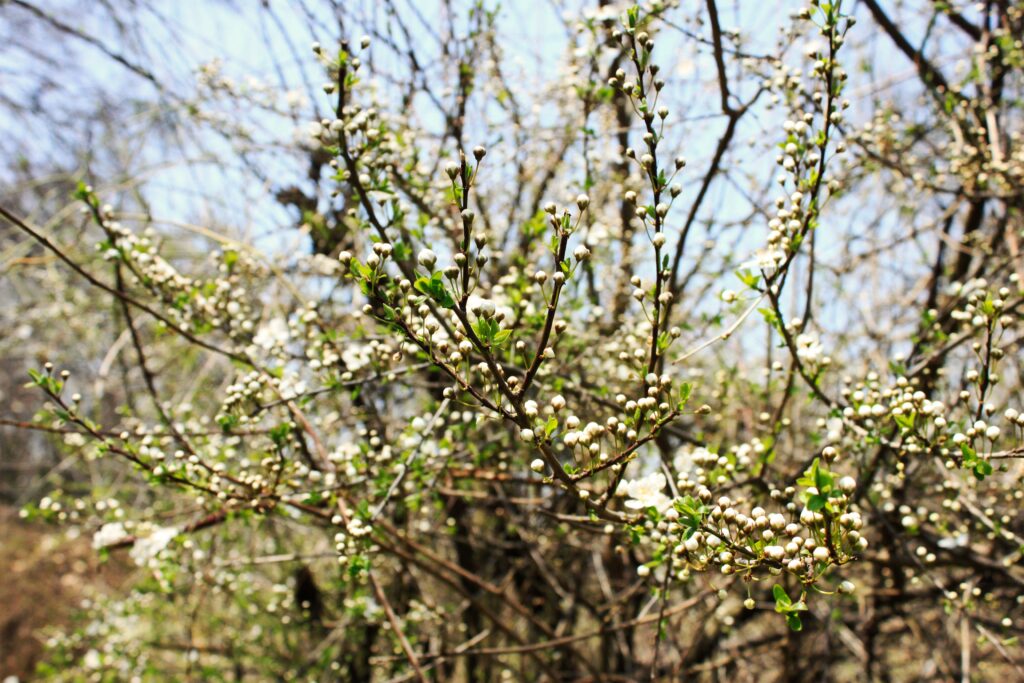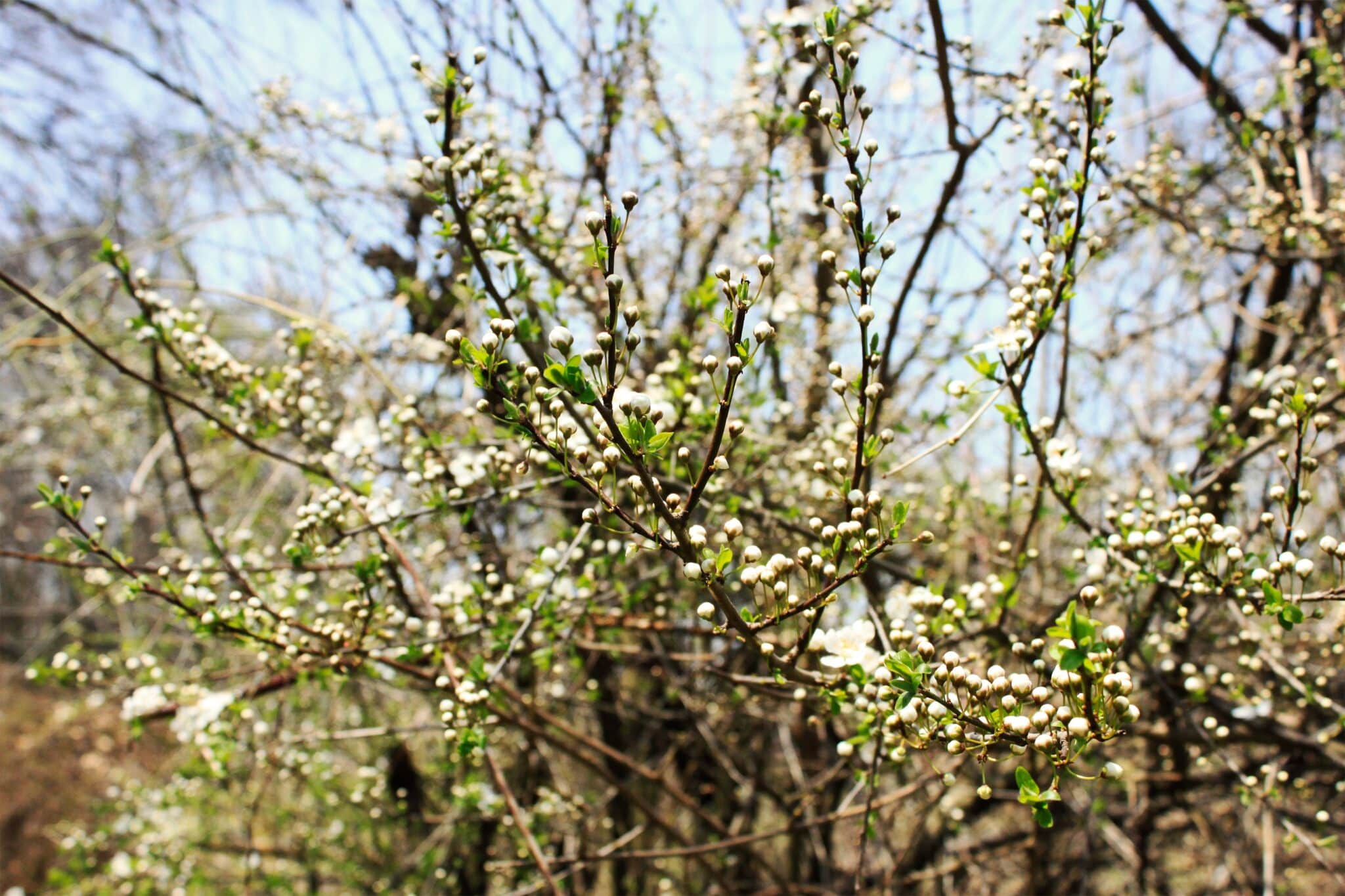 It was home to 10 villages which were then relocated to make this national Park. The Alpine pastures, meadows, and waterfalls are inhabited by the endangered Himalayan brown and black bears.
Network Connectivity
You will not get much of a network here. Prepaid SIM from any other state doesn't work here. You have four options if you want to stay connected with the outer world:
Take a hotel that has wifi. Connect with your loved ones while you stay at the hotel.

Convert your prepaid SIM to postpaid. Note that this conversion is free but can take upto a week; hence, getting it converted before coming here is advisable.

Purchase a new postpaid SIM.

Purchase a SIM after you come to Srinagar. 
—
We really hope that this 3 Nights 2 Days in Srinagar would come in handy. Let us know in the comments if we missed anything.