Planning a visit to the King Cobra capital? Here's a comprehensive travel guide to Agumbe covering everything you need to know including things to do, places to visit, permits and more.
No more than a mere 3 to 4 square kilometres in size, Agumbe located in the Shimoga District in the Malnad region of Karnataka holds within itself a treasure trove of lush green rainforests, breathtaking monsoon vistas, gushing waterfalls and a plethora of wildlife. And the key contributing factor to these natural marvels are the incessant rains Agumbe receives during the monsoons, the highest in all of South India giving it the tag of 'Cherrapunji of the South'. 
Adding more flavour to this rich biodiversity is a simple village life untouched by the modern world that forms the backbone of this rustic setting and offers a truly immersive experience for the traveller in you. Best explored on foot, Agumbe with its maze of nature trails and rainforest treks has pioneered in rainforest conservation programs, trekking and tourism and is a haven for nature enthusiasts and wildlife photographers alike.
Things to do in Agumbe
Agumbe has no dearth of things to do and places to visit. Listed below are some of the popular viewpoints, treks and waterfalls that should definitely find a place in your Agumbe itinerary.
Drive to Kundadri Hill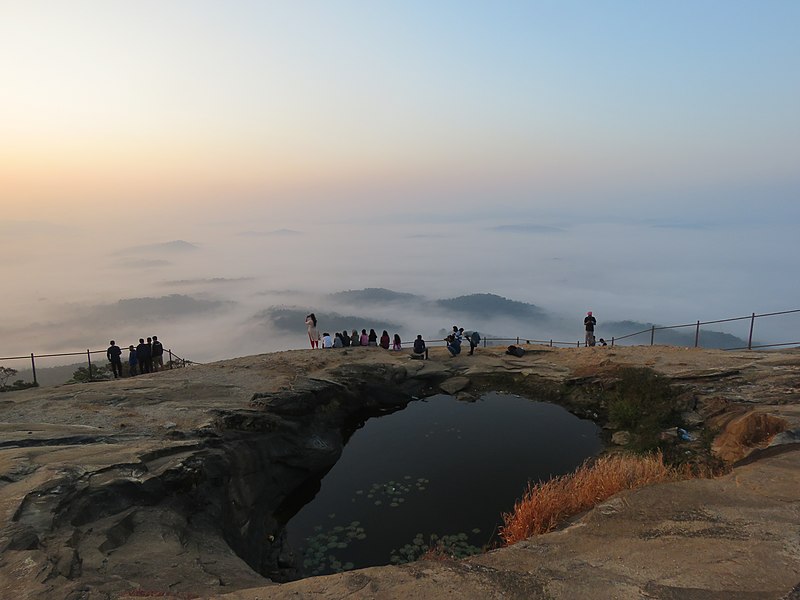 Located roughly 16 kms from Agumbe on the Theerthahalli-Agumbe road, Kundadri Hill is a gigantic monolithic rock surrounded by dense evergreen forests. With a 17th century Jain temple and two small ponds at the top, Kundadri Hill offers panoramic views of the surrounding Weser Ghats. The scenic drive all the way to the top amidst thick jungle cover and winding roads also offer an exhilarating experience.
Watch the Sunset from Sunset Point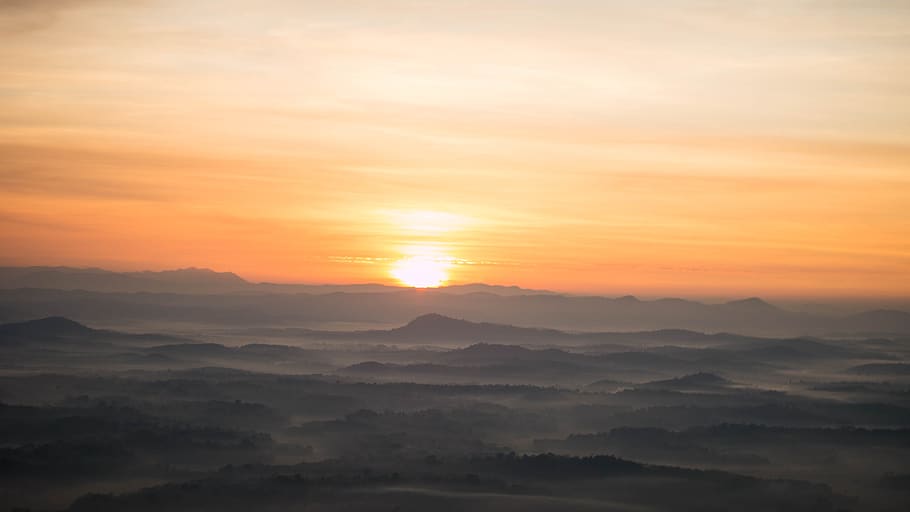 Located on the Udupi-Agumbe road on the Agumbe ghat and a short walk away from town, the Sunset Point forms the highest peak on the Western Ghats and offers a panoramic view of the sunset across the Arabian Sea. 
Visit the Gopala Krishna Temple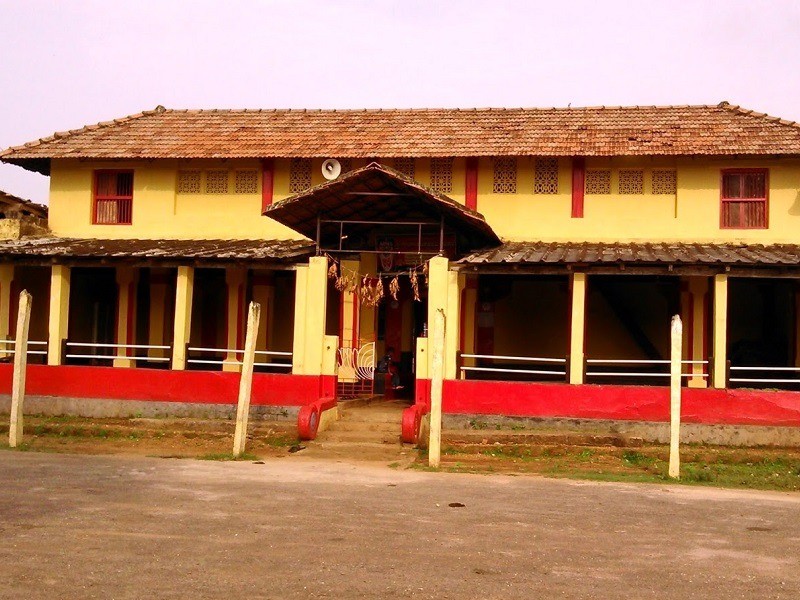 Built in the 14th century during the Hoysala period, the Gopala Krishna Temple is an ancient Hindu shrine dedicated to Lord Krishna located at Kabbinale village. Roughly 25 kms away from Agumbe, this ancient temple is famous for its sculptures and the typical Tulunadu style of construction with an inner sanctum surrounded by an external hall. Located at a hilltop the temple is accessible only on foot and is open throughout the year from 7 AM to 7 PM every day.
Trek to a Waterfall in Agumbe
Barkana Waterfalls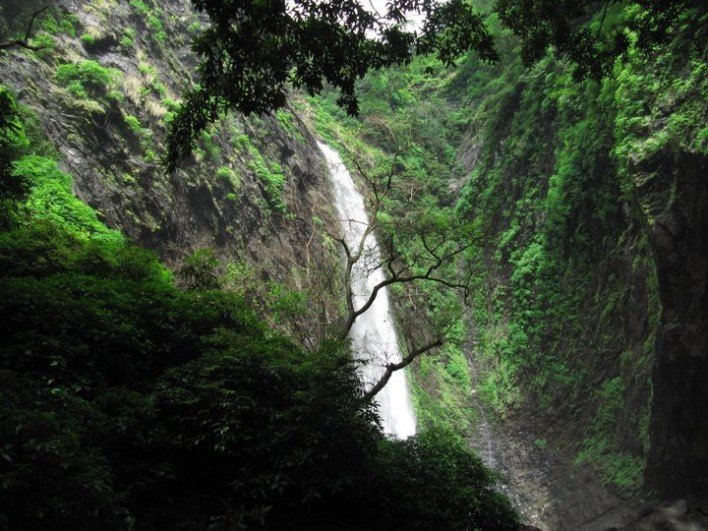 At a height of about 850 ft, the Barkana Waterfalls is the tenth highest waterfall in India. Originating from the Seeta River, reaching the falls requires an adventurous trek through dense forest cover. Usually covered as part of the Narasimha Parvatha trek, this trail also leads to the origin point of the Barkana Waterfalls above the valley that makes for a magical sight.
Kunchikal Falls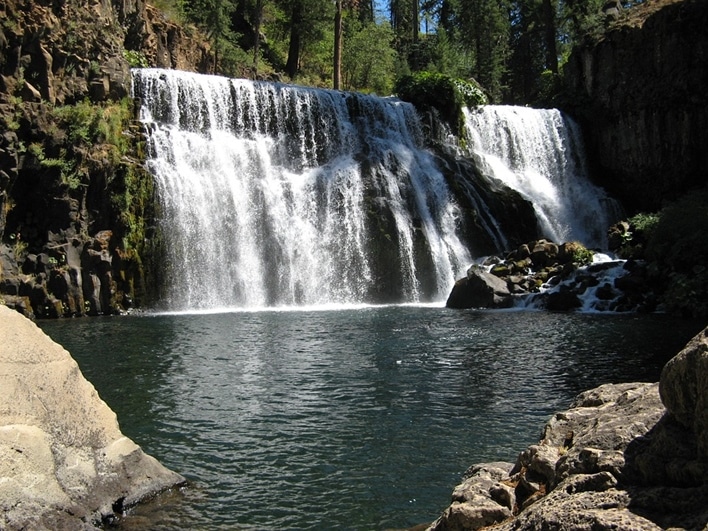 Roughly 50 kms from Agumbe on the Shimoga-Udupi border lies India's highest waterfall formed by the river Varahi cascading down rocky boulders from a staggering height of 455 meters. However, the construction of Mani Dam near its base has greatly reduced the water flow and as such the falls are now visible only during the monsoons. Special permission is also required for visiting the falls due to its proximity to the Hydro-Electricity project.
Jogigundi Falls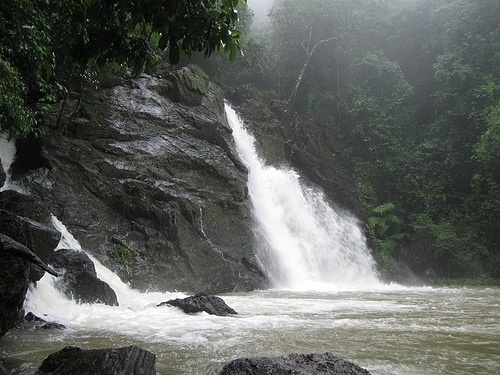 Named after saint Jogi who is believed to have meditated near these waterfalls, the Jogigundi Falls lies just 4 kms away from Agumbe and requires a 10-15 minute hike through thick forest trails from the main road. Unlike typical waterfalls, Jogi Gundi has its origins from a cave and forms a natural pool at its base that makes for a scenic view.
Onake Abbi Falls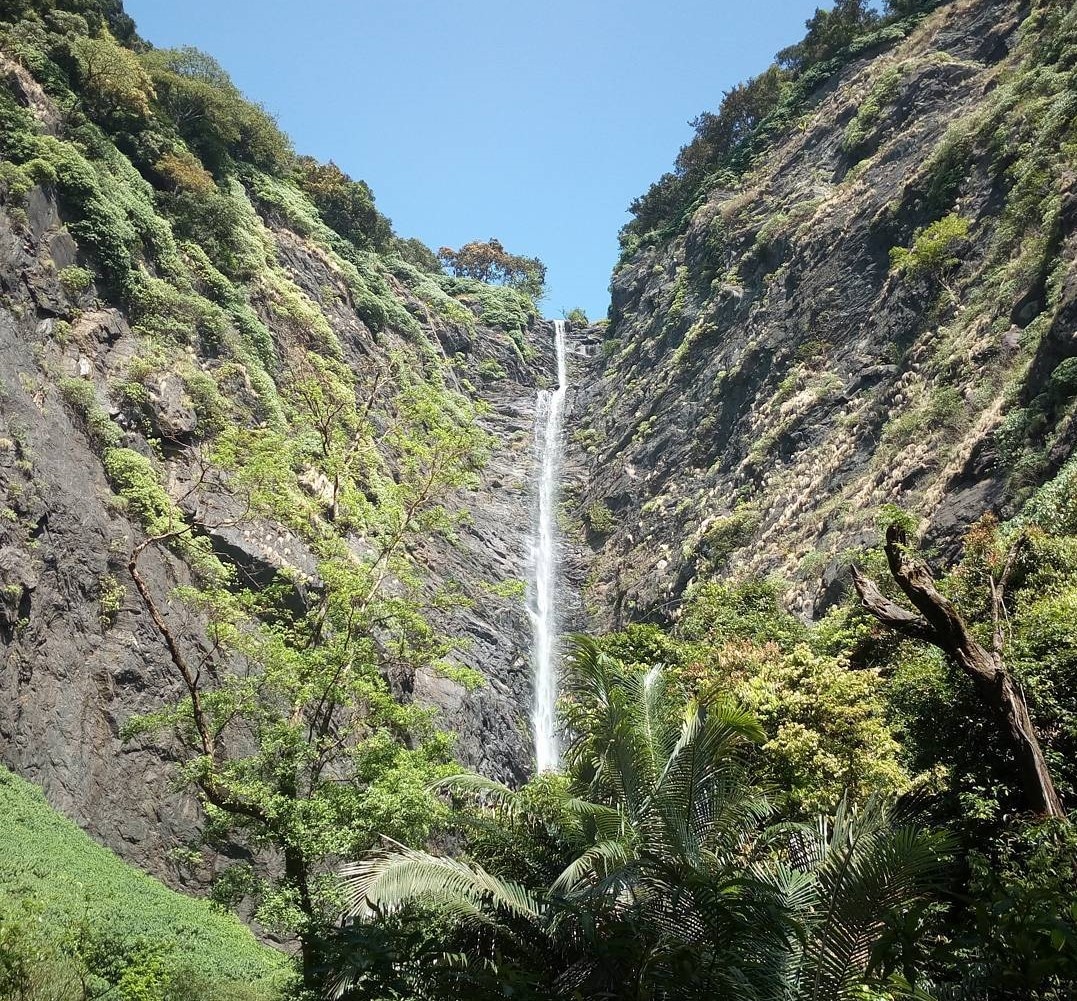 Falling from a height of 500 feet, the Onake Abbi Falls form one of the highest waterfalls in the entire Western Ghats. It gets its name due to its long shape similar to that of an 'Onake', which is a long pole used to grind spices. Located 8 kms from Agumbe town, one needs to undertake a scenic yet challenging trek to reach Onake Abbi Falls. Prior permission from the forest department is, however, required for the same.
Koodlu Theertha Falls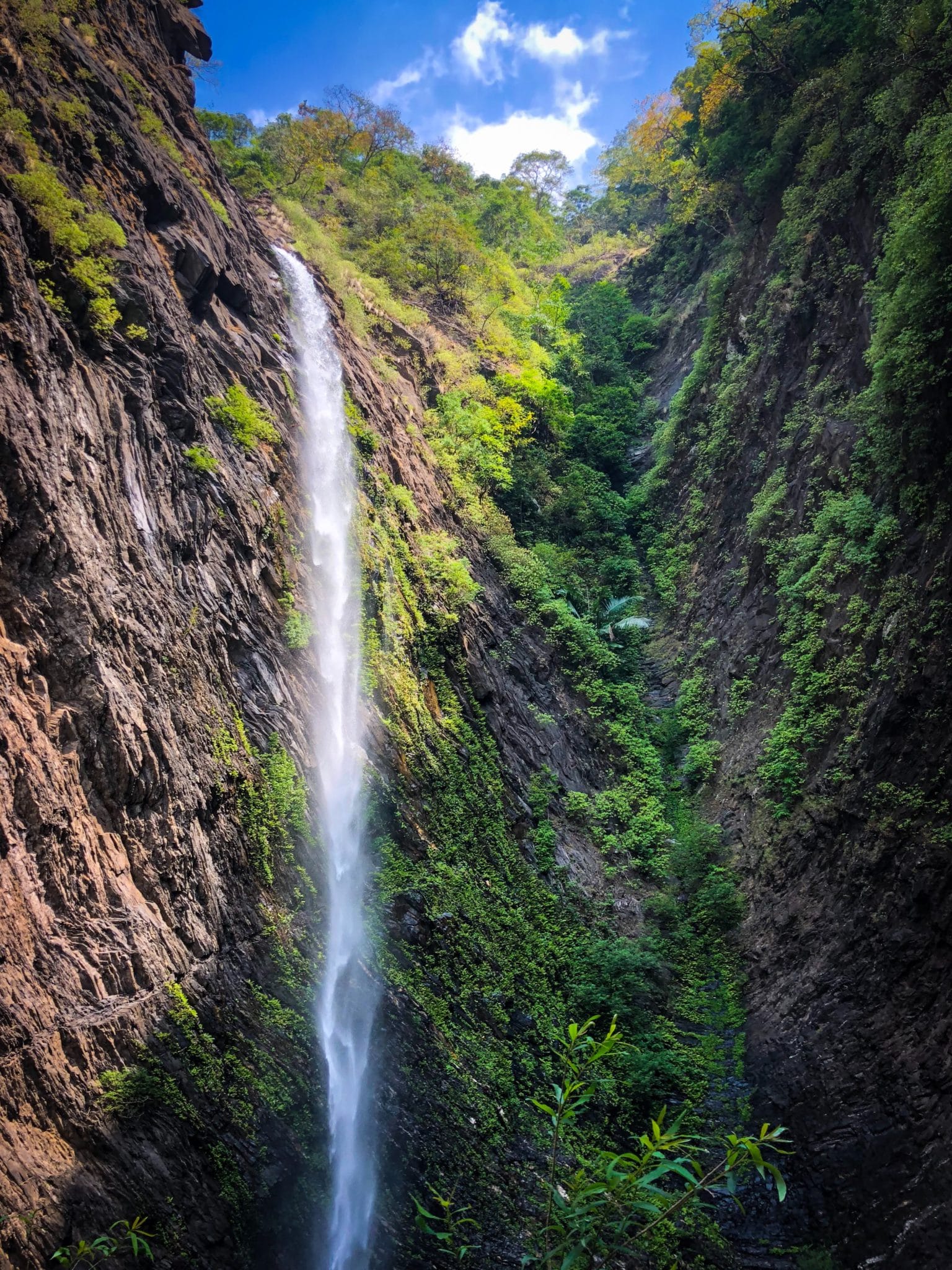 One of the most beautiful and serene waterfalls in the whole of Agumbe region roughly 20 kms away from town, Kudlu Theertha falls from a height of 300 feet into a natural pool and makes for a stunning view. It is also the first fall of River Sita and hence, goes by the name fo Sita falls as well. Visitors will have to undertake a short hike through the forest in order to reach Koodlu Theertha Falls. A nominal entry fee also needs to be paid at the forest check post before entry.
Offbeat things to do in Agumbe
Volunteer at the Agumbe Rainforest Research Station
For those passionate about wildlife conservations and field-based research, ARRS offers an integrated volunteer and research intern programme right at the heart of Agumbe. Apart from work which involves jungle expeditions involving sessions on how to set up camera traps and identifying forest trails, spend your free time here stargazing, sharing tales from the forests and engaging in conversations with some of the best minds in the business all the while taking back a newfound appreciation for wildlife and an incredible amount of patience. 
White Water Rafting In Sitanadi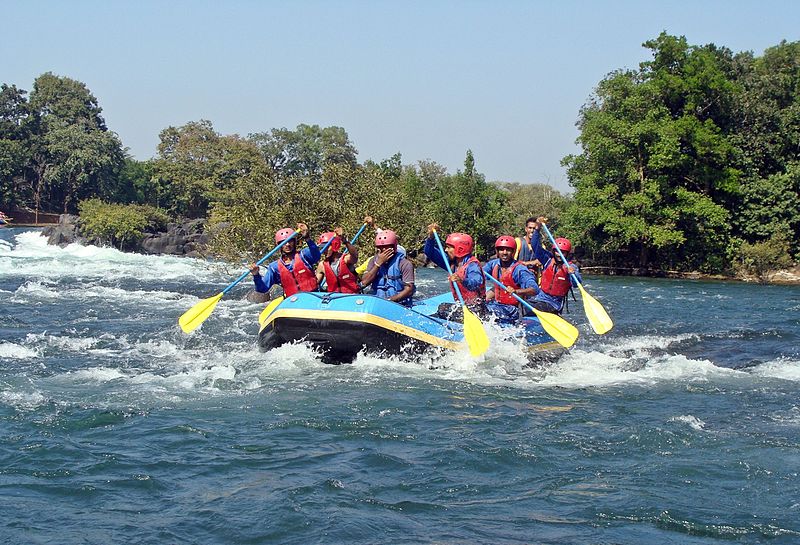 The wild waters of the Sita river in Agumbe offers the perfect opportunity for some high-intensity river rafting. Ranging anywhere between 15 to over 30 kms in distance, Sita Nadi offers an exhilarating experience across mild to strong rapids suitable for both the novice and experienced. Many adventure travel companies offer this experience usually coupled with nature camping in the Someshwara wildlife sanctuary.
Narismha Parvatha Trek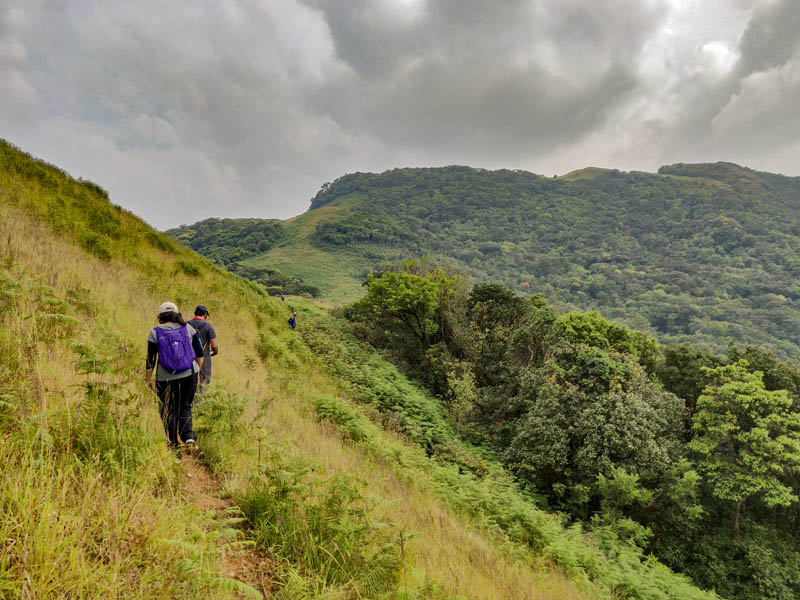 Located at a height of 3800ft, Narasimha Parvatha forms the tallest peak in Agumbe. The trek starting from Malandur village takes you through thick rainforests, vast open meadows and the origin point of the mighty Barakana Waterfalls before culminating with grandiose views of the Kudremukh valley once at the peak. Apart from the scenic trail the Narasimha Paravatha trek also offers ample opportunities for wildlife spotting.
Where to stay in Agumbe
Homestays are your best bet to enjoy a truly authentic Malnad experience while taking in the culture and cuisines Agumbe has to offer. The heritage homestay at Doddamane, Belachikatte, Amthi and Hingaara homestays being some of the popular ones here.
Apart from homestays, Agumbe offers limited options when it comes to accommodation with most hotels and lodges located away from town towards Thirthahalli (32kms), Sringeri (28kms) or Hebri (20 kms). While most accommodation options are available on online booking platforms, here are a few off the beat accommodation options for you to try out for a more holistic experience while in Agumbe.
Doddamane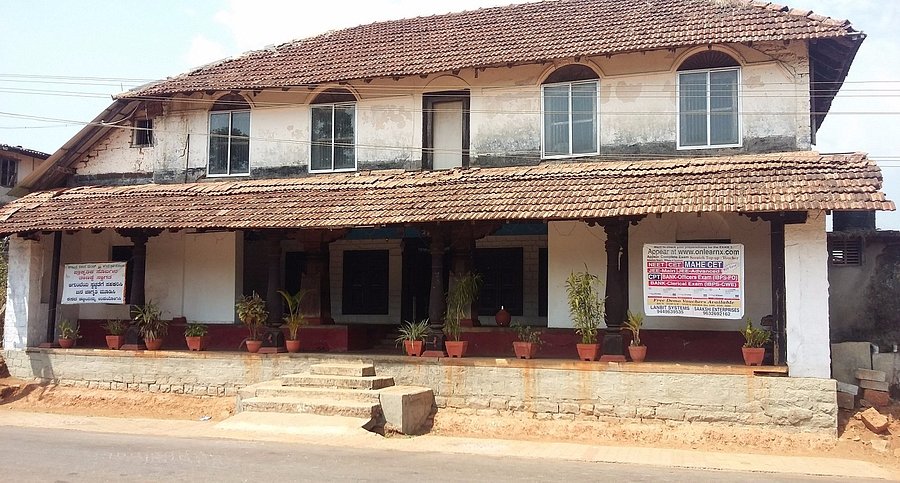 Relive your childhood memories at this heritage homestay where Malgudi Days was shot. The warm hospitality of Kasturi Akka, the owner of the house combined with the authentic Malnad cuisine and Kashaya served here is bound to make you feel at home, away from home. The place is usually always booked and you will have to call and book in advance in order to confirm your stay.
Seethanadi Nature Camp
Located in the Someshwara Wildlife Sanctuary around 15 kms from Agumbe, the Seethanadi Nature Camp offers a more adventurous option for those looking to make the best of the outdoors and spend the night in the lap of nature. The camp offers stay in dormitories or tented cottages close to the river along with a variety of outdoor activities for the nature lover including nature walks, bird watching, white river rafting and more.
Agumbe Rainforest Research Station
The ARRS offers a unique opportunity to stay at the heart of Agumbe while spending time with an enthusiastic bunch of conservationists, biologists, and researchers for roommates. Around 1.5 km from Agumbe town, the research station offers basic accommodation in the form of dormitories with bunk beds. Those passionate about conservation and ecology can also volunteer at the ARRS for an in-depth understanding of the regions flora and fauna.
Kalinga Centre for Rainforest Ecology
KCRE offers a unique opportunity to experience nature in its most pristine form while gaining a deeper understanding of life in the rainforests. KCRE welcomes people to engage in direct conservation throughout the year along with an opportunity to engage with researchers who are willing to share and educate thereby taking your time in Agumbe beyond a mere rainforest experience.
Best Time to Visit Agumbe
Agumbe weather remains pleasant for most parts of the year. However, the best time to visit Agumbe is in the post-monsoon and winter months between October and February when Agumbe remains the most scenic and green with mountains covered with dense fog. This is also the best months for trekking and exploring Agumbe's rainforests.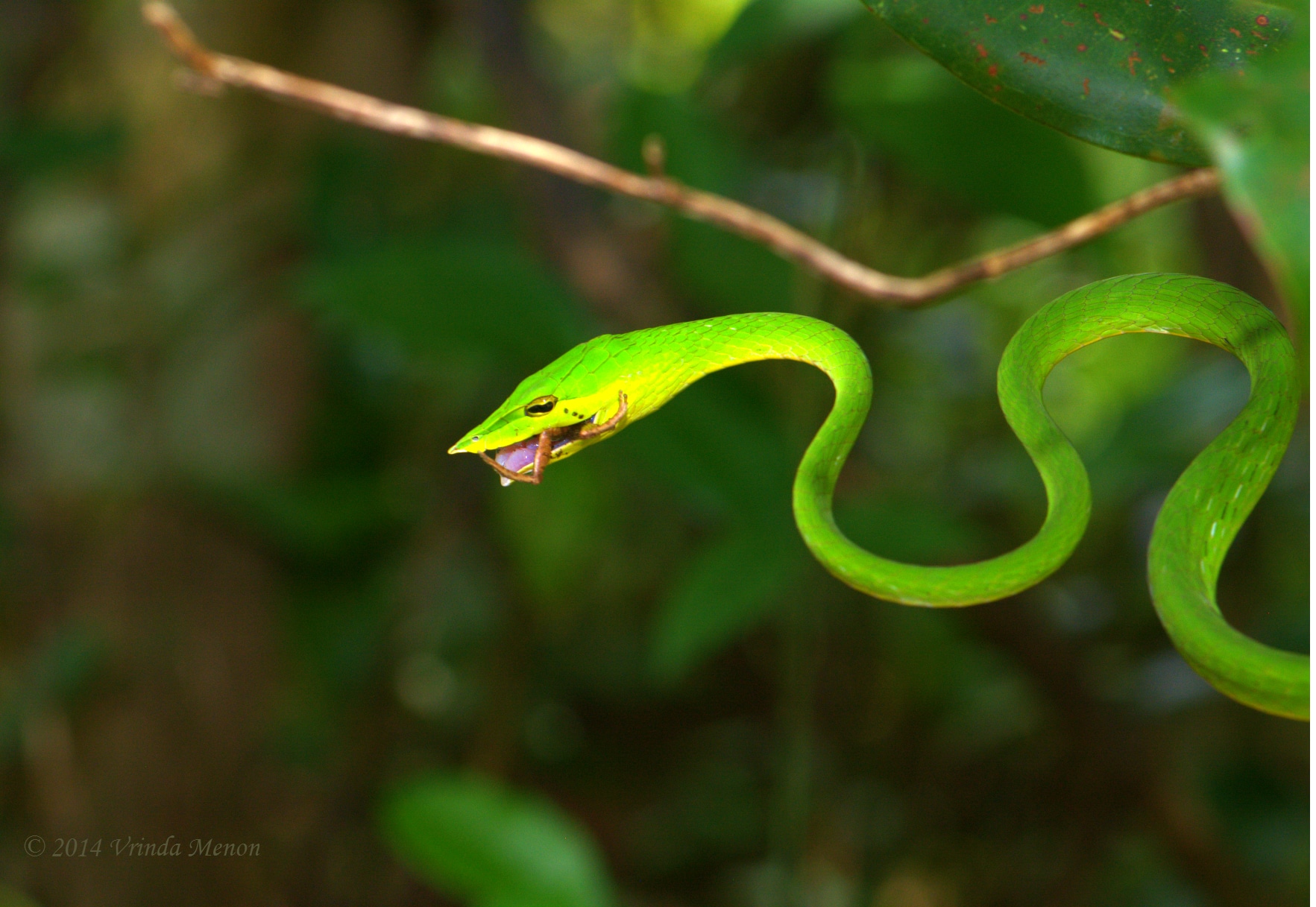 The months between March to May are the summer months and is quite dry and hot. The monsoon lasts from June to September when the place receives heavy rainfall and the temperatures remain hot and humid. Although it is not advisable to visit Agumbe during monsoons because of the heavy rainfall and restrictions on trekking and other activities, this is the best season to witness Agumbe's waterfalls in all their glory as well as for wildlife photography and herping.
How to Reach Agumbe
By Air: Mangalore Airport is the closest airport to Agumbe located 135 kms away.
By Train: Udupi Railway Station is the closest railway station to Agumbe at 60 kms while Shimoga Railway station is 90 kms away from Agumbe.
By Road: If coming by bus, there are buses from nearby cities including Shimoga, Udupi and Mangalore. Direct buses including KSRTC are available from Bangalore to Agumbe as well.
While driving to Agumbe from Bangalore, reach Shimoga first either via Tumkur and divert towards Thirthahalli or head towards Hassan via NH 75 before diverting towards Agumbe via Belur.
Things to Know Before Visiting Agumbe
If you plan to trek around Agumbe, it is required to obtain necessary permits from the DFO of the Shimoga Division or the Range Forest Officer of Megaravalli before your visit. This includes treks to some of the popular waterfalls in Agumbe including Onake Abbi Falls.

Unless Leeches are your best friends, be well prepared for major leech attacks all around Agumbe especially during and post monsoons. Investing in a pair of good anti-leech socks or using more traditional methods including salt or a combination of coconut oil and crushed tobacco are your best bet to minimise the damage.

Be prepared to get wet with the constant rains Agumbe is famous for. Good rain gear for yourself as well as your bags and cameras are a must at all times.

Agumbe is home to a wide variety of denizens and as such be vary not to disturb the wildlife or trample on the fauna when on nature trails.